GAMING1 scoops four wins at Malta iGaming Excellence Awards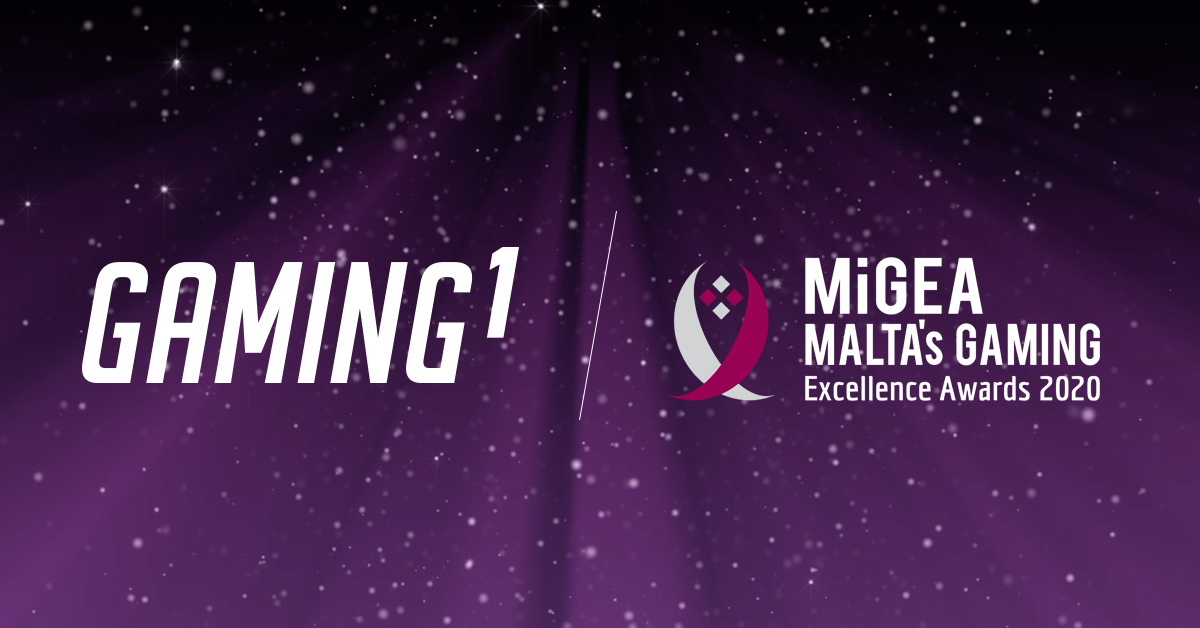 Reading Time:
2
minutes
Standout year for company earns host of plaudits from judging panel
 Leading gaming and sports betting partner GAMING1 has claimed a record-breaking four awards at last week's Malta iGaming Excellence Awards (MiGEAs).
Held annually at the Intercontinental Hotel in St. Julian's, the MiGEAs, now in its fifth year, is dedicated to honouring the Maltese gaming industry's high-flyers – with a host of categories to recognise innovation and operational excellence.
This year has seen GAMING1 go from strength-to-strength, winning Malta's Best Industry Achiever (Land Based); Malta's Best Gaming Mark of Excellence; Malta's Best Omni-channel Provider and Malta's Best Gaming Company of the Year. 
Marking a standout year for the company, 2020 saw GAMING1 has  expand its operations by adding over 100 new employees, launching its own proprietary AI player protection tools alongside a raft of new games and partnering with the likes of Kindred and the R Franco Group.
Commenting on its four award wins, Sylvain Boniver, Co-Founder and COO of GAMING1 said:
"I've been blown away by the fantastic work each member of the GAMING1 family has put in this year – and our outstanding evening at last week's ceremony is testament to just that. 
"Marking a decade of success, our unique business model has helped our partners succeed across the globe, seamlessly transitioning  to the online sector. I'm fully confident that we have an outstanding 2021 ahead of us and look forward to another record-breaking year with our fantastic team."
GAMING1 has its sights firmly set on continued international expansion with a burgeoning development pipeline for early 2021.
The company is currently in the process of establishing a land-based network with its Circus brand across France, as well as undertaking a joint venture with JOA, who run more than 30 French-based casinos.
In total, GAMING1 operates 42 gaming halls and casino resorts in Belgium, Switzerland, and France, as well as managing a portfolio of 20 online operations in regulated markets across Spain, Portugal, Serbia, Peru and Colombia.

Betsson Group: Two Wins at the Baltic and Scandinavian Gaming Awards 2022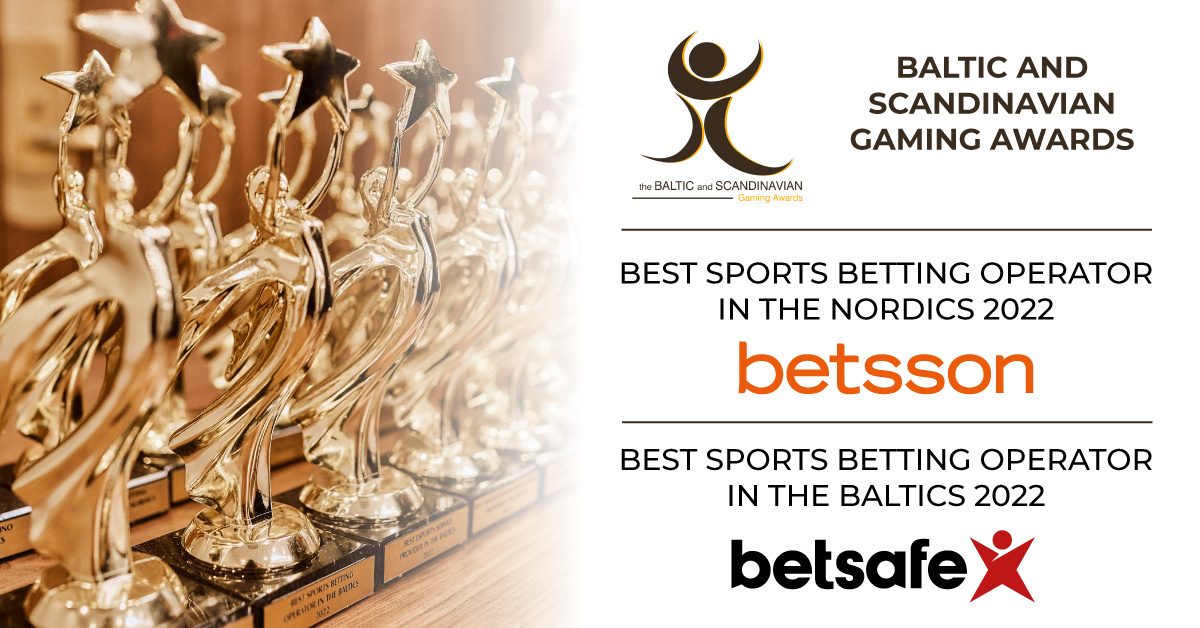 Reading Time:
< 1
minute
Betsson Group have won two awards at the Baltic and Scandinavian Gaming Awards! Launched in 2019, the BSG Awards ceremony are held as part of the MARE BALTICUM Gaming Summit, the leading boutique style gambling industry conference of the Baltic and Scandinavian region.
This year's Awards and 5th edition of the MARE BALTICUM Gaming Summit were held on 12th May in Vilnius (Lithuania). The BSG awards aims to reward the hard work of companies within iGaming that are active in the Baltic and Scandinavian region. For a fully transparent process, the final winners of each category are decided by a special voting session during the conference.
Betsson was awarded as the Best Sports Betting Operator in the Nordics 2022, while Betsafe was awarded as the Best Sports Betting Operator in the Baltics 2022.
Huawei to Showcase Opportunities for Developers at Leading Games Conference, Nordic Game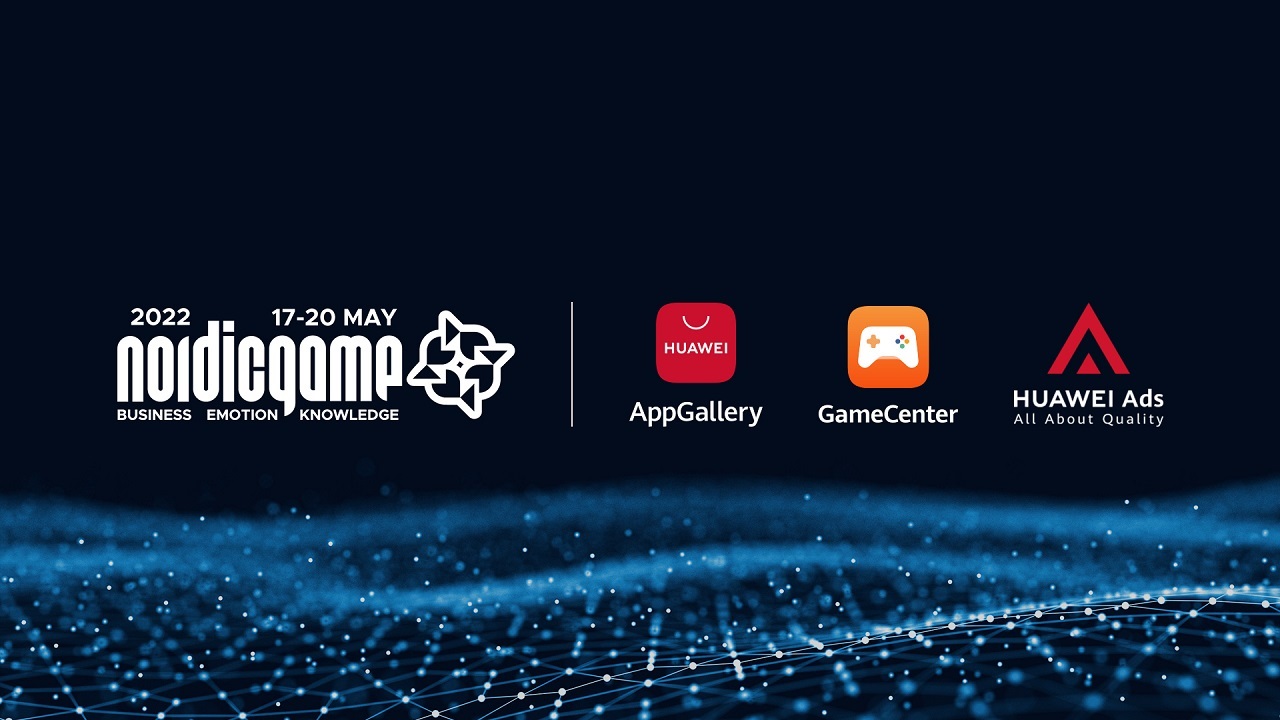 Reading Time:
2
minutes
Huawei, the world's leading technology company, is returning to live events with its gaming team's presence at Nordic Game, the expo and conference dedicated to the Nordic and Central Eastern Europe gaming industry.
The event, which takes place at the historic Slagthuset venue in Malmö, Sweden, from 17-20 May, will allow Huawei to demonstrate how the rapidly growing user base of its app store, AppGallery, delivers multiple benefits to game developers.
Huawei is inviting developers and gaming studios to meet with its team at the event. The focus of these meetings will be how AppGallery and Huawei's growing gaming hub GameCenter can deliver a new opportunity to expand their user-base. Experts will be on hand to discuss the simple integration process and how promotions are set up to benefit both customers and developers.
Gaming has become the fastest growing and one of the most successful categories on AppGallery, with some of the world's leading content developers in the sector now reaching the platform's 580 million global monthly active users (45 million in Europe, +7% YoY) with new and existing gaming apps.
At Nordic Game, Huawei, which is a Platinum Sponsor of the event, will be involved in several key activities:
· Dr. Jaime Gonzalo, VP Consumer Mobile Services at Huawei will be part of the conference roster, providing a presentation on effective ways to market games on AppGallery, featuring some real success cases of popular game companies.
· Huawei will also welcome on stage Outfit7, a global game developer behind the award- winning series of Talking Tom & Friends and its much anticipated RPG Mythic Legends, to outline their experiences of working with AppGallery since joining the platform.
· At its booth (10B) Huawei's dedicated team will provide visiting developers with insight about growth opportunities, the benefits of the Huawei Ads scheme for gaming and details on how Huawei facilitates straightforward technical integration for developers.
· Huawei is also the sponsor of the Best Nordic Game of the Year – Small Screen award category as part of the Nordic Game Awards (19 May at 18:00 CEST).
"We are very excited to be part of the Nordic Game community once again. We understand how developers, caught up in their passion for their art, can sometimes get a reality check when it proves difficult to acquire and retain gaming customers. We listened to them, and provided an easy, reasonably low effort solution which capitalises in a new untapped channel to reach a tens-of-million high value active user market," commented Dr. Jaime Gonzalo, VP Consumer Mobile Services Europe at Huawei. "We have prepared this event with those game developers in mind and we therefore invite and welcome new and existing developer partners to talk to our experts and get a deeper understanding of how we can work together to grow their businesses."
GameRefinery unveils the finalists for its annual Mobile GameDev Awards, celebrating the best in mobile game design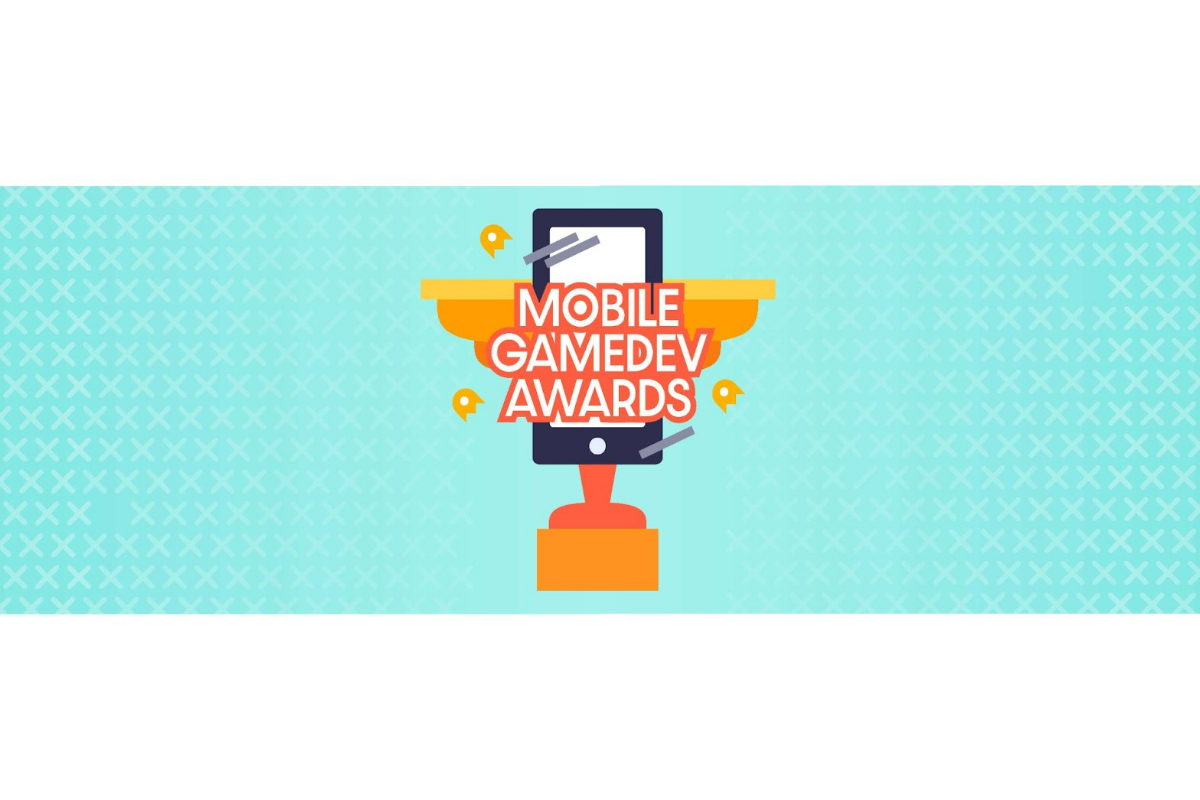 Reading Time:
3
minutes
The 2022 Mobile GameDev Awards finalists announced in seven categories covering different aspects of mobile game innovation and feature design, in USA, Japan and China.
Today, mobile game analytics specialist GameRefinery, a Liftoff company, is excited to announce that its jury has decided on the finalists for its second annual Mobile GameDev Awards. The awards recognise and celebrate innovation in mobile game design amongst developers in the USA, China and Japan.
The seven categories are:
Innovation and Excellence in Core Gameplay, (all regions)
Most Promising Soft Launch Game, (all regions) Biggest Evolver individually in USA, Japan, China Best Newcomer individually in USA, Japan, China
Best Feature Innovation, Best Event individually in USA, Japan, China and
Best Use of IP in Collaboration Events (all regions).
GameRefinery will announce the winners on the 24th of May 2022.
The 2022 Mobile GameDev Awards finalists have been selected by a panel of GameRefinery analysts, drawing on their extensive experience and expertise in games analysis.
GameRefinery's platform tracks over 100,000 mobile games for market research, competitor intelligence, and player insights while providing more than 2,500+ in-depth game feature deconstructions and analyses.
Mobile GameDev Awards 2022 Finalists
Innovation & Excellence in Core Gameplay
The most innovative and well-executed core gameplay seen in 2021:
无尽的拉格朗日 (Infnite Lagrange, China)
Gold and Goblins: Idle Merge
哈利波特:魔法觉醒 (Harry Potter Magic Awakened, China)
Kingdom Guard: Tower Defence
ウマ娘 プリティーダービー (Umamusume Pretty Derby, Japan)
The Ants: Underground Kingdom
League of Legends: Wild Rift
Most Promising Soft Launch Game
The 2021 soft launch game most likely to be a breakout launch success based on gameplay:
Apex Legends
Clash Mini
Star Blast
Tower of Fantasy
Diablo Immortal
Honkai: Star Rail
Star Wars: Hunters
Biggest Evolver
The game that has developed the most during 2021 in terms of gameplay:
USA Finalists:
Merge Dragons!
Clash Royale
Garena Free Fire
Lords Mobile: Tower Defense
Rise of Kingdoms
Yahtzee® with Buddies
Cookie Run: Kingdom
Japan Finalists:
ステート・オブ・サバイバル (State of Survival)
Shin Sangokushi
ドラゴンクエストタクト (Dragon Quest Tact)
パズル&ドラゴンズ (Puzzle & Dragons)
プロ野球スピリッツA (Pro Yakyuu Spirits A)
China Finalists:
植物大战僵尸2 (Plants vs. Zombies 2)
天谕 (Revelation)
原神 (Genshin Impact)
跑跑卡丁车官方竞速版 (PopKart Mobile)
魂斗罗:归来-特战集结 (Contra Returns)
Best Newcomer
The best new entry into the market during 2021:
USA Finalists:
Beatstar
The Ants: Underground Kingdom
Royal Match
Kingdom Guard: Tower Defence
Family Farm Adventure
Zen Match – Relaxing Puzzle
The Lord of the Rings: Rise to War
No Limit Drag Racing 2
Idle Lumber Empire
League of Legends: Wild Rift
Japan Finalists:
ウマ娘 プリティーダービー (Umamusume Pretty Derby)
二ノ国:Cross Worlds (Ni No Kuni: Cross Worlds)
ガーディアンテイルズ (Guardian Tales)
グランサガ(Gran Saga)
Nier Re[in]carnation
China Finalists:
哈利波特:魔法觉醒 (Harry Potter: Magic Awakened)
王牌竞速 (Ace Racer)
幻塔 (Tower of Fantasy)
无尽的拉格朗日 (Infnite Lagrange)
英雄联盟手游 (League of Legends: Wild Rift)
重返帝国
金铲铲之战 (Battle of the Golden Spatula)
Best Feature Innovation
The most innovative new feature introduced in a game during 2021
松松总动员 (Song-song Zong-dong-yuan, China) – Login calendar meets IAP offers
松松总动员 (Song-song Zong-dong-yuan, China) – Innovative limited-time gacha event
Garena Free Fire – Special PvP modes
Cooking Diary – Social hangout areas
Yahtzee® with Buddies – Kingdom feature
Rise of Kingdoms – MOBA mode
Puzzle & Dragons (Japan) – Synchronous PvP mode
PUBG MOBILE – RP Activity Packs in Battle Pass
Highrise – NFT cosmetics
XFLAG's Kotodaman and Monster Strike (Japan) – New gacha type with a social twist
Ensemble Stars!! Music (Japan) – Music co-op newcomer tasks
Best Event
The best in-game event held during 2021:
USA Finalists:
Yahtzee® with Buddies – Derby event
POP! Slots™ Vegas Casino Games – Win Zone event
Gardenscapes – Klondike Expedition event
Genshin Impact – Midsummer Island Adventure
Call of Duty®: Mobile – Anniversary event
Garena Free Fire – Pet Mania event
Mobile Legends: Bang Bang – Aspirants Unite event
State of Survival – 2nd Anniversary Airship Building event
Japan Finalists:
プロジェクトセカイ カラフルステージ! 初音ミク (Project Sekai Colorful Stage feat. Hatsune Miku) – New Year's event
ドラゴンボール レジェンズ (Dragon Ball Legends) – Legends Festival
妖怪ウォッチ ぷにぷに (Youkai Watch Punipuni) – Collaboration event with Neon Genesis Evangelion
二ノ国:Cross Worlds (Ni No Kuni: Cross Worlds) – General events
NieR Re[in]carnation – Collaborations events with the earlier titles in the series (NieR Automata (launch), NieR Replicant and Drakengard 3)
China Finalists:
明日之后 (LifeAfter) – Romantic event July 2021
松松总动员 (Song-song Zong-dong-yuan) – June 2021 Gacha event
御龙在天 (Legend of Yulong) – Fight the Landlord-card game event (doudizhu) in Jan
神武4 (Shén wǔ 4) – Event with a real-life map to beat monsters and get points
阴阳师 (Onmyoji) – recurring event with event-only customizable character
富豪麻将 (Fuhao Majiang) – collaboration event with China Mahjong Masters Tournament
Best Use of IP in a Collaboration Event
Finalists:
跑跑卡丁车官方竞速版 (PopKart Mobile) & Ali the Fox (China)
香肠派对 (Sausage Man) & Pizza Hut (China)
Top War: Battle Game & Transformers
江南百景图 (Canal Towns) & Kentucky Fried Chicken (China)
Mobile Legends: Bang Bang & Hello Kitty (Sanrio Characters)
Roblox & 24kGoldn Concert Experience
PUBG MOBILE & Arcane (League of Legends)
獅子の如く~戦国覇王戦記~ (Shishi no Gotoku – Sengoku Haousenki) & Rurouni Kenshin (Japan)
State of Survival & The Walking Dead (US)