WeChat is World's Strongest Tech Brand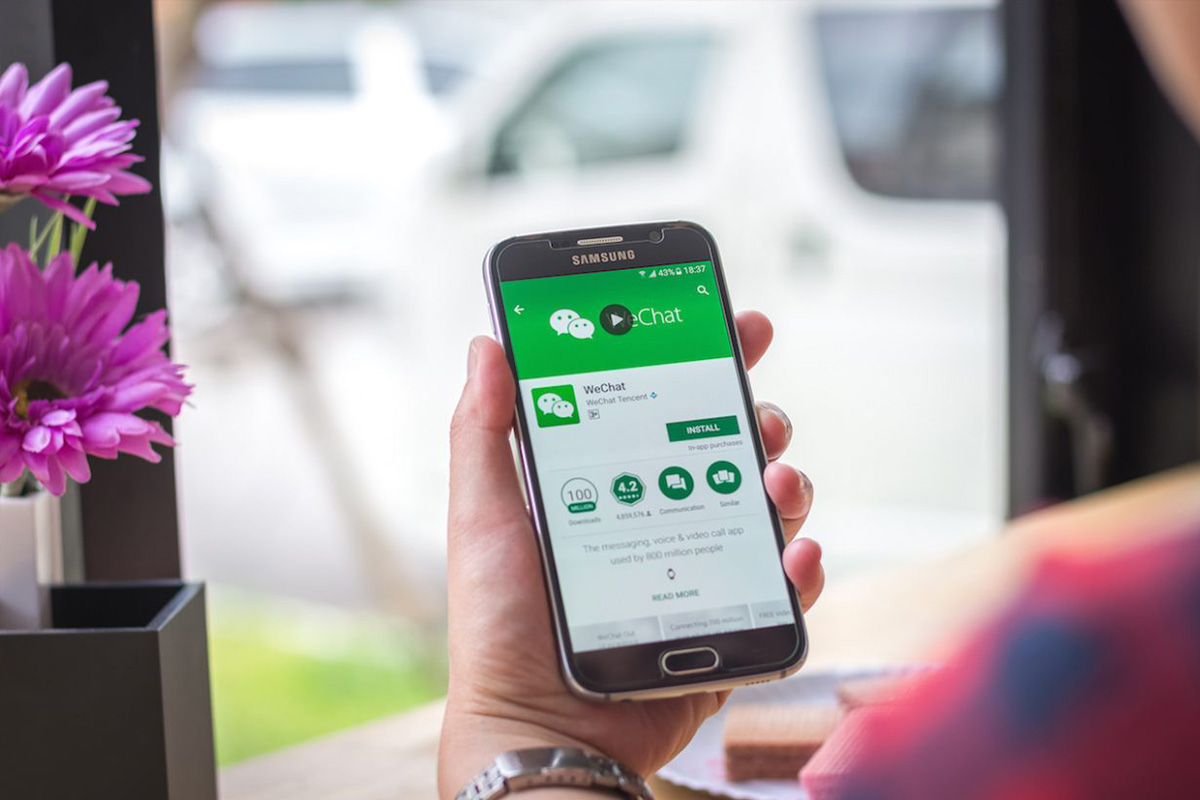 Reading Time:
6
minutes
As the pandemic continues to wreak havoc on the global economy, tech brands have recorded mixed fortunes this year. The top 100 most valuable tech brands in the Brand Finance Tech 100 2021 ranking have grown by 9% on average, faring much better than other sectors globally.
The Brand Finance Tech 100 2021 ranking is split into sub sectors, with electronics, retail, semiconductors, software, media & games, travel sites analysed separately as these brands make up more than 80% of the total brand value in the ranking. All brand values are correct as at 1st January 2021.
Electronics: Apple bites back
Apple has overtaken Amazon and Google to reclaim the title of the world's most valuable tech brand, according to the latest report by Brand Finance – the world's leading brand valuation consultancy. Apple has the success of its diversification strategy to thank for an impressive 87% brand value increase to US$263.4 billion and its position at the top of the ranking. For the fist time since 2016, Apple has also been crowned the world's most valuable brand, according to the Brand Finance Global 500 2021 ranking.
Under Tim Cook's leadership, especially over the past five years, Apple began to focus on developing its growth strategies above and beyond the iPhone – which in 2020 accounted for half of sales versus two-thirds in 2015. The diversification policy has seen the brand expand into digital and subscription services, including the App Store, iCloud, Apple Podcasts, Apple Music, Apple TV, and Apple Arcade. On New Year's Day alone, App Store customers spent US$540 million on digital goods and services.
Apple's transformation and ability to reinvent itself time and time again is setting it apart from other hardware makers and has contributed to the brand becoming the first US company to reach a US$2 trillion market cap in August 2020. With rumours resurfacing that Apple's hotly anticipated Titan electric vehicle foray is underway again, it seems that there is no limit to what the brand can turn its hand to.
Lorenzo Coruzzi, Associate, Brand Finance commented:
"Apple has successfully reinvented its capabilities, while remaining faithful to its core: enriching people's life through innovative design. Under Tim Cook's leadership, it has been successfully diversifying its revenue mix shifting towards more profitable segments – showcasing that it is truly resilient against its competitors."
Retail: Alibaba.com up 108%
Despite relinquishing its position at the top to Apple, second-ranked Amazon has still managed to record a healthy 15% brand value growth to US$254.2 billion and is the second most valuable tech brand. The retail giant is one of the few brands that benefitted considerably from the pandemic and the resulting unprecedented surge in demand as consumers turned online following store closures. Over Q2 and Q3 of 2020, e-commerce platforms experienced the highest revenue growth since 2016.
Most recently – further leveraging the circumstances of the pandemic – Amazon has acquired 11 passenger planes from struggling North American airlines to expand its air logistics capabilities. A tactical purchase to support its fast-growing customer base, but also a strategic move towards building its own end-to-end supply chain, the fleet can allow the brand to become a serious contender in air transportation in due time.
Another example of Amazon's relentless innovation in the face of global adversity, the brand has also announced its foray into the health sector with the launch of Amazon Pharmacy and fitness tracker Halo. Before it brought success to Apple, daring diversification had already been the hallmark of Amazon's growth strategy, which it continues to pursue with impressive results.
Amazon's Chinese equivalent, Alibaba.com has also benefitted from the unprecedented surge in demand, as consumers in China turned to online shopping during the pandemic. The retail giant's brand value has been boosted by an eyewatering 108% to US$39.2 billion, making it the fastest growing brand in the ranking. Alibaba subsidiaries, Taobao, up 44% to US$53.3 billion, and Tmall, up 60% to US$49.2 billion, have enjoyed parallel successes, their online business models providing ease of access and convenience for consumers.
Semiconductors: Nvidia acquisition of Arm pays off
As artificial intelligence, data centres, 5G technology, IoT, and autonomous vehicles are rapidly growing, semiconductor brands are perfectly positioned to match this growth as this demand requires a new era of sensors, memory, and chips. On average, semiconductor brands have grown 16%, of these Nvidia is the fastest growing, up 73% to US$8.1 billion.
Nvidia's announcement of the US$40 billion deal to acquire Arm – British chip designer company – has caused quite a stir across the industry as Nvidia sets its sights on becoming the top player for the next generation of processing and AI.
The most valuable semiconductor brand by a significant margin, Intel, has increased its brand value by 16% this year to US$31.8 billion. From its next-generation chips being set back due to delays in sales of its current-generation chips, to Apple making the move to make its own computer chips, Intel has negotiated a turbulent year. Perhaps in a move to remain relevant, Intel has undergone a rebranding, introduced as part of the brand's effort to be more aspirational and reflect the goals ahead.
Lorenzo Coruzzi, Associate, Brand Finance commented:
"Intel has been the largest chipmaker for most of the past 30 years, combining the best designs with cutting-edge factories. While the decision to outsource chip manufacturing has not yet officially been taken, long delays in production and design have been hindering the brand in recent years, placing it in a tricky position against competitor TMSC and other players. Outsourcing would mean giving up Intel's historical competitive advantage and might have deep geopolitical consequences in the years ahead. With the arrival of the new CEO, Pat Gelsinger, in February it will soon be clearer the direction the company begins to take."
Software: WFH boosts brands
Video conferencing and business communication software has taken centre stage as the working from home revolution takes hold globally. Salesforce's (brand value up 29% to US$ 13.2 billion) acquisition of Slack is a clear signal that the brand wants to become more competitive in the space, especially against leader Microsoft (up 20% to US$140.4 billion). It will remain to be seen whether this platform integration will be effective and deliver the expected value.
Google is the most valuable software brand and sits in the third in the complete tech ranking, following a marginal 1% uplift in brand value to US$191.2 billion. Slightly behind its peers in terms of diversification, Google recorded its first ever revenue decline as a result of the pandemic. The vast majority of the brand's revenue comes from advertising, which took a hit over the last year as marketing budgets tightened.
Media & Games: WeChat is sector's & world's strongest
Brand Finance determines the relative strength of brands through a balanced scorecard of metrics evaluating marketing investment, stakeholder equity, and business performance. According to these criteria, WeChat is the strongest tech brand – and the world's strongest brand – with a Brand Strength Index (BSI) score of 95.4 out of 100 and a corresponding elite AAA+ brand strength rating.
Alongside revenue forecasts, brand strength is a crucial driver of brand value. As WeChat's brand strength grew, its brand value also enjoyed a rapid boost, increasing by 25% to US$67.9 billion.
As one of China's home-grown tech successes with very strong equity, WeChat enjoyed high scores in reputation and consideration among Chinese consumers. WeChat has successfully implemented a broad and all-encompassing proposition, that offers services from messaging and banking, to taxi services and online shopping – the all-in-one app has become essential to many users' daily lives.
During the pandemic, WeChat ran several government-mandated health code apps to keep track of those travelling or in quarantine, providing access to real-time data on COVID-19, online consultations, and self-diagnoses services powered by artificial intelligence to over 300 million users.
The media landscape continues to evolve with traditional media outlets falling victim to their modern counterparts. In line with positive trends in brand value in the new media sector, Spotify has climbed 15 spots in the ranking from 80th to 65th, enjoying an impressive 39% boost in brand value to US$5.6 billion. The last year has seen a significant increase in new users as the music streaming platform expanded its operations into 13 new markets. Spotify is primed for further success as it continues to develop its capabilities, signing exclusive podcast contracts with Archie Comics and Joe Rogan, and acquiring Megaphone from Graham Holdings to improve its own podcast technology.
In contrast, Twitter has recorded a 18% brand value drop to US$3.1 billion. The social media platform's actions have come under intense scrutiny as the handling of former President Trump's account has sparked raucous debate, surrounding freedom of speech versus Trump's use of the platform to incite violence, and spread false claims.
Lorenzo Coruzzi, Associate, Brand Finance commented:
"Podcasts are one of the key reasons why consumers move to premium subscription on music streaming services. The global podcast market size was expected to reach US$11.1 billion in 2020 and is expected to grow by nearly 30% by 2027. With these predictions, and competitors already demonstrating their intent in the market, it won't be easy for Spotify to retain the crown of music streaming brand".
Travel sites: victims of COVID-19
As holidays are cancelled and people are instructed to work from home, the hospitality sector has reached an almost complete standstill both from tourism, as well as corporate travel. Online booking platforms are crashing too. Booking.com has recorded a 19% brand value loss to US$8.3 billion, simultaneously dropping 10 positions in the ranking from 32nd to 42nd. The story is similar for Airbnb as 30% of its brand value eroded to US$3.4 billion.
Expedia has dropped out of the ranking this year, following a 25% brand value decrease.

SOFTSWISS Casino Platform Launches Bonus API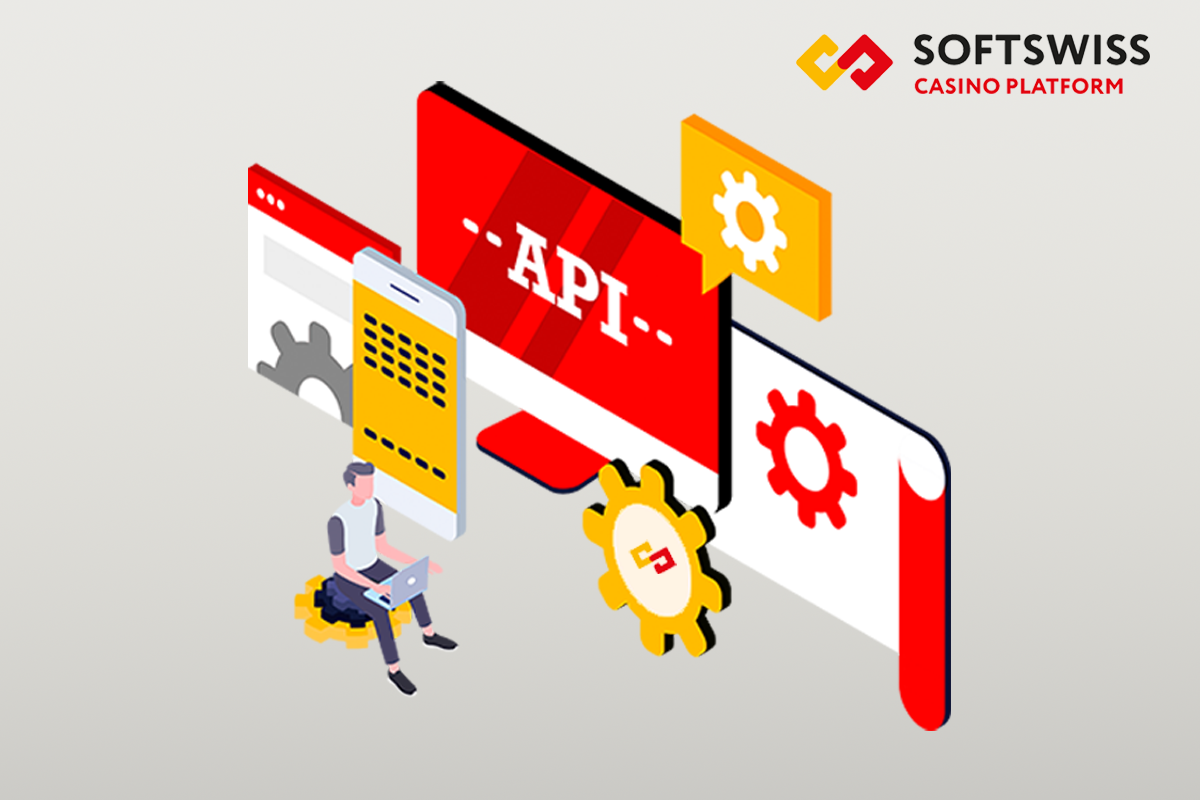 Reading Time:
2
minutes
The SOFTSWISS Casino Platform is expanding its functionality by adding new features and updates, which contribute to player acquisition and retention. Bonus management via API is now available to our clients. The tool makes bonus management even more flexible and allows operators to add a new level of personalisation to bonuses for each player. Moreover, the Bonus API  by the SOFTSWISS Casino Platform enables clients to use the plethora of parameters and settings to craft unique bonuses. 
The Bonus API is a robust and secure tool for bonus automation. This new alternative to the built-in bonus module found in the Casino Platform's back office allows clients to create and provide free spins, cash and lootbox bonuses tied to various events without changing bonus system settings. 
The interface will be especially appreciated by operators who want to extend bonus system possibilities. Via API, SOFTSWISS clients can run their own settings for a desirable bonus, and the system offers the appropriate bonus to a user with the most relevant gaming behaviour. The interface will feature player profile parameters to set up bonus rules. This will enrich the player experience, make the brand's bonus policy more productive and reduce the waiting time for the bonus implementation. 
This addition brings a player-centric approach, flexibility and process customisation to the front. The Bonus API satisfies clients' requests and helps them create improved player bonuses. This is another step towards a smart casino management model for the SOFTSWISS Casino Platform team and their clients. 
"We strive to improve the SOFTSWISS Casino Platform by constantly introducing new functionality and making the product more flexible for our clients. The Bonus API is an excellent example of a tool which will help operators build long-term and fruitful relationships with players, prioritising a personal approach and boosting audience loyalty. Our team is committed to the SOFTSWISS Casino Platform's ongoing evolution. We will continue to develop new top-notch technologies to provide our clients with exceptional service and leading innovations in iGaming," – highlighted Darya Avtukhovich, Head of the Casino Platform at SOFTSWISS.

Several major clients have already tested the Bonus API. The product team will be further developing this interface.
SOFTSWISS Casino Platform is a comprehensive platform for launching a competitive and demanded iGaming brand. Along with integrated payment solutions and a multifunctional back office, the product also includes convenient instruments for managing games and player activity. Available as a part of SOFTSWISS solutions: White Label, Turnkey and Crypto Solution.
About SOFTSWISS 
SOFTSWISS is an international iGaming company supplying certified software solutions for managing gambling operations. The expert team, which counts 1,300+ employees, is based in Malta, Poland, Georgia, and Belarus. SOFTSWISS holds a number of gaming licences and provides one-stop-shop iGaming software solutions. The company has a vast product portfolio, including the Online Casino Platform, the Game Aggregator with thousands of casino games, the Affilka affiliate platform, the the SOFTSWISS Sportsbook Platform and the Jackpot Aggregator. In 2013 SOFTSWISS was the first in the world to introduce a bitcoin-optimised online casino solution.
Quadrant extends partnership with Elgato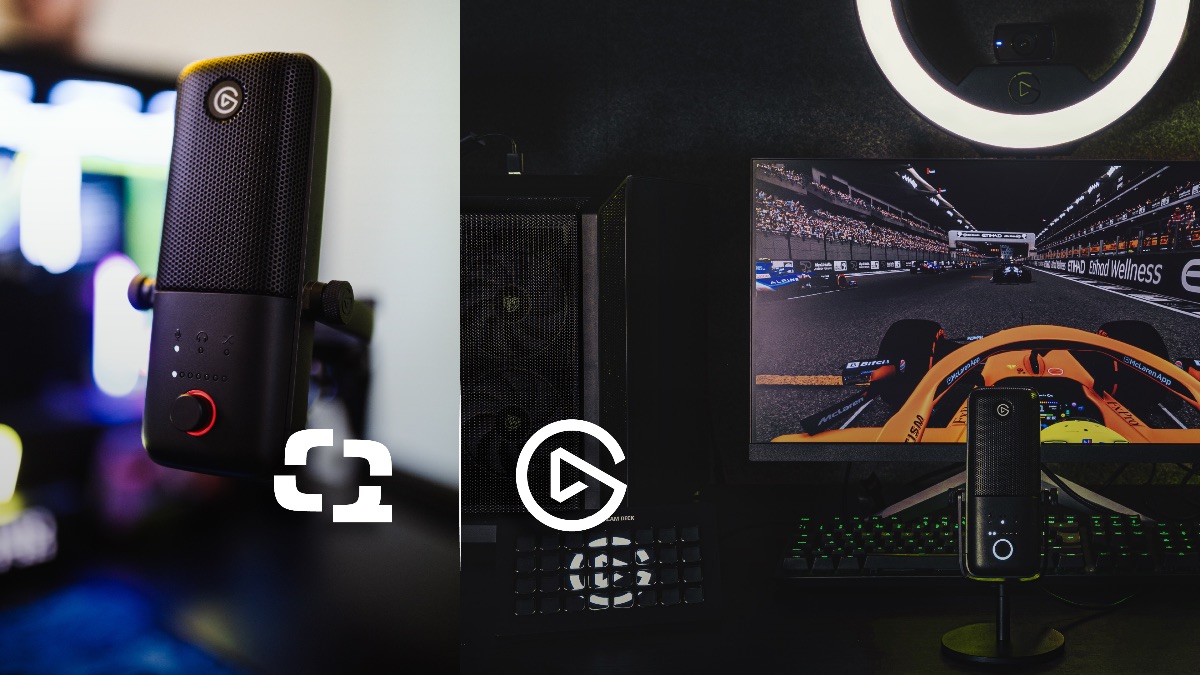 Reading Time:
2
minutes
Gaming, lifestyle, and esports organization Quadrant extends partnership with Official Streaming Equipment Partner Elgato
Quadrant has today (15 August) renewed its long-term partnership with world-leading audio-visual technology provider Elgato.
This renewal of Quadrant's first official partnership signals the success of a natural fitting collaboration. The popular gaming content channel and streaming hardware organisation have both grown exponentially within the video sharing arena.
Elgato offers a broad range of innovative audio-visual products including microphones, webcams and lighting, as well as interface decks and capture devices that are used by content creators across all video sharing platforms.
The Munich-based streaming solutions brand recently launched their 'Create Greatness' campaign with the help of Quadrant. The campaign serves to usher in a new generation of content creators by celebrating individuality and personal story telling.
'Create Greatness' is a rallying cry to enable creators and unite communities as Elgato strives to empower them with technology that enhances, defines and perfects the creators' output.
This marks the content creation tech specialists' first brand campaign focused upon the amplification of creativity, an area which Quadrant and its founder Lando Norris are more than equipped to assist with.
As Quadrant's Official Streaming Equipment Partner, Elgato has unlocked the combined audience of the channel's prestigious talent team – Lando Norris, FNG, Aarava, SuperGT, RiaBish, Fifakill and Max Fewtrell – enabling them to reach ever increasing levels of viewership.
Together, the two organisations are set to harness a long-term partnership to deliver, and through 'Create Greatness' encourage, top quality content to global audiences on premium streaming hardware.
Jamie MacLaurin, Chief Sporting Officer at Quadrant, said: "We're very excited to announce the renewal of our partnership with Elgato. This partnership has elevated the quality of our content and live streams both on the Quadrant channel and our creators' individual channels through continued support and supply of their top-of-the-line equipment. Elgato have been a tremendous partner and a pleasure to work with, and we look forward to building on the foundations we have already built together."
Tom Hildreth, Senior Partnerships Manager at Elgato, said: "We didn't hesitate when it came to discussions about working together with Quadrant for a second year. From all the high-quality content they've created to being central in one of the largest campaigns we've ever put together, we couldn't be happier with how the partnership has gone so far. With ideas and plans already in the works, it's an exciting journey that we are thrilled to be continuing."
CBBC announces new esports show: Game on Grandparents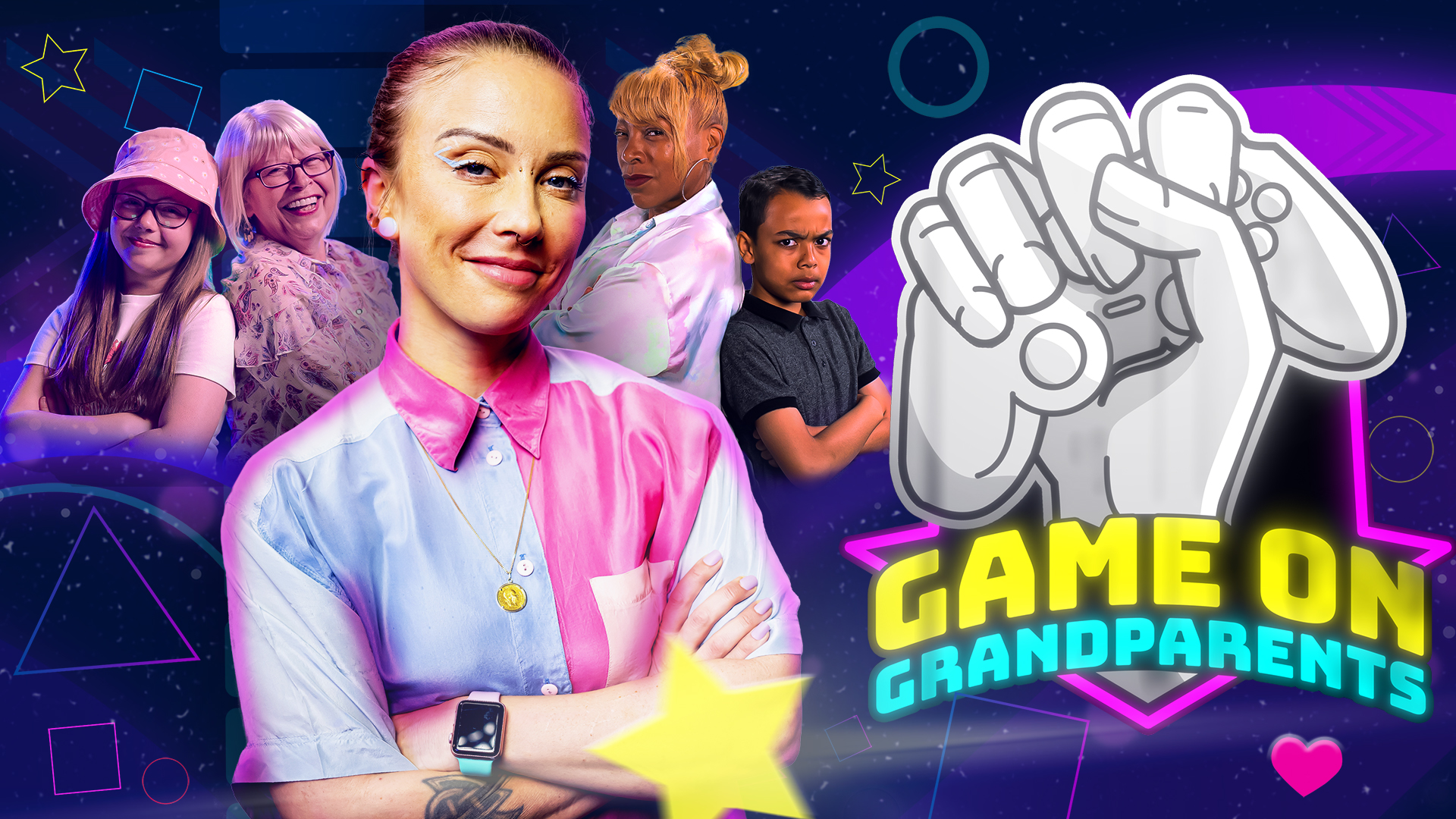 Reading Time:
2
minutes
GAME ON GRANDPARENTS – ELECTRIC ROBIN BRINGS A NEW ESPORTS SERIES TO CBBC  THIS AUGUST
CBBC's Game on Grandparents, is a gaming competition series like no other. Produced by Electric Robin [part of Banijay group], young gamers and their grandparents will step into each other's lives like never before. The first episode airs today Monday 15th August at 09:15 on CBBC and BBC iPlayer.
Girls and boys who dream of playing at an esports tournament are about to get the chance BUT there's a twist, they won't be playing themselves, they'll be training up their gaming rookie grandparents to take part!
And while their grandparents are busy practising, the children have to take on their roles about the house from washing up to walking the dog, to entertaining Grandma's friends for the afternoon – what could possibly go wrong?!
Throughout the series we see 18 sets of teams battle it out to be named Game on Grandparents champions. They compete with some of the biggest gaming titles in the world including Minecraft, Just Dance, Wii Ski, Mario Golf, Mario Kart, Wipeout, Gran Turismo, Super Smash Bros and Splatoon.
Along the way they are given a little bit of help from world-renowned gaming celebrities including, Ali-A, Yammy, Sanna, Jelly, Blackpanthaa, Adam Savage, Vikkstar, Ruby Rube and more, who have a combined reach of over 85million on YouTube alone.
Joining this star studded line up is Game on Grandparents host, Julia Hardy, known for the Top Gear Gaming Show and the BBC Sounds podcast, This Game Changed My Life, and esports royalty Miles Ross offering energetic and exciting commentary throughout.
Julia Hardy, Game on Grandparents Host said: "It's been such a pleasure to see all of our families spend time together and learn from each other, all whilst creating a memory that they'll never forget. I mean who would forget playing on an esports stage in front of a live studio audience just like the pros?
Premiering on CBBC and BBC iPlayer Monday the 15th August at 9:10am every weekday morning for two weeks. All episodes will be available to watch again on BBC iPlayer.
Grandparents and Gaming, what's not to love?