Rix.GG welcomes MissRage and Pegsazeus as its first influential content creators!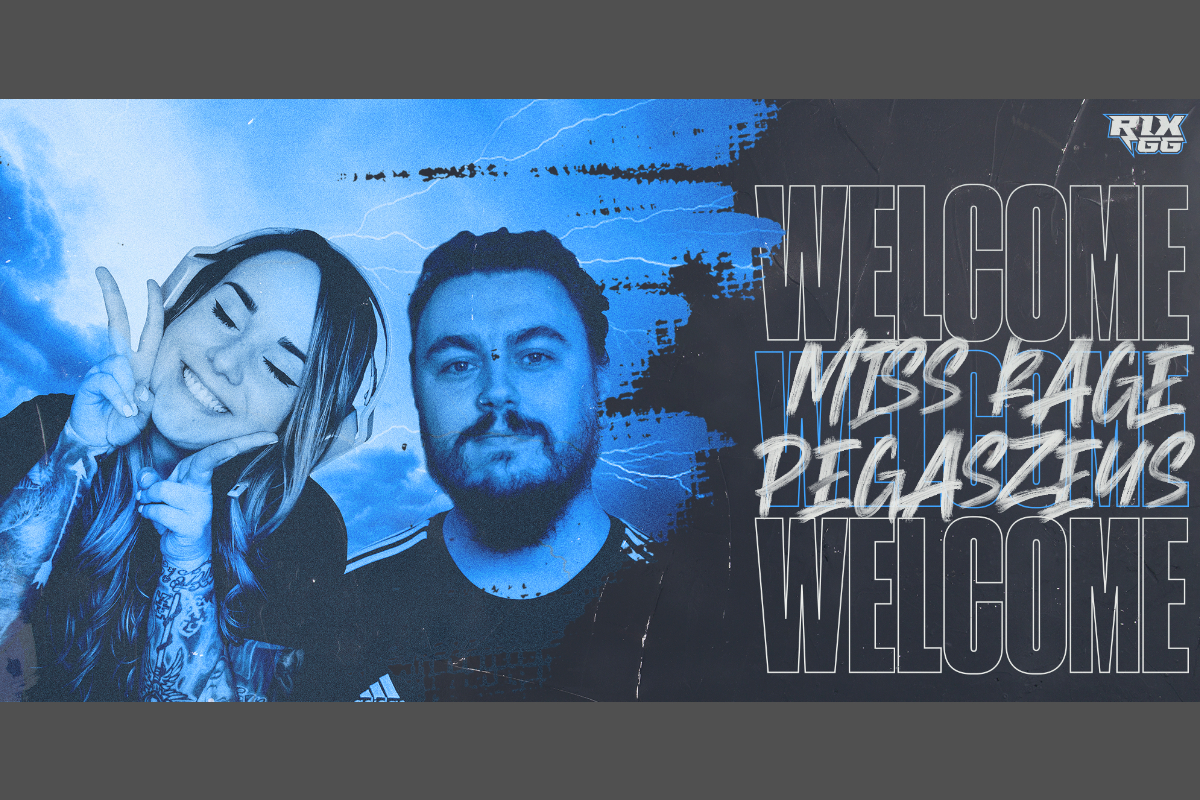 Reading Time:
< 1
minute
Rix.GG, a top UK esports organisation, announces Julia "MissRage" Kreuzer and Elliot "Pegsazeus" Sinclair will be the first content creators and brand influencers to join the organisation.
Julia "MissRage" Kreuzer is a Twitch partnered streamer out of Austria most known for her streams in a variety of First Person Shooter (FPS) games and regular cooking segments. Currently, MissRage is sponsored by Fritz!, Logitech G, Elgato, Blue Microphones, Hi-Tech for Gamers and Monster Energy.
Elliot "Pegsazeus" Sinclair is a Twitch affiliate from the UK and is most known for streaming Valorant, consistently ranking in the top 500 players in the EU. Elliot was previously a content creator for BuzzKill.
Jamie Lewis, CEO and founder, said: "I am super excited to announce two awesome esports personalities to the Rix.GG family. Both sets of teams on each side worked really hard to put together mutually beneficial terms and I'm over the moon that we can finally make this announcement."
Julia "MissRage" Kreuzer, content creator, said: "As of today I´m excited to announce that I´m part of Rix.GG. Working together with such talented, experienced and open-minded people gets me hyped for our future adventures."
Elliot "Pegsazeus" Sinclair, content creator, said: "I am super happy to announce that I am a part of Rix.GG. This is a massive step in my streaming career and I can't wait to see what Rix.GG and I can do together."

Virtus.pro and HyperX extend the partnership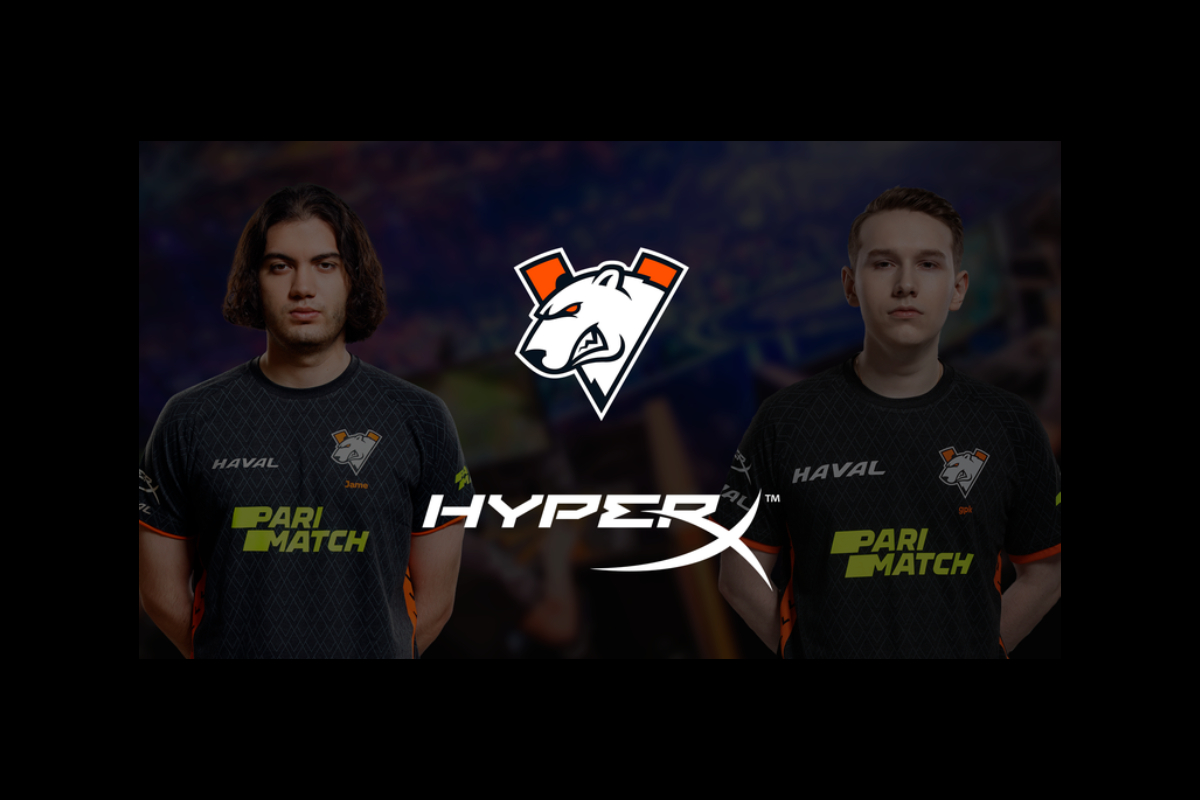 Reading Time:
< 1
minute
Virtus.pro and a manufacturer of memory storage devices and computer peripherals HyperX will extend their partnership that started in March of 2020. HyperX remains the partner of our first rosters in every discipline.
Our cooperation with HyperX started a year ago. During this time we hosted a number of raffles and prize draws that were of great interest to our fans.
This year our cooperation is going to boost up: more interesting projects for the fans as well as the HyperX logo on the chest of our jersey.
Olympic Council of Asia and AESF Introduces the 'Road to Asian Games' Campaign for 2022 Asian Games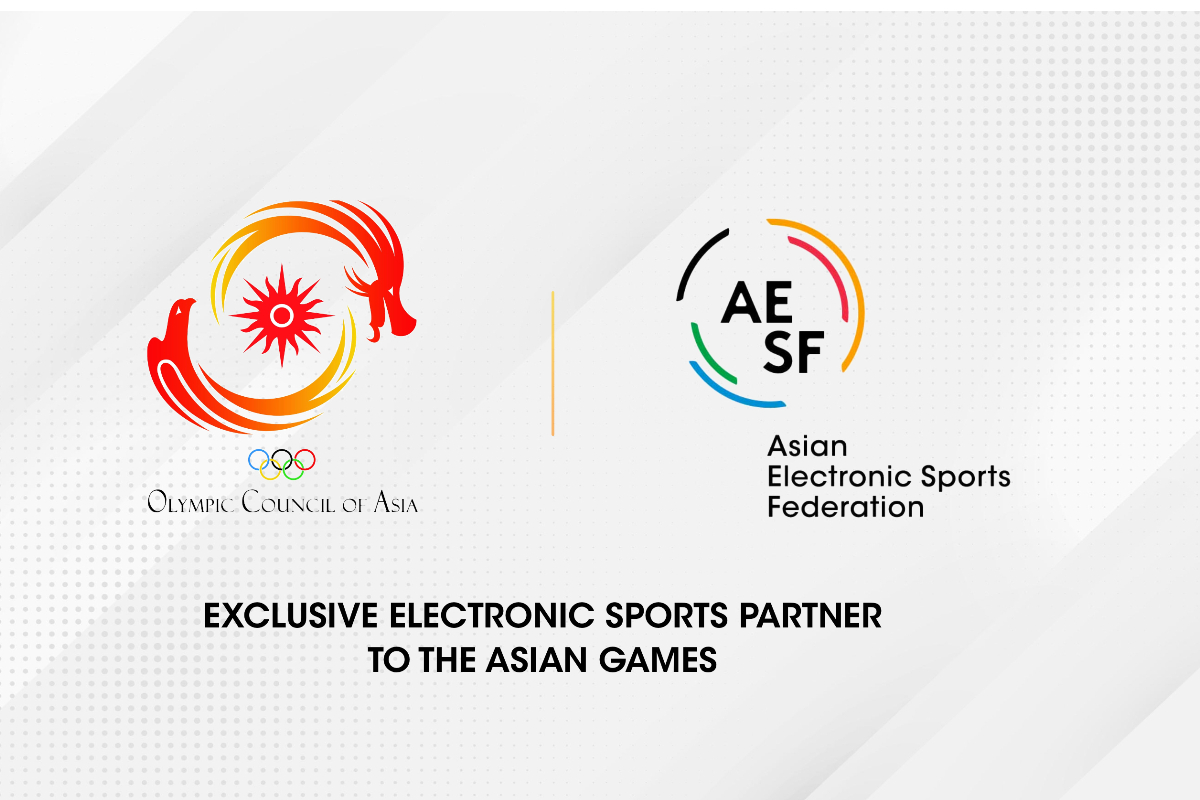 Reading Time:
4
minutes
The Olympic Council of Asia (OCA) and Asian Electronic Sports Federation (AESF) has confirmed the introduction of the new program, 'Road to Asian Games' for the upcoming 2022 Asian Games. In addition, the OCA has confirmed again the appointment of the AESF as the only Technical Delegate who will take charge of all the matters of technical conduct for Esports events at the 2022 Asian Games.
The AESF will be the exclusive organizer of 'Road to Asian Games', the official qualifier program and competition of esports to the Asian Games final. The AESF is the first Esports federation to introduce a direct pathway, 'Road to Asian Games,' whereby event titles selection and confirmation will be decided by AESF and allow publishers to be part of an Olympic event such as the Asian Games. The campaign will begin in Hangzhou 2022, and with AESF to continue the organization of Esports through to Nagoya 2026, Doha 2030 and beyond. This initiative will be the first of its kind to bring fair and equal opportunities to all publishers and advance esports developments not just to Asia, but worldwide.
With Esports making its debut as a medal event at the Asian Games, the AESF 'Road to Asian Games' campaign will also extend beyond the competition scenes. This campaign will lay the foundation in bringing the Olympic Spirit to esports and introduce an education program for participating Esports athletes to share the Olympic Movement and Values not just in Asia, but globally. With plans for the promotion, sustainability and legacies underway, the emphasis will be on education and development in Esports. The key area of focus will be grassroots development, inclusion programs, career pathways, health and wellbeing support, as well as athlete's rights and protection.
The AESF is excited to accelerate the esports movement from competitive video gaming event into official sport event with the participation in the Continental Games. The AESF plans to include virtual and simulating sports to the 'Road to Asian Games' and finals competition as a demonstration event, which will further encourage and expand esports scope from traditional titles which are recognised as console, computer or mobile esports game events. This inclusion will also aim to encourage both sports and esports community to engage in physical activity and promote mental wellbeing.
To officialise the partnership for the 'Road to Asian Games' campaign and the confirmation on the roles & responsibilities of AESF, an official Signing Ceremony was held with the OCA Director General Dr. Husain A H Z Al-Musallam, OCA Director of Sports Mr. Haider A H E Farman, AESF President Mr. Kenneth Fok, and AESF Director General Mr. Sebastian Lau in attendance.
Announcing the partnership, Director General of OCA Dr. Husain AHZ Al-Musallam said "It is a great pleasure to officially announce our partnership between OCA and AESF for the new Esports program for our Asian Games and OCA will provide full support for successful Esports events at the 19th Asian Games in Hangzhou, China. We wish the best to our partner AESF on the journey ahead," he added.
In line with this partnership, the OCA reconfirms that the AESF is the sole official governing body of esports in Asia and will be fully responsible for all technical aspect of esports competitions at Asian Games as well as any other OCA events.
"I would like to express our sincere appreciation for the continuous support and trust from the OCA. I believe that the Asian Games presents the best stage for us to share Olympic Values with Esports community and we aim to make our Esports communities develop further through this opportunity. Also, we look forward to a successful collaboration with OCA as well as LOC." said Mr. Fok in a speech during the signing.
Disclosing AESF's role and responsibility, OCA Director of Sports Mr. Haider A H E Farman added, "Leading up to the Asian Games, the Asian Electronic Sports Federation will have the leading role and take full responsibility in the selection of esports titles in collaboration with the OCA. From the qualifying rounds to the grand finals of each esports event, rest assured that the OCA and AESF, together with LOC will work hand-in-hand, ensuring successful esports events for the 19th Asian Games Hangzhou 2022."
Mr. Sebastian Lau of AESF further conveyed his gratitude during the ceremony, "As the Asian Federation, the AESF is honoured to be organizing the esports qualifiers and the Technical Delegate for the upcoming Asian Games. We will start from Hangzhou, and I am looking forward to exploring more opportunities together with all of you and make the evolution of esports further in Nagoya 2026, Doha 2030 and beyond."
More than just an Esports event, the 'Road to Asian Games' and finals at the 19th Asian Games exhibits the growth of Esports from competitive gaming event to an official sport event and the AESF, with the full support of OCA and LOC, will assure the most competitive and extraordinary esports event to date.
Road to Asian Games Partnership Summary
Esports Event Title Selection
AESF will select the esports event titles to be contested for the qualifiers and finals at the 2022 Asian Game and make the final confirmation on the selected titles in collaboration with the OCA.
Eligibility and Participating Teams
Leading up to the 2022 Asian Games in Hangzhou, China, the AESF is responsible for identifying the finalists for their respective esports event titles through regional qualifiers as part of the 'Road to Asian Games' competition campaign which will lead to the Final at 2022 Asian Games in Hangzhou, China.
Qualifiers and Finals
The AESF will form the qualifying and final tournament structure for all esports events and conduct the qualifiers for all participating Asian countries at the 2022 Asian Games in Hangzhou, China, in collaboration with the OCA.
Community Outreach Programs
As part of the Asian Games community outreach, AESF will deliver and execute the AESF Experience Program with full support from the OCA. Aiming to connect with the esports community and fans alike, this program also aims to deliver the best Esports experience while also attracting new esports fans.
TikTok Partners with FIGHT Esports for the #TikTokGGPH Creator Cup Tournament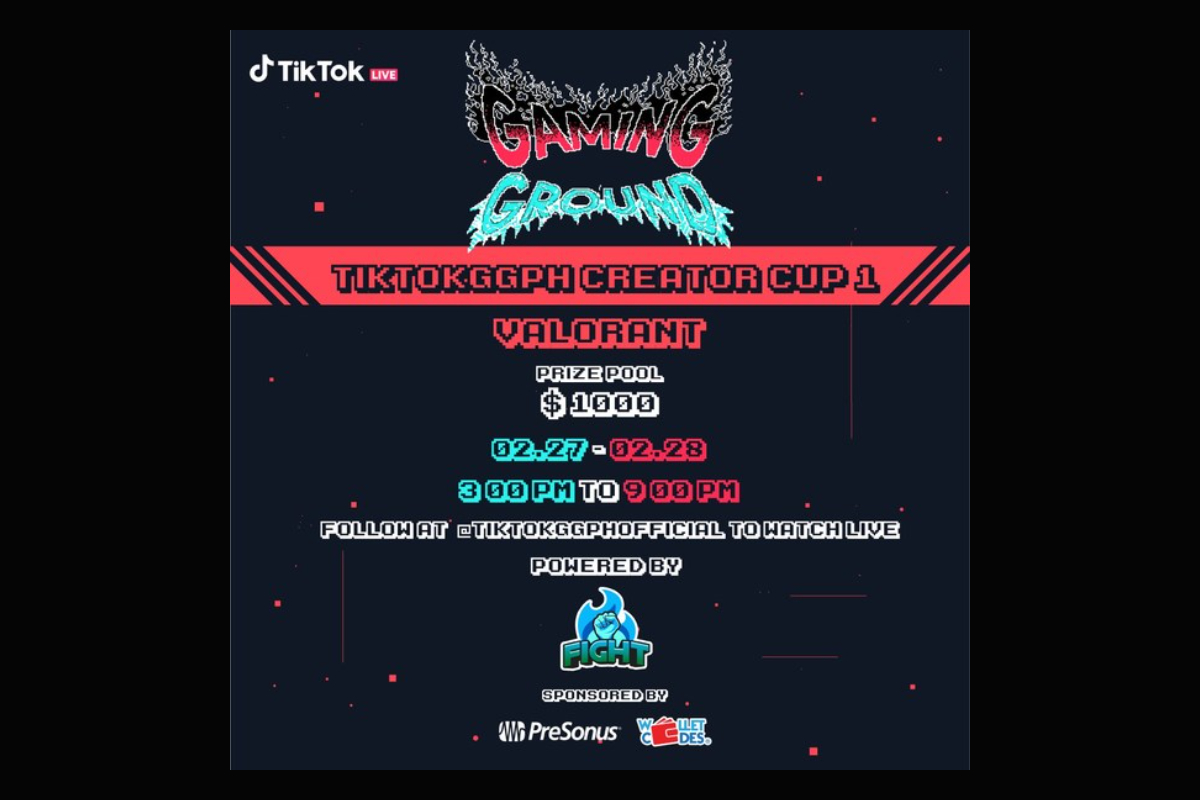 Reading Time:
2
minutes
The Creator Cup is the first of a series of tournaments hosted by the new TikTok Gaming Ground PH
TikTok inks a year-long partnership with Forest Interactive Gaming Habitat Team (FIGHT Esports), a global esports organizer, to make online gaming more socially accessible than ever.
The partnership kicks off with the inaugural #TikTokGGPH Creator Cup Tournament jointly hosted by TikTok Philippines and FIGHT Esports. The Creator Cup, which will be set within Valorant, is taking place on February 27 and 28, from 3 pm to 9 pm (GMT+8), and the entire event will be live-streamed on TikTok Gaming Ground PH (TikTok GGPH) account via @tiktokggphofficial. To raise the stakes, TikTok Philippines is offering a $1,000 prize pool to be awarded to the champion, 1st runner up, and 2nd runner up of the tournament.
"TikTok continues to pursue opportunities to inspire creativity and bring joy to all Filipinos. With gaming actively becoming a positive source for community building and enjoyment, we are happy to be doing our part in providing the growing gaming community with a platform for education, positive connections and interaction," said John Castro, TikTok's Gaming Operations Manager for the Philippines.
"TikTok is fast becoming a place where people create, share, and enjoy a new type of experience. It really makes a lot of sense for us to leverage TikTok to reach the gaming community and give them the opportunity to connect and share their passion with fellow gamers around the world. This will create a unique and innovative esports experience where they can follow and engage with their favorite gaming content creators, tune in to esports tournament livestreams, as well as celebrate esports in ways that have never been done before," noted Chantal-Denise Ortega, FIGHT's Project Manager.
Prior to the tournament, a video campaign was held within the TikTok app, as part of the official #TikTokGGPH launch. From February 12 to 28, creators on the platform can upload a video that perfectly captures their gaming style, and shows the community exactly what it's like to be a gamer. To qualify, creators must use the hashtag #TikTokGGPH when they post their video entries. At the end of the campaign period, 20 creators will be selected to become part of TikTok's community of gamers, based on the level of passion for gaming, and creative potential seen in their videos.
About TikTok 
TikTok is the leading destination for short-form mobile video. Our mission is to inspire creativity and bring joy. TikTok has global offices including Los Angeles, Mountain View, New York, London, Paris, Berlin, Dubai, Mumbai, Singapore, Jakarta, Seoul, and Tokyo.
Source: Forest Interactive