New study shows the biggest earners on Twitter of all time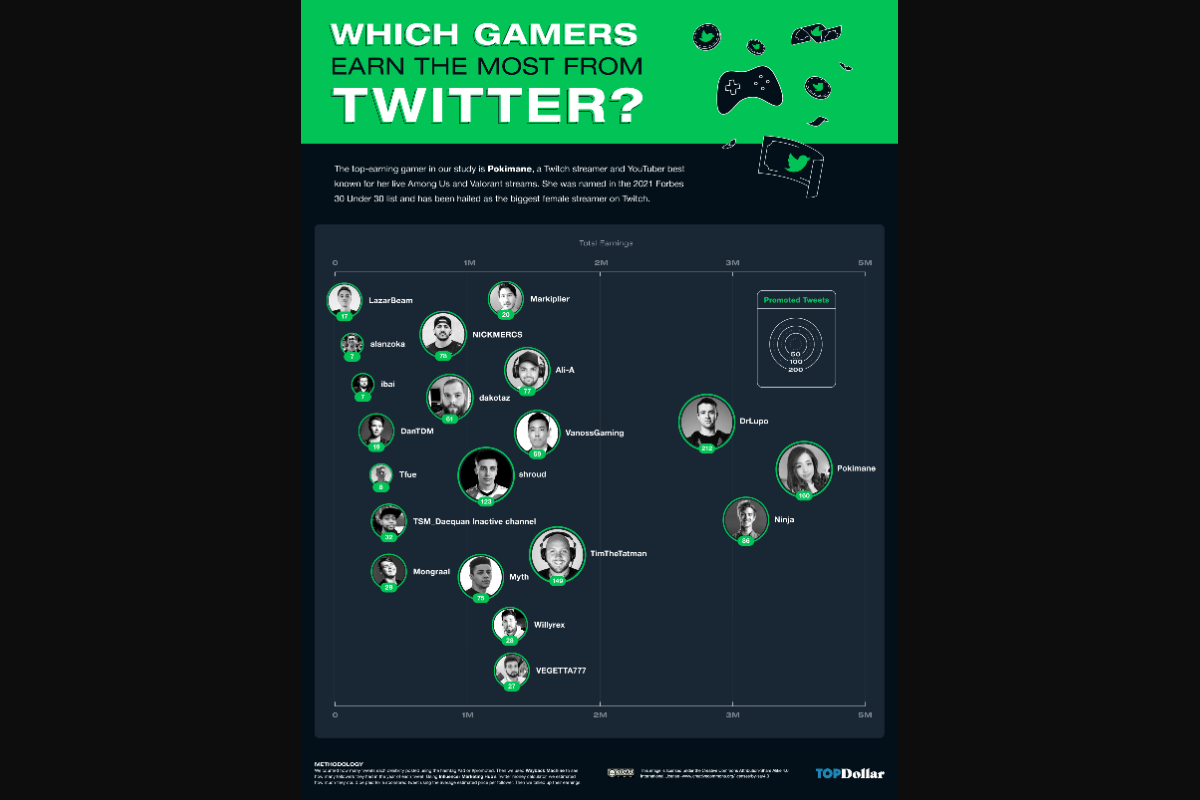 Reading Time:
2
minutes
Although Instagram is considered a more trendy platform, the earning power of Twitter shouldn't be underestimated, with the likes of Kim K able to command in excess of $500,000 per sponsored post.
In fact, you only need a few thousand followers to start making a buck with promotional tweets. And celebrities with millions of followers and a distinct brand are making millions of dollars advertising their sponsors' products on Twitter.
But just how many millions? Top Dollar wanted to delve back through the archives to find out…
Here's a preview of the Top 10:
Methodology
Top Dollar assembled lists of celebrities and influencers from a variety of sources, including Forbes celebrity rich list, SocialBlade's top gaming YouTubers, and FriendOrFollow's most-followed Twitter accounts.
For each celebrity, they looked at their official Twitter account and counted the number of tweets they've posted under the hashtag #ad or #promoted since their account was created. With the help of Wayback Machine, they then looked up how many followers these celebrity accounts had in the year (month where possible) when their #ad or #promoted tweets were posted.
Using Influencer Marketing Hub's Twitter money calculator, the team estimated how much a given celebrity could be paid for posting a sponsored tweet using the average estimated price per follower. Applying these calculations to the celebrities and their followers in the years when they were posting tweets using hashtags #ad or #promoted, they tallied up their potential earnings over the years.Which Gamers Earn the Most From Twitter?
The top-earning gamer in our study is Pokimane, a Twitch streamer and YouTuber best known for her live Among Us and Valorant streams. She was named in the 2021 Forbes 30 Under 30 list and has been hailed as the biggest female streamer on Twitch.
| | | |
| --- | --- | --- |
| Name | Promoted Tweets | Total Earnings |
| Pokimane | 160 | $3,965,553 |
| Ninja | 86 | $3,035,923 |
| DrLupo | 212 | $2,774,809 |
| TimTheTatman | 149 | $1,603,053 |
| VanossGaming | 59 | $1,584,566 |
| Ali-A | 77 | $1,551,777 |
| VEGETTA777 | 27 | $1,432,403 |
| Willyrex | 28 | $1,425,719 |
| Markiplier | 20 | $1,424,348 |
| shroud | 123 | $1,295,123 |
| Myth | 75 | $1,273,161 |
| dakotaz | 61 | $813,759 |
| NICKMERCS | 78 | $756,083 |
| Mongraal | 29 | $314,036 |
| TSM_Daequan Inactive channel | 32 | $312,253 |
| Tfue | 8 | $264,189 |
| DanTDM | 19 | $244,154 |
| ibai | 7 | $218,908 |
| alanzoka | 7 | $161,816 |
| LazarBeam | 17 | $132,154 |

Ocean Outdoor UK & Admix take brands into the metaverse with NFT billboards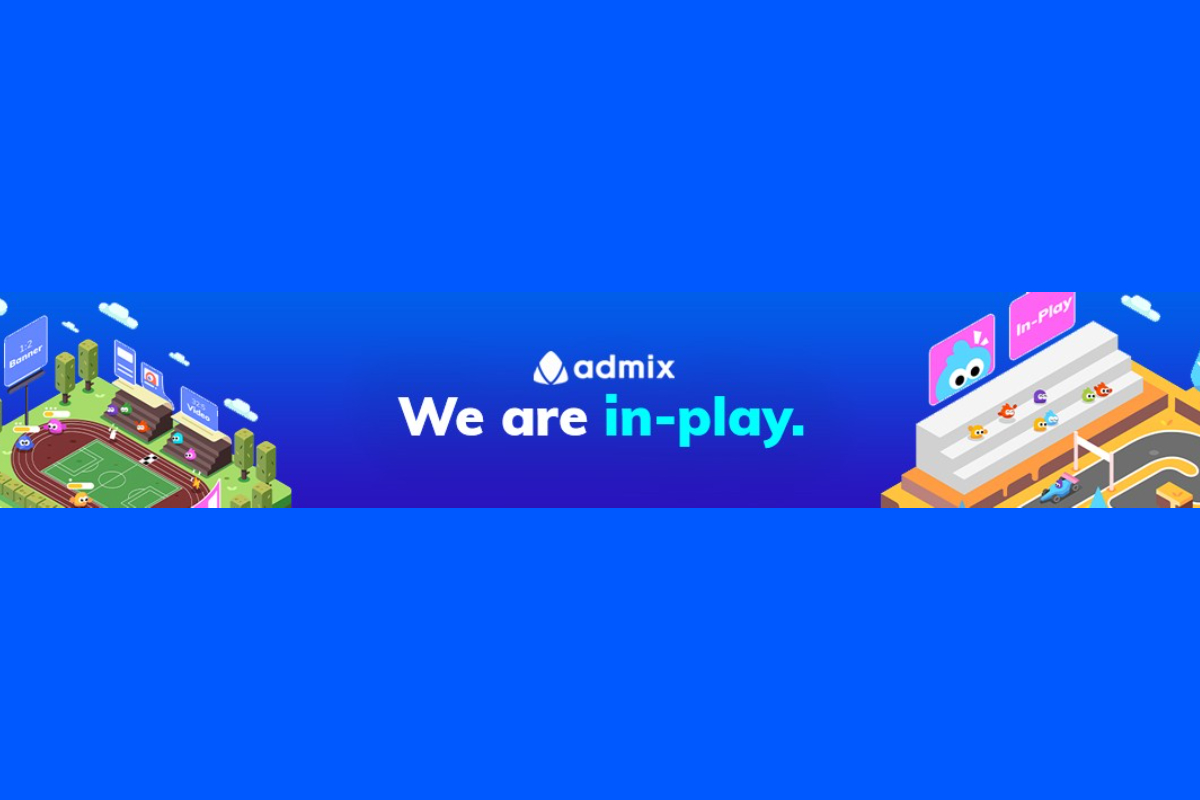 Reading Time:
3
minutes
Admix, the In-Play company that bridges the gap between brands and the metaverse, today announces a new partnership with Ocean Outdoor, the UK's leading digital out of home (DOOH) operator, to send brands into the metaverse.
Brands are increasingly waking up to gaming and virtual worlds as a new form of 'real' estate on which to advertise. As the digital and physical worlds converge, consumers now spend similar amounts of time immersed in each, creating a new frontier for advertising. Virtual platforms such as Roblox, which has 220 million monthly active users, and Sandbox, which recently sold a plot of virtual real estate for USD $4.3 million, are leading this convergence via realistic experiences such as games, concerts and fashion shows.
The partnership between Admix and Ocean Outdoor UK signals a new dawn for the advertising industry as the two companies join the dots blending the physical with the virtual world. A series of activities that couple DOOH with virtual worlds are planned for the next year and beyond, aimed at maximising eyeballs for advertisers in the DOOH market, which is already projected to be worth $50bn by 2026.
The starting gun will be fired with the launch of three DOOH ad spots into the metaverse as NFT billboards. Ocean's first drop will feature digital replicas of three bespoke DOOH locations which are similar in design and scale to its premium city centre UK assets including a spectacular tri-screen roadside location, a giant curve screen full motion location and The Loop city centre full motion network in Manchester and Birmingham.
Using Admix's In-Play technology and Ocean Outdoor UK's brand partnerships, the NFT billboards will synchronise with the creatives displayed on their real-world counterparts. This collaboration is an adland-first that paves the way for global brands looking to take steps into the formative metaverse.
Samuel Huber, CEO and Co-Founder at Admix, commented:
"Admix's partnership with Ocean Outdoor UK is a watershed moment for the advertising industry, creating realistic ad experiences that merge physical and virtual worlds for the very first time. The metaverse is the perfect playground for Ocean's creativity and its customers are making a symbolic step that will mark them out as pioneers of a new form of advertising which has unlimited reach. Of course, this is just the beginning: there will be dozens of ways for brands to engage consumers in the metaverse and Admix aims to be the gateway for brands to help shape the future of digital experiences for their audiences."
Ocean Outdoor UK Joint Managing Director Phil Hall said: "Under this agreement, all of the elements that make Ocean a market leader in the real world – high quality builds with unmissable, unskippable ads served in an environment that people choose to be in – apply equally, if not more so, in the virtual world. This partnership is a natural evolution for the company and has an indisputable link to the core Ocean product and the wider addressable market."
Admix has pioneered In-Play, a non-intrusive digital ad format which creates an advertising experience similar to the real-world. As an increasing number of users enter worlds such as Roblox, Sandbox and Decentraland to name but a few, brands need the infrastructure to reach and engage people in virtual worlds without disrupting their experience.
Starting from Sunday 12th December 2021, the Ocean Outdoor UK and Admix NFT billboards will be auctioned via the world's largest NFT marketplace, OpenSea, and displayed by the successful bidders within Somnium Space. Social VR platform Somnium Space is an immersive space where users can purchase digital land and build games and experiences within it. The partnership with Admix means Ocean's Labs division and the Ocean UK sales team will be able to sell an engaged 16 to 34 audience as a cohesive physical and virtual combined offer.
Breaking a GUINNESS WORLD RECORDS™ title Clockwork Aquario celebrating its global release with a brand new record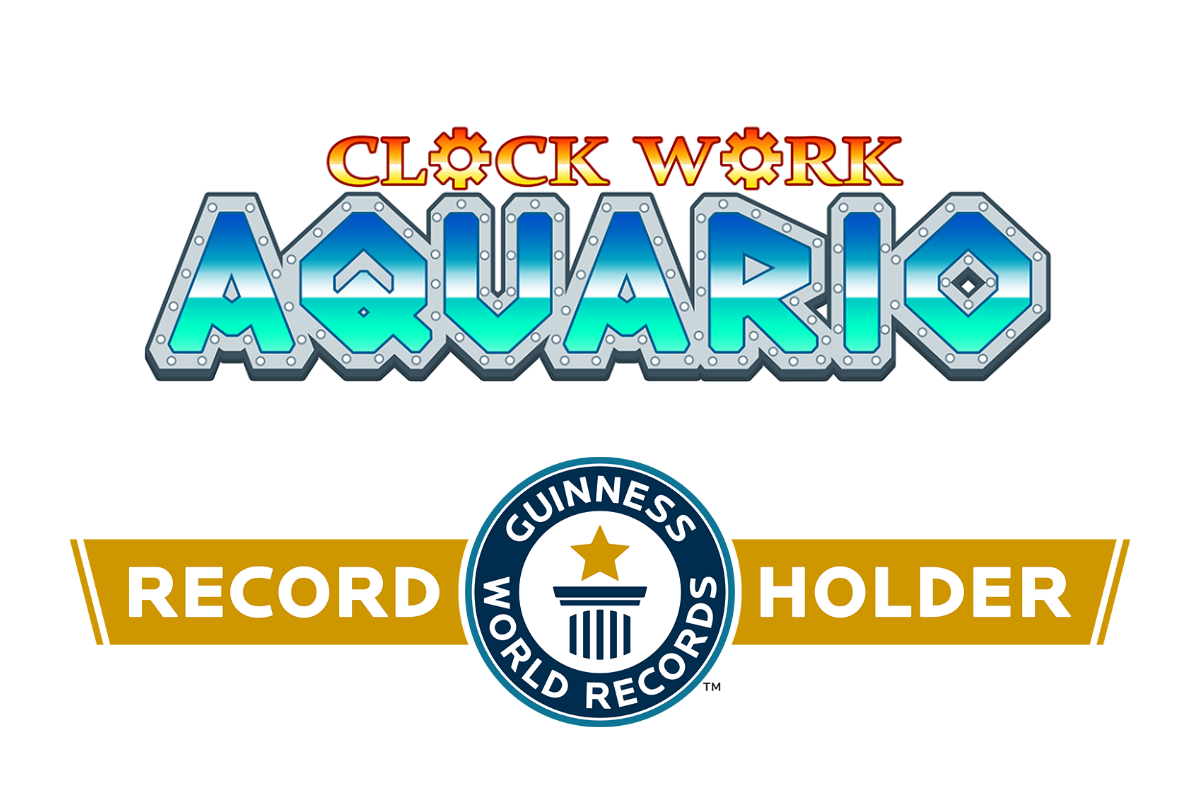 Reading Time:
2
minutes
ININ Games and Strictly Limited Games proudly celebrated the release of a treasure from the arcades – Clockwork Aquario last week. Along with the successful launch of this colorful retro gem, Clockwork Aquario is now being celebrated as a new holder of the Guinness World Records™ title for the longest time between a videogame project start and final release!
With the development initially started in 1991 and completed 2021, Clockwork Aquario takes over the mantle from Duke Nukem Forever that held the Guinness World Record title until now.
A story of true video game archeology
The initial development of Clockwork Aquario started in 1991. It was the last arcade game ever developed by the legendary company Westone. With the advent of 3D gaming and other genres vying for dominance, Clockwork Aquario's development was canceled. Nearly 30 years later, ININ Games and Strictly Limited Games – two labels dedicated to preserving popular but also forgotten or never-released retro gems – joined forces to unearth this video game treasure. A development team including members of the original Westone team such as Ryuichi Nishizawa – co-founder of Westone and creator of legendary Wonder Boy – was put together with the aim to bring Clockwork Aquario to life. With a motivated team of passionate retro game fans and the original creators of Clockwork Aquario, it was ensured that the lost arcade title gets its well deserved release, losing none of its charm, but staying true to its roots.
"[…] I would like to express my heartfelt respect and gratitude to those who have worked so hard to restore Clockwork Aquario. I don't think it's an exaggeration to say that this work is a great piece of 2D art, where the pixel artists of that time put their hearts and souls into. I'd be happy if people would appreciate and enjoy it." – Ryuichi Nishizawa
About the Game
Clockwork Aquario is an exciting, colorful gem of an arcade game for PS4 and Nintendo Switch. It has already achieved some notable reviews that include a 9/10 from NintendoLife, along with many other great reviews and love from enthusiastic fans of the retro genre.
Dynamic movement, fun gameplay, colorful animations – Clockwork Aquario is an awesome experience for all retro and arcade game fans from back then and new players alike – now available for Nintendo Switch and PS4!
FROM FIFA TO THE FANS: ICONS SHIRT BROUGHT TO LIFE FOR FIRST TIME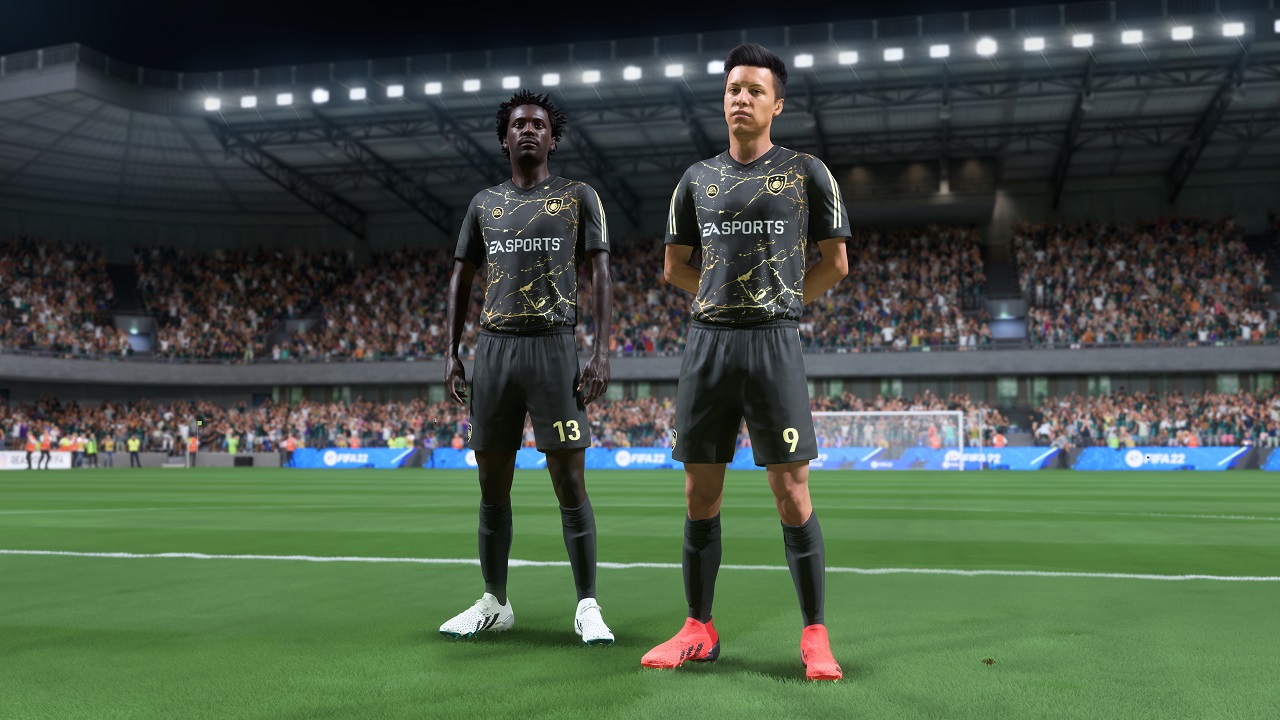 Reading Time:
2
minutes
Gaming and football fans can buy the official FIFA 22 Ultimate Team (FUT) ICONs shirts for the first time as Sports Direct become the only high street retailer to stock the legendary home and away strips.
Designed with EA SPORTS as exact replicas of the in-game kits, both home (white) and away (black) shirts feature the striking gold colourway inspired by the iconic status of the legends who once graced the field. Fans will now be able to don the same shirts as those worn by over 100 existing FUT ICONs, including the latest additions to FUT 22: Wayne Rooney, Cafu, Iker Casillas and Robin van Persie.
Sports Direct will also connect virtual and real footballing worlds by giving fans the ability to personalise the ICONs shirts with their console gamertag (Xbox, PlayStation or PC) for the first time. Available at its Oxford Street Flagship Store, the personalisation innovation will add additional characters to the MY ID service so football lovers can play with their online gaming name on the back of the shirts.
Hashtag United founder and Sports Direct Ambassador, Spencer Owen, said: "I love it when the worlds of gaming and "real life" sports collide. It's amazing that so many icons of football are in FIFA and the fact that I can now wear a FUT ICON shirt from the game in real life, with my own name on it, is very cool!"
Beckie Stanion, Chief Marketing Officer Sports Direct, added: "We take pride in being the number one destination for football – whether that's in the virtual or real world. Being the first high street retailer to stock the ICONs shirts is just the beginning of an exciting partnership with EA SPORTS, so watch this space for more products and in-store experiences that blur the lines between the real and virtual world for our customers."
James Salmon, Marketing Director, EA SPORTS FIFA Brand, said: "EA SPORTS' ambition is to embed FIFA in the fabric of football, and our partnership with Sports Direct is another step towards this. FUT ICONs are a celebration of the greatest to ever play the game and have been a much-loved addition to the EA SPORTS FIFA series since they were first introduced in FIFA 16. We're delighted to be partnering with Sports Direct to retail the FUT ICONs shirts for the first time and are excited to offer fans the opportunity to wear the same kit as these legends."
As part of its Game Recognises Game platform, Sports Direct is the only sporting goods retailer to sell the EA SPORTS FIFA 22 video game and ICONs shirt. The retailer seeks to blur the lines between the virtual and the real world, enabling fans to elevate their gameplay and inspiring them to unleash their inner legend on the pitch.