Bad Fox Studios' MOSH Super Squad Hits PC Early Access on the 25th of June across Steam and the Epic Games Store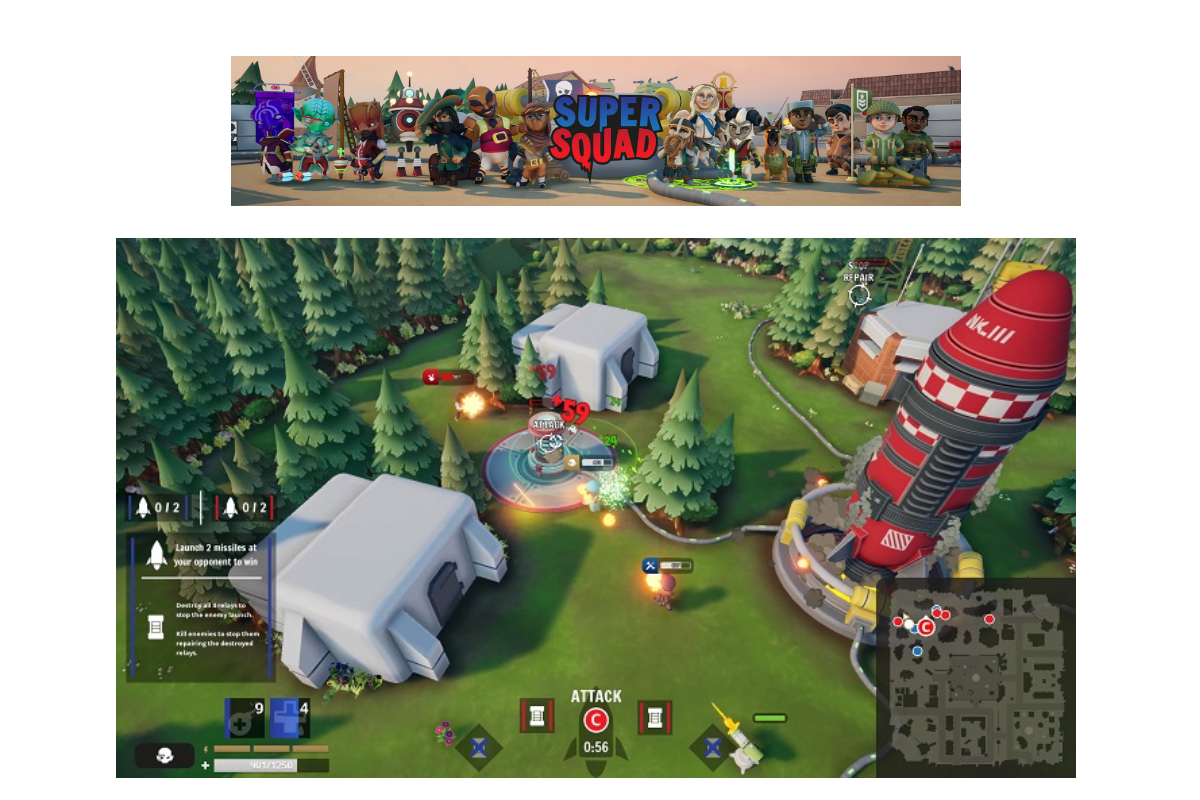 Reading Time:
2
minutes
Squad up and duke it out in a manic-strategic battle for domination. Tactics, teamwork and twitch reflexes are vital to claim victory, with top-down shooter controls to master, a diverse roster of troopers to choose from, and a myriad of map shaking abilities to fire off.
Bad Fox Studios are pleased to announce their Free to Play game Super Squad will be blasting into Early Access on the EPIC Games Store and Steam on the 25th of June. Super Squad's entry into Early Access also heralds the birth of a new genre: the team-based Multiplayer Online Shoot-'Em-Up, or MOSH. Part RTS strategy, part MOBA twitch shooter, all MOSH. To claim victory, you'll have to think like a general but fight like a trooper.
Join the Cosmic Chaos!
Soldiers, aliens, pirates, and more collide when military experiments on a mysterious meteorite tear a rift in the fabric of reality. Portals appear throughout the universe, sucking up troopers from across time and space to face off in feverish 5 v 5 battles for domination.
Dodge Faster, Shoot Faster, Think Faster
Whether hunting for missile keys to bombard the enemy stronghold on Military Base, warping to New Mars to assault the enemy mothership, or keeping it classic and going head-to-head in the upcoming Team Deathmatch mode, smart team composition, slick co-operation and laser accurate skill shots are the ways to win.
What to Expect
Super Squad will release into Early Access with 12 playable troopers to choose from, 8 maps to traverse, and 2 modes to battle through. You can either purchase access to all troopers present and future with a Superpack, or simply jump in with the 6 free troopers that will be on rotation every 2 weeks. 2 new troopers will also be added to the roster monthly, giving players new playstyles to master, re-invigorating the team composition meta, and keeping the action fresh.
The Bad Fox Philosophy
Player-focused design is at our core and we are committed to ensuring Super Squad is fun for everyone, regardless of their decision to spend money on the game. That means unlockable content at a fair price, absolutely no pay-to-win mechanics, and our ongoing support for competitive play.
A Huge Thank You to all our Beta Troopers!
After rounding out over a year of beta testing with a series of beta weekends and a 54 hour(!) long stream, everyone at Bad Fox would like to send a huge thank you to the thousands of troopers who logged in and squadded up for the first time. You have been crucial in refining Super Squad from controlling multiple troopers in the beginning, right down to the current build. We can't wait to continue the journey with you as Super Squad continues to grow and evolve!
Super Squad launches into Early Access on Steam and the Epic Games Store on the 25th of June.
Brenda and John Romero to be presented with 'Lifetime Achievement Award' at GamerFest for their outstanding contribution to the gaming industry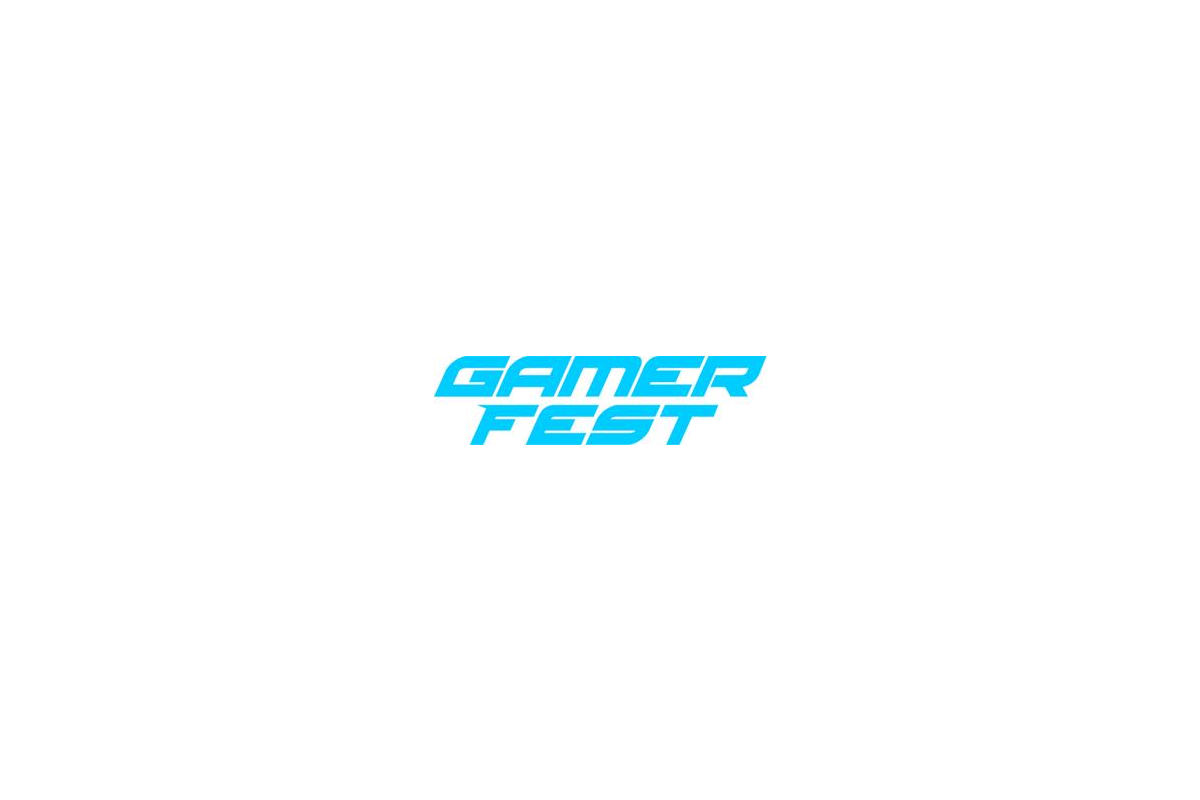 Reading Time:
2
minutes
5,000+ gamers will gather at GamerFest in the RDS on October 22nd and 23rd to celebrate an epic weekend of gaming
Special guests lined up include content creators DeeBeeGeek, Antitinkerbell, Jamie Jay Car, The Gara Show,  Miss Audrey and many more
Gaming legends Brenda and John Romero have been announced as the recipients of the inaugural GamerFest Lifetime Achievement Award for their outstanding contribution to the gaming industry both in Ireland and internationally.
Brenda and John, founders of Romero Games, were chosen as recipients for this award as a result of their unparalleled success in the game development world and their tireless work supporting gaming related projects and initiatives in Ireland.
Brenda Romero is a BAFTA award-winning game director, entrepreneur, artist and is currently game director and creator of the 'Empire of Sin' franchise. She has worked on 50 games and contributed to many titles, including the well-loved 'Wizardry' video game and the 'Jagged Alliance' series. John Romero is an award-winning game designer, level designer and programmer who has worked on over 130 games including legendary games 'Wolfenstein 3D' and 'DOOM.'
After visiting Ireland in 2014, the husband-and-wife duo decided to move to Galway permanently and founded Romero Games, a move that has transformed the gaming industry in Ireland by offering career opportunities in the sector and contributing to the overall growth of gaming in Ireland. The Romero Games team released 'Sigil' the unofficial fifth episode of the 1993 video game 'DOOM'  in 2019 and 'Empire of Sin' in 2020 which was directed by Brenda herself.
GamerFest takes place in Dublin's RDS on October 22nd and 23rd and promises to be a jam-packed weekend of all things gaming including the latest games, esports, VR, special guests and live stage content. 5,000+ gamers will gather to celebrate the weekend for the first time since Covid in the RDS.
As well as Brenda and John Romero, content creators DeeBeeGeek, Antitinkerbell, Jamie Jay Car, The Gara Show and Miss Audrey will be special guests at GamerFest, Ireland's biggest gaming and esports festival.
GamerFest CEO Stuart Dempsey said:
"John and Brenda are absolute giants of the gaming world and we are incredibly excited to welcome them to GamerFest this year. We couldn't think of anyone more deserving of our inaugural GamerFest Lifetime Achievement Award. Since arriving in Ireland and establishing Romero Games, they have been wonderful supporters of the gaming community here, regularly making time in their busy schedules to support a huge array of gaming projects and initiatives. It's fitting that they be honoured this way and we can't wait to see them on the GamerFest Live Stage."
Brenda and John Romero said:
"We are both so honoured to receive these awards, especially here in our adopted home of Ireland. The game development scene here is only going from strength to strength and we are delighted to be a part of it. More and more new developers join the industry each year, taught by the excellent institutions all around the country. We love seeing the excitement building as gaming gets bigger."
GamerFest takes place at The RDS, Dublin this October 22nd and 23rd
with tickets on sale now at GamerFest .ie.
Windmills is free to play exclusively on GX.games, months ahead of other platforms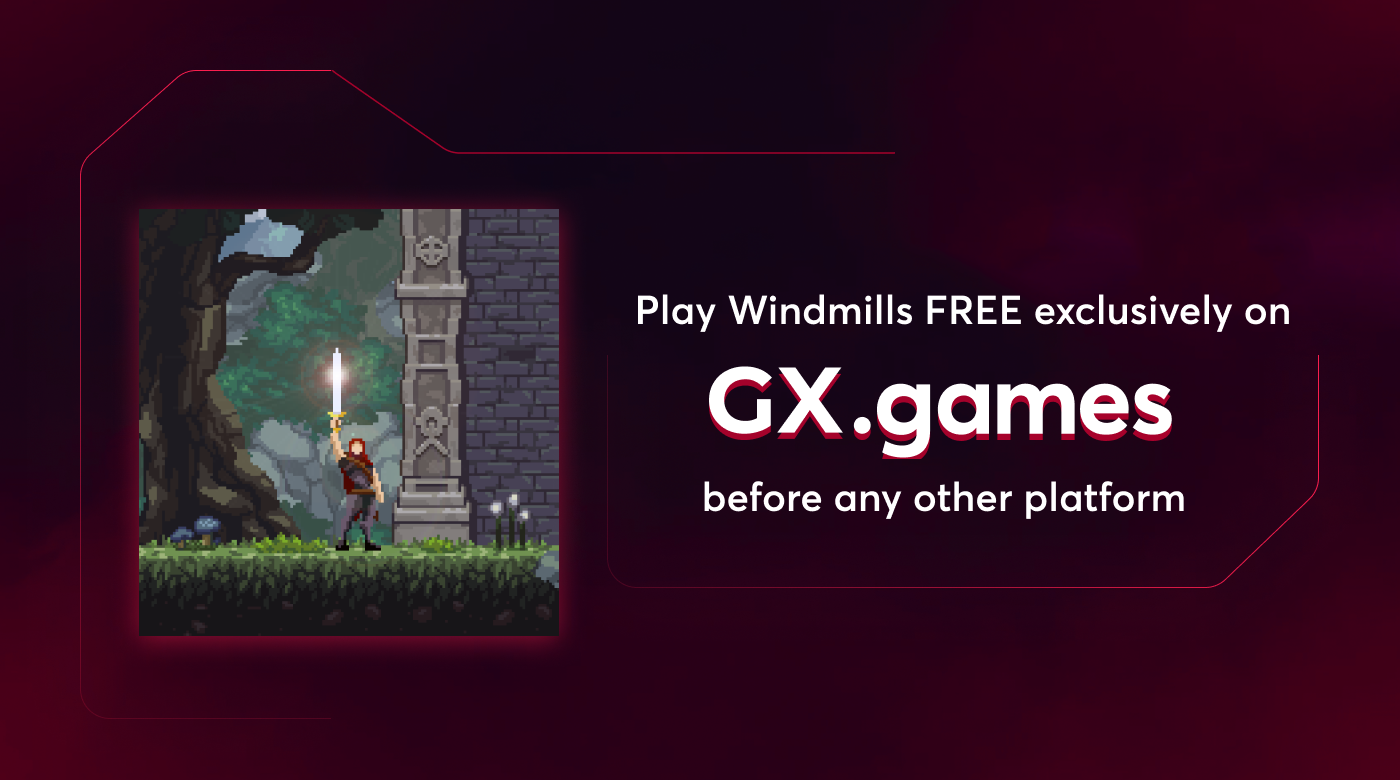 Reading Time:
3
minutes
Getting your hands on high-end indie games for free is awesome. But what's even sweeter is being able to play those games before everyone else. That's why, GX.games – a platform full of indie games for you to play, is introducing its first exclusive game, Windmills, available now through to December, before being released on any other gaming platforms.
Lovingly crafted over almost two years by Greek developer Dimitris Locke, under the guise Poor Locke, Windmills, is a story-rich, combat-focused metroidvania, forged in the spirit of games like Dark Souls and Elden Ring. The pixel-art platformer also features mechanics and easter eggs that will no doubt appeal to fans of the popular ninja-themed action-adventure game, The Messenger.
Like all the free indie games on GX.games, Windmills has been beautifully crafted using GameMaker, the fastest and friendliest cross-platform game development technology. Alongside Opera GX, the world's first gaming browser with over 17 million users, GameMaker and GX.games are part of an ecosystem dedicated to supporting creators and developers, while providing gamers with exclusive access to uniquely original and creative games.
"The games available on GX.games are cool indie games that you can dive into whenever you have a break or some spare time. This is why millions of GX.games users have already experienced top-end indie games like Chronicon, Seals of Bygone, Tunnel of Doom, Totemlands and Dyo for free, since we introduced monthly free games back in the summer. For October, we're taking things to the next level and giving users exclusive access to Windmills, before its launch on other platforms next year" said Mattijs de Valk, VP Content Acquisition at Opera. "Offering Windmills exclusively, demonstrates the unique strength of the GX.games, GameMaker and Opera GX ecosystem, which has been forged to support creators throughout every step of the development process and connecting those games straight into our audience of over 17 million gamers on Opera GX" he added.
In addition to Windmills, GX.games has also added Chronicon (10/10 Steam) – an expansive, fantasy-based APRG that will appeal to fans of Diablo or Torchlight. In Chronicon, players must discover the magical device known as Chronicon, which allows them to travel into the souls and memories of fallen heroes and unlock epic adventures where loot and monsters await.
Every two-weeks, GX.games adds a new top-notch and fantastic indie game to the platform which has been created using GameMaker, which users can play for free as much as they like for up to three-months. Currently, users can get free access to popular tiles such as Seals of Bygone, Dyo, Tunnel of Doom and Textorist.
To experience these games for free,  users will need to open or download Opera GX – the gaming-centric version of the Opera browser. They can then access GX.games by navigating to the website or directly from the GX Corner in the browser. They can start playing games, including the premium indie titles instantly, without the need to create an account or to download any of them.
GX.games is also home to hundreds of awesome games which have been created and shared on the platform for free using GameMaker, the multi-million downloaded 2D game development engine that is part of the Opera Gaming family.
Opera GX was built with gamers in mind. The browser offers tons of visual customization options, sounds, ability to control your hardware's RGB lighting and includes unique features like CPU, RAM, and Network limiters, to prevent lag so games run smoothly, while also introducing Discord and Twitch in the sidebar to ensure players don't miss a beat.
NGDC Season VI: Special Qualifier announced for Game Wave Festival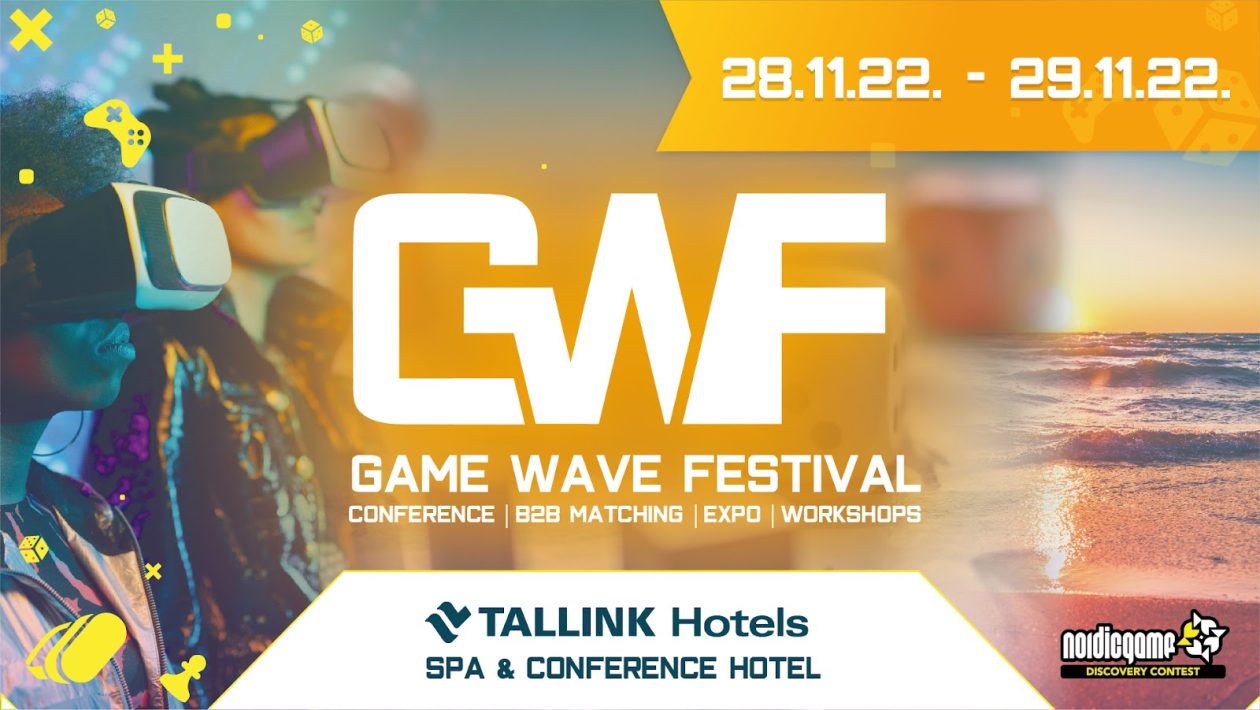 Reading Time:
2
minutes
We're thrilled to announce a special qualification round of the Nordic Game Discovery Contest Season VI, giving Baltic-based developers a unique chance for a seat in the NGDC Grand Finals.
All studios attending the upcoming Game Wave Festival in Tallinn (www.gamewave.eu) can submit their game to the NGDC when they register for the festival. A board of experts will then select the game which deserves the most to be discovered, and it will get status as NGDC Grand Finalist and be among the studios battling for the three seats at the live and hybrid NGDC Final 3 on 28 November.
"We're very excited to announce this special qualifier", says NGDC host and Nordic Game Program Director Jacob Riis. "The Baltic region has a great amount of talented developers, and it will be very exciting to see who will be selected as the finalist for the NGDC Grand Finals." 
"We are very happy to welcome NGDC to our event and to have such an important game-related event in the Baltics region. It will draw top game studio attention to our region and inspire new studio development and capacity building of experienced ones." adds Ints Viksna, head of the Game Wave Festival.
The selected game will win a seat in the NGDC Grand Finals throughout November, as well as prizes from Tencent Games, Nordic Game, and PR specialists Games Branding.
Apply now! 
Are you developing or have you already developed a game that deserves more attention than it's received so far? And are you attending the Game Wave Festival? If so, submit your game and prepare to participate in the special qualifying round of NGDC Season VI – and maybe go all the way to the Grand Final 3 Final on 28 November.
Here's the submission form for the NGDC Season VI qualifier: https://forms.gle/bjpURRjV8pMgVAsk7. The deadline is 14 October 2022
NGDC Season VI is sponsored by Tencent Games, and Nordic Game Ventures, in partnership with Games Branding.