Smartphones and games consoles excite millions of new players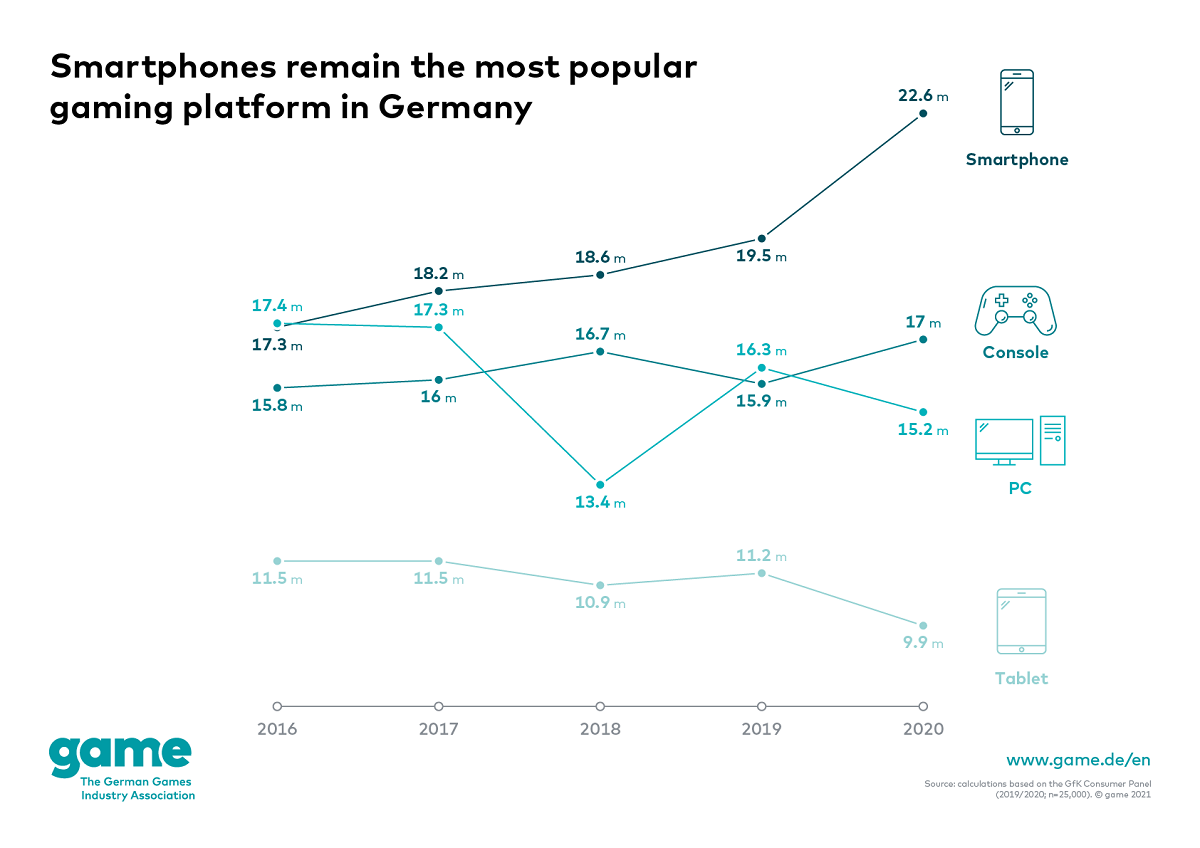 Reading Time:
3
minutes
In 2020, video games were more successful than ever before, as indicated not least by a 32 per cent leap in sales revenue in Germany. Among games platforms, especially the smartphone profited from the games boom. Already the most-used devices for gaming in 2019, with 19.5 million players, mobile phones further increased their lead last year as 22.6 million people in Germany reached for their smartphone to play. This was announced today by game – the German Games Industry Association, on the basis of data provided by the market research firm GfK. Games consoles also won over more players in 2020, registering a rise of 1.1 million users within a year, to 17 million. A look at retail makes clear just how popular games consoles were in 2020: the two new models PlayStation 5 from Sony and Xbox Series X/S from Microsoft, both released in late 2020, and even Nintendo's Switch, which has been available since 2017, were sold out in many locations. Not every games platform, however, benefitted equally from the games boom. The PC lost around 1.1 million players in Germany, landing in just third place with 15.2 million users. Tablet computers, too, were less in demand, as only 9.9 million game players reached for the flat touchscreens to play in 2020, down from 11.2 million in 2019.
'Smartphones, especially, profited from the strong interest in games last year,' says Felix Falk, Managing Director of game. 'The reason for this is clear: almost everybody has one, and the offerings of smartphone game apps are huge. In addition, most titles are available as free-to-play games, so anyone can quickly start playing free of charge. There was also a real hype around games consoles in 2020, with stocks of the devices repeatedly selling out. That was the case with Nintendo Switch, which has been on the market since 2017, and also for the new consoles PlayStation 5 from Sony and Xbox Series X/S from Microsoft.'
German games market: big jump in sales revenue in 2020
The German games market recorded a strong jump in sales revenue in the Covid-19 year 2020: total sales revenue of around 8.5 billion euros was achieved in computer and video games and associated hardware, as already reported by game. This is an increase of 32 per cent compared to the previous year. Sales of more than 3.2 billion euros were registered with games consoles, gaming PCs and the corresponding peripheral equipment. This is an increase of 26 per cent compared to 2019. The submarket for computer and video games saw even stronger growth, with revenues of 5.2 billion euros achieved through game purchases, in-game and in-app purchases, subscriptions and charges for online services. As a result, this part of the market managed to grow by 36 per cent compared to the previous year.
About the market data
The market data is based on statistics compiled by the GfK Consumer Panel. The methods used by GfK to collect data on Germany's video games market are unique in terms of both their quality and their global use. They include an ongoing survey of 25,000 consumers who are representative of the German population as a whole regarding their video game purchasing and usage habits, as well as a retail panel. The data collection methods provide a unique insight into the German market for computer and video games.
game – the German Games Industry Association
We are the association of the German games industry. Our members include developers, publishers and many other games industry actors such as esports event organisers, educational establishments and service providers. As a joint organiser of gamescom, we are responsible for the world's biggest event for computer and video games. We are an expert partner for media and for political and social institutions, and answer questions relating to market development, games culture and media literacy. Our mission is to make Germany the best games location.

Mayhem Studios announces its first Battle Royale title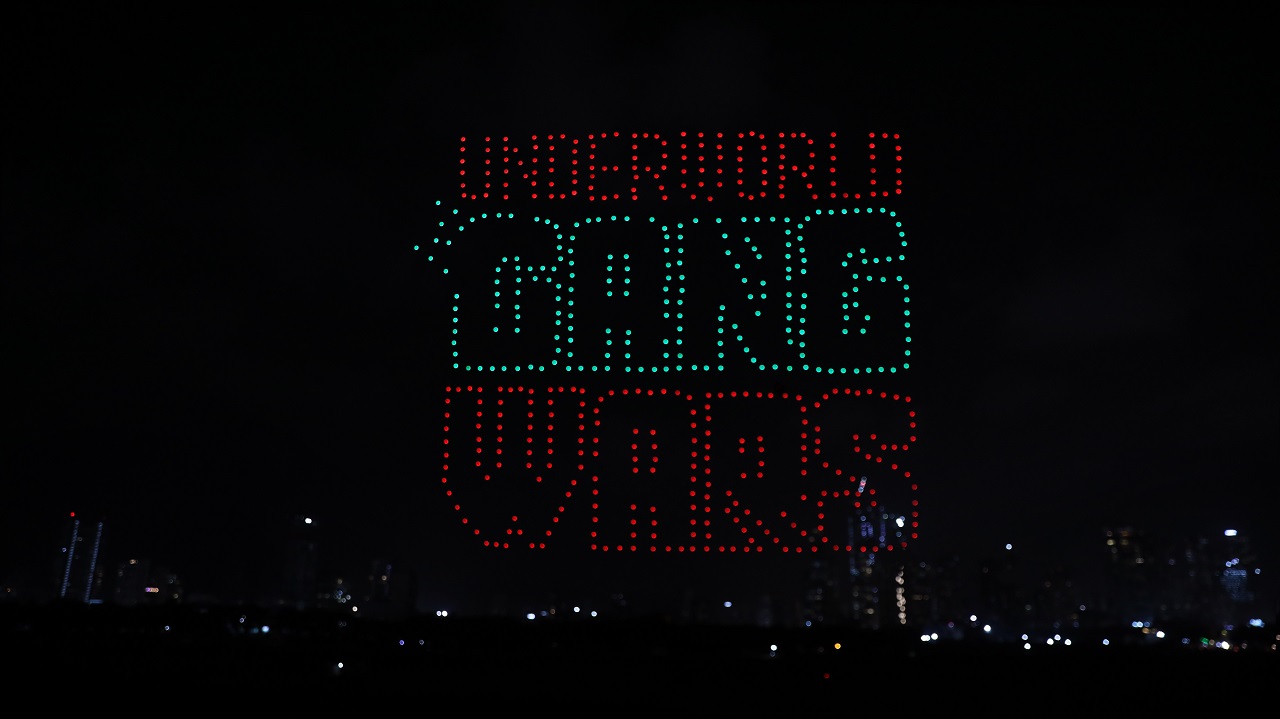 Reading Time:
2
minutes
"Underworld Gang Wars" or UGW, which revolves around the rivalry between two gangs, launched through India's largest drone show designed for a game reveal
 Mayhem Studios, India's first studio for AAA games has announced its first title "Underworld Gang Wars" (UGW), a Battle Royale game set in India. With the characters and plot rooted in India, the game promises an exciting setting with some interesting characters inspired by stories of India.
Set in a truly Indian plot, the locations, the gangs and the icons represent an Indian context in a AAA game for the first time. The theme, weapons, and the maps of the game have been designed to offer a unique experience to the gamers.
The gameplay becomes intense in UGW as the underdog gang from the West wants to take control of the Eastern region from its arch-rival urban gang.
To provide an authentic experience, each region depicted in the game resembles a real location in India, be it the coal mines or the next-door apartment complex. It also has iconic landmarks including a fort, station, stadium and a racecourse.
Scheduled to be launched later this year, the game's pre-registration window will open from 22nd May.
Commenting on the announcement, Ojas Vipat, CEO of Mayhem Studios, said: "We are thrilled to come up with the first Battle Royale Title that promises to offer one of the most relatable storylines for gamers. UGW's unique locations and the highly relatable universe with great graphics are sure to provide a great experience for Battle Royale players. We are also excited to put together a blockbuster game with some unique stories of India for the world."
Mayhem Studios has conducted India's biggest game reveal through a drone show at Mumbai's Mahalaxmi Racecourse. Through this drone show, the studio revealed the game logo and also created a QR code that directed the onlookers to the game teaser.
The event was also attended by leading gaming influencers and enthusiasts like Tanmay Bhat, Mortal, Scout and Dynamo Gaming.
Web3 Games Marketplace Tegro Reveals $1 Million Grant for Game Developers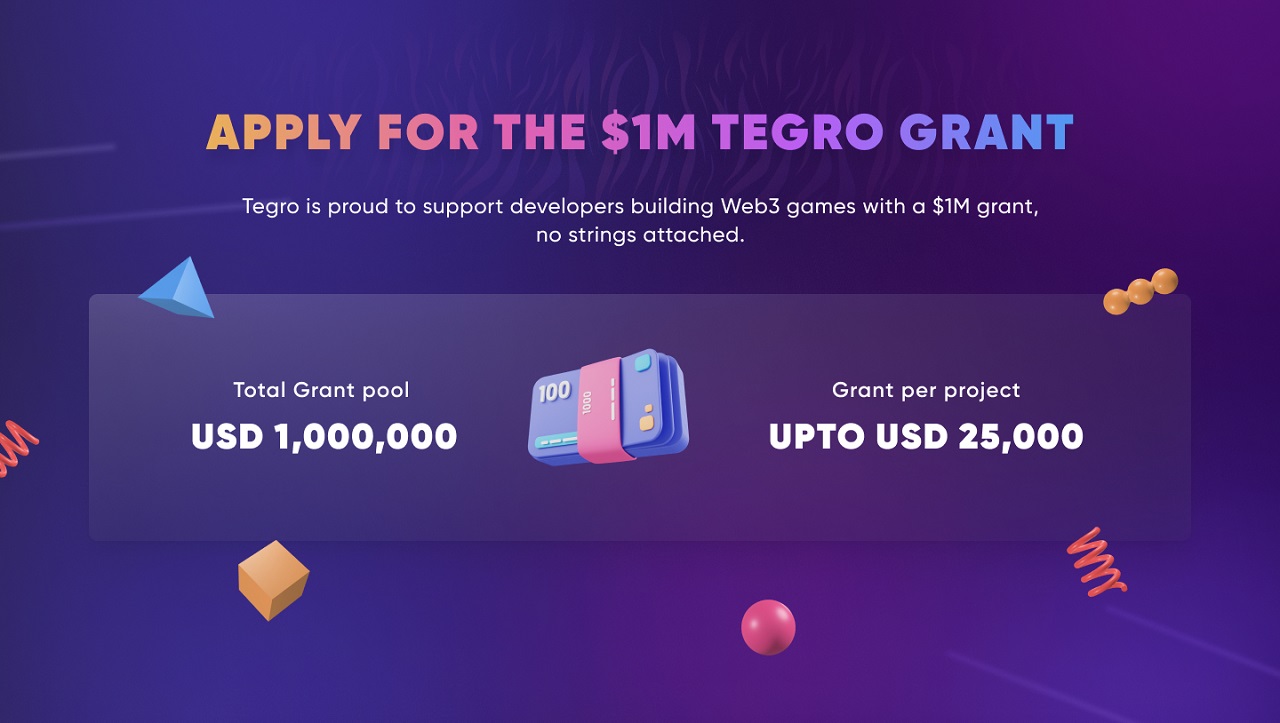 Reading Time:
2
minutes
Made-in-India web3 games marketplace Tegro has announced a $1 million grant for web3 game developers. Developers can apply for the grant to get up to $25,000 per project with no strings attached. Successful applicants will receive guidance on how to better craft their web3 games from a founding team with deep experience in making games and designing marketplaces with high liquidity.
"We are excited to invite developers to collaborate with us," says Siddharth Menon, CEO and co-founder of Tegro. "Game development and publishing are in itself complex processes. Developers may not be completely conscientious of the slate of activities behind these words, let alone the complexities involved with building web3 games with economies that are sustainable and can stand the test of time.
Through the first Tegro grant we hope to bring users a new class of games worthy of actually being games, rather than a collection of poorly cobbled together websites and weak economies that eventually end up being rug pulls."
Along with this, Tegro recently unveiled Tegronomics. This is a set of economic frameworks authored by the stalwarts in the space of crypto, gaming and economics that developers can leverage to build a sustainable and scalable economy in their games.
The economic framework proposes the use of Fungible tokens (FTs) as a core element of economy design based on the belief that game economies should be built on top of FTs as opposed to NFTs to increase both frequency of trading and liquidity, and also making it much easier to deploy large funds.
You can check out more details on Tegronomics and how it can improve web3 game development at the official Tegro website.
Tegro believes that web3 games are the next paradigm shift in gaming, similar to how mobile and free-to-play were. Tegro plans to unlock a $2 trillion market by building a sustainable web3 gaming ecosystem.
Gamecity Hamburg funds six prototypes of digital games with 398,000 euros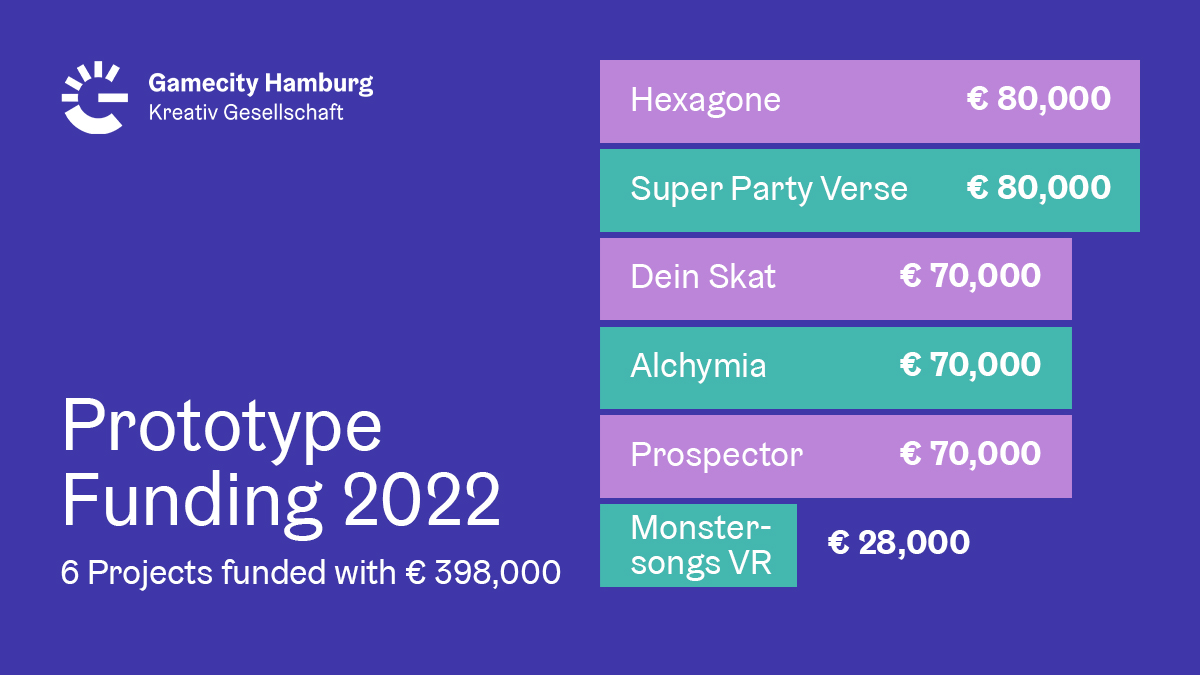 Reading Time:
3
minutes
In its funding round for 2022, the location initiative Gamecity Hamburg supports six promising games projects from Hamburg with a total sum of 398,000 euros through its Prototype Funding program. The Gamecity Hamburg Prototype Funding is awarded as a non-repayable grant. The program enables Hamburg-based developers, studios and start-ups to develop convincing prototypes of digital games for the competitive international games market.
Because of the high quality of the projects submitted, the awarding committee decided to fully use the available budget of 400,000 euros for this year's Prototype Funding program. The application phase for the next funding round will start in spring 2023. The diversity and quality of the applications demonstrate a positive development of Hamburg's games industry and a successful promotion of young talent at the location.
Dennis Schoubye, Head of Gamecity Hamburg, explains: "We see a positive dynamic in the quality of the applications for the Prototype Funding. We also see positive effects from other support programs like our Games Lift Incubator and our new event format 'Pitch Level Up'. Three of the funded projects are from teams and developers who have previously completed our Games Lift Incubator. In addition, there is a good mix among the funding recipients ranging from start-ups to game studios that are already firmly anchored in Hamburg."
The funded projects in 2022:
Hexagone by Tiny Roar – €80,000
Super Party Verse by Super Crowd Entertainment – €80,000
Dein Skat by Bestjack Entertainment – €70,000
Alchymia by Pseudoscience Interactive – €70,000
Prospector by Symmetry Break Studio – €70,000
Monstersongs VR by Denise Koch – €28,000
Hexagone by Tiny Roar is a relaxing strategy-adventure game in which players create and explore different worlds. As adventurers, players individually uncover their game world and its secrets by laying cards on a mysterious world map full of treasures, expeditions, and hidden ruins.
Players can experience a fun multiplayer party in the mobile app Super Party Verse from Super Crowd Entertainment. In a colorful hub world, players can create mini-game events in a growing community, join existing parties and actively fill the world with life by designing their own rooms and avatars. New content will also find its way into the Super Party Verse through brand partners.
Dein Skat by Bestjack Entertainment takes the traditional German card game Skat to a new level as a single-player experience through a sophisticated AI, an entertaining story mode, motivating quests, and numerous challenges for beginners and advanced players in a lovely designed look.
In the construction and management game Alchymia by Pseudoscience Interactive, players must save their city from a horde of undead creatures with the help of alchemical equipment and various potions. In the turn-based game, players make tactical decisions that influence the course of the game. Julia Reberg, the creative mind behind Pseudoscience Interactive and Alchymia, is an alumna of the first round of the Games Lift Incubator in 2020.
Prospector by Symmetry Break Studio is a narrative 2D-adventure game with an intriguing story and an innovative dialogue system. Players experience their adventure in a metropolis on the edge of a crater doused in toxic fog and can only survive using mysterious masks. Symmetry Break Studio are alumni of the Games Lift Incubator 2021.
In the virtual rock musical game Monstersongs VR by Denise Koch, players experience stories and songs of numerous monsters in an abandoned theater, solve tricky puzzles and face their own feelings. Monstersongs VR bridges the gap between musical shows and gaming. With the concept for the game Denise Koch participated in the Games Lift Incubator 2021.
From March 4 to April 11, a total of 18 solo developers, start-ups, and companies from Hamburg applied for this round of the Gamecity Hamburg Prototype Funding.
The selection was made by an awarding committee consisting of Hamburg-based games industry experts Nina Müller (Head of Publishing, Goodgame Studios), Jonas Hüsges (Publishing Director, Daedalic Entertainment), Valentina Birke (Head of Project, Indie Arena Booth), Jens Unrau (Head of Department Media and Digital Economy, Ministry of Culture and Media Hamburg) and Dennis Schoubye (Head of Gamecity Hamburg).
The successful applicants not only convinced the committee with their project presentations but also with the potential of their projects in other criteria, like the market potential, their team structure, and the promotion of young talent.
About the Gamecity Hamburg Prototype Funding
The Gamecity Hamburg Prototype Funding in its current form was launched in 2020. Including the most recent funding round, the program has so far supported the development of 22 prototypes with a total funding amount of 1,240,000 euros.