Zynga Launches New FarmVille 3 Game Worldwide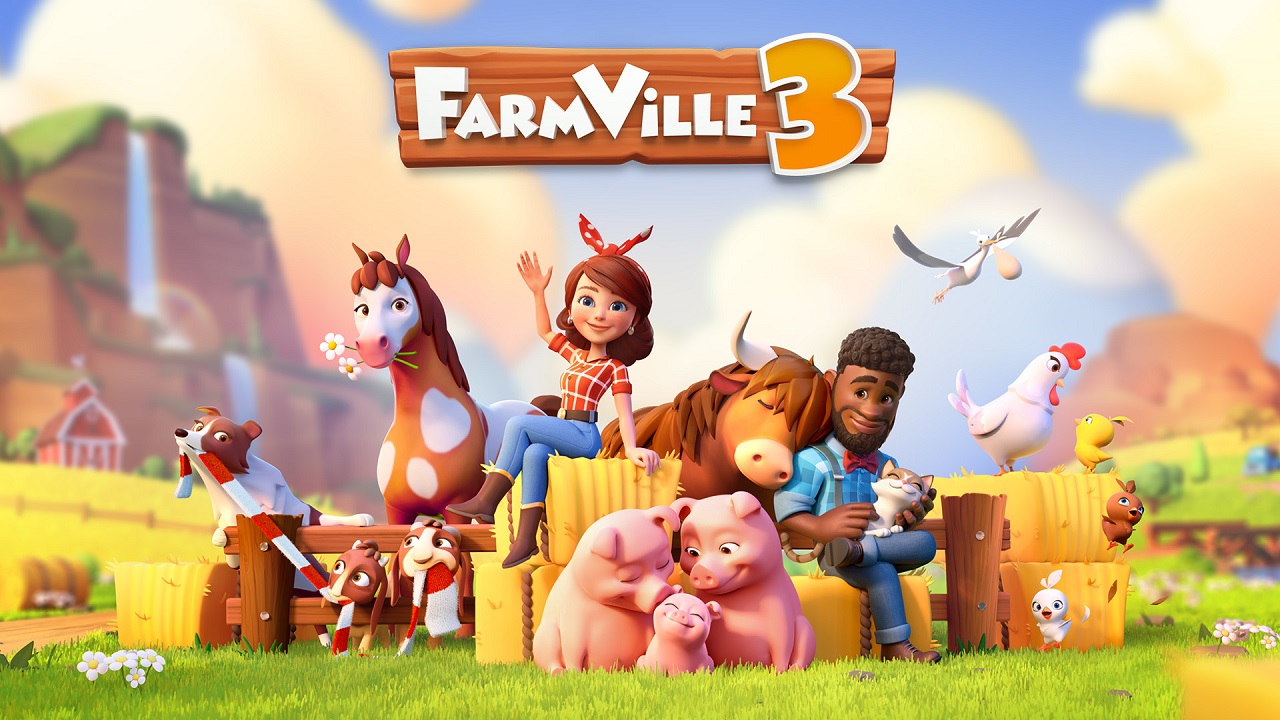 Reading Time:
2
minutes
Zynga Inc., a global leader in interactive entertainment, announced the worldwide launch of FarmVille 3, the exciting new edition of its iconic FarmVille franchise. The agriculture-simulation social game is now officially available to download on iOS and Android devices worldwide, as well as on the Mac M1.
Twelve years – and over 700 million downloads – after the original FarmVille was introduced to the world in 2009, FarmVille 3 is bringing to life a new beautifully crafted world filled with a rich cast of fully animated characters and interactive animals.
Returning to the franchise is the beloved guide Marie, who will welcome back the FarmVille community and greet new players as they build their homesteads and complete challenges. She will be joined by a fresh cast of farmhands with diverse backgrounds and skills who will assist players with new elements in the game, including new customizable farms and animal husbandry.
As players escape into this new world, they can adopt, nurture and raise baby animals from more than 150 breeds – and be rewarded with farm goods, like wool and butter, for their parenting efforts.
"FarmVille 3 immerses players in a visually stunning new FarmVille experience infused with the sense of adventure, social connection and farming spirit that hundreds of millions of fans have come to love," said Bernard Kim, President of Publishing at Zynga. "We warmly invite a new generation of players to meet the delightful new FarmVille characters and lovable animals who thrive in a gorgeous countryside filled with heart and humor."
New Game Features
Variety of animals – Collect, breed and nurture more than 150 breeds of animals, ranging from the mainstay chickens and cows to the exotic tigers and fluffy alpacas
Diverse farmhands – Meet 30 characters with handy skills – such as baking, fishing, lumberjacking and crafting – that will assist you on your farm-building journey
A living, breathingworld – Control weather patterns with dynamic in-game mechanics to speed up your crop growth, catch more fish or earn more coins
Fully customizable environment – Dress your farmhands in seasonal outfits such as a pumpkin costume for Halloween or add a personal touch to your farm, animal house or vehicle by picking from a plethora of themed design options such as modern or Victorian decor
Neighborly social gameplay features – Form your own "co-op" to exchange goods with other players and cooperate to win events and unique decorations

Starting today, players who download the game within the next two weeks will receive a special starter kit with interactive features to help customize their farms, such as decorative elements and the 'Early Bird' profile picture.

Farmville 3 is the latest addition to the Farmville series, which includes Farmville 2: Country Escape and Farmville 2: Tropic Escape.

Abstraction Enters Blockchain Game Development Space with Mythical Games Partnership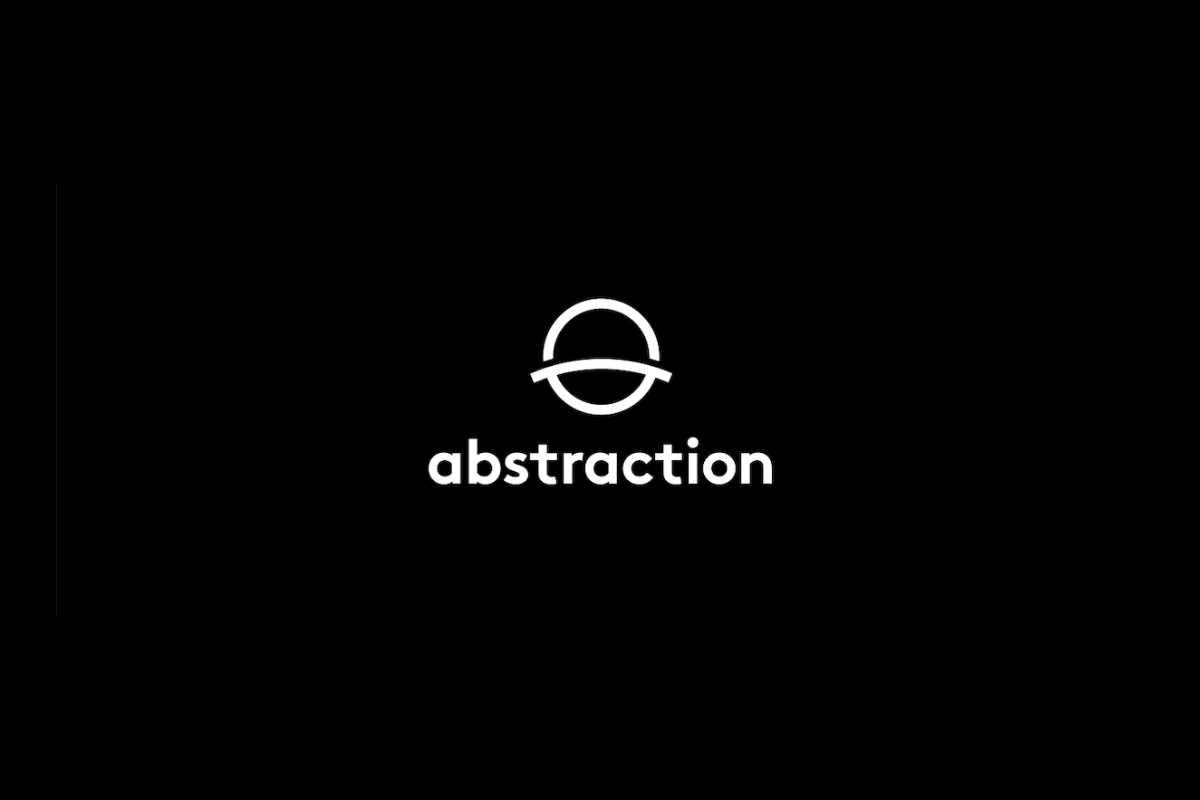 Reading Time:
2
minutes
Studio renowned for technical prowess and creativity chosen as part of initial group of developers to work with new crypto-powered games platform
Abstraction, a creative game development studio based in The Netherlands, is one of the first to partner up with Mythical Games. Recently valued at $1.2 billion, Mythical Games has selected to work with Abstraction on an action-strategy game based on the developer's own proprietary technology, which will be integrated into Mythical's new crypto platform.
"Mythical Games is at the forefront of scarcity-driven game design, and it's exciting to be here at the beginning with them, exploring new ways to unlock the potential of crypto-powered games," said Ralph Egas, CEO and Founder of Abstraction. "We share Mythical's vision for player-owned economies and NFTs and are eager to apply our extensive AAA game development experience to the Mythical Platform, leveraging blockchain technologies to help set the industry standard for play-to-earn and digital ownership within video games."
In line with the goals of the Mythical Platform, the unnamed action-strategy game will be play-to-earn, unlocking the player's ability to reap rewards based on NFTs (non-fungible tokens), which use the transparency and security of the digital ledger of blockchain to authenticate rare items. Built on "a private EVM-compatible sidechain," the Mythical Platform allows players to value and sell their own in-game items. It can integrate with existing games or be part of a new game, and includes tools for trades, payments, integration with in-game inventory, and fraud protection.
"We have been working with the team at Abstraction for over a year on a prototype using the incredible simulation tech they have built," said John Linden, Co-founder and CEO of Mythical Games. "This is the type of innovation that can completely change a game experience for the better; we believe a combination of their technology and our economic platform has the potential to create a new and exciting game economy that players will enjoy for years to come. We are excited to work with Abstraction on bringing this evolution to life."
YouTube star, AboFlah on track to raise more than US$10 million for refugees, will continue living in a glass room near Burj Khalifa until completed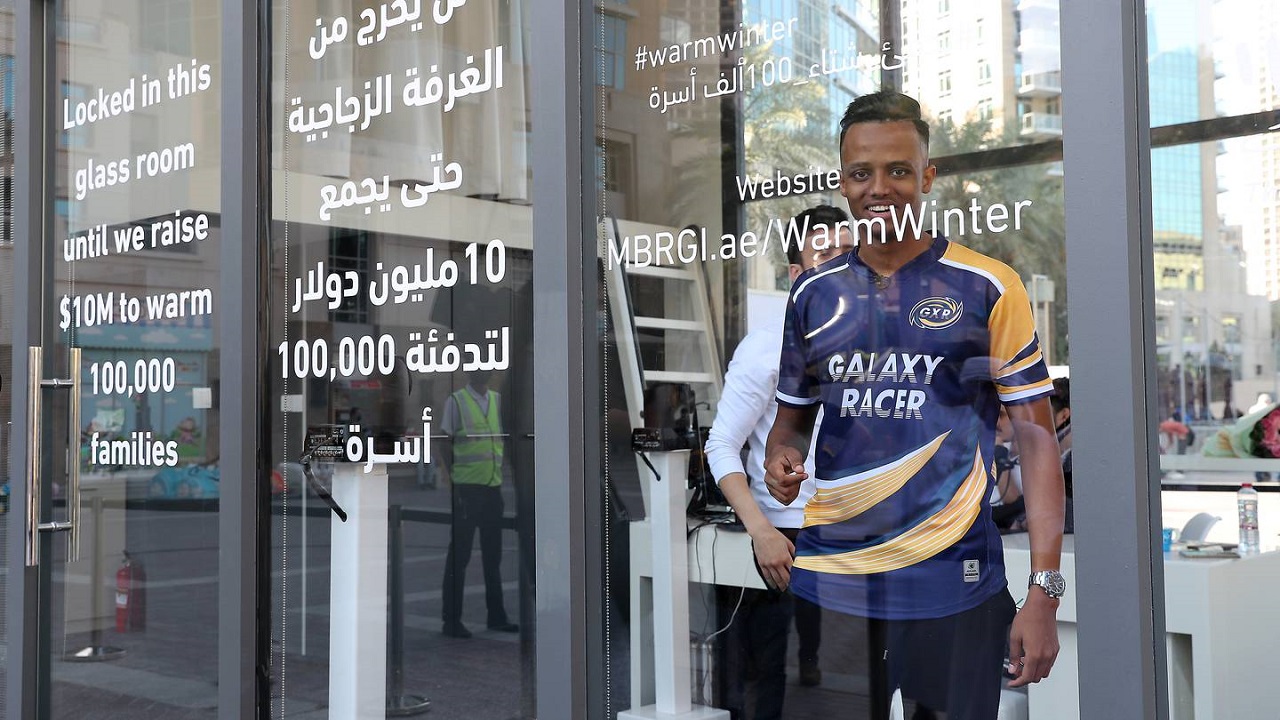 Reading Time:
4
minutes
The World's Coolest Winter campaign, which celebrates the UAE's most beautiful tourism destinations, is extending humanitarian support to more than 100,000 refugees and people in need through a new humanitarian initiative called Warm Winter.
The campaign has collaborated with Galaxy Racer's Content Creator AboFlah, to support hundreds of thousands of refugees and families in need in Africa and the Arab world. It aims to raise over US$10 million to provide food, winter clothing, blankets, mattresses and critical aid to help displaced men, women and children prepare for harsh winter conditions.
Launched in partnership with Mohammed bin Rashid Al Maktoum Global Initiatives and Galaxy Racer, a Dubai-based lifestyle organization that specializes in esports, gaming, lifestyle and handles AboFlah's presence and activations, the humanitarian campaign is calling on everyone to help vulnerable people get through the winter. It will provide aid and support to the largest number of refugees and people in need in cooperation with the United Nations High Commissioner for Refugees (UNHCR) and the Food Banking Regional Network.
Anyone from anywhere in the world can donate to the humanitarian initiative. Contributions can be made to the Warm Winter campaign, which started on January 7th 2022, at MBRGI.ae/WarmWinter.
As part of the campaign, AboFlah is living in a glass room in Downtown Dubai, near the Burj Khalifa, until US$10 million is collected, with USD$4m raised so far. The live-stream is taking place on YouTube and other content creators and influencers will be collaborating and creating their own posts to raise awareness of the humanitarian initiative.
AboFlah's YouTube channel is one of the fastest-growing YouTube channels in the world, with over 23 million subscribers and over 2.8 billion views. He is followed by millions of fans who avidly watch his vlogs, comedy shorts and formatted shows covering video games and popular culture.
Millions in Need of Support
AboFlah said: "Warmth in winter for those facing harsh winter conditions is no less important than food and water. There are millions of refugees and displaced people who need all the support they can get. I wanted to participate in this humanitarian initiative and hope everyone will contribute by bringing warmth to the lives of those who are deprived of it. The World's Coolest Winter campaign deserves appreciation for launching Warm Winter in cooperation with Mohammed bin Rashid Al Maktoum Global Initiatives and I am proud to support it."
Joint Efforts to Directly Reach Those in Need
For her part, Sarah Al Nuaimi, Director of Mohammed bin Rashid Al Maktoum Global Initiatives, said: "The Warm Winter initiative from the World's Coolest Winter campaign represents joint efforts and fruitful cooperation between reputable institutions in charity, humanitarian and relief. We are pleased to see Mohammed bin Rashid Al Maktoum Global Initiatives, UNHCR and the Food Banking Regional Network unite alongside influential content creators to raise awareness about this important cause. Warm Winter reaffirms the UAE's established culture of compassion and humanitarian work. As we celebrate our nation's beautiful natural and touristic attractions during the cooler months, we will not neglect nor forget refugees and needy families facing bleak, life-threatening conditions in other parts of the world this winter."
Galaxy Racer Links Content Creators with Humanitarian Initiatives
For his part, Paul Roy, CEO of Galaxy Racer, said: "At Galaxy Racer, we believe in giving back to the community and all of us, including our content creators such as AboFlah, share this value as well. AboFlah has done a lot of charities in the past and has been an inspiration to many. We are confident this initiative is going to be record-breaking for the right reasons and we are happy to support the Mohammed Bin Rashid Al Maktoum Global Initiatives and its partners into making this a reality for the greater good with positive impact."
Founded in 2019 with its headquarters in Dubai, Galaxy Racer is the largest esports, gaming and lifestyle organization in the world, and plays a key role in supporting the campaign, by utilizing its leading global role to attract some of the most prominent content creators in the region. The organization has previously achieved several successes, including its global partnership with LaLiga, Spain's top professional football league, organiser of the GirlGamer Festival World Finals in Dubai and organised a Dubai inter-school FIFA tournament, including awarding deserving scholarships worth a total of US$70,000 to the winners, which contributed to achieving Dubai's vision in the field of the future of technology. Through its several activities, it encouraged young people to explore new job opportunities in the esports and gaming industry, to establish Dubai as a regional and global hub for competitive esports events.
Direct Access to Hundreds of Thousands of Beneficiaries
UNCHR and the Food Banking Regional Network will purchase basic supplies and necessities such as blankets, winter clothes and heating appliances and provide them to refugees in Jordan, Iraq and Lebanon. The assistance will also extend to individuals and families in Syria and Egypt. UNHCR estimates that there are 3.8 million refugees and displaced people in the Arab region, as well as millions in Africa, who need critical assistance to survive winter.
Khaled Khalifa, Senior Advisor & Representative to the GCC, UNHCR, said: "UNHCR provides vital support to millions of refugees and displaced people in the region. Through our cooperation with Mohammed bin Rashid Al Maktoum Global Initiatives, we can jointly implement large-scale campaigns to relieve hundreds of thousands of refugees from life-threatening conditions. We are pleased to support the Warm Winter initiative, which reaffirms the importance of the collective efforts led by the UAE to provide relief to those most in need, in cooperation with global partners."
An Open Letter of Solidarity
Dr. Moez El Shohdi, Founder and CEO of the Food Banking Regional Network noted that the humanitarian initiative launched by World's Coolest Winter campaign, which aims to provide all the necessities for a warm winter to all those in need, embodies the values ​​of compassion, kindness and human solidarity.
He said: "FBRN is proud to cooperate with MBRGI, UNHCR and content creators interested in humanitarian work on this critical project. Warm Winter will provide direct support to refugees and those in need, serving as an open message of solidarity to aid millions of refugees and displaced people facing bleak conditions this winter."
Warm Winter is an extension of AboFlah's past humanitarian work. A previous campaign in October 2021 raised US$1 million from 31,000 donors during a 28-hour live broadcast which garnered over 28 million total views, to support refugees in Syria, Lebanon, Jordan and Iraq in coordination with UNCHR.
Anzu and Ubisoft Extend Partnership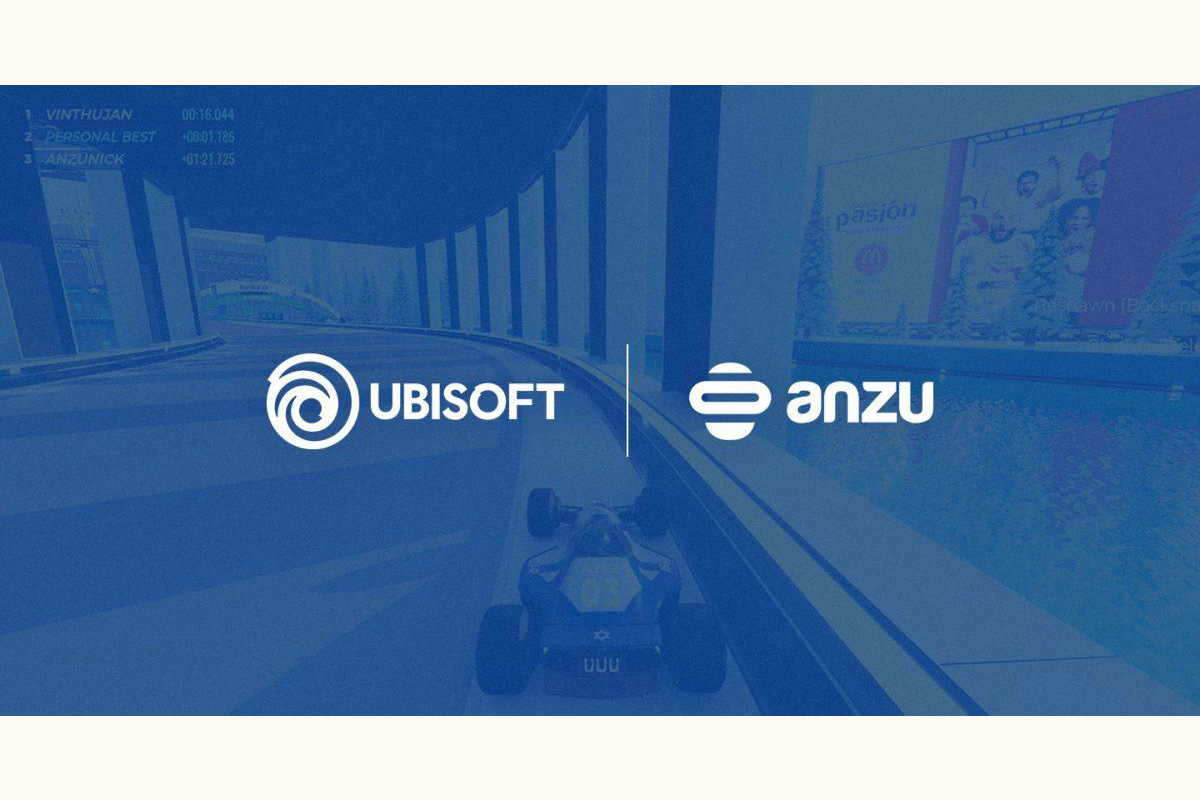 Reading Time:
2
minutes
Global in-game advertising company Anzu has extended its partnership with global video gaming giant Ubisoft. The two have seen remarkable success in bringing dynamic ads to hit PC racing title Trackmania and sandbox MMO Growtopia.
Last year, Ubisoft's Trackmania implemented Anzu's in-game ads, which blend into the gaming environment, appearing on 3D objects like roadside billboards and banners. Since then, Anzu has brought several big-name brands into the hit racing title, including Samsung, Microsoft, American Eagle and Vodafone, whose campaign achieved astounding results, including a 176% lift in campaign awareness and a 20% lift in brand consideration.
The collaboration premiered as part of the DIGI1 by Gamevention online gaming convention. During a 30-minute live stream, four popular streamers participated in the first-ever worldwide multiplayer streaming session of the yet-to-be-released, new version of Trackmania, complete with the blended in-game Vodafone banner ads powered by Anzu technology.
Ubisoft helped show the world what in-game advertising within a popular PC title looks like and what benefits it presents to both game studios and advertisers. The ads were also received exceptionally well by many of Trackmania's top players.
This led to the campaign becoming recognised across the advertising industry and awarded bronze at the Deutscher Digital Awards and Highly Commended at The Drum Awards for Digital Industries 2021, where Anzu was also awarded Best Tech Platform of the Year.
"We've been on an incredible journey with Ubisoft. They were one of the first big studios to work with us on our PC offering after identifying an opportunity to offer Trackmania fans a popular title, with in-game ads that not only compliment the gameplay but make it more realistic. We're thrilled about extending our partnership, and we look forward to bringing our blended in-game ads to more of Ubisoft's premium titles," Itamar Benedy, CEO at Anzu, said.