How Gamers are Putting the Future of Fun Front and Center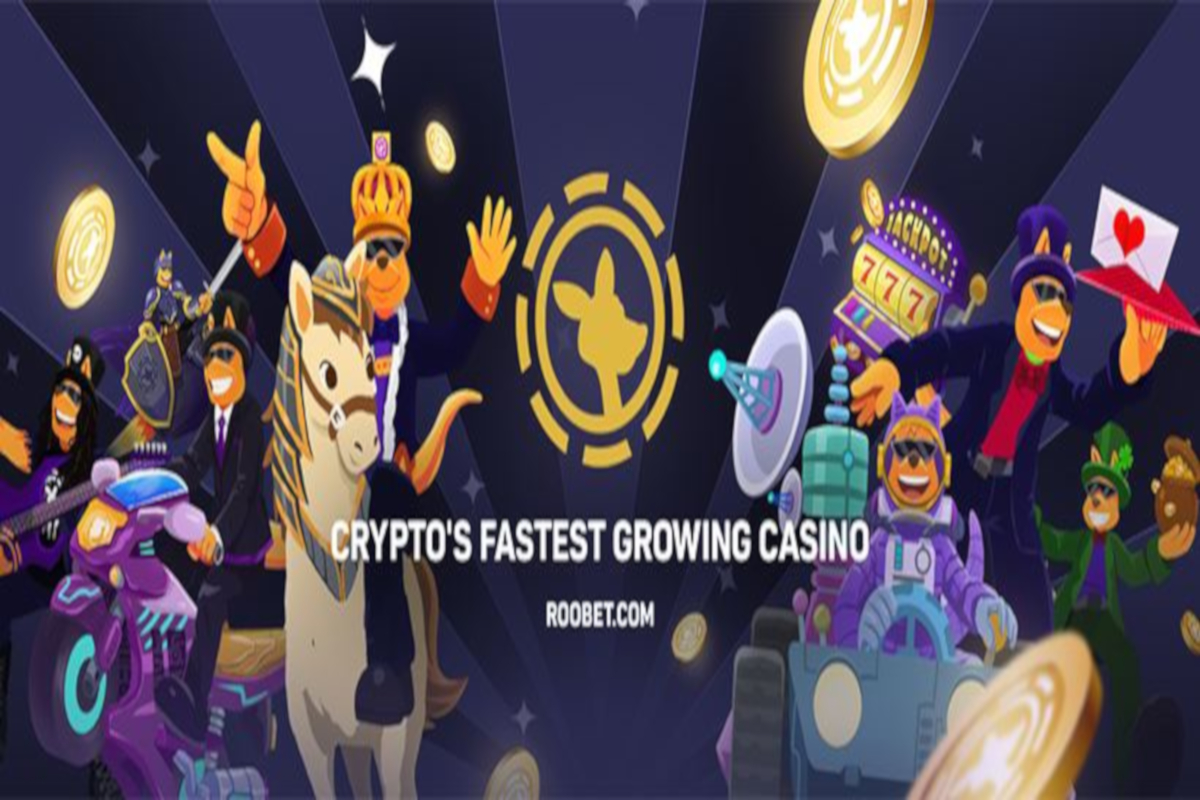 Reading Time:
4
minutes
By Roobet Co-Founder Matt Duea
Growing up playing video games, I remember it well: the days when those in the mainstream thought being a 'gamer' was pretty much synonymous with being an awkward, basement-dwelling loner.
But times have changed and let's face it – gamers aren't exactly pariahs anymore. Esports tournaments like the League of Legends (LoL) World Championships rake in viewers in by the millions – a few years ago, more people watched the LoL final than the MLB and NFL championships combined.
This is nothing new. Gaming has been a huge part of mainstream culture for years now. But over the pandemic, something switched – people who'd never even owned a PlayStation began to realize the value of online entertainment as they sought out new ways to relax and socialize. In 2022 alone, the industry generated over $180 billion in revenue – worth more than the Hollywood and music industries combined.
One offshoot from the gaming world is blossoming into a powerhouse of its own while promising to stay true to its roots in gaming culture: online gambling and digital casino. It constitutes a huge portion of this multi-billion-dollar industry, generating around $63.5 billion just last year.
At Roobet, we're powered by Zillennials – our unique perspective has reshaped the world and we're applying it to our product strategy every day. A shift from bricks-and-mortar to online just makes sense in the gambling world and it's clear how necessary the move to the digital marketplace was. Betting online combines the excitement of a modernized catalog of casino games that you can play with your online Discord buddies from around the world.
We're a generation of world-travelers who grew up online and built a network of friends spanning far-flung reaches of the globe, thanks to the close proximity of chat rooms, video game lobbies, social media and Reddit. So, when we came of age to gamble for the first time, we did it in a real casino – and to be honest, it's not that 'social' of an experience.
Most adults go to the casino for a shared experience with friends. For some of us, watching a friend gamble is just as – sometimes more – fun than gambling ourselves. For a generation that's increasingly 'location agnostic,' bricks-and-mortar casinos just aren't the best option. Traditional casinos' promise of glitz is often a dimly-lit, smoky place, full of strangers, an hour's drive away. Add to that the pressures of learning games in public – and well, playing from home on a smart TV with your mates on the couch starts to sound a hell of a lot more appealing.
So, casino went online. And as it did, gamers welcomed a greater sense of convenience and personalization. Casino became more accessible, more exciting and players were liberated in the process. Based on their individual wants and needs, players gained a new freedom to choose whether in-person gambling or online casino met their needs best.
The industry has thus been transformed and now online casinos can offer so much more than those in the mainstream believe to be possible. Simple slot machines and blackjack games are quickly becoming a thing of the past, supplanted by modern permutations of age-old classics that go viral on a whim. And with the rise of blockchain technology and cryptocurrencies, players now have even more options for secure and convenient cash-in and cash-out methods, which are nearly instant with virtually no disruption.
Roobet is one of the world's fastest-growing crypto casinos. And while we push ourselves daily to offer the most entertaining games, the most fluent gameplay and to support our interactive, thriving community – our core offering is fun. And we take fun seriously.
I mean, we're the only biggest casino to be run by a digital kangaroo. Because it's not just the games themselves that are responsible for the industry's meteoric rise in popularity. But the gamers who make up our dynamic digital communities and an online culture that puts fun and safety first and foremost, have fundamentally altered perceptions of how we see gambling and its place in society. It's not the shady and taboo endeavor that it once was: it's fun, it's exciting and it's a new way for adults to interact with friends from anywhere across the world.
Crypto casinos like Roobet operate on serious tech and are powered by some of the most innovative and forward-thinking minds in the industry. As a brand, we consider every aspect of the player experience. At a minimum, we provide industry-leading games, best-in-class bonuses and rewards and we foster a sense of community that you just can't find anywhere else. Players can connect with each other and engage in a more immersive and interactive way. And with our communities sprawling across social platforms, the experience isn't confined to just our website.
But we want to push beyond that. As gamers, we're problem-solvers by nature. And gaming is about challenging the norm and pushing beyond what others perceive us to be capable of – because we know that the mainstream is always chasing to keep up with us.
It's no longer solely crypto enthusiasts who use crypto casinos but a new generation of bright-eyed and bushy-tailed digital natives who know the value of crypto, blockchain technology and are excited for the direction that gaming and the web itself is headed.
So, we develop new products every month that provide players with new ways to interact with the brand, which aren't just limited to gambling. We have our fingers on the pulse and work alongside some of the biggest names in entertainment to lend us their expertise on what really makes people tick. And we work around the clock to make it happen.
We're not just a casino. We're pioneers of online entertainment and defenders of fun on the digital frontier. Yet again, gamers are ahead of the curve – and take it from us – we're going to revolutionize digital entertainment for the better.
Blockchain Technology: A Game Changer for Online Gaming?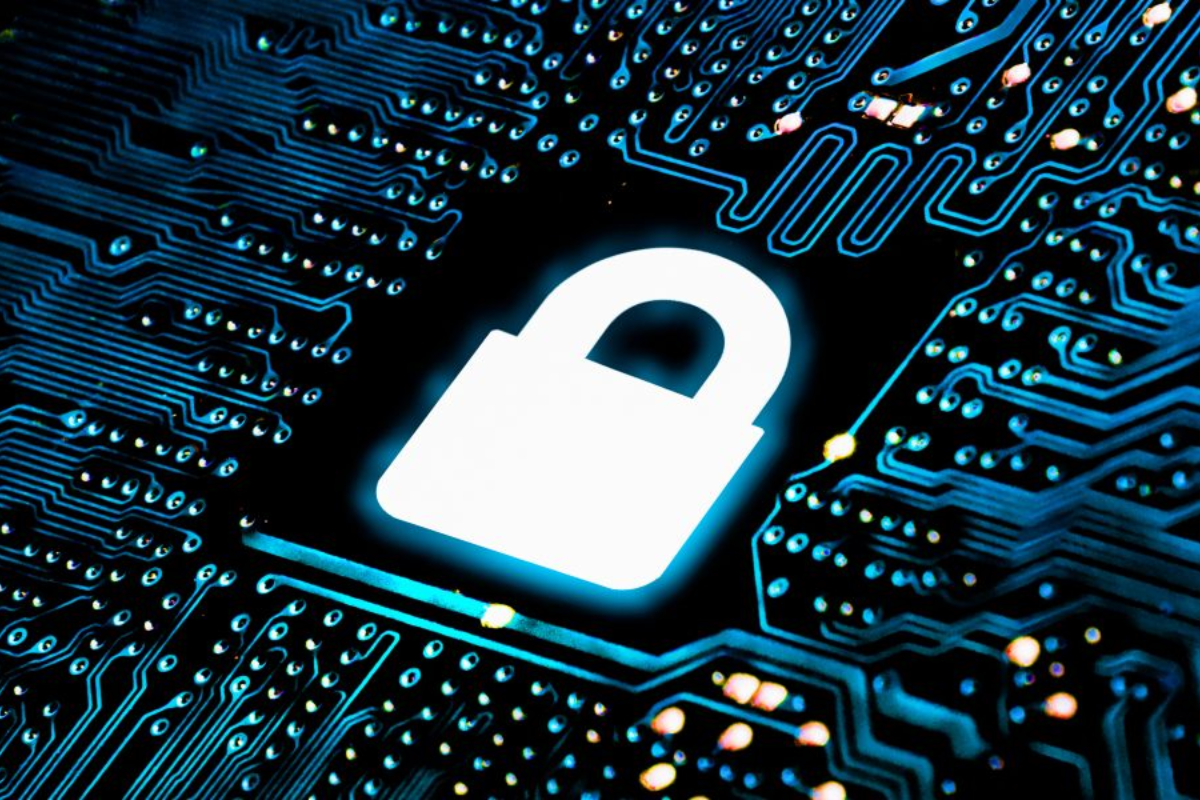 Reading Time:
2
minutes
The world of online gaming is in a state of constant evolution, with emerging technologies playing a significant role in shaping the future of the industry. One such technology is blockchain. Known primarily as the backbone of cryptocurrencies like Bitcoin, blockchain's potential extends far beyond digital currencies. Its potential in the realm of online gaming is particularly intriguing and stands to dramatically reshape the industry.
Understanding Blockchain and its Relevance to Online Gaming
Blockchain technology is a decentralized digital ledger that records transactions across multiple computers. This decentralization ensures the data's security and transparency. For the online gaming sector, blockchain's promise lies in its ability to offer a higher degree of fairness and transparency — a crucial aspect for games such as online slots, where players need to trust the system's impartiality.
Instilling Trust and Enhancing Fairness
In traditional online gaming platforms, players used to place their trust in gaming operators, believing that the system was fair. The introduction of blockchain disrupted this model by allowing the game mechanics to be audited and verified by the players themselves. This level of transparency is possible because the blockchain is a public ledger, where all transactions and changes are recorded and accessible to anyone. Through this, the players can verify the fairness of in-game purchases, loot drops, and even the randomness of outcomes in games, directly reducing the potential for unjust practices. Moreover, the use of blockchain technology also provides enhanced security, reducing the risk of fraud and hacking that can be rampant in traditional online gaming platforms.
Cryptocurrencies and the New Gaming Economy
The integration of blockchain technology in online gaming extends beyond fairness, opening the possibility of using cryptocurrencies for transactions. Cryptocurrencies, with their swift, secure, and low-cost transactions, could revolutionize how players purchase in-game items or credits. Furthermore, blockchain could facilitate true ownership of these digital assets, allowing players to trade them freely on blockchain marketplaces.
The Rising Popularity of Decentralized Gaming
Blockchain's influence is already visible in the emergence of decentralized gaming — games built entirely on blockchain technology. These games allow players to have complete ownership of their in-game assets, which can be traded or sold independently of the game. This not only enhances the gaming experience but also opens up new economic opportunities for players.
Non-fungible Tokens (NFTs) and Gaming
The rise of non-fungible tokens (NFTs), a byproduct of blockchain technology, presents another exciting avenue within the gaming sector. NFTs are unique digital assets that can represent ownership of a particular item or piece of content. In online gaming, NFTs can be used to represent a piece of evidence for assets, such as: characters, equipment, or even virtual real estate.
Future Potential and Challenges
The adoption of blockchain in the online gaming industry is still in its infancy, but the potential is enormous. However, like any disruptive technology, blockchain isn't without its challenges. Issues such as scalability, regulatory acceptance, and technical complexity need to be addressed for its widespread adoption.
Final Thoughts
Blockchain technology's potential to create a more transparent, fair, and user-friendly online gaming experience is undeniable. As the industry continues to explore and embrace this technology, both players and gaming companies stand to reap significant benefits. Navigating the challenges and leveraging the opportunities, blockchain might indeed become a game-changer in online gaming's evolutionary journey.
19% Crypto Bets Growth: SOFTSWISS Reveals Digital Coin Results for Q1 2023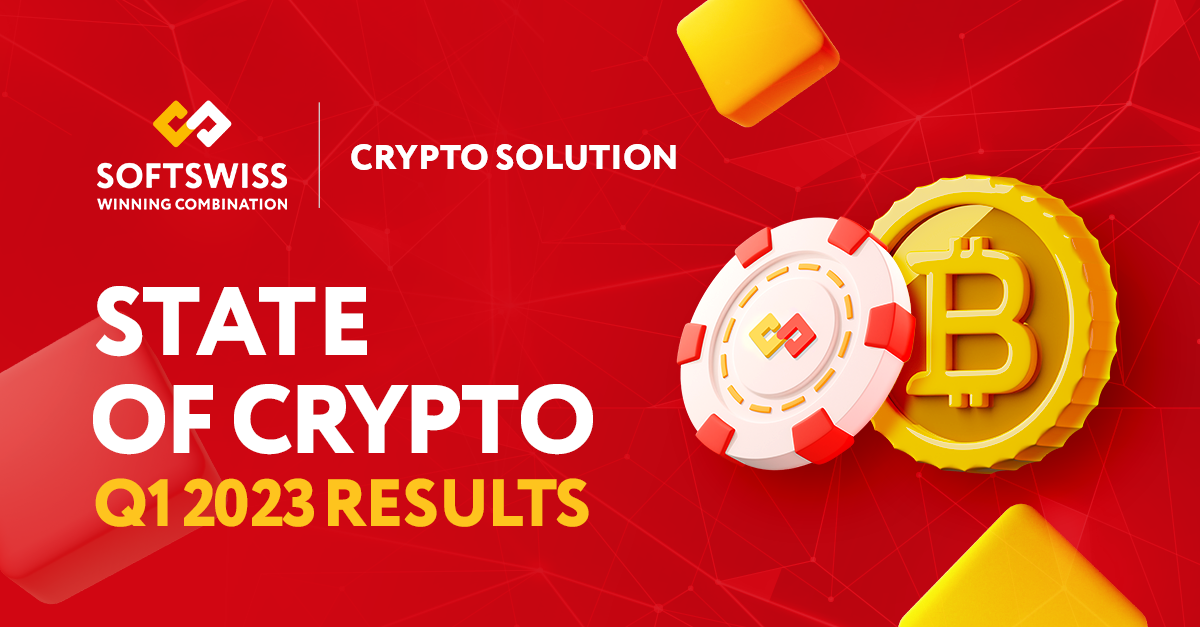 Reading Time:
4
minutes
In January 2023, SOFTSWISS, the leading technology provider for iGaming, was recognised as 'Crypto Company of the Year' by the prestigious International Gaming Awards. As a pioneer in crypto gaming, every quarter, the company analyses the crypto gaming market and shares valuable industry insights. This time, among key indicators, the expert team unveils what the average crypto player portrait looks like. 
The Q1 crypto results are based on the data from over 700 brands powered by the SOFTSWISS Game Aggregator and the SOFTSWISS Casino Platform.
Q1 2023: The Big Picture
In Q1 2023 the Total Bets indicator increased by 44.66% compared to the same quarter the previous year and by 2.24% compared to the preceding quarter. This data demonstrates a steady growth trend in the iGaming market. 
In absolute terms, the sum of wagers in crypto also shows positive growth over the course of the last year. In the first quarter of 2023, the share of bets in digital coins accounted for 30%. Q4 of 2022 showed 9% volume growth in Total Bets in crypto compared to the first quarter of the same year. Q1 of 2023, on the other hand, showed a more significant volume growth – 19%.
Andrey Starovoitov, Co-CEO at SOFTSWISS comments: "Despite the global events of 2022, which have undoubtedly caused most digital coins to fall in value, we are now seeing them rise in value again. For that reason, we are observing both growth in the iGaming market in general and also an increase in the sum of bets made by crypto players. We expect digital coins to remain in stable use by players in 2023 and could see more significant growth with a combination of two factors: competent retention of players and the absence of strong volatility in the crypto market."
Most Used Digital Coins
Compared to Q4 2022, the top 3 most used digital coins remain the same: Bitcoin (BTC), Ethereum (ETH), and Litecoin (LTC). However, their shares have changed – Bitcoin is up by 1.9 p.p. at the expense of smaller digital currencies, while Ethereum remained the same.
Looking at the development of digital coins over a longer period, the changes in the shares of digital coins are more substantial. From Q1 2022, BTC increased by 3.72 p.p., whereas ETH lost 5.01 p.p. The fall in the share of the third leading digital coin, LTC, occurred by 1.36 p.p.
The final shares for Q1 2023 are as follows:
BTC – 76.5%
ETH – 8.4%
LTC – 5.1%
Tether (USDT) took a share of 5.1% for the first time, in turn, Dogecoin (DOGE) rates fell by 1 p.p. compared to the previous quarter, taking a 2.5% share at the end of Q1 2023.
Among other currencies that showed an increase in the share of Total Bets – Ripple (XRP), Tron (TRX) and Cardano (ADA).
The Crypto Player Portrait
Diving deeper into the industry insights, SOFTSWISS has defined the average crypto player portrait. Based on the Q1 data and available data from player profiles, 65% of the crypto audience is male and 35% female.
The percentage of age groups of the crypto players who have indicated their age on their online casino profile is as follows:
Thus, the core audience of digital coins in iGaming is in the 31-50 age range. It  makes up 70% of the audience that uses crypto.
Moreover, more than half of crypto GGR per Q1 was formed by bets made on mobile devices: 64% of mobile users vs. 32% of desktop ones.
This data may become crucial when choosing a strategy for growing an existing iGaming brand or launching a new one. As SOFTSWISS experts note,  interest in starting crypto projects is high, even when crypto demonstrates quick changes and might be unpredictable. Nevertheless, Q1 statistics indicate that  2023 is shaping up to be a year of positive development for projects related to digital coins.
Max Trafimovich, Chief Commercial Officer at SOFTSWISS, summarises: "Over the last few years we have seen a steady increase in demand for crypto-ready solutions, be it for launching a casino or a sports betting venture. It's undeniable that some crypto iGaming operators have drawn much attention and accolades on a global level. Besides crypto, such operators also happen to be at the forefront of various other innovations, those going beyond the payments aspect. SOFTSWISS will remain the ultimate partner on this frontier with new crypto-oriented technologies, top-level service, and security."
About SOFTSWISS
SOFTSWISS is an international iGaming company supplying certified software solutions for managing gambling operations. The expert team, which counts 1,500+ employees, is based in Malta, Poland, Georgia, and Belarus.  SOFTSWISS holds a number of gaming licences and provides one-stop-shop iGaming software solutions. The company has a vast product portfolio, including the Online Casino Platform, the Game Aggregator with thousands of casino games, the Affilka affiliate platform, the Sportsbook Platform and the Jackpot Aggregator. In 2013, SOFTSWISS was the first in the world to introduce a Bitcoin-optimised online casino solution.
Crypto Casino: How to Play Safely?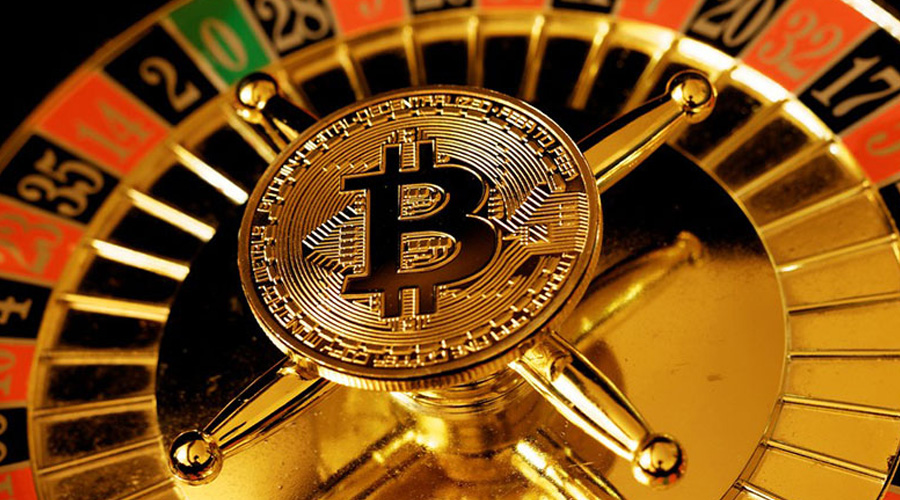 Reading Time:
2
minutes
The surge in popularity of digital currencies has resulted in a corresponding increase in the
number of online casinos that accept cryptocurrencies. This trend has been impressive, with
available statistics demonstrating its extent. According to Ahrefs.com, globally, bitcoin
casino-related searches average 30,000 per month, with 'crypto casino' receiving 15,000
searches. The term "Bitcoin" alone receives over 1 million monthly searches.
As of 2023, the global casino industry is worth approximately $280 billion, with 4% of all
gambling activities being conducted through cryptocurrencies. With the rise in the number of
hybrid casinos, the global crypto gambling market is expected to increase in value.
Since 2014, players have wagered more than $4.5 billion in Bitcoin, and crypto gamblers bet
$3 million worth of cryptocurrency daily. Notably, around 60% of all Bitcoin transactions are
related to gambling, as reported by Bitcoin Chaser.
One significant reason behind the growth of crypto-casinos is the high level of security they
provide. Cryptocurrencies utilize blockchain technology, which ensures secure and
anonymous transactions, making it challenging for hackers to access and steal funds.
Additionally, crypto-casinos offer quick and easy deposits and withdrawals, with lower
transaction fees compared to traditional payment methods like credit cards and bank
transfers.
However, it is important to note that using cryptocurrencies for online gambling is a relatively
new concept, and in many countries, crypto-casinos remain unregulated. Therefore, it is vital
for players to exercise caution when selecting a crypto-casino and ensure that it is licensed,
reputable, and offers fair games.
One of the risks associated with crypto-casinos is the lack of regulation, which means that
they may not have the same level of oversight and consumer protections as traditional
casinos. While many crypto-casinos have advanced encryption and security measures, there
is always a risk of hacking and theft. Hence, it is crucial to select a reputable crypto-casino
with a proven track record of security and reliability.
Another potential risk is the volatility of cryptocurrencies, which can lead to significant
fluctuations in the value of deposits and winnings. Therefore, it is essential to research the
casino reputation, licensing, and security measures before beginning to play. Fortunately,
some services provide this information and offer ready-made ratings to assist players in
making informed decisions.
Crypto-casinos are most popular in countries where online gambling is legal and
cryptocurrencies are widely accepted, such as the United States, Canada, and Australia.
But, if you are located in other countries, you can use services that provide information about
the best licensed cryptocasinos depending on the country, for example, France –
fr-casinospot.com, Germany – casinospot.de.
Although the crypto gambling market currently lacks regulation, it is likely that governments
will eventually attempt to regulate and tax crypto casinos. This move would enable licensed
crypto casinos to operate legally in more regions, allowing millions of new players to join
without fear of repercussions from governments or concerns about having their funds seized
by the casino.
However, it is essential to note that playing in a crypto-casino does not guarantee anonymity,
as most crypto-casinos require some level of identification and verification. Furthermore,
playing in a crypto-casino can be addictive and lead to problem gambling. Therefore, it is
crucial to set limits and seek help if gambling becomes a problem.