NSoft releases its products to Fortuna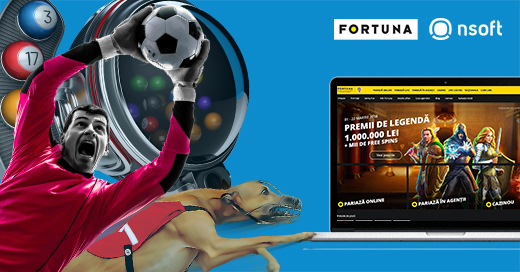 Reading Time:
2
minutes
NSoft , provider of premium gaming software solutions has released its most lucrative products to a new customer from Romania. NSoft's Lucky Six, Live Betting MTS and Greyhound Races were released in retail on SEVEN platform to Fortuna, one of the largest Central European betting operators.
Advanced Jackpot System, NSoft's premium system for managing the jackpots throughout the customer's operation, was released as an addition to virtual games. If you have multiple NSoft games throughout your operation, and want to reward your players through a common jackpot, AJS makes it possible through its powerful and flexible configuration options.
Fortuna is an established brand on the market, trustworthy among customers and existing for over 20 years. It now operates on the Slovak, Polish, Romanian and Croatian markets. Professional and experienced bookmakers with an excellent understanding of local markets are a key feature of the company. At the same time, Fortuna makes clients feel sure that their winnings will be paid out to them quickly.
This cooperation presents another significant milestone in NSoft's market acquisition. In upcoming period NSoft is continuing its work on enabling all customers' requests being just one click away and ensuring the most realistic user experience possible.
NSoft provides top quality software solutions for gaming and betting industry, including platform, virtual games, sportsbook, and lotteries.
Our unique approach to customers and creative software solutions positioned us as one of the top providers of innovative products for gaming industry. A combination of great products, great people, and great culture played a key role in our growth. We understand that strong and long-term partnerships are essential for further development, so we joined forces with world's leading sport data provider – Sportradar.
This means our products are available through Betradar sales channels.
NSoft Portfolio
SEVEN Platform
Virtual Games

Lucky Six
Lucky X
Next Six
Keno 20/80
Slot Car Races
Greyhound Races
Virtual Greyhound Races
Virtual Horse Races
Virtual Drag Races
Virtual Motorcycle Speedway
Roulette
Jackpot System

Sportsbook

Pre-Match Betting MTS & Self-Managed
Live Betting MTS
Pool Betting

Lotteries

World Numbers Service (Developed in partnership with Betradar)

Betradar (games available through NSoft's sales channels)

Virtual Football League
Virtual Tennis Open
Virtual Basketball League
It is NSoft's mission to provide betshop owners with powerful and visually appealing platform, amazing virtual games, and data-packed sportsbook, and help them grow their business.
By developing our state-of- the-art software solutions we are devoted to creating business environment which will maximize our customers' sales opportunities and empower their company to reach new levels of growth.
Our ambition is to continue building value for customers, stakeholders and partners.
You are more than welcome to join us on the journey.
We would be delighted to work with you!
Contact emails:
[email protected]
[email protected]
Sector within the industry: betting/gaming software provider
NSoft's further penetration to the African iGaming markets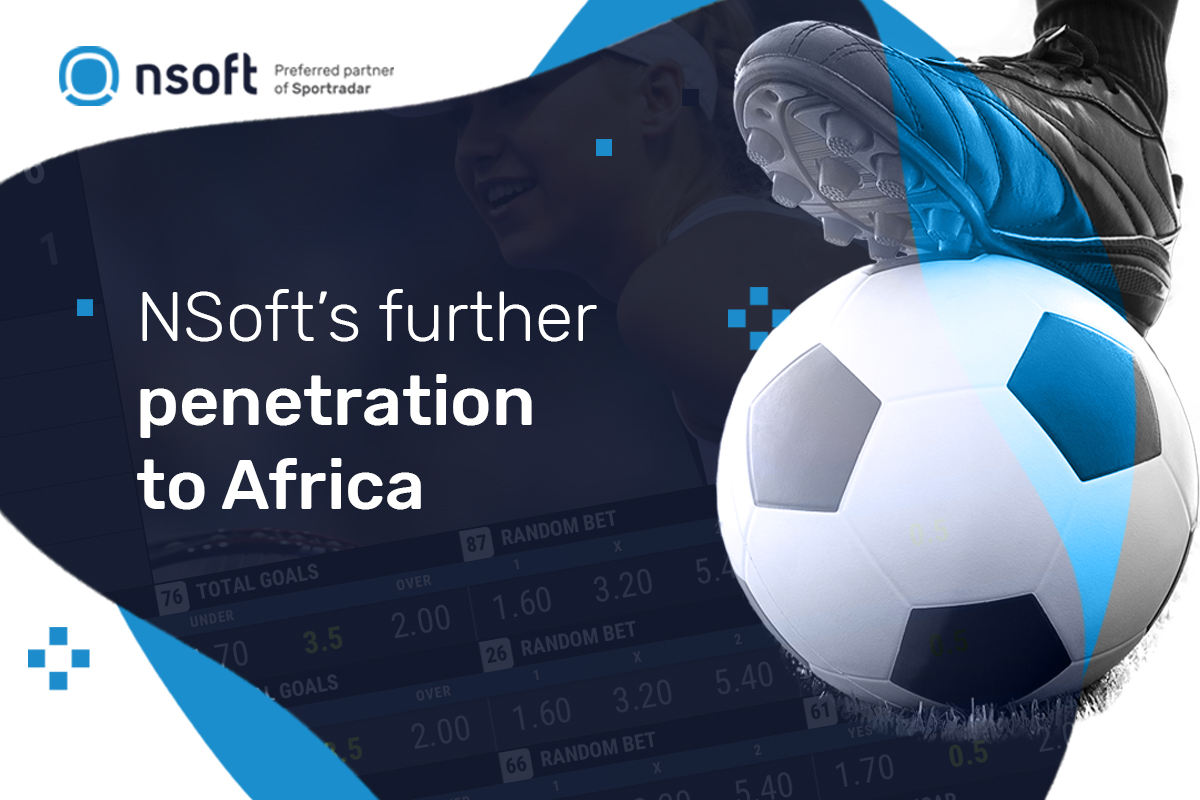 Reading Time:
< 1
minute
African emerging market has been in NSoft's focus for quite some time. In order to better explore possibilities that African iGaming market offers, NSoft has expanded its business operation's team with two more dedicated sales managers settled in SAR and Nigeria.
This strategic decision resulted in a better understanding of the African market specifics and subsequently led to penetration into two new markets: Ethiopia and Burundi.
NSoft's sportsbook, ever-popular draw-based games as well as beautifully designed virtual games have found their way to the players of three betting operators, new customers of NSoft at African iGaming market. In addition to this, two more retail-based sports betting operators from Ethiopia are in the final stage of production of NSoft's Pre-Match and Live MTS complemented with web platform to be used for tickets' code generation.
"It is always exciting to enter new markets, new countries. You basically have no formula for it – one has to do all research on market, trends and all define legal issues prior to any serious negotiation with potential clients. Thus, we are pleased to have additional sales forces on site that can quickly get into the matter and to respond with ease to any request of existing or potential clients," said Ivan Rozić, SVP Global Sales & Business Development at NSoft.
To find out more about NSoft's premium software solutions for betting and iGaming business, contact us at [email protected]
Exclusive Q&A with Dario Jurcic, Chief Business Officer at NSoft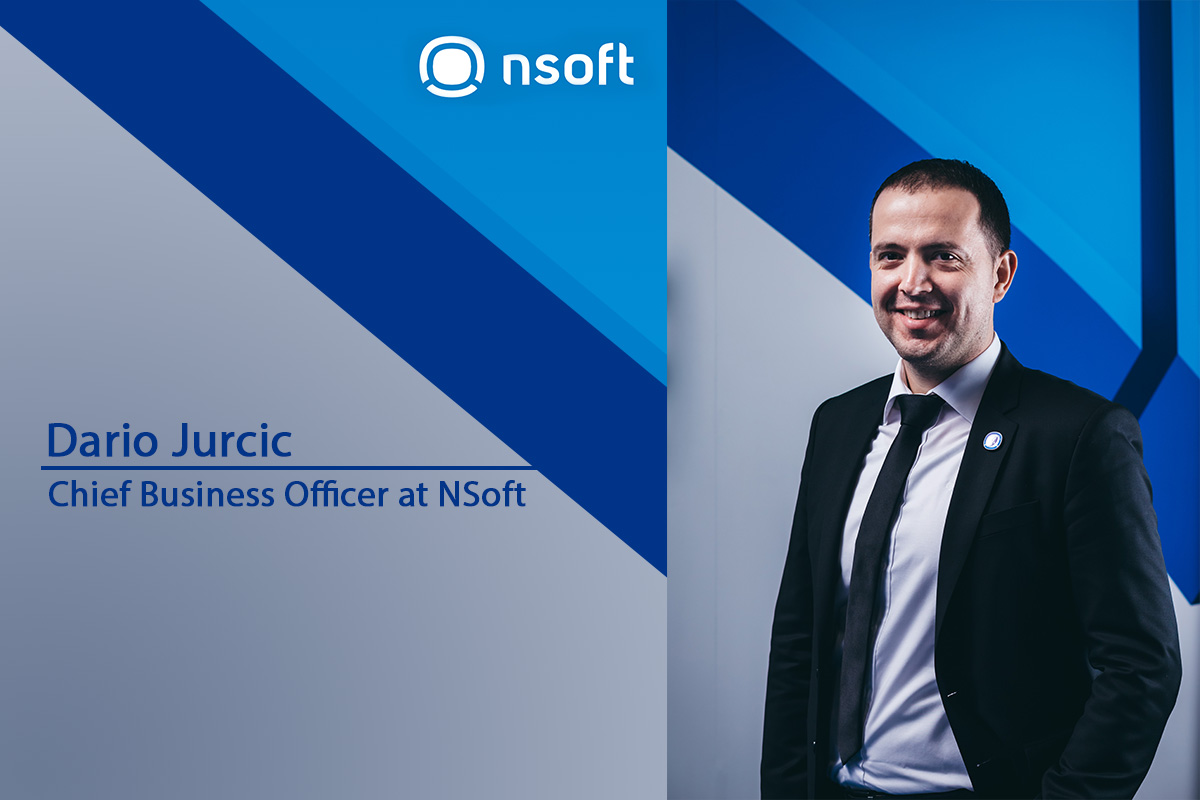 Reading Time:
4
minutes
Let's begin with a few words about yourself and the company, NSoft. Our readers love to hear confident, top-class professionals say something about themselves and their job.
My name is Dario Jurcic, and I'm a Board member (Chief Business Officer) at NSoft company. I have been performing this role for the past 1.5 year. Prior to joining NSoft, I have been working in the banking industry, and my background is in IT/BI. NSoft is a leading software solutions provider hailing from Bosnia & Herzegovina, with its core business in entertainment, but recently we have also expanded our portfolio to security and health. We pride ourselves for being one of the few truly multi-vertical omni-channel solution providers with a wide range of products, such as Platform, Sportsbook, Virtual and Draw based games, Casino but also in-house terminal/ssbt production.
The year 2019 was a crucial year for NSoft. You had planned global expansion as the main mission for the year? Looking back, how did it go?
Prior to 2019 we knew we had the right products and services, but in 2019 we decided to go more aggressively on advocating our portfolio to a much wider audience. The campaign included heavy digital marketing efforts, but also increasing our business team in Africa, Asia and Latin America. This resulted in significant revenue growth and new market penetrations, however, the best is yet to come as the onboarding process has passed and the team is pressing on.
You have recently signed a big deal in Haiti. Could you tell us more about your progress in Haiti?
The reception of our solutions in Haiti was beyond our expectations. The punters really love the products, especially the virtuals, and the partners are enjoying steady business growth. Nevertheless, the whole Latin America is really interesting for us and as I mentioned before we do have our representatives in the region now. It is really important to understand the needs of this market and we're doing our best to understand and adapt to customer needs. I can only see more success for NSoft in this area, especially now since Brazil is opening its doors.
NSoft started offering Betradar's Virtual Football League to Fortuna Romania's customers in December. How has been the customers' response towards the game so far?
That's an interesting trifecta you mentioned: Romania, Betradar and Fortuna Group.
Romania is one of our key markets, Betradar is our partner of choice while Fortuna Group is one of our largest and most renowned partners. Doing business in Romania, partnering with Betradar and Fortuna have brought us much success so it's no wonder that introducing a new product with the three ingredients combined was a complete success.
NSoft now has offices in Croatia, Asia, and Costa Rica, apart from headquarters in Bosnia and Herzegovina.  What are your expansion plans?
We do not plan to stop there. Africa is actually the continent we're investing the most, and where we have expanded our team the most. The opportunities there are vast, and the development of the industry is as exciting as it was in Europe 10 years ago. Apart from that, we've just established our Business Development Department with a goal to tackle untapped opportunities with a bit different approach. The synergy between our gaming solutions and our security solutions will bring even more USP's – but we'll talk about when time is due.
The US gaming industry is undergoing tremendous changes. Tell us more about your US-specific products. How different is the US gaming sector from Europe's?
Currently we are not so much focused on the US, but it, definitely, is on our roadmap. I believe that retail will be strong in the US, and I don't think there is a better solutions provider for retail in the world thanus. We did see a growing interest for our SSBT's in this market and I think STARK terminals will open many doors for us there. We need to be careful though, and we need to meet the needs of the markets we just expanded to. Losing focus and understanding of customer's needs might backfire – so we're taking one step at a time.
Now we can about some of your products. What set apart your betting platform, Seven, from the competition?
The Seven platform was built from code line 1 for the cloud, no legacy code. It is both horizontally and vertically scalable and built on modern technologies. This means that the needs for any size of operator could be met – and scalability is really something operators struggle nowadays. When you add to that its omnichannel capabilities, seamless product and payment methods integrations combined with clean UI you do have a winner. Our extensive device management makes us second to none when it comes to retail, you can install and operate thousands of devices from a single point and that is really remarkable and very much needed in the fast moving world where you don't have the time to sit in the car and go to the shop to install a device.
Could you tell us about your upcoming products and games?
During ICE 2020 we will be displaying our two new virtuals: Virtual Drag Races and Virtual Penalty Shootout. I wouldn't want to spoil it now, but both games are very much unique, and I'm eager to see the reception during the expo. Apart from that, we will be displaying our brand new T-800 terminal which is a bit more robust version of the ultra slim and popular T-1000 terminal. Also, something we're really proud of are the synergies of our products so you'll be able to see Vision AI surveillance system integrated on our terminals or even on Seven platform. Later, during the year we will be presenting our new Casino vertical products, but also products that belong to the health industry.
Now on to the final question. It is perhaps more cultural than technological. NSoft grew from a city that is not too well known for its software products. How difficult is it for a company from a Balkan or Eastern European country to scale new heights in the global technological front?
I think the hardest part is behind us, we have conquered the region we came from and we already see the good results in the new markets. Having the best company culture and the best team does help. When you add to that the variety and maturity of product portfolio, how could we go wrong?
No matter where we do business, or where we onboard new colleagues, the reception of NSoft is amazing and we are humbled and thankful for this. The best is yet to come.
NSoft Steps Into the Future at ICE 2020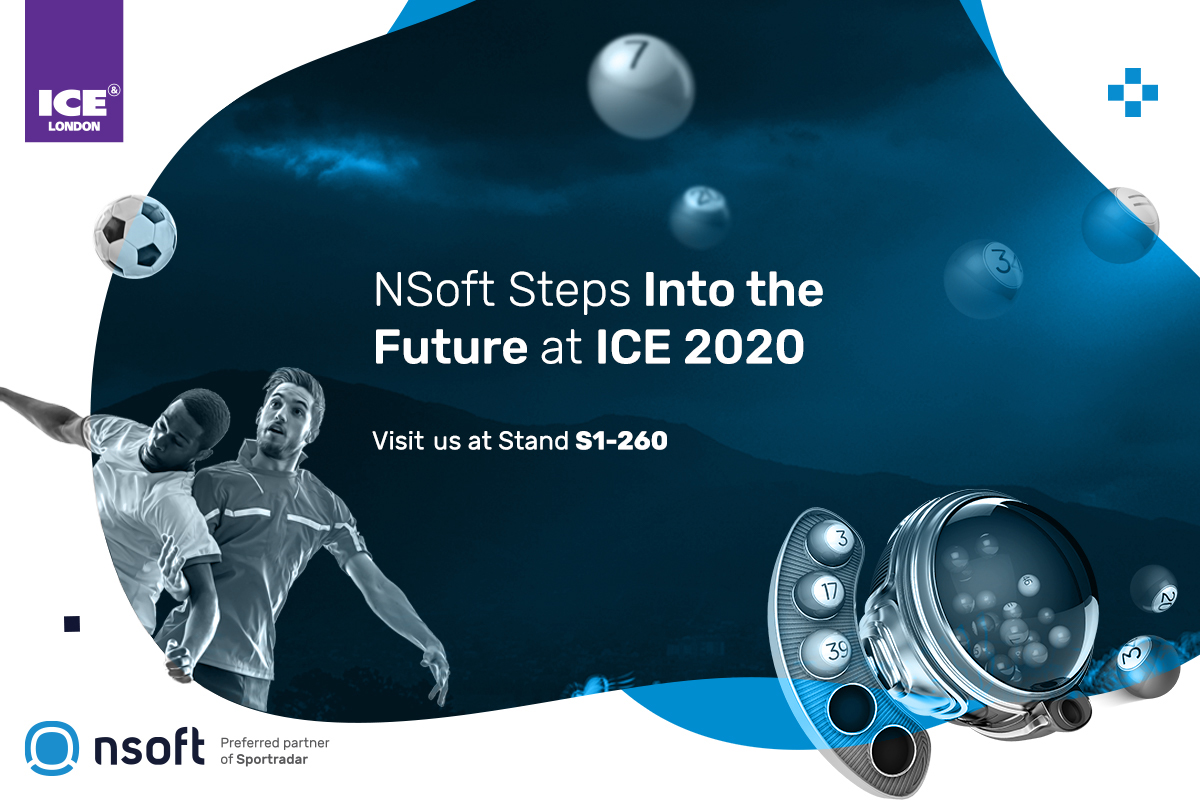 Reading Time:
< 1
minute
The sports betting technology provider NSoft will be showcasing its comprehensive suite of products including a full Sportsbook platform, Virtual sports betting, draw-based games and NSoft Vision at ICE London 2020.
The upcoming ICE London 2020 is the only B2B gaming event that truly brings together 600 + solution provider and over 35,000 professionals across all sectors of gaming. During this event, held from February 4 to February 6, 2020, NSoft will be promoting its unmatched solutions to the industry's most important stakeholders.
Thinking of manageable, customizable and reliable profit generator? Meet us and find out why over 95% of our existing customers have chosen to add Lucky Six to their offer. This virtual, draw-based game is a real omnichannel proven profit generator offering over 12 million combinations with 8 different betting options.
NSoft's In-Play Betting MTS provides odds from the industry's leading trading service provider, Betradar. The fully automated and integrated service is user ready and requires only very limited resources to offer truly impressive live betting sports and markets.
Don't miss out on the chance to find out more about NSoft's products. Meet us at our impressive Stand S1-260 with the demo zones. Book a meeting with our team or contact [email protected].