THETA Live Embed Launches to Bring 24/7 Esports Content and Blockchain Rewards to Any Website, Starting With G FUEL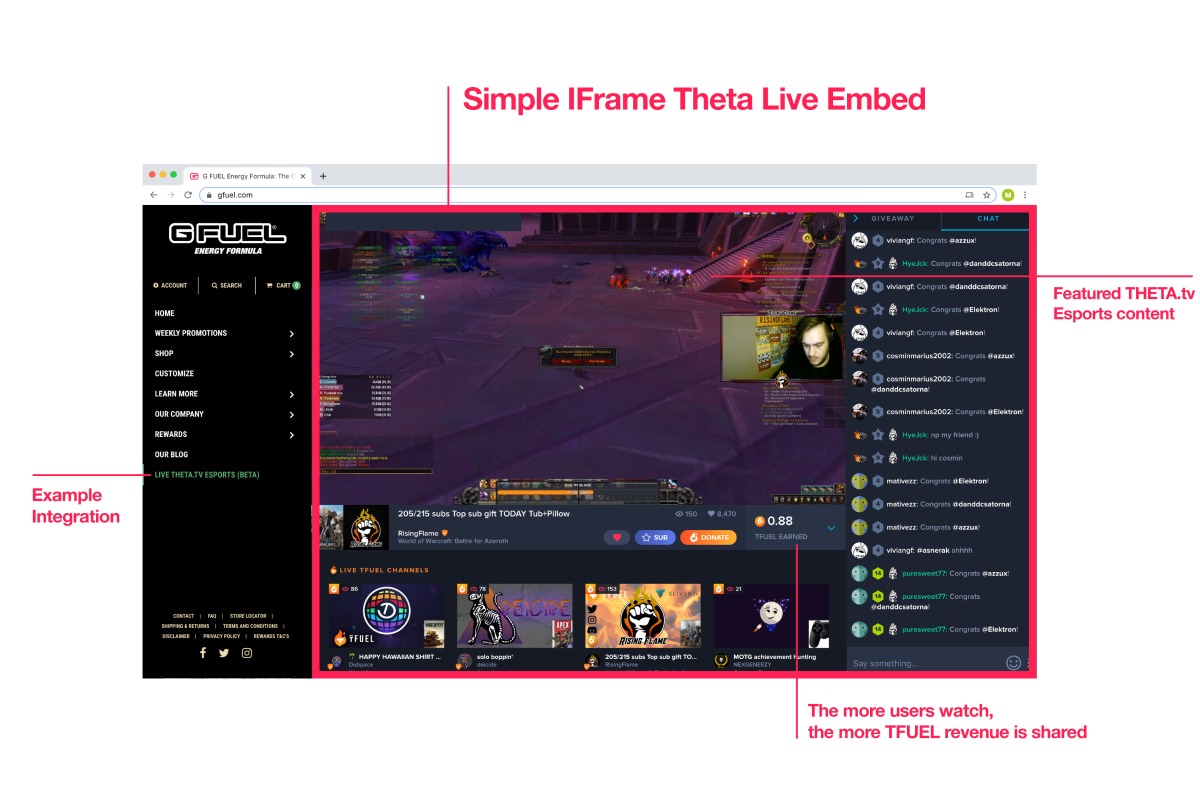 Reading Time:
2
minutes
Using simple IFrame any site can easily add THETA.tv esports streaming content, such as Fortnite, League of Legends and CS:GO, to earn incremental revenue.
Theta Labs, the leading video delivery network powered by blockchain, today announced the launch of THETA Live Embed, a new turnkey product that allows 24/7 THETA.tv Esports live streaming content to be added to almost any website, blog, or social media platform with minimal technical effort. Popular games like Fortnite, League of Legends and CS:GO streamed through THETA Live Embed are fully integrated with the Theta Network blockchain, allowing viewers to relay streams to their peers and earn Theta token rewards, TFUEL, just for watching and sharing their bandwidth resources. The first partner to integrate the product is G FUEL, The Official Energy Drink of Esports®.
Any partner site with THETA Live Embed automatically benefits from THETA.tv's highly engaging and entertaining roster of more than 300 top Esports streamers including RisingFlame, teamtnt, and Deicide. The site and its users each earn 33% of the total TFUEL based on the amount of content and bandwidth shared, with the remaining 33% donated to support the streamers. All the revenue share is automated and transparent through Theta Blockchain's "auto-split" smart contract and is easily auditable on the public chain. On average, sites can expect to see incremental revenues of $50,000 to over $100,000 per 1 million monthly active users.
"As The Official Energy Drink of Esports, we pride ourselves on pushing the envelope and providing the best experience possible to our Esports and gaming communities," said G FUEL Founder and CEO, Cliff Morgan. "This includes expanding our long-term partnership with the innovators at THETA.tv and being an early adopter of THETA Live Embed — all so that we can easily provide live action-packed Esports content to our worldwide fans for free."
With a simple IFrame approach and a few lines of JavaScript, THETA Live Embed can be added to any site with minimum development. This turnkey integration enables platforms to seamlessly adopt THETA.tv Esports content and the underlying Theta Network peer-to-peer video delivery infrastructure, without the need to understand digital wallets, security and other technical aspects of blockchain technology.
"As we engaged with potential Theta partners over the past year, we heard more and more that live 24/7 Esports content coupled with a loyalty or rewards program is strategic to their global business and user growth," said Mitch Liu, CEO of Theta Labs, Inc. "We took THETA Live Embed a step further where our partners can integrate it in a few hours, and immediately start earning new revenues. Their users can earn rewards by simply watching content they love, sharing their bandwidth and being part of the community. It's a powerful way for platforms to naturally drive retention and increase conversion to paid and premium products and services."
To learn more about THETA Live Embed, visit us at embed.theta.tv.
Esports Become Official High School Sport in Utah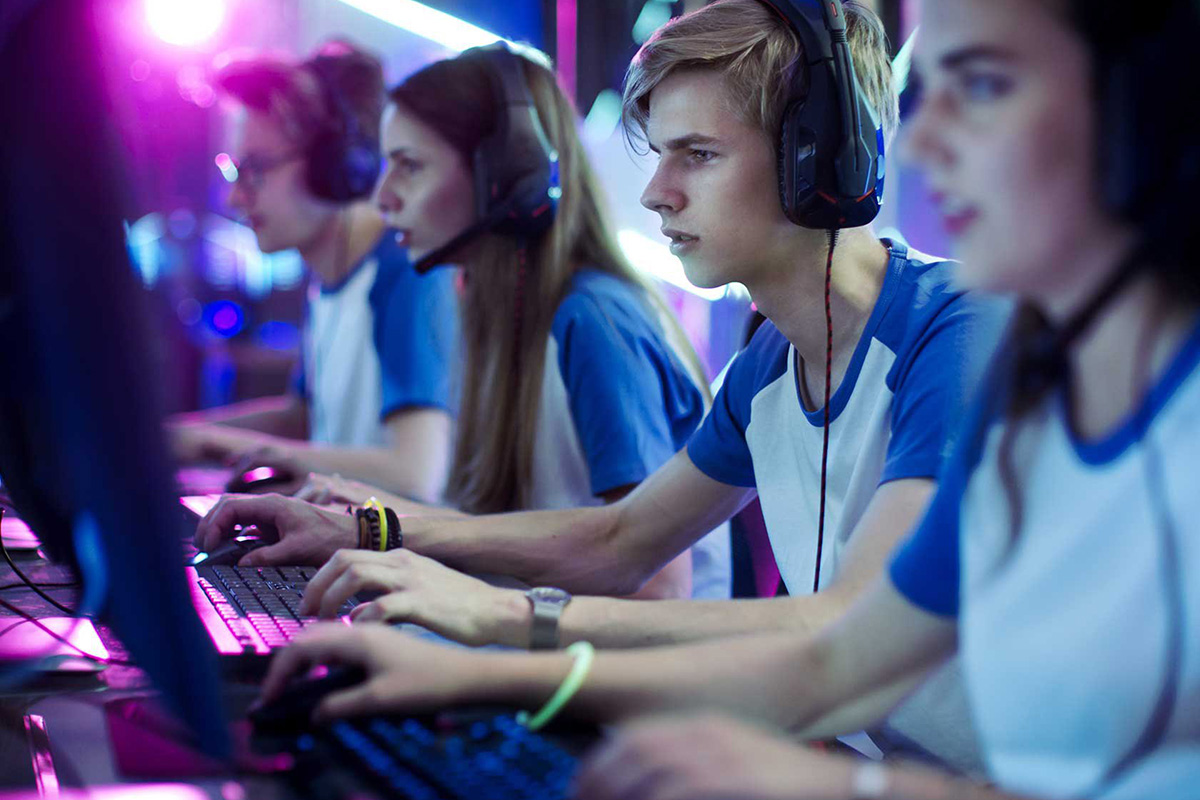 Reading Time:
< 1
minute
Video gaming has become an official high school sport in Utah.
"What we are doing here today in Utah is going to become a national model and show every other state how to do it," Bob Sorenson of iTEAM USA, one of the groups behind the initiative, said.
State Sen. Daniel Thatcher helped organise the effort, spearheaded by iTEAM USA and PlayVS, to give students a chance at what is quickly becoming a cutting edge sport.
"It will open up more opportunities for our students. What I want the kids to know is there is a career in this," Joel Marquez, a computer science education specialist with the Utah Department of Education, said.
"Students are the winners. Esports is the gate to I.T. [information technology] and C.S. [computer science]. It gives students a connection and a different view of tech," Sorenson said.
Organisers believe it will help prepare students to join the workforce in many ways.
"There is a stigma with gamers. An anti-social stigma. I've seen 250 students come together of all different genres and become friends and have fun doing this. That created a place of belonging for them," Marquez said.
EPICENTER Major 2019 became the Best sports event of the year by bema! awards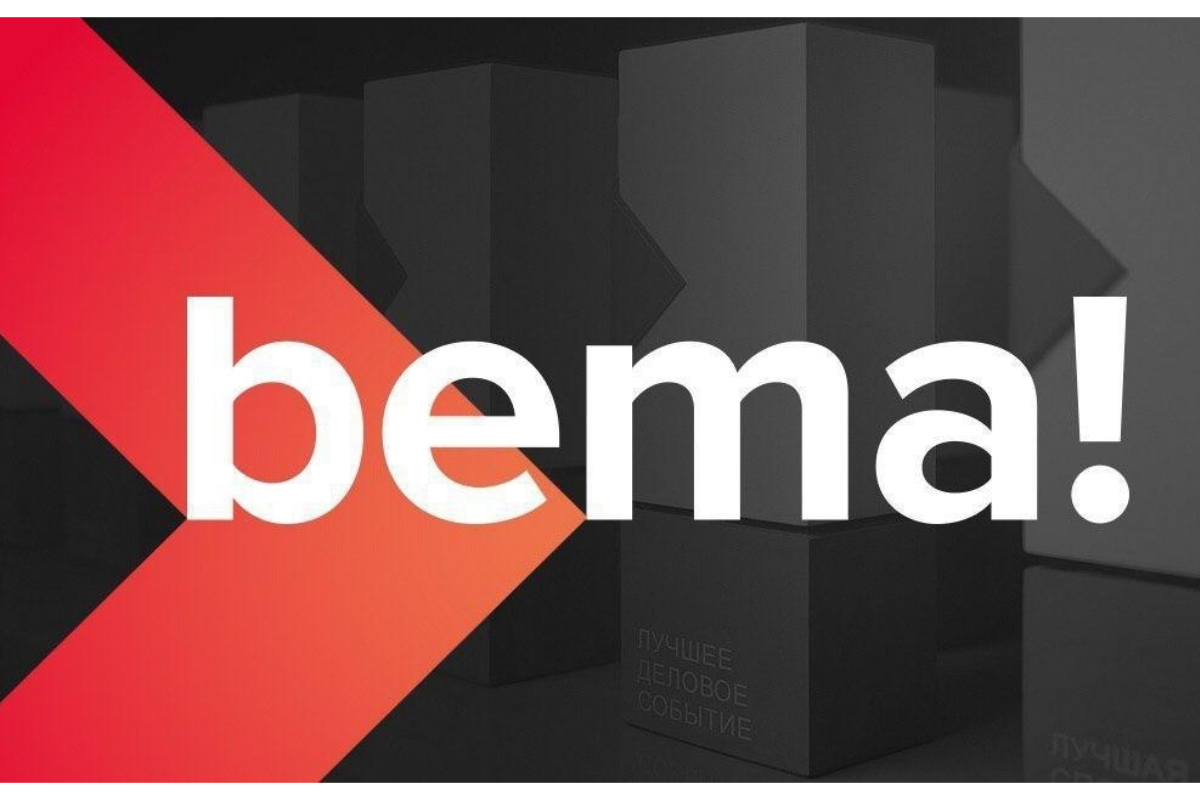 Reading Time:
< 1
minute
EPICENTER Major 2019 series became the winner of Best Experience Marketing Awards 2020, the professional award in marketing and integrated communications for events. The organizer, Epic Esports Events (a member of ESforce Holding), took the first places in both nominations "Best sports event" and "Best hybrid event" (an event where offline is combined with digital). The tournament also won silver in the nomination "Best video game industry event".
Evgeny Kalganov, Event Director, Epic Esports Events:
"It is great to see our efforts approved by the leading experts of Russia. EPICENTER Major 2019 exceeded even our expectations! Huge thanks to our team for their hard work and immense dedication. It is a challenge to beat the bar you set yourself, but we will achieve even greater results with the next events of the EPICENTER series."
The expert jury of bema! award has evaluated 420 projects in three macro-categories: B2B, B2C, and B2I. 150 best projects have advanced to the finals after collecting the maximum amount of points in their respective categories. Ultimately, the expert jury has chosen the three best projects in every nomination.
The full list of award winners is available on the bema! official website.
Epic Esports Events specializes in hosting international competitions and is the organizer of the EPICENTER tournament series in Dota 2 and CS:GO in Moscow and Saint Petersburg throughout 2016-2019. The award-winning EPICENTER series gathers tens of millions of viewers all over the globe, its quality appraised by prestigious awards such as EUBEA, Eventex, MarSpo, BISPO, and Sport Leaders Awards.
WePlay! Mad Moon Schedule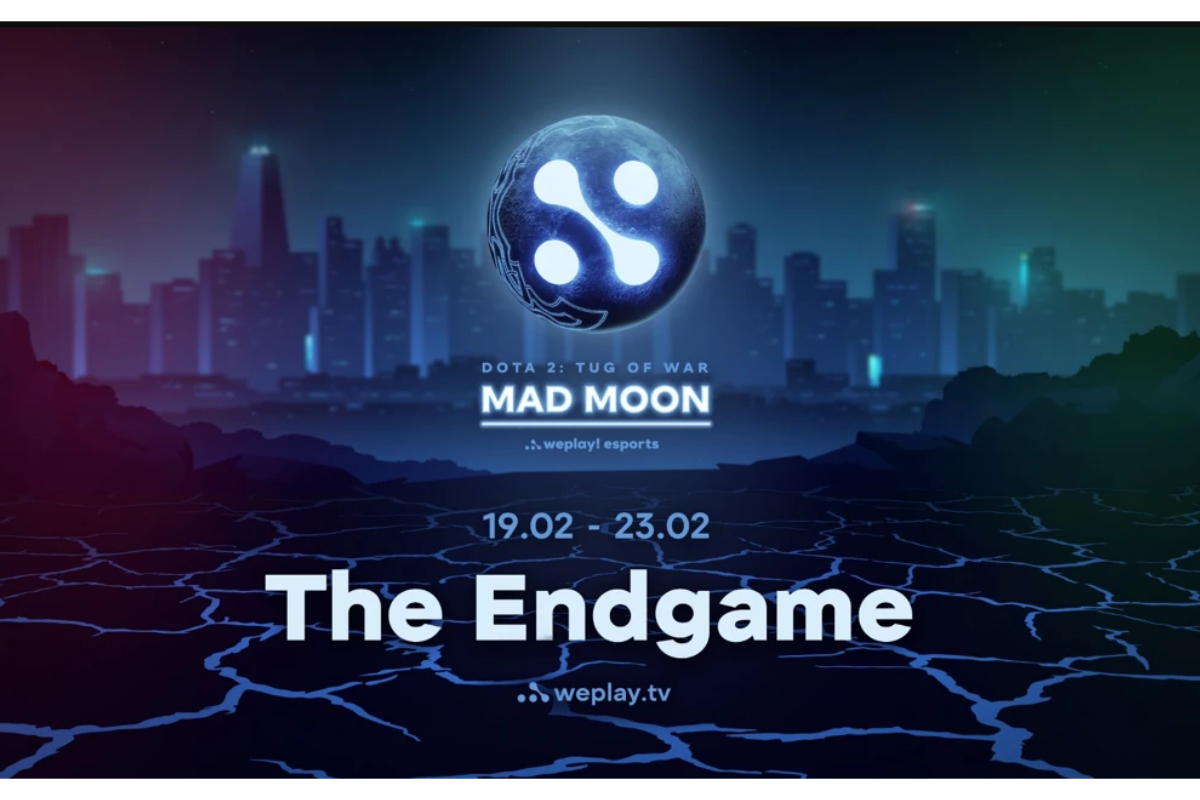 Reading Time:
< 1
minute
The official schedule of WePlay! Dota 2 Tug of War: Mad Moon.
WePlay! Dota 2 Tug of War: Mad Moon with a prize pool of $300,000 will take place on February 19 – 23, 2020.

We are excited to announce the official schedule of WePlay! Mad Moon (in CET).

Wednesday (19 February)
12:00 — Pre-show

13:00 — Initial Matches (Bo3)
– Team Secret vs. B8
– Gambit Esports vs. Infamous Gaming
– Virtus.pro vs. Aggressive Mode
– Ninjas in Pyjamas vs. Team Nigma
16:00 Winner's Match for (Group A) / Elimination Match (Group B) (Bo3)

19:00 Winner's Match for (Group B) / Elimination Match (Group A) (Bo3)
Thursday (20 February)
12:00 — Pre-show

13:00 — Group A Decider (Bo1)

14:30 — Group B Decider (Bo1)

16:00 — Upper-Bracket Round 1 (Group A 2nd vs. Group B 3rd) (Bo3)

19:00 — Upper-Bracket Round 2 (previous match winner vs. Group B 1st) (Bo3)
Friday (21 February)
12:00 — Pre-show

13:00 — Upper-Bracket Round 1 (Group A 3rd vs. Group B 2nd) (Bo3)

16:00 — Lower-Bracket Round 1 (#1) (Bo3)

19:00 — Upper-Bracket Round 2 (#2) (Bo3)
Saturday (22 February)
12:00 — Pre-show

13:00 — Lower-Bracket Round 1 (#2) (Bo3)

16:00 — Lower-Bracket Round 2 (Bo3)

19:00 — Upper-Bracket Finals (Bo3)
Sunday (23 February)
13:00 — Pre Show

14:00 — Lower-Bracket Finals (Bo3)

18:00 — Grand-Finals (Bo5)

22:00 — Closing Ceremony
On February 20 – 23, the teams will fight in front of a live audience at concert hall VDNG (9th pavilion). Tickets are available for free on the tournament page.
#MadMoon, #WePlayDota2
Source: WePlay! Esports Press Office