A Portrait of the Typical Esports Bettor, by LOOT.BET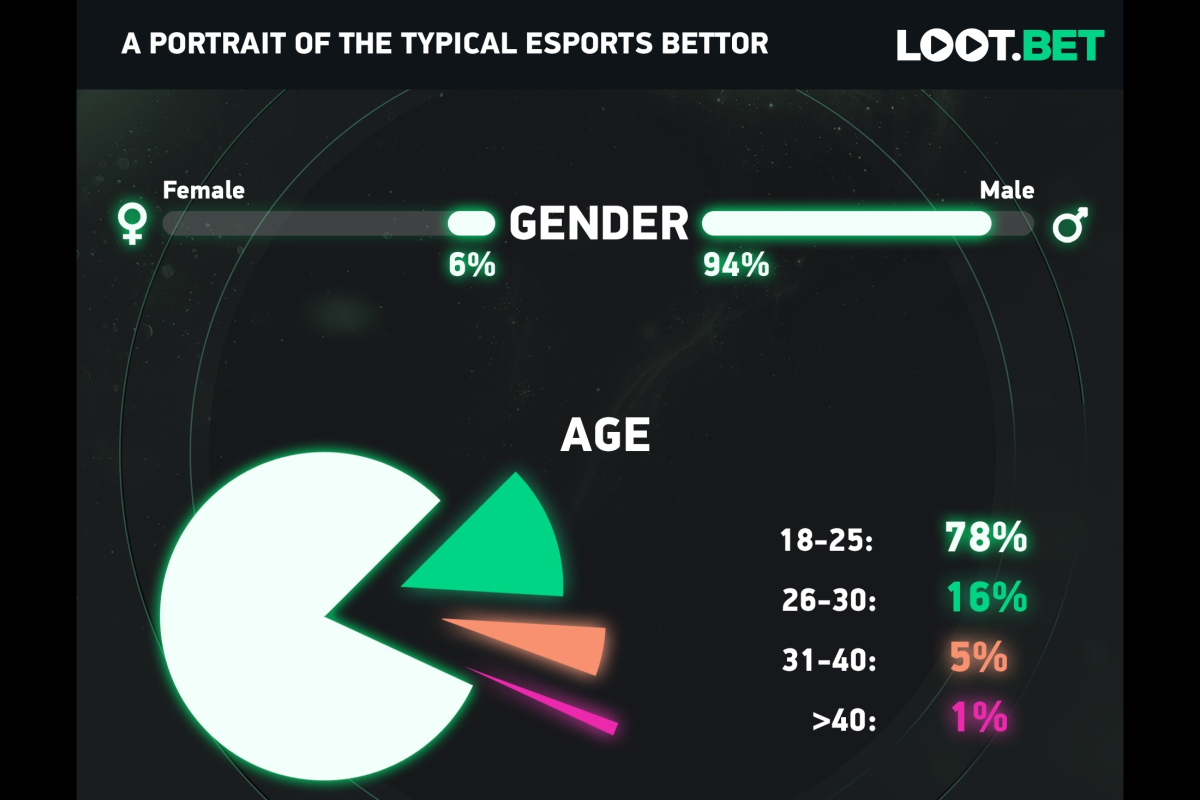 Reading Time:
3
minutes
Who exactly is the typical esports bettor? Do they also bet on traditional sports or gamble at online casinos? What kind of work do they do and what interests do they have? How much and how often do they bet? To succeed in the esports betting industry, it's crucial to understand esports bettors, so specialist esports bookmaker LOOT.BET has put together a portrait of the typical esports bettor, based on extensive research. 
Esports bettors are young, career driven, and single
Like the esports audience in general, esports bettors tend to be young. The vast majority, some 78% of LOOT.BET's users, are aged 18-25, while 16% are 26-30, just 5% are 31-40, and a mere 1% are 41 or older. Curiously, bettors from Western countries tend to be a little older, at an average age of 24, than the CIS where the average is just 21.
In terms of occupation, the typical esports bettor from the West tends to be a novice specialist or a junior manager, while the average esports bettor in the CIS region is a university student. In both cases, they are unmarried and have no children.
Perhaps unsurprisingly, the vast majority of esports bettors are male – making up some 95% in 2018. However, it is possible that things are starting to change, with females growing from 5% in 2018 to 6% in 2019.
Esports bettors have little interest in traditional gambling
According to LOOT.BET's research, 64% of esports punters bet exclusively on esports, and 67% are open to betting on more than one esports discipline. However, only 24% of esports bettors occasionally wagered on major sporting events, and just 12% bet on traditional sports systematically.
Also, esports bettors, being younger, are far less likely to gamble at online casinos than traditional sports punters – who tend to be significantly older. Illustrating this, as little as 3% of esports bettors regularly try their luck at online casinos, and only 20% even enjoy an occasional gamble. The vast majority, some 77%, say they are not interested in such kind of gambling at all.
Esports bettors are clued up, engaged, and passionate
Esports bettors are very clued up, with almost all of them following industry news. 54% use dedicated news sites and forums, 42% prefer social media, but just 4% don't feel the urge to keep abreast of esports events and updates.
In terms of lifestyle and interests, typical esports punters are very engaged with non-esports video games, regularly follow various streams, and love cosplay. They are also very switched on to video and music content, tend to follow sports (especially football), and are often techno-geeks with a passion for travel and social media.
Discussing the findings, Paul Brel, Head of Communications at Livestream, LOOT.BET's operating company, explained:
"The difference between esports bettors and traditional bookmakers' clients is huge, and the matter is not just – and not even so much – in the age gap which in itself implies certain distinctions.
"Esports fans breathe cutting-edge technologies; they are very mobile, yet so involved with the community; they are more likely to rely on their knowledge and skills rather than on luck; for them, esports is not just a hobby but a lifestyle – which you wouldn't say about a regular classic sports bettor. We believe that only those operators who understand this and try to find an approach to this specific audience, which is very new to the betting industry, have a chance to succeed in the esports betting market."
Esports bettors love live and love mobile
In terms of esports betting trends, LOOT.BET is seeing the rapid growth of live betting and the continued migration from desktop to mobile devices. To give a sense of the shift, over the course of 2019 the share of live bets jumped from 52% to 75%, while mobile traffic rocketed from 50% to nearly 70%.
Esports bettors are spending more money, more often
Another clear trend is esports punters betting more money, and betting more frequently. In 2019 the average number of bets per user, per month, across all disciplines increased by 11%. The title seeing the biggest increase, at 15%, was Counter-Strike: Global Offensive, while the other games from the "big three", League of Legends and Dota 2, registered increases of 10% and 6% respectively. Bet size over the year increased even more dramatically – 20% across all disciplines, breaking down to 24% for League of Legends, 22% for Counter-Strike: Global Offensive, and 15% for Dota 2.
"We associate the simultaneous rise in the frequency and size of bets with several factors. Firstly, esports betting is becoming a key hobby, on which one is ready to spend significant money, for more and more people. Secondly, the esports audience's trust in betting is increasing, and so is their willingness to risk larger sums.
"And naturally, the rise is determined by the extension of the noteworthy matches pool and development of betting lines – which refers to the whole esports betting industry. There is a bold assumption that in 10-20 years, esports will catch-up with classic sports by volumes of bets, and, considering the foregoing as well as the fast esports audience expansion, we treat this forecast as an eligible one", commented Paul Brel.
The research is based on LOOT.BET's internal statistics and an email poll of customers.
Betway Join BLAST With DOTA 2 Expansion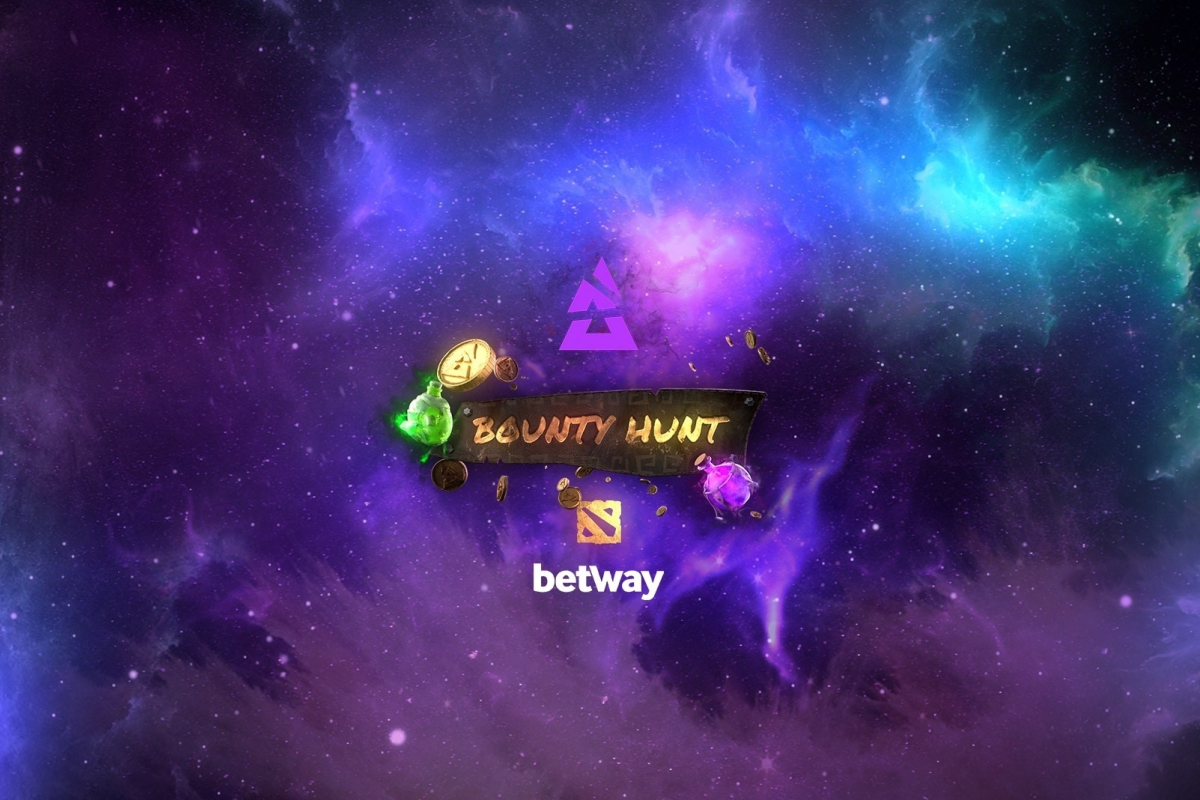 Reading Time:
2
minutes
BLAST: Bounty Hunt Tournament joins leading online bookmaker Betway's growing portfolio of top tier esports events.
Europe's finest will compete over the four-day DOTA 2 tournament, with the coveted Bounty Hunt title on the line. Pulling in viewers from across the world, teams will battle for bragging rights and the $145,000 prize pool.
Betway's sponsored team Ninjas in Pyjamas will join elite sides Alliance, Team Secret, Team Nigma, OG and Team Liquid with the first game set to start on the 9th June.
Adam Savinson, Head of Esports, Betway, said: "We have had an incredibly successful 2020 working with BLAST across their Counter Strike tournaments, making it a very easy decision to support their entry into DOTA 2.  We are excited to see BLAST bring their innovative and exciting approach to a new game, and are proud to help them on that journey."
Leo Matlock, Commercial Director for BLAST, added: "The expansion of this deal is testament to the impressive collaboration between BLAST and Betway over the last 18 months as we both strive to be industry leaders in esports and entertain fans the best we can.
"We look forward to continuing this innovative partnership as we expand into one of the world's most played and loved games in the shape of DoTa 2. We can't wait to deliver the world class DOTA 2 tournament that fans have been asking for, and are delighted that Betway are supporting and working with us to ensure we achieve this."
DOTA 2 is one of the world's most-watched esports, with two teams of five players, each controlling a single hero. Teams compete to destroy the enemies 'Ancient' – the building at the centre of their base. In 2019, The International – DOTA 2's flagship tournament peaked with a concurrent viewership of 1,968,497.
About the Betway Group:
The Betway Group is a leading provider of innovative, entertaining and exciting entertainment across sports betting, casino, bingo and esports betting. Launched in 2006, the company operates across a number of regulated online markets and holds licences in the UK, Malta, Italy, Denmark, Spain, Belgium, Germany and Ireland. Based in Malta and Guernsey, with support from London, Isle of Man and Cape Town, the Betway team comprises over 1,500 people.
Betway prides itself on providing its customers with a bespoke, fun and informed betting experience, supported by a fair, safe and responsible environment. Betway is a member of several prominent industry-related bodies, including International Betting Integrity Association (IBIA), iGaming European Network (iGEN), the Independent Betting Adjudication Service (IBAS), and the Betting and Gaming Council (BGC), and is ISO 27001 certified through the trusted international testing agency eCOGRA. It is also a partner of the Professional Players Federation (PPF) and is a donor to many responsible gambling charities, including GambleAware.
In addition to the flagship Betway brand, the Betway Group operates a number of other brands including Dream Bingo, Spin Casino and the Hippodrome Online casino. For more information about Betway's various products and licenced brands, please visit www.betwaygroup.com.
SOURCE Betway
FANDOM SPORTS Retains Segev LLP as Lead Counsel for Global iGaming Licensing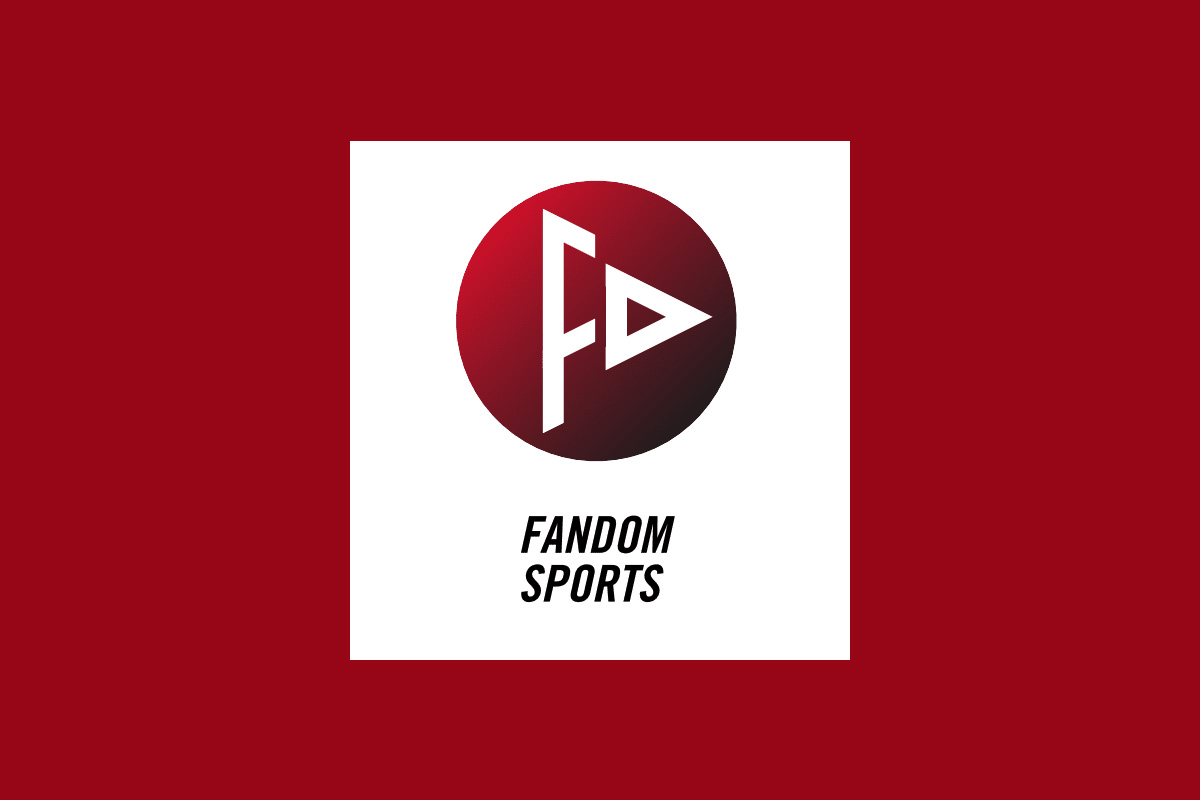 Reading Time:
< 1
minute
FANDOM SPORTS Media has retained Segev LLP as lead counsel for all endeavours pertaining to global iGaming licensing. The Company will be undertaking a strategic review to prioritise jurisdictions that will enable the firm to expand its regulatory footprint efficiently and at scale.
Segev LLP employs a strong iGaming team with corporate, commercial, IP commercialisation, M&A, private equity finance, public markets finance, privacy and data, and regulatory and compliance experience.
In advance of the iGaming initiative, the Company has also secured a domain and brand identity surrounding the betting platform. www.gamersatodds.com unifies the business plan and opportunity that the Company will be executing upon.
"We are pleased to take definitive steps towards accelerating our dual initiatives of the all ages Esports engagement platform and the pure play regulated Esports betting platform. Regulated Esports betting is now a mainstream business opportunity and there is an implied quantifiable value for these types of businesses. We look forward to accelerating our licensing initiatives and building a true global Esports betting brand that is fully regulatory and compliant," David Vinokurov, CEO and President of Fandom Sports, said.
G2 Esports Partners with Brandgenuity to Expand Global Licensing Efforts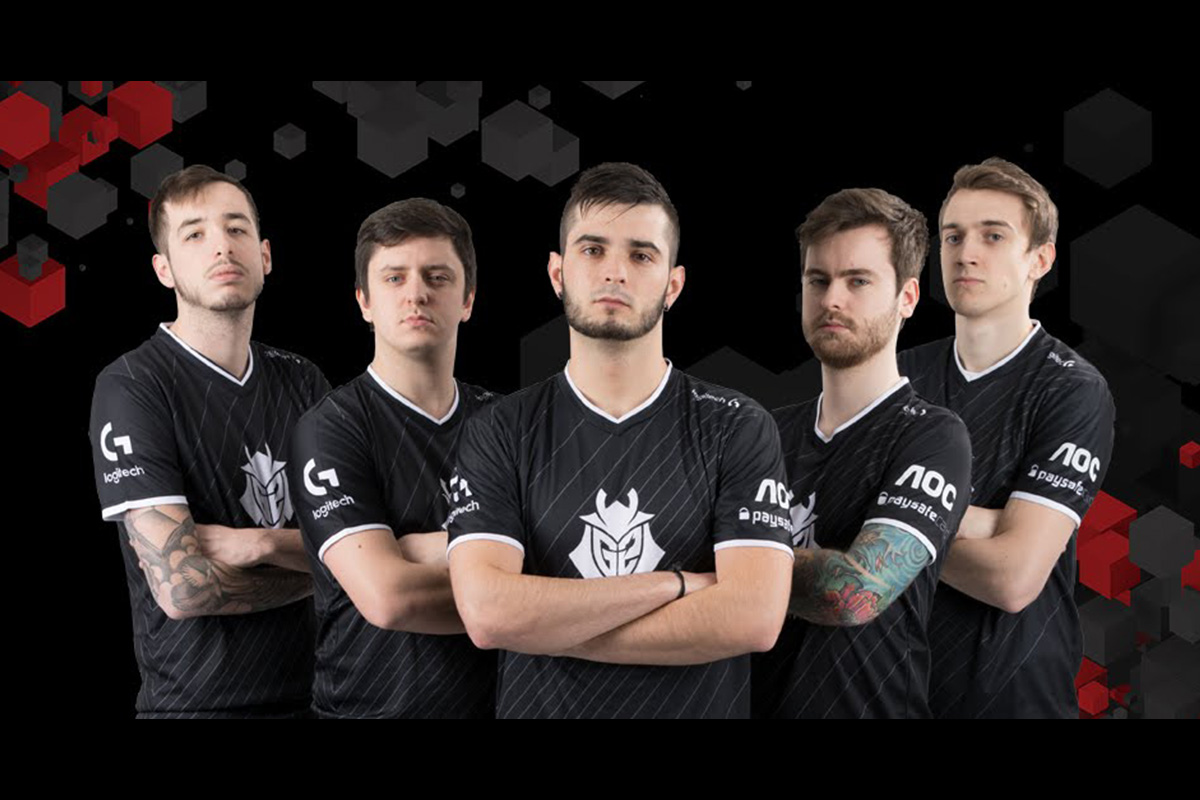 Reading Time:
< 1
minute
G2 Esports has partnered with Brandgenuity to strategically expand its global licensing efforts. Brandgenuity is a leading global independent brand licensing agency headquartered in New York.
"G2 is building a lifestyle and entertainment empire. We have designed and developed streetwear-inspired collections and merchandise that sell out almost instantly thanks to the #G2ARMY and we want to continue to bring our fans merchandise that makes them proud to rep G2. The Brandgenuity team demonstrated that they understood both our brand and our dedication to entertain at all costs and we know they will propel us forward in our global licensing efforts," Carlos "ocelote" Rodriguez, Founder and CEO of G2 Esports, said.
"We are thrilled to be working with G2 Esports, who are one of the most dominant teams in the world, and the undisputed leaders in fan engagement and world-class entertainment. This brand has everything we look for to build a great licensing program; double-digit growth trajectory, a distinctive personality and truly passionate fans," Teri Niadna, Managing Director of Brandgenuity Europe, said.