PAGCOR AND FOUR OTHER AGENCIES INTENSIFY EFFORTS TO ADDRESS ILLEGAL POGO-RELATED CRIMES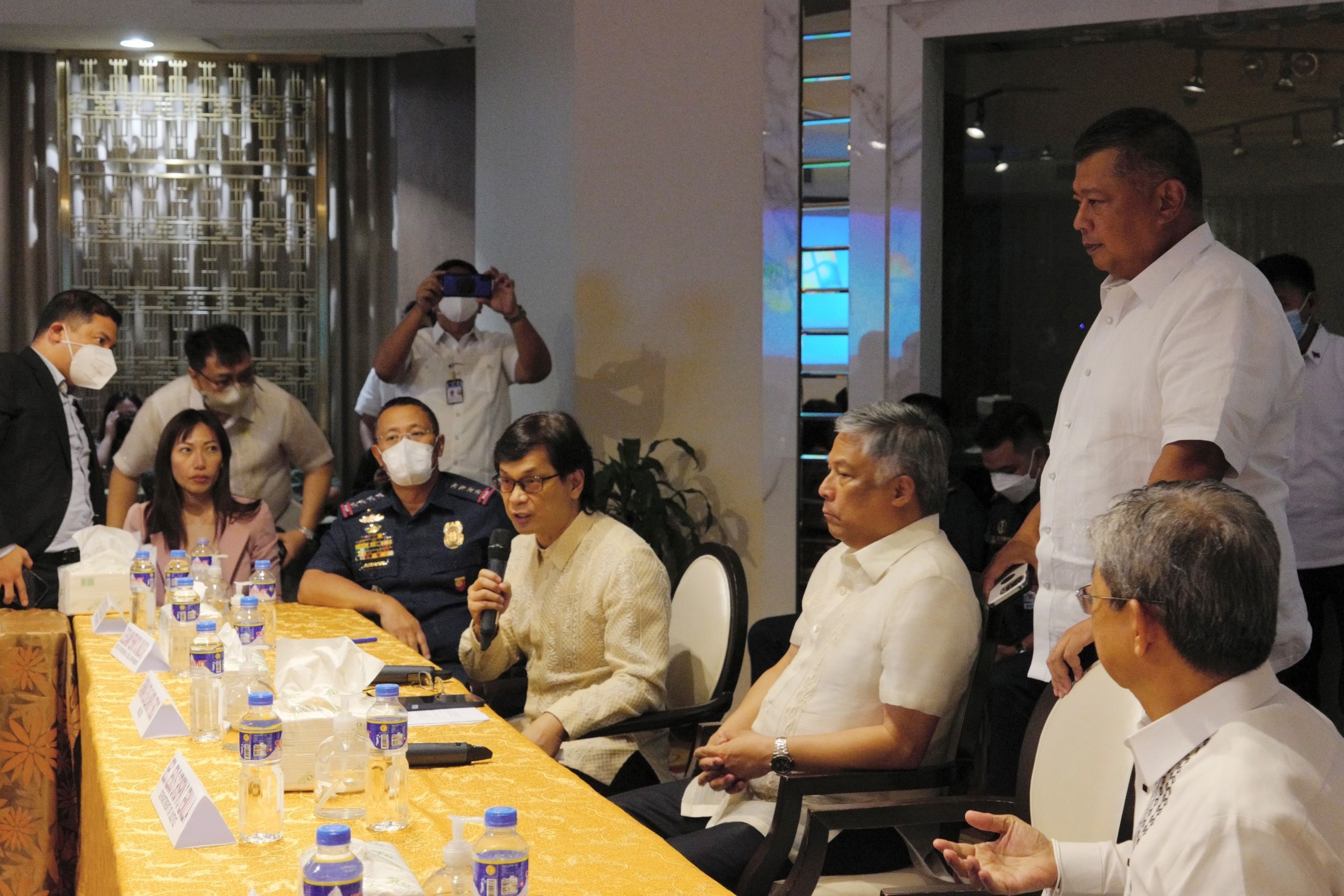 Reading Time:
3
minutes
AMIDST reports of increasing number of kidnapping incidents related to illegal offshore gaming operations in the country, the Philippine Amusement and Gaming Corporation (PAGCOR) has intensified the collaboration with its partner government and law enforcement agencies.
In an inter-agency meeting among PAGCOR, Department of Interior and Local Government (DILG), Department of Justice (DOJ), Philippine National Police (PNP), and the National Bureau of Investigation (NBI) on September 14, 2022, each agency committed to help safeguard the welfare and safety, not only of Filipinos but also of foreign nationals working in the country.
PAGCOR Chairman and CEO Alejandro Tengco said the inter-agency collaboration is a response to the instruction of President Ferdinand Marcos, Jr. to address the recent Philippine Offshore Gaming Operations (POGO)-related kidnapping cases and other illegal activities. "The President said na higpitan na natin because the image of the country and of this administration is being tarnished by these illegal incidents," he stated.
Tengco said that one of the initial steps in the inter-agency undertaking is to identify the illegal operators. "The information we received is that these alarming incidents of kidnapping came from the ranks of illegal operators. While it will be a challenge to all participating agencies, the good thing is that we are receiving information as to where these illegal operations are located. With the help of everybody, we will be able to zero-in immediately," he cited.
The PAGCOR chief added that the licensed POGO operators have also shown their commitment to help address the problem by "policing their own ranks."
"First, they are now going to ask their people to contain themselves in an area for safety and security purposes. Second, they will come up with an updated list of their employees because some have already resigned. Third, we will require them to submit a police clearance together with their application for an offshore gaming license employment (OGEL) ID. At least, those who apply, alam natin na malinis ang kanilang record," Tengco furthered.
If the kidnapping of foreign workers the country is not abated, Tengco warned that the consequences may affect even the legitimate POGO operators.
"If these kidnapping incidents and other illegal activities persist, it is clear that not only will we cancel the licenses of POGO operators, but the entire industry may be affected by whatever decision will emanate from the national government. So let us help each other solve these issues the soonest," Tengco said.
Meanwhile, PNP chief Rodolfo Azurin said the PNP is doing its best to ensure the safety and security of everyone – including foreign nationals who are working in the country.
"But first, there should be respect for our law. Ilan sa mga pinaka-matinding reports na nakuha natin ay kinidnap na, minurder pa while some are reportedly engaged in human trafficking and slavery. Sa ngayon, kaya nahihirapan tayo kasi sila-sila ang nag-a-away-away. Are we still going to wait na kapwa natin Pilipino ang kanilang saktan? We don't want that to happen," Aruzin said.
The PNP chief also stressed the importance of holistic partnership with different government agencies, including the local government units to appropriately deal with the offenders. He likewise requested POGO operators to surrender their permit to carry firearms to PNP as well as furnish them with updated information on the foreign workers' employment permits.
Interior and Local Government Secretary Benjamin "Benhur" Abalos also cited the importance of inter-agency cooperation and regular updating of the list of legitimate foreign POGO workers in the country to avoid problems related to human trafficking.
"The problem is, those who are no longer working in a legitimate POGO operations, kung saan-saan nagpupunta. It is important for us to track them because these kidnapping incidents are giving the POGO industry, as well as our country a bad name."
Abalos reported that DILG already started a crackdown against human trafficking. A total of 43 Chinese nationals who were enslaved under human trafficking conditions were rescued in an operation in Angeles City on September 14. The DILG chief gave the PNP and other participating agencies a timeline of two weeks to abate all POGO-related illegal activities in the country.
DOJ Secretary Jesus Crispin Remulla, who also attended the inter-agency meeting stated that their agency, in coordination with NBI and the Bureau of Immigration, will cause the immediate summary deportation of arrested illegal foreign workers and those responsible for the spate of kidnapping and related criminal activities.
Japneet Singh Sethi, Country Manager, Khelraja wins the prestigious Rising Star Award at the 2nd Edition of The Business Leadership Awards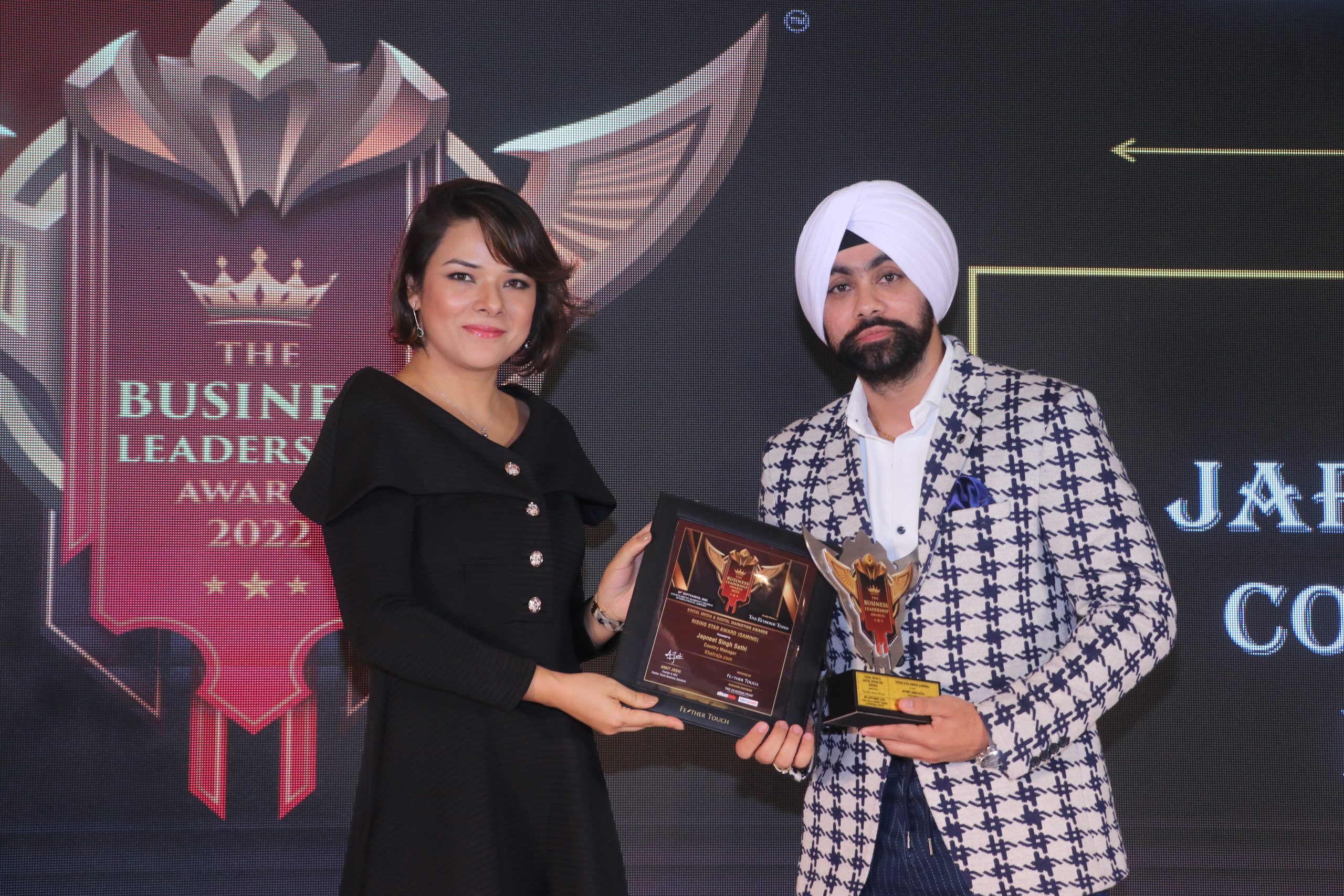 Reading Time:
< 1
minute
Owing to his contribution to the iGaming landscape in Asia, Japneet Singh Sethi, Country Manager, Khelraja has been awarded with the prestigious Rising Star Award in the Gaming category at the 2nd Edition of The Business Leadership Awards. The award ceremony was held on 29th September at Courtyard by Marriott, Mumbai. Actress Udita Goswami was the celebrity guest on the occasion.
Speaking on the felicitation, Japneet Singh Sethi said, "It is always an honor to be recognized for your work. I was always focused towards building a thriving iGaming ecosystem for the vast community of iGaming enthusiasts and to be recognized for my efforts in this respect is a great boost to the entire industry. I have always wanted to contribute to my country's economy and I think iGaming is one of the ways I can give back to the nation. I would also want to congratulate all the other nominees and winners who are working towards the development of their respective sectors".
Khelraja is Asia's renowned real-money gaming brand that offers sports betting, casino and esports among other categories. Japneet has been instrumental in expanding the brand's reach in Asia.
Also, speaking on the occasion Ankit Joshi, Founder & CEO, Feather Touch Business Solutions said, "The Business Leadership Award is initiated with the objective of felicitating the innovative businesses who are ensuring that the world becomes a better place with their efforts for growth of the community and society. It is always an honor to meet the entrepreneurs who are helping the country grow through their vision."
The event witnessed over 120 attendees. Some of the popular categories in which the awards were given included Brand Marketing, CSR, Real Estate, Social Media, Digital Marketing, Startups, Innovation and Strategy, Healthcare and Information Technology.
"MPL launches India's first multi-game Loss Protection initiative for a risk-free gaming experience"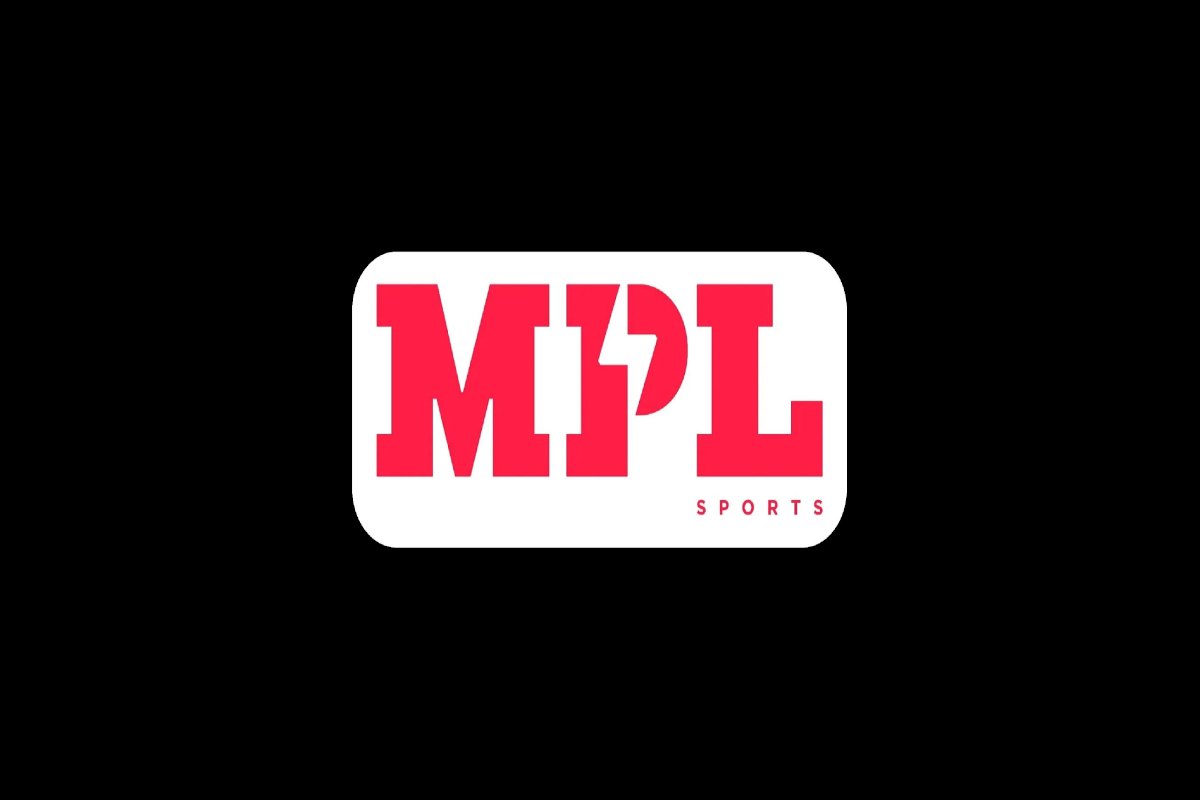 Reading Time:
2
minutes
MPL, one of the world's largest mobile and skill gaming platforms, has announced India's first ever multi-game Loss Protection policy that is aimed at safeguarding the interest of the players. With this policy, gamers can claim a refund of up to 100% of the net loss that they may have incurred after playing 10 gameplay sessions with specified thresholds. This initiative is a great step in enabling users to play some of the most popular titles on the platform while keeping their financial security in mind. The loss protection initiative will be available for activation during MPL's marquee gaming festival, Diwali Lakhpati Party, and will help users enjoy a great  gaming experience during the festive season.
This first of its kind initiative in the gaming industry is aligned with MPL's player-first approach that shows the company's commitment towards offering  a safe and secure gaming experience. This will also enable the players to concentrate on the gameplay without having to worry about the probability of losing money.
Through this program, once a user activates this policy, they can avail the option of claiming a refund of their net loss, if incurred, after 10 gameplay sessions. The policy covers select titles which are some of the top games like Poker, Ludo, Fantasy, Carrom, Block Puzzle, etc. The procedure for activating the insurance entails a successful KYC verification and the amount is directly refunded to the users' MPL wallet. Gamers need to submit their claims on the app to avail the offer.
Commenting on the launch, Namratha Swamy, Country Head – India, MPL, said, "At MPL, we are committed to offering best-in-class gaming experience to our users always. We feel the Loss Protection policy is a great initiative that can foster safe and risk-free gameplay and is aligned with our player- first approach. With this, we hope our users can enjoy a great festive season and play their favorite games on the platform without having to worry about losing money".
The MPL Diwali Lakhpati Party, which will run from today until October 31, presents many opportunities for players to try their hand at skill gaming and claim grand cash rewards.  The marquee gaming gala, with a total value of Rs 40 crore, will see more than six million gamers with 10,000 users expected to win every hour.
India thrashes Pakistan and Bangladesh to qualify for 14th World Esports Championships in CS:GO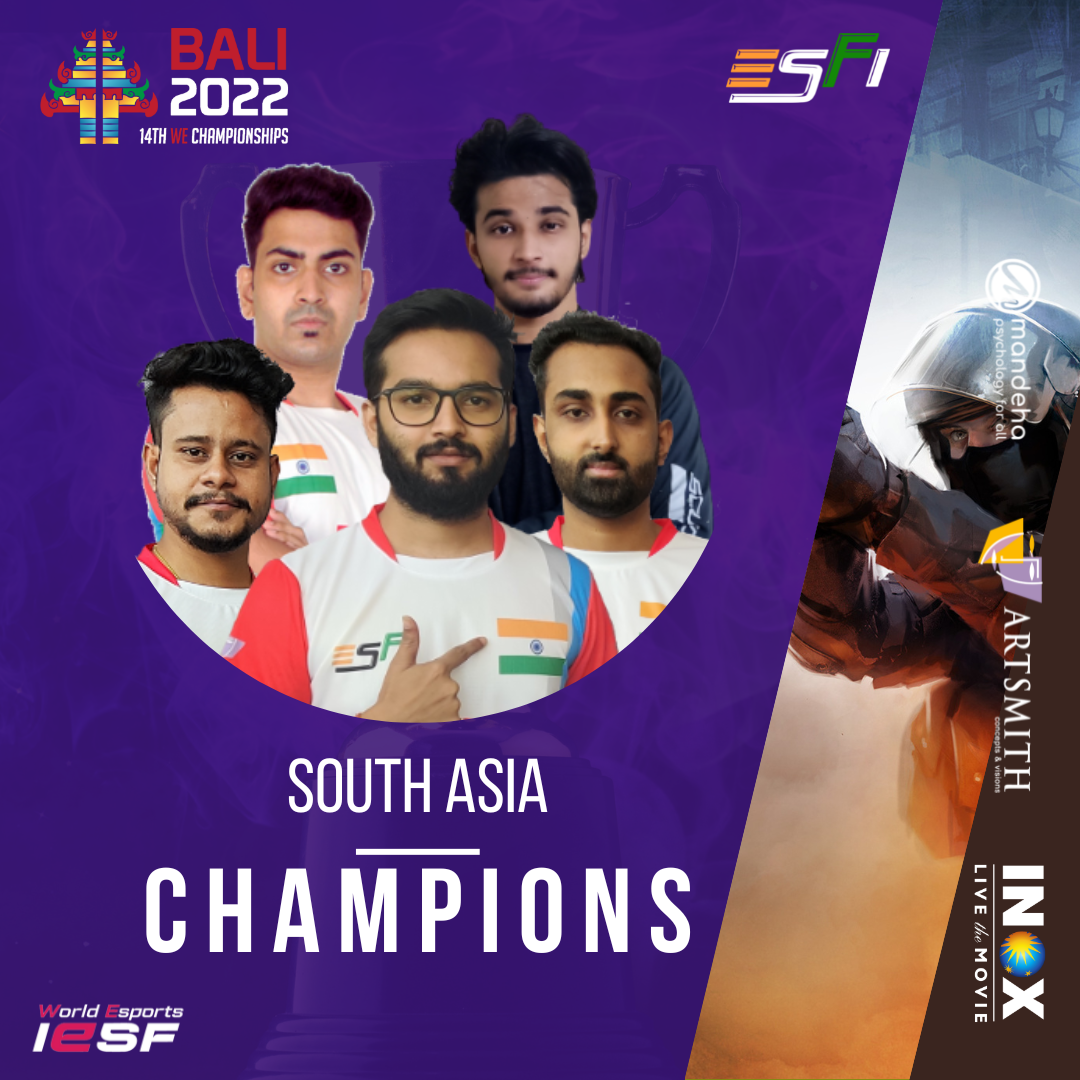 Reading Time:
2
minutes
India's CS:GO team produced vigorous performances in the South Asian Regional Qualifiers of the 14th World Esports Championships after hammering Pakistan and Bangladesh in the South Asian regional qualifiers.
The team, comprising of skipper Ritesh Sarda (Defaulter), Shuvajyoti Chakraborty (Mcg1LLzZz), Anshul Adardkar (KiiLSwitCh), Hrishikesh Shenoy (Crazy_Gamer) and Harsh Jain (lynX), recorded identical 2-0 victories over Pakistan and Bangladesh in the semi-finals and final respectively.
Besides CS:GO team, prominent Tekken 7 athlete Hitesh Khorwal (rcool) and well renowned eFootball professional Hemanth Kommu (peshemak7) will also represent India at the World Esports Championships, scheduled to take place in Bali from Nov 29 – December 12, 2022. Hitesh and Hemanth secured their berths by winning the National Esports Championships (NESC) 2022, conducted by Esports Federation of India (ESFI) earlier this year.
Organised by International Esports Federation, the prestigious event will witness participation of top athletes from over 120 countries, competing in six different Esports titles—CS:GO, Dota 2, Tekken 7, eFootball, as well as PUBG mobile and Mobile Legends: Bang Bang which will be making its debut at the championships. The 14th WEC has a prize pool of USD 500K (~INR 4 Crores).
"The team was simply too good for the opposition in terms of their skills, strategies and coordination. They won comfortably against Pakistan and Bangladesh shows the confidence they have in their gameplay. We are extremely proud of their performances and are now looking forward to seeing them compete with the best teams from all over the world in Bali. Everyone at ESFI wishes them the best of luck for the grand tournament," said Lokesh Suji, Director of Esports Federation of India and Vice President of the Asian Esports Federation.
Led by Sarda, the dominant Indian team hardly had to break a sweat in their matches as they comprehensively defeated Pakistan in two different maps by 16-6 and 16-4 and then displayed a similar aggressive performance to outperform Bangladesh in both maps of the final by 16-7 and 16-5.
"It feels amazing to represent India again at the World Esports Championships in back-to-back years. We definitely want to improve on our performances from last year and have been working very hard to do so. The team has done very well in showcasing its qualities in game while prevailing in all these qualifiers but the WEC final will be a stern test on a much higher level and we want to match that. I have high hopes from the tournament and we want to bring some glory from it back home," said Sarda, captain of the Indian CS:GO team.
The same CS:GO team had participated in the last edition of World Esports Championships, held in Eilat, and finished eighth in the final.