Exclusive interview with Alex Henderson(Head of AML at The Ritz Hotel Casino), speaker at Prague Gaming Summit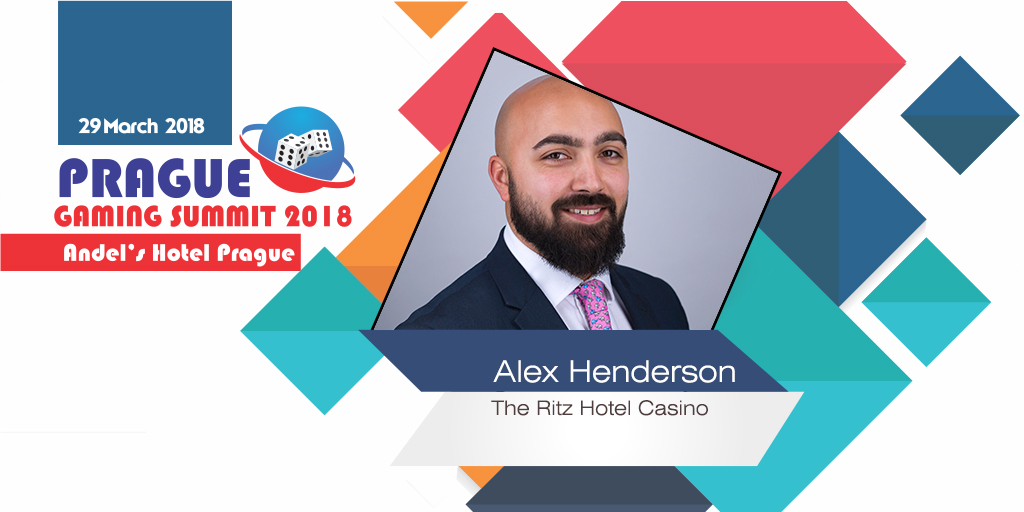 Reading Time:
7
minutes
Dear readers and subscribers,
Thank you for following my interview series and for sharing these information with your colleagues and partners. If you would like to be featured in an upcoming interview, please send me an e-mail to reka.szalo@europeangaming.eu and I will happily get back to you!
Moving forward, I would like to introduce my latest interviewee, Alex Henderson, who is the current Head of AML at The Ritz Hotel Casino and also a speaker at our upcoming live event/conference in Prague.
Thank you for your time and I hope you will gain vital information needed for your business in regards to AML and AMLD 4.
I would like to thank you for spending time to answer our questions. First I would kindly ask you to shortly introduce yourself.
Alex: I am the current head of AML at one of the UK's top Mayfair casinos as well as a trainer for the global leader in AML/social responsibility training for gambling operators (AML Gaming Solutions). I have worked for the past 7 years for the National Crime Agency as a financial investigator and within the AML expert witness team as well as within covert operations where I portrayed many roles within counter terrorism, drugs. The most relevant to my current career is that I portrayed the role of an international money launderer.
Would you please speak about the effects of AMLD 4 on the gambling industry in geneneral and in the UK in particular?
Alex: My opinion is that in general the 4th MLD has had little impact for some operators but major impact for many others (if they have made the appropriate changes). The main impact came from the requirement to "know your customers" better which for many land based operators it is not a huge change, as many of them already go a long way to know about their clientele. For many online operators this was a tough change as my opinion is that many operators do the bare minimum when it comes to due diligence. Overall, I think that many operators do not even have measures in place to comply with law from 2002 (proceeds of crime act 2002), so I would not expect those operators to be doing anything to comply with law that has been in place less than 10 months. The reason I say this is because many of the MLRO's (money laundering reporting officer) or AML managers I speak with know very little about money laundering/financial crime or their roles and responsibilities and the relevant laws and regulations.
You advise large number of organisations with regards to their AML compliance programmes. According to your experience what are the most frequent problems, issues regarding this topic?
Alex: Lack of knowledge is number 1. I am not just referring to the lower level employees but with MLRO's and AML managers, the level of knowledge sometimes scares me. I have met with MLRO's who did not know how to input a SAR (Suspicious activity report), some did not know basic money laundering techniques and how to identify them… then these MLRO's are entrusted to protect the business and oversee staff training, so it is effectively the blind leading the blind. I speak with some businesses who tell me that they are low risk for money laundering or that criminals do not use their business…. When I tell them that I myself have actually laundered money through their business or have spent criminal proceeds through their business they have a sudden change in attitude, which for me is a good thing. Many gambling employees have not been given the basic knowledge for preventing financial crime which is the fault of the operator. I enjoy giving staff this knowledge and empowering them to detect criminality and prevent those criminals using their businesses.
What social responsibilities does preventing money laundering include?
Alex: In many cases, social responsibility and AML go hand in hand. If an operator has good AML processes in place they will often detect problem gambling concerns and vice versa. We have seen in the recent enforcement action that when an operator is punished for their lapses in social responsibility they are also punished for their lapses in AML, this is because operators generally do not do enough to protect their customers. If an operator has done enough to determine a customer's Source of Wealth (SOW) they should know when that customer is spending more than they can afford. Therefore if that customer is spending outside of their known income, an operator should be doing extra checks to determine if the customer is spending more, because they either have a gambling problem or they are spending more because they also have some illegitimate funds that have not previously been uncovered.
There are new regulations in this domain. Will you please speak about these and their effects?
Alex: Operators are expected to do more, and rightly so. The expectation from the regulator is that both remote and non-remote operators need to step up and start protecting customers. But this is difficult and causes a huge conflict of interest amongst operators; on one hand they are trying to run a profitable business, keep customers gambling and spending money, on the other hand they are expected to stop customer if they gamble too long or spend too much money. The punishment for not protecting customers is too soft in my opinion. The gambling commission should be taking licences and giving hefty fines, at the moment operators get away with doing very little to protect customers. Operators would do a lot more if they genuinely felt their licence was on the line or that they would be fined excessively. If we take the banking industry as an example, it took HSBC getting fined £250m for all the banks to start carrying out adequate AML due diligence, before the HSB fine banks always done the minimum because they knew any fine they received would be worth paying. I think the gambling commission is definitely moving in the right direction but they need to send out a clear message, the way to do that is to start making examples of operators.
What about the UK? Where is it heading with the new regulations?
Alex: I think the gambling commission is going to get tougher and tougher on operators until the operators eventually start looking after their customers. UK operators need to do more, especially online. There is a poor knowledge of AML and even worse knowledge on problem gambling when it comes to online operators. Staff needs to be given proper training so they can protect the businesses and their legitimate customers. I think more regulation will keep coming and will keep getting harder until operators take it upon themselves to start protecting customers.
What do you think what is gaming considered by the people of the UK today; are they satisfied with the new changes?
Alex: Public trust in gambling has drastically decreased; this is because of all the negative media on problem gambling and money laundering. I think the public are happy that the industry is under such scrutiny because financial crime and problem gambling effects so many people. Operators have the power to regain trust from the public and I do think all the changes the commission and the government are trying to make will help to regain public trust once again.
What would you change in the present state of the British gambling market?
Alex: I would make it a requirement for operators and all staff to undertake adequate and relevant training on both AML and problem gambling. Many operators put staff through poor internal courses or e-learning programs which is not good enough. AML Gaming Solutions (AMLGS) are made up of AML experts who have worked for law enforcement, government and regulators. They deliver face to face training to all staff from the ground all the way up to the CEO which is highly important. Every operator should be undertaking training from experts such as AMLGS. It is vital for staff to hear from professionals and to understand what a vital role their play in preventing financial crime and protecting customers
What is your personal opinion about gambling industry in general in Europe?
Alex: I think that the industry is moving in the right direction, the constant updates in law and regulation are a good thing and operators need to embrace the changes. I do believe that from compliance perspective more needs to be done by operators, but we are getting there slowly. The industry is going to continue to grow; it is this growth that has brought the attention of various governments and law enforcements. Five years ago the industry was not on anyone's radar but now every government in the world has taken an interest. This scrutiny has brought a well-deserved pressure to operators who have for many years failed to prevent financial crime; I think the message is clear: step up and do more or be on the receiving end of some very harsh penalties.
To hear more about the subject and meet Alex in person, make sure you register and attend Prague Gaming Summit 2018, held on the 29th of March at Andel's by Vienna House Prague.
Interviewee profile:
Alex specialises in preventing money laundering in its varying forms and has a very unique insight that is hard to find.
Alex Henderson is the current Head of AML at The Ritz Hotel Casino, one of the worlds most prestigious casinos. Alex has worked for the National Crime Agency (NCA) as part of the AML expert witness team and has been involved in multiple high end money laundering investigations. As well as having worked for several years as part of the NCA's AML expert witness team, Alex spent much of his NCA career working as part of the covert operations unit (Undercover operations) portraying many different roles, including the role of a high end money launderer. This unique insight into the mind of a criminal allows financial institutions to see the vulnerabilities and risks from a new angle. Alex advises a large number of organisations with regards to their AML compliance programmes and has lectured extensively in the UK and across Europe.
EXPERIENCE
• Successfully delivered AML training workshops to a large banking group with over 4000 employees
• Advises money service bureaus, banks and regulated businesses on their AML risks
• Operated in a covert capacity in various operations across the UK, portraying the role of a money launderer amongst many others
• Involved in many high profile investigations involving trade based money laundering and sector focused laundering
• Advised leading organisations on the financial crime risks and vulnerabilities impacting their business
• Delivered training to multiple financial institutions and developed staff knowledge of AML across over 100 organisations to date
• Leading the AML team at one of London's top casinos, handling high risk members and overseeing the due diligence of the business customer database
• Advised a major bank in regards to their AML fine and enforcement action on best practice moving forward
• Involved in various counter terrorism and AML Law Enforcement operations across the UK
Save the date for the inaugural European Gaming Congress in Ljubljana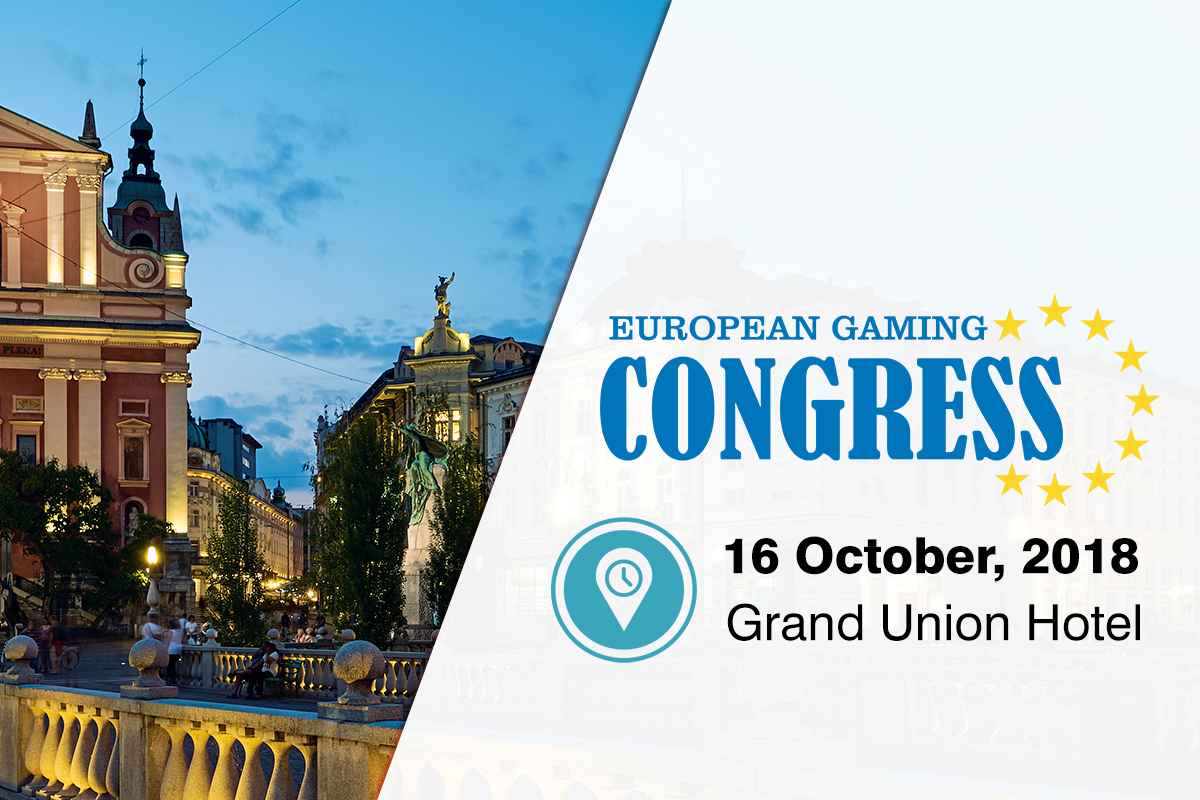 Reading Time:
1
minute
Ljubljana – 22 May 2018 – We are honored to announce our latest event in our portfolio of boutique gaming events. The inaugural European Gaming Congress will be held on the 16th of October at the Grand Union Hotel in Ljubljana and has the aim of highlighting the market regulations and updates from several countries within the EU and some outside of its borders.
The main focus of the event is education and networking with operators, service providers and regulators from all around Europe.
Top level delegates are expected to attend the event to gain access to information which will be shared by top experts of the industry.
The key topics on the agenda are the recent industry movements which have been recorded in Slovenia, Croatia, Serbia, Montenegro, Greece, Spain, Portugal, France, Italy, Malta and Austria.
A special IMGL MasterClass™ is also announced to be part of the program and the organizers are promising a unique event which will set a milestone for the industry in the European Union.
The information will be delivered by regulators, operators and well know industry service providers who are active in the above mentioned regions.
The preliminary agenda includes the following panel discussions:
Focus on Slovenia, Austria and Croatia
Highlighting the Balkans and Southeast Europe
Market updates from Mediterranean Europe
Already known effects of GDPR – Reports updates and possible amendments
IMGL MasterClass™
You can view the full agenda on the following link.
Full detail about the event can be found on the official website of the event: https://europeangamingcongress.com/
Make sure you grab your seat as the seats are limited to 100 registrants!
EGT Interactive @ Beograd Future Gaming Expo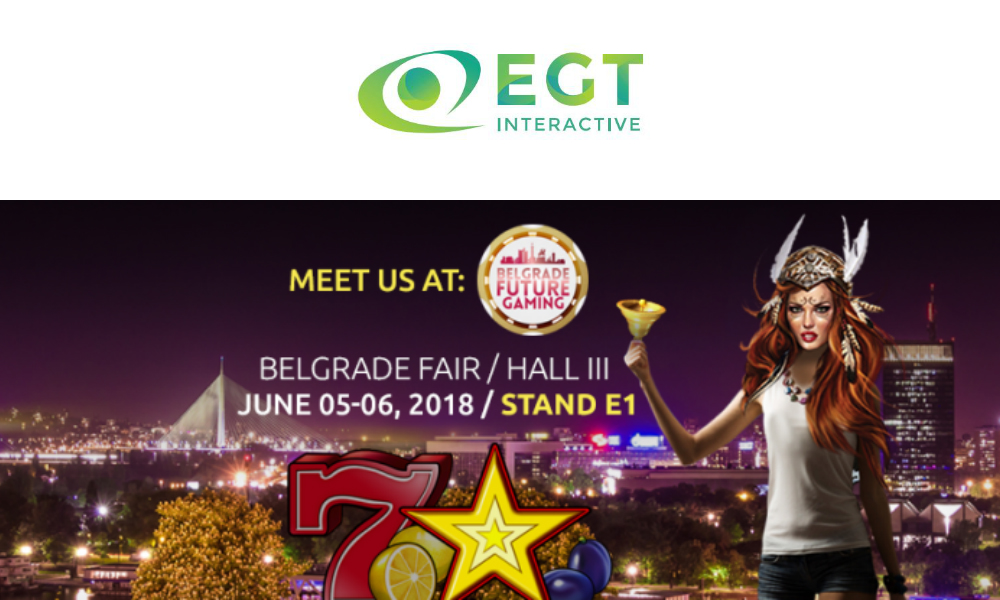 Reading Time:
1
minute
We are happy to announce that this year EGT Interactive will also be presenting as a show exhibitor on the 11th annual exhibition Future Gaming in Belgrade. Once again, we will be together on one stand with Euro Games Technology.
We'll be glad to meet you at Hall III, stand E1 at the Belgrade Fair from 5th to 6th of June, where we will be showcasing the latest titles from the EGT Interactive's portfolio of online casino games.
Our representatives are ready to meet and present to every willing visitor the opportunities EGT Interactive offers to start-up or active online casinos. From the rich portfolio with more than 150 smooth classic online casino games to final, complete software solutions and support in that growing business.
Our portfolio includes some of the most emblematic titles in the online casino gaming such as: 40 Super Hot, Burning Hot, Flaming Hot, Burning Heart, Amazons' Battle, 81 Wins, 40 Lucky King, European roulette and many more. Pass by for a talk with our representatives and see how you can achieve rapid growth in the Southeastern European market.
#WeMakePeoplePlay #slots #iGaming
Book a meeting at: sales@egt-interactive.com
CEEG Awards 2018 Nomination Phase is open, submit your company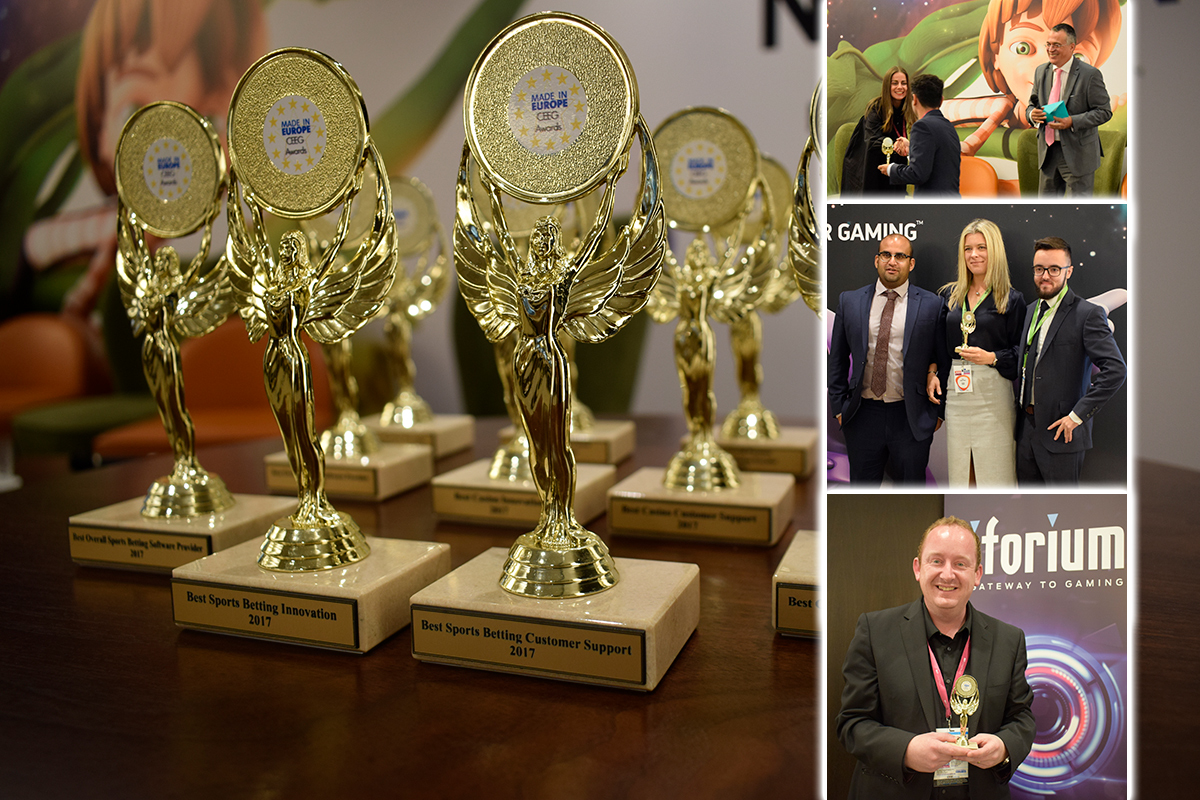 Reading Time:
2
minutes
Budapest – 16 May 2018 – We are excited to announce that the Nomination Phase for the third edition of the CEEG Awards is open. Companies operating in Europe are asked to nominate their brands for the 15 categories that are available in 2018.
CEEG Awards* 2018
CEEG Awards 2016 and CEEG Awards 2017 were a huge success, bringing a large wave of Post Event linking and mentions of the winners published on major portal such as Yahoo Finance, Bloomberg, PRNewWire, GlobalLiveNews, local media, TV adverts and many more.
The awards in 2018 will be given to 15 categories (introducing eSports, Daily Fantasy Sports and Law Services) as the CEEG Awards has managed to create an independent, fair and representative awards event that recognizes significant achievements within the Central and Eastern European gaming industry.
The Awards celebrate gaming software suppliers, operators and service providers for their outstanding contributions to the online sector of industry in their respective fields.
The process in divided in 5 phases:
Nominations period: 02.05.2018 – 15.07.2018
Online voting period: 01.08.2018 – 31.08.2018
Shortlist announcement (top 5): 05.09.2018
1 minutes live pitch in front of the attending audience of CEEGC Budapest for shortlisted companies: 25.09.2018
Envelope style voting by the attending delegates of CEEGC Budapest: 25.09.2018
The winners will be announced on the final session of the day during CEEGC Budapest. You can book your seat on the following link.
*CEEG Awards stands for Central and Eastern European Gaming Awards
Below are the the 15 categories for which you can apply until 15.07.2018:
Best Sports Betting Innovation
Best Sports Betting Customer Support
Best Overall Sports Betting Provider
Best Casino Innovation
Best Casino Customer Support
Best Casino Provider
Best Financial Software provider
Best Overall Casino operator
Best Overall Online Sports Betting operator
Best iGaming Press in the region
Best iGaming Service Provider(Testing Laboratories, Hosting Services, Consultancy)
Best Testing Laboratory
Best eSports Provider
Best Daily Fantasy Sports Provider
Best Legal Services Provider
You can nominate your company on the following link.
As in earlier years, the conference is limited to 125 delegates and will host special networking session for delegates to meet and greet with an emphasis of getting to know each other's area of business.
You can view the full agenda on the following link.
Make sure you grab your seat in time and attend the most prestigious boutique style gaming event which gather C-level executives yearly in one of Europe's most visited city.