Responsible Gambling & Anti-money laundering with Dan Iliovici (Romanian National Office of Gambling) and Alex Henderson(The Ritz Hotel Casino London)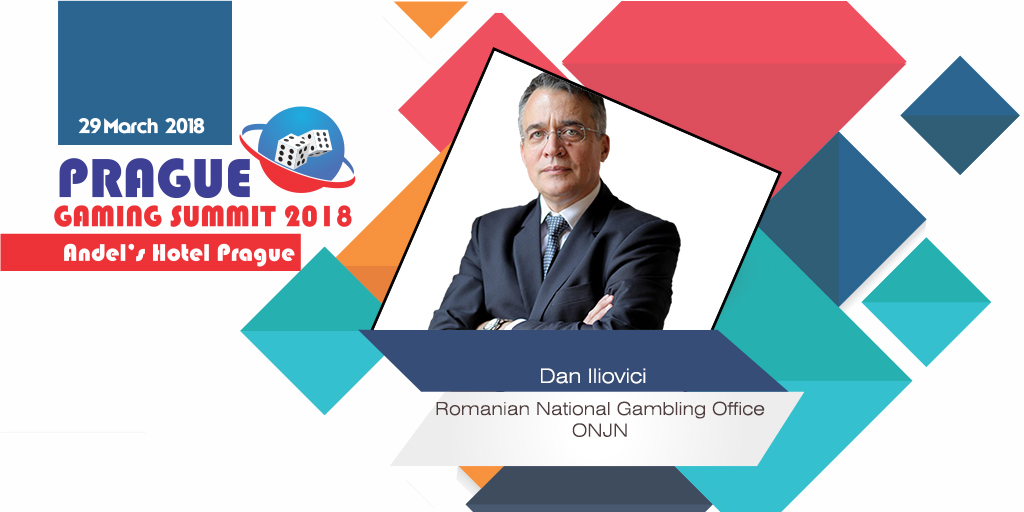 Reading Time:
5
minutes
Prague – 25 January 2018 – The leading boutique style gaming conference in Prague has announced more speaker profiles and it looks like the event will cover all hot topics of the industry.
Responsible Gambling is among the most searched topics of the online and land based industry in regulated markets of the European Union and with the Czech market regulation coming into place, the clear path towards an optimal performance has to be enlightened.
We are honored to announce that the Responsible Gambling topic will be covered by Dan Iliovici, the President of the Romanian National Office of Gambling and the panel will feature important industry speakers such as Alex Henderson (The Ritz Hotel Casino London), Martin Arendts (ARENDTS ANWÄLTE), Pieter Remmers (Assissa) and a special guest from Harris Hagan.
In a recent interview, conducted by our team, Alex Henderson was asked about what social responsibilities does preventing money laundering include?
Alex replied the following:  "In many cases, social responsibility and AML go hand in hand. If an operator has good AML processes in place they will often detect problem gambling concerns and vice versa. We have seen in the recent enforcement action that when an operator is punished for their lapses in social responsibility they are also punished for their lapses in AML, this is because operators generally do not do enough to protect their customers. If an operator has done enough to determine a customer's Source of Wealth (SOW) they should know when that customer is spending more than they can afford. Therefore if that customer is spending outside of their known income, an operator should be doing extra checks to determine if the customer is spending more, because they either have a gambling problem or they are spending more because they also have some illegitimate funds that have not previously been uncovered."
You can read the full interview here….
With this fresh announcement, we would also like to announce that Anna Wietrzyńska-Ciołkowska (DLA Piper) will join the "Focus on Poland" panel.
Below you will find a few details of the above mentioned speakers, who will be part of the panel discussions designed to bring the latest information at the second edition of Prague Gaming Summi.
Anna Wietrzyńska-Ciołkowska (DLA Piper)
Anna Wietrzyńska-Ciołkowska advises clients on mergers and acquisitions (both share and asset transactions), as a part of which she specialises in coordinating comprehensive due diligence reviews.
She is the head of the Media, Sport and Entertainment sector group in Warsaw, advising both offshore and domestic clients on the legal aspects of gambling, gaming and promotional lotteries. This includes advice on the legality of particular business models in Poland, the compatibility of Polish gambling law with EU law, the process of obtaining a gambling licence, payment solutions and gaming tax. She also  represents offshore gambling operators' associations in the Polish gambling legislation process.
Anna's articles are regularly published in the Polish media and in European sector publications. Her opinions are often sought as an expert on Polish gambling law and she frequently participates in panel discussions on the subject. She is also a regular contributor to the DLA Piper blogs All-In and MSE, dedicated to gambling and gaming issues.
Panel: Focus on Poland
Dan Iliovici(Romanian National Gambling Office – ONJN)
Mr. Dan Iliovici is the President of the National Gambling Office ONJN – the Romanian gambling regulator, monitoring and controling authority. During the last six years Mr. Iliovici represented the interests of the gambling operators as executive manager of two of the most important associations of the industry. He was also member of the Consultancy Council from NGO, actively contributing at the new gambling regulatory framework in Romania. Mr. Dan Iliovici is also dedicated to the study of problem gambling, initiating and promoting the most important Responsible Gambling projects in Romania. He participated as speaker at conferences and seminars across Europe and published more articles on responsible gambling topic.
Panel: Responsible Gambling, AML and Gambling Licensing Procedures in the European Union
Alex Henderson (The Ritz Hotel Casino London)
Alex specialises in preventing money laundering in its varying forms and has a very unique insight that is hard to find.
Alex Henderson is the current Head of AML at The Ritz Hotel Casino, one of the worlds most prestigious casinos. Alex has worked for the National Crime Agency (NCA) as part of the AML expert witness team and has been involved in multiple high end money laundering investigations. As well as having worked for several years as part of the NCA's AML expert witness team, Alex spent much of his NCA career working as part of the covert operations unit (Undercover operations) portraying many different roles, including the role of a high end money launderer. This unique insight into the mind of a criminal allows financial institutions to see the vulnerabilities and risks from a new angle. Alex advises a large number of organisations with regards to their AML compliance programmes and has lectured extensively in the UK and across Europe.
Panel: Responsible Gambling, AML and Gambling Licensing Procedures in the European Union
Pieter Remmers(Assissa)
Pieter Remmers is a veteran in the area of responsible gaming, consultancy and training of gambling industry professionals. He has been involved in projects with the gambling industry already since 1989. Pieter started his career as the director of an outpatient clinic for addiction problems of Jellinek in the early 80's.
His company Assissa Consultancy Europe works/worked on responsible gaming policies and programmes in a number of countries i.e. Netherlands, South Africa, Germany, Switzerland, Luxemburg, Belgium, Italy, Spain, Malaysia, Singapore, Canada, Malta, Sweden and others. Besides Pieter is a consultant world wide for as well as the gambling and betting industry land based and online, casinos, slot machine halls and lotteries and for regulators or other governmental bodies.
He works/worked with companies like: IGT/GTech/Lottomatica, Holland Casino, Unibet, Sun International, Svenska Spel, Gauselmann/Merkur, Betsson, Krijco, Fair Play Casinos, Staatsloterij, Lotto NL, Casino 2000, Cogetech, Betfair, National Lottery and many more.
Panel: Responsible Gambling, AML and Gambling Licensing Procedures in the European Union
Martin Arendts (ARENDTS ANWÄLTE)
Martin Arendts is an expert in gaming law, EU law and securities regulation. He studied law at the universities of Passau, Hamburg, Speyer and St Gallen. In 1995, Arendts founded ARENDTS ANWAELTE, now one of the leading law firms for gaming and betting law in Germany (www.gaminglaw.de). Clients include many private bookmakers and remote gaming operators, licensed in the UK, Austria, Malta or Gibraltar, as well as affiliates and media companies in Germany. Recently, Martin Arendts dealt with several administrative law, constitutional law, criminal law, unfair competition law, trademark and licensing proceedings in connection with sports betting, lotteries and poker.
Martin Arendts regularly writes for national and international legal publications and speaks at conferences. His work has appeared in a variety of publications, including Internet Gambling Report, World Online Gambling Law Report, European Gaming Lawyer, Zeitschrift für Wett- und Glücksspielrecht/European Journal of Gambling Law, MultiMedia und Recht (MMR), Gewerbearchiv, Casino & Gaming International and ISA Casinos.
Panel: Responsible Gambling, AML and Gambling Licensing Procedures in the European Union
Visit the official website of the event for more details or follow this space: https://praguegamingsummit.com/
Don't forget to follow the event's twitter feed, facebook page to stay up to date with the announcements or join the LinkedIn Group to start networking straight away.
Save the date for the inaugural European Gaming Congress in Ljubljana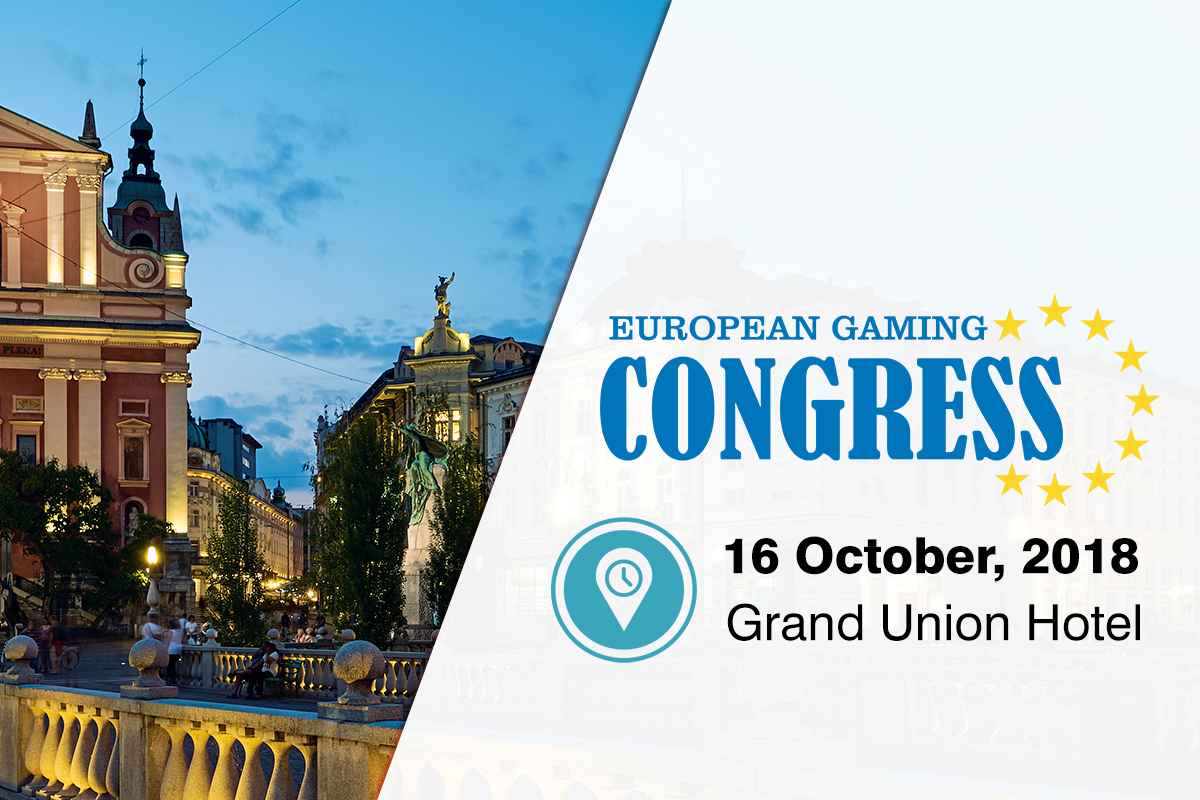 Reading Time:
1
minute
Ljubljana – 22 May 2018 – We are honored to announce our latest event in our portfolio of boutique gaming events. The inaugural European Gaming Congress will be held on the 16th of October at the Grand Union Hotel in Ljubljana and has the aim of highlighting the market regulations and updates from several countries within the EU and some outside of its borders.
The main focus of the event is education and networking with operators, service providers and regulators from all around Europe.
Top level delegates are expected to attend the event to gain access to information which will be shared by top experts of the industry.
The key topics on the agenda are the recent industry movements which have been recorded in Slovenia, Croatia, Serbia, Montenegro, Greece, Spain, Portugal, France, Italy, Malta and Austria.
A special IMGL MasterClass™ is also announced to be part of the program and the organizers are promising a unique event which will set a milestone for the industry in the European Union.
The information will be delivered by regulators, operators and well know industry service providers who are active in the above mentioned regions.
The preliminary agenda includes the following panel discussions:
Focus on Slovenia, Austria and Croatia
Highlighting the Balkans and Southeast Europe
Market updates from Mediterranean Europe
Already known effects of GDPR – Reports updates and possible amendments
IMGL MasterClass™
You can view the full agenda on the following link.
Full detail about the event can be found on the official website of the event: https://europeangamingcongress.com/
Make sure you grab your seat as the seats are limited to 100 registrants!
EGT Interactive @ Beograd Future Gaming Expo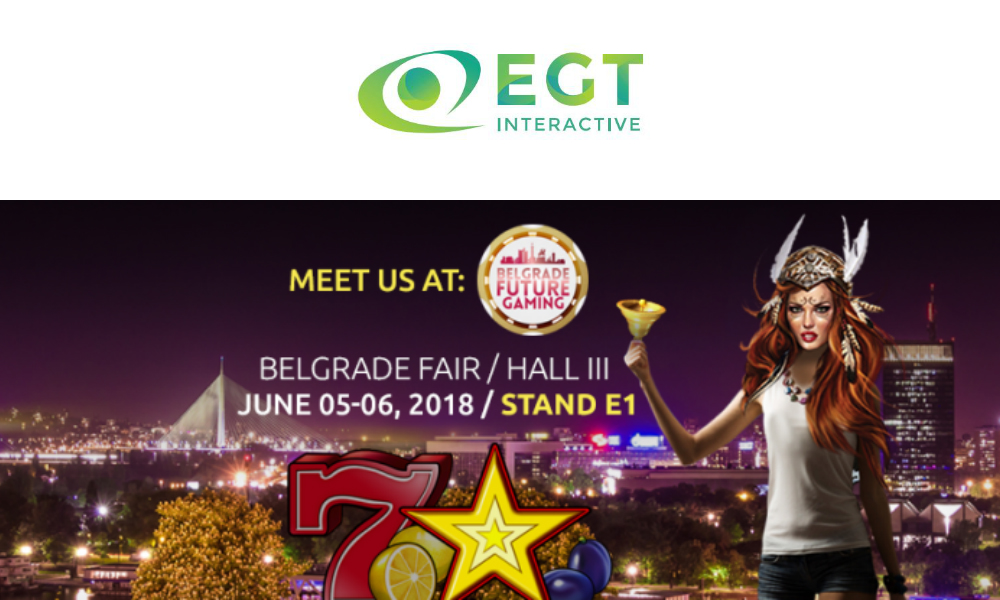 Reading Time:
1
minute
We are happy to announce that this year EGT Interactive will also be presenting as a show exhibitor on the 11th annual exhibition Future Gaming in Belgrade. Once again, we will be together on one stand with Euro Games Technology.
We'll be glad to meet you at Hall III, stand E1 at the Belgrade Fair from 5th to 6th of June, where we will be showcasing the latest titles from the EGT Interactive's portfolio of online casino games.
Our representatives are ready to meet and present to every willing visitor the opportunities EGT Interactive offers to start-up or active online casinos. From the rich portfolio with more than 150 smooth classic online casino games to final, complete software solutions and support in that growing business.
Our portfolio includes some of the most emblematic titles in the online casino gaming such as: 40 Super Hot, Burning Hot, Flaming Hot, Burning Heart, Amazons' Battle, 81 Wins, 40 Lucky King, European roulette and many more. Pass by for a talk with our representatives and see how you can achieve rapid growth in the Southeastern European market.
#WeMakePeoplePlay #slots #iGaming
Book a meeting at: sales@egt-interactive.com
CEEG Awards 2018 Nomination Phase is open, submit your company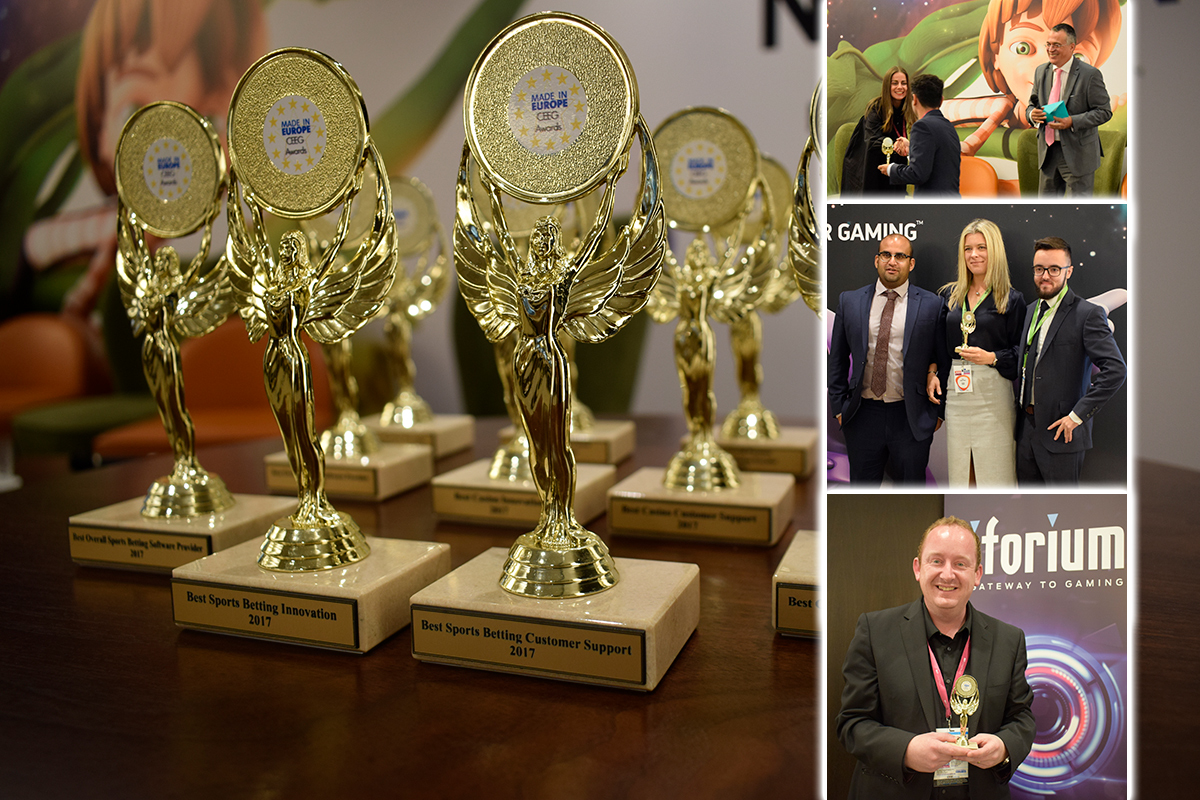 Reading Time:
2
minutes
Budapest – 16 May 2018 – We are excited to announce that the Nomination Phase for the third edition of the CEEG Awards is open. Companies operating in Europe are asked to nominate their brands for the 15 categories that are available in 2018.
CEEG Awards* 2018
CEEG Awards 2016 and CEEG Awards 2017 were a huge success, bringing a large wave of Post Event linking and mentions of the winners published on major portal such as Yahoo Finance, Bloomberg, PRNewWire, GlobalLiveNews, local media, TV adverts and many more.
The awards in 2018 will be given to 15 categories (introducing eSports, Daily Fantasy Sports and Law Services) as the CEEG Awards has managed to create an independent, fair and representative awards event that recognizes significant achievements within the Central and Eastern European gaming industry.
The Awards celebrate gaming software suppliers, operators and service providers for their outstanding contributions to the online sector of industry in their respective fields.
The process in divided in 5 phases:
Nominations period: 02.05.2018 – 15.07.2018
Online voting period: 01.08.2018 – 31.08.2018
Shortlist announcement (top 5): 05.09.2018
1 minutes live pitch in front of the attending audience of CEEGC Budapest for shortlisted companies: 25.09.2018
Envelope style voting by the attending delegates of CEEGC Budapest: 25.09.2018
The winners will be announced on the final session of the day during CEEGC Budapest. You can book your seat on the following link.
*CEEG Awards stands for Central and Eastern European Gaming Awards
Below are the the 15 categories for which you can apply until 15.07.2018:
Best Sports Betting Innovation
Best Sports Betting Customer Support
Best Overall Sports Betting Provider
Best Casino Innovation
Best Casino Customer Support
Best Casino Provider
Best Financial Software provider
Best Overall Casino operator
Best Overall Online Sports Betting operator
Best iGaming Press in the region
Best iGaming Service Provider(Testing Laboratories, Hosting Services, Consultancy)
Best Testing Laboratory
Best eSports Provider
Best Daily Fantasy Sports Provider
Best Legal Services Provider
You can nominate your company on the following link.
As in earlier years, the conference is limited to 125 delegates and will host special networking session for delegates to meet and greet with an emphasis of getting to know each other's area of business.
You can view the full agenda on the following link.
Make sure you grab your seat in time and attend the most prestigious boutique style gaming event which gather C-level executives yearly in one of Europe's most visited city.