Exclusive Interview with Tomas Draksas (Co-founder of Edgeless.io) speaker at Vienna International Gaming Expo 2018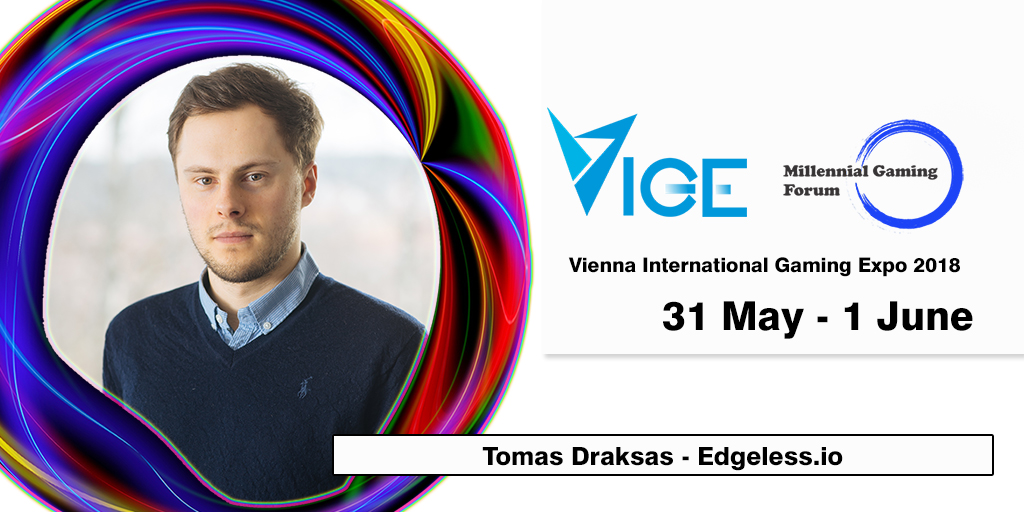 Reading Time:
5
minutes
Our latest interviewee has an impressive gambler background. Tomas Draksas is the Co-founder of Edgeless, Professional Poker Player & Gambler.
In 2008 – 2013, online poker was on the rise and a lot of new players were jumping into the game. At that time, Tomas decided to study the math of probability and poker. Later on, his direction changed to investing, cryptocurrency and digital marketing. He is the CEO of a conversion rate design company (Convi Design) which provides solutions to start-ups in the field of conversion rates and sales funnels. Additionally, he is investing into other start-ups. Right now Tomas is a Co-founder of Edgeless.io first fully transparent decentralised Ethereum casino.
Tomas will be among the speakers at the second edition of Vienna International Gaming Expo, held on the 31st of May at Melia Vienna. More details about the event can be found here.
Thank you very much for answering our questions. First I would like to ask you to shortly introduce yourself and tell us when and why you started working in this industry.
Tomas: Hey, I am Tomas, co-founder of Edgeless blockchain based casino. Well it's not a coincidence for me to be in such an industry. In 2011 I used to play online poker professionally as my full time occupation. Even before my poker career, gambling was an activity which I love and have positive relationship with. So naturally I collected decent amount of knowledge on entire online gambling industry.
And what about blockchain?
Tomas: I am millennial. Personal computer was introduced to me in an early childhood. I got hooked immediately, spending tons of time learning how to use it. After my poker career, I launched an IT and digital marketing business which is still running up to day. It happened to be that most of my friends are into IT and computers too. So we tend to follow latest IT sector trends. In 2012 a friend of mine introduced me bitcoin as 'something cool in IT". Since then I follow everything related to blockchains up to day.
So here you go, that's how I got into blockchain gambling industry.
You are the co-founder of Edgeless.io, a first fully transparent decentralised Ethereum casino. What makes this casino different and what services does it offer?
Tomas: There is a decent amount of online gambling customers who do not trust casinos they are playing at. And not without a reason – casino industry is full of cheating scandals. If player loses, they immediately assume that casino is cheating.
We solve this problem connecting our casino infrastructure to Ethereum 'smart-contracts'. Using this system we entirely get rid of a 'trust-problem'.
"Smart-contract" automatically uploads random number inputs a blockchain. That becomes publicly visible. After that people can take these inputs and recreate an outcome of past games.
That means our casino cannot cheat without being spotted on a blockchain. And that makes us incredibly transparent gambling service provider.
In a long run we aim to build most transparent and user-friendly online casino brand.
You are very much interested in investing, cryptocurrency and digital marketing. Please tell us more about the state of gambling industry in Europe considering these important issues you have experience in.
Tomas: In last 5 years, online gambling has its own peak/ prime moments. It expanded rapidly to almost every country making it incredibly profitable industry. However, more than half of an industry operates illegally breaching most gambling laws. That creates huge problems for local governments. So now the trend is: heavy regulations on gambling industry and no mercy for operators. Local governments create local gambling laws and prevent outsiders from entering the market.
As an operator I understand that, because most of these shady gambling platforms offer incredibly poor service, no transparency and allow minors gambling.
From tech perspective: gambling industry has many new interesting products such as fantasy sports and e-sports betting tournaments. There games have much more interesting gaming experience that classical casino games such as roulette. It seems like in the future we will have more advanced games and betting element.
It is believed that cryptocurrencies are digital gold. Sound money that is secure from political influence, money that promises to preserve and increase its value over time. Cryptocurrencies are also a fast and comfortable means of payment with a worldwide scope, and they are private and anonymous enough to serve as a means of payment for black markets and any other outlawed economic activity. Do you agree with this? How secure do you think is paying with cryptocurrency?
Tomas: It depends. As an industry insider, I can easily see that blockchain tech is just in its infant state. It's not ready yet and still being under development. I think that it went viral slightly too early than it should.
So now it is NOT fast enough to fuel dapps at a large scale. It is not comfortable to use, crypto service payment infrastructure is not developed yet. It doesn't provide the anonymity everyone thinks it has. And it is HEAVILY influenced by political environment.
However blockchain developers are addressing each issue and improving blockchains every day. Keep in mind that is incredibly complex programming challenge. My guess would be that after 2 – 3 years, we will have something more tangible which can have all benefits you mentioned.
Can this method of payment have huge effect on the gaming industry, either positive or negative?
Tomas: Yes, it gives incredible improvement on a service. Gambling operators tend to abuse payment methods to trick people into trapping their assets. Let's say a player wins 10k USD. Most small operators would freeze their money and say something like "it might take 2 – 4 days to withdraw your money".
Gladly with a cryptocurrency, we do not have this '2 – 4' days' withdrawal conditions for "some reasons".
I would say now players will feel more secure depositing assets to an online casino.
What is your opinion about the perspectives the use of cryptocurrency can mean for the industry? What advantages would this bring to the industry?
Tomas: Most important: fast deposits/ withdrawal systems and casino transparency using 'smart-contracts'.
If you could change anything in the world of gambling what would that be?
Tomas: Now gambling industry is living in some sort of a 'shadow'; having incredibly negative outlook from environment, being blocked from banking services and marketing networks. Secondly gambling activities get tons of judgement from average citizens.
That's pretty sad. I gamble from time to time, having no issues what's so ever. That's one of oldest forms of entertainment humankind enjoyed. Games combined with betting have existed since a start of human civilization. And it will not disappear.
I would love to change overall 'image of a gambling' industry into something more transparent, consumer orientated and capable of providing high quality entertainment products without being judged by environment.
Which were the most difficult periods in your career so far and what do you consider your biggest success and what are your future plans?
Tomas: Most difficult part was to program a scalable mass consumer product on a blockchain infrastructure. We launched our 1.0 version in 2018 Q1. As I mentioned before, today blockchain does not have the necessary functionality which we need to deliver our promise. During our journey, we had to make a 'lot of work-arounds' and compromises.
Gladly blockchain tech is improving allowing to move forward, even if that is just by small incremental steps.
I still laugh at other ICO promises and their 'road-maps'. It seems like most newcomers have no idea at what state blockchain technology is and what problems it has.
If you want to meet Tomas in person or networking with the biggest names of the Sports betting, Casino, VR/AR, Marketing, eSports, DFS, Virtual Sports and Crypto industry, make sure you attend the Vienna International Gaming Expo.
Montenegro in the focus at the inaugural European Gaming Congress (EGC) with Tatjana Scepanovic (Montenegro Bet)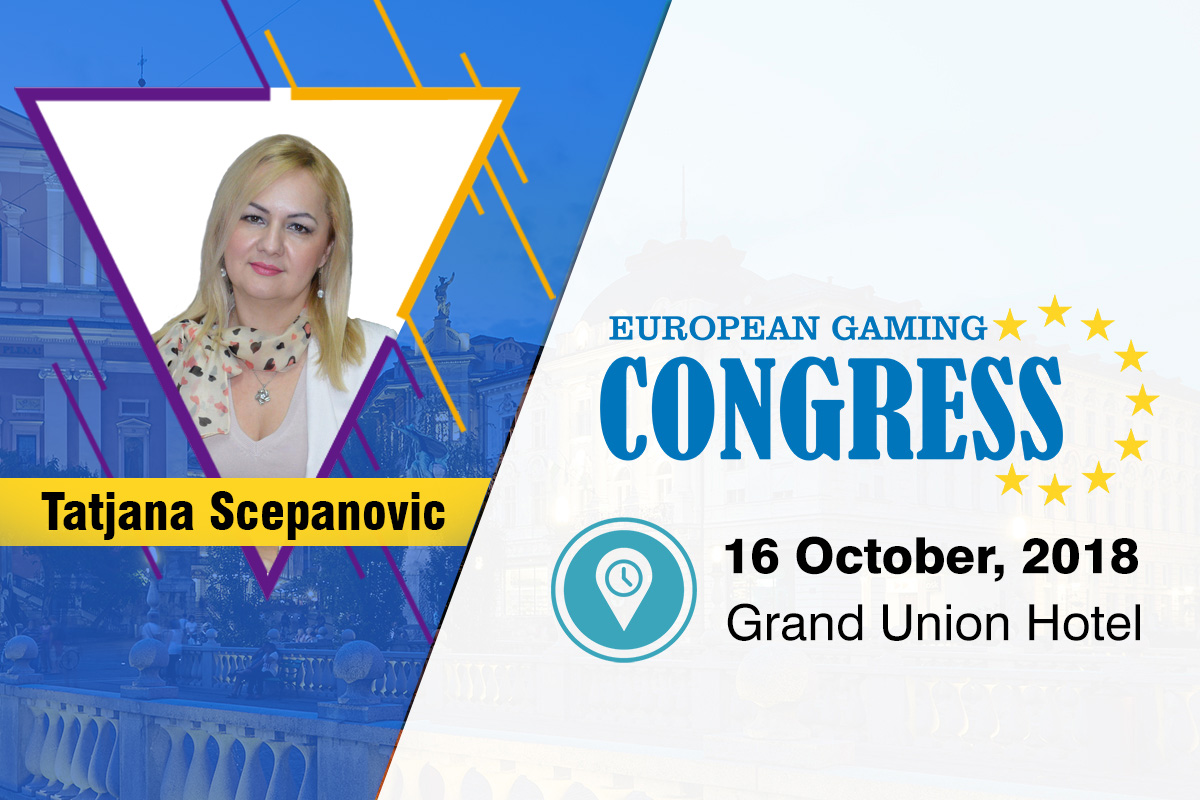 Reading Time:
3
minutes
Ljubljana – 21 August 2018 – Montenegro features several amazing casinos. Best ones are on the Montenegrin Coast. When it comes to online gambling, well it's a different animal.
Online gaming has been legal in Montenegro since October, 2011, and the Games of Chance Administration, the main gaming authority, started issuing online gaming licences in January, 2012.
To attract more investors, the Government of Montenegro made the procedure simple with minimum capital requirements imposed. Operators who get an online gaming licence in Montenegro can offer all forms of entertainment including slots, sports betting, Poker and other card games, live casino as well as other web-based games of chance. The only form of entertainment that is excluded is lottery.
A licensing package costs are between €25,000 for the first year while the renewal of the licence costs €15,000. An income tax rate is 9%.
There are certain advantages of getting an online gaming licence in Montenegro and one of them is that is allows operators to cater to the international market. However, when it comes to players' interests, some of these advantages can be perceived as disadvantages.
During the inaugural edition of European Gaming Congress, Ms Tatjana Scepanovic will share her insights and give her expert opinion about the gambling industry in Montenegro and its potential investment opportunities.
Tatjana will join Zoran Puhač (European Organization for Gaming Law -EOGL) in the "Highlighting the Balkans and Southeast Europe" panel discussion, a panel in which more speakers will be announced soon.
About Tatjana Scepanovic
Tatjana holds degrees of Bachelor of Economy and Specialist in Marketing Management. I have been involved in the field of the games of chance since 2001, and I have been serving as Secretary General of Montenegro Bet since 2012. In addition to my engagement as the Secretary General, I also perform tasks of accounting, tax consulting, financial forensics and other areas related to the successful and legal operation of the company in general. In addition to promoting socially responsible organising of the games of chance, as the Secretary General I actively participate in following the legal regulations as well as in the drafting of proposals that can result in the improvement of the business environment.
Montenegro Bet is a representative association of the biggest organisers of the games of chance in Montenegro. The Association is a full-fledged member of the EUROMAT and EOGL, and in addition to being a member of all relevant Montenegrin business associations, it is recognised as being the first organisation to apply the principles of socially responsible organising of the games of chance in Montenegro.
Make sure you register your seat in time to benefit of the great lineup of speakers that will share their knowledge for operators and industry connected companies about France, Spain, Italy, Malta, Portugal, Slovenia, Austria, Croatia, Serbia, Montenegro, Greece, Bosnia and Herzegovina, Liechtenstein, Monaco, Netherlands and Belgium.
The inaugural edition of European Gaming Congress which will be held on the 16th of October at the Grand Union Hotel in Ljubljana and will bring together industry experts from all over Europe and create a platform which will enable both networking and learning at the highest quality.
You can view the full agenda on the following link.
Full detail about the event can be found on the official website of the event: https://europeangamingcongress.com/
Make sure you grab your seat as the seats are limited to 100 registrants!
Romanian Gambling Industry update with Cosmina Simion (NNDKP) at CEEGC Budapest 2018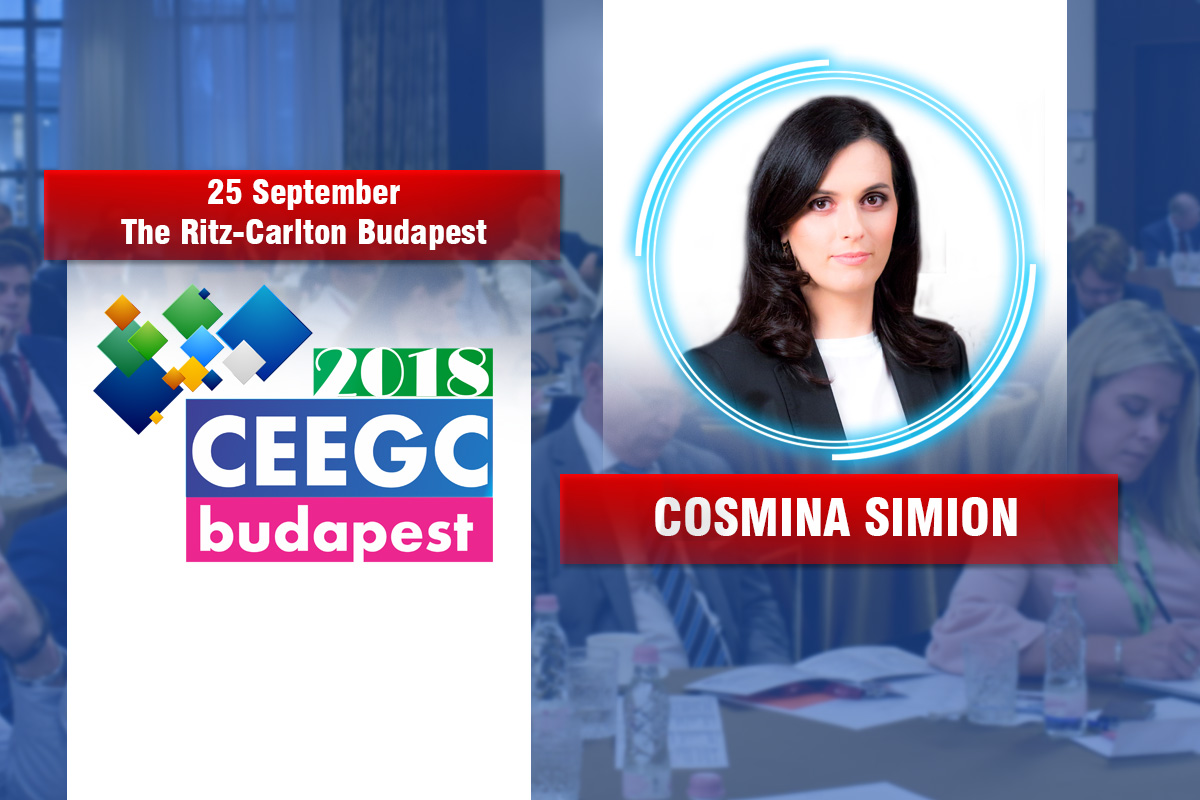 Reading Time:
2
minutes
Budapest – 20 August 2018 – Since the regulation of the Romanian gambling industry, most of the large brands have obtained licenses to offer their services on the territory of the country. There is no doubt that the industry in the region is booming when it comes to licensing, but what makes the Romanian markets so popular among regulated gambling markets in this part of Europe.
We are honored to announce the latest speaker who will join the "Focus on Eastern Europe" panel discussion and share the insights of the Romanian gambling industry.
Cosmina Simion (NNDKP – Nestor Nestor Diculescu Kingston Petersen) an expert, who is often quoted in the industry portals and magazines and has extensive knowledge about the up and downs of the gambling industry in Romania compared to other jurisdictions.
About Cosmina Simion
Cosmina Simion co-heads the Gaming and Consumer Protection & Advertising practices of NNDKP, a preeminent business law firm in Romania. In addition to the gambling industry, her practice focuses on IP/IT, media & entertainment and online industries, having acquired a strong expertise in these fields in her 19 years of professional activity.
In the gaming field, her experience encompasses the full range of regulatory and operational gaming aspects, assisting betting and gaming operators, software & platform suppliers, financial services providers, auditors & certifiers, industry relevant associations or marketing affiliates.
Cosmina has also been actively involved in the review and drafting of the gaming legal framework (primary and secondary legislation), including representing clients before the Romanian regulator.
Previous coordination roles include heading the IP, media and technology practice of a Tier 1 global law firm, and acting as an in-house counsel at a US media group.
Cosmina is acknowledged as Leading Individual in the field of Gambling law by Legal500, being the only Romanian lawyer included in the highest band of the rankings.
She is a General Member of IMGL.
Make sure you grab your seat in time and attend the most prestigious boutique style gaming event which gathers C-level executives yearly in one of Europe's most visited city. Register here!
You can browse the full agenda and already confirmed speaker list on the following link.
U.S. Gambling Market Opportunities debated at CEEGC 2018 in a special IMGL MasterClass with Jeremy Kleiman (Partner at the New Jersey law firm of Saiber LLC)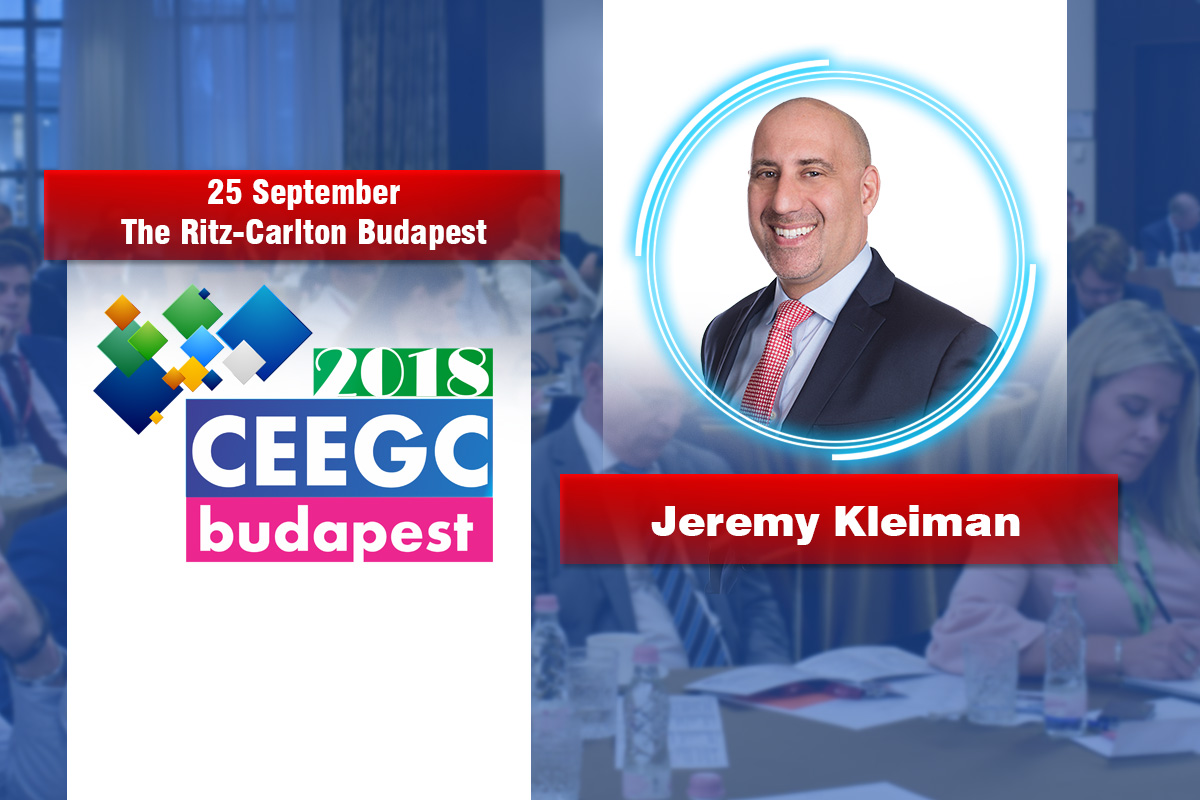 Reading Time:
3
minutes
Budapest – 16 August 2018 – The industry portals are full of news about the gambling industry in the U.S. and this flood of data started when the Supreme Court paved the way for gambling to become legal nationwide.
The online and land based gambling industry is incredibly vast and sophisticated through the whole of Europe. Thus, investment in the U.S. market by overseas companies is a certainty and some are focusing really hard on it.
While this will make the market more competitive, the U.S. market poses a few unique challenges. For example, many gambling companies won't necessarily know how to properly launch the U.S. market with new products. Gaining the insights necessary to succeed starts at the top with a strategic plan that's driven by advanced technology.
As mentioned earlier, the IMGL MasterClass™ – US Market – Gold Rush or Opposite for European Operations (panel discussion) is the result of the extensive debates and talks, which leave many questions un-answered by European operators. That question being, expanding through Europe or aiming for the American dream.
We are honored to announce that Jeremy Kleiman, Partner at the New Jersey law firm of Saiber LLC, will join the IMGL MasterClass and share valuable insights as an "inside expert" of the market.
About Jeremy Kleiman
Jeremy Kleiman is a partner at the New Jersey law firm of Saiber LLC and a member of the firm's executive committee.  His law practice focuses on gaming, regulatory and business law, representing casino operators, gaming equipment manufacturers, technology providers and financial institutions involved in the gaming and lottery industries.  He specializes in gaming-related corporate, regulatory, licensing and compliance matters, with an emphasis on the online and mobile gambling and sports betting industries.
Prior to rejoining the firm, Jeremy served as Executive Vice President, Regulatory & Business Affairs for Coastal Development, LLC, a developer, investor and operator in casino resorts and racetracks.  In that role, he was responsible for the company's legal affairs, government relations and compliance functions, as well as sourcing, negotiating and executing on a number of business transactions.  Jeremy's background and experience on the business side of the gaming industry uniquely positions him to counsel and advise clients on transactional and regulatory matters while understanding the clients' business objectives.
Jeremy had previously been a member of the Firm and head of its Gaming Law Practice Group prior to his time at Coastal Development.  He advised financial institutions, gaming equipment manufacturers, lottery providers and casino operators on all matters related to licensing, compliance and other regulatory matters.
Jeremy is a co-founder and director of iDevelopment and Economic Association (iDEA), an industry association seeking to grow jobs and expand online interactive entertainment business in the United States through advocacy and education.
Jeremy serves on the Board of Trustees of the International Association of Gaming Advisors, is a past Chair of the Casino Law Section of the New Jersey Bar Association, and is a member of the International Masters of Gaming Law.  He is a frequent panelist at gaming industry conferences.
Make sure you grab your seat in time and attend the most prestigious boutique style gaming event which gathers C-level executives yearly in one of Europe's most visited city. Register here!
You can browse the full agenda and already confirmed speaker list on the following link.
Quotes about CEEGC Budapest from attending delegates
Rafal Nowak – iGaming Sales Director at Mobiyo
"A week after the Budapest Gaming CEE conferences, I'm still discussing the topics brought up there with fellow delegates. Thank you Zoltan Tundik for organizing an informative an well shaped event on this, often underestimated iGaming territory and good luck with the next one!"
Roy Pedersen – CEO & Chief Editor at All In Translations
"For All-in Translations' 10 Year Anniversary Tour we decided to attend more smaller conferences. Zoltan and Betty are much of the reason for this. They have a unique way of giving a personal touch to the events they organise while at the same time keeping them highly relevant. CEEGC Budapest was another great example where we felt truly welcome, and at the same time it was great for business."