Exclusive Interview with Tomas Draksas (Co-founder of Edgeless.io) speaker at Vienna International Gaming Expo 2018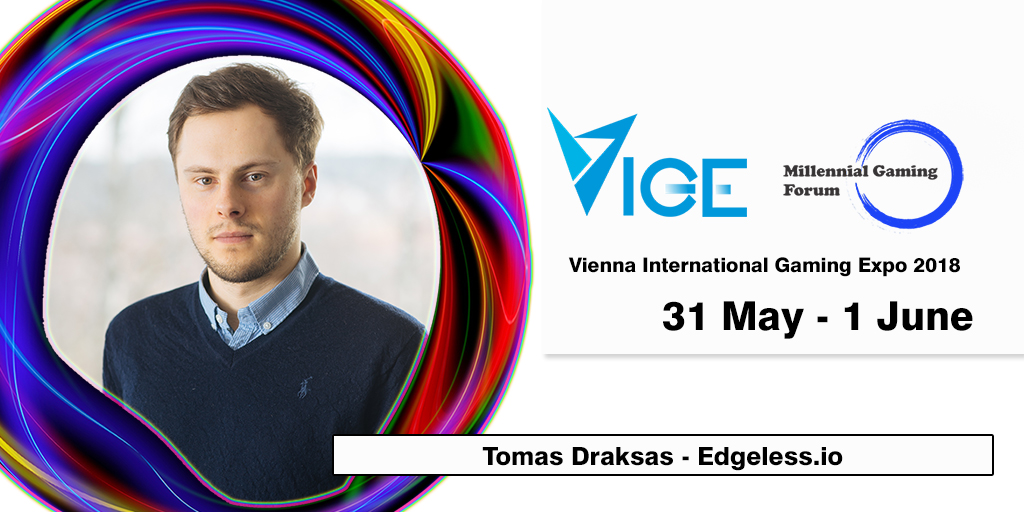 Reading Time:
5
minutes
Our latest interviewee has an impressive gambler background. Tomas Draksas is the Co-founder of Edgeless, Professional Poker Player & Gambler.
In 2008 – 2013, online poker was on the rise and a lot of new players were jumping into the game. At that time, Tomas decided to study the math of probability and poker. Later on, his direction changed to investing, cryptocurrency and digital marketing. He is the CEO of a conversion rate design company (Convi Design) which provides solutions to start-ups in the field of conversion rates and sales funnels. Additionally, he is investing into other start-ups. Right now Tomas is a Co-founder of Edgeless.io first fully transparent decentralised Ethereum casino.
Tomas will be among the speakers at the second edition of Vienna International Gaming Expo, held on the 31st of May at Melia Vienna. More details about the event can be found here.
Thank you very much for answering our questions. First I would like to ask you to shortly introduce yourself and tell us when and why you started working in this industry.
Tomas: Hey, I am Tomas, co-founder of Edgeless blockchain based casino. Well it's not a coincidence for me to be in such an industry. In 2011 I used to play online poker professionally as my full time occupation. Even before my poker career, gambling was an activity which I love and have positive relationship with. So naturally I collected decent amount of knowledge on entire online gambling industry.
And what about blockchain?
Tomas: I am millennial. Personal computer was introduced to me in an early childhood. I got hooked immediately, spending tons of time learning how to use it. After my poker career, I launched an IT and digital marketing business which is still running up to day. It happened to be that most of my friends are into IT and computers too. So we tend to follow latest IT sector trends. In 2012 a friend of mine introduced me bitcoin as 'something cool in IT". Since then I follow everything related to blockchains up to day.
So here you go, that's how I got into blockchain gambling industry.
You are the co-founder of Edgeless.io, a first fully transparent decentralised Ethereum casino. What makes this casino different and what services does it offer?
Tomas: There is a decent amount of online gambling customers who do not trust casinos they are playing at. And not without a reason – casino industry is full of cheating scandals. If player loses, they immediately assume that casino is cheating.
We solve this problem connecting our casino infrastructure to Ethereum 'smart-contracts'. Using this system we entirely get rid of a 'trust-problem'.
"Smart-contract" automatically uploads random number inputs a blockchain. That becomes publicly visible. After that people can take these inputs and recreate an outcome of past games.
That means our casino cannot cheat without being spotted on a blockchain. And that makes us incredibly transparent gambling service provider.
In a long run we aim to build most transparent and user-friendly online casino brand.
You are very much interested in investing, cryptocurrency and digital marketing. Please tell us more about the state of gambling industry in Europe considering these important issues you have experience in.
Tomas: In last 5 years, online gambling has its own peak/ prime moments. It expanded rapidly to almost every country making it incredibly profitable industry. However, more than half of an industry operates illegally breaching most gambling laws. That creates huge problems for local governments. So now the trend is: heavy regulations on gambling industry and no mercy for operators. Local governments create local gambling laws and prevent outsiders from entering the market.
As an operator I understand that, because most of these shady gambling platforms offer incredibly poor service, no transparency and allow minors gambling.
From tech perspective: gambling industry has many new interesting products such as fantasy sports and e-sports betting tournaments. There games have much more interesting gaming experience that classical casino games such as roulette. It seems like in the future we will have more advanced games and betting element.
It is believed that cryptocurrencies are digital gold. Sound money that is secure from political influence, money that promises to preserve and increase its value over time. Cryptocurrencies are also a fast and comfortable means of payment with a worldwide scope, and they are private and anonymous enough to serve as a means of payment for black markets and any other outlawed economic activity. Do you agree with this? How secure do you think is paying with cryptocurrency?
Tomas: It depends. As an industry insider, I can easily see that blockchain tech is just in its infant state. It's not ready yet and still being under development. I think that it went viral slightly too early than it should.
So now it is NOT fast enough to fuel dapps at a large scale. It is not comfortable to use, crypto service payment infrastructure is not developed yet. It doesn't provide the anonymity everyone thinks it has. And it is HEAVILY influenced by political environment.
However blockchain developers are addressing each issue and improving blockchains every day. Keep in mind that is incredibly complex programming challenge. My guess would be that after 2 – 3 years, we will have something more tangible which can have all benefits you mentioned.
Can this method of payment have huge effect on the gaming industry, either positive or negative?
Tomas: Yes, it gives incredible improvement on a service. Gambling operators tend to abuse payment methods to trick people into trapping their assets. Let's say a player wins 10k USD. Most small operators would freeze their money and say something like "it might take 2 – 4 days to withdraw your money".
Gladly with a cryptocurrency, we do not have this '2 – 4' days' withdrawal conditions for "some reasons".
I would say now players will feel more secure depositing assets to an online casino.
What is your opinion about the perspectives the use of cryptocurrency can mean for the industry? What advantages would this bring to the industry?
Tomas: Most important: fast deposits/ withdrawal systems and casino transparency using 'smart-contracts'.
If you could change anything in the world of gambling what would that be?
Tomas: Now gambling industry is living in some sort of a 'shadow'; having incredibly negative outlook from environment, being blocked from banking services and marketing networks. Secondly gambling activities get tons of judgement from average citizens.
That's pretty sad. I gamble from time to time, having no issues what's so ever. That's one of oldest forms of entertainment humankind enjoyed. Games combined with betting have existed since a start of human civilization. And it will not disappear.
I would love to change overall 'image of a gambling' industry into something more transparent, consumer orientated and capable of providing high quality entertainment products without being judged by environment.
Which were the most difficult periods in your career so far and what do you consider your biggest success and what are your future plans?
Tomas: Most difficult part was to program a scalable mass consumer product on a blockchain infrastructure. We launched our 1.0 version in 2018 Q1. As I mentioned before, today blockchain does not have the necessary functionality which we need to deliver our promise. During our journey, we had to make a 'lot of work-arounds' and compromises.
Gladly blockchain tech is improving allowing to move forward, even if that is just by small incremental steps.
I still laugh at other ICO promises and their 'road-maps'. It seems like most newcomers have no idea at what state blockchain technology is and what problems it has.
If you want to meet Tomas in person or networking with the biggest names of the Sports betting, Casino, VR/AR, Marketing, eSports, DFS, Virtual Sports and Crypto industry, make sure you attend the Vienna International Gaming Expo.
Save the date for the inaugural European Gaming Congress in Ljubljana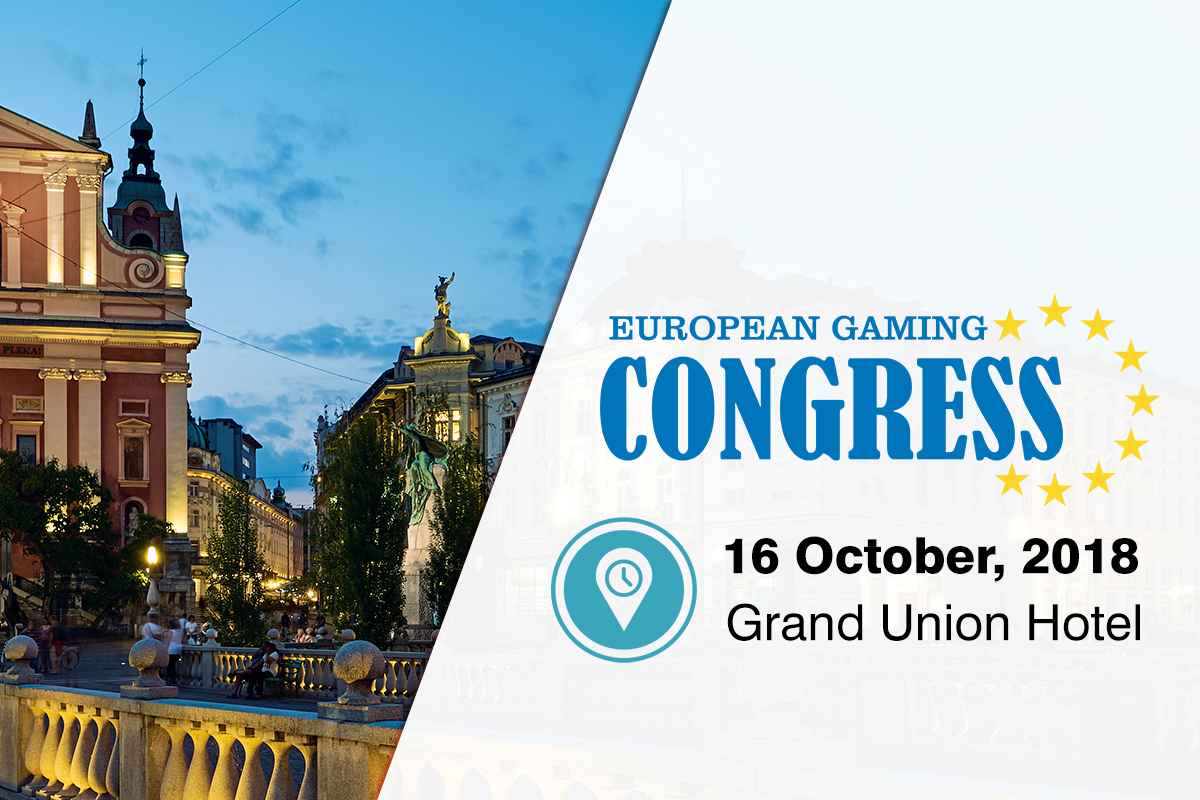 Reading Time:
1
minute
Ljubljana – 22 May 2018 – We are honored to announce our latest event in our portfolio of boutique gaming events. The inaugural European Gaming Congress will be held on the 16th of October at the Grand Union Hotel in Ljubljana and has the aim of highlighting the market regulations and updates from several countries within the EU and some outside of its borders.
The main focus of the event is education and networking with operators, service providers and regulators from all around Europe.
Top level delegates are expected to attend the event to gain access to information which will be shared by top experts of the industry.
The key topics on the agenda are the recent industry movements which have been recorded in Slovenia, Croatia, Serbia, Montenegro, Greece, Spain, Portugal, France, Italy, Malta and Austria.
A special IMGL MasterClass™ is also announced to be part of the program and the organizers are promising a unique event which will set a milestone for the industry in the European Union.
The information will be delivered by regulators, operators and well know industry service providers who are active in the above mentioned regions.
The preliminary agenda includes the following panel discussions:
Focus on Slovenia, Austria and Croatia
Highlighting the Balkans and Southeast Europe
Market updates from Mediterranean Europe
Already known effects of GDPR – Reports updates and possible amendments
IMGL MasterClass™
You can view the full agenda on the following link.
Full detail about the event can be found on the official website of the event: https://europeangamingcongress.com/
Make sure you grab your seat as the seats are limited to 100 registrants!
EGT Interactive @ Beograd Future Gaming Expo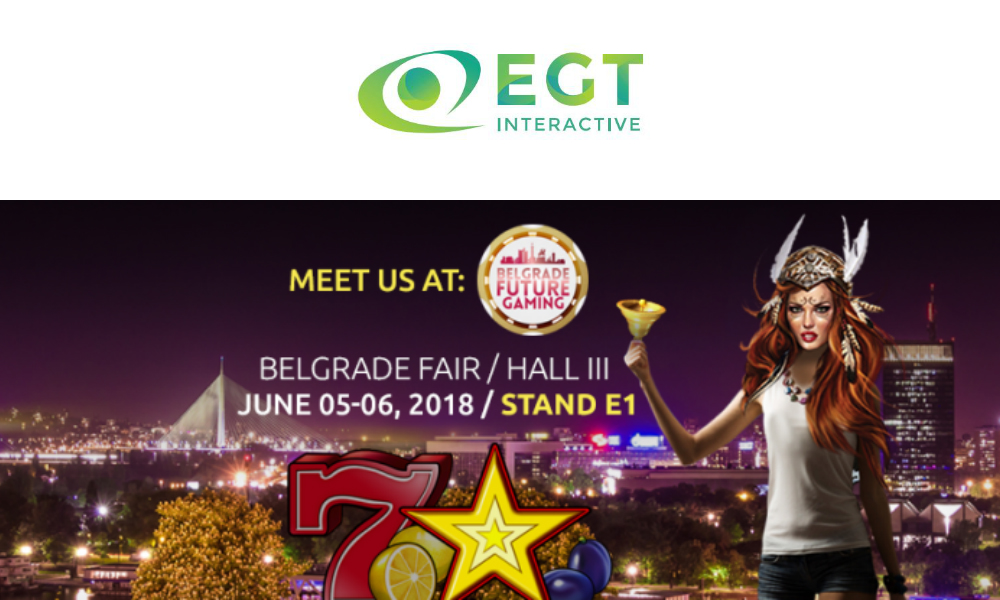 Reading Time:
1
minute
We are happy to announce that this year EGT Interactive will also be presenting as a show exhibitor on the 11th annual exhibition Future Gaming in Belgrade. Once again, we will be together on one stand with Euro Games Technology.
We'll be glad to meet you at Hall III, stand E1 at the Belgrade Fair from 5th to 6th of June, where we will be showcasing the latest titles from the EGT Interactive's portfolio of online casino games.
Our representatives are ready to meet and present to every willing visitor the opportunities EGT Interactive offers to start-up or active online casinos. From the rich portfolio with more than 150 smooth classic online casino games to final, complete software solutions and support in that growing business.
Our portfolio includes some of the most emblematic titles in the online casino gaming such as: 40 Super Hot, Burning Hot, Flaming Hot, Burning Heart, Amazons' Battle, 81 Wins, 40 Lucky King, European roulette and many more. Pass by for a talk with our representatives and see how you can achieve rapid growth in the Southeastern European market.
#WeMakePeoplePlay #slots #iGaming
Book a meeting at: sales@egt-interactive.com
CEEG Awards 2018 Nomination Phase is open, submit your company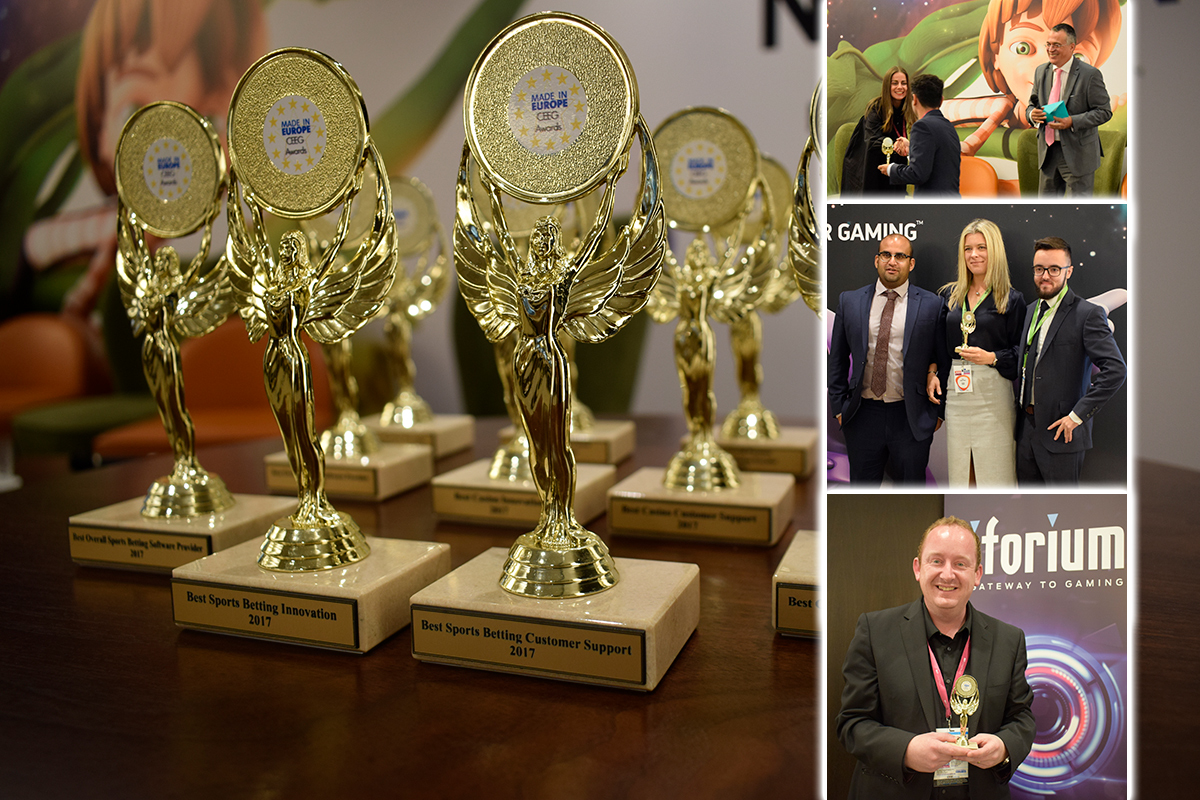 Reading Time:
2
minutes
Budapest – 16 May 2018 – We are excited to announce that the Nomination Phase for the third edition of the CEEG Awards is open. Companies operating in Europe are asked to nominate their brands for the 15 categories that are available in 2018.
CEEG Awards* 2018
CEEG Awards 2016 and CEEG Awards 2017 were a huge success, bringing a large wave of Post Event linking and mentions of the winners published on major portal such as Yahoo Finance, Bloomberg, PRNewWire, GlobalLiveNews, local media, TV adverts and many more.
The awards in 2018 will be given to 15 categories (introducing eSports, Daily Fantasy Sports and Law Services) as the CEEG Awards has managed to create an independent, fair and representative awards event that recognizes significant achievements within the Central and Eastern European gaming industry.
The Awards celebrate gaming software suppliers, operators and service providers for their outstanding contributions to the online sector of industry in their respective fields.
The process in divided in 5 phases:
Nominations period: 02.05.2018 – 15.07.2018
Online voting period: 01.08.2018 – 31.08.2018
Shortlist announcement (top 5): 05.09.2018
1 minutes live pitch in front of the attending audience of CEEGC Budapest for shortlisted companies: 25.09.2018
Envelope style voting by the attending delegates of CEEGC Budapest: 25.09.2018
The winners will be announced on the final session of the day during CEEGC Budapest. You can book your seat on the following link.
*CEEG Awards stands for Central and Eastern European Gaming Awards
Below are the the 15 categories for which you can apply until 15.07.2018:
Best Sports Betting Innovation
Best Sports Betting Customer Support
Best Overall Sports Betting Provider
Best Casino Innovation
Best Casino Customer Support
Best Casino Provider
Best Financial Software provider
Best Overall Casino operator
Best Overall Online Sports Betting operator
Best iGaming Press in the region
Best iGaming Service Provider(Testing Laboratories, Hosting Services, Consultancy)
Best Testing Laboratory
Best eSports Provider
Best Daily Fantasy Sports Provider
Best Legal Services Provider
You can nominate your company on the following link.
As in earlier years, the conference is limited to 125 delegates and will host special networking session for delegates to meet and greet with an emphasis of getting to know each other's area of business.
You can view the full agenda on the following link.
Make sure you grab your seat in time and attend the most prestigious boutique style gaming event which gather C-level executives yearly in one of Europe's most visited city.