Internet gambling opponents are zeroing in on the industry's ads to try and shut it down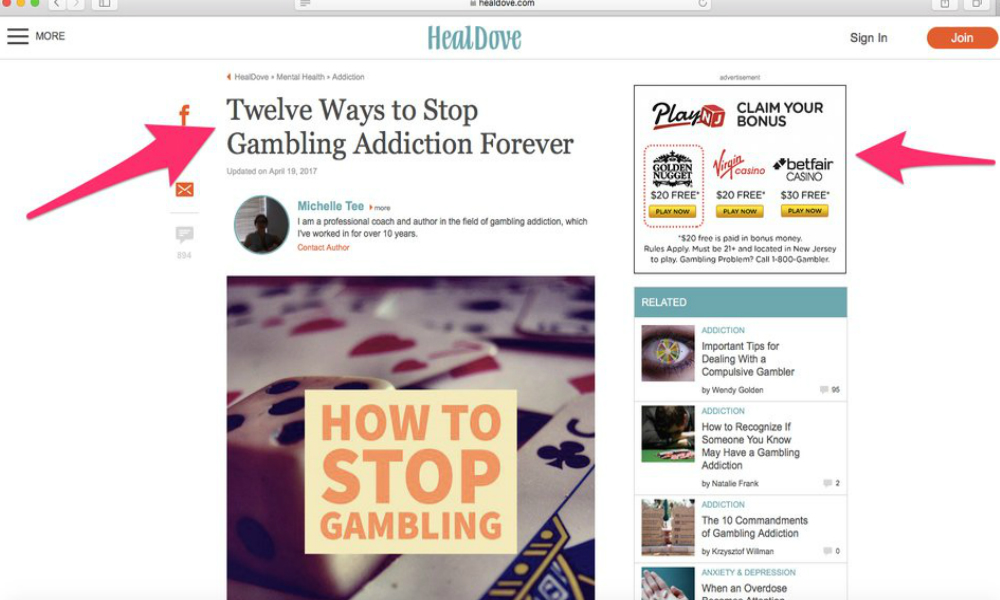 Reading Time:
2
minutes
Online-gambling opponents say they've spotted ads promoting online betting on children's game sites and alongside articles about gambling addiction. They're trying to use this to convince the U.S.  Congress and the Justice Department to reverse a 2011 decision that opened the door for states to permit internet gambling. 
A source close to the legislative fight shared screenshots of casino advertising in places they say it doesn't belong. The ads appear on pages with headlines such as "Twelve Ways To Stop Gambling Addiction Forever" and a gaming website called GirlsGoGames.com. 
But the ads aren't actually targeting kids or gambling addicts. Instead, they're the kind that follow users around the internet, like, say a promotion for a hotel in San Francisco might keep appearing after someone searches for flights to the city. They're called retargeting ads by the industry.
A Business Insider search of the same pages screenshotted by the advocates turned up a totally different set of ads.
That doesn't matter though to opponents of online gaming, who said the fact unrestricted advertising exists at all is a problem. 
Former Democratic Sen. Blanche Lincoln, who works with the Coalition to Stop Internet Gambling, a group backed by Casino magnate Sheldon Adelson, compared the promotions to cigarette ads that are no longer permitted under law.
"You used to have the Marlboro man, you used to have those ads," she told Business Insider. "Congress in its wisdom and some in the industry determined it was not appropriate. The advertising part of it is exactly what hooks kids and seniors who are desperate, who are marginalized individuals and trying to feed a family."
Advertisers do have the ability to restrict which websites their programmatic ads can appear on, but the system isn't perfect, and some sites are able to slip through the cracks even if they are restricted by the advertiser. One advertising expert told Business Insider that the website where the ads appear is more at fault for their appearance than the online gambling advertiser whose ads appeared.
The issue received some attention in the British press late last year after similar ads were found because of loopholes in the United Kingdom's advertising laws. The UK's Committee of Advertising Practice has since set new regulations, which are to take effect next month.
Meanwhile, a person who works in the online gaming industry describes the ads being passed around by anti-online gambling advocates was "a setup with no substance."
"We obviously don't target sites aimed at minors (not only is it insanely immoral, but people under 21 can't create accounts at regulated online gambling sites in NJ)," said this person, who requested anonymity to speak candidly. "As for the screenshots from the news sites, you could come up with a near-infinite number of inappropriate juxtapositions (credit card ads on a site with a story about someone who killed themselves because of financial pressure) by doing what the people shopping the story have done."
The person added that the ads would only appear if the user first visited an online casino. Gaming opponents say that rationale falls short, citing the example of a problem gambler looking searching for addiction help.
Source: businessinsider.com
Caesars and Eldorado Set Date for Shareholders Meetings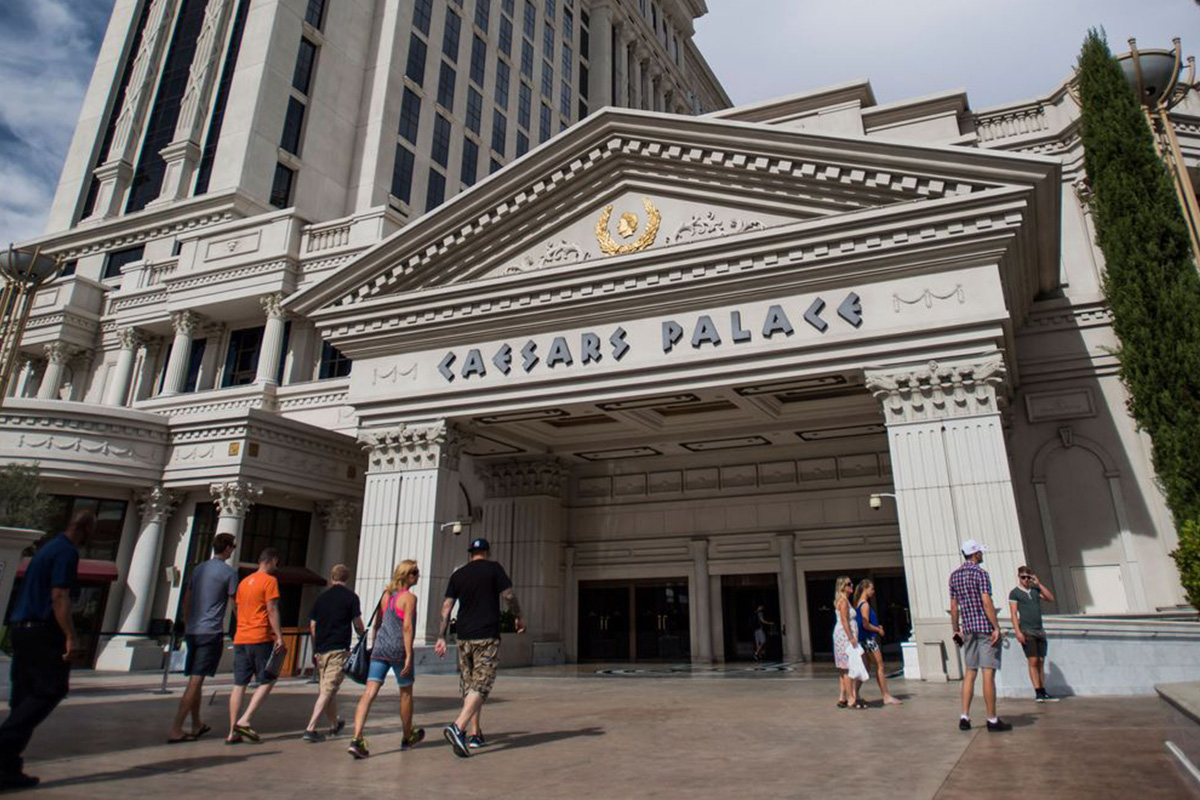 Reading Time:
1
minute
Caesars Entertainment and Eldorado Resorts have announced that they will hold separate shareholder meetings on November 15 to vote on their proposed US$17.3 billion merger.
The meetings will see Caesars shareholders cast their vote at Caesars Palace in Las Vegas from 9 am Pacific Time while Eldorado shareholders will converge on Eldorado Resort in Reno. At stake is one of the biggest corporate gaming industry deals in history, with Eldorado looking to acquire the entire outstanding share capital in Caesars by way of a US$7.2 billion cash payment, 77 million Eldorado common shares and the assumption of Caesars' outstanding net debt.
If approved, Caesars will merge with Eldorado subsidiary Colt Merger Sub Inc and become a new wholly-owned Eldorado subsidiary existing under the Caesars name.
Continent 8 Technologies and Iforium strengthen partnership to pursue US online gaming opportunities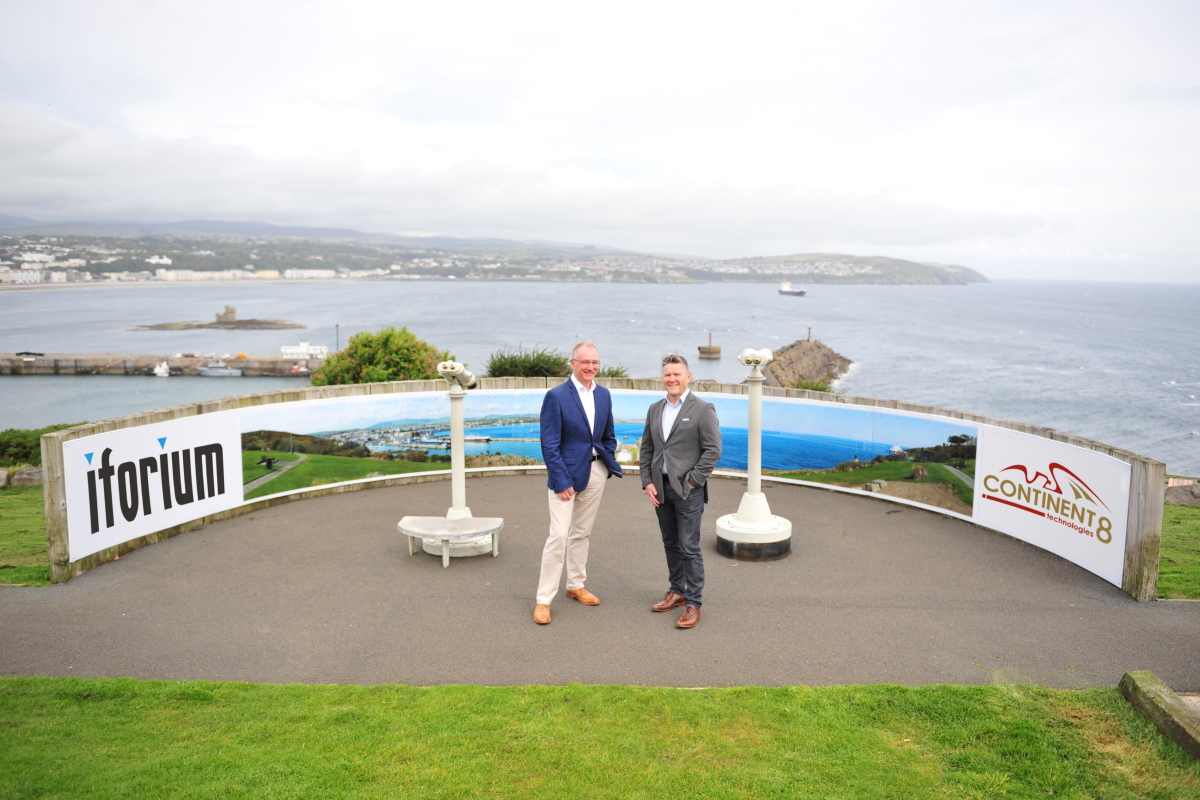 Reading Time:
2
minutes
Continent 8 Technologies and Iforium have announced the expansion of their partnership, to pursue exciting opportunities in the emerging US online gaming market.
Iforium is the first tenant at Continent 8's latest data centre at the Atlantic City Convention Center which opened in June this year in partnership with the CRDA (Casino Reinvestment Development Authority). Designed to Tier 3 standards, it is the first ever purpose built data centre in Atlantic City and is already playing a significant role in growing New Jersey's reputation as the largest hub for online gaming, sports betting, and eSports in the United States.
Michael Tobin, Co-Founder and CEO of Continent 8 Technologies, said: "We're delighted to announce Iforium as the first tenant at our Atlantic City data centre. Iforium are a long-standing Continent 8 client, but today's announcement represents a significant strengthening of our business relationship, and a major step forward in terms of Continent 8's commitment to the emerging US market."
Over the past 12 months, Continent 8's US multi-state capacities increased to include Indiana, Mississippi, Nevada, New Jersey, Pennsylvania, and West Virginia, with upcoming locations in Florida, Illinois, Iowa, New Hampshire, New York, Ohio, Oregon, and Tennessee.
Phil Parry, CEO of Iforium, commented: "Our presence in the US online gaming market is growing rapidly and Continent 8 are providing the gateway with their state-of-the-art data centre in Atlantic City. It's an exciting time for Iforium. We received our transactional waiver from the New Jersey Division of Gaming Enforcement (DGE) in July, and are now live with our first operator in the state of New Jersey."
The granting of the transactional waiver was a landmark decision for the company and the US sector because it means that the DGE will allow Iforium to provide licensed operators with its Gameflex casino platform that now hosts more than 9,000 games from over 100 third-party suppliers.
Continent 8's advanced data centres and high-quality networks support critical online operations in both private and public-sector organisations in over 40 locations across Europe, Asia, and the Americas. The company will be welcoming more clients to its Atlantic City data centre in the coming months. Visit https://www.atlanticcity-datacenter.com/ for more information.
BMM Testlabs – The World's Best Regulatory Partner Since 1981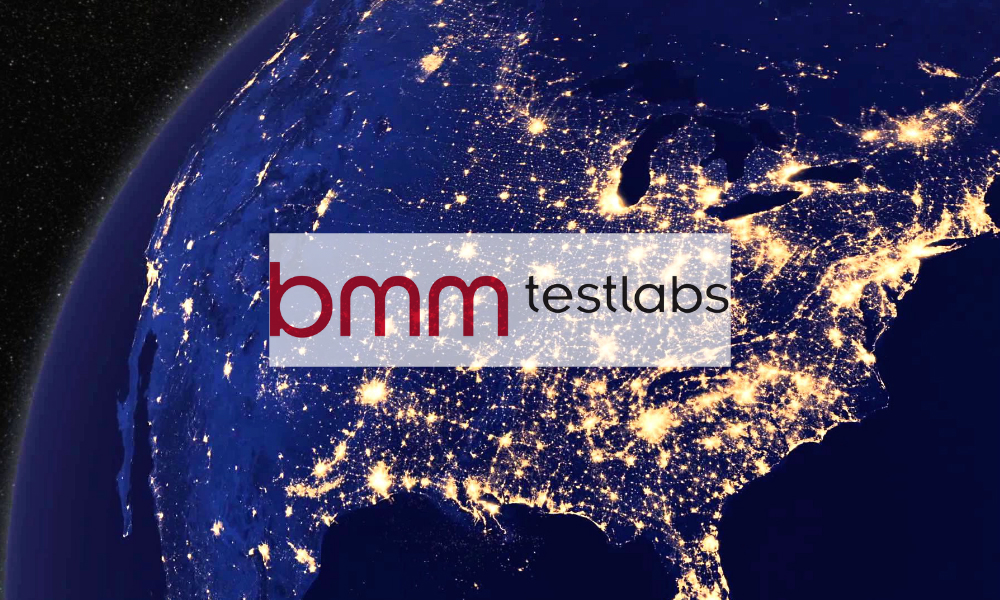 Reading Time:
1
minute
BMM Testlabs, the world's original gaming test lab and product compliance consultancy is pleased to offer complimentary, tailored training solutions and tools to gaming regulators across the globe.
Travis Foley, BMM's Chief Operations Officer commented, "Through our BMM Academy, training and technology services are available year-round and are customized to meet the unique needs of each regulatory body, without a need for gaming lab exclusivity. We offer decades of expertise and industry experience to provide 24/7 support to the jurisdictions we serve. Our mission is to go above and beyond what is required of us, do the right thing and lead the way in responsible and ethical business practices."
Martin Storm, BMM Testlabs' President and CEO added, "Importantly, BMM's complimentary services do not require a pledge of exclusivity from commercial and tribal gaming regulators. Our only desire is to ensure our regulatory partners are up to date on all the latest gaming technology and get the help they need. We encourage all regulatory bodies to stop by BMM Testlabs booth at G2E to learn how we can align our exceptional training solutions to fit their unique needs."
BMM provides regulatory training at BMM's state of the art training facility in Las Vegas, at various locations around the world and at client's or regulator's facilities, through the BMM Academy. The training curriculum provides a wide array of no-cost training solutions that include:
* Field Audits
* System Audits
* Wagering Terminal Essentials
* Understanding System Essentials
* Wireless Security
* Forensics/Incident Response
* IT Security Essentials
* Development of Internal Controls
* Cyber Security
Visit BMM Testlabs at G2E #4408