Internet gambling opponents are zeroing in on the industry's ads to try and shut it down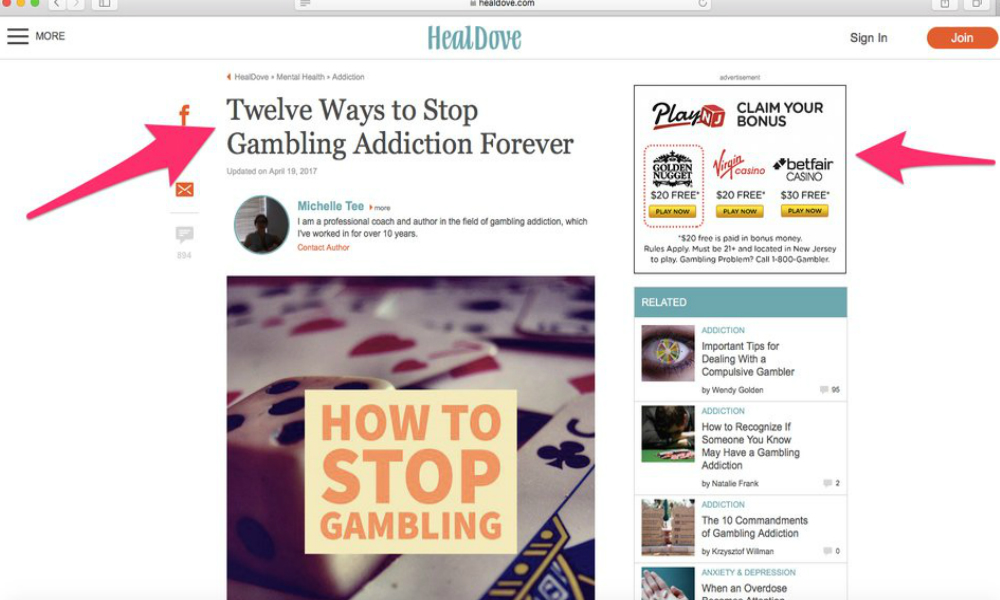 Reading Time:
2
minutes
Online-gambling opponents say they've spotted ads promoting online betting on children's game sites and alongside articles about gambling addiction. They're trying to use this to convince the U.S.  Congress and the Justice Department to reverse a 2011 decision that opened the door for states to permit internet gambling. 
A source close to the legislative fight shared screenshots of casino advertising in places they say it doesn't belong. The ads appear on pages with headlines such as "Twelve Ways To Stop Gambling Addiction Forever" and a gaming website called GirlsGoGames.com. 
But the ads aren't actually targeting kids or gambling addicts. Instead, they're the kind that follow users around the internet, like, say a promotion for a hotel in San Francisco might keep appearing after someone searches for flights to the city. They're called retargeting ads by the industry.
A Business Insider search of the same pages screenshotted by the advocates turned up a totally different set of ads.
That doesn't matter though to opponents of online gaming, who said the fact unrestricted advertising exists at all is a problem. 
Former Democratic Sen. Blanche Lincoln, who works with the Coalition to Stop Internet Gambling, a group backed by Casino magnate Sheldon Adelson, compared the promotions to cigarette ads that are no longer permitted under law.
"You used to have the Marlboro man, you used to have those ads," she told Business Insider. "Congress in its wisdom and some in the industry determined it was not appropriate. The advertising part of it is exactly what hooks kids and seniors who are desperate, who are marginalized individuals and trying to feed a family."
Advertisers do have the ability to restrict which websites their programmatic ads can appear on, but the system isn't perfect, and some sites are able to slip through the cracks even if they are restricted by the advertiser. One advertising expert told Business Insider that the website where the ads appear is more at fault for their appearance than the online gambling advertiser whose ads appeared.
The issue received some attention in the British press late last year after similar ads were found because of loopholes in the United Kingdom's advertising laws. The UK's Committee of Advertising Practice has since set new regulations, which are to take effect next month.
Meanwhile, a person who works in the online gaming industry describes the ads being passed around by anti-online gambling advocates was "a setup with no substance."
"We obviously don't target sites aimed at minors (not only is it insanely immoral, but people under 21 can't create accounts at regulated online gambling sites in NJ)," said this person, who requested anonymity to speak candidly. "As for the screenshots from the news sites, you could come up with a near-infinite number of inappropriate juxtapositions (credit card ads on a site with a story about someone who killed themselves because of financial pressure) by doing what the people shopping the story have done."
The person added that the ads would only appear if the user first visited an online casino. Gaming opponents say that rationale falls short, citing the example of a problem gambler looking searching for addiction help.
Source: businessinsider.com

Happening next week, the Gaming Americas Q1 Meetup (26 January, 2022)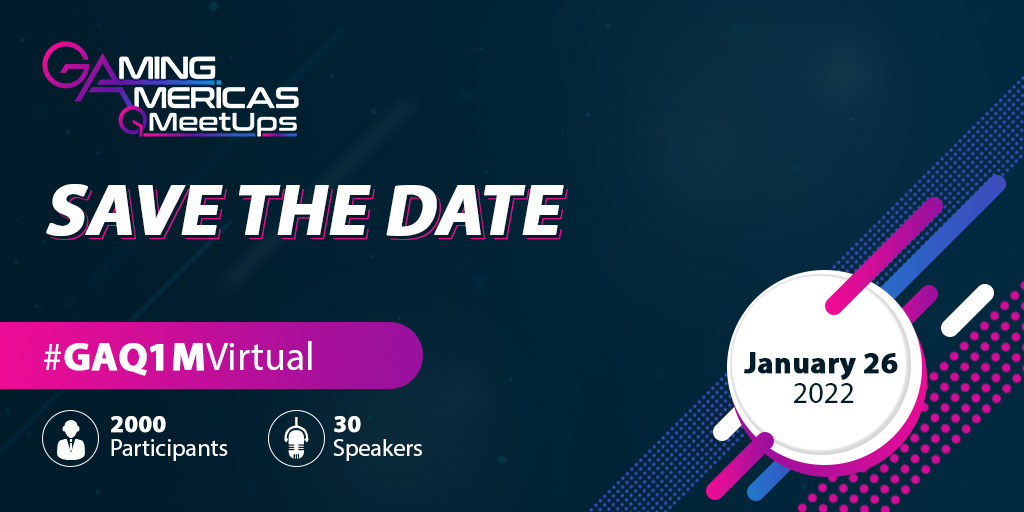 Reading Time:
3
minutes
The Gaming Americas Quarterly Meetups have proved to be of huge success for the gaming and gambling industry in North and Latin America, and the #hipthers are excited to send you a reminder that the Q1 Meetup of 2022 is taking place next week on 26 January.
Launched in 2021, the quarterly meetups are designed to keep you up-to-date with what is fresh in the North and Latin American gambling industry.
The meetups feature several panel discussions per region and topics that are joined by key industry experts, CEOs, C-Level Executives, Business Development Managers, and sometimes government officials/regulators.
All meetups offer the opportunity to network online in special break-out sessions, but also join a round table discussion which answers all burning questions of the industry at a certain point in time during the year. All this is done in a safe, virtual environment.
You can register here for free to receive updates about the speaker lineup and agenda.
As mentioned above, the first virtual quarterly meetup will take place next week on Wednesday, 26 January, and here is the lineup of discussions you can join via ZOOM, WireUp, HIPTHER TV, or YouTube:
Times are EST – (GMT -5) New York Time
9:30 AM – 10:30 AM – Is the LatAm market emerging or maturing (11:30 – 12:30 – Buenos Aires Time)
10:30 AM – 11:30 AM – Is responsible gambling being sufficiently prioritized in the US market?
11:30 AM – 12:00 PM – Fireside chat: Applying different tactics to reaching bettors in North America and Europe
12:00 PM – 1:00 PM – US Legislation Round-up
1:00 PM – 1:45 PM – The Canadian Gaming Industry Updates with Chantal Cipriano
1:45 PM – 2:15 PM – Fireside Chat: SeventySix Capital welcomes new guest
2:15 PM – 3:00 PM – Crypto Catchup with Segev LLP
Among the confirmed experts who are taking part in the discussions you can find:
Brianne Doura-Schawohl – Founder and CEO, Doura-Schawohl Consulting LLC
Victoria Reed – Co-Founder at Better Change
Jenny Lu – General Manager North America of OtherLevels
Charmaine Hogan – Head of Regulatory Affairs at Playtech
Chantal Cipriano – Vice President of Legal, Compliance & People with PointsBet Canada
Gabriel Szlaifsztein – General Manager LATAM at Continent 8 Technologies
David Mann – Chief Commercial Officer at Swintt
David Charnock – Business Development Executive at FSB
Andrea Rossi – Commercial Director Southern Europe & LatAm at Betsson Group
David Plumi – Regional Managing Director Latam & Spain at PressEnter Group
Tony Ure – Head of e-Gaming, Isle of Man Digital Executive Agency, Department for Enterprise
Victor Pronk – Chief Commercial Officer (CCO) at Incentive Game
Allan Petrilli – VP of Sales & Growth at Intelitics
Hugo Vint – Business Development and Growth for OtherLevels in Europe
Brandt Iden – Head of Government Affairs, US for Sportradar US
Martin Lycka – SVP for American Regulatory Affairs and Responsible Gambling, Entain
Christopher Hebert – Gaming Division Director, Louisiana Attorney Generals Office
William J. Pascrell, III, Esq – Partner at Princeton Public Affairs Group, Inc.
Ty Jackson – Sports Tech Investor at SeventySix Capital
Ron Segev – Founding Partner of Segev LLP
You can register here for free to receive updates about the speaker lineup, agenda, and all upcoming meetup-related information, including recordings.
Hipther Agency is the parent brand of European Gaming, PICANTE, WireUp Zone, and Gaming Americas, eSports Connect, the HIPTHER news app, and the WireUp networking app (in testing phase) found on the Play Store.
To receive constant updates from Hipther Agency and conference agenda updates, subscribe here: http://eepurl.com/hfyZxf
For sponsorship/speaking inquiries, make sure to reach out to Andrada Marginean (B2B Sales Manager at Hipther Agency) at [email protected]
For media-related inquiries, please contact Alexandru Marginean (Marketing Specialist at Hipther Agency) at [email protected]
Gaming Americas Weekly Roundup – January 10-16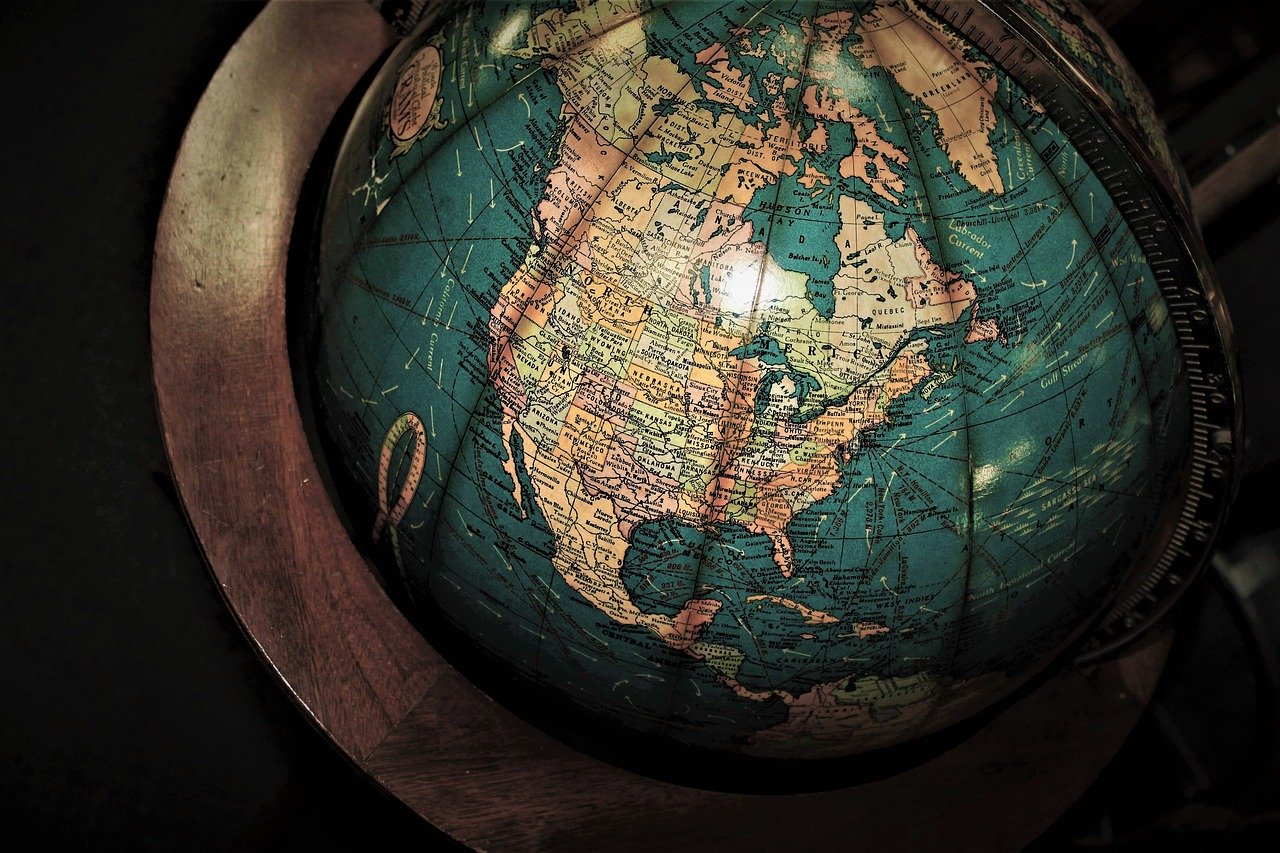 Reading Time:
2
minutes
Welcome to our weekly roundup of American gambling news again! Here, we are going through the weekly highlights of the American gambling industry which include the latest news, new partnerships and new acquisitions. Read on and get updated.
Latest News
The wait for mobile sports betting to arrive in New York is officially over. After being named one of the first operators to receive a license for mobile sports wagering operations in the state, Caesars Entertainment made history with its online and mobile sports betting app, Caesars Sportsbook, accepting its first sports wagers in the Empire State.
MGM Rewards is the revamped loyalty rewards programme that MGM Resorts is set to launch on February 1. The "reimagined" programme offers new ways to earn for both gaming and non-gaming spend, plus enhanced guest experiences.
Caleta Gaming has announced that its full game portfolio is online at Foliatti Casino, the first online casino from Mexican Group Foliatti. Video bingos, video slots, kenos, lottos and scratch cards provided by Caleta are already available to Foliatti Casino players.
JCM Global has installed its core product suite at Penn National Gaming's new Hollywood Casino Morgantown. The $110m Pennsylvania property opened in December 2021, with JCM having installed its product suite – which includes its iVIZION bill validator, GEN5 Thermal Printer and ICB Intelligent Cash Box system – in all 750 games on the casino floor.
Aristocrat Gaming's Neptune Canopy is now live on casino floors and has made its eastern US debut at Mohegan Sun. Aristocrat's Neptune Canopy cabinet is a landmark in casino game play. When placed back-to-back, two games create a connected canopy for a sweeping gaming experience unlike any other.
PayNearMe has announced that it has been granted approval by the New York Gaming Commission to provide its MoneyLine platform to licensed operators across the state.
Partnerships
PointsBet Canada has joined the NHL Alumni Association as their exclusive sports betting partner in Canada and official partner in the US.
Madison Square Garden Sports Corp has announced a multi-year marketing partnership with Socios.com, naming the all-in-one influence and rewards blockchain app for sports fans across the world an Official Partner of the New York Knicks and New York Rangers.
The PGA TOUR and FanDuel announced a three-year extension through 2024 to their content and marketing relationship designating FanDuel an Official Betting Operator of the PGA TOUR.
BestOdds.com, a leading sports betting and education brand, has signed affiliate-partnership agreements with Caesars and FanDuel, two of the major US online sports betting operators licensed in New York.
International Game Technology has signed a strategic sports betting agreement with Meruelo Gaming, an affiliate of the SAHARA Las Vegas and Grand Sierra Resort in Reno, Nev., and the Arizona Coyotes.
The New York Gaming Commission has officially legalised the operation of sports betting platforms in the state. The Game Day, an affiliate partner to the major sportsbook operators, has secured partnerships with the four sportsbooks and has begun to market NY-specific promotions and offerings to in-state gamblers and bettors.
New Acquisition
Eilers & Krejcik Gaming has acquired assets of Fantini Research, including its gaming news publications and virtual trade show business. Fantini Research will continue to operate under the Fantini Research brand and will be a separate division of Eilers & Krejcik Gaming.
New horizons in the world of mobile: WakeApp agency received a license to promote gambling in the state of Arizona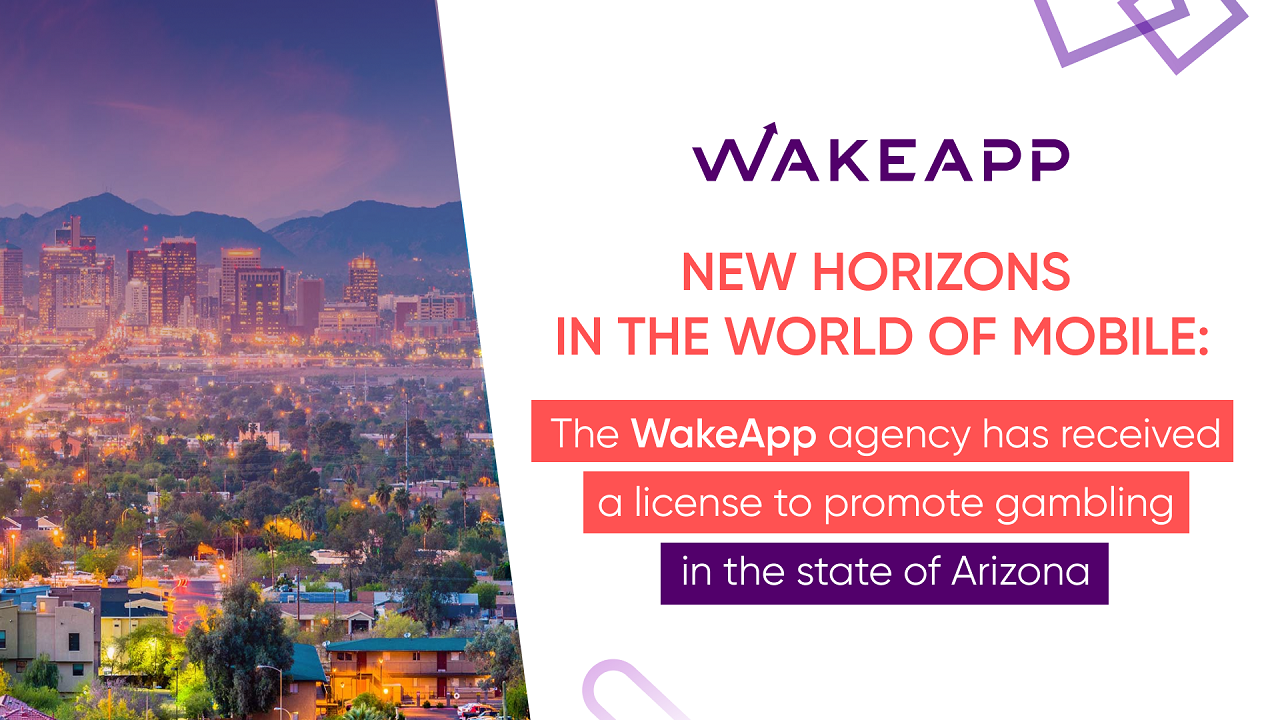 Reading Time:
2
minutes
The mobile marketing agency WakeApp, which is a guide to the world of mobile, has received another license to promote products in the igaming and sports betting verticals from the Arizona Department of Gaming. This means that from now on, licensed clients of the company can use the services of the agency and get hundreds of thousands of new players in this state.
WakeApp is actively expanding its presence in promising countries and opening up new opportunities to promote products in their territories.
In the state of Arizona, the sports betting vertical was fully legalized only in September 2021.
According to the Arizona Department of Gaming, in the first 2 months after the legalization of betting in this state, players made more than $777 million in bets, most of which were made using mobile devices. This is almost double the previous record in Virginia, where more than $324 million in bets were made in the first 2 months after legalization.
"Right now is a great time to master this market! Structural advantages and unparalleled player enthusiasm will enable advertisers to make the most of the existing acquisition opportunity in the new region." – CBDO Nikolay Belikov.
Already, the agency has received applications from regular advertisers for promotion in the state of Arizona and is actively preparing to launch new advertising campaigns.
Note: WakeApp is an international project and has been on the market for 7 years, it is also a leader in the development and promotion of gaming and non-gaming mobile applications in the e-com, video streaming, food delivery, sport, utilities, and finance verticals. Earlier in 2021, WakeApp was ranked in 5 categories in the 13th AppsFlyer Performance Index XIII. WakeApp has positioned itself amongst major international competitors such as Search Ads, Google Ads, Facebook Ads, TikTok and others, and also became the only agency represented in the ranking.