Exclusive Interview with Melissa Summerfield, CCO at Pragmatic Play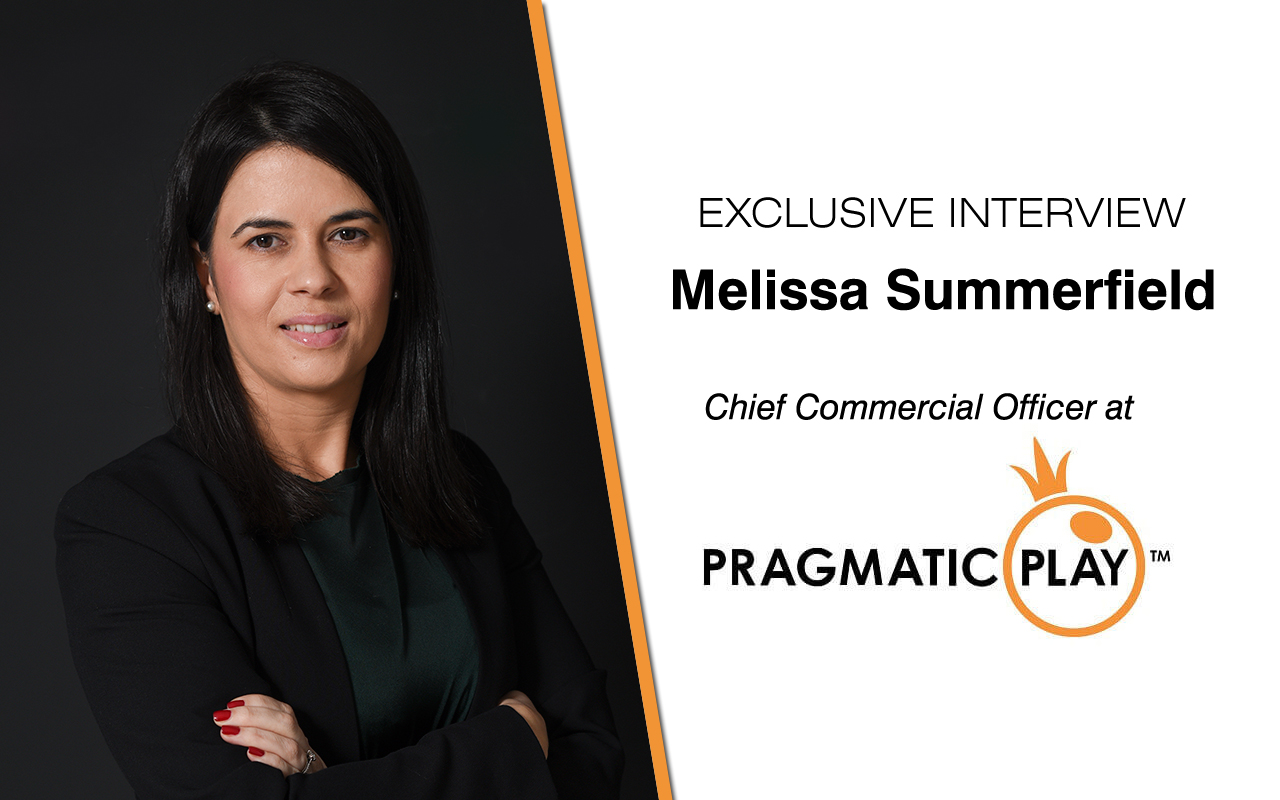 Reading Time:
4
minutes
It is my great pleasure to introduce my latest interview with a respected women of the gambling industry. Melissa Summerfield is the Chief Commercial Officer at Pragmatic Play. She is the the former VP of Operations at Microgaming and also held the role of Head of Gaming Operations at Bwin.Party.
Melissa is know as an ONLINE GAMING LEADER and she is results driven, commercial minded, customer focused, hardworking and creative marketing /business graduate with 15 years of management experience in the online gaming industry focusing in Casino and Games but also experience in Sportsbook, Poker and Bingo. She has a proven track record of accomplishment in delivering budgeted KPI's, NGR growth, global player retention marketing and product operations. Melissa also possess strong budget and people management skills in a complex in-house technology business, located across multiple jurisdictions and operating internationally.
First of all, thank you very much for accepting this interview. I would like to ask you to introduce yourself to our readers and tell us when and why you started working in this industry?
Melissa: With pleasure. I began my career in the industry with BetVictor, where I was a key part of establishing the operator's casino offering. I also enjoyed a long and productive period with Party Gaming and bwin.party (now GVC), spending more than four years as the Head of Gaming Operations. I joined Pragmatic Play from Microgaming, where I worked as VP of Operations for Gibraltar and LatAm, overseeing the company's strategy in Gibraltar, Spain and Latin America.
It is fair to say that the speed and innovation of the iGaming industry was a core part of it's appeal to me, and since beginning with BetVictor I haven't looked back.
You have been recently appointed as Chief Commercial Officer at Pragmatic Play – congratulations on the new role! Tell us about your new position, and your tasks and responsibilities at Pragmatic Play.
Melissa: As Chief Commercial Officer, I work with our commercial team as we continue to expand the Pragmatic Play brand's reach with new partners and into new territories.
This incorporates many aspects that make up our consistent and high-quality delivery, encompassing sales, client services and liaising with our team of experienced developers to ensure we are all singing from the same hymn sheet. I definitely feel I've found my feet quickly, and working with such an excellent team of iGaming professionals has certainly been a great help in that.
We had a hugely productive few days at ICE Totally Gaming, speaking with many operators and suppliers interested in incorporating our flourishing portfolio of games, and I aim to continue helping Pragmatic Play to capitalise on its potential.
Pragmatic Play is one of the fastest growing mobile and desktop providers of digital casino games for the online gaming industry. Could you please introduce the company for our readers?
Melissa: Pragmatic Play certainly is growing fast, delivering two online casino games every month. We have a thriving suite of more than 80 HTML5 video slots that we add to with an expertly-modelled new releases. Our games are all based around a design philosophy that appeals to classic slots fans both new and old, where every spin of the reels provides the player with all-important feedback on how they have won, or how they might win next time.
We pack our games with innovative bonus features, such as our signature win multiplier reel in Aztec Gems, and the T. Rex and mighty mammoth that clash in Jurassic Giants to unlock the biggest wins.
With the pace that the iGaming industry moves at, it is fair to say that to stand still is to risk being left behind. With this in mind, we recently grew our offering in two new product verticals, introducing seven new scratchcards based on our popular video slot titles, with a €1m top prize, and the market's most customizable, mobile-driven bingo product.
In short, we are continually expanding our range of products, backed by an experienced team with innovative ideas to enhance the gaming experience. Our games prove consistently popular with players, and profitable for our operating partners, and we'll have a lot of news for your readers in the coming months.
Having such a rich professional experience, my next question would be which have been the most difficult periods in your career so far, and what do you consider your personal success?
Melissa: There are always challenges to any career, and like many who work in iGaming, one aspect is to ensure that you are always ahead of the curve when it comes to delivering innovation. The interaction between online casino and player has become increasingly sophisticated in recent years, and it is paramount that you do not allow yourself to be stationary when it comes to bringing players new gameplay experiences. At Pragmatic Play, we are keenly aware of this, and we are finding great success with our dedicated release cycle of two new games a month that are packed with dazzling graphics and bonus games.
Can you tell us about your future plans and projects regarding your professional life?
Melissa: Having settled into the role of Chief Commercial Officer, my number one priority is to continue working effectively with the growing team we have in place at Pragmatic Play in delivering consistent success. We have recently secured significant integrations with companies including Betclic and William Hill, and are live with many of the world's leading casino operators including LeoVegas, Betsson and GVC Holdings. We have a number of similar deals in the pipeline to be announced in the coming weeks.
Our games are proving hugely popular with players, as well as profitable for our partners, and my aim is to see our commercial reach keep expanding.
What does success mean to you and do you consider your career a successful one?
Melissa: On a professional level, I would say that success often comes from deriving satisfaction and the sense of accomplishment that follows hard work and progress, as part of a team that is all pulling in the same direction. This is certainly something I have found so far in my new role, and I'm looking forward to seeing what the future holds.
With this occasion, I would also like to thank you for following my interview series and for sharing these information with your colleagues and partners. If you would like to be featured in an upcoming interview, please send me an e-mail to reka.szalo@europeangaming.eu and I will happily get back to you!
Exclusive Interview with Peter Gal, co-founder of Bethereum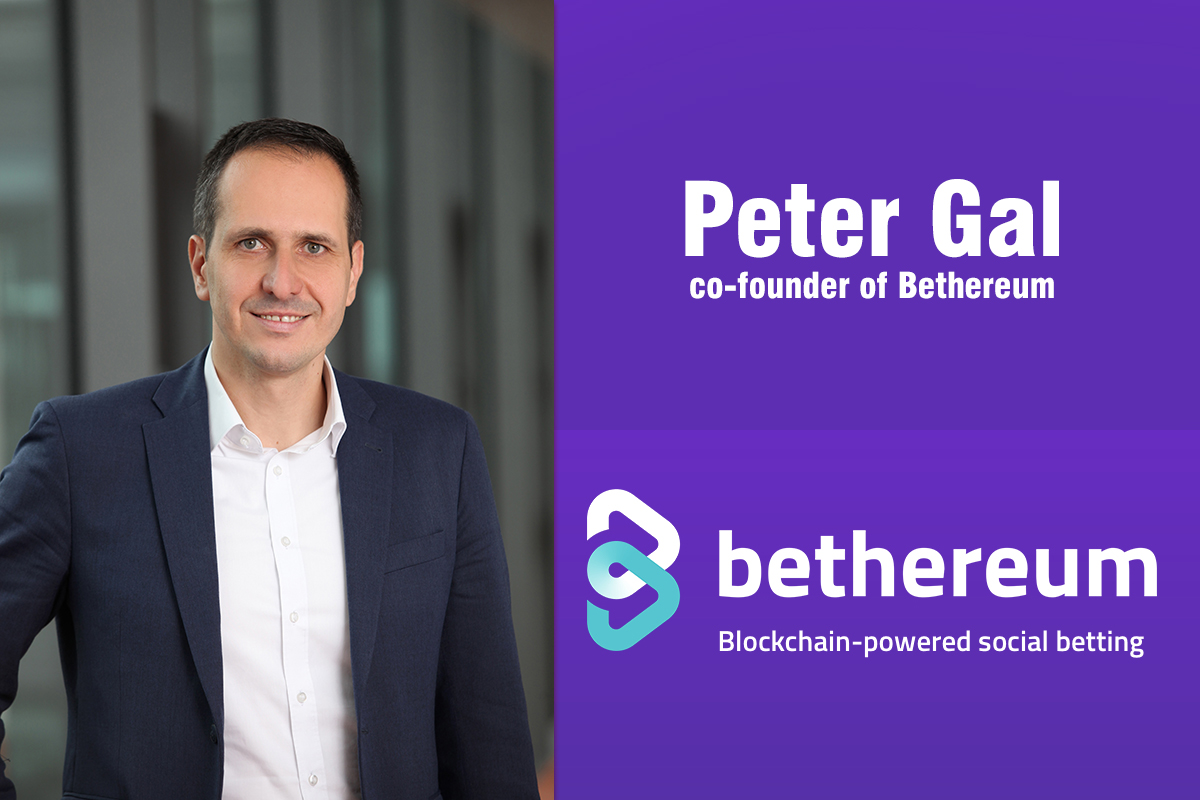 Reading Time:
6
minutes
Peter Gal is a co-founder of Bethereum, the fast-growing blockchain based social betting platform. Here he talks about his career, how the idea of Bethereum was born and how blockchain technology is going to change the betting industry.
You might be pleasantly surprised to hear that his passion for football has indirectly led to the creation of a path-breaking technological platform. In this interview, he clearly outlines Bethereum's objectives and vision. He also explains in detail what makes Bethereum special by being "provably fair".
I'd first like to ask you to begin with a few words about yourself. It's always nice to hear top-class professionals say a few words about themselves for our audience.
Peter: I have 16 years' experience leading strategic initiatives in Telco, IT, and banking. I was responsible for some of the most successful product launches in the CEE region, in the areas of big data, cloud computing, IoT, and e-commerce. My biggest passion is to combine technology with business strategy, to deliver something which is truly innovative and serves a real purpose.
You started your career as a teacher for a brief while. Then you moved to marketing, telecom, banking and life insurance. Now you are heading a blockchain based social-media betting platform. Tell us more about the job shift. How easy was your navigation from the traditional industries to a relatively new industry?
Peter: I worked as a teacher during my alternative military service. It was a really great experience, which gave me some valuable insights for example in how to coach a team for success. Further in my career, I was always responsible for delivering new products and solutions to customers. I tackled every business challenge by focusing on delivering innovation and tangible business results to each company I worked for. I had the opportunity to cooperate with a number of startups and being deeply involved in their community. The latter truly inspired me, along with the potential a project like Bethereum offers, to start my own business.
How did the idea of Bethereum – a block-chain-based social betting platform – happened. Is there any interesting background story? Tell us more about the name "Bethereum".
Peter: The idea originated over one year ago. I am a passionate football fan and occasionally placed some bets online or with local betting agencies. From my own experience, I was not convinced that conventional betting offered the intuitiveness, security and user-friendliness that bettors deserved. So I involved a development team and started to design their our application. The head of the development team soon became one of Bethereum's co-founders. Along the way, we realized that blockchain and especially Smart Contracts offered the perfect solution to execute our vision, and Bethereum was born. The name Bethereum is simply a combination of the words "Bet" and "Ethereum," which is the infrastructure on which we're building our social betting application, platform, and betting protocol.
 How is the response from people towards Bethereum? Could you offer some recent stats on user engagement?
Peter: We are only as good as our community. A project like Bethereum, which aims at putting betting in the hands of MILLIONS, needs a team that can create strong social engagement. And our growing community is proof that we can do just that. We have over 55 thousand Telegram members, 20 thousand twitter and 18 thousand Facebook followers. We achieved all that organically, through innovative bounty systems, events, and competitive games. Most of this base is regularly active and we feel lucky to be part of such an amazing community. We now have a number of fan bases in different countries, who became true ambassadors of the Bethereum project.
There are several companies focusing on blockchain based social betting platform. There are  likely to be many more, once the popularity grows. What makes Bethereum really stand out? How do you rate the chances of the big traditional betting companies entering into the competition?
Peter: First of all, we already have a prototype: many other projects are just about an idea. As per other differentiators, we worked hard to carve a unique position within the space. Most other blockchain-based betting solutions are focusing on developing something which is already available in a conventional form, but leveraging blockchain technology to provide this "something" as a safer, more transparent, and cheaper solution (no middleman). Some focus on football or sports, some on eSports, others on fantasy sports, for example. This is all perfectly valid…but difficult to differentiate and in case of anything but sports, restrictive in terms of potential market size.
Other operators are focusing on developing a betting currency, which will then be used by "everybody else" in the betting industry. This is their main focus and while they are interested in developing some own platform, most of the effort is placed ongrowing the adoption of their digital token.
We think both directions are too restrictive. Just making something which is already available off the blockchain more secure and transparent is a great and necessary improvement, but not enough to give a betting operator an edge. Having a vision of establishing a widely adopted betting currency is certainly alluring but hard to execute if there are no powerful drivers driving such adoptions.
We aim at delivering the most intuitive and innovative betting application in the market, supporting content ranging from sport betting to eSports, fantasy, and even third-party games (e.g., casino). And to combine it with powerful gamification elements, so to deliver players with a truly rewarding experience. But we're not limiting ourselves to a "fancy" sportsbook on the blockchain. Our vision is to develop a broad B2C and B2B ecosystem and to establish our Bether token as a global betting standard. For this reason, we are creating a platform catering to the needs of a broad consumer and business base: casual bettors, high rollers, white-label customers, conventional betting operators, third-party game providers, and marketing affiliates – all fueled by our ERC20 Bether token and running on our BetherNet betting protocol.
This strategy is not only providing us with more revenue streams and lowering risk via diversification: it is also boosting the potential for widespread token adoption. And giving us a competitive edge which is difficult to replicate.
As for the blockchain market entrance by traditional betting operators, in general it may be a difficult cultural leap for an operator whose core mentality has always revolved around a centralised, confidential solution to move onto a completely different decentralised paradigm offering full transparency. We expect that at first conventional operators may start by accepting cryptocurrencies. If they eventually decide to enter the blockchain space it may be more likely to happen in the form of partnerships with new blockchain-based players. Our B2B proposition for conventional betting operators is designed around this very belief and business opportunity.
Now let's talk about legislation. Previously, the betting industry had to – and still has to – deal with legislation regarding betting and gambling. Now you have added blockchain, which has its own problems with legislation across countries. Don't you think you are further adding to the legal burden, when you embed betting on blockchain?
Peter: Bethereum combines betting and cryptomarkets, in a peer-to-peer platform where the relationship is established directly among bettors. Broadly speaking, this gives us an advantage in licensing requirements vis-a-vis conventional centralised operators. As the regulatory environment changes rapidly (an example is the recent US Supreme Court ruling which could lead to sports betting legalisation in many US states), we'll deep dive into individual markets when we're closer to the platform release. However, as a general standpoint we can say that there exist a number of markets that can be served with one common license or even without a license, some that may require an individual license for the territory, and others where betting is illegal and we will not be able to operate (for example China, and that is one of the reasons why we exclude China from the token sale).
We have already looked into the cost and obtainability of betting licenses for our particular type of operation. In most cases we will obtain them directly. In the most difficult cases we will look for partnerships with operators which are licensed for the relevant territory. We have an experienced legal team advising us on this matter and we'll always look for the best solution in terms of cost, compliance, and time.
 Finally, one last question – more out of curiosity. Your website claims Bethereum is "provably fair". Could you elaborate a bit more on practical terms what exactly you mean by "provably fair"?
Peter: The online betting industry is plagued by a number of key challenges. In a nutshell, over time the House always wins. Among other considerations, odds are vastly in favour of the bookmaker, payouts are not always honoured, and regular winners are restricted or banned. There is a lack of transparency and security, high fees and low returns, and low social involvement. These factors alienate asignificant number of potential bettors from taking part in such systems.
In Bethereum players bet with other players, not against a bookmaker, and all bets have a winner. With us, the House doesn't win because there is no House. Players set the odds and all transactions are visible on the blockchain.
Each bet is handled by a Smart Contract. The Smart Contract records the conditions for the bet, keeps the fund in escrow, verifies the bet outcome via the use of Oracles, and automatically pays out the winnings. All this without any human intervention or possibility for manipulation. Furthermore, we will always welcome winners and run the platform with the utmost integrity. So in this way, Bethereum is a provably fair solution.
Interview with Dr. Mag. Klaus Christian Vögl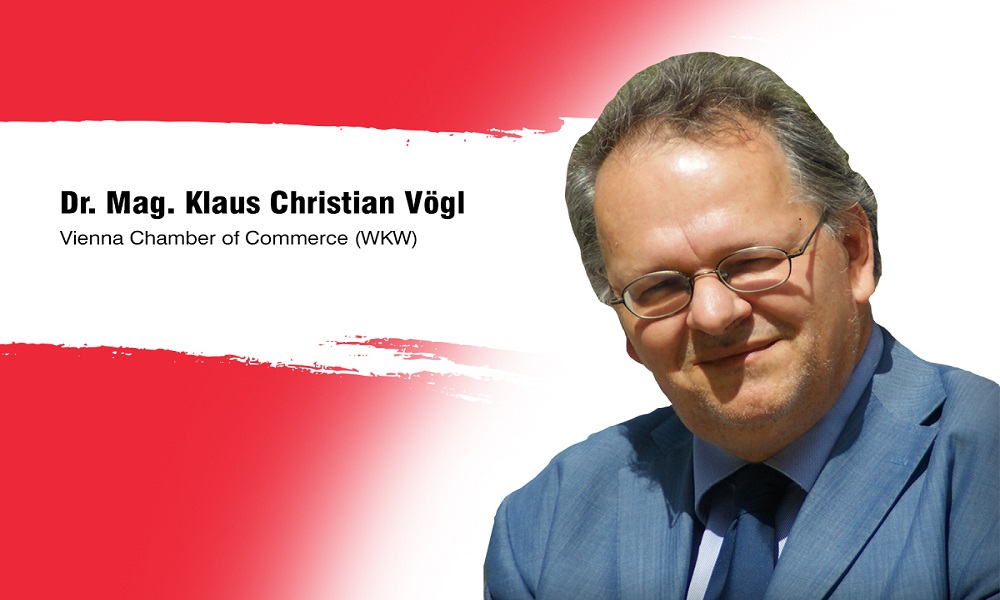 Reading Time:
5
minutes
Dr. Mag. Klaus Christian Vögl, the long-serving Managing Director of the Department of Leisure and Sports Facilities in the Vienna Chamber of Commerce, offers here his lucid opinions on gambling and betting legislation in Austria. He not just talks about the nitty-gritty of legislation, but clearly implies where the new legislation could lead the betting industry to.
He is critical of Austria's legislators and regulator. He says some of the legislators want "simply to preserve and protect the acquis of monopoly companies (Austrian Lotteries, Casinos Austria)". He talks positively about the way gambling legislation is changing in Europe, especially Central and Eastern Europe.
There is much more. Read on for an enlightening interview with one of the foremost legal experts in Europe.
I'd first like to ask you to begin with a few words about yourself. It's always nice to hear top-class professionals say a few words about themselves for our audience.
Klaus: I´m Managing Director of the Department of Leisure and Sports Facilities in the Vienna Chamber of Commerce since 1981. Our specialist group looks after around 40 different branches, from tourist guides to dance schools and sports companies to the gambling and betting sector. The companies in the gambling monopoly sector are members of another division of the Chamber. Here in Austria, we have a statutory compulsory membership of all commercial enterprises in the Chamber of Commerce, which is around 600,000.
Now on to betting laws in Austria. Protective can be a word used for the gambling legislation in the country. It is also somewhat unique in its distinction between betting and gambling. Your thoughts on this?
Klaus: The distinction made by the Austrian Federal Constitution is indeed special. Gambling is a federal matter and essentially regulated in a monopoly, sports betting is a matter of the state and governed by various different state laws. In the betting area, there is (still) a free market regulated under very strict conditions, apart from Vienna. In Vienna the competent authority, due to political decisions, almost does not issue licenses although we have a brand new state law.
The betting law varies from region to region in Austria. For instance, the betting law of Salzburg is different from that of Vienna. What about a uniform betting legislation throughout the country – like the gambling legislation?
Klaus: In fact, the current government program plans to transfer the betting system into federal competence. In principle, nothing would be objectionable. For the providers operating throughout Austria, it could even be a great advantage and a simplification. However, we fear that the legislator and the stakeholders behind it could establish a monopoly or oligopoly, in order to eliminate the free market. As was accomplished concerning slot machines before in 2012.
 There have been reports about new amendments in the betting and gambling legislation, ranging from IP blocking for online betting to the operation of biometric recognition in slot apparatus and setting up of a Competence Center. How are these legal amendments going to affect the betting industry in the country? Is it going to be stricter?
Klaus: We fear that the train will roll in the stricter direction. The planned changes in the gambling sector that you address are not yet affecting sports betting. Setting up biometric controls is not a problem for our industry in itself, even welcomed. What worries us most of all at the moment is the demonization of the betting terminals and, in Vienna in special, the legislators fight against betting exchange. Imagine: the whole country, the government and the whole of Europe is talking about digitization, and then we should get back to the bookmakers switch if possible. Whereas it anyway still exists.
Isn't the conservative approach to betting and gambling legislation a hindrance to the growth of betting and gambling industry in the country?
Klaus: Absolutely, but that's the political will of all political parties in Austria. The Chamber of Commerce is also in favour of strict framework conditions. The gambling and betting market does not have to grow at all, but it should be regulated in a consolidated way. This applies, for example, to the area of online gambling, which is totally ignored by our gambling law, or even online betting, for example, for which the Viennese authorities declare to be not responsible. Only in Salzburg you can apply for such a license concerning betting.
The gaming world has been witnessing a massive change with the introduction of new software platforms, crypto currencies and generally smarter operators. How is Austria's law faring against the changes?
Klaus: Not at all, these areas are ignored and declared illegal by our regulator. The aim of the legislator is simply to preserve and protect the acquis of monopoly companies (Austrian Lotteries, Casinos Austria).
What are the major challenges facing the formulation of betting and gambling legislation as a whole? There is a thin line separating the need for protecting the society from gambling addiction and the need for allowing the industry to grow economically. How do the legislators negotiate this inherent conflict of interests?
Klaus: Legislators see, as far as private sector providers are concerned, exclusively the field of protection of players and minors. Economic considerations or argumentation with secure jobs go nowhere, and there is not even a willingness to talk in Vienna. In the federal states, the policy is sometimes more prudent. When, for example, in Vienna in 2014, the "small slot machine game" was turned off by the legislature, this brought many gastronomic businesses and of course also long-established vending machines companies in distress. We argued with a high number of jobs and a tax loss alone from the amusement tax of around 80 million Euros for the city of Vienna, per year. Then a politician in a leading medium said, "these jobs are worth nothing". In such a view, unfortunately, every factual conversation is unnecessary. On the other hand, the protected monopoly sector is expected to grow, with regular sales and profit figures being published on a regular basis, pointing out the high social importance of gambling. That this is not EU-coherent, is evident.
What are the chances of realizing a unified betting law for Europe, at least for online gambling and betting? A legal equivalent of Euro, that is.
Klaus: The ball is clearly in the hands of the commission, which has been squandering on the "hot mush" for years. Even the Services Directive excluded the gambling sector. The chances are not good in the short term. In the medium term, the need to intervene regulatively cannot be ignored. We can only hope that this does not happen too restrictive, although with full respect for consumer protection, which is one of the declared main aims oft he EU.
On to a more general question now. E-sports are gaining more recognition and exponential popularity. It may soon be drafted into the Olympics too. Do you see any legal hurdles for the further growth of E-sports?
Klaus: As long as E-Sports remains skill-based, I do not see any problems, these are normal events. Should it be possible to make the area Olympic, that would be a milestone, because the sport is regulated more favourably than the game. It could also be legally betted on the outcome of e-sports events, which is currently not possible. It is important to observe whether e-sports is not abused for illegal gambling, there is a certain danger I see, and this would put the entire new business sector in the wrong light.
Now the final question – a bit off-topic. You have had a chance to travel a lot owing to your official position. Could you please share some interesting experience during your travels?
Klaus: It is interesting for me to learn, for example in the Prague meetings, that the countries of Central and Eastern Europe are wider than Austria in terms of realistic regulation of gambling. Unthinkable, for example, that official representatives of the Austrian Ministry of Finance would sit down with operators and ask: what can we do better? Our regulator always knows everything better on its own, even a public corporation like the Chamber of Commerce is only partially heard. Fascinating for me is in my travels, in what a short time Europe has grown together. You can really feel European today, and I do it with all my heart. I still experienced customs borders, the Berlin Wall, the Iron Curtain – an hour's drive from Vienna. How far away is that today! And that's good.
Exclusive interview with Saverio Castellano, co-founder, research director and CTO at GameArt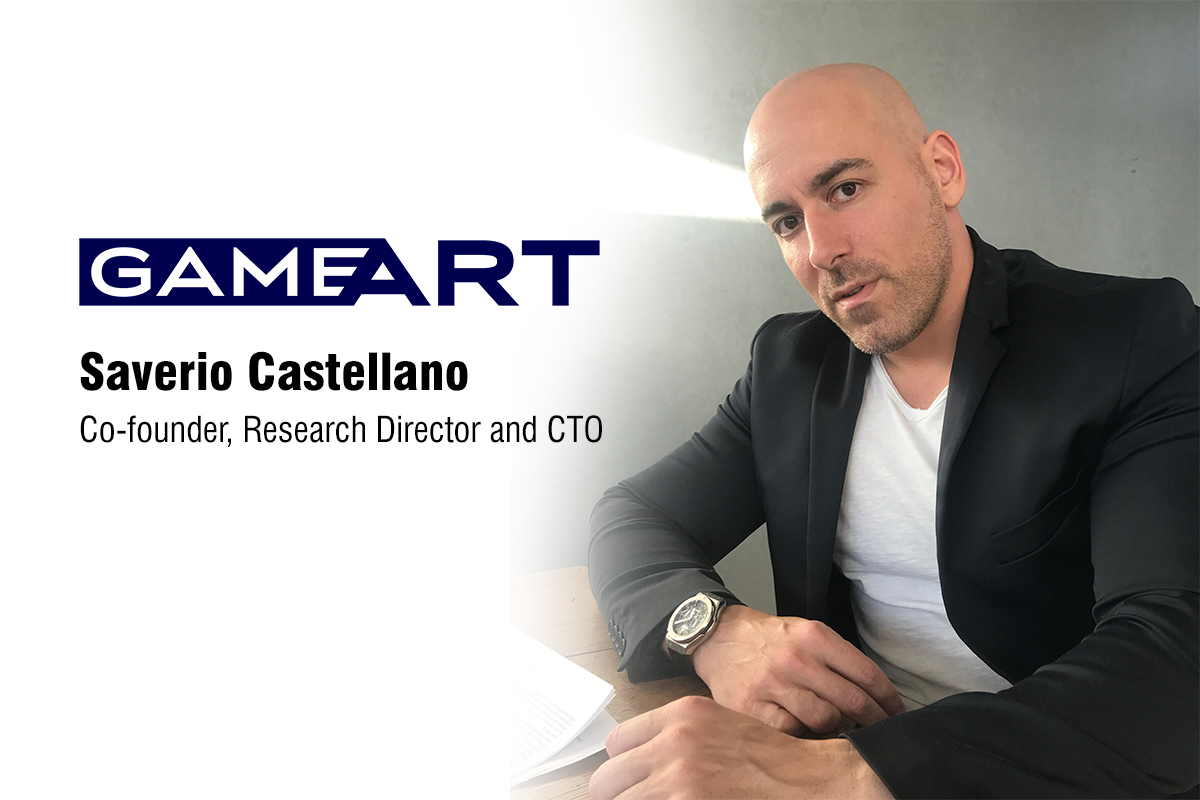 Reading Time:
5
minutes
Our latest interviewee is well know in the online gambling industry, especially in the Omni-channel development. Saverio Castellano is the co-founder, research director and CTO at GameArt, a boutique Omni-channel development studio of customised casino applications and slot games to the online, social and land-based casino verticals, with offices in Malta, Slovenia, and Serbia.  Saverio holds a Ph.D. in Particle Physics and is an igaming industry veteran with 12 years of software and mathematics slots development.
I would like to thank you for spending time to answer our questions. You have rich experience in gaming and gambling industries as one can read in your biography, you are "an Igaming industry veteran with 12 years of software and mathematics slots development." Why did you choose gaming, or may I ask: did the industry choose you? What do you think?
Saverio: From an early age, I was always inquisitive to how everything worked. This led me to study, one of my passions, science and in particular the field of Nuclear Physics. Within Physics, applied mathematics is essential for developing abstract concepts, problem-solving and the practical application of those models.
After completing my Ph.D., I started my career in computer science and software development, gaining extensive experience in design architecture, and an enterprise-level backend for mobile applications. I always had an interest in slots and the iGaming sector which was rapidly growing in Italy, and my first adventure into the world of gaming, was as Head Mathematician of Sogei, the Games and RNG regulator for the Italian state monopoly AAMS, and the rest, as they say, is history.
What role do you undertake in the company's life? What are your tasks and responsibilities?
Saverio: My role within the GameArt business, which I co-founded, is I'm the research director and CTO. Overall I'm responsible for the company's development studios, the management of our engineers, delivery and support teams in Malta, Slovenia and Serbia. This includes the product roadmap, from conception, to prototype to production of slots, for our clients that have Omni-channel businesses across online, social and land-based.
Since the start of GameArt, I have also been the one that invents the concepts of all our slots designs the mathematics, and I have built the foundation of the technologies that the company has been using so far: namely our game server and the game client technology that we rely on to develop our games.
As a business, we are continually striving to be adaptive to fast-changing technologies and part of my remit is to source, and research how the latest tech can be used within our business and more importantly by applied within the regulated iGaming ecosystem.
Will you please tell us about the difficulties and successes you have experienced during your career?
Saverio: In answering this question I will refer to my experience with GameArt only. Otherwise, there'd be too much to say here. What has enabled GameArt to start and become in such a short time a successful business is entirely the ideas, experience, and expertise of me and the other two partners who founded the company.
When we were still in a start-up phase, there were many potential venture capitalists that would be interested in investing in GameArt. Again, we decided to do everything with our own strength. This definitely made things harder and a lot more challenging especially in the initial phase. I have learned that becoming an essential player in the gambling market it is not only about having great games, but you also need to go through the whole process of acquiring licenses, getting the games certified, establishing your name, and deal with a lot of other things.
Despite the significant challenge, we succeeded and had made all of this without a consistent upfront investment, and this is what I consider our most significant success.
GameArt is a leading-provider of high-quality digital gaming. Please speak about this company, its activity and its goals.
Saverio: Since its inception, GameArt has been focusing on producing slot games only. Slot games are what we like, what our expertise is, what we do well.
Our mission derives from the consideration that there is a gap between the quality of the slot games in the online gaming world and one of the best performing slots that you find in the world's best casinos and more generally in the class III world. In creating our portfolio of slot games, we have been aiming to fill this gap, producing high-quality slots with outstanding graphics and solid mathematics. Because of this, even focusing mainly on online gaming we have been able to expand our business to the landbased world as well.
Which are the most successful, most popular products you offer to your clients?
Saverio: The success of our product stems from the ability to release game titles that appeal to different markets and different player demographics. If we look at our range of slot games, there are games like Money Farm 2 and Dragon Lady that are among the best performers in Europe, and games like Dragon King and King Of Monkeys that are much appreciated by Chinese players and are doing very well in Asian markets.
Our product offering is completed with a cutting-edge gaming platform that offers our clients powerful features and marketing tools to promote games and maximize revenues, such as multi-level and multi-currency jackpots, free spins, tournaments, and campaigns.
Tell us please about the future plans, projects of GameArt.
Saverio: Our current goals are to maximize revenues and get a bigger slice of the markets in Asia and Italy where we are already doing quite well.
Having completed the certification process for some of the most stringent regulated markets, our next goal is to approach big operators and at the same time extend the certification to other countries where we are still not operating. Completing the process of acquiring the UK license is our most important short-term goal at the moment.
We are also looking at blockchain technologies, and we recently made a prototype which consists in having integrated our game server with the Ethereum blockchain so that people can play our slots directly on the blockchain and have all gameplay provably verifiable. This is an exciting topic which we will continue to explore and pioneer during this year.
I would like to ask you a more personal question. In what ways does work influence your personal life, your personal growth and what does success mean to you?
Saverio: Work and personal life in my case are entirely entwined. I like it to be this way since I chose to be part of this industry because I understood that it enables you to have a very dynamic life and keep yourself busy doing exciting things.
The influence that my work has had on my personal life is enormous, and it is not limited to the economic side as it allowed me to travel the world, to meet great people and to do fantastic, challenging experiences.
The meaning of success is comprehensive, in my case; it has to do with the amount of freedom and control of my own time.
ABOUT GAMEART
GameArt is a premium developer of slot games to the online and land-based gaming industry, including leading online operators, video-lottery suppliers, and casino game machine manufacturers.
New licensees include established operators looking to expand or diversify their games offering, fast-growing challenger-brands looking to increase market-share, and start-up operators, including those targeting newly-regulated markets.
GameArt's core technology provides a true multiplatform capability and its game management system provides licensees extensive integration options, high-level bonus, and CRM capabilities, plus predictive business intelligence tools to help maximize game-player retention and improve ROI.
For more details, visit www.gameart.net