33 Cryptocurrencies Described In Four Words Or Less – INFOGRAPHIC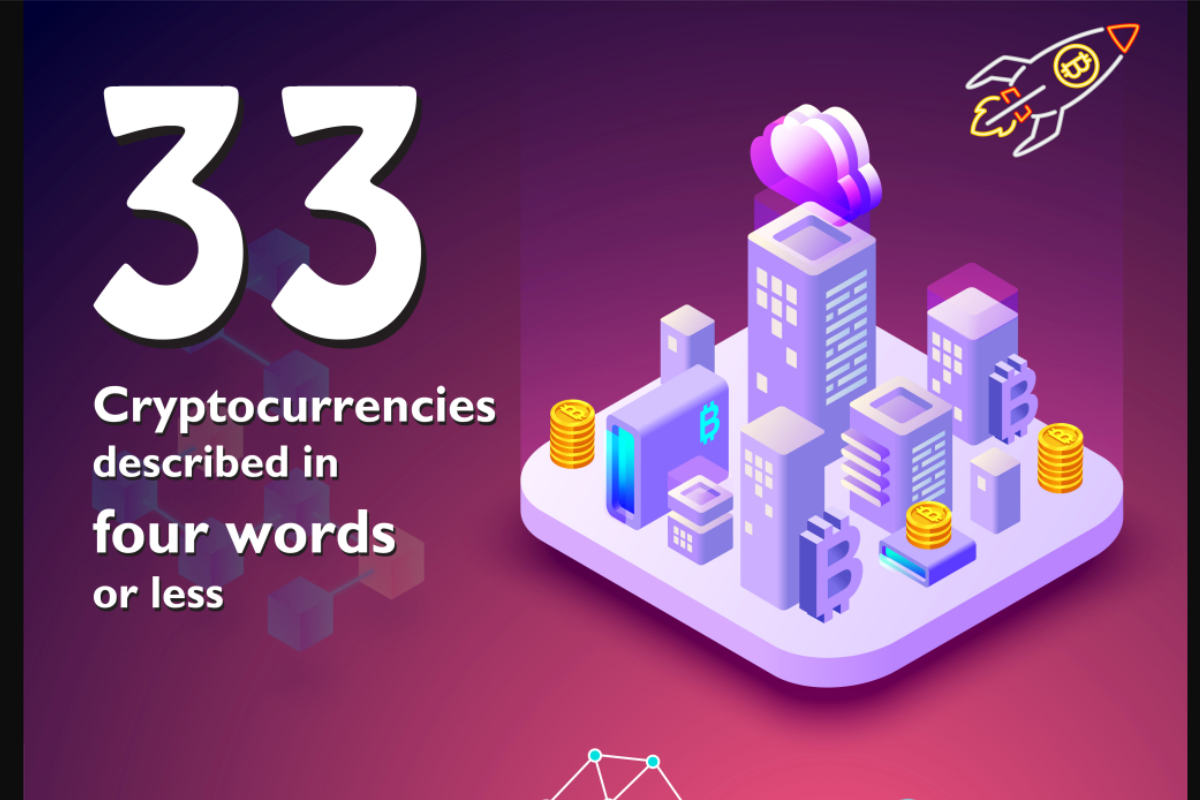 Reading Time:
2
minutes
A cryptocurrency in the simplest of words can be defined as the digital money which can be used to purchase goods and services. Unlike the traditional ones the major difference with the cryptocurrencies is the values of most are not fixed. This makes as an asset for investment where the investors buy cryptos at low price and sell them when its price increases.
To make it more simple Cryptocurrencies is basically a combination of two words Crypto and currency, which means a cryptographically encrypted currency. All the crypto transactions are recorded in a public ledger called blockchain. Blockchain technology has many uses amongst which recording the transactions is one such use.
Bitcoin was the first cryptocurrency created and following its release a number of other cryptocurrencies have come, each having a different use. All these cryptocurrencies which followed bitcoin are termed as Altcoins. The crypto world has some important terms associated with it. Let us understand what they are.
Cryptocurrencies are encrypted what really means is these cryptos are reliable and secure. Encryption actually means to convert a meaningful data into a code which is complex to understand and decrypt it. Encryption acts as the backbone to cryptocurrencies. For a normal data to be encrypted a same key is used to encrypt and decrypt. But for cryptocurrencies two keys are used which are mathematically linked to each other.One is used for encryption and the other is used for decrypt which makes cryptos more secure.
A decentralized system is the core concept of cryptocurrency. This can be understood well by the bank function, which are governed by a regulating body to control all the funds. Failure of the governing body collapses the whole banking system. Therefore cryptocurrency developers believe in a strong need of a decentralized system. The system works on a set of predefined mathematical laws.
Today, cryptocurrency is accepted widely across the world in different fields and is mostly accepted by Bitcoin casinos in the online gambling industry. We have an interesting infographic on – 33 Cryptocurrencies described in four words or less, and this infographic was created by our friends at Mrbtc.org. Checkout the following infographic and share your thoughts on it.