"Impressive is a synonym for efficient" – An exclusive interview with Iryna Kurochkina, Founder & CEO of Digital Choo (DC)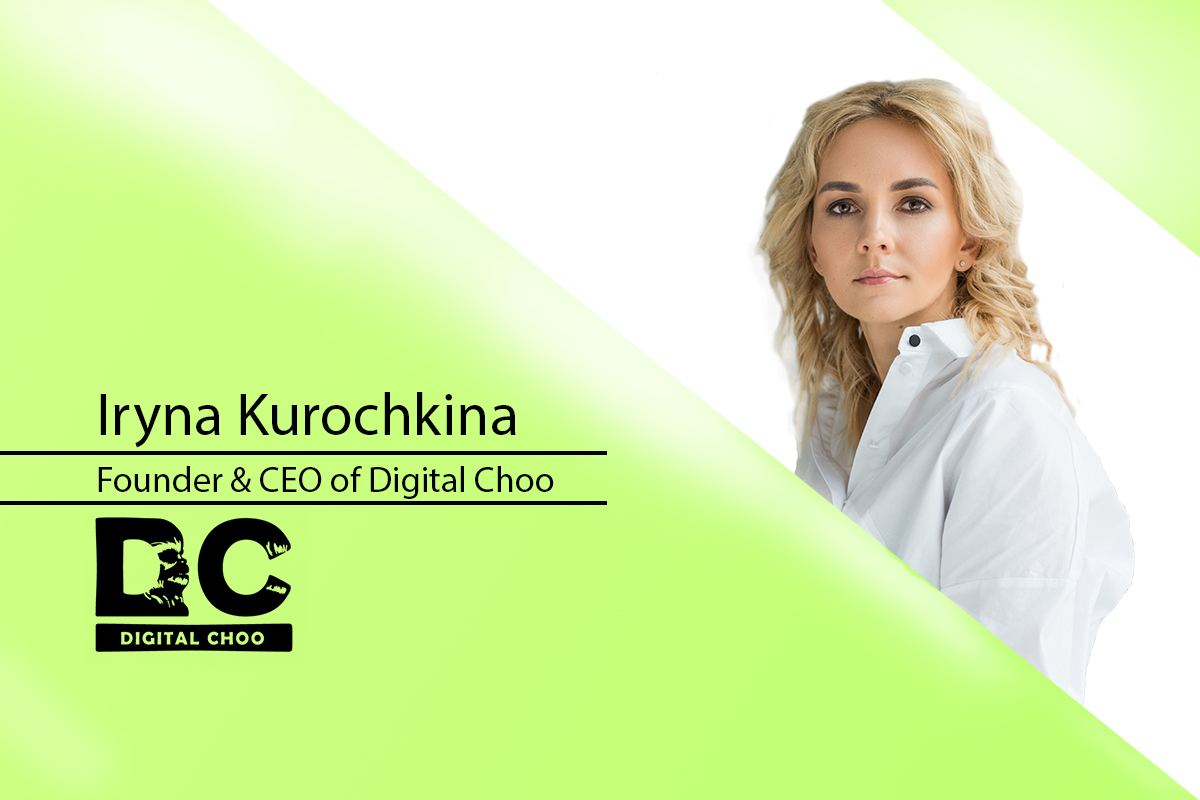 Reading Time:
6
minutes
We managed to catch up with Iryna Kurochkina, Founder & CEO of Digital Choo (DC) for an in detail interview about digital marketing and the creative work behind it.
EG: Let's begin with a few words about Digital Choo. How did the idea of Digital Choo as a digital marketing company evolve? Who were your first clients? Any interesting stories about the company's early years? What does the name Digital Choo signify?
Iryna: Looking back at Digital Choo's first year and compared with what has been accomplished, I am extremely satisfied with our progress. The idea has been growing with 10 key team members for the last couple of years and was conceived from the remnants of some standardized marketing practices that are arcane and unsurprising. We wanted to create, amaze and showcase unique features that would not just inspire but also bring exponentially great results to a client's business.
The agency's name makes you think of digital, but it doesn't indicate our primary direction. We are not only digital; we are a full-range marketing agency, unlimited in our capabilities. But of course, digital is the primary performance media channel of our focus. Our approach fits perfectly with one of our first clients, Parimatch. Other clients supported it too, and the agency grew from 10 people to well over 200 – all of them with the same spark in their eyes and inspiration for unconventionality.
EG: You seem to invest a lot of time and effort in attending conferences. How do you approach conferences? Could you offer any tips to those who are new in the field? What are the things that a participant should do to get maximum leverage out of conferences?
Iryna: Conferences always provide the best opportunities for practice exchanges. They expand our breadth of knowledge through interactions between Product Owners and Service Providers in the gaming industry. This provides a greater understanding of the current capabilities from industry representatives who understand the existing barriers and expanding them through meaningful collaboration. This it is important to DC, as we never rest on our laurels. We are continually working on future trends within the industry and immediately turning them into a general market for customer demand.
The same could be recommended to others – newbies and those who have been in the field for a long time. Productive communication is the key to the development of individual units and the industry as a whole – it's a synergic process, one that is not possible without the other. To get the maximum from every event, define the most important ones for the development of your business, invest maximum effort in them, and expand gradually.
EG: DC has won a number of awards recently, especially creative awards. Which of these are the most satisfying to receive? How do you handle the pressure of maintaining such high benchmarks in subsequent campaigns?
Iryna: Each award is a win and we don't get tired of winning. Of course, we are really proud of the international recognition received. Just this year we were named Best Marketing Services Provider by Betting Awards. Last year we received an Effie Award for providing business efficiency to our local clients. International and local awards are important as they confirm our efficiency and pre-eminence not only on a global scale but also within individual countries that have their own distinctive peculiarities.
In regards to stress, I believe it all depends on how you see it. For us, high benchmarks are the average, something that we strive for on a daily basis, which is our starting point. Taking it to another level, we raise the bar by creating trends, not following them. That develops undue pressure which is the norm, a source of inspiration.
EG: DC operates in a number of countries across continents, Europe, North America, and Africa, offering services to betting and gaming companies. The legal frameworks and regulations regarding betting and gaming vary substantially across countries. Isn't it a challenge to unleash the creativity, while keeping a close eye on the legal aspects? What are your strategies to handle this?
Iryna: It's like life, everything is very simple. If you can't make a difference, change yourself and your perception. In fact, in our business, adaptation is a key tactical tool used within the gaming industry. You cannot change regulations that are constantly changing but you can adapt. You can adapt your product to be responsive to these changes in the shortest of possible terms, you cannot avoid or increase the online or offline frontiers but you can create unique ways to break through the clatter of these frontiers by thinking outside the box and observe the performance in your results.
By taking a fresh approach, we strive for the best and brightest solutions. It is the primary approach of every one of our teams and is integrated into our company when providing services to every one of our clients.
EG: The betting and gaming industries are crowded places with a number of companies operating in each segment. What are the primary yardsticks or criteria that you use for making a particular brand stand out among the crowd?
Iryna: In our time, emotion has become a kind of cult and has already turned into one of the fundamental drivers of success for many businesses that have been gradually introduced into each industry. The bolder the clients, the more efficient are the agencies that are not afraid to accept their challenges. In other words, always be ready to make the impossible possible, and do not just use your expertise with rational persuasion factors and logical arguments on customers.
We try to inspire clients with our ideas and deeds and they often come to us just for this emotion. To us, "bucking" the old stereotypes and not proving every new unique decision that in the current world of transformation of the consumer is what works and brings them multiple results. Moreover, this concerns not only creative solutions but also the methods of implementation and distribution, formats and methods of media distribution and delivery to the consumer. We continue to develop this trend. These are the primary tools of self-measurement, to be out of the box.
EG: It is one thing creating amazingly impressive marketing campaigns for a brand and it is another thing bringing in revenue for the brand. these factors may not always go hand in hand. Could you share a particular case where both aspects went exactly as planned?
Iryna: In my opinion impressive is a synonym for efficient.
For example, let's take a look at our rebranding campaign, the last one we made for our client Parimatch. We had to find a new spirit of true Parimatch customers and develop new communication language with them in order to grow the brand from an online bookmaker to a lifestyle platform for the courageous. Utilizing research and possessing a deep understanding of Parimatch' typical customers. We have known that in order to create a new concept that is relevant for them it is imperative that their perception of themselves be; bold, adaptive and bright as they are.
The information field is saturated, the audience has become more "muscular", it is more demanding on the visual presentation of brands.
You need to instill and introduce strong core beliefs into them, and then like a great designer using bead after bead to string up different WOW chips; enriched with non-standard shooting techniques, visual trends, and high-quality sound.
The business goal was to attract the correct audience, to strengthen the connection with the core of the existing one, and eventually to grow profits. To see this connection, you have to look at any task strategically, in the long term. To me, there's no other way to work. if you want the business to succeed, you have to gain true synergy from a combination of 'impressive' and 'profitable'.
So, returning to the question, if you want to see cases where both aspects have gone exactly as planned, there are plenty on our website.
EG: In several countries, for example, in the UK, advertising watchdogs are increasingly tightening the screws on betting and gaming advertising, especially concerning the impact of these ads on children and problem gamblers. What is your take on this?
Iryna: I believe that bans and creating a stigma on communications regarding these issues won't solve them. The Forbidden fruit is sweet and never enough.
Let's consider a TV series for example. It's a popular, accessible, and joyful product. It's totally fine as a way to spend your free time occasionally. But binge-watching can become real trouble and harm people's daily lives, jobs, sometimes even families. Does this mean we have to ban all TV series? The more logical and productive decision is to communicate the risks of binge-watching and promote shows as an entertainment hobby.
This approach applies well on betting and gambling as well. The real question always lies in the area of adequate perception and open discussions. Bans may cause a rise in unhealthy interest towards the industry, while legalization, on the contrary, will promote responsible gaming, introducing it as a totally acceptable hobby.
EG: Finally, let us talk about the future. Any big announcements coming up? How do you see DC developing in the next few years?
Iryna: After the last few years and our ambitious start, we have devoted ourselves to more rapid development. It is our primary driver. There are a lot of plans: it's like the widening of the DC holding structure as a whole, its expanding by many digital innovation departments, as well as the introduction of new initiatives by our team, both in the scope of branded content projects and media platforms, which will be relevant within a couple of quarters.
We are already working on the next innovative trends of the industry and immediately turning it into a general market for customer demand.

Crypto Millions Lotto's Sulim Malook on What Happens When Lotto Meets Bitcoin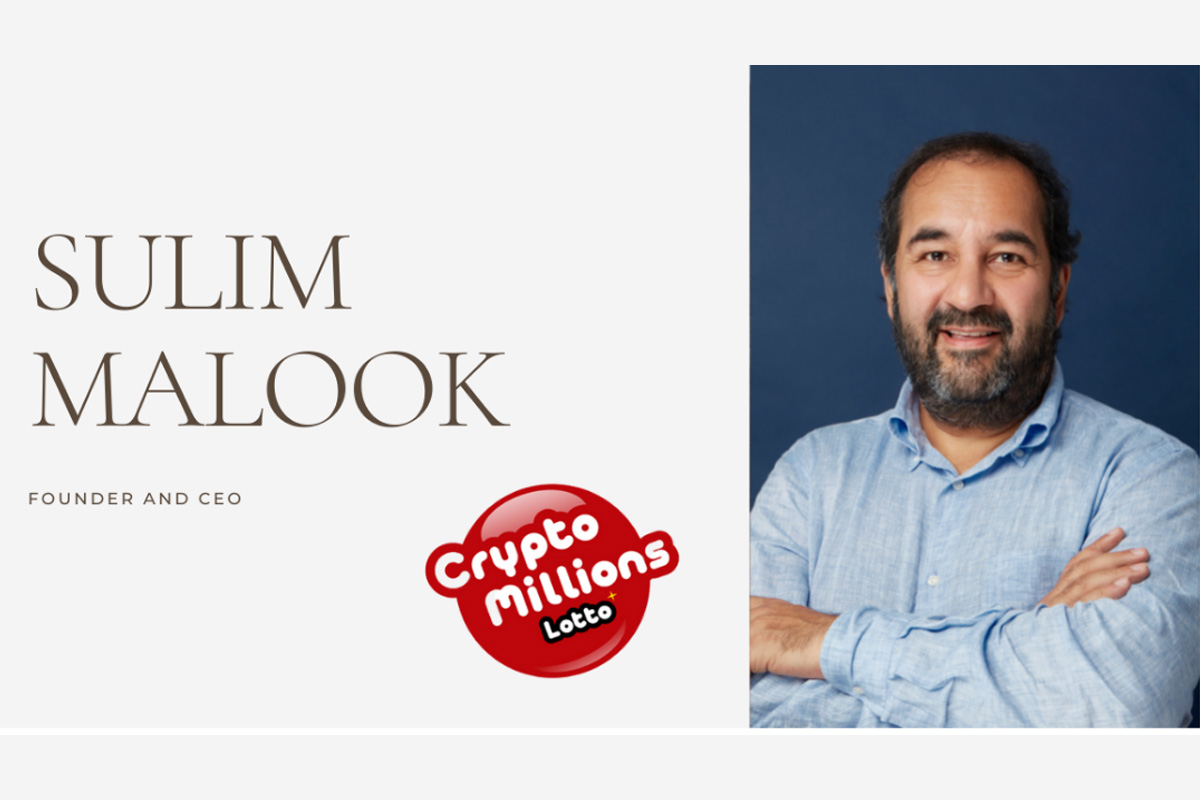 Reading Time:
3
minutes
The proposition of Bitcoin lotteries is simple. If you go to a casino, you have to buy chips from the cashier to play. When you finish playing, you can cash your chips in for money, or keep them for next time. With a digital lottery, you play with a digital currency. In the case of Crypto Millions Lotto it's Bitcoin. Think of bitcoin as the chips you have to buy to play Crypto Millions Lotto. Players deposit bitcoin to play, and if they win, they get paid in bitcoin. One exception is that if you're lucky enough to win the jackpot, this innovative digital lotto gives you the option to take your winnings in bitcoin or a local currency of your choice.
There are some really strong arguments for considering bitcoin lotteries vs traditional ones. There are two major reasons. The first is that if you play games across borders using a credit card or any other traditional form of payment, then there are complications and frustrations around whether the payment can be made or if it will be blocked, the exchange rate, and payment periods. Using bitcoin removes all of that because it knows no borders. 
The second reason is that by operating digitally using bitcoin companies like Crypto Millions Lotto can avoid a lot of infrastructure costs, including payment processing charges. According to Sulim Malook "Having a low cost base allows us to offer bigger jackpots. Our jackpots are bigger than the majority of state-run lotteries and bigger than any of our online competitors."
How Does a Digital Lottery like Sulim's work?
"We allow people to play the numbers of eight of the world's biggest lotteries on our website. Although they choose the numbers on our site, they're actually betting on the numbers of a state lottery, so numbers are drawn by each of the underlying lotteries. That way we remain completely independent.
This means people can play every time one of those eight lotteries has a draw, in total 14 times a week.
In case people don't see the live draw, we announce all of the winning numbers on our website, and we notify all winners by email immediately. Payment of winnings is made within minutes of the lottery ending."
Bitcoin lotteries are the natural progression from digital lotteries
The first big shift was from offline to online, but all that really changed was how we bought and received tickets for a single lottery.
The next shift was allowing people to play many different lotteries online, and for that people needed a better way to buy tickets and to receive winnings. Sulim says "That's where bitcoin came in. So, we haven't adopted bitcoin just because it's a digital currency. We've done it because it's the best currency for the job."
Covid's Effect on The Lottery
Contrary to what you might imagine, historically, the lottery performs well in downturns and recessions, as people try to generate fast money for themselves. Covid, of course, has put a lot of the world into recession, so the lotto industry as a whole as well as the gaming sector has performed well. 
But more significant than that, Covid has exposed the flaws and tensions in the traditional lottery model. Specifically, that it relies on a network of small retailers to sell tickets, most of which have now been closed and certainly were not contactless anyway.
The result, according to Sulim, is that people have gone online. "So not just us, the whole online lottery industry has seen a big uplift, while the traditional lotteries have seen a negative impact."
And yet the lifting of COVID restrictions has not impacted this sector negatively. Sulim was clear that "On the contrary, the effect has been positive. With some state lotteries closing down for months, playing online was the only option. In our view, this is a good thing for an industry that has been living in the dark ages.
I'd liken it to working from home. Covid has opened many people's eyes to the benefits of home working. Some people might go back to the office after Covid restrictions are lifted. But for many others, they've discovered a new way of doing things and will stick with it. It's the same with the digital lottery. We introduced it to many people who now prefer it and who won't go back to the old way."
Business is booming at Crypto Millions Lotto and the team has a lot in the pipeline. So what comes next for a business of this ilk? 
"We have lots of exciting things in our pipeline. We've recently added six new lotteries, and we're planning to add more. We also plan to add more games, as well as offering players the ability to get bitcoin using their credit cards directly on our site.
As our user base expands into more countries, we want to offer Crypto Millions Lotto in multiple languages.
We have also just launched an affiliate program, which we believe offers a more attractive proposition than other affiliate programs already out there."
Exclusive Q&A with Sergey Tsukanov, Head of Sportsbook at Betby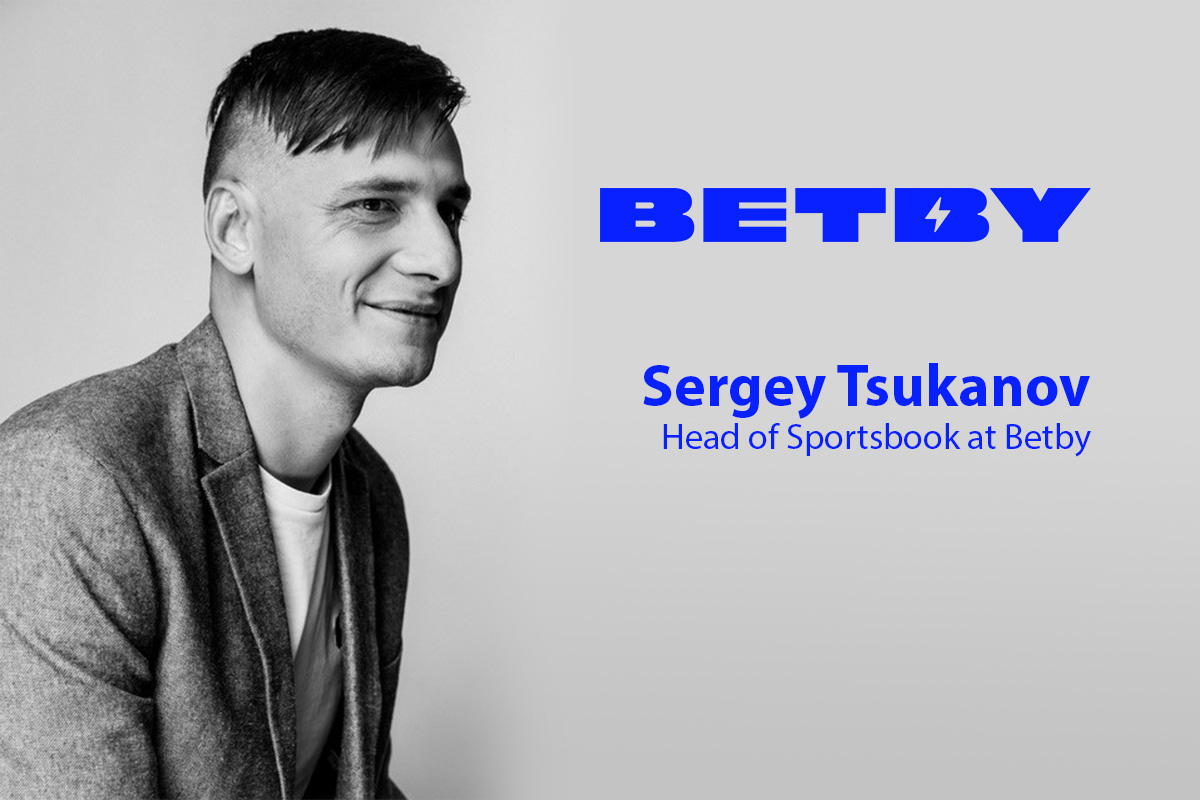 Reading Time:
3
minutes
Are big summer events the most important part of the year, or just an added benefit to day-to-day activity?
Summer sporting events are a big deal for global sportsbook suppliers as they present endless opportunities to boost engagement and deliver unique promotions, but I see it as a bit of both.
After a prolonged period without any major football tournaments and over a season's worth of fixtures being played behind closed doors, the European Championships and the Copa America have arrived at the perfect time for sport lovers around the world.
The spike of growth in the number of users around these events is very much influenced by the market and depends on many factors, like whether a local team is playing in the tournament and what sources the operator gets its traffic through.
We see a similar number of bets placed on a given day of the European Championships as we do on the night of the Champions League final, with the latter stages of the tournament only attracting more users. This is a testament to the popularity and appeal of summer sporting competitions.
How can sportsbook suppliers prepare for these huge events, which should see significantly increased traffic?
Betby prides itself on the flexibility of its products and ability to pivot its platform to suit specific requirements. Preparation for tournaments of this size is key due to the huge spike in user activity during the games.
Work schedules around the time of major events are changed to facilitate the increased number of bets being placed before games, as well as requests from clients to run campaigns in the build up to the tournament.  We also tend to increase the number of markets of bets ahead of these competitions to set it apart from regular sporting events.
Are regional sporting events, such as the European Championships or Copa America, popular globally or only within those regions where the games are being played?
For the most part, there is little interest in the Copa America in Europe, and the same can be said for interest in the European Championships in Latin America, but there are always sport enthusiasts and other outliers that must be catered to.
For example, the Argentina-Brazil clash will undoubtedly see some interest around the globe thanks to the prominence of superstars like Lionel Messi and Neymar. That said, when you consider the time difference and abundance of smaller ties, global figures will always be smaller in comparison.
This problem is not specific to football; we see the same issue in the NBA where European followers are expected to sacrifice sleep and brave the early hours of the morning just to watch their team play.
Can the Olympics ever become a major betting event?
This is a very complex question. There's a feeling that the Olympics is slowly losing relevance in the sporting community.
Perhaps we should not talk about the Olympics as a whole, and rather focus on the separate events that make up the competition. The tennis is always interesting to watch from the start due to the 'knock-out' nature of the ties, whereas football in the Olympics only becomes a knock-out once teams pass the group stages.
The dedicated following that we see at club and international level in football, rugby and other global sports audiences is just incomparable to the following that Olympic sports like rowing or fencing get throughout the year.
How has Betby approached the bumper sporting summer of 2021?
Without going into too much detail on our plans for the upcoming summer, I can confirm that we have changed our priorities to assist the launch of a host of additional football markets for the European Championships.
We recently reimagined the 'classic' sportsbook in the design of our site's new layout, so it now boasts a fully responsive user interface, easy site navigation and swift betting placement, which addresses feedback we received from our users.
With a brand-new sidebar, high-quality widgets and more markets than ever before, we have done everything in our power to make this summer as enjoyable as possible for our audiences. After all, there has been so little to celebrate over the past 18 months that a touch excitement is long overdue.
Spiffbet – Rhino Gaming's next-level gaming experience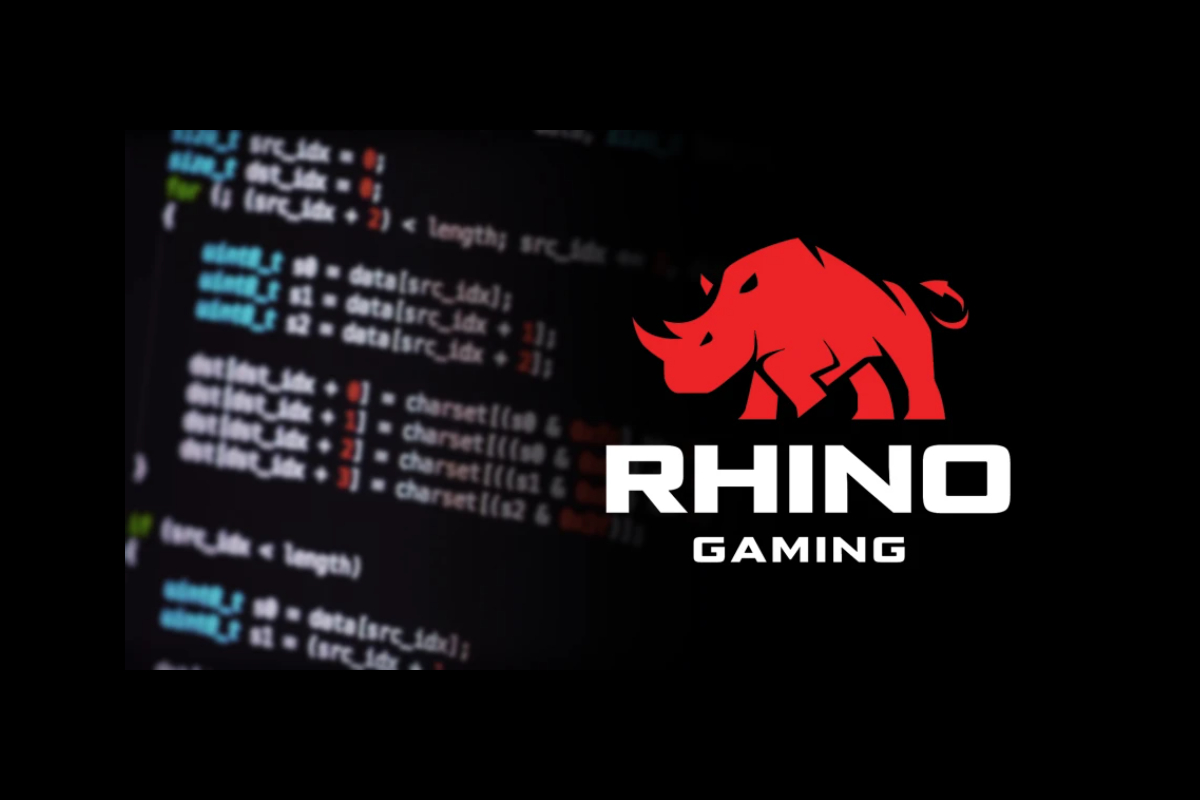 Reading Time:
3
minutes
Spiffbet's Head of Game Development Riaan du Randt shares his thoughts about Rhino Gaming's re-launch, new focus, and opportunities ahead. 
Riaan, please tell us about your background
I started working in the igaming industry in 2005. During this period, the industry was tiny yet innovative. After many years in igaming, I started focusing on R&D for mobile gaming in the casual gaming market for a period of time instead. It was exciting, and I learned a lot, but it never really motivated me as much as igaming. The next chapter of my career was the most exciting, as the entire online casino industry started moving towards HTML 5. This prompted me to move back to igaming which has always been my passion. I joined Spiffbet in 2018, and it has been one of the most exciting and rewarding experiences to date.
Spiffbet recently rebranded parts of their game portfolio to Rhino Gaming. What is the rationale behind the rebranding?
We see Rhino Gaming as the next chapter in our game production journey. When we started the studio, our priority was to balance quality with quantity since we needed to grow our portfolio as fast as possible. Now that we have established ourselves as a solid gaming studio, we are switching gears to start producing games that stand out from the crowd, emphasizing innovative games with robust features. We have a talented and creative team that I am proud to be part of.
Can you describe the concept and the type of games that are produced under Rhino Gaming? How does it differ from Spiffbet's other portfolio STHLM Gaming?
In this competitive market, it is essential to offer the operators something special. We believe the best way to achieve this is by developing unique game mechanics combined with high production quality. Our STHLM Gaming products cater to a specific market that likes fun games with easy to relate themes. With Rhino Gaming, we aim to appeal more to players looking for edgy games and players in growth markets.
Do you have a particular target group for your games?
Yes, I believe our main target will be the plus 20-something to middle age that likes fresh, innovative games. A great example would be to look at Metal Casino. Niche operators like these will give us an audience that is seeking an edgy content.
Game development is a sector where the competition is fierce. How do you relate to your competition, and do you have clear-cut competitors?
Our goal is not to compete with the top-tier studios head-on, but to target niches with unique games and stand out by creating a next level experience and meeting the preferences in new growth markets.
Today Spiffbet has completely changed its character and is now perceived as a B2C player. What is your comment on this change?
The recent year with high growth within the B2C casino business will strengthen the overall operations. However, people tend to forget that we, Spiffbet, comes from game development. Last year's acquisitions have certainly overshadowed that part of the company. Many have not picked up all the positive changes that have taken place within the game development. The relaunch under Rhino Gaming will hopefully put the spotlight back onto our games. We welcome that other studios of similar size have taken the step out in the spotlight by becoming publicly traded companies. Good examples are Fantasma Games and LL Lucky Games (Lady Luck). Fantasma Games has as a similar operating model as STHLM Gaming but is somewhat larger. Lady Luck is similar to Rhino Gaming. Currenty, Lady Luck games is supplied along side our games on our platform. These companies are both interesting benchmarks when we evaluate our development and future steps.
What benefits do you see working within a larger group like Spiffbet with one foot in casino operations and the other in game development?
It puts us in a unique position that presents many opportunities to take advantage of. It all played a big part in our decision to push the production value up a notch. We also get valuable feedback from Spiffbet's online gaming branch on the games we produce.
Looking ahead, what can we expect from Rhino Gaming?
We got plenty of exciting stuff in our pipeline. Check out the teaser for our upcoming release of Dragons of Asgard. Stay tuned!