"Impressive is a synonym for efficient" – An exclusive interview with Iryna Kurochkina, Founder & CEO of Digital Choo (DC)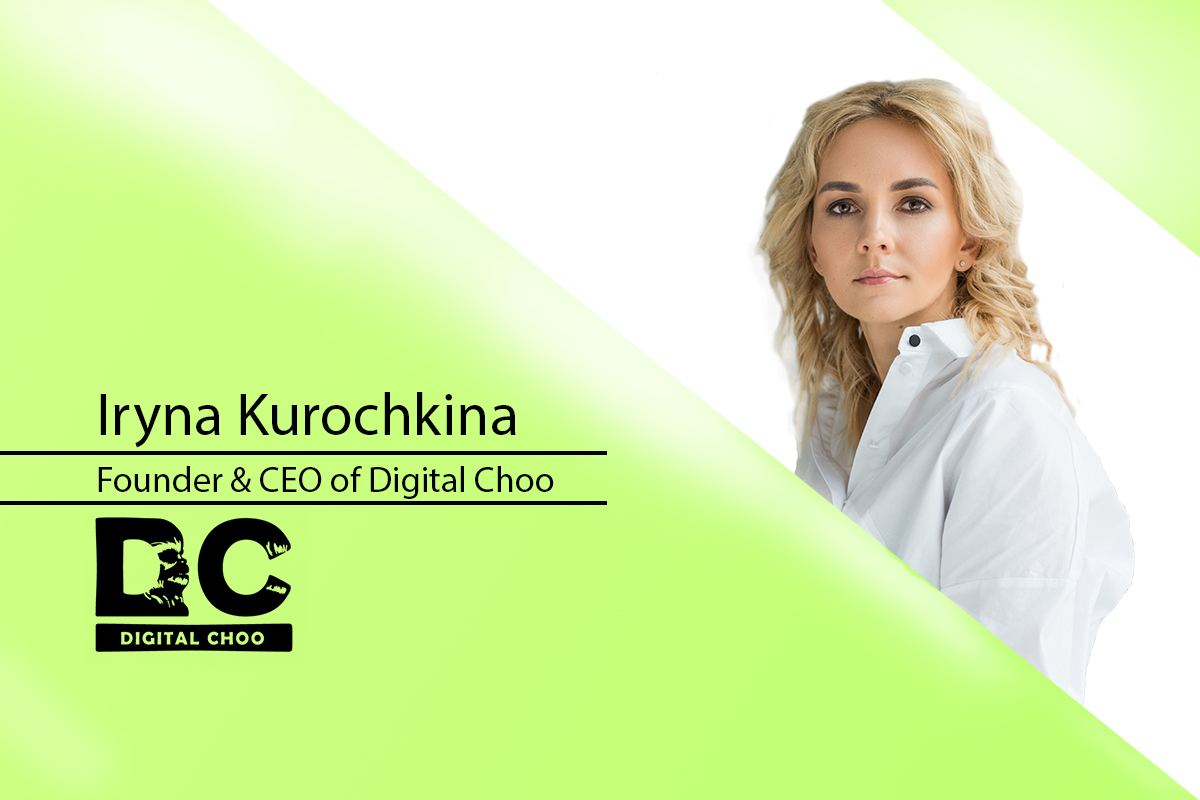 Reading Time:
6
minutes
We managed to catch up with Iryna Kurochkina, Founder & CEO of Digital Choo (DC) for an in detail interview about digital marketing and the creative work behind it.
EG: Let's begin with a few words about Digital Choo. How did the idea of Digital Choo as a digital marketing company evolve? Who were your first clients? Any interesting stories about the company's early years? What does the name Digital Choo signify?
Iryna: Looking back at Digital Choo's first year and compared with what has been accomplished, I am extremely satisfied with our progress. The idea has been growing with 10 key team members for the last couple of years and was conceived from the remnants of some standardized marketing practices that are arcane and unsurprising. We wanted to create, amaze and showcase unique features that would not just inspire but also bring exponentially great results to a client's business.
The agency's name makes you think of digital, but it doesn't indicate our primary direction. We are not only digital; we are a full-range marketing agency, unlimited in our capabilities. But of course, digital is the primary performance media channel of our focus. Our approach fits perfectly with one of our first clients, Parimatch. Other clients supported it too, and the agency grew from 10 people to well over 200 – all of them with the same spark in their eyes and inspiration for unconventionality.
EG: You seem to invest a lot of time and effort in attending conferences. How do you approach conferences? Could you offer any tips to those who are new in the field? What are the things that a participant should do to get maximum leverage out of conferences?
Iryna: Conferences always provide the best opportunities for practice exchanges. They expand our breadth of knowledge through interactions between Product Owners and Service Providers in the gaming industry. This provides a greater understanding of the current capabilities from industry representatives who understand the existing barriers and expanding them through meaningful collaboration. This it is important to DC, as we never rest on our laurels. We are continually working on future trends within the industry and immediately turning them into a general market for customer demand.
The same could be recommended to others – newbies and those who have been in the field for a long time. Productive communication is the key to the development of individual units and the industry as a whole – it's a synergic process, one that is not possible without the other. To get the maximum from every event, define the most important ones for the development of your business, invest maximum effort in them, and expand gradually.
EG: DC has won a number of awards recently, especially creative awards. Which of these are the most satisfying to receive? How do you handle the pressure of maintaining such high benchmarks in subsequent campaigns?
Iryna: Each award is a win and we don't get tired of winning. Of course, we are really proud of the international recognition received. Just this year we were named Best Marketing Services Provider by Betting Awards. Last year we received an Effie Award for providing business efficiency to our local clients. International and local awards are important as they confirm our efficiency and pre-eminence not only on a global scale but also within individual countries that have their own distinctive peculiarities.
In regards to stress, I believe it all depends on how you see it. For us, high benchmarks are the average, something that we strive for on a daily basis, which is our starting point. Taking it to another level, we raise the bar by creating trends, not following them. That develops undue pressure which is the norm, a source of inspiration.
EG: DC operates in a number of countries across continents, Europe, North America, and Africa, offering services to betting and gaming companies. The legal frameworks and regulations regarding betting and gaming vary substantially across countries. Isn't it a challenge to unleash the creativity, while keeping a close eye on the legal aspects? What are your strategies to handle this?
Iryna: It's like life, everything is very simple. If you can't make a difference, change yourself and your perception. In fact, in our business, adaptation is a key tactical tool used within the gaming industry. You cannot change regulations that are constantly changing but you can adapt. You can adapt your product to be responsive to these changes in the shortest of possible terms, you cannot avoid or increase the online or offline frontiers but you can create unique ways to break through the clatter of these frontiers by thinking outside the box and observe the performance in your results.
By taking a fresh approach, we strive for the best and brightest solutions. It is the primary approach of every one of our teams and is integrated into our company when providing services to every one of our clients.
EG: The betting and gaming industries are crowded places with a number of companies operating in each segment. What are the primary yardsticks or criteria that you use for making a particular brand stand out among the crowd?
Iryna: In our time, emotion has become a kind of cult and has already turned into one of the fundamental drivers of success for many businesses that have been gradually introduced into each industry. The bolder the clients, the more efficient are the agencies that are not afraid to accept their challenges. In other words, always be ready to make the impossible possible, and do not just use your expertise with rational persuasion factors and logical arguments on customers.
We try to inspire clients with our ideas and deeds and they often come to us just for this emotion. To us, "bucking" the old stereotypes and not proving every new unique decision that in the current world of transformation of the consumer is what works and brings them multiple results. Moreover, this concerns not only creative solutions but also the methods of implementation and distribution, formats and methods of media distribution and delivery to the consumer. We continue to develop this trend. These are the primary tools of self-measurement, to be out of the box.
EG: It is one thing creating amazingly impressive marketing campaigns for a brand and it is another thing bringing in revenue for the brand. these factors may not always go hand in hand. Could you share a particular case where both aspects went exactly as planned?
Iryna: In my opinion impressive is a synonym for efficient.
For example, let's take a look at our rebranding campaign, the last one we made for our client Parimatch. We had to find a new spirit of true Parimatch customers and develop new communication language with them in order to grow the brand from an online bookmaker to a lifestyle platform for the courageous. Utilizing research and possessing a deep understanding of Parimatch' typical customers. We have known that in order to create a new concept that is relevant for them it is imperative that their perception of themselves be; bold, adaptive and bright as they are.
The information field is saturated, the audience has become more "muscular", it is more demanding on the visual presentation of brands.
You need to instill and introduce strong core beliefs into them, and then like a great designer using bead after bead to string up different WOW chips; enriched with non-standard shooting techniques, visual trends, and high-quality sound.
The business goal was to attract the correct audience, to strengthen the connection with the core of the existing one, and eventually to grow profits. To see this connection, you have to look at any task strategically, in the long term. To me, there's no other way to work. if you want the business to succeed, you have to gain true synergy from a combination of 'impressive' and 'profitable'.
So, returning to the question, if you want to see cases where both aspects have gone exactly as planned, there are plenty on our website.
EG: In several countries, for example, in the UK, advertising watchdogs are increasingly tightening the screws on betting and gaming advertising, especially concerning the impact of these ads on children and problem gamblers. What is your take on this?
Iryna: I believe that bans and creating a stigma on communications regarding these issues won't solve them. The Forbidden fruit is sweet and never enough.
Let's consider a TV series for example. It's a popular, accessible, and joyful product. It's totally fine as a way to spend your free time occasionally. But binge-watching can become real trouble and harm people's daily lives, jobs, sometimes even families. Does this mean we have to ban all TV series? The more logical and productive decision is to communicate the risks of binge-watching and promote shows as an entertainment hobby.
This approach applies well on betting and gambling as well. The real question always lies in the area of adequate perception and open discussions. Bans may cause a rise in unhealthy interest towards the industry, while legalization, on the contrary, will promote responsible gaming, introducing it as a totally acceptable hobby.
EG: Finally, let us talk about the future. Any big announcements coming up? How do you see DC developing in the next few years?
Iryna: After the last few years and our ambitious start, we have devoted ourselves to more rapid development. It is our primary driver. There are a lot of plans: it's like the widening of the DC holding structure as a whole, its expanding by many digital innovation departments, as well as the introduction of new initiatives by our team, both in the scope of branded content projects and media platforms, which will be relevant within a couple of quarters.
We are already working on the next innovative trends of the industry and immediately turning it into a general market for customer demand.
Exclusive Q&A with Ruben Loeches, CMO at R. Franco Group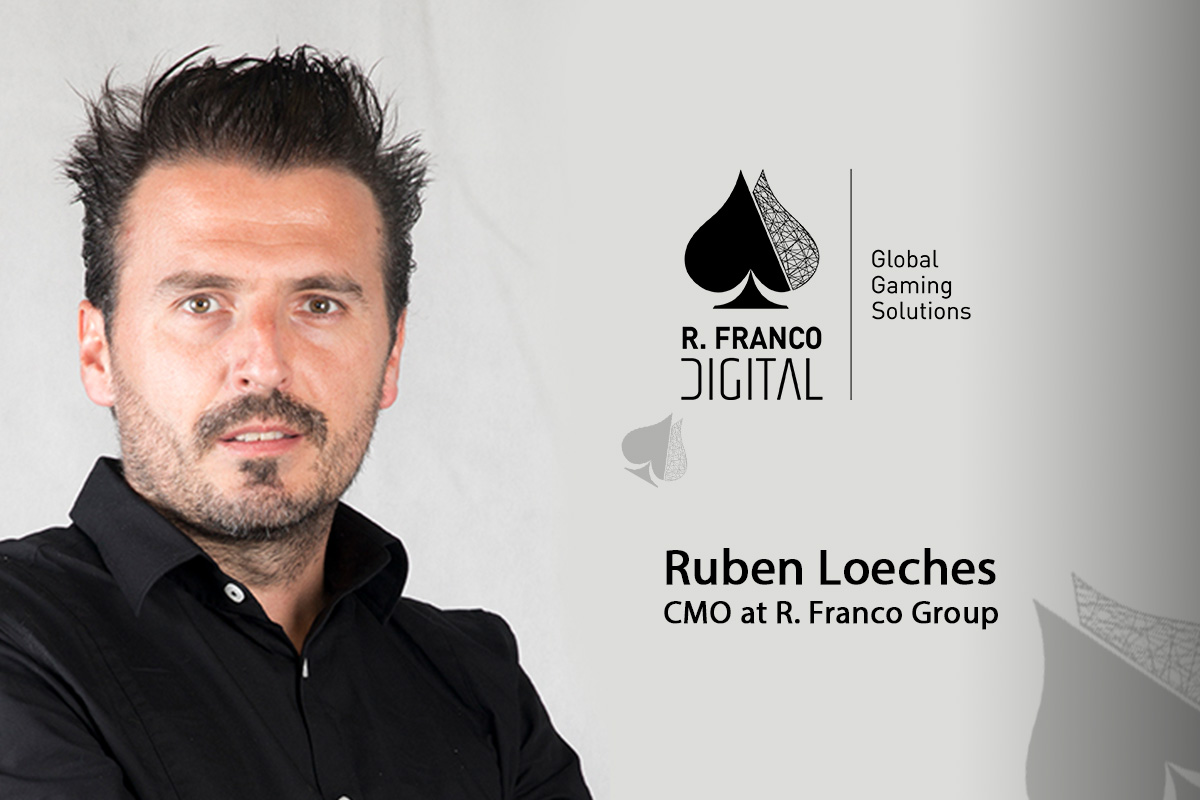 Reading Time:
2
minutes
After another ICE success and 2020 fully underway, we sat down with the R. Franco Group's CMO, Rubén Loeches, to talk about the show, product highlights and key goals for Spain's legendary gaming provider.
Now that ICE is firmly in the rear-view mirror, how would you sum up R. Franco's targets for the show?
It was a pleasure catching up with existing and prospective clients to discuss our exciting plans for the year ahead. With our digital arm founded only a few years ago, we're taking our five decades of excellence in land-based gaming and using it to stake our claim in the online sector.
Promoting our deeply knowledgeable and capable team was a key goal for the show as we are a company boasting some of the brightest tech talent around. These are the minds behind the state-of-the-art product offering we proudly displayed at the conference, and our key goal to show off their abilities was more than surpassed.
R. Franco's stand was certainly impressive, any particular highlights from your product showcase? What were attendees most excited about?
Our burgeoning game development catalogue drew strong interest, with premium quality reel, video-poker, video-bingo, roulette, casino and mini-games. These are fully customisable for both the online and land-based markets using our RF OnMix terminal, a touch screen multi-game machine able to integrate different games and connect to different peripherals while setting networks with other gaming terminals.
Attendees were clearly excited by the rapidly growing Latin American market – with good reason. Another aspect of our portfolio that we were therefore particularly keen to highly was our digital flagship IRIS Open Omnichannel Platform, a crucial tool for companies looking to make their mark on the fast-growing Spanish and LatAm markets as it powers many of the region's largest operators.
What's R. Franco Digital's plan for 2020?
We have an exciting and action-packed roadmap for the year ahead, with a target of releasing a new game each month in 2020 under Maltese, Spanish, Portuguese and Colombian regulatory approval.
International expansion is another critical aspect of our 2020 agenda. Malta in particular will be central to our plans, having recently established our presence on the island. The territory's regulatory environment is conducive to innovation, with the recent change in framework an especially pleasing development.
Elsewhere, the LatAm market is evolving at an incredible pace, with a wealth of tier one operators flocking to take advantage of the region's amazing growth. We have a bespoke product range ready to help partners take their Latin American offering to the next level, and we intend to continue doing so in the year ahead.
What's R. Franco Digital's outlook for the gaming industry in 2020? Any key strategies for the year?
Moving away from international expansion, one area we're particularly excited about is our home market of Spain. Not only is it proving to be an exciting prospect for the industry, but we also anticipate the region becoming even more desirable in the year ahead and are well placed to help our partners there deliver. The market is still developing, and we expect to see a surge in activity during 2020, with operators showing a strong interest in spite of the advertising ban.
Of course, a new generation of punters bring a new generation of demands. For instance, almost 10% of the country's population are passionate eSports fans, so Spain will be a valuable test ground for a young and fast-growing betting vertical that is full of potential.
Evoplay Entertainment: "ICE is one of the year's hottest fixtures – you'd be hard-pressed to find another event with so many operators and suppliers under one roof!"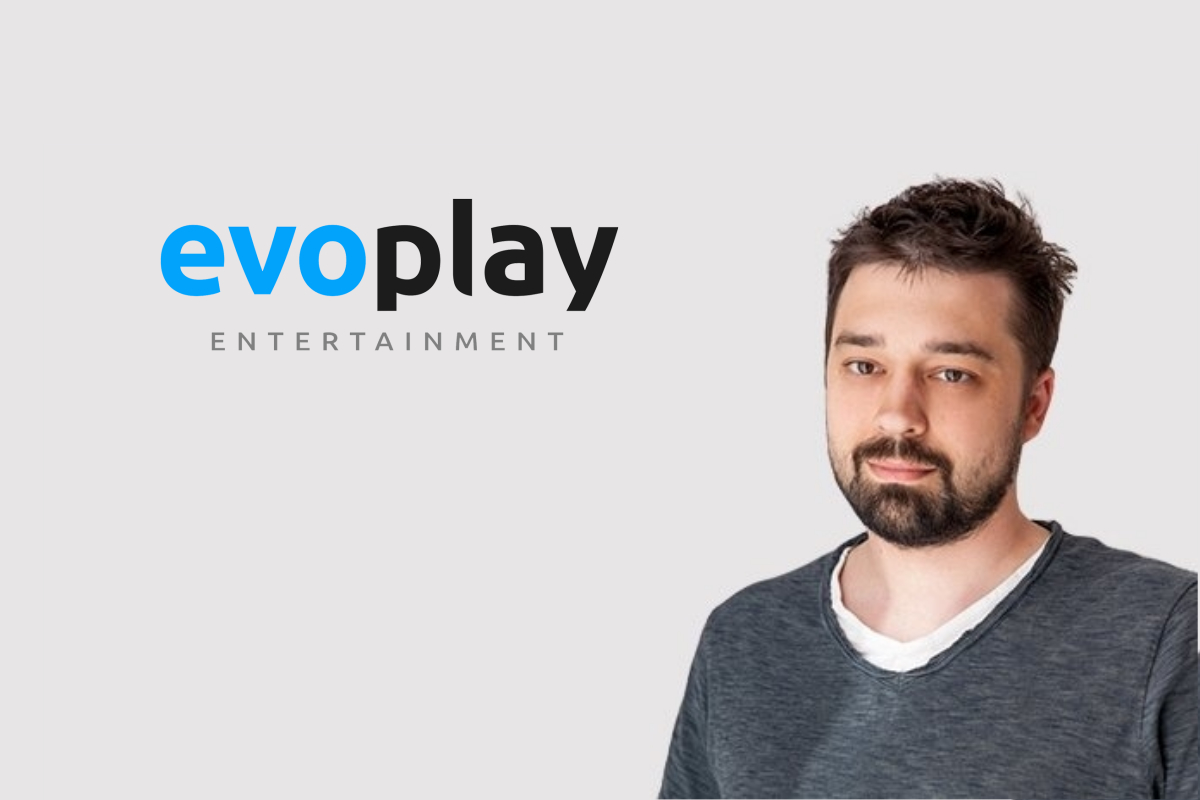 Reading Time:
3
minutes
We caught up with some of our favourite Eastern European suppliers to get the low down on what they'll be bringing to the show this year.
Next up is Ivan Kravchuk, CEO of Evoplay Entertainment
Another year, another ICE! What's Evoplay Entertainment excited about this year?
ICE is one of the year's hottest fixtures – you'd be hard-pressed to find another event with so many operators and suppliers under one roof. No doubt, this year as ever will prove to be crammed with fantastic business opportunities, highlight announcements, a million new trends, and of course my personal favourite … the latest tech!
Anything in particular we can look forward to at the Evoplay Entertainment stand?
Our founding goal has been to revolutionise gaming development with some of the best tech innovation that's out there, and when it comes to our stand, I can promise you this year will be no different.
We'll be kicking off with our 2020 portfolio, which has some fantastically engaging games that I'm excited to be showcasing. However, our main fixture that will grab the limelight will no doubt be Dungeon: Immortal Evil. As the industry's first RPG (think first-person adventure) slot, we've had to start from scratch when it comes to building it from the ground up. Everything from design to the game's mechanics – it has literally been a labour of love for our stellar development team, and I'm absolutely blown away with the result.
We've designed this game to give our operators a serious leading edge when it comes to capturing the attention of the millennial generation. The latest generation of customer is looking content not only for them – but also action-packed gaming that can be shared across their online communities; from streaming on Twitch to sharing on TikTok. Smartphones lie at the core of this gaming community ecosystem, and the next 10 years are going to be all about mobile-adaptive content.
We're seeing an ever-growing list of CEE companies getting in on the action at ICE – what's your take?
I'm not exaggerating when I say that CEE is now moving as fast as Silicon Valley. From Estonia to Ukraine, the region is crammed with fast-growing start-ups, groundbreaking new tech – and of course, some truly bright minds. The level of technical education at the majority of CEE universities is outstanding, and our talent pool is arguably one of the world's best. We're proud to be part of such an exciting, fast growing region.
And for the show – any predictions for hottest topics?
When it comes to slots, I expect it to be all about merging the lines between gaming and entertainment. In such a competitive market, it's imperative to capture the user's attention as quickly as possible. We can see the same outside of our industry with the current showdown between Netflix and HBO as they battle it out to offer the best content; and the same will no doubt happen in our industry. The US slots market, which is in many ways still untapped, is also going to be hot this year – and I'm very much looking forward to talking to our partners about their business roadmaps and vision for the market.
Any advice for first-timers?
Everyone will tell you about the importance of networking – but I think ICE offers far more than this. The speaking tracks are always fantastically educational, and I'd advise first-timers to look at taking advantage of the wealth of information on offer; especially when it comes to exploring trends outside of your gaming vertical.
With 10 sectors available I would advise my industry friends to think outside the box and learn something new and evaluate how it can benefit from your product or solution. Knowledge after all, is power!
Digitain: "Innovation, personalisation and gamification are definitely going to be the most exciting for us this year".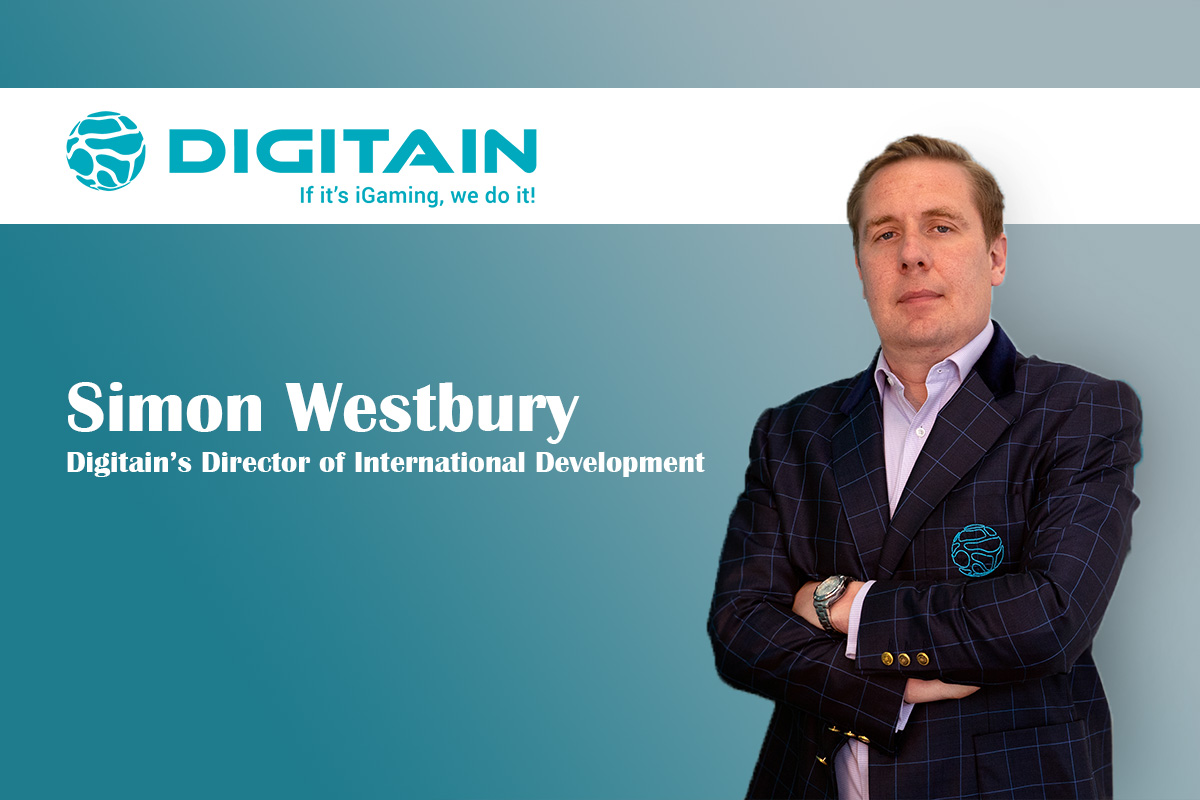 Reading Time:
3
minutes
With ICE only a day away, we caught up with some of our favourite Eastern European suppliers to get the low down on what they'll be bringing to the show this year.
First up is Simon Westbury, Head of International Development at Digitain.
Another year, another ICE! What's Digitain excited about this year?
As a tech company at heart, innovation, personalisation and gamification are definitely going to be the most exciting for us this year.
Innovation for Digitain is all about keeping our partners ahead of their rivals, as well as attracting and engaging the end-user. I'm thrilled to be showcasing our latest predictive AI modelling tools; able to personalise offerings and ensure that when players log on, they are able to immediately interact with the content they are looking for.
AI and predictive modelling can also go the other way too – our latest automatic match allocation program uses algorithms to automatically identify which traders are most optimal for each betting market – ensuring the most efficient pricing model is delivered to each of our partners.
Elsewhere, gamification, when integrated into a segmentation and customer retention strategy, is going to work wonders in the year ahead, and I'm excited to be taking our friends and partners through our latest strategies. A gamified experience – when merged with the right segmented customer, can drive players towards desired content at key times like never before. Combined with bonus rewards, competition against other players and other social elements, and you have an incredibly powerful tool on your hands for the year ahead.
Anything in particular we can look forward to at the Digitain stand?
Front and centre will be our comprehensive gaming and sportsbook platform. Providing operators with a one-stop-shop for success, it offers our proprietary, action-packed bonusing systems that will keep any player coming back for more.
At last count, we service over 100 partners around the globe with a user-friendly multi-lingual, multi-currency, customisable interface that can be easily integrated on any platform for both online and land-based operators, and I'm sure we'll have plenty more to add to that list by the time ICE has passed by.
As the industry's most flexible, scalable and modular sports betting platform, our sportsbook is serviced by more than 700 of Armenia's brightest trading minds, covering more than 35,000 monthly live events, 7000 leagues and 3000 betting markets. Stretching across every touchpoint imaginable, we cater for website, mobile, apps, terminals and the betting shops. Our gaming offering is also one of the industry's best, providing operators with a comprehensive package that totals more than 3000 slots, bingo and table games complete with live dealers.
As a global platform supplier, what would you advise operators to focus on at ICE this year?
If you want to stay ahead in 2020, focus on AI and deep data analytics. Having a toolkit that elevates the customer experience should be at the top of every operators' ICE shopping list, and those who don't take advantage of the latest tech are going to miss out on a lot of market share come ICE 2021.
In an increasingly crowded brand landscape, personalised Customer Relationship Marketing (CRM) powered by AI and data analytics is key to this. As competition increases, and customer bases and markets grow larger, it is becoming increasingly important for gaming operators to get more information about their customers in order to maintain, not to mention grow, their market share and build customer lifetime value.
While the gaming industry has championed the practice of customer relationship management already – CRM coupled with Digitain's data insights will ensure 2020 will see a whole new level of delivery thanks to our market leading tech – and that's before we even get into the cross-sell potential between sportsbook and casino.
And finally – are there any changes you'd like to see at ICE this year?
I'd like to do more to throw a light on markets outside of Western Europe and the US. I feel that sometimes as an industry we risk being too insular, and would argue that if you're not awake to fast-developing markets such as LatAm (and, by all means, throw in the likes of India, Japan and Africa), then any you're going to fall behind. The volumes in these jurisdictions are too consequential to be ignored.
Eastern Europe is a great example of this; with markets coming online at an exponential pace. In line with that, we're seeing some fantastic gaming conferences and summits being set up to cater to this fast-developing region; with the Prague Gaming Summit and Central Eastern European Gaming Conference being real standouts. Operators would do well to keep an eye an eye on this dynamic part of the world.
Moving further abroad, Latin America is another excellent market to consider; as well as its steady growth, not to mention its largely untapped status, operators can easily make big returns if they target the region with localised solutions. Furthermore, it is vital to acknowledge that this new wave rides on the crest of mobile – just witness the 19% year-on-year growth for mobile platforms in the region. These predictions project that there will be some 235m-plus smartphone users by 2021, and anybody looking to capitalise on the region's exponential growth would do well to get in on the ground floor.