Guide to gambling with Ethereum in 2020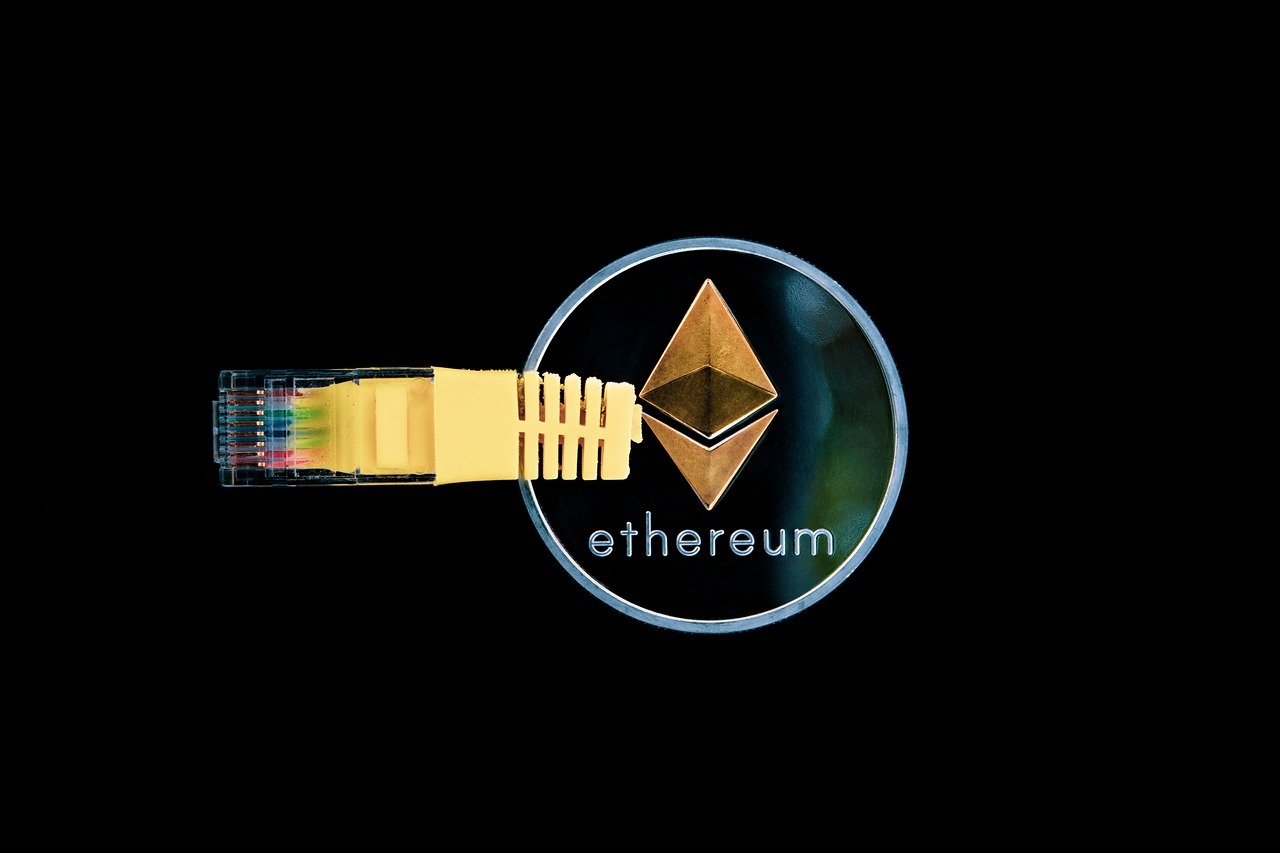 Reading Time:
4
minutes
Cryptocurrencies have become mainstream enough for gambling venues to considering offering options for players to pay via cryptocurrencies and we've been seeing this trend mostly in online casinos even though some of the traditional casinos are starting to catch up, offering classic casino table games where players can utilize cryptocurrencies. But with this new trend, there are new challenges, a couple of changes in the way casinos accept payment or offer the wins so it's important to have a clear understanding of what's different when gambling with cryptocurrencies, specifically with Ethereum.
The first steps
The step by step process is largely the same as with any regular casinos where you pay with cash, or in case of the online casino, you open up an account, make a deposit and wait for a win. When playing with Ethereum and we will largely cover the online casinos in this article the process is the same and you need to take the same steps, but there are differences in details because we are dealing with a different sort of currency. The process of opening the account will be the same in all online casinos.
One of the perks of online casinos is the easy registration process, but when you are planning to play via cryptocurrencies the anonymity of the payer is guaranteed so you will be playing Anonymous, only needing to write down your address and come up with a strong password in order to start looking for the what sort of deposit you want to make. Now, before you decide to transfer your assets, it is important to make sure that you are dealing with a license, legit online provider because the cryptocurrency industry is still new and in a lot of ways harder to control. It's more difficult to prevent crime and in case of the wrongful transfer, your assets will be lost forever so it does require way more caution when gambling with cryptocurrencies because the stakes are higher and a lot more things should be considered besides selecting an appropriate amount to gamble on. Before you make the transaction the casino asks that you write down your unique Ethereum wallet address, and then making sure that you transfer the money to the correct casino wallet. According to the ethereum gambling guide on InsideBitcoins the transactions should take no longer than 10 minutes for the deposit to appear on the website and you should be able to start playing right away. Just remember to treat the transaction process with much more attention as to not mess up the wallet number and make sure that your transaction reaches its destination. After that, you should head over to the bonuses section to make sure you claim your rewards. The best option would be to read up about the bonuses even before you registered with the specific casino to be able to choose the one that sounds most appropriate to you.
What's the difference
In general, when dealing with online casinos do your research read review, whether you will be playing with debit cards or cryptocurrencies. Many of the casinos have outstanding bonuses while others are quite basic and you will probably have to fight a lot to actually get them. Read about the available bonuses beforehand to make sure that you're getting the best version out there, based on what games you actually want to play in the online casino.
While you might think that since you are paying in Ethereum the games will also go on referencing your assets through Ethereum that would make things rather difficult.
During the games, you will have your assets displayed in USD making it easier to control how much you want to spend and how much you can afford to lose.
When it comes to withdrawals the process is similar. You would usually go to your account info and look for the withdrawal button. The website will ask for your Ethereum wallet information again and just like during the deposits you need to be careful to make sure the information is corrected because if the information is invalid or if it goes to someone else's wallet there is no getting that money back or tracing where it went. You can select how much you want to withdraw in Ethereum and get your wins in minutes.
When it comes to the game you can play for Ethereum the choices are not limitless but they do cover all the bases. You can play almost any classic card game like blackjack, a variety of poker games, roulette and other more conventional casino games on a lot of websites and make deposits in Ethereum. You also have many options when it comes to video slots which, considering they are one of the easiest casino games to get into no surprise that there are a lot of options here. You can choose from different themes, bonuses and difficulty levels but if you are a fan of video slots you will have no problem finding the right one for you to play using Ethereum. The types of games that Ethereum casinos will offer are largely the same but they might differ in variety considering the crypto casinos aren't as popular as a regular online casino they also have fewer options but as mentioned above they provide all the basic categories of games. The bonuses in Ethereum casinos work similarly to regular ones as well. For example, the most popular way that casinos grant bonuses is that they match your deposit with a bonus. For example, if you start gambling by depositing 1 ETH, upon the first time the casino will grant you an additional 1 ETH to match the one you've invested in the casino. Make sure to check the percentage to which the casino will match your deposit to make sure you're getting a good deal out of it.
Bonuses
Not much is different between playing with crypto VS playing with regular currency, But considering the importance of those small differences, it still crucial that you know what to treat differently in this particular online casino. The basics of gambling like wagering requirements and time limits to meet those wagering requirements are there. The most important thing you can do to ensure the best experience is to search the information about the provider and to make sure that you are  that has a good reputation.
Fiat & Crypto: King Billy players get the best of both worlds.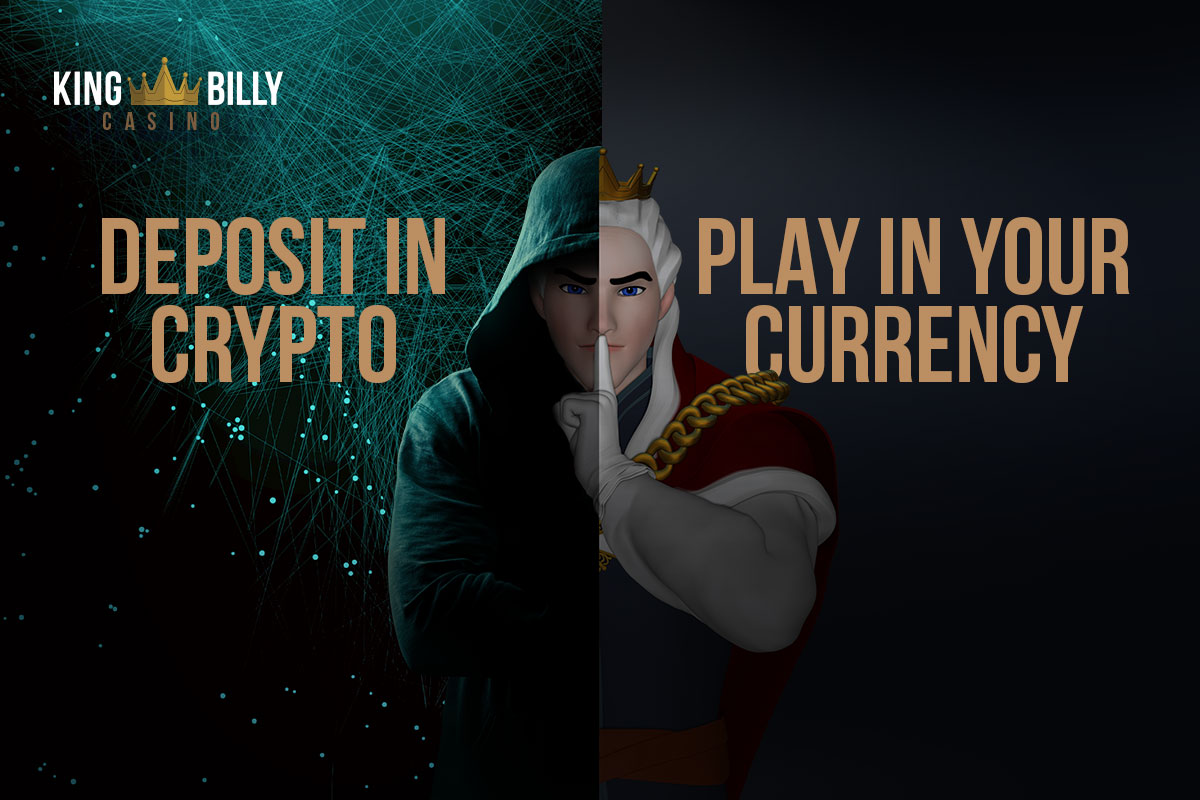 Reading Time:
2
minutes
See how the casino players can deposit in crypto and play in fiat. 
Since the dawn of e-gaming robust payment systems have been crucial for the success of any online casino, as they are a key factor in creating a positive and satisfying gaming experience. Moreover, the availability of different payment options allows players to choose the method that works best for them, whether it be classical fiat money or cryptocurrency.
But is it possible for an operator to give its players the best of both worlds, fiat and crypto at once? Yes, it is, with the King Billy feature "deposit in crypto, play in fiat". The concept is simple. A casino player deposits in crypto (choosing among 4 cryptocurrencies King Billy supports). Then, the system automatically shows them their balance in the currency of their choice (among the 14 currencies King Billy supports, used by more than 3 billion people worldwide). When the players withdraw, their transaction takes place back in crypto. 
What are the advantages of this system? Ruslan Legenzov, King Billy Casino Head of Affiliates (or "Lord of Affiliates" as the internal etiquette demands) has the answers: "Good things come in threes, and there are certainly 3 very good things about our "deposit in crypto, play in fiat" feature.
First of all, depositing in crypto means less hassle and paperwork for the player and elimination of the dreaded "transaction not coming through" issue. This has been a problem and actually a torment for many of our players in remote areas of the world. As a global casino, we are happy to act in ways that give peace of mind to our players.
Secondly, this system offers a greater player experience to the King Billy Citizens and Nobles, as they can now take advantage of our numerous promotions and offers in fiat. For example, players who deposit in crypto can now participate in our extremely popular fiat-only "Slot of the Month" offer, that's been a staple of our casino since our launch. 
Finally, with "deposit in crypto, play in fiat" our players, especially the not so cryptocurrency-savvy have a much clearer understanding of their wins or losses. I am sure that a player, let's say from Vietnam, prefers to see, in real time, how much his slot win is worth in the Vietnamese Dong than running in parallel a crypto converter tool to do the math!"
Well said and well done your Majesty. 
For those interested in the "deposit in crypto, play in fiat" feature, King Billy Casino accepts the following currencies: Euro (€), US Dollar ($), Canadian Dollar (C$), Australian Dollar (A$), New Zealand Dollar (NZ$), Norwegian Krone (kr), Indian Rupee (₹), South African Rand (R), Vietnamese dong (₫), Indonesian rupiah (Rp), Malaysian ringgit (RM), Thai baht (฿) and the Philippine peso (₱). King Billy also accepts the following cryptocurrencies: Bitcoin (BTC), Ethereum (ETH), Litecoin (LTC) and Tether (USDT).
King Billy Casino is a new-generation online casino, launched on St. Patrick's Day in 2017. It is available in 4 languages (English, German, French and Finnish) and it has an impressive record in awards with 25 wins, shortlists and other distinctions, and an amazing variety of features and games. King Billy has prioritized the creation of a superb user experience, focusing on the myth of King Billy and his Kingdom and treats all players with the specialness they deserve. 
Gambulls NFT Will Disrupt Online Gambling Forever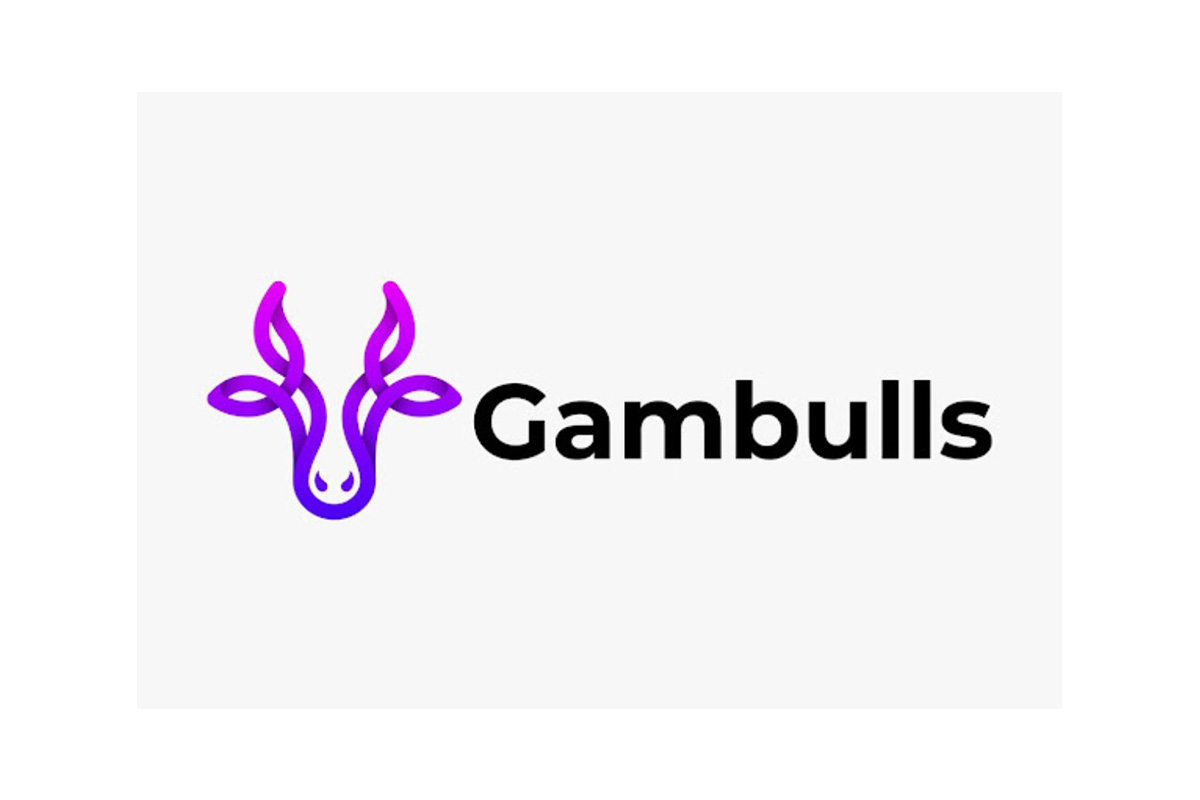 Reading Time:
2
minutes
Gambulls, an online crypto casino, is making a bold move by combining online gambling with NFTs. They will be releasing 6673 NFTs later this month, March 31, 2023 on Magic Eden.
The aim for the NFT release is to raise funds to fuel the growth of Gambulls to increasingly dominate the online gambling market share. However, the Gambulls NFT will offer far more than just a pretty JPEG for social signalling. Gambulls NFT's will posses considerable utility to be taken advantage of by the owner. This includes free weekly cash prizes, rakeback, bonuses, engage-to-earn program from the platform and many other exclusive benefits on Gambulls.
Given the huge size of the Gambulls community, combined with fans and followers of Jelly Co, an initial NFT buyer wouldn't have a hard time selling them at the secondary market. Die-hard fans of Gambulls NFT, though, would hold on to it for the long term, as they can enjoy the NFT's amazing utility.
Gambulls NFTs work similarly to a membership card with smart contracts that guarantee their utility and value. This makes the NFT incorruptible and reliable to the holders for providing the promised benefits.
The Gambulls NFT collection has a verifiable number of minted NFTs. The collection comprises 6673 Bulls, including 7 Legendaries.
The value of an NFT can be determined by how likely it is for one to hold a certain amount of traits. For example, among the 6673 NFTs, perhaps only a handful of them posses the green eye colour. This makes the green eyed Bulls rarer and a prized possession for NFT collectors to pay for.
By utilizing NFT's, Gambulls will not only raise capital but also reinvest said funds back into the community by offering those incentives.
The NFT marketplace will be built with a strong focus on community, providing users with tools for social interaction, curation and NFT discovery. Greater accessibility, convenience and exciting opportunities will be granted to those involved in the NFT marketplace.
Gambulls NFTs will go hand-in-hand with the Gambulls NFT Marketplace, which will be developed much later after the NFTs are released. The marketplace will employ three major blockchains — Ethereum, Polygon and Solana. This allows users to easily switch between networks, explore a wide range of NFTs, and make purchases with their preferred cryptocurrencies that are network-compatible.
The NFT marketplace will be built with a focus on community, providing users with tools for social interaction, curation and NFT discovery. Greater accessibility, convenience and exciting opportunities will be granted to those involved in the NFT marketplace.
Finally, the raised capital will put into motion the anticipated Gambulls Metaverse. Gambulls NFT holders will control a unique avatar to mingle with other users and play online games together, in real time.
Never again will players need to allocate time for traveling to a physical establishment, dress up, pay for overpriced refreshments and stay at a hotel when they can simply lounge in their own private domicile.
Singapore Gambling Regulatory Authority to Crack Down on Use of Crypto Assets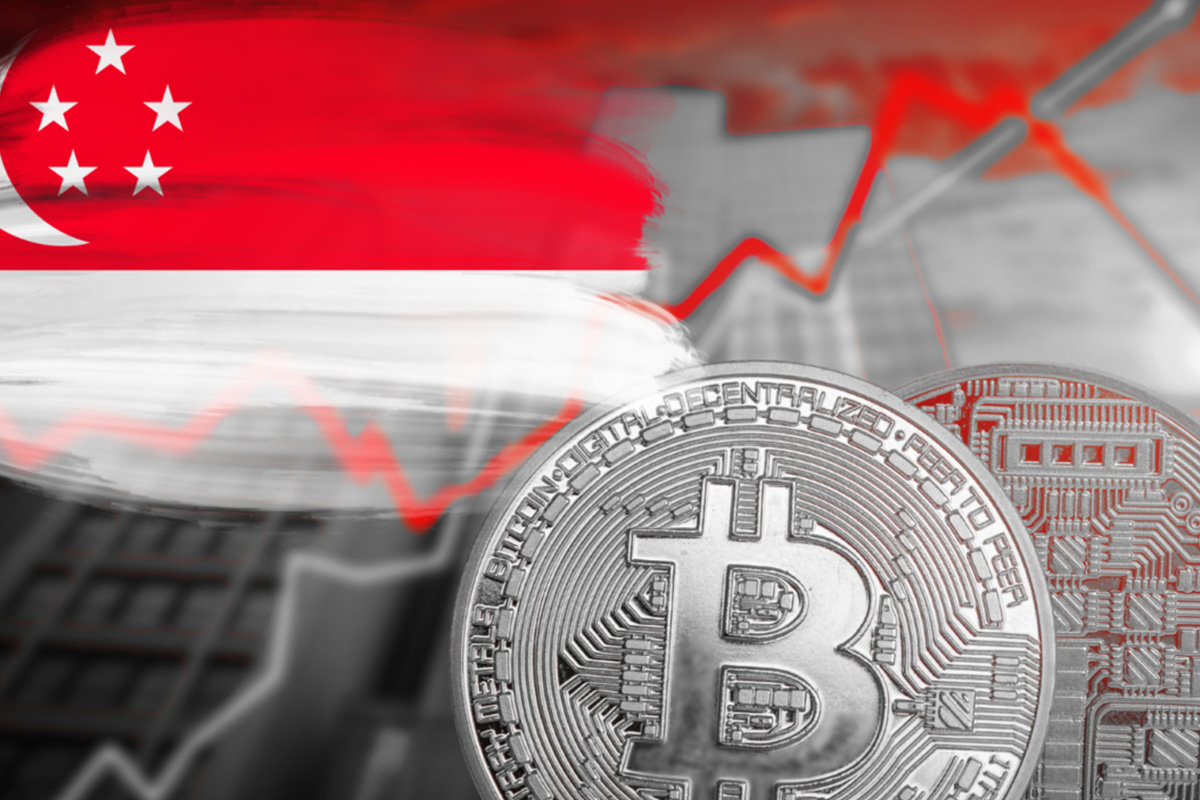 Reading Time:
3
minutes
Singapore's new gambling regulator, the Gambling Regulatory Authority (GRA), announced it has no plans to legalise the use of cryptocurrency within its land-based gaming industry as it continues to explore the use of crypto across video game and social gaming platforms.
In what appears to be a continuation of Singapore's general opposition to the introduction of cryptocurrency across broader society, GRA General Counsel Albert Yeo told a regulatory gathering in Sydney last week that crypto was one of the key issues the regulator is currently examining – particularly as it applies to new technologies.
However, there are no plans to allow the use of cryptocurrencies within Singapore's two integrated resorts – Marina Bay Sands and Resorts World Sentosa.
"I think for the casinos there is no real appetite," Yeo said during the Regulating the Game conference. "It is a very volatile in terms of its revenue stream.
"Internally the idea is to just not allow it to begin with or to even allow it into the door. The moment you start even entertaining [the idea] you know it will be difficult to stop.
"I'm not sure if there is any legislative framework that would allow us to do it anyway but we are looking into it and seeing where it is creeping in and making sure it doesn't invade the casinos in Singapore."
Established last year to replace the former Casino Regulatory Authority (CRA), the new GRA – with a remit to oversee the entire gambling landscape in Singapore – is specifically designed with technology in mind. When it took charge on 1 August 2022, Singapore's Ministry of Home Affairs said the GRA "allows the Government to more effectively stay ahead of technological and gambling trends, respond more adequately to emerging gambling products, and take a more holistic and coherent approach to gambling policies."
According to Yeo, cryptocurrency "is one of the main things we are currently looking at" given the challenges regulators face in tracking blockchain transactions, although much of its attention is now focused on the online space – specifically the use of crypto in video or social gaming.
"We know it is a new space and we are engaging the developers themselves, trying to understand what the products mean," Yeo said.
Pointing to one popular online product called "Axie Infinity" – a blockchain-based game in which players can trade NFTs and earn RAT (Rare Antiquities Token) currency – Yeo explained, "The thing we are grappling with is whether that is money, money equivalent or anything of value.
"Typically if it is in-game we won't worry about it, but the trouble [with players earning cryptocurrency] is that it is very easy for them to just take it out and put it on exchanges.
"So we are engaging the developers – Singapore is trying to encourage game developers in Singapore but we are also looking at what is the future of cryptocurrency and where all these games are going. Do we have a good handle yet on where this is going?"
Singapore's broader reluctance to regulate the trading in or use of cryptocurrencies currently extends to a ban on advertising by crypto exchanges, with the Monetary Authority of Singapore issuing a statement last November following the high-profile collapse of global exchange FTX in which it said, "The most important lesson from the FTX debacle is that dealing in any cryptocurrency, on any platform, is hazardous.
"Crypto exchanges can and do fail. Even if a crypto exchange is licensed in Singapore, it would be currently only regulated to address money-laundering risks, not to protect investors. This is similar to the approach currently taken in most jurisdictions.
"Further, even if a crypto exchange is well-managed, cryptocurrencies themselves are highly volatile and many of them have lost all value. The ongoing turmoil in the crypto industry serves as a reminder of the huge risks of dealing in cryptocurrencies."