10 Most Watched Twitch Streamers of 2020 So Far as Ninja and Others Eye Return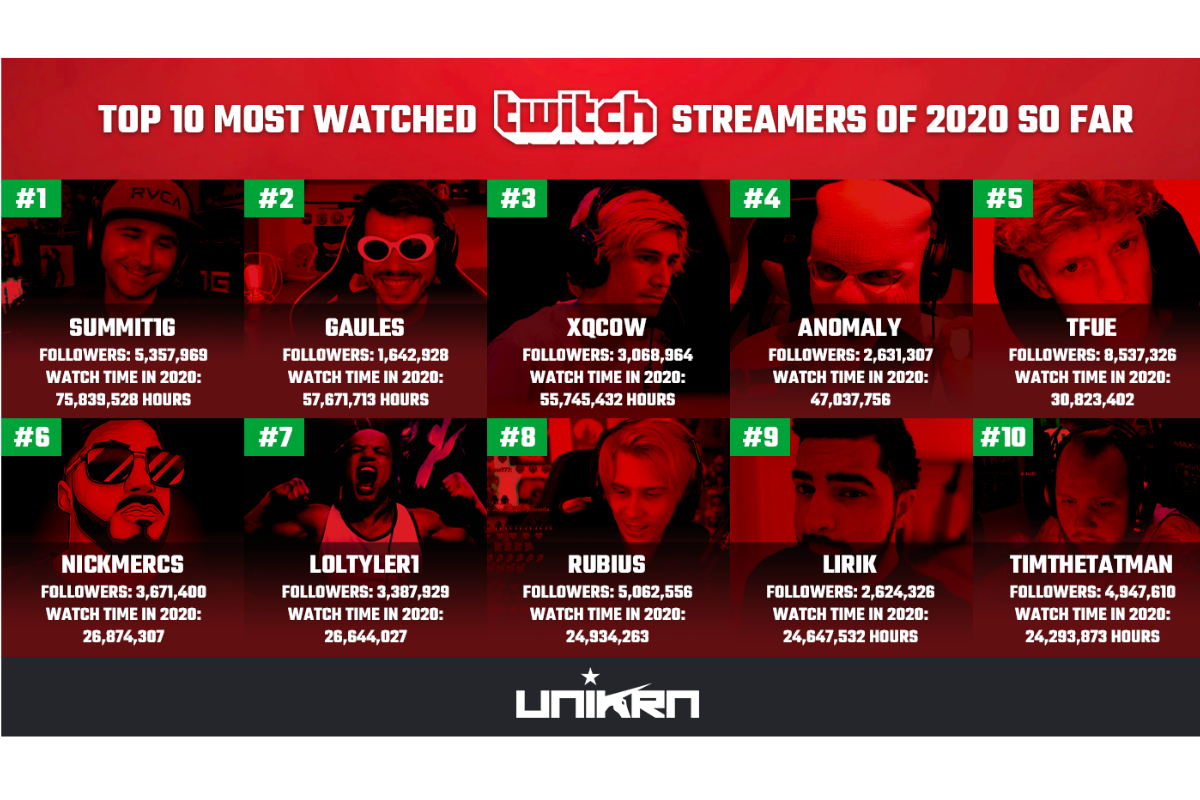 Reading Time:
3
minutes
– Summit1g hits top spot with 75million hours watched
– End of Mixer leaves door open to Ninja & Shroud
– No Myth or Pokimane in top 10 list
2020 has been a strange year — but Twitch streamers have had it stranger than most. The global lockdown has driven huge spikes across the streaming world as these entertainers have been a lifeline for millions of fans looking for company and distraction from the safety of their home.
This led to 101% year-on-year viewership growth in April.
The award-winning esports bookmakers at Unikrn have created a list of the top 10 most watched twitch streamers of 2020 so far.
This comes with this week's news that Microsoft has ditched their own streaming service, Mixer, leaving the door open for some of the biggest streamers on the planet to return to Twitch.
Tyler Blevins, known on Twitch as Ninja, accrued 14 million followers on Twitch before leaving to join Mixer in October last year, but the Fortnite gamer joined other big names such as Michael "Shroud" Grzesiek and Cory "King Gothalion" Michael as free agents with Mixer's collapse.
So, they too could make this list before the end of the year!
Most Watched Twitch Streamers of 2020
10.
TimTheTatman
Name: Timothy Betar
Games: Fortnite, Overwatch, Call of Duty:
Country: United States
Age: 29
The online personality has recently become an icon.
Now with nearly five million followers on Twitch, you may have seen the 29-year-old in the NFL 100 advert at Superbowl LIV earlier this year.
Followers: 4,947,610
Watch time in 2020: 24,293,873 hours
9.
Lirik
Name: Saqib Zahid
Games: PUBG, GTA V, others
Country: United States
Age: 29
Lirik has become well-known for his walkthroughs and guides as well as his competitive multiplayer gaming.
The 29-year-old is the king of variety, trying new games to give his fans a fair review of new opportunities.
Followers: 2,624,326
Watch time in 2020: 24,647,532 hours
8.
Rubius
Name: Ruben Gundersen
Games: Fortnite, Minecraft and others
Country: Spain
Age: 30
Rubius is rumoured to be one of the highest earners on the platform.
It was reported that he was estimated to be earning around $135,000 per video.
Followers: 5,062,556
Watch time in 2020: 24,934,263 hours
7.
Tyler1
Name: Tyler Steinkamp
Games: League of Legends
Country: United States
Age: 25
In January, Tyler1 set himself the challenge of reaching Challenger playing only Jungle on League of Legends 'to prove a point'.
Last month, he achieved his goal, declared himself "the GOAT" and surprising many of his followers.
Followers: 3,387,929
Watch time in 2020: 26,644,027 hours
6.
NICKMERCS
Name: Nick Kolchef
Games: Fortnite, Call of Duty: Modern Warfare
Country: United States
Age: 29
NICKMERCS has long been considered one of the best Fortnite streamers out there.
He's even now got so popular that rapper Drake has publicly given the gamer permission to use his music in his streams.
Followers: 3,671,400
Watch time in 2020: 26,874,307 hours
5.
Tfue
Name: Turner Tenney
Games: Fortnite
Country: United States
Age: 22
Amassing a fanbase of more than 8.5million on Twitch, Tfue now holds the highest number of followers on the platform.
The 22-year-old took a break from Fortnite back in May after calling out the game for being "unfair".
Followers: 8,537,326
Watch time in 2020: 30,823,402
4.
Anomaly
Name: Ludwig Lagerstedt
Games: CS:GO, Valorant
Country: Sweden
Age: 25
Anomaly's figures have skyrocketed in the past few months, much because of his decision to re-stream 24/7 Valorant VODs.
There's nothing wrong with this in terms of how Twitch sees it, though some fans and streamers have taken a disliking.
Followers: 2,631,307
Watch time in 2020: 47,037,756
3.
xQcOW
Name: Félix Lengyel
Games: Overwatch and various other games
Country: Canada
Age: 24
XQC is never too far from the headlines.
The skilled gamer even revealed last year how YouTube wrote to him directly to ask him to never stream with them.
Followers: 3,068,964
Watch time in 2020: 55,745,432 hours
2.
Gaules
Name: Alexandre Borba
Games: CS:GO
Country: Brazil
Age: 36
Gaules has been a sensation on Twitch over the past few months.
The Brazilian broke his own national record of 263,000 simultaneous viewers when he reached a peak of 393,000 viewers hosting the final of the BLAST Premier Spring Finals of North America.
Followers: 1,642,928
Watch time in 2020: 57,671,713 hours
1.
Summit1g
Name: Jaryd Lazar
Games: CS:GO, Sea of Thieves, GTA V and more
Country: United States
Age 33
And 2020's top streamer so far is Summit1g.
Twitch have even gone out their way to lock their most prized asset down by offering the popular gamer a new contract in recent weeks.
Followers: 5,357,969
Watch time in 2020: 75,839,528 hours
Most Watched Twitch Streamers of 2020
| | | | | | |
| --- | --- | --- | --- | --- | --- |
| | Channel | Watch time | Stream time | Average viewers | Followers |
| 1 | summit1g | 75,839,528 | 1,903 | 35,811 | 5,357,969 |
| 2 | Gaules | 57,671,713 | 4,218 | 13,694 | 1,642,928 |
| 3 | xQcOW | 55,745,432 | 1,800 | 28,975 | 3,068,964 |
| 4 | Anomaly | 47,037,756 | 1,148 | 19,808 | 2,631,307 |
| 5 | Tfue | 30,823,402 | 1,071 | 28,012 | 8,537,326 |
| 6 | NICKMERCS | 26,874,307 | 1,146 | 22,386 | 3,671,400 |
| 7 | loltyler1 | 26,644,027 | 985 | 26,468 | 3,387,929 |
| 8 | Rubius | 24,934,263 | 510 | 47,931 | 5,062,556 |
| 9 | LIRIK | 24,647,532 | 1,103 | 21,928 | 2,624,326 |
| 10 | TimTheTatman | 24,293,873 | 865 | 27,126 | 4,947,610 |
*Statistics from Dec 29 2019 – June 26th
Newzoo Joins Forces With EVOS Esports To Expand Its Market View With Southeast Asia Data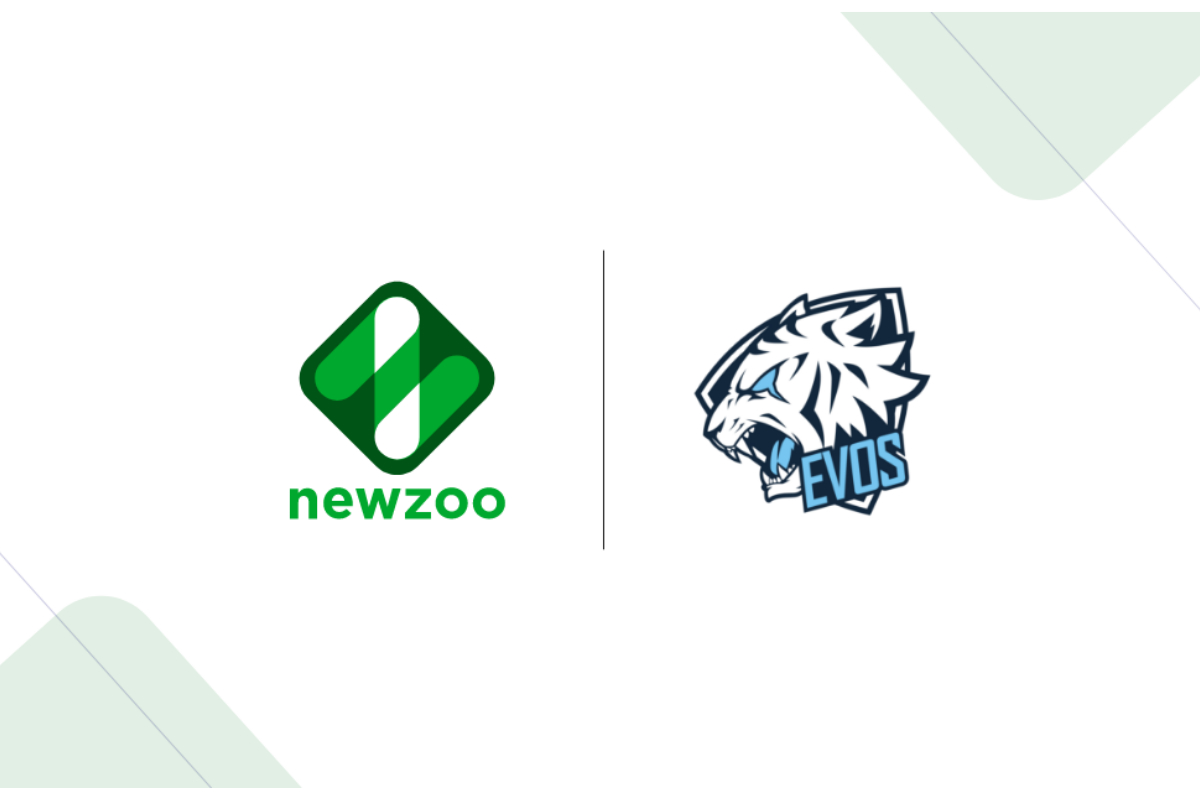 Reading Time:
< 1
minute
Newzoo, the world's leading provider of games and esports analytics, announced today its partnership with EVOS Esports, Southeast Asia's leading esports organization housing over 15 professional teams across five different countries.
By adding EVOS Esports to its partnerships program, Newzoo will get improved insights from the Southeast Asian market, a region expected to further boost the growth of the esports business. Furthermore, EVOS Esports' mobile focus within the market represents an additional layer of insights that Newzoo will use to further solidify its esports estimates, which are featured in its landmark Global Esports Market Report and the Newzoo Platform.
In exchange, Newzoo will advise EVOS Esports with market insights, helping the organization to benchmark, spot opportunities, and provide strategic insights for its further expansion.
"Southeast Asia is currently the most exciting region for the overall future growth of esports and gaming, both from a business and consumer engagement perspective. EVOS Esports is right at the center of this.", said Peter Warman, Newzoo's Co-Founder and CEO. "Partnering with an ambitious and forward-thinking esports organization like EVOS Esports supports us in keeping up with this huge esports region to further strengthen our view on the global and local esports ecosystems."
"We are excited to be the first esports organisation in Southeast Asia to form this partnership with Newzoo. With Newzoo's market intelligence and expertise, it will assist us in making actionable data-driven decisions as we scale our business verticals across the region. With access to the tools and insights provided by Newzoo, we look forward to achieving continued success, especially when discussing with commercial partners.", said Ivan Yeo, EVOS Esports' Co-Founder and CEO.
MakerDAO Partners with FirstBlood Technologies Competitive Gaming Platform "Earn DAI for excelling at the most popular Esports games available today"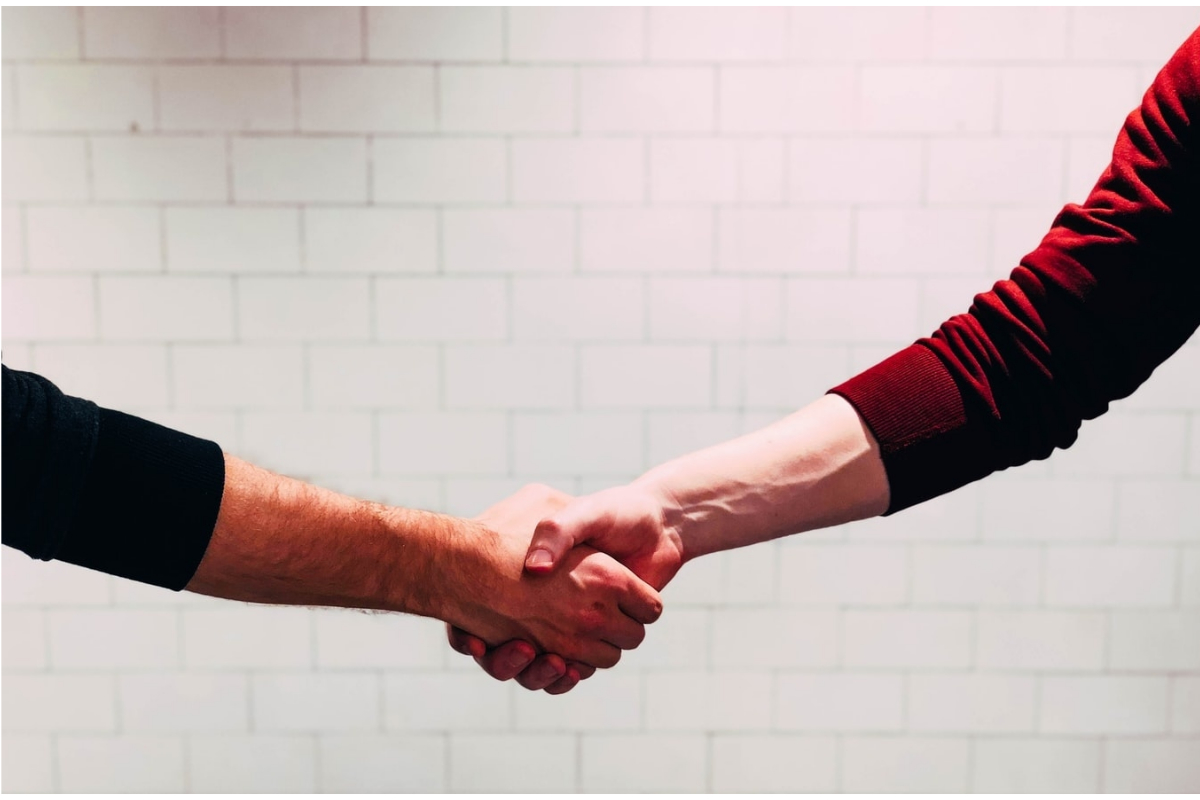 Reading Time:
2
minutes
Today, ​FirstBlood Technologies​, the ​online competitive ​gaming ​platform and maker of Gaming Blockchain Dawn Protocol that lets ​esports​players challenge the field and win real rewards for excelling at their favorite games,​is integrating with ​MakerDAO​ to bring decentralized stablecoin integration to the ​FirstBlood Platform​. MakerDAO, the protocol behind the popular ​DeFi stablecoin Dai​, will enhance accessibility for enthusiasts and professional gamers alike by offering rewards in DAI to competitive gamers playing on FirstBlood. This signals an immense victory for gamers, and allows for permissionless cross-border payments to be made in what is arguably the most popular DeFi crypto-token available today. While the FirstBlood Platform supports it's own native token $Dawn the addition of an algorithmic stablecoin sweetens the prize pot for gamers all around the world.
Joe Zhou, the Co-Founder and CEO of FirstBlood, says "we aim to leverage the massive DAI community and facilitate blockchain adoption into the world of competitive gaming. With players competing from every continent, payments in cryptocurrencies will simplify barriers to entry for users, and provide a stable and secure environment for players to earn rewards for rising to the challenge." Of the partnership, Rune Christensen, CEO of the Maker Foundation and co-founder of MakerDAO, had this to say, "the borderless, decentralized nature of Dai makes it the perfect stablecoin to use as in-game rewards for FirstBlood players. The stability, transparency and ease of use of Dai will let players spend more time focused on competing and less time sorting out how to manage their rewards."
To celebrate the partnership, MakerDAO is offering 10,000 DAI in prizes to sign up and compete on FirstBlood. All prizes will be paid in Dai. The details are as follows:
Beginning the 3rd week of November 2020, FirstBlood players will have an opportunity to compete against each other in the newest game-integrated on the FirstBlood Platform, Call of Duty: Warzone.
On the third Monday for the months of November, and December of 2020 and January 2021, FirstBlood will host the Maker Monthly tournament, which will have a $1,500 prize pool, payable in Dai.
Starting November, 4th, 2020, FirstBlood will host the Daily Dai with a prize pool of $100 each day for 40 days.
Events are available for players on PC, Playstation, and Xbox.
To sign up and get started, simply visit the FirstBlood platform and create an account at https://app.firstblood.io​.
Rix.GG signs Joonas "Mognus" Salo to Rocket League roster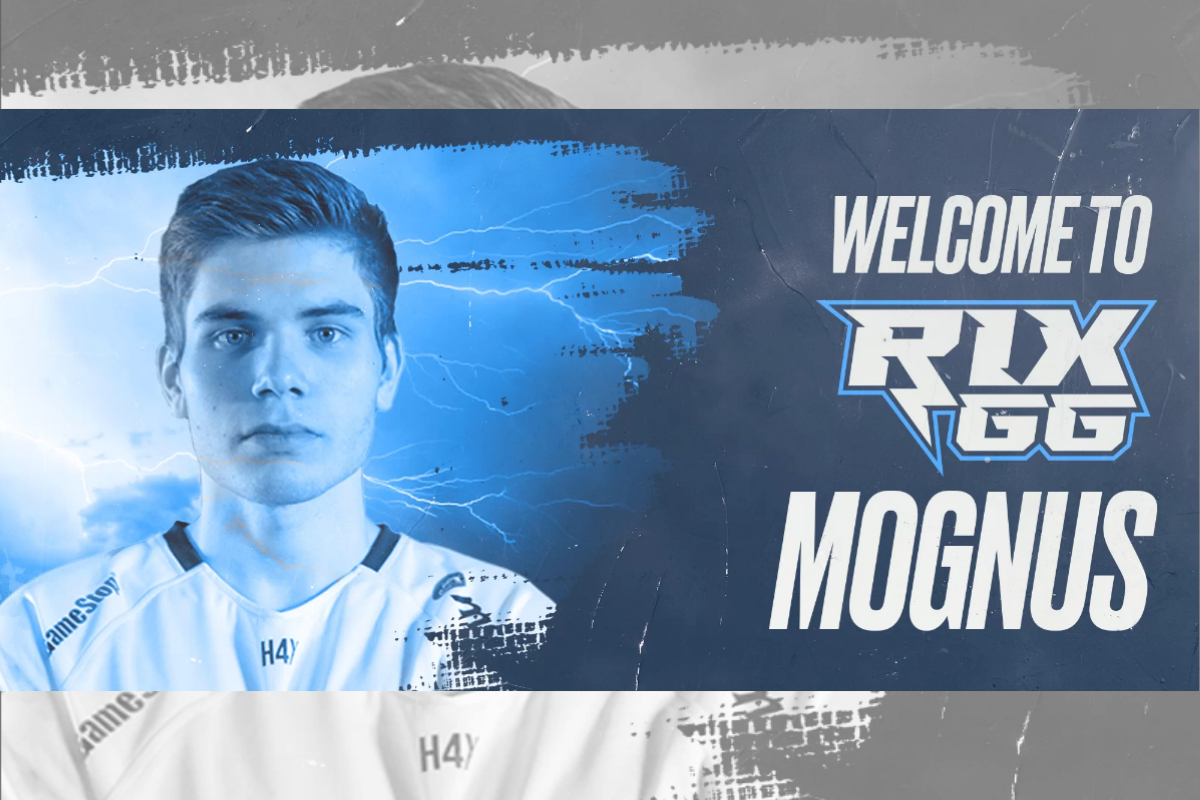 Reading Time:
2
minutes
Rix.GG, a new esports organisation, announces the signing of Finnish superstar Joonas "Mognus" Salo to its Rocket League roster.
Rix.GG's Rocket League roster ahead of RLCS X Winter Split will be:
Dan "Polar" Rees
Lorenzo "Dead-Monster" Tongiorgi
Joonas "Mognus" Salo
By signing Joonas "Mognus" Salo, Rix.GG is taking a hybrid approach to both nurture home-grown talent and bolster it with unrivaled expertise in Rocket League. Joonas "Mognus" Salo brings with him a wealth of experience, competing and winning at the highest levels of the esport. Rix.GG hopes the move will lead to the development of a winning team strategy to become one of the top Rocket League teams in the EU.
Jamie Lewis, founder, said: "We [Rix.GG] are doubling down on our efforts to build a top tier team and are delighted to have a world-class talent like Mongnus on board. We feel he is the perfect addition to our budding team."
Ibrahim Taylor, team manager, said: "Mognus is widely regarded as one of the most capable Rocket League players, someone that has seen great success for many years at the very pinnacle of competitive Rocket League. He also gels very well with the team and the great atmosphere is clear to see. Polar and Dead-Monster are both keen to continue to improve, with the experience and history Mognus brings he is the perfect person for them to combine with to take them to new heights."
Joonas "Mognus" Salo, said: "I'm happy to be joining Rix.GG as a new third player for its Rocket League team. They take good care of their players, so I know I'm in good hands. Immediately from the first scrim I noticed the potential that Polar and Dead-monster have. With my experience, I hope to bring more consistency to the table
and bring out the best of my teammates. It will definitely take some time, but I hope you can support me and my new team on this journey."