Five New Members Join IESF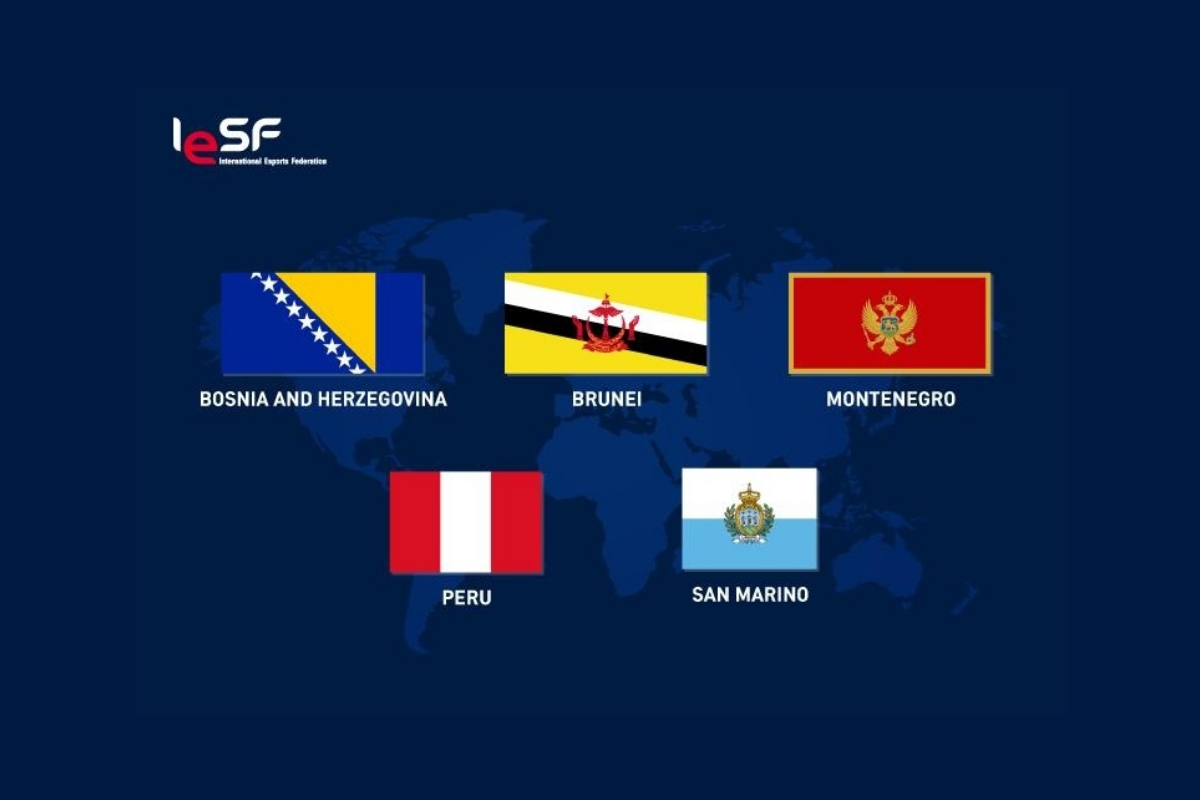 Reading Time:
< 1
minute
IESF Grows To A Record-breaking 72-nation Count As Five New Countries Join As Members
IESF is pleased to announce further membership expansion within three continents as Peru joins from the Americas, Brunei from Asia, and Bosnia and Herzegovina, neighboring Montenegro, as well as San Marino joins the IESF fold from Europe.
"The IESF family continues to grow globally, and I would like to congratulate our new members," says Mr. Boban Totovski, IESF Board Member and Director of Memberships. "The criteria for IESF affiliation is strict, so we are thrilled that we were able to add these five new nations as members. With additional membership applications processing, we look forward to the continued growth and our work on building the foundations of this global esports ecosystem."
The nations are represented through their respective national Esports associations:
Bosnia and Herzegovina: E-Sport Association Bosnia and Herzegovina
Brunei: Esports Association Brunei
Montenegro: Alliance of electronic sports of Montenegro
Peru: Asosiación Deportiva Peruana de Deportes Electrónicos
San Marino: San Marino e-Sports Association – SMeSPA
IESF was founded in 2008 by nine-member nations from Europe and Asia. Since then, it had worked with commercial and governmental partners toward steady growth and outreach. As the only democracy-based international federation for Esports, IESF continues it's mission to create a thriving Esports ecosystem globally where growth can be enhanced for both large Esports economies and grassroot-level nations.
Epic Esports Events ranked 15th among the 50 best event companies in the world by Global Eventex Awards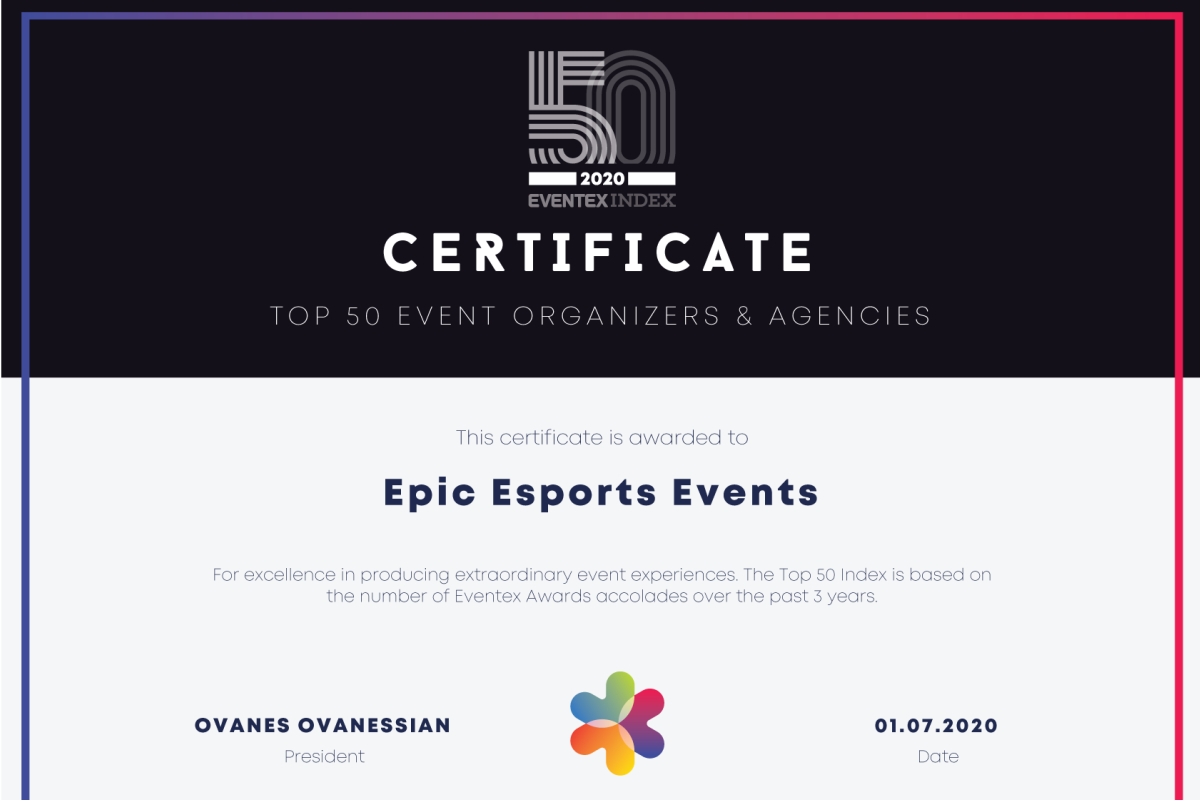 Reading Time:
< 1
minute
Tournament organizer Epis Esports Events took the 15th place in the international rating by Global Eventex Awards. Every year, the organizers of the professional award in the field of event management select the top 50 best organizers and agencies: the Eventex index is a list of companies, places in which are determined by the total number of points for awards won at the Global Eventex Awards over three years.
Tournament operator Epic Esports Events and the EPICENTER Major 2019 tournament were awarded Gold, Silver, and Bronze prizes at the 10th-anniversary edition of Eventex Awards 2020. EPICENTER organizers won prizes in 5 categories:
Gold in the "Russian Event" and "Brand Experience – Leisure" categories;

Silver in the "Esports Event" category, second only to The International 2019;

Bronze in the "Event Team" and "People's Choice Agency/Team" categories — in the latter, the decision was made not by the jury, but by open voting, which was attended by 5,300 people from all over the world.
A year earlier, EPICENTER XL won first place in the "Russian Event" category.
A full list of the top 50 event organizers and agencies can be found here: eventex.co/index/
Getty Images To Be Dedicated In-Game esports Photographers for FIA Certified Gran Turismo Championships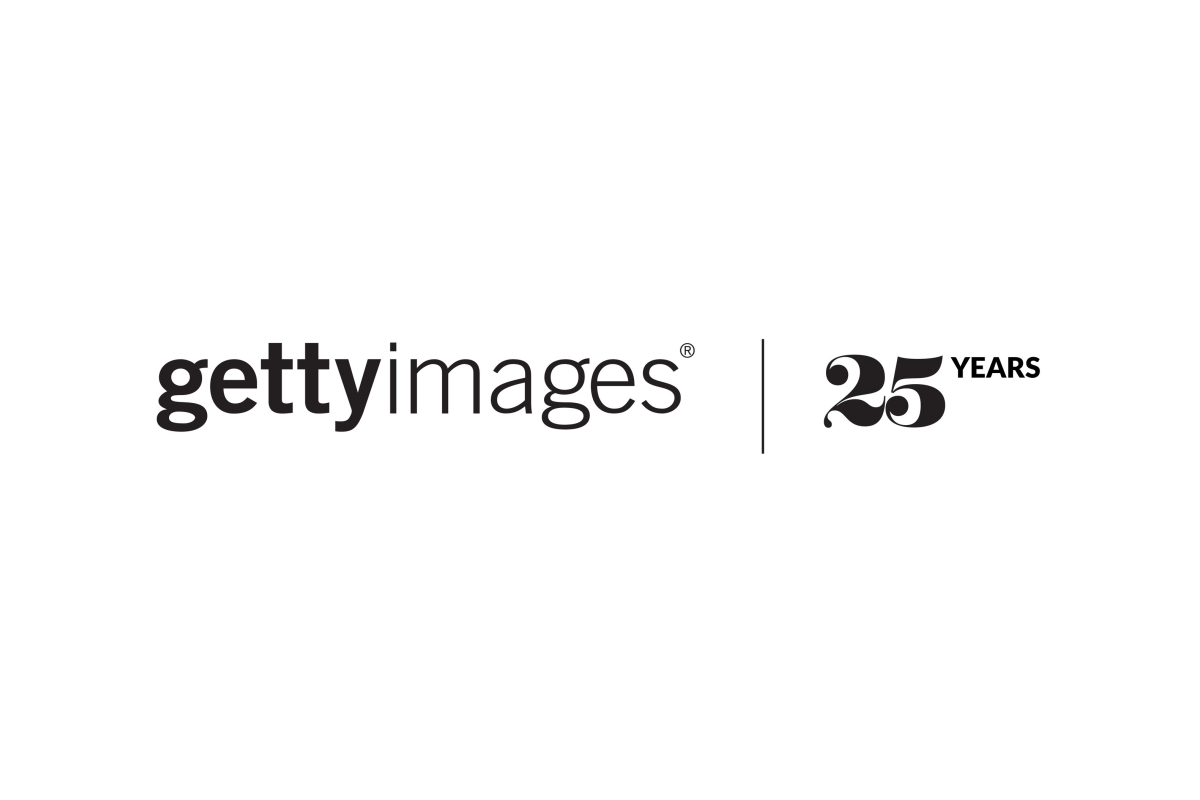 Reading Time:
2
minutes
Getty Images to serve as the Exclusive Photographic Agency of Gran Turismo's global lineup of esport events
Getty Images, a world leader in visual communications, and Polyphony Digital Inc., creator of the Gran Turismo franchise, have today announced a deal that will see Getty Images' world-class motorsport specialist photographers capturing stunning in-game photography from Gran Turismo's online and live World Tour events. Getty Images will serve as the exclusive Photographic Agency of the FIA Certified Gran Turismo Championships.
The new service was debuted during the 2019 season. Getty Images used its expertise in photographing live racing to deliver imagery from inside the digital realm of the Gran Turismo game at Gran Turismo World Tour events at the Nürburgring, New York, Salzburg, Tokyo and Sydney and last year's World Finals in Monaco in November 2019.
The 2020 FIA Gran Turismo Championships recommenced on April 25th with the first round of Stage 1 of the online season for both the Nations Cup and Manufacturer Series. The Top 16 Superstars broadcasts feature the best of the racing action from the top competitors in both the Nations Cup and Manufacturer Series.
By harnessing Getty Images' global distribution, this partnership aims to bridge the gap between two worlds -virtual and real- to showcase the beauty and exhilaration of simulated racing to a wider global audience. As esports and its surrounding ecosystem continues to see exponential growth and with brands and media around the world catering to a growing community of esports fans and players, Getty Images is once again innovating through visual content and leading the way in sport photography.
"This partnership with Polyphony Digital signifies the next phase of sport photography and the true growth that is occurring across the esports landscape," said Getty Images Global Head of Content Ken Mainardis. "Getty Images has long been at the forefront of innovating through its sport photography and by creating in-game imagery with expert motorsport photographers, Getty Images is staying ahead of the curve to deliver premium esports content to our customers around the world."
As the exclusive Photographic Agency of the FIA Certified Gran Turismo Championships, Getty Images will distribute innovative still imagery. Esports sponsors and suppliers will benefit from the agreed rights and access to Gran Turismo content while ensuring media can continue to access editorial coverage via Getty Images.
SOURCE press.gettyimages.com
Nova Esports Partners with GodLike Esports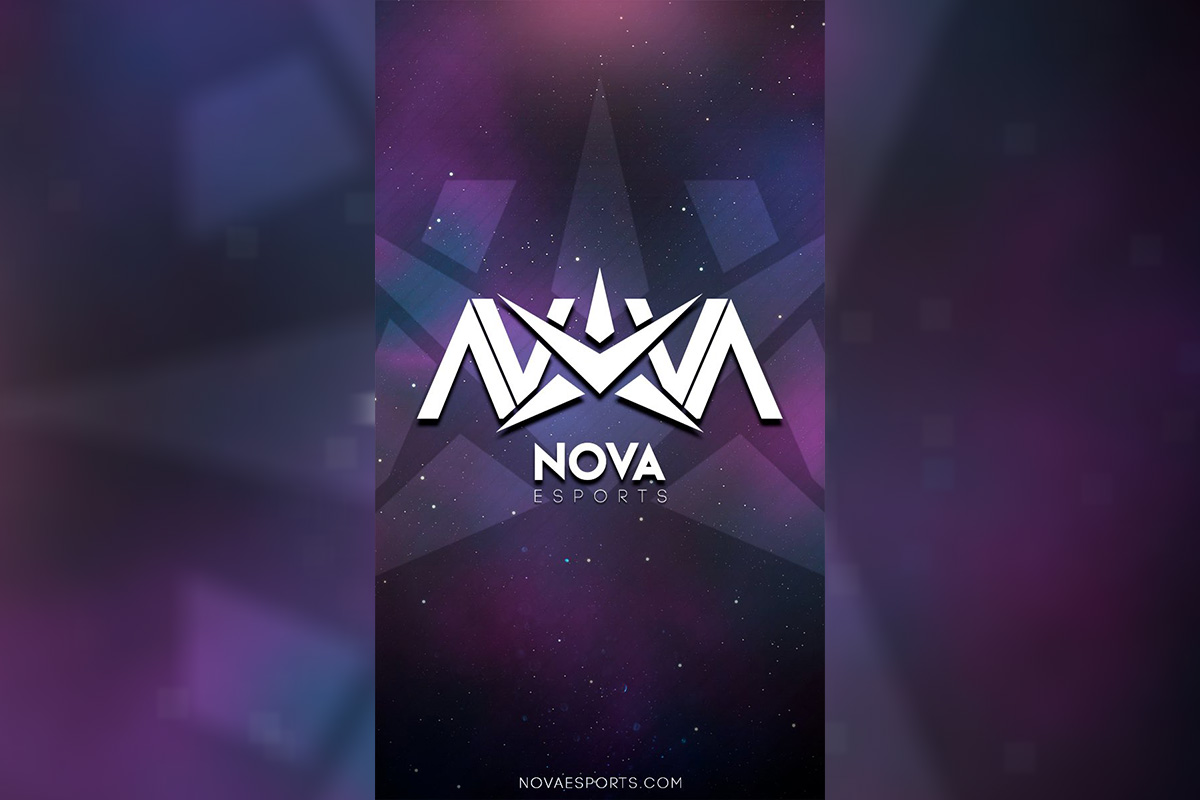 Reading Time:
< 1
minute
Hong Kong-based Nova Esports has partnered with Indian esports organisation Godlike Esports. The new team will be known as Nova GodLike. Through the deal, Nova GodLike will compete in Tencent's PUBG Mobile with an Indian roster.
Anthony "AY" Yeung, CEO of Nova Esports, spoke on the reasoning behind the deal in an announcement: "PUBG Mobile is currently trending in the gaming section of India. It has surpassed other games in terms of popularity and revenue and made a place for itself in Indian pop culture. Even people who have not played the game would have seen and heard about it through various social media memes and posts."
Nova Esports has several goals it hopes to achieve through its new Nova GodLike brand, namely succeeding in global PUBG Mobile competitions, turning its players into public figures, attracting other organisations to the Indian esports market, and creating "high quality content for the community."