Children from over 100 countries to take part in Football for Friendship eWorld Championship: final results of draw announced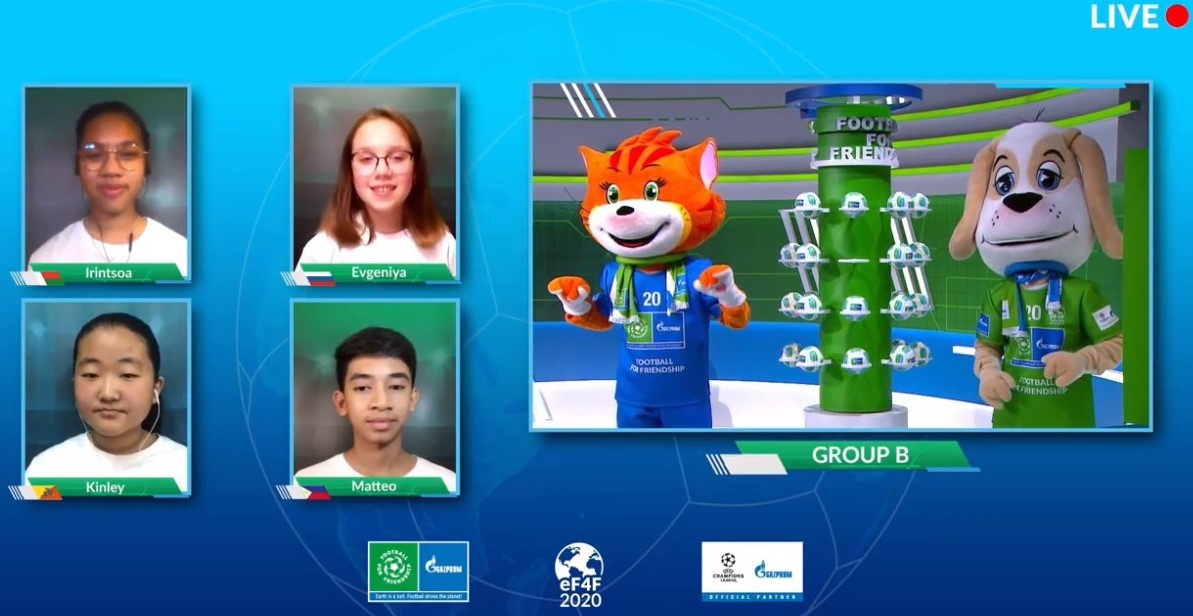 Reading Time:
4
minutes
On November 27, as a result of an online draw, 32 international teams of the annual Gazprom International Children's Social Programme Football for Friendship Championship were determined. Children from all over the world will compete for the title of Football for Friendship World Champions and for tickets to the 2021 UEFA Champions League Final in Istanbul. For the first time ever, the draw was conducted live by Young Participants, and the broadcast's special guest was the legendary football player Roberto Carlos.
Matteo de Venecia (Philippines), Kinley Deki Yangzom (Bhutan), Irintsu Rakotomamoni (Madagascar), and Evgenia Gorbunova (Russia) selected 32 international teams (8 groups of 4 teams each). In keeping with tradition, the teams took the names of rare animal species.
Distinguished guests and ambassadors of the project – World Cup winner and 3 times UEFA Champions League Winner Roberto Carlos, Adviser to the President of the Football Union of Russia Alexey Smertin, Head of Football Education Services at UEFA Frank Ludolph, professional FIFA player, currently playing for FC Schalke 04, Tim (Tim "Latka") Schwartmann – announced the upcoming events. From November 27 to December 9, 2020, Young Participants will be treated to:
2020 Online International Football for Friendship Forum and Award, where projects in the field of children's sports development will be presented (November 30 – December 4, 2020).
Online Football for Friendship International Children's Press Center, where Young Journalists study and work (November 28 – December 9, 2020).
Online International Friendship Camp with a humanitarian and sports programme for children (November 28 – December 6, 2020).
Qualifying games of the 2020 Football for Friendship eWorld Championship (December 7 – December 8, 2020).
Football for Friendship Grand Final on December 9, 2020, where the winners and lucky ticket holders for the 2021 UEFA Champions League Final in Istanbul will be determined.
"Football for Friendship is a real social lift, giving the younger generation the opportunity to realize their potential and make their dreams come true. Today, Football for Friendship is once again uniting Young Players, aspiring Young Journalists and simply young people with a passion for sports from all over the world, and everyone here will be able to learn something new, make new friends, and just have an unforgettable experience", said Roberto Carlos to the Young Participants from different countries.
The Football for Friendship World Championship is traditionally held in different cities shortly before the final matches of the UEFA Champions League. To preserve the event so eagerly awaited by children all over the world, this year it was decided to hold the competition online – in the new Football for Friendship World football simulator.
"Today, we can take pride in a whole generation of grown-up athletes, public figures, journalists and simply goal-oriented young people, who were given amazing opportunities for a professional start by Football for Friendship. I would like to congratulate and wish good luck to all participants of the 2020 Football for Friendship Season", said Viktor Zubkov, Chairman of the Gazprom Board of Directors, addressing this season's participants.
Young Participants of the Football for Friendship programme will be the first to play the game. The game app will be made available to the general public on December 10 – World Football Day. You can download it for free for MS Windows, Apple MacOS, Android, iOS.
Online broadcast recording: https://www.youtube.com/watch?v=vZPiwnuELtY.
About the programme:
The International Children's Social Programme Football for Friendship is implemented by Gazprom since 2013. Over the previous seven seasons, the programme has united over 6 000 participants from 211 countries and regions and over 5 000 000 supporters.
Young Players and Young Journalists are the participants of the programme – boys and girls aged 12 including children with disabilities. Young Players represent different countries and cultures united in the mixed teams. They show that nationality, gender, and physical abilities aren't a barrier to becoming a team. Young Journalists cover the events of the programme in the International Children's Press Center. All participants become Young Ambassadors of the programme and continue to share their Football for Friendship experience and promote universal human values: friendship, equality, fairness, health, peace, devotion, victory, traditions, and honour.
UEFA, FIFA, football federations and the world's leading football clubs, international charity foundations, famous athletes, politicians, and artists support Football for Friendship. The project has received multiple national and international awards in the field of social responsibility, sports, and communications, including the world record for the most nationalities in a football training session in history.
In 2020, Football for Friendship will be held in the online format. A special digital platform will unite over 10 000 players of all ages. It will become the home for international children's competitions and a playground where anyone will be able to train, join into the international mixed teams and play their favourite game in the Football for Friendship format without leaving the comfort of their home.

Ninjas in Pyjamas Announces Rebranding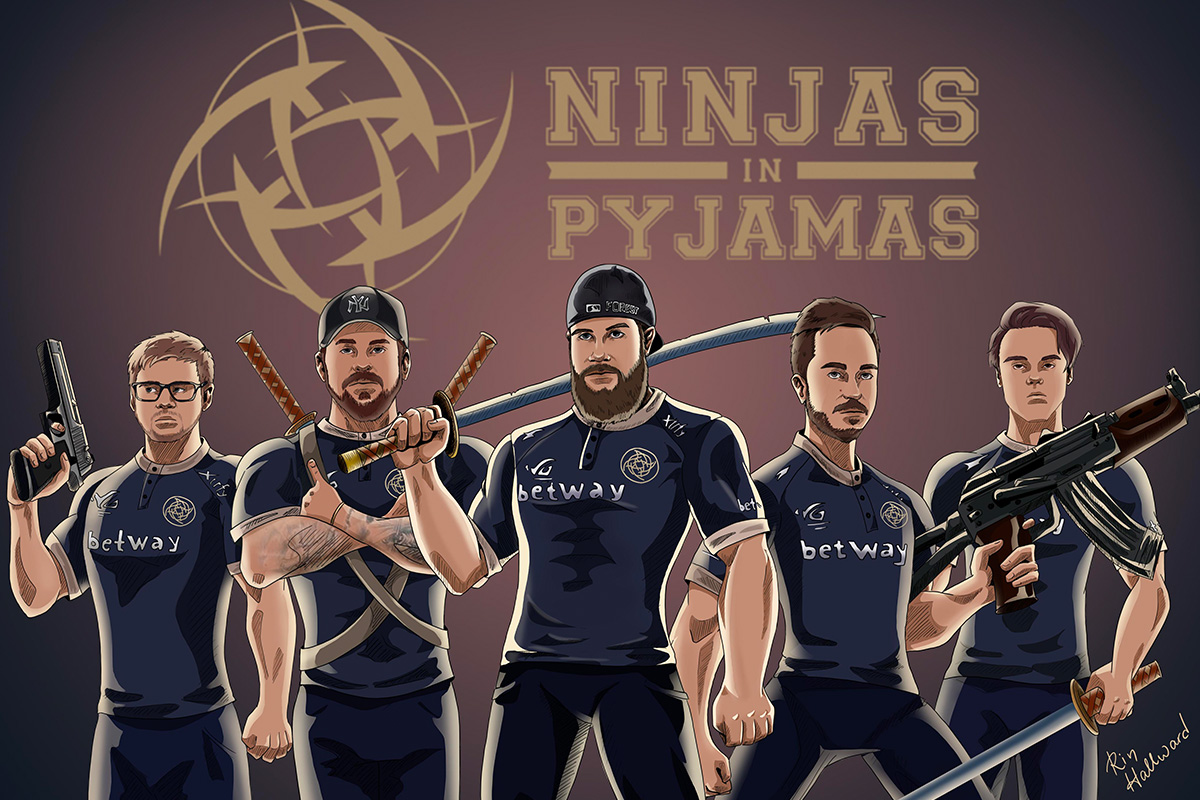 Reading Time:
1
minute
Swedish esports organisation Ninjas in Pyjamas (NIP) has announced a complete rebranding.
The rebranding not only consists of a completely new visual design where the old logotype, the Shuriken (a weapon used by Ninjas) is modernised and the previous team colours (black/gold/white) are replaced, it also includes an upgraded brand strategy and an exciting narrative where NIP has taken inspiration from traditional ancient Japanese emblems and Katakana (a Japanese writing character).
"For us who work at and play for NIP, being a Ninja is something special, it's more than just a brand and we kept that in mind while creating this new narrative to deliver an unforgettable experience for our fans and partners all over the world. Ninjas fight as one, we have discipline, we stay calm and we inspire. A ninja can be everyone and we feel it's important to create a story that anyone can connect with," Hicham Chahine, CEO of NIP, said.
Chahine reveals that Ninjas in Pyjamas has been working on this new rebrand for over a year, making sure that the brand experience is delivered to its utmost potential. The Swedish company has put a lot of effort into it, using several agencies for research and insights, e-commerce and to create a visual design and a storyline that will live on for years to come.
"We are very proud of our new brand platform and especially the new logotype as it is a huge step forward in terms of visual identity. Inside of the new Shuriken, is the old Japanese word Nin, which is the beginning of Ninja and means to apply ego and heart to the edge of the sword. We believe that intricate details like these are crucial to showcase and supply our fans with," William Bui, Brand Manager at NIP, said.
G2, Team Liquid, NiP and more to compete in Home Ground by Red Bull this weekend!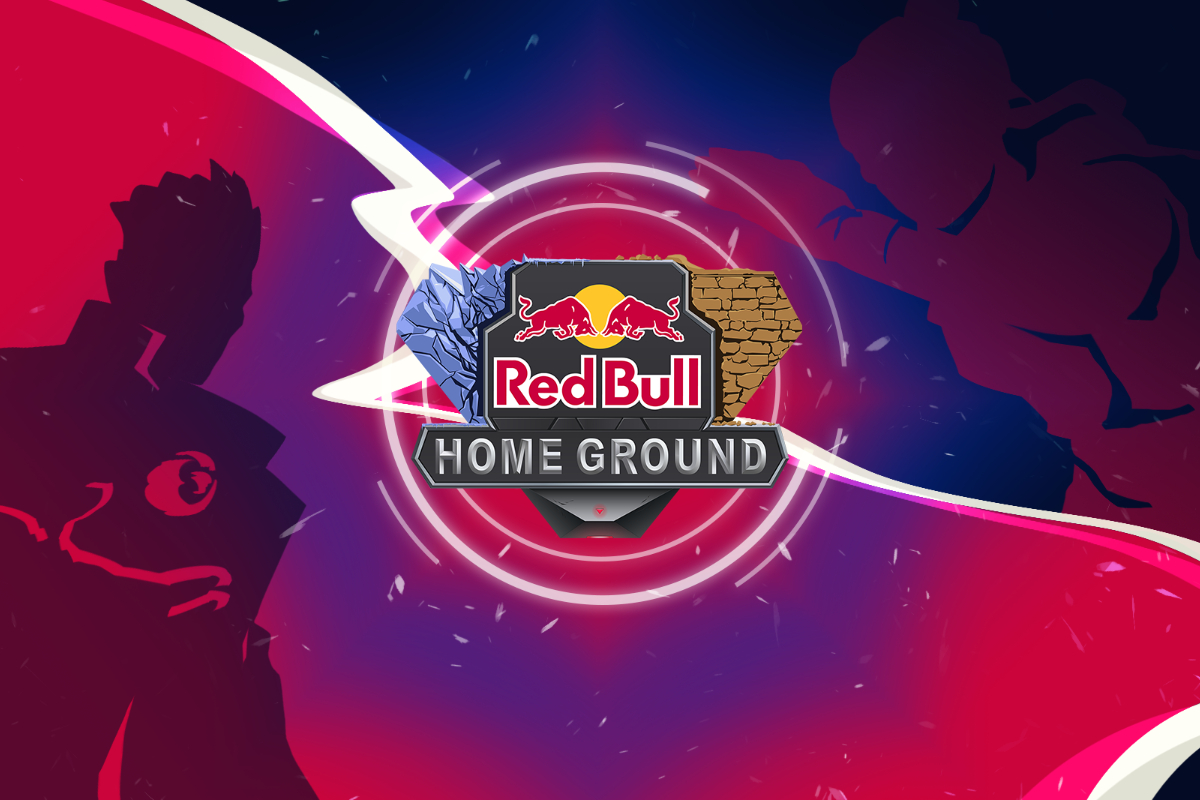 Reading Time:
2
minutes
· The final eight teams who will battle in the VALORANT invitational are locked as FrenzyGoKill secures a spot through open qualifiers, alongside special guest invited squad Monkey Business with a newly revealed roster.
· NiP will face Futbolist and G2 will take on FrenzyGoKill in day one match ups as the competition kicks off on January 28th on twitch.tv/redbull from 11:30am (GMT)
· The unique Home Ground by Red Bull format puts emphasis on map picks and bans, allowing for exciting upsets and unpredictable twists, whilst retaining the core VALORANT meta
Home Ground by Red Bull, in Partnership with AOC, a new VALORANT competition kicks off on Thursday, and will see Europe's fiercest teams go head-to-head across four days, competing for £24,000, and to be crowned the inaugural Home Ground by Red Bull Champions. G2, Team Liquid, Guild Esports, SUMN FC, Futbolist, Ninjas in Pyjamas, FrenzyGoKill, and Monkey Business, will battle in a unique format where early map dominance is the key to success. Monkey Business and their newly revealed roster have been announced as the special guest invited team, and FrenzyGoKill secured the final spot in open qualifiers that took place last week.
Home Ground by Red Bull is the brand's first pro VALORANT event, following the recent reveal of Red Bull Campus Clutch, a global VALORANT university competition which will see teams from more than 50 countries compete, marking the further evolution of the brand's global work with Riot Games.
Ahead of Home Ground by Red Bull, special guest invited team Monkey Business has revealed their new VALORANT roster:
Dylan "aKm" Bignet
Benjamin "uNKOE" Chevasson
Kevin "TviQ" Lindström
Theo "OniBy" Tarlier
Dragan "Elllement" Milanović
Coach: Julien "daemoN" Ducros
Looking forward to the competition, the team said "Monkey Business got together quite a bit later than the other teams, we've been busy stacking bananas ahead of this important day. We're looking forward to creating havoc among the top teams and producing great moments for the Valorant community. Please cheer for our monkeys during their first competitive appearance!."
Schedule (beginning at 11:30 GMT/12:30 CET each day):
January 28th – Quarterfinal 1
A) NiP vs Futbolist
B) G2 vs FrenzyGoKill
January 29th: Quarterfinal 2
C) Team Liquid vs Guild Esports
D) SUMN FC vs Special Guest
E) Winner of A vs Winner of B
F) Winner of C vs Winner of D
G) Winner of E vs Winner of F
Format: 
The eight Home Ground by Red Bull teams will battle across a best-of-five, single-elimination bracket. Adding an additional layer of strategic depth to map picks, teams will select their strongest map as their "home ground" ahead of each match.
Home Grounds get played first. If one team wins on both Home Grounds, they instantly win the 2-0 victory, and progress to the next round, meaning reverse sweeps are off the table and early game pressure is high.
If both teams dominate their home grounds, the entire best-of-five is played to determine the winner.
An explainer video can be seen here.
Broadcast talent:
Host: Frankie Ward
Casters:
Lauren "Pansy" Scott
Mike "hypoc" Robins
Mitch "MitchMan" Mcbride
James Banks
Streams: 
Home Ground by Red Bull will be broadcast in a series of languages for fans around the world:
English – tv/redbull
French – tv/redbullfr
Turkish – tv/redbulltr
French – tv/1pvalorant
German – tv/agentsrange
Spanish – tv/Giants
Grefg, Benjyfishy, Pierre-Emerick Aubameyang, James Arthur and more compete in Fortnite charity livestream this Thursday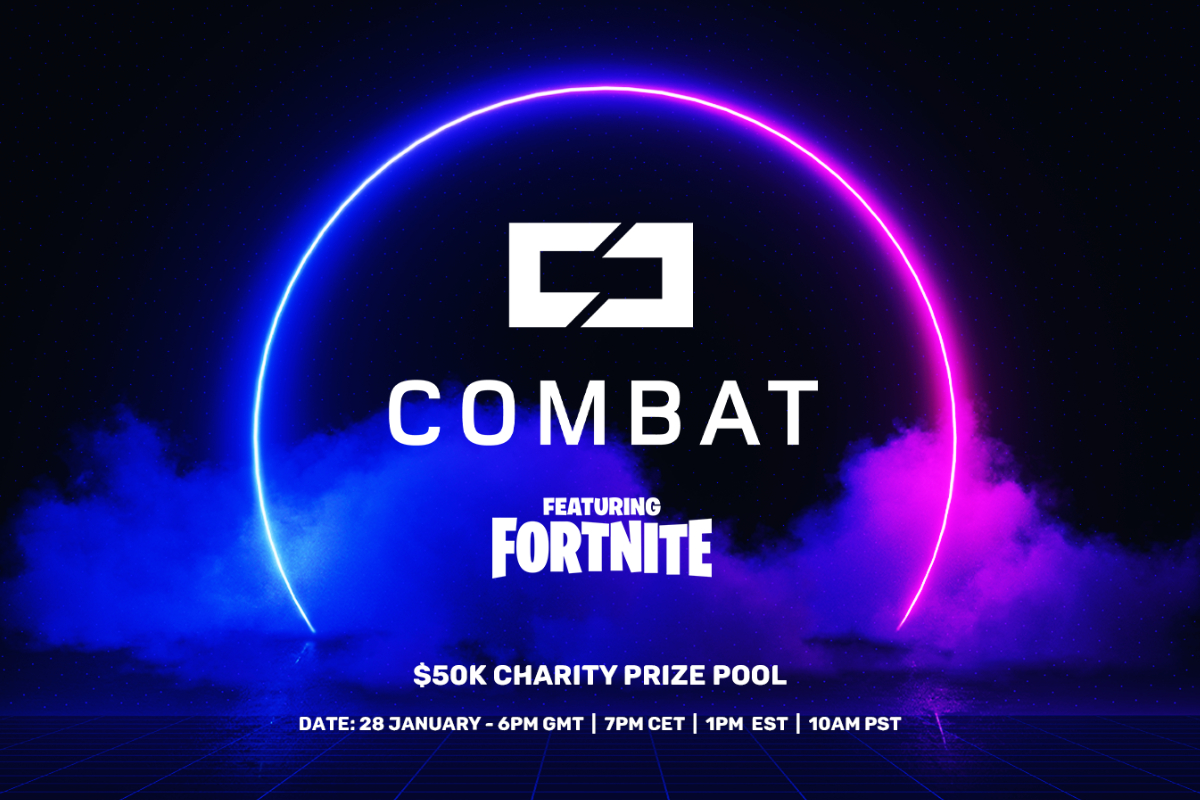 Reading Time:
2
minutes
Combat Gaming reveals the full lineup of celebrities, content creators and pro players to take part in their first charity event of the year, where $50,000 will be won for a charity or cause of their choice
Broadcast exclusively on Twitch (http://twitch.tv/Combat) Thursday January 28th 18:00 GMT / 13:00 ET / 10:00 PT
Combat Gaming, the gaming and entertainment brand that unites talent from the worlds of music, sports, fashion, and entertainment through gaming, reveals the full talent lineup for their first charity tournament of the year. Celebrities, athletes, content creators and pro players including Arsenal player Pierre-Emerick Aubameyang, musician James Arthur, Grefg, who is currently the biggest streamer in the world, and BenjyFishy, one of the best pro Fortnite players in the world, will compete in Fortnite for $50,000 that will be donated to a charity or cause of their choice. The full star studded talent lineup includes:
Celebrities: Mason Mount, Pierre-Emerick Aubameyang, Daniel James, Trevoh Chalobah, James Arthur, James TW, Nas Majeed, Manuel Lanzini, Luigi Gaspar
Content Creators: Grefg, Demisux, TurntDaisy, Manny Brown, Papi Blast, Vohlii, M1lk (Piece Control Kyle), Melebu, Kaidoz2, H11GGSY, MrBuba, Pulga, By Post, Ryft, Nicks, Harmii, Tiko, Rana Crofts
Pro Players: BenjyFishy, Wolfiez, Milan, Endretta, Kinzell, Magin, Slick, Teeq, Blackoutz, JannisZ, Steelix, Vadeal, Kejser, Nikof, Airwaks, Hawkers, LG Joji, Co1azo
Combat Gaming is a new gaming collective and membership club launched by 38 Entertainment, co-owners of Ellevens Esports alongside football superstar, Gareth Bale. In 2020 the team launched Combat Corona to raise urgent funds during the beginning of the global pandemic. The first event saw 1.2m live viewers tune in to watch footballers Gareth Bale, Paulo Dybala, Ruben Loftus-Cheek, Mason Mount and more compete in a FIFA 20 tournament to raise money for UNICEF. The second event saw 1.9m viewers watch a star-studded lineup including Vikkstar123, Ed Westwick, Caspar Lee and Trent Alexander-Arnold battle it out in Call of Duty: Warzone to raise money for Direct Relief. Over $25,000 was raised across the two events.
Following the events' success and the ongoing support from talent, Combat Gaming is pleased to continue their charity activations with four events spanning different games planned for 2021 with the first event featuring Fortnite. The tournament will be played in teams of three with celebrities, content creators and pro players joining forces. Amongst the matchups includes: Chelsea and England's Mason Mount, EXCEL Esports', Wolfiez, the youngest UK player to win $1m in Fortnite, and footballer Nathan Wood. While James Arthur will team up with YouTube star Nicks and Swedish Fortnite pro Endretta. The $50,000 prize pool will be split between the top three teams, with the money going to the players' choice of charity or cause.
Fans are also invited to take part in the event with a handful of spots up for grabs. Sign up to Combat's free membership at combatgaming.gg, and you could be selected to participate in the event and have the opportunity to play against big name celebrities and the world's leading Fortnite talent.