Team Vitality Launches in India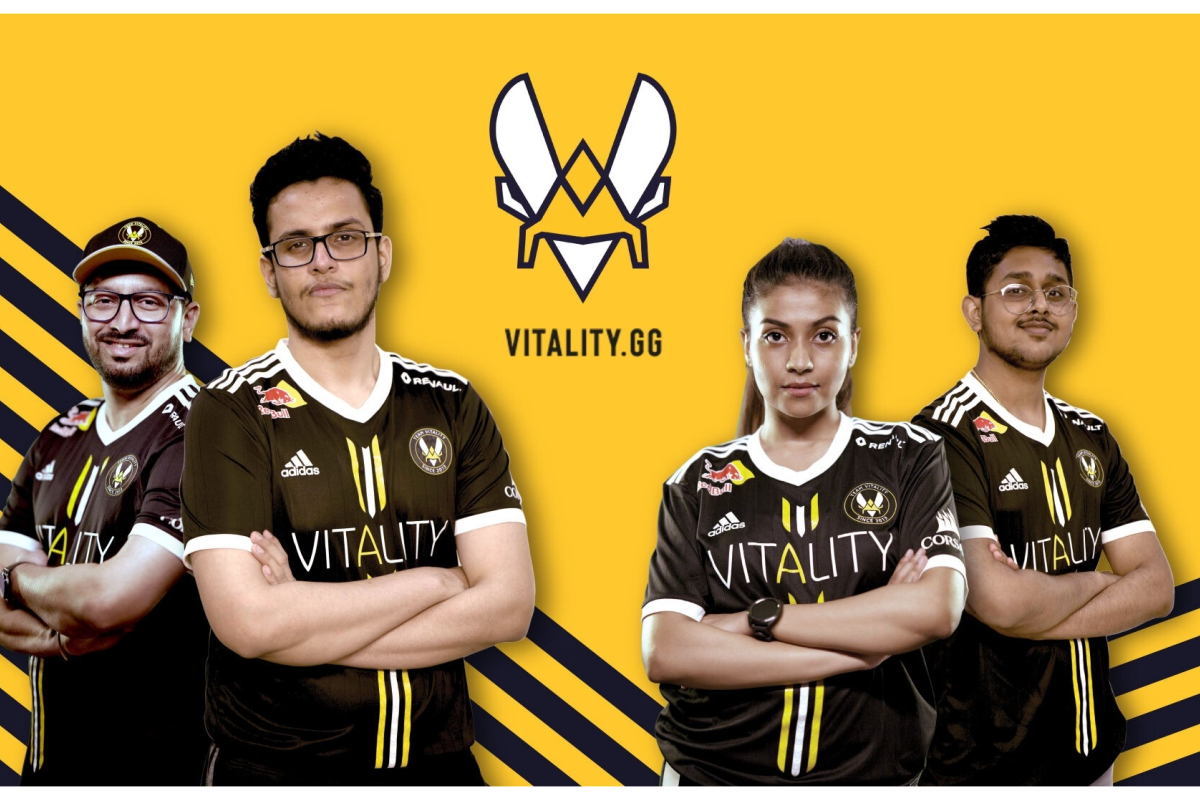 Reading Time:
3
minutes
Team Vitality, the leading esports teams in Europe, today officially announces the launch of its India operations. The expansion sees Team Vitality plant roots in Mumbai, and partner with some of the biggest content creators in India, including YouTube sensation Nischay Malhan. The organisation first raised the prospect of a significant presence in India earlier this year, and launched its Indian social media last month. Today marks the reveal of Team Vitality's first plans for the expansion, as it furthers its commitment to the growth of esports and gaming in the region.
Team Vitality's immediate focus is on building its local presence and community in order to establish a deeper connection with its fans in India. Team Vitality has partnered with gaming content creators Nischay Malhan, Rachit Yadav, Nitin Chougale and Saloni Kandalgaonkar whose respective YouTube channels i.e. Live Insaan, Rachitroo, Classified YT, and Mili kya Mili, have a combined following of 1 crore (10 million). The content creators will host a variety of engaging events and contests across their social media channels, as well as on Team Vitality India's Facebook and Instagram pages.
Following Team Vitality's first move into the Indian gaming space, the organisation is committed to creating a purely competitive branch in 2021, with the ambition of becoming the best esports organization in the region. Further details on the competitive expansion will be revealed soon, following the initial launch which will see the team build a robust foundation and community in India.
Headquartered in Paris, France, Team Vitality is home to eight top performing teams across nine games, and over 50 athletes from 13 nationalities. With its presence in India, Team Vitality is poised to help the country's gaming enthusiasts unlock their competitive potential. Team Vitality's Counter-Strike: Global Offensive (CG:GO) roster recently took the No.1 position in HLTV World rankings, establishing themselves as the best team in the world. The organisation is one of only ten teams in the League of Legends European Championship (LEC) franchise and reached the World Championship in 2018, and its Rocket League team won the 2019 World Championship. In addition, Team Vitality is partnered with mainstream brands across an array of industries such as Red Bull, Corsair, adidas, Renault, etc.
CEO of Team Vitality, Nicolas Maurer, speaking on the occasion said, "Team Vitality constantly strives to build winning teams on the international stage. Our entry into India is a big milestone for us and part of our endeavour to conquer the world of esports. Our mission here is to not just build professional teams but to also make ourselves the most aspirational esports brand in the country. We're very keen to engage with our fans in India via our content creators before competing in the biggest local tournaments with our incoming professional teams."
Amit Jain, Principal of the Rewired.gg, venture fund that has invested €34 into Team Vitality, commented, "We believe that esports is one of the world's fastest growing industries today with India having a huge untapped base of gaming talent just waiting to be discovered. The continuous success of Team Vitality promises a huge opportunity for growth in this market. We are well on our way to building one of the world's first billion-dollar esports teams."
Randall Fernandez, General Manager, Team Vitality India, commented, "This is an interesting time to enter India and the arrival of Team Vitality is welcomed with great optimism and excitement. With professional esports significantly picking up in India, our approach will include finding new talent at a grassroots level and offering them the opportunity to join Team Vitality. We will then focus on bringing their performance up to the standard of our global esports athletes, not least at our world-class V.Hive HQ in Paris and our resident training facilities at the Stade de France.  Expect to see new Indian esports stars winning tournaments as part of Team Vitality very soon."

'Penta Amateur League' December to feature BGMI, November results announced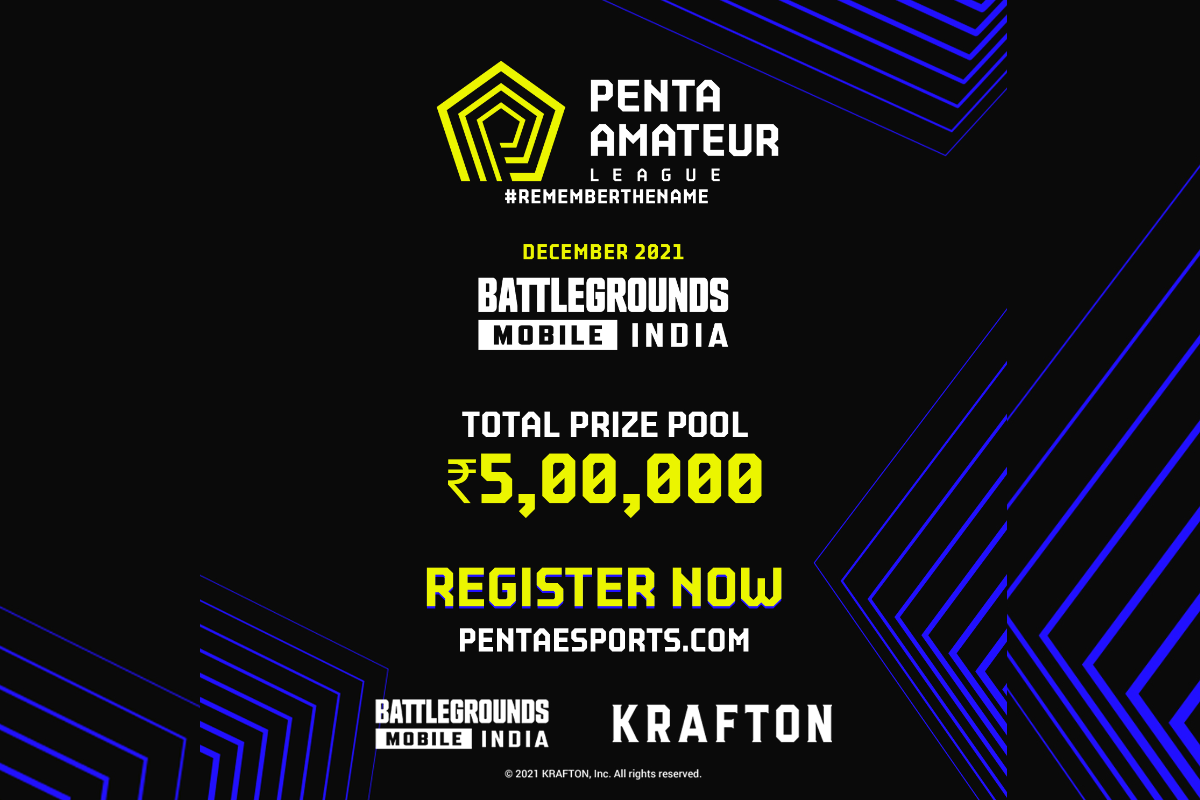 Reading Time:
2
minutes
Gaming and esports company, Penta Esports, has announced that 'Battlegrounds Mobile India' (BGMI) will be the esports title of 'Penta Amateur League' December 2021 edition with a prize pool of ₹5,00,000. Registrations have started and squads can enter the tournament on Penta Esports' platform.
The qualifiers of the tournament will run from 13th to 21st December. The finals will be broadcast live on Penta's Facebook page and YouTube channel from 28th to 30th December. The broadcast will be preluded by the 'Penta Talk Show' on 25th December.
The 'Penta Amateur League' is exclusively for amateurs and semi-professional esports athletes and teams. The games chosen for the tournament throughout the league will be platform agnostic and will include PC, console and mobile titles. Season 1 of the league will run for six months, October 2021 to March 2022, with a monthly prize pool of ₹5,00,000, adding up to a total prize pool of ₹30,00,000.
The November 2021 edition of the league featured Valorant. The playoffs took place from from 26th to 28th November with team God Particles winning the tournament 3 – 1 in a best of 5 match finals against Nogas Esports.
The broadcast of the playoffs were preluded by the Penta Talk Show, with the caster and host discussing the qualifiers, team journeys and discussing possibilities for the playoffs. The final day of the playoffs also saw an opening music performance by singer and songwriter, Sushant Satija prior to the matches.
Said Penta Esports co-founder and head of esports Kiran Noojibail "Our aim is to provide aspiring esports athletes of the country with a platform to showcase their skills and earn recognition. BGMI is a popular title in India and this tournament will be a stepping stone for budding esports athletes of this game to come to the limelight ."
The complete details of the league are available on Penta Esports' platform, pentaesports. com. The platform is a one stop destination for all things Penta, including match schedules, match results, VODs of tournaments and leagues, content, news, announcements and much more.
Founded by industry veterans Anurag Khurana, Kiran Noojibail and Akshay Paul, Penta Esports aims to disrupt the ecosystem in India with a holistic approach towards the sector, including leagues, tournaments, content and much more.
Microgravity to host MGL Free Fire Battle Royale this December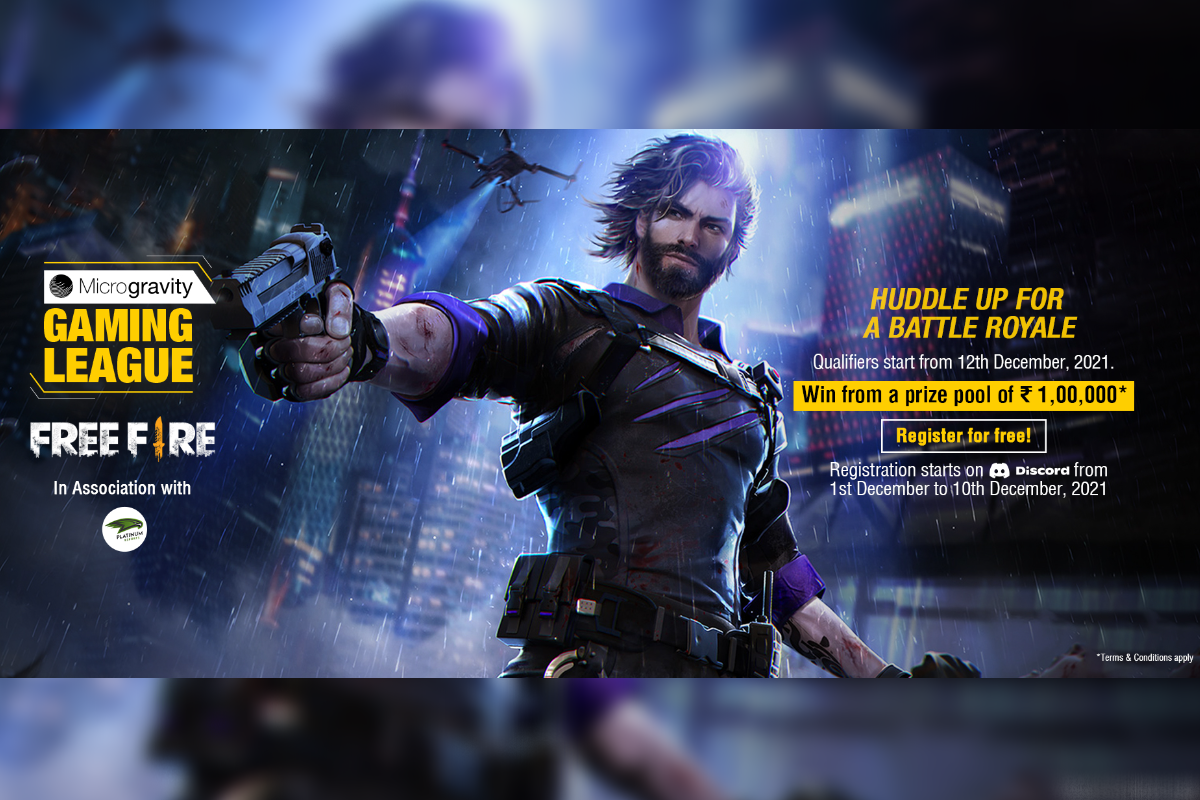 Reading Time:
2
minutes
Microgravity Ventures Private Limited, a facilitator of world-class gaming hubs and e-sports tournaments in India, today announced the 5th edition of Microgravity Gaming League (MGL) – Free Fire Battle Royale. The company will be hosting this e-sports tournament in partnership with Platinum eSports between 11th and 22nd December. The format of the tournament will be qualifier and invitation based, spread out in 5 phases – qualifiers, phase 1, phase 2, semi-finals and grand finals. Microgravity has announced a total prize pool of Rs. 1 Lakh for the top three teams and exciting gaming vouchers redeemable at their world-class gaming facility in Gurugram for top 5 viewers of the live broadcast. Teams can register from 1st till 10th December and participate in this competitive all-India tournament.
Speaking about the announcement, Mr. Rahul Bhattacharya, Co-Founder and MD, Microgravity said, "We are thrilled to have partnered with Platinum eSports for the 5th edition of MGL  – a Free Fire tournament. This year, we have witnessed immense enthusiasm and curiosity among Indian games for e-sports tournaments. We strongly believe that MGL Free Fire will be a great success and will serve as a platform for gaming enthusiasts to hone their skills. Through these tournaments, we aim to support and promote gamers in India who are exceptionally talented and need support to further enhance their skills. We are also planning to host several such tournaments with new titles going forward that will help players become more polished in their skills."
A total of 1000 teams can participate in this tournament with 4 players per team along with one substitute. The qualifiers stage will be held in the 'Bermuda' map in two phases with 100 groups participating in phase 1 and 30 groups participating in phase 2. Each group will have 10 teams taking part in the tournament. Top 3 teams from Phase 1 and Top 4 teams from Phase 2 of the qualifiers stage will take part in the quarter finals match. A total of 120 teams can take part in the quarter finals match spread in 12 groups of 10/11 players taking part in each group. Top 4 teams will be shortlisted based on the best of 2 matches in 'Bermuda' and 'Purgatory' map for the semi-finals. During the semi-finals stage, 8 teams were invited to take part in this challenge and a total of 60 teams battled for the finals. Top 2 teams will qualify for finals based on the best of 4 from maps- Bermuda (2), Purgatory, Kalahari. Two additional teams will be invited to take part in the finals and will have a total of 12 teams in this stage. This stage will have only one group with 6 matches happening across maps – Bermuda, Purgatory and Kalahari.
This year, Microgravity has successfully organized two online gaming tournaments which gained significant traction amongst gamers. These tournaments were the MGL FIFA 21 tournament and the MGL Call of Duty: Mobile tournament.
Everton Announces Partnership With i8.BET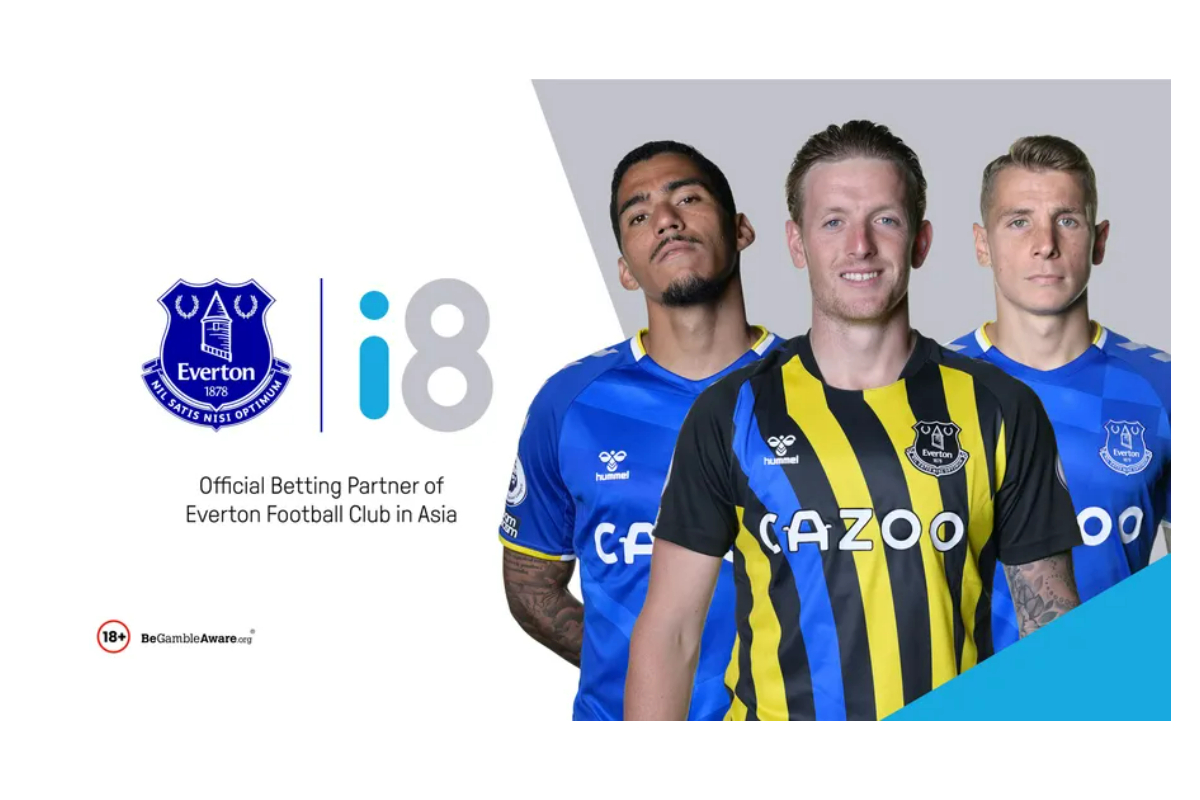 Reading Time:
< 1
minute
Everton Football Club has further expanded its international partnership portfolio by signing up i8.BET as a new commercial partner.
The deal will see i8.BET become the Club's exclusive Official Betting Partner in Asia, as the gaming brand continues to expand its trusted and innovative platform in the online betting market across Asia and beyond.
As part of the partnership, i8.BET branding will be visible on matchdays across Goodison Park and on the Club's online platforms in Asia, in line with age and territory restrictions. The company will also have access to imagery of the Everton squad for their commercial activities.
The regional agreement supports Everton's international growth strategy with the partnership offering the Club a chance to further extend its reach into commercial markets in Asia.
Darren Wang, CMO at i8.BET, said "In line with our global tagline of "Choose The Best", we are excited to exclusively partner with such an iconic Premier League team as Everton Football Club; a partnership that will see us working with the club on a number of exciting and innovative initiatives and promotions in key brand territories in support of our ongoing brand expansion and trust building efforts."
i8.BET will use Everton's name and brand extensively in marketing activity across Asia, where they have a presence in several important and largely populated territories.