Gaming Corps presents exclusive trotting casino slot Delicious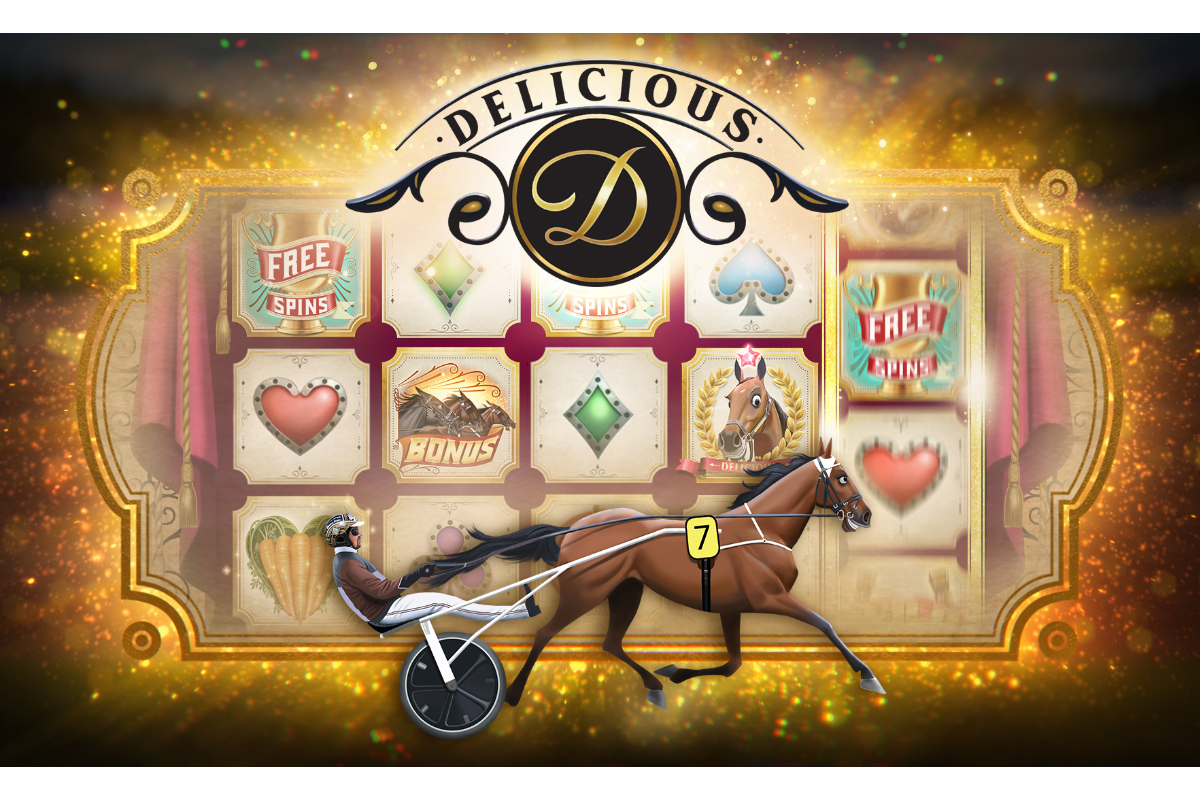 Reading Time:
3
minutes
Swedish developer Gaming Corps proudly presents Delicious, the Company's first tailor made, exclusive iGaming product to reach the market. Delicious is a trotting themed casino slot inspired by legendary trotting horse Delicious U.S. The game has been developed exclusively for ATG® and is made available on ATG Casino.
On December 20th 2019, Gaming Corps and ATG announced an agreement whereby Gaming Corps would develop tailor made, exclusive casino slots on ATG's behalf. It has since been the Company's outspoken intent to further develop the business model and work to secure more individual deals of the same nature. The launch of Delicious marks Gaming Corps' first tailor-made, exclusive iGaming product to reach the market. Board member Daniel Redén came up with the idea for the game, inspired by Delicious U.S., a trotting horse he trained during several successful years on the racetrack.
"It is with great pleasure that we present Delicious today. For Gaming Corps, it is a milestone to have developed our first tailor-made exclusive product. This journey has taught us much along the way, lessons which have already been valuable in the work of further developing this business model. I would like to thank ATG for great, straightforward collaboration, and our team for the dedicated work on developing this product. But above all, I want to thank board member Daniel Redén for his vision and drive. With a genuine passion for trotting and gaming, Daniel has managed to join his two worlds in an inspiring way, something which resulted in an exciting product." says Juha Kauppinen, CEO.
The game design, artwork, animations, sound and mechanics of Delicious have been carefully developed to convey the experience of the trotting race track, inspired by its great namesake. Under the training of Daniel Redén, Delicious U.S. was one of the trotting world's best mares over several years. Delicious U.S. won 29 out of 55 races and held a number of world records before finishing her career in 2017.
"Trotting, horses and animals have been, and always will be, my greatest interest and passion in life. Delicious was the turning point for me and my trotting career, she is more than just a horse; she has meant so much and taught me so much in ways that cannot be expressed in words. Had ATG not liked the idea, this product would never have reached the market as it is very important to me that the Delicious casino slot is only available on ATG. That I am passionate about trotting is not new, but through the collaboration with ATG my vision has been translated into something tangible which ensures that income from the game goes directly back to the sport of trotting. For me, it means a lot to be able to give something back to the sport that has given me everything. In addition, Delicious is a star who deserves to be made immortal, and with the help of this game we perpetuate her legacy in a new, innovative way. As a company, Gaming Corps demonstrates the ability to carry out tailor-made projects with an eye for detail. Trotting will continue to be an inspiration for me in my work at Gaming Corps, and I hope this game will spark an interest in the sport! Have a lot of fun playing and pay attention to the details." says Daniel Redén, Board Member.
LET US PRESENT DELICIOUS
Welcome to the wonderful world of Trotting! Inspired by legendary horse Delicious, this trotting themed casino slot brings the joy and anticipation of the racetrack to your fingertips, exclusively on ATG Casino. Make it to the trotting race bonus game and race the horse of your choice to the finish line where prizes await. If fortune is on your side, you may be challenged by Delicious at the end of the race and collect a premium prize when reaching the goal. See you on the racetrack!
ABOUT THE GAME
Casino slot played on a 3×5 grid with 20 paylines where design, music and sound effects emanate the feel of the trotting racetrack.
Bonus game in the form of a trotting race where the outcome determines the value of the prizes awarded the player at the finish line.
Potential challenge by Delicious during the bonus race with higher value prizes awaiting the champion.
Free spin mode triggered with 10 free spins awarded when 3 Golden Cups land on the reels.spelplanen.
TROTTING LEGEND DELICIOUS
Delicious U.S. is a unique horse, successful against all odds on the racetrack and was one of the trotting world's best mares over several years. A fan favourite in Sweden, she won 29 out of 55 races during her career and held a number of world records before retiring in 2017. Delicious garnered attention for her remarkable technique and for being so small in size and yet so successful.

WorldMatch enters Georgia with 170 slots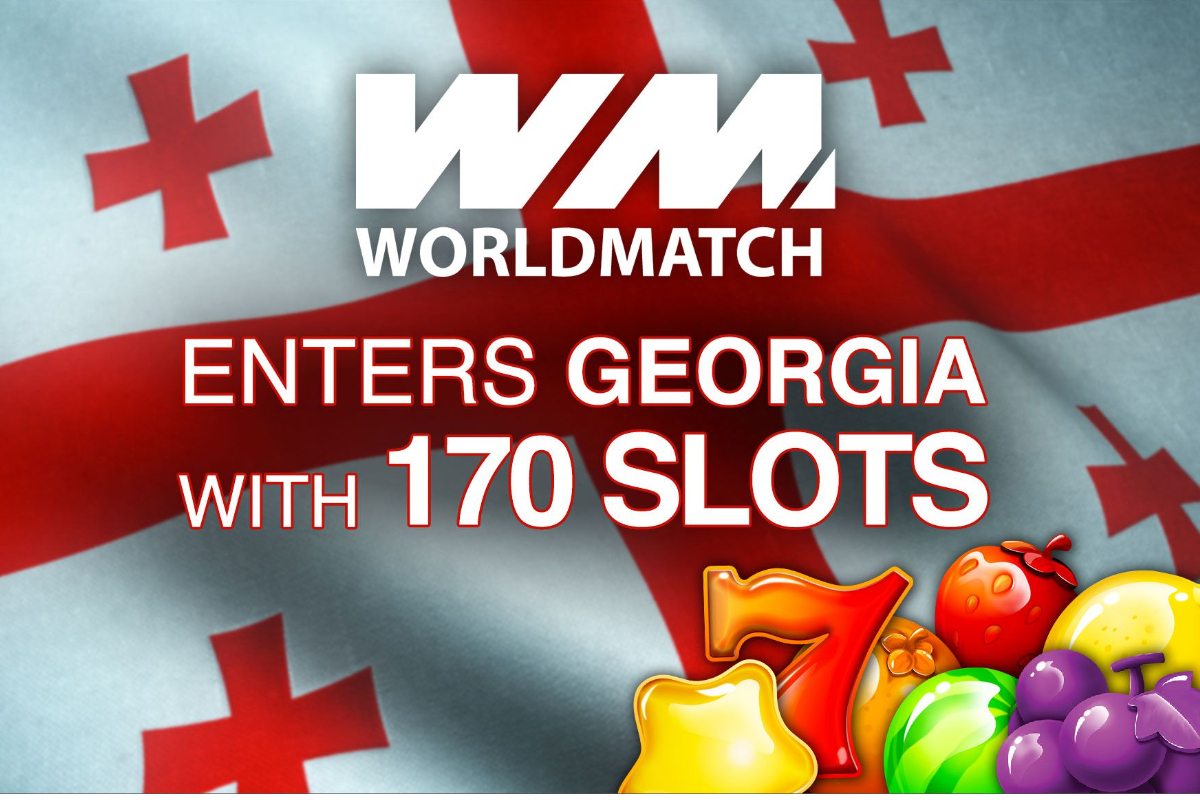 Reading Time:
< 1
minute
WorldMatch is very pleased to announce an important step forward in the CIS region expansion.
All of WorldMatch's games have been declared aligned with the "Georgia Ministry of Finance, Requirements for Online Gaming Systems, Order no 243 as of 1 October 2020".
WorldMatch's entire game offer is equipped with captivating in-play animations, hi-quality sound effects and great special features. All the games are available in desktop and mobile portrait version.
The wide selection is one of World Match's key points, there's a huge variety of games and every Georgian player will be able to find what best suits him.
Georgia joins the regulated markets where WorldMatch already distributes its games to the best operators, these markets are:
Italy;
Spain;
Portugal;
Colombia;
Belarus;
Bulgaria;
UK;
Belgium.
"We are glad to announce that WorldMatch can now offer Georgian players a truly great gambling experience on a top technology platform in a safe and secure environment. We're sure these are just our first steps in the CIS markets and are looking forward to our next ones." Comments Andrea Boratto, CEO of WorldMatch.
Opera GX blasts off with Operius, the new arcade space shooter to play in the browser when your WiFi is gone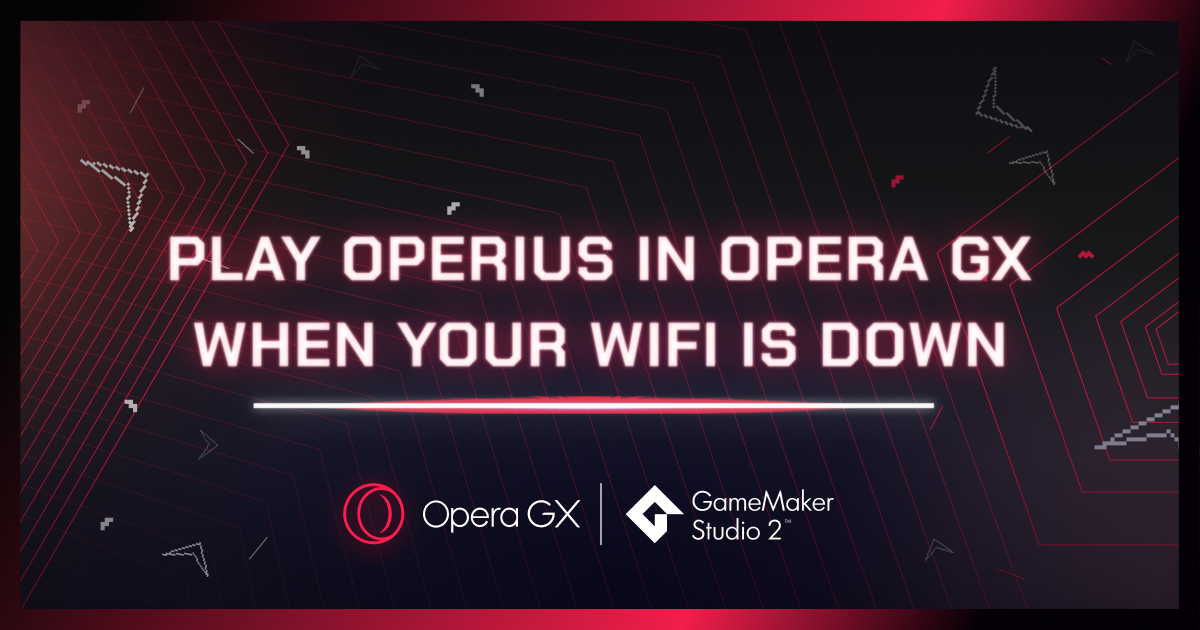 Reading Time:
2
minutes
No WiFi? No problem! Created in GameMaker Studio 2, Operius has won the Game Jam to become the Opera GX Browser's first offline mode game and is playable starting now
We've all experienced the unexplainable horror of having to deal with some flakey internet connections. In those moments where the WiFi is gone, Operius will help take your mind off your frustration with its fast-paced arcade gameplay. Created in the game creation suite GameMaker Studio 2, Operius is playable in the Opera GX browser today. The game will appear whenever your network crashes. Those with a stable connection who really want to try Operius, can simply type opera://operius in Opera GX's address bar.
Designed by Mors, Operius is set in a world where all of the world's computers simultaneously lose their connection to the internet, with a strange UFO that is hovering in the sky appearing to be the cause of the outage. The only way to restore the planet's internet is to navigate through the inner workings of the UFO and take it down from the inside, a task that involves shooting hordes of alien invaders and dodging obstacles to advance to the next level.
In July, Opera GX launched its "No Internet" Game Jam to find the game that would keep its audience of more than 10 million gamers entertained whenever they lose their connection. With more than 900 entries, all created in GameMaker Studio 2, the competition was ferocious. But one game, Operius, elevated itself above the rest and emerged triumphant after topping the public polls that saw eight hand-picked games garner over 100,000 votes from the Opera GX and GameMaker communities.
Operius features razor-sharp, retro-inspired vector graphics which pay homage to the great space-based arcade shooters of the eighties with a pulsating high-adrenaline soundtrack written by Catonator. Being offline doesn't mean you can't play together: Operius features an offline two player mode: all you need to do is share your keyboard with another person and enter the two player mode.
'We believe gamers deserve a better game than jumping dinosaurs or surfers. That's why we started the Opera GX game jam and found Operius. Operius is a highly addictive ultimate offline game to rule them all," said Maciej Kocemba, Head of Opera GX.
"With Operius, I wanted to make a fun arcade-inspired shooter to take the players' minds off being offline and perhaps even make them forget they were supposed to get back online in the first place," said Mors.
'In creating the shortlist, we were looking for a game that's fun to play, looks and sounds fun and, most importantly, that you want to play over and over again,' added Kocemba.
Alongside becoming the new offline game in Opera GX and saving many a gamer from what is otherwise an incredibly frustrating experience, Operius developer Mors, also receives a $10k cash prize. Two runners up Aliens Stole My WiFi and Nettie & Settie Save the Internet also each receive cash prizes of $7k and $3k respectively.
Luckily, users won't have to rip out their router to play Operius, as it is available to play when you don't have connection issues in GXC. GXC is Opera's upcoming self-publishing platform and will allow indie game makers to publish their GameMaker Studio creations directly to the platform and for free – for other users to enjoy and give instant feedback. Operius, as well as Aliens Stole My WiFi and Nettie & Settie Save the Internet will be available in GXC.
Flutter Entertainment opens new £15m technology and innovation hub in Leeds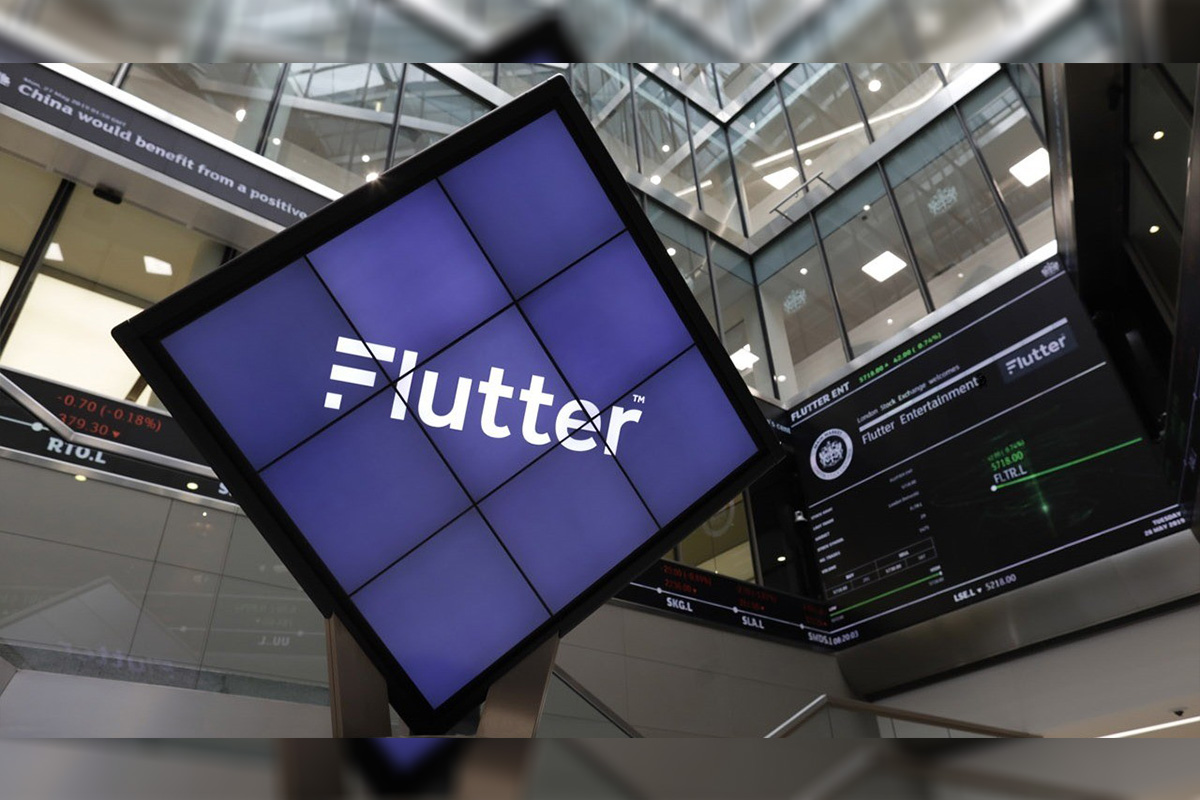 Reading Time:
2
minutes
Flutter Entertainment's new £15m UK technology and innovation hub in Leeds is now officially open to colleagues from across its UK and Ireland and International divisions.
Designed by MEPC, the state-of-the-art workspace is home to 1700 colleagues and comprises 136,000 sq. ft of flexible space across eight floors at 4 Wellington Place in Leeds Dock – a thriving community for the media, technology, and creative industries. It has been built to the highest environmental standard, achieving a BREEAM Excellent rating on completion and includes a range of accessibility and sustainable features, meeting the WELL building standard, which aims to make the work environment healthier for colleagues.
The hub will act as a centre of excellence in technology and innovation for Flutter brands operating in the UK and Ireland, helping to drive innovation across the Group through the development of industry-leading digital products for consumers across the world, while providing highly-skilled jobs and a sizeable local investment in Leeds and the surrounding Yorkshire region.
The new site will be home to more than 800 technology professionals working in key functions such as its Global Sports Trading Platform, Digital Infrastructure, Platform Services, and Information Security. It will also include several unique attributes, including:
Seventh and eight floors dedicated solely for social activities between teams;
IT 'vending machines' for certain equipment to free up resource and time for IT colleagues;
£1m investment in VC and AV equipment to promote inclusive meetings between those working remotely and in the office;
Six electric car charging points in the basement;
And break-out furniture items all made from recycled Coca-Cola bottles.
The hub will continue to promote SBG's 'Skills Academy', which offers selected graduates a fully funded MSc in Digital and Technology Solutions from Sheffield Hallam University while they gain in-house experience working with technology teams across the business. To better represent the communities it operates in, SBG has also launched a self-funded version of the government's Kickstart scheme, creating 13 new roles for young people at risk of long-term unemployment. These are spread across business areas and functions including marketing, finance, people, tech and design.
Conor Grant, CEO of Flutter Entertainment UK and Ireland commented: "Our new office in Leeds is our vision for the future of working and we are excited to welcome our colleagues to this modern, agile and flexible workspace. The entire Flutter Group has benefited greatly from the leading technology capabilities we have developed in Leeds through our talented and highly skilled workforce, and this investment demonstrates our ongoing commitment to both the city and our colleagues. We will also continue to be a positive force in the communities we serve, with our Skills Academy and Kickstart scheme offering exciting opportunities for young people to develop their skills."