Red Bull Kumite London brings the prestigious fighting game tournament to the United Kingdom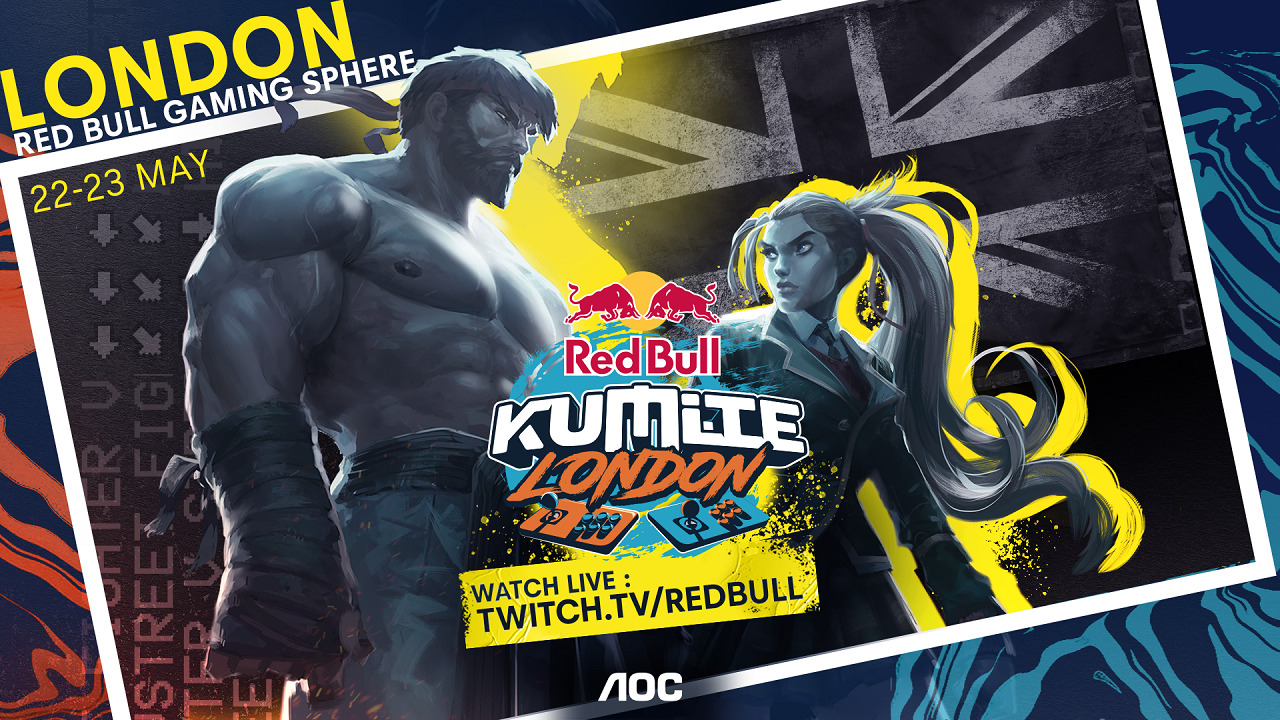 Reading Time:
2
minutes
Red Bull Kumite London is an exciting new edition for the prestigious fighting game tournament series and will feature one of the first major Street Fighter V events of 2021.
The spectacular two-day experience will be live-streamed over the 22nd and 23rd May 2021 from the Red Bull Gaming Sphere in London.
The highly anticipated invitational will feature a showcase of the upcoming fighting game Guilty Gear Strive on Saturday, as well as the exclusive Street Fighter V tournament on Sunday.
ASTRO Gaming comes on board as Peripheral Partner to support the competition with world-class headsets, mixamps and controllers. AOC returns as the official Monitor Partner to equip players with high-performance gaming monitors ensuring exceptional visual clarity and ultra-high refresh rates.
Red Bull Kumite London, an exciting new edition from the prestigious fighting game tournament, Red Bull Kumite, is set to head over to the United Kingdom from Japan for a spectacular two-day experience over the 22nd and 23rd May. The high-stakes invitational will include a Guilty Gear Strive showcase as well as one of the first major Street Fighter V tournaments of 2021. The weekend will be streamed live on Twitch and YouTube across both days from the Red Bull Gaming Sphere in London, which has also been transformed to match the spirit of the Red Bull Kumite legacy.
Red Bull Kumite London will bring together 16 of the best Street Fighter V competitors to battle live for fans to crown a single champion. Originally held in Paris from 2015 to 2018, the prestigious competition was moved to Japan in 2019 as a nod to 'the spiritual home to Street Fighter'. For the 2021 edition, the legacy is coming to London!
To kick off the weekend, Red Bull Kumite London will feature an exclusive showcase of a new fighting game Guilty Gear Strive, incorporating competitions with pros, in-depth interviews with developer Arc System Works, and more. The showcase will host 12 prominent players from the Fighting Game Community, including some of the biggest names from the scene. The showcase will be streamed over a six-hour special show that will make sure fans and players learn everything they need to know ahead of Guilty Gear Strive's official release in June 2021.
On Sunday, the action-packed Street Fighter V tournament will take place. One of the most exciting spectacles in the esports calendar, 16 players from across the globe will battle it out across a ten-hour live stream. The event will include 15 of the greatest players the game has to offer, as well as one additional UK player who has earned the place among the stars by winning the Last Chance Qualifier UK on 2nd May.
The event has joined forces with industry-leading partners to bring the very best hardware to competitors. Red Bull Kumite London welcomes ASTRO Gaming, who create professional-grade video gaming equipment, as the new Peripheral Partner, providing world-class headsets, mixamps and controllers, ensuring full immersion with tools built for both elite performance and durability. Additionally, AOC, the global leader in gaming monitors, returns as the Official Monitor Partner for the event, bringing exceptional visual clarity and ultra-high refresh rates to competitors.

TIPLAY STUDIO ANNOUNCES $500K SERIES A FUNDING AT A $25M VALUATION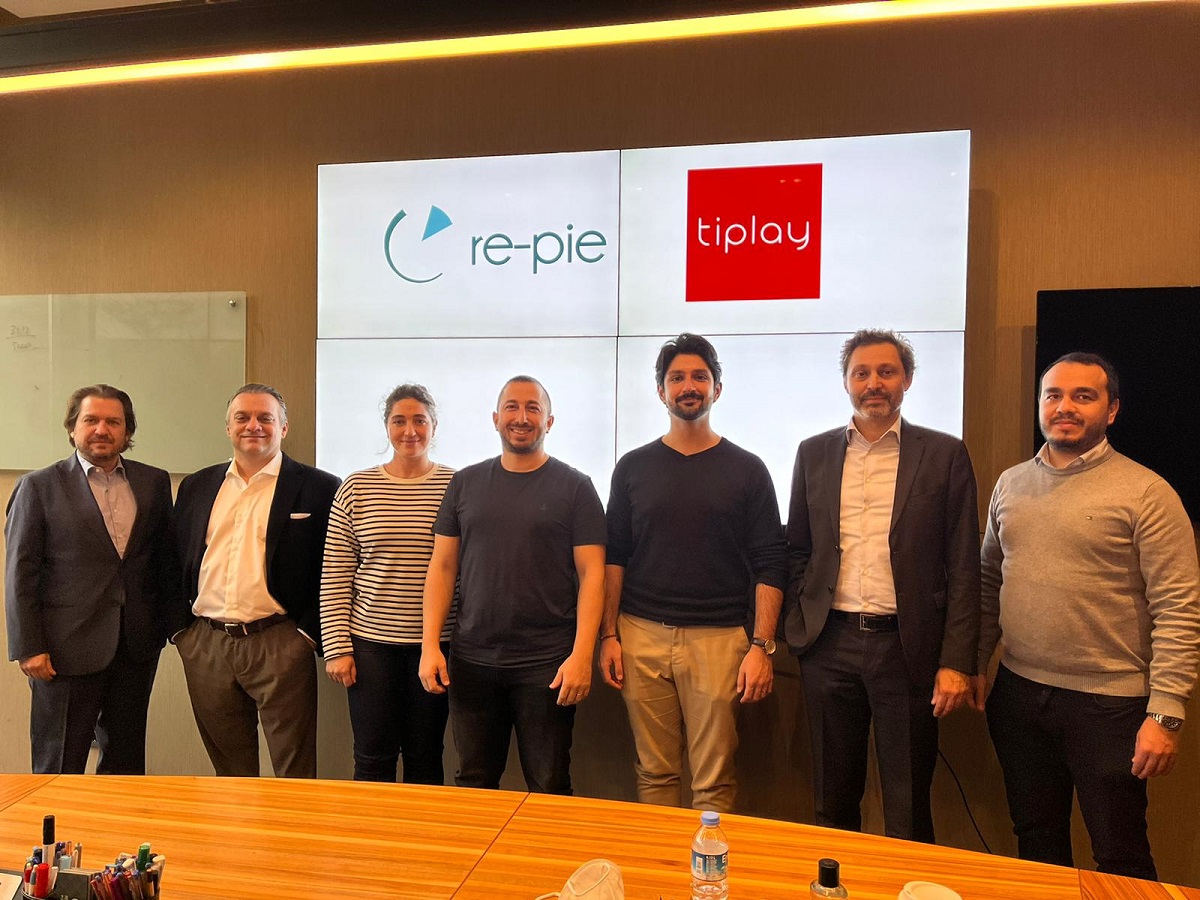 Reading Time:
2
minutes
tiplay studio, a game development ecosystem dedicated to creating amazing games for the masses, today announced that it completed a Series A financing round.
The financing was led by Re-Pie. Lead investors in the round included Kerim Kotan and Saruhan Tan.
The funding will support hiring highly skilled personnel and recruiting talented teams to oFON, which will expand the product line and the digital footprint of the ecosystem. Funds will also be allocated towards improving technological and operational features of OnlineWorkSpace (OWS), a remote work platform developed by tiplay studio, in order to enhance remote, hybrid and physical work environments for internal studios and oFON teams.
"This is an important inflection point for tiplay studio" said Mehmet Umut Ermeç, CEO and Co-founder, tiplay studio. "On behalf of tiplay studio, I would like to thank my dear colleagues, my partners Ahmet Öney and Osman Tutum, our seed investors who have been supporting us from day one and all of the game enthusiasts who have been cheering for us. We are proud that so many distinguished investors have recognized the progress we've made and are supporting our vision to create the best game development ecosystem in the world. This investment will allow us to strengthen our studios and accelerator program operating in multiple genres and platforms – ultimately leading to amazing new games."
"I am truly proud of tiplay studio and their valuation growth which is above 100x since their Seed, executing well beyond expectations to become a major regional ecosystem and a powerhouse of game development!" said Kerim Kotan, Senior Board Advisor and Investor, tiplay studio
Re-Pie General Manager Alim Telci stated that the gaming industry is an area where Turkey has a serious competitive advantage. He added: "We believe that tiplay studio will be a pioneer in the ecosystem with OWS, the platform they have developed for remote game development and oFON, the game studio accelerator program."
Mads "Viggomopsen" Mikkelsen crowned Red Bull Solo Q Champion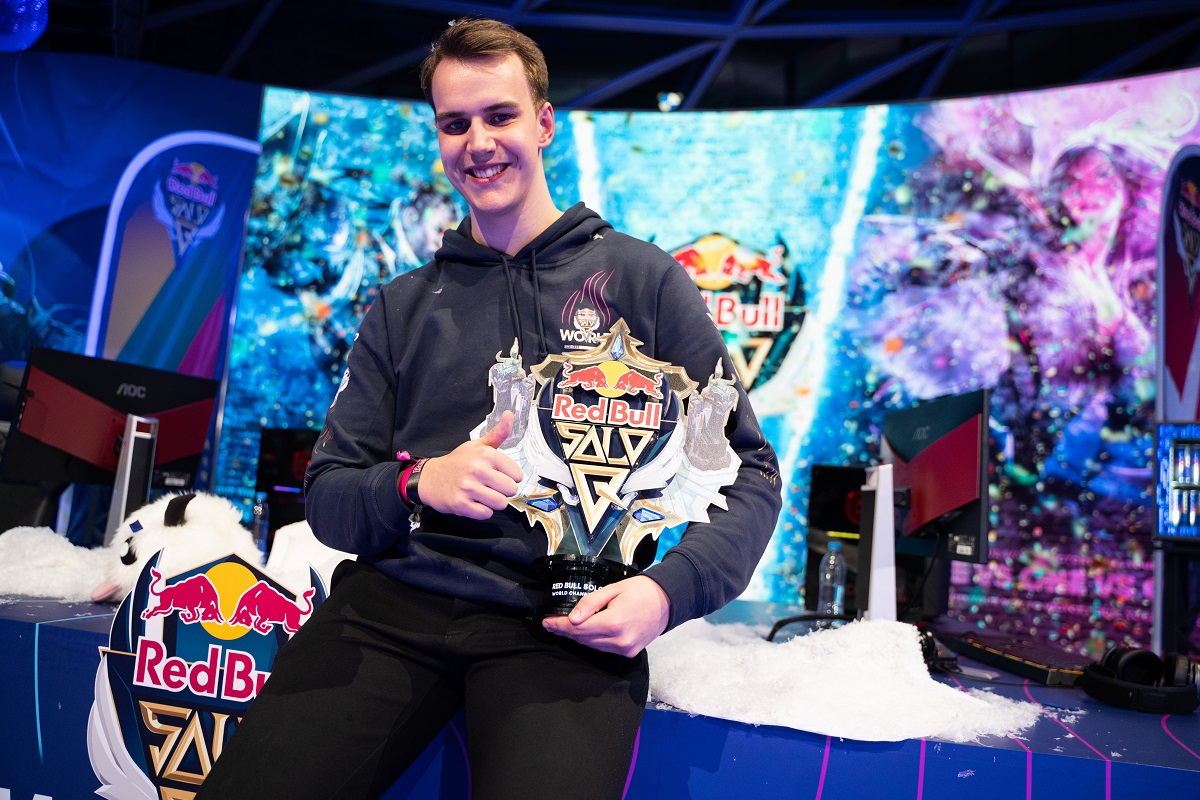 Reading Time:
2
minutes
Red Bull Solo Q, the official 1v1 League of Legends tournament, came to an exciting end this weekend as Mads "Viggomopsen" Mikkelsen was crowned the Red Bull Solo Q Champion, besting Arnas "arnax" Stepanauskas in a confident 4-2 victory.
Set in one of the most visited tourist attractions in Germany, BMW Welt, and with Eefje "Sjokz" Depoortere as global face of the initiative, the Red Bull Solo Q World Final closes out an amazing year for League of Legends Esports.
The Red Bull Solo Q World Final kicked off on Saturday, December 4th, with 19 of the world's best 1v1 League of Legends players entering the group stage to decide who moves on to the elimination rounds. The single lane map Howling Abyss saw players forced to switch up their usual playstyle– along with a sudden death mechanic pushing players to fight in a shrinking Ring of Fire after 7 minutes. The opening day saw the two USA players, DarkWings and bradleyyy eliminated, leaving North American fans with the Canadian Doxa as their only hope. French top-laner Raphaël "Lingwi" Claudé, who looked like a very strong competitor moving into the final, could only put forward a 1 win 3 loss performance which saw him eliminated in the group stage.
Sunday saw the kick-off of the Playoffs and elimination matches. Mads "Viggomopsen" Mikkelsen, one of the strongest players in the group stages, continued his dominating run all the way until the final, besting Hamboly 3-1, Doxa 3-0 and You MERT Bro 3-1 with amazing adaptability, switching up the playstyle based on his opponents' champion picks. On the other side of the bracket, Lithuanian ​​Arnas "arnax" Stepanauskas made his way to the final with tough 3-2 wins over both Shakara and Potatis, before besting HULKSMASH 3-1, with a thrilling final game where HULKSMASH looked sure to take First Blood.
Although Viggomopsen entered the final as the clear favourite, it was arnax who took an early lead with a win in game one. However, Viggomopsen's calmness and measured approach allowed him to take back control, winning the following three games in a calm and confident fashion. arnax took the W in a nail-biting game five, surviving with only a sliver of health left. However, staying composed in a closely fought game 6, Viggomopsen remained patient as the Ring of Fire enclosed and took First Blood, and the Red Bull Solo Q World Title.
Following the win, Viggomopsen said: "I think I really screwed up a lot, I should have won the matchup quite easily but I kinda panicked a couple of times. But thankfully the pick was too strong late game, so even though I was really nervous and really stressed out I still got it."
Speaking on Red Bull Solo Q, runner up arnax said: "The experience overall was great. I just took it one game at a time, I wanted to not come last place so going top two is great for me. I like all the guys, I'm really great friends with them all right now, so it's been great."
The show stopping final act of the renowned amateur circuit, Red Bull Solo Q features 1v1 duels where the player must draw "First Blood," take down the opponent's tower, or reach a 100-minion score to claim victory. Having run for a number of years, the tournament has seen multiple heartwarming success stories of amateurs competing in the tournament, and then progressing on to greater League of Legends success.
The 5 up-and-coming game developer teams in Gamecity Hamburg's incubator program present their projects and progress at Games Lift Graduation 2021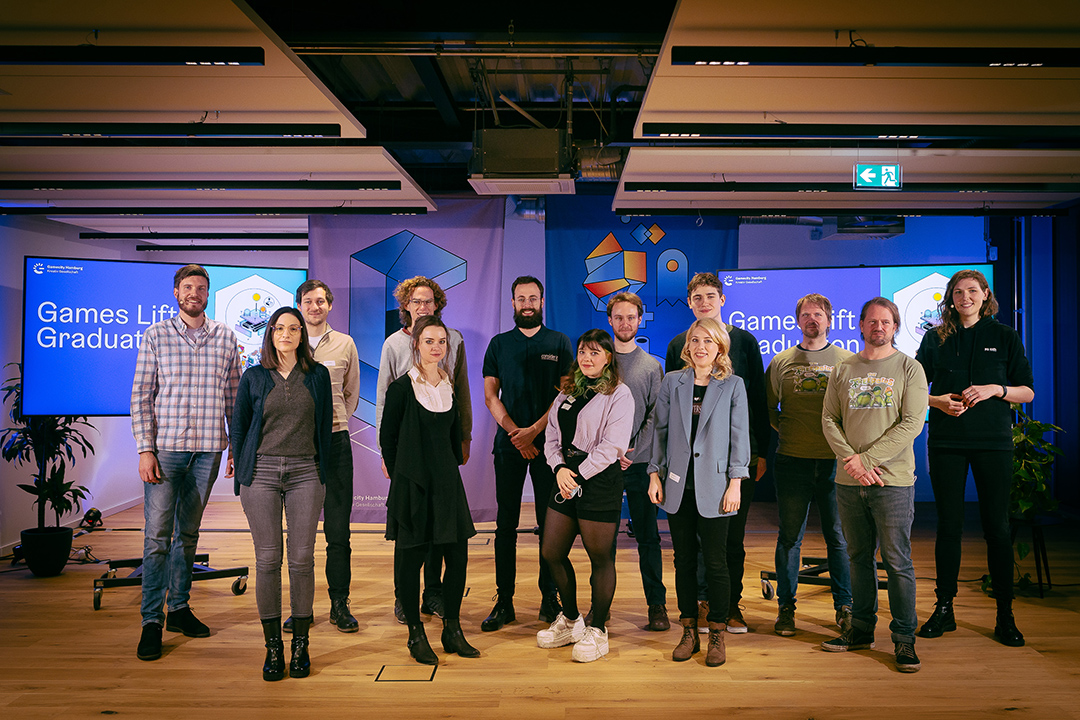 Reading Time:
3
minutes
At the final event of this year's Games Lift Incubator program, five teams presented their game projects live at the start-up center Factory Hammerbrooklyn in Hamburg on December 2. During the three-month intensive phase of the incubator, the teams received individual coaching, mentoring, and workshops from international games experts, as well as financial support of 15,000 euros per project and workspaces in a co-working space from the location initiative Gamecity Hamburg. All five teams reached important milestones in the development of their games and concepts.
"I'm impressed by the progress the teams have shown in just three months. I look forward to seeing more from the teams and their games in the future," comments Wolf Lang, CEO of event agency Super Crowd Entertainment, co-founder of indie studio THREAKS and member of the Games Lift Incubator awarding committee.
"The Games Lift Graduation vividly demonstrates the great effects that targeted funding programs like the Games Lift Incubator can have in leveraging the potential at Hamburg as a games location," adds Dennis Schoubye, Head of Gamecity Hamburg.
At the final event, "Games Lift Graduation," the five teams publicly presented their projects for the first time and provided insights into the progress they had made in development as well as outlooks for the future. Twitch streamer Nina Dreßler "OddNina" and Dennis Schoubye led through the evening.
For the developer teams, the incubator offered the opportunity to critically examine their ideas in exchange with experienced mentors, to refine their game concepts, and to check the market potential. For example, the young developer teams planned and tackled possible changes to game titles, the right pitch for their ideas, and concrete plans for Kickstarter campaigns to finance further development.
These five teams successfully completed the intensive phase of Games Lift Incubator 2021 with their projects:
The Invitation by tool1
Timo Becker, Martin Kleingräber, and Stephen Sommerfeld have known each other since their university days and founded their game studio tool1 to realize the action-packed multiplayer looter-shooter The Invitation. Graphically rich and with a focus on dynamic player interactions, the players fight for survival with each other, for each other, and against each other in a post-apocalyptic world attacked by aliens.
PROSPECTOR by Symmetry Break Games
The team Symmetry Break Games around HAW Hamburg University of Applied Sciences graduates Anca Tutescu, Jan Barow, Julian Heinken is working together with Franziska Blinde and Cecilia Theophil on PROSPECTOR, a sci-fi adventure with a compelling story and an innovative dialog system. In the game, all characters wear mysterious masks for protection against toxic fumes, which possess other surprising functions.
Monstersongs VR by Denise Koch
Solo developer Denise Koch brings experience from the theater and musical world and is currently working on developing a "Musical 2.0":  Monstersongs VR is an adaptation of the successful "Monstersongs Rock Musical" as an interactive virtual reality story in a theater filled with monsters. As the project manager, Denise Koch brings together the threads of her team of experienced composers, illustrators, and VR developers.
supernightshift by consider it
Kevin Westphal and Timo Schneider from "consider it" are working on "supernightshift", a mobile game based on a map app they developed which uses real-time traffic data. The players have to get to their destination in their mysterious "nightshift" with a tight budget of time and money and different means of transportation in real cities.
The Treepoids by SUPERNATURAL GAMES
Brothers Gerrit and Patrick Henschel founded their studio SUPERNATURAL GAMES together in 2019 and are developing a 2D strategy adventure game with lovingly hand-drawn scenarios. The alien plant creatures "Treepoids" solve puzzles, engage in strategic battles, and thus have to save the environment of a mysterious green island.
The support for the five teams through the Games Lift Incubator program does not end with graduation: In the next 12 months, they will continue to have access to the incubator's extensive contact network, as well as individual support services from coaches, consultants, and a PR agency specializing in games. The aim is to aid the developers with long-term support in creating successful games for the international games market in Hamburg.
From May 2022, teams and developers can apply for the next Games Lift Incubator. All information about the incubator and the teams that have already completed the program can be found at: https://www.gamecity-hamburg.de/incubator/