Antstream Arcade accelerates expansion with hire of games industry veteran Mike Rouse to support growth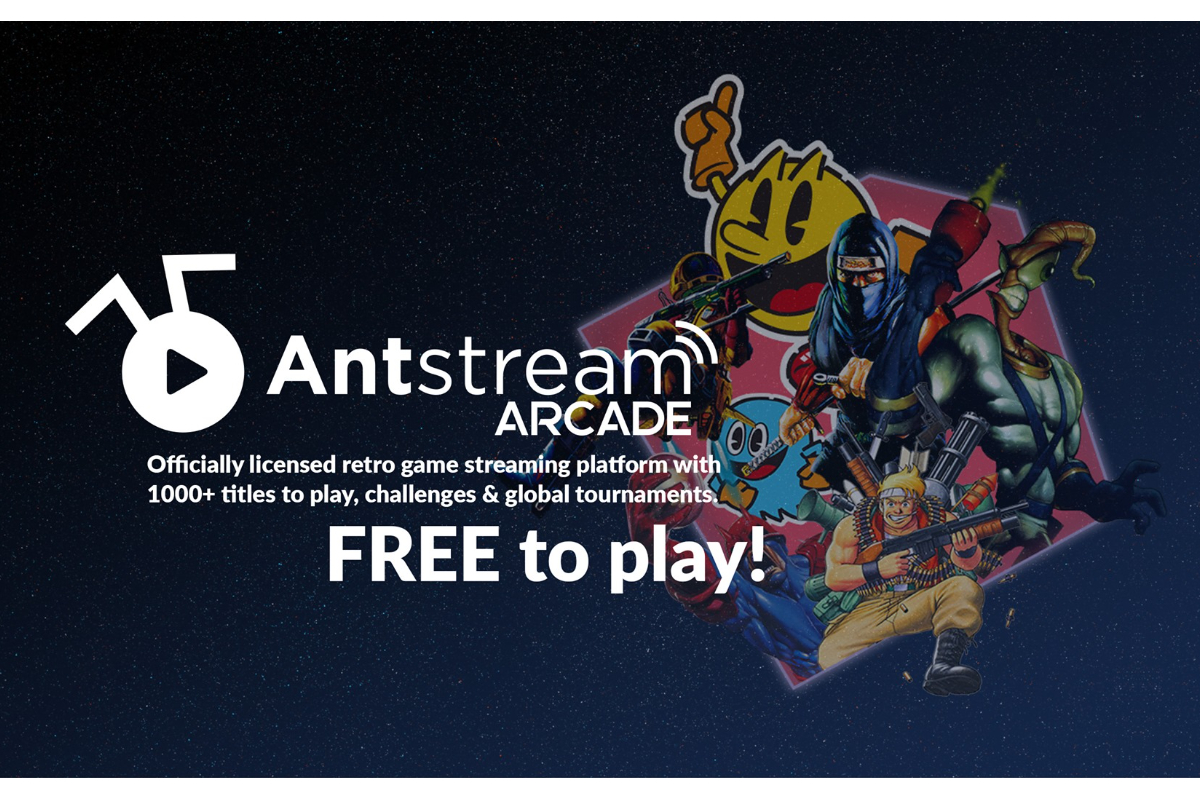 Reading Time:
2
minutes
Appointment comes at a time of record growth for the business
Leading video game streaming platform Antstream Arcade has expanded its internal studio team with games industry veteran Mike Rouse joining to lead its production team and help build out its internal studio. This move comes during a period of record user growth for the company following its establishment as the world's first free-to-play game streaming platform.
Mike joins Antstream from 2K's Brighton based Hangar 13, where he was Head of Production and responsible for developing and co-ordinating strategy across the studio's four global locations and 400 employees.
Mike has over 20 years' experience in the games industry, with a career that includes key roles at Microsoft as Studio Director overseeing the incubation and development of Microsoft Hololens and its future tech studio, and at Sony as Dev Director creating the PSN Trophy system and several AAA Titles. He brings this extensive experience in pushing the boundaries of how players interact with games to his new role at Antstream Arcade, as it continues to expand its offering.
Mike Rouse said: "As a lifelong fan of what we now have to call "vintage" games, working at Antstream Arcade represents the perfect combination of my passion for retro gaming and changing how players interact with games themselves. I think it is very likely that we are nearing the end of physical consoles – with physical media losing relevance to the rise of cloud-based gaming, it is all but inevitable. As the first company to successfully launch a free-to-play platform with thousands of games, Antstream is well placed to be at the forefront of this change."
Steve Cottam, CEO of Antstream said: "Between our new licensing partnerships with the likes of Disney and Bandai, and our decision to adopt a free-to-play model, we're in a period of immense change here at Antstream. Bringing on someone with Mike's expertise and experience in altering how people play games is a huge boost for us as video game streaming continues to drive the game industry forward as a whole. We look forward to working with him in taking our library of iconic video games to the biggest audience possible."
Mike's love of retro gaming is on full display on his Retro Gamer Boy YouTube channel, where he posts weekly unique videos delving into his own extensive retro gaming collection, and discussing the best retro games and consoles ever made. His retro gaming goal is to collect every SEGA Megadrive game, with only a few notable holdouts like Pirates of Darkwater standing between him and the holy grail of completionism.

YoYo Games launches Fire Jump – a new game-making Drag and Drop tutorial for GameMaker Studio 2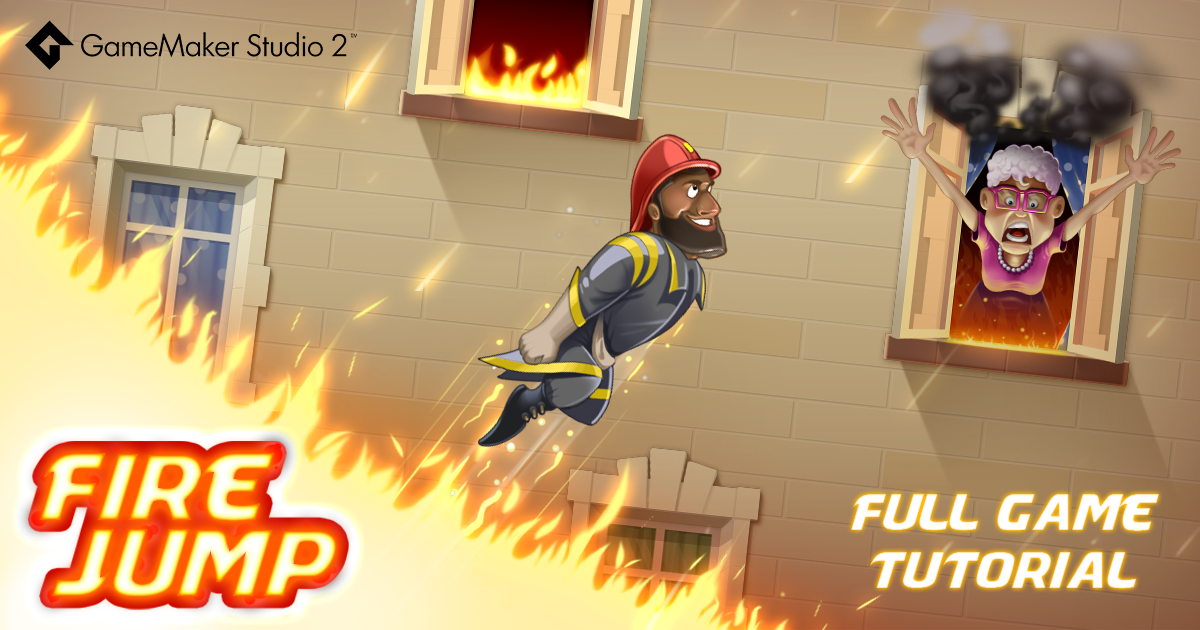 Reading Time:
2
minutes
New tutorial introduces hobbyists to the basics of GameMaker's intuitive Drag and Drop system to create their own infinite platformer game from start to finish
YoYo Games today announced the launch of Fire Jump – a new game-making tutorial designed to introduce new users to the basics of GameMaker Studio 2, the world's leading 2D game development engine.
Designed specifically for those with little or no game design experience, Fire Jump features a step-by-step guide to making an infinite platformer game, primarily using GameMaker's easy-to-use and intuitive Drag and Drop (DnD) system.
In Fire Jump, players control an intrepid fireman on a mission to rescue civilians from a burning building. As our hero leaps vertically from window to window, he must rescue civilians whilst trying to avoid those windows which are on fire.
Explained in an easy to understand manner, the free tutorial includes four tutorials plus a wealth of supporting materials, teaching new users how to make a playable character, generate infinite obstacles, build a solid game loop along with menus and much more. There is also enough useful information for intermediate users to enjoy as well.
The launch of Fire Jump tutorial follows the recent release of Little Town, a major new game-making tutorial designed to teach students the fundamental principles of game design with GameMaker Studio 2.
You can download the Fire Jump tutorial by visiting https://www.yoyogames.com/en/blog/fire-jump-tutorial.
Stuart Poole, General Manager, YoYo Games, said: "With Drag and Drop, absolutely anyone can make an impressive game without writing code – all you need is imagination.
"This is why we're extremely excited to be launching Fire Jump – our latest high-quality step-by-step DnD tutorial, designed to quickly get hobbyists up-to-speed with the core functionality of DnD and GameMaker Studio 2 while hopefully inspiring them to create their own amazing games."
Bad Fox Studios' MOSH Super Squad Hits PC Early Access on the 25th of June across Steam and the Epic Games Store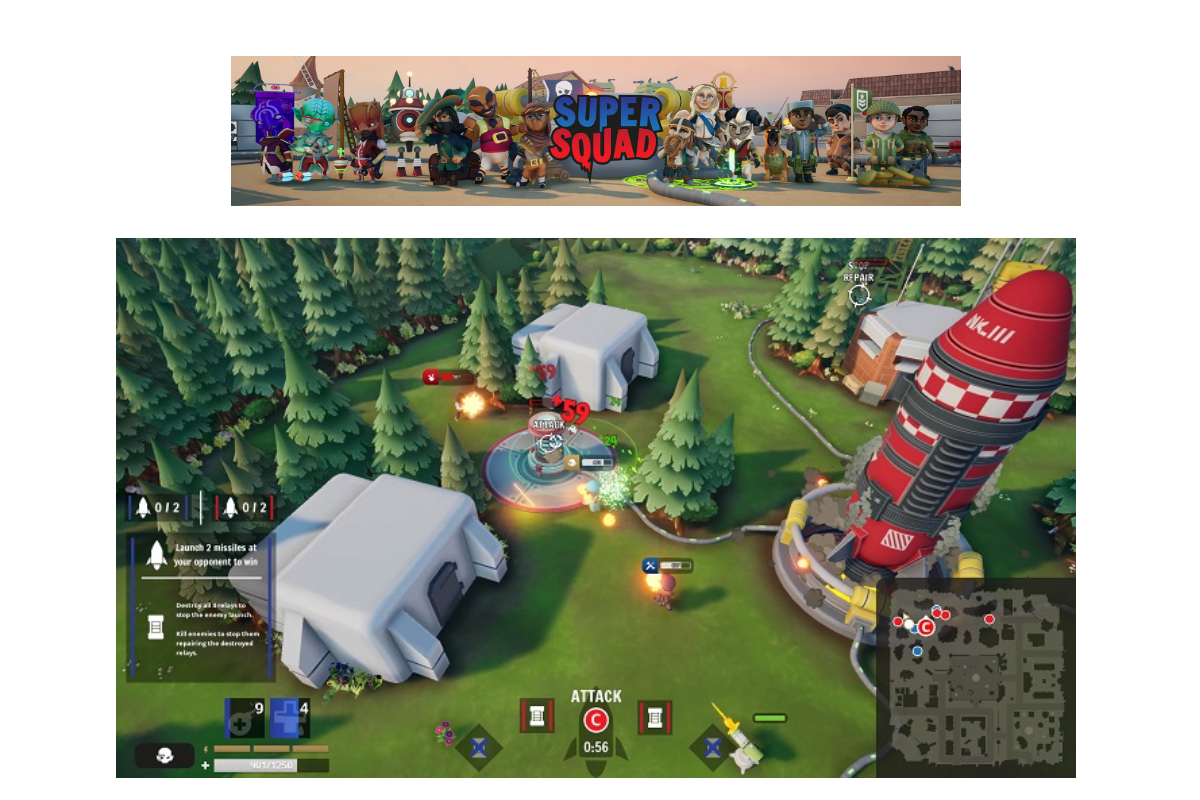 Reading Time:
2
minutes
Squad up and duke it out in a manic-strategic battle for domination. Tactics, teamwork and twitch reflexes are vital to claim victory, with top-down shooter controls to master, a diverse roster of troopers to choose from, and a myriad of map shaking abilities to fire off.
Bad Fox Studios are pleased to announce their Free to Play game Super Squad will be blasting into Early Access on the EPIC Games Store and Steam on the 25th of June. Super Squad's entry into Early Access also heralds the birth of a new genre: the team-based Multiplayer Online Shoot-'Em-Up, or MOSH. Part RTS strategy, part MOBA twitch shooter, all MOSH. To claim victory, you'll have to think like a general but fight like a trooper.
Join the Cosmic Chaos!
Soldiers, aliens, pirates, and more collide when military experiments on a mysterious meteorite tear a rift in the fabric of reality. Portals appear throughout the universe, sucking up troopers from across time and space to face off in feverish 5 v 5 battles for domination.
Dodge Faster, Shoot Faster, Think Faster
Whether hunting for missile keys to bombard the enemy stronghold on Military Base, warping to New Mars to assault the enemy mothership, or keeping it classic and going head-to-head in the upcoming Team Deathmatch mode, smart team composition, slick co-operation and laser accurate skill shots are the ways to win.
What to Expect
Super Squad will release into Early Access with 12 playable troopers to choose from, 8 maps to traverse, and 2 modes to battle through. You can either purchase access to all troopers present and future with a Superpack, or simply jump in with the 6 free troopers that will be on rotation every 2 weeks. 2 new troopers will also be added to the roster monthly, giving players new playstyles to master, re-invigorating the team composition meta, and keeping the action fresh.
The Bad Fox Philosophy
Player-focused design is at our core and we are committed to ensuring Super Squad is fun for everyone, regardless of their decision to spend money on the game. That means unlockable content at a fair price, absolutely no pay-to-win mechanics, and our ongoing support for competitive play.
A Huge Thank You to all our Beta Troopers!
After rounding out over a year of beta testing with a series of beta weekends and a 54 hour(!) long stream, everyone at Bad Fox would like to send a huge thank you to the thousands of troopers who logged in and squadded up for the first time. You have been crucial in refining Super Squad from controlling multiple troopers in the beginning, right down to the current build. We can't wait to continue the journey with you as Super Squad continues to grow and evolve!
Super Squad launches into Early Access on Steam and the Epic Games Store on the 25th of June.
The Favourite Video Games From Across The World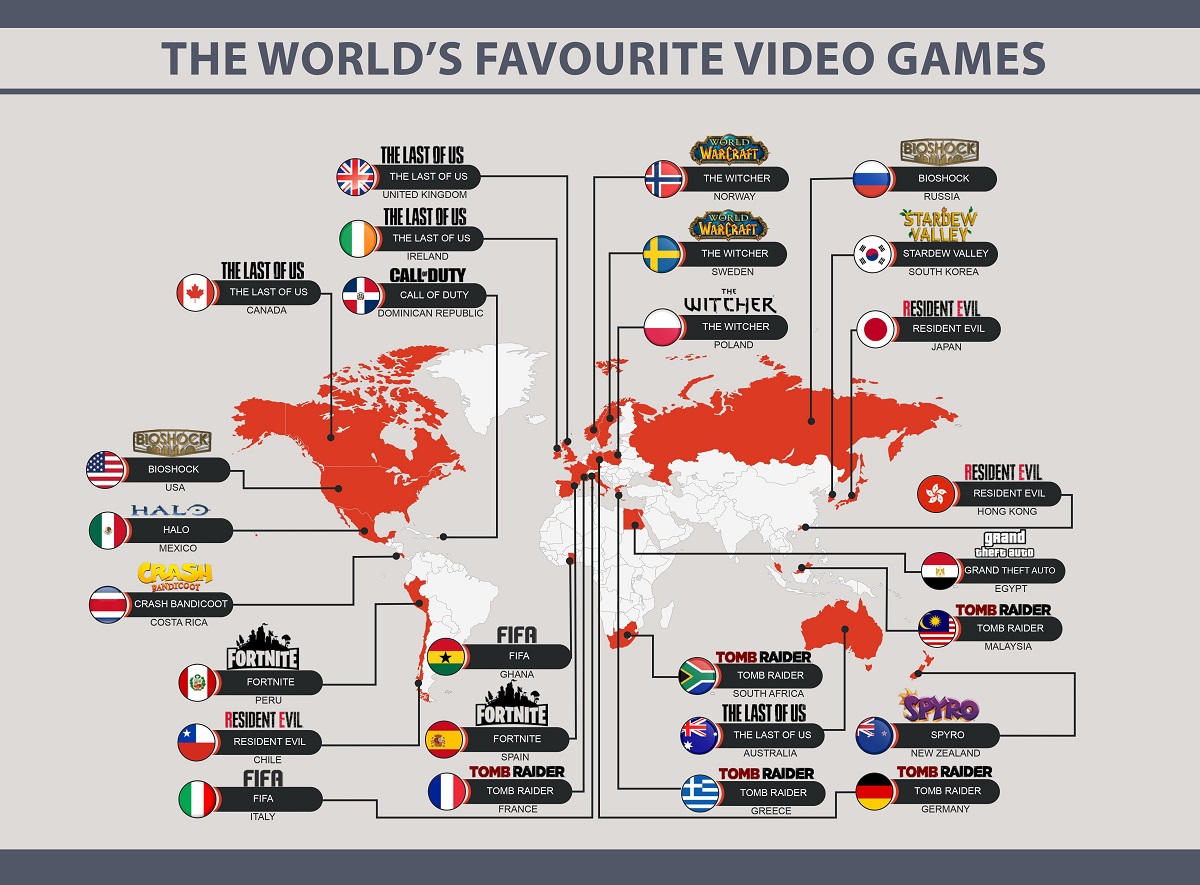 Reading Time:
2
minutes
The number one video game in the world is Tomb Raider, now with over 20 games available on over 10 different console types.
Tomb Raider's biggest fans are in Germany, France and Hungary.

Grand Theft Auto and Fortnite score second and third place, with GTA being the number one game in both Asia and Africa.

Bioshock is crowned the UK's favourite video game, having been the most popular in Belfast, Bristol, Glasgow and Sheffield.
A new study by airsoft company Patrol Base has discovered the world's favourite video games. The research looks in-depth at video game archives across 75 countries to uncover the most popular games across the globe.
Reviewing monthly searches, Patrol Base has ranked not only the best games on the globe, but also the most popular games in each continent, the most liked gaming genre, and even the UK's favourite video games by city.
Out of a total of thirty different games reviewed across six continents, the number one game is action-adventure classic, Tomb Raider. It scored the most first place results compared to every other game; taking gold in ten out of 75 countries including Germany, France and Hungary.
Top Ten Favourite Global Games
Tomb Raider
Grand Theft Auto
Fortnite
Resident Evil
Call Of Duty
World of Warcraft
The Last Of Us
FIFA
Hitman
Minecraft
A firm favourite, Tomb Raider is also the most popular game in Europe, whilst Call of Duty conquers North America. Resident Evil takes the crown in South America, of which interest in the horror-themed game had been the highest in three out of the nine countries reviewed.
The Favourite Game Per Continent
Europe – Tomb Raider

North America – Call Of Duty

South America – Resident Evil

Asia – Grand Theft Auto

Africa – Grand Theft Auto

Oceania – Spyro
Unsurprisingly, first-person shooter (FPS) and action-adventure games came joint first in the race for the most popular gaming genre worldwide. Action-adventure games in the top ten included Tomb Raider, GTA, The Legend Of Zelda and God Of War. Flying the flag for FPS are Call Of Duty, Battlefield, Halo and BioShock.
Top Five Game Genres Worldwide
Action-Adventure
First-Person Shooter
Platformer
Role-Playing Game
Survival Horror
In a strange twist of fate, the 2013 released video game BioShock proved to be the most popular game in the United Kingdom, having been a solid favourite in cities including Belfast, Bristol, Glasgow and Sheffield. Despite not having released a game in eight years, the franchise still racks up a huge 32,000 searches per month, with BioShock: Infinite receiving an additional 21,000 searches.