Global Gaming Marketplace Kinguin Partners With Immutable X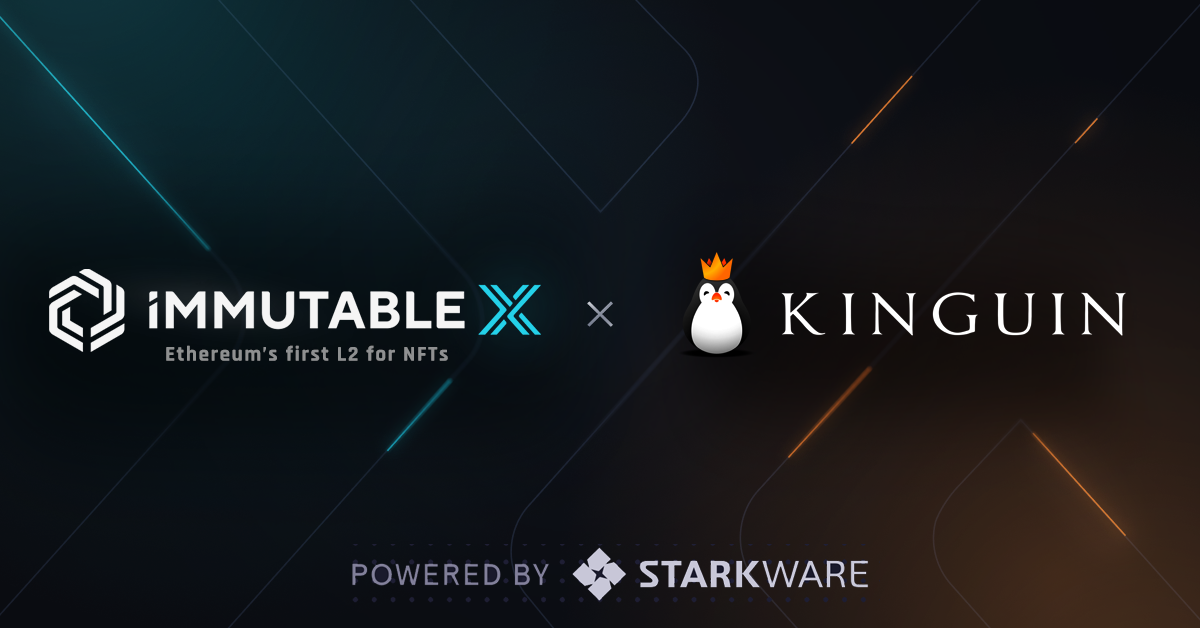 Reading Time:
2
minutes
Offering 10 Million Gaming And esports Customers Access To The Most Advanced Platform For NFTs
Immutable X, the first layer-2 scaling solution for NFTs built on Ethereum, forms a partnership with Kinguin, a leading global video games marketplace, with over 10 million registered users. Both companies share a vision to create a new lightning-fast, low-cost, and eco-friendly NFT marketplace for gamers.
NFTs are essentially an evolution of digital ownership, a concept already familiar to gamers. Early NFT projects largely consisted of static images and art, while innovations in the space have led to the proliferation of dynamic digital collectibles, including trading cards, digital art, and other in-game items.
Unlike digital items of the past, the minting of digital collectibles in the form of NFTs enables verifiable ownership, uniqueness, and scarcity. NFT game items cannot be taken away from you by game developers, and can be sold for real money. The top NFT-centric projects, including popular games like Gods Unchained, Axie Infinity, and Aavegotchi, have experienced explosive growth, producing over $750 million in secondary sales volume in Q1 of 2021.
The Kinguin team is aiming for technical excellence in the build-up to their NFT offering that will include NFT Gaming Cards and more blockchain products in parallel to their existing digital marketplace, focused on games and software. Working closely with partners, game developers, influencers and gamers, Kinguin will welcome customers to the world of NFTs in a way that feels familiar and is easy to use from day one. Kinguin's influence in the esports world spans from sponsoring major Counter Strike leagues, and they are well known for their Kinguin Esports Performance Center and Kinguin Esports Lounge in Europe.
"We are excited to partner up with Immutable X to bring innovative NFT offerings to gamers and eSports enthusiasts worldwide. We see the ultimate value in creating new rich experiences and functionality to these global communities", said Viktor Romaniuk Wanli, Founder and CEO at Kinguin.
Immutable X was created by Immutable, the team behind one of Ethereum's highest-grossing trading card games, Gods Unchained. It is the first layer-2 solution for NFTs on Ethereum, solving for all three issues related to NFT scaling: accessibility, scalability without compromising user custody and true decentralization.
Immutable X launched in Alpha this March and aims to unlock digital economies at scale by enabling NFTs to be traded, earned, shared, gamed and collected completely gas-free and securely with the power of ZK-rollup technology by StarkWare.
"Kinguin comes in with massive marketplace building knowledge, structures and experience, and we're very excited about the unique trading experiences that they'll be able to create and scale on Immutable X", said Robbie Ferguson, co-founder of Immutable.
After observing and analyzing the NFTs industry for the last couple of years, Kinguin decided to introduce new structures, allowing the brand to enter the NFT market. Their goal is to leverage the existing ecosystem and enable their clients and partners to create unique NFT collections and trade them on the most advanced platform on the market.
"It is a natural next step for Kinguin, as our digital marketplace will expand its offering, according to the needs of our customers and incentivize them with new bounties and special deals built using NFT tokens", added Viktor Romaniuk Wanli, Founder and CEO at Kinguin.

GemUni Disrupts Crypto Gaming with the Decentralised NFTs Gaming Platform for Play to Earn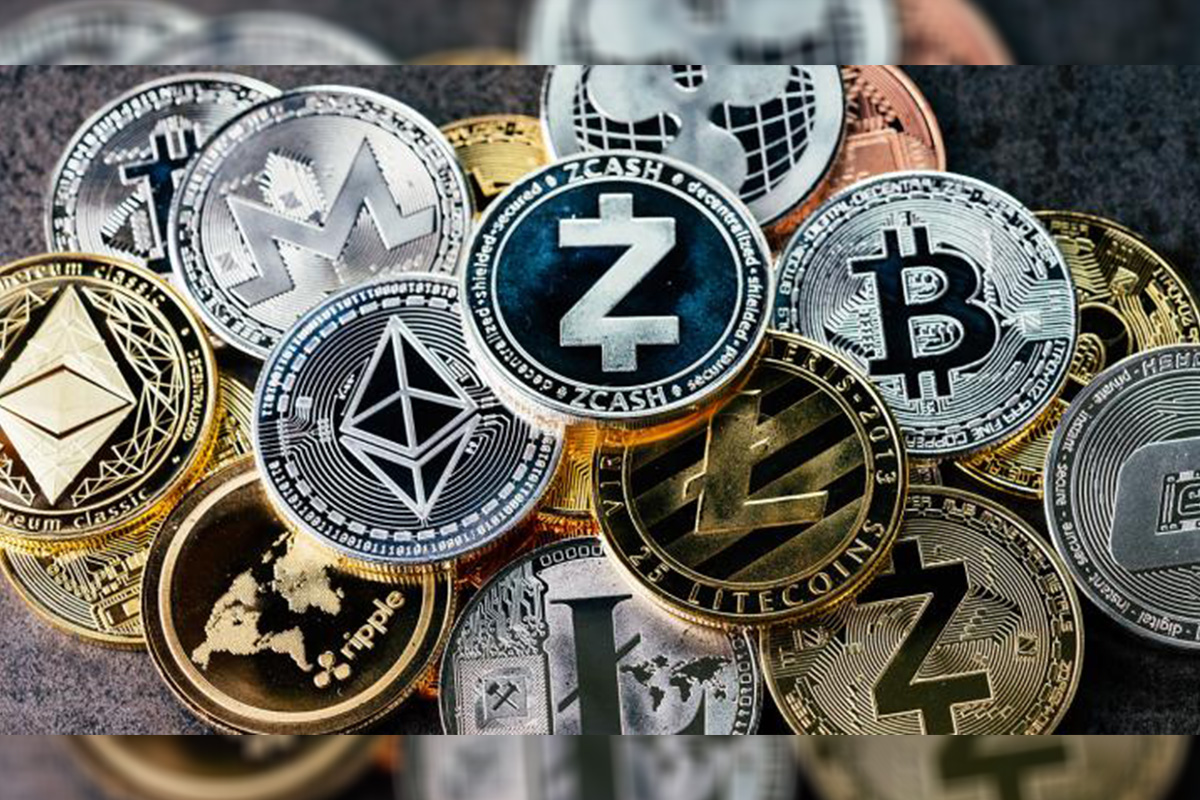 Reading Time:
2
minutes
GemUni, a Decentralised NFTs Gaming Platform for Play-to-Earn, has announced that its upcoming Initial DEX Offering (IDO) will be conducted on three launchpads GameFi, Red Kite and KrystalGO on January 19. GemUni is building a Decentralised NFTs Gaming Platform for everyone around the world to engage in Fun, Easy and Play-to-Earn NFT Casual Games & Signature Games. Users can enjoy fun games while monetising their experiences with gaming platform rewards and GENI Pass NFTs transactions.
A Great Head Start
Since its announcement, GemUni has been through three months full of activities and milestones. Last December, the Grand Opening INO event, featuring guests from prominent gaming & blockchain organisations, marked the first time the GENI Pass NFTs were offered on multiple NFT marketplaces. GemUni's GENI Pass NFTs were highly sought after by crypto and gaming enthusiasts, with thousands of GENI Pass NFTs being sold. Such a good starting point prompted GemUni to announce its Beta Test & Christmas Mini Challenge, attracting players to participate in multiple challenges and earn the project token.
Impressive Partner Portfolio & promising Roadmap for 2022
A few days before its IDO, GemUni continues to reach another milestone. In its private fundraising round, GemUni raised $2 million from investors. At this point, the project is boasting a portfolio of 30+ private investors and partners, including well-known venture capitalists such as Kyber Ventures, Shima Capital, ZBS Capital (CryptoDiffer), Kyros Ventures (Coin68), Gain Associates, ZipMex, HG Ventures, among many others.
Earlier this January, GemUni announced its promising roadmap for 2022. Besides the Casual Gaming Platform with 500+ games to be released in Q1, the project also announced its Signature Gaming Platform featuring upcoming games like The Olympus, Hero Infinities, CyberRace, Moon 2050 and ZodiBoom. An NFTs marketplace is also going live to support players' NFT trading activities. Finally, further features like the GemUni Launchpad for IGOs & INOs, DAO Treasury, Side Chain will be released in Q2.
With such an ambitious plan for 2022, GemUni is looking forward to partnering with game studios, Global Ambassadors and artists to create a first class Decentralised NFTs Gaming Platform.
IDO on GameFi, Red Kite and KrystalGO on Jan 19, 2022
On January 19, GemUni will conduct Initial DEX Offering across three launchpads GameFi, Red Kite and KrystalGO. With a public price of $0.2 per token, GemUni implied the project valuation is $20 million at IDO.
GemUni boasts an impressive leadership team, which includes CEO & Founder Cassie Nguyen – Champion of Startup World Cup 2019 in Silicon Valley. The project's advisory board is led by Mr. Peter Vesterbacka – Former Mighty Eagle of Rovio Entertainment (Angry Birds games).
GemUni CEO & Founder Cassie Nguyen says that her team is working day and night to bridge the gap between gaming and the new Play-to-Earn model to create an ecosystem for 3.2 billion gamers and studios around the world.
"Never before have we seen the hype around this combination between gaming and the crypto economy. We are proud to be the first Play-to-Earn platform for everyone's favorite gaming experience. Now, everyone can enjoy fun & easy games in their own time, while earning real-world value," she stated.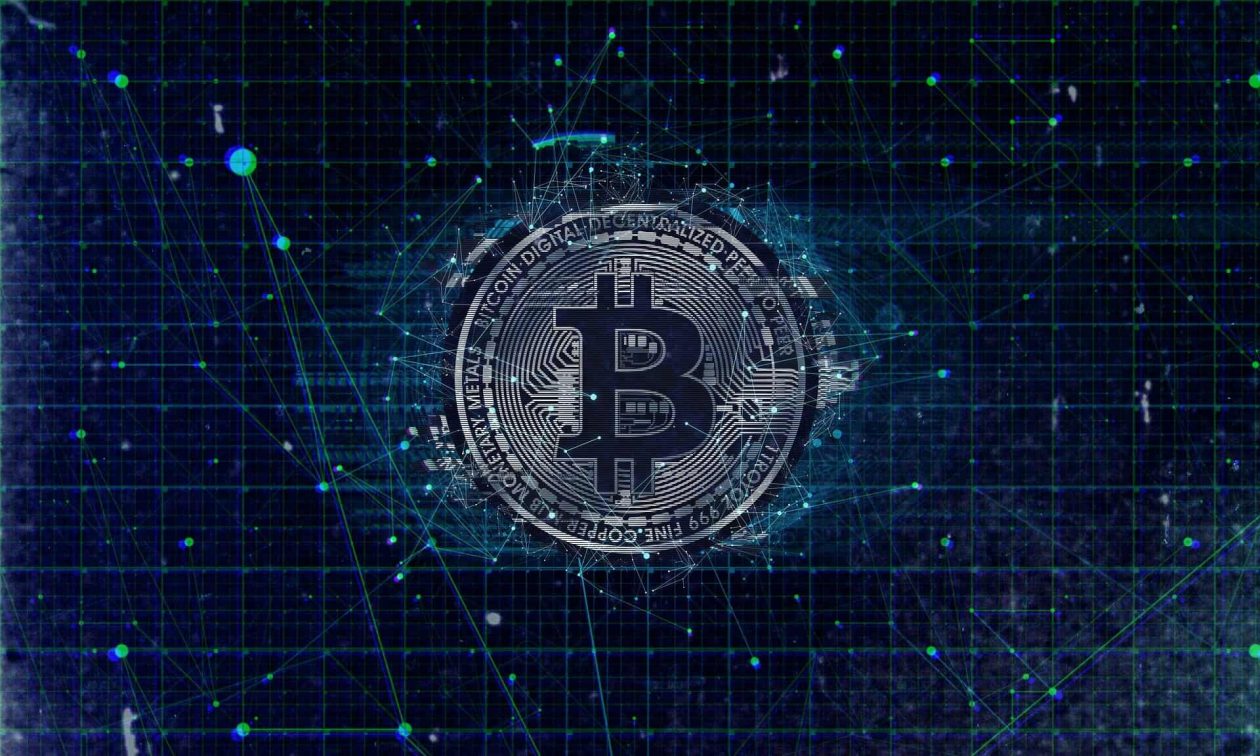 Reading Time:
3
minutes
The term crypto banking refers to how individuals can use cryptocurrencies to conduct business. There is a convergence between investing in cryptocurrency and banking methods wherein both fiat currency and cryptocurrencies can be exchanged and interact through banking services. This is what Crypto Banking wants to exploit.
What is Crypto Banking?
Crypto banking is the process of managing digital currency through any financial service provider or bank. People are increasingly buying, selling, and trading cryptocurrencies because they can do so with an internet connection. Banks that accept digital currencies and support cryptocurrencies include Ally Bank, Wirex, Barclays, Goldman Sachs and JPMorgan (to name a few).
Unlike traditional financial institutions, crypto banks do not hold stocks or cash for investors or customers. Crypto banks, on the other hand, hold digital assets instead of fiat currency. Vast Bank, for instance, provides business and personal banking products including savings accounts and checking CDs, credit cards, and loans.
Despite being a small local bank with 35 years of experience in the business, it has recently entered the crypto economy and has been given attention as the first US nationally chartered bank that allows customers to hold crypto assets in their accounts.
Crypto Interest Accounts
Starting with a crypto interest account is the simplest way to get started. A traditional savings account may offer interest rates as low as 1% compared to crypto banks with 10%.  These crypto accounts are available at Gemini, BlockFi, Nexo Outlet Finance, and Linus among others.
Crypto Checking Accounts
You can also open a crypto checking account. You will be able to keep more of your money without paying crypto fees if you have a crypto checking account. The Quontic Bank and Vast Bank also offer crypto checking accounts.
Customers who make eligible purchases with Quontic's Bitcoin Rewards Checking account are rewarded with bitcoin. Quontic debit cards allow you to make purchases that qualify for Bitcoin conversion when you use them online or in-store. About 1.5% of your total transaction will be converted into Bitcoin after the transaction is completed.
To get started with cryptocurrency, you can go read some articles on Bitcoin Prime. They have quality information regarding crypto that will be of good use to you.
How to get started with Crypto Banking
The easiest way to get started with crypto banking if you don't own any cryptocurrency yet is to register for an account with any bank that accepts cryptocurrencies or your choice of decentralized finance apps. Then you can buy Bitcoin and other currencies from their exchanges.
Applications using decentralized blockchain networks are called decentralized finance apps, which do not require a middleman like a brokerage or a bank to facilitate the purchase of financial products. Apps that are both platforms for buying and selling as well as hot wallets where crypto-assets can be stored are also available. Among these apps are:
Revolut: which allows users to complete transactions using Bitcoin, Ethereum, and Litecoin
SEBA Bank: A Swiss bank that accepts cryptocurrency payments and transactions
Wirex: An online payment platform that allows crypto transactions and payments
Risks of Crypto Banking
Investing in cryptocurrencies and using apps that allow you to trade and hold digital assets carries some risks as crypto banking disrupts the financial sector. Here are some risks you can face.
Crypto Market Volatility
The volatility of crypto assets is well known. Because it takes a long time before cryptocurrencies become stable, investing in crypto comes with a higher level of risk than other trade markets. Despite their stability, crypto markets can experience dramatic fluctuations in a heartbeat.
Cryptocurrency is not FDIC Insured
Unlike traditional deposits, crypto investments are not insured by the Federal Deposit Insurance Corporation (FDIC). If the company from which you purchase crypto goes under, you could lose all your investment. Eventually, cryptocurrencies may be insured, but in the meantime, it's important to choose a reputable crypto bank to work with.
Crypto Hacks, Theft and Fraud
As fintech becomes more popular, more hacking incidents occur in DeFi applications. You should consider a cold wallet to protect your investments, as you need to be aware of how your crypto assets are stored.
Conclusion
Blockchain technology has many uses in banking, so it won't be long before banks start to make use of the public ledger in certain areas. There will inevitably be risks in finance. However, crypto banking and blockchain technology present the possibility of a future in which anyone on the planet can access transparent crypto banking.
Thunderpick is launching the first ever eSports tournament series with a prize pool in Bitcoin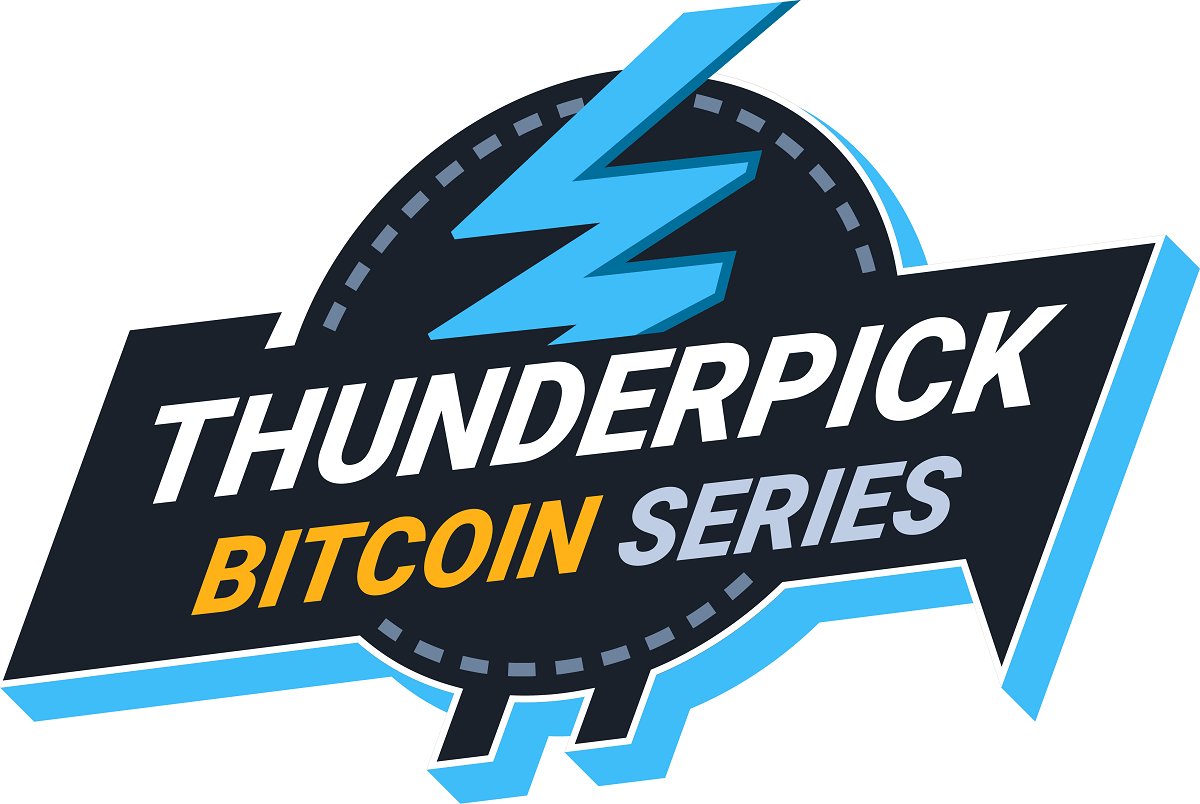 Reading Time:
< 1
minute
The Thunderpick Bitcoin Series is an online event that officially starts on the 17th of January with a CS:GO tournament that will last until the 7th of March. Other CS:GO and Dota 2 tournaments within the Thunderpick Bitcoin Series are expected later in 2022.
The first tournament of the Series will host top CS:GO squads from all over the world. There will be a total of 23 teams competing for a chance to win a chunk of the 1.2 Bitcoin prize pool with at least $75,000 guaranteed. The minimum amount is a secure prize, but there is no telling how high the Bitcoin price might go up during the playoffs, so the main prize might be even higher!
The format of the CS:GO tournament will be a standard best-of-three, divided further into three stages with the collective 50 Bo3 matches. In the closed qualifier 4 teams will face double elimination, where the winning team will advance to the main stage. Main stage will feature 16 teams where only 8 can get into the final stage and play against 4 additional guest teams. During the Grand Finale the top teams of the tournament will fight over who will take the main prize home.