GROUPE PARTOUCHE: Income 1st half year 2020/2021 – Operating performance impacted by the health issue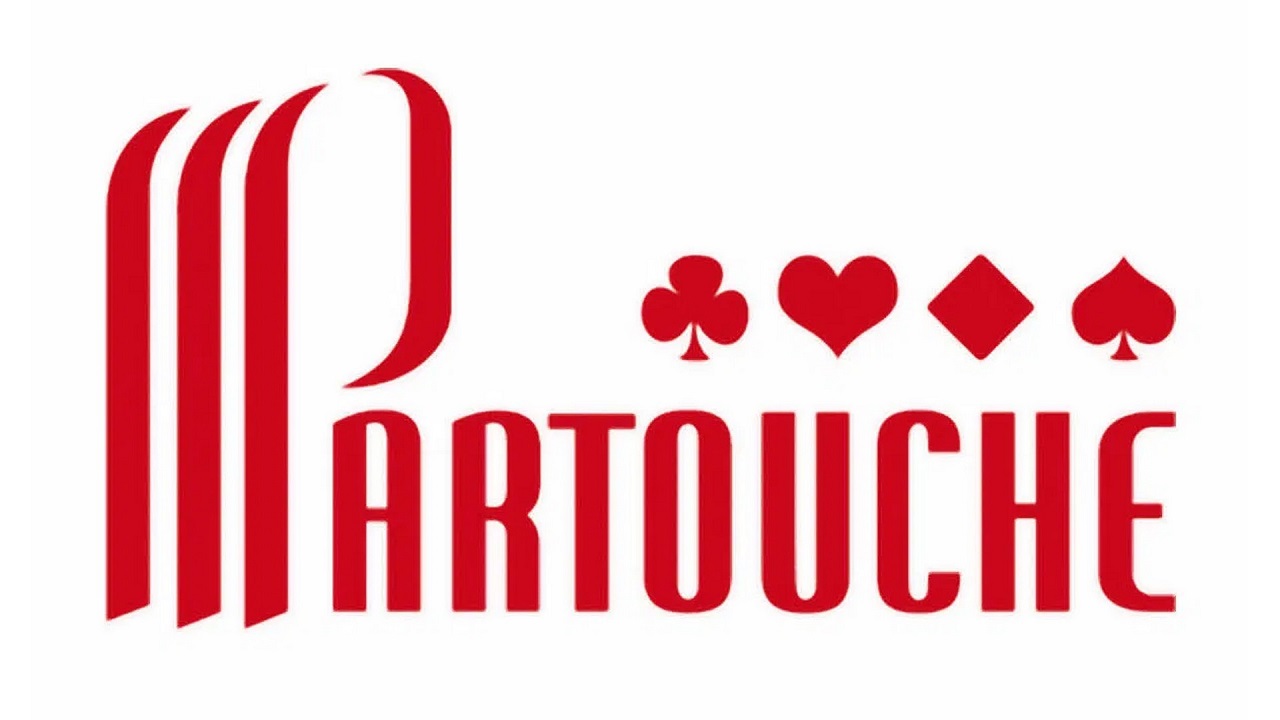 Reading Time:
9
minutes
During the meeting it held on the 29th of June 2021 and after having reviewed the management report of Groupe Partouche Executive Board, the Supervisory Board examined the audited accounts for the 1st half-year 2020-2021 (November to April).
Operation performance impacted by the health issue
The Covid 19 pandemic penalized the business activity during the first half of the current financial year by the interruption of the Group's activities over the period, with the exception of the following reopening:
Djerba casino (Tunisia): open during the 1st half-year but forced into a curfew;
Meyrin casino (Switzerland): open between the 14th and the 26th December 2020 but on reduced hours;
Meyrin et de Crans-Montana casinos (Switzerland): reopening on 19th April 2021, without curfew but with health constraints;
Belgium online gaming & betting: accessible throughout the half-year;
Switzerland new online gaming: accessible since its launching on 16th November 2020.
The Gross Gaming Revenue (GGR) over the period decreased by -80.9% compared to the previous year, reaching € 50.0 M and the turnover by -74.3% at € 47.2 M.
The Group's EBITDA fell to -€ 42.0 M, compared to +€ 29.8 M in the first half of 2020.
The current operating income (COI) stood at -€ 73.2 M compared to +€ 0.3 M for the previous year, a degradation directly correlated with the interruption of the activity and therefore of the turnover.
Under activity divisions, the casinos' COI reached -€ 68.2 M, compared to +€ 6.6 M in 2020 impacted by the closing of all the Group's casinos over the period, with the exception of the Ostend casino COI with an increase of € 1.1 M thanks to the online COI.
The COI of the hotels' division slightly decreased to -€ 2.2 M compared to -€ 1.7 M in 2020. The Aquabella hotel at Aix-en-Provence remained open over the whole period with an idling activity while the Cosmos hotel at Contrexéville remained closed.
Lastly, the deficit of COI of the "Other" division improved at -€ 2.8 M on the 1st half-year 2021, compared to -€ 4.7 M in 2020, mainly due to the significant increase of COI of Belgian sports betting (+€ 1,0 M).
Purchases & external expenses decreased by € 7.4 M (-10.9%) mainly impacted by:
Material purchases, advertising/marketing costs, upkeep and maintenance costs down by € 11.2 M (-69.7%), € 7.9 M (-78.4%) and € 1.4 M (-33.7%) respectively directly linked to the closure of establishments and the drop in revenue from ancillary activities;
Conversely, the change in subcontracting costs (+€ 16.6 M), mainly linked (i) to the increase in costs associated with online licenses in Belgium, i.e. +€ 19.6 M in costs correlatively to the increase in the turnover of this activity (online casino and sports betting); and (ii) savings in subcontracting (guarding, cleaning) made in view of the closure of establishments.
Within the above development, the increase of +€ 2.0 M in purchases and external expenses relating to the "online casino" in Switzerland, which started on 16th November 2020, should be noted.
Personnel expenses amounted to € 31.5 M, down € 42.0 M (-57.2%) following in particular the allowances received for partial unemployment from which the Group benefits, to which are added the employer's contributions savings generated as well as the exemptions / subsidiaries obtained as part of the business assistance measures put in place by the Government in response to the health crisis.
The non-current operating income is a net expense of -€ 8.6 M, compared to -€ 2.7 M in 1st half-year 2020. In Belgium, an old dispute was won against the Belgian State leading to a non-current profit of € 5.8 M. Conversely, the continuation of the health crisis led the Group to carry out goodwill additional impairment tests from the half-yearly closing. Thus, goodwill impairment in the first half of 2021 totalled -€ 15.0 M.
In the end, the net income is a loss of € 88.0 M, compared to a loss of € 3.9 M as of 30th April 2020, after taking into account the following elements:
a financial result of -€ 2.3 M (compared to -€ 0.8 M in 1st half-year 2020), which does not benefit from any exchange gain due to the closure of casinos on both sides of the Franco-Swiss border and whose financial expenses reverse slightly (-€ 0.2 M) in connection with the increase in the Group's indebtedness while the half-yearly average interest rate continued to decline;
a significant increase in tax (CVAE included) (-€ 4.0 M compared to -€ 0.6 M in 1st half-year 2020).
The Group's financial structure remains healthy and solid with "cash net of levies" of € 104.1 M, shareholders' equity of € 283.2 M and a "net debt" of € 149.7 M (set up as provided by the terms of the syndicated loan agreement, according to the former IAS 17 standard, excluding IFRS 16).
RECENT EVENTS & OUTLOOK
Ratio of leverage
Given the consequences of the health crisis on the Group's business and the results for the half-year, the calculation of the leverage ratio at 30th April 2021 was impossible due to a negative EBIDTA. However, the Group's financial partners have renewed their confidence in it.
Thus, the Syndicated Loan Agent, on 9th June 2021, signed a letter on behalf of the Lenders in which the later waives:
each of the leverage ratio calculations provided for on the two closing dates of 30th April 2021 and 31st October 2021; and
the delivery of each of the certificates corresponding to the leverage ratio calculations on the above dates.
Likewise, on 15th June 2021, the institutional investor carrying EuroPP waived the same ratio calculations and the delivery of certificates.
Reopening the casinos
All of the casinos in the Group have reopened:
In France, since 19th May and based on a progressive schedule :
Starting 19th May: only slot machines and electronic table games were accessible. A gauge equal to 35% of the areas receiving public (ERP) of each establishment had to be respected. Casinos opened until 9:00 p.m. under the curfew and catering was only permitted on the terrace;
Starting 9th June: opening of table games. The gauge rose to 50% of the ERP capacity, the casinos were open until 11 p.m. and the indoor dining areas were open again, with a limit of six people per table. In addition, the health pass was required in establishments where the operator planned to accommodate more than 1,000 people;
Starting 20th June: general lifting of the curfew ten days in advance, the other constraints being maintained;
Starting 30th June: the players are hosted in usual conditions with respect for the health barrier gestures (wearing a mask, physical distancing, etc.).
In Switzerland, since 19th April, no curfew but some restrictions (10 m² per person, no catering, no smoking even in smoking rooms).
In Belgium, since 9th June, with an obligation to close at 11:30 p.m.
In Tunisia, the Djerba casino remained opened during the whole half-year but had to close between the 9th and the 16th May.
Overall, gaming activities have picked up in a very satisfying trend.
Upcoming events:
– 3rd quarter financial information: Wednesday 15th September 2021, after Paris stock market close
– Turnover 4th quarter: Wednesday 15th December 2021, after Paris stock market close
Groupe Partouche was established in 1973 and has grown to become one of the market leaders in Europe in its business sector. Listed on the stock exchange, it operates casinos, a gaming club, hotels, restaurants, spas and golf courses. The Group operates 42 casinos and employs nearly 4,100 people. It is well known for innovating and testing the games of tomorrow, which allows it to be confident about its future, while aiming to strengthen its leading position and continue to enhance its profitability. Groupe Partouche was floated on the stock exchange in 1995, and is listed on Euronext Paris, Compartment
Annex
Consolidated Income
| | | | | |
| --- | --- | --- | --- | --- |
| In €M – At 30th April (6 months) | 2021 | 2020 | ECART | Var. |
| Turnover | 47.2 | 183.6 | (136.4) | -74.3% |
| Purchases & external expenses | (60.6) | (68.0) | 7.4 | -10.9% |
| Tax & duties | (5.6) | (8.8) | 3.1 | -35.6% |
| Employees expenses | (31.5) | (73.6) | 42.0 | -57.2% |
| Depreciation, amortisation & impairment of fixed assets | (28.5) | (29.0) | 0.5 | -1.82% |
| Other current income & operating expenses | 5.9 | (4.0) | 9.9 | -247.4% |
| Current operating income | (73.2) | 0.3 | (73.4) | n/a |
| Other non-current income & operating expenses | 6.4 | 0.0 | 6.4 | – |
| Gain (loss) on the sale of consolidated investments | – | – | – | – |
| Impairment of non-current assets | (15.0) | (2.7) | (12.3) | – |
| Non-current operating income | (8.6) | (2.7) | (5.9) | – |
| Operating income | (81.8) | (2.4) | (79.3) | n/a |
| Financial income | (2.3) | (0.8) | (1.4) | – |
| Income before tax | (84.0) | (3.3) | (80.8) | – |
| Corporate income tax | (3.6) | 1.0 | (4.6) | – |
| CVAE tax | (0.4) | (1.6) | 1.2 | – |
| Income after tax | (88.0) | (3.8) | (84.2) | – |
| Share in earnings of equity-accounted associates | (0.0) | (0.1) | 0.0 | – |
| Total net Income | (88.0) | (3.9) | (84.1) | n/a |
| o/w Group's share | (81.6) | (5.3) | (76.3) | – |
| | | | | |
| --- | --- | --- | --- | --- |
| EBITDA (*) | (42.0) | 29.8 | (71.8) | n/a |
| Margin EBITDA / Turnover | n/a | 16,2% | | n/a |
(*) taking into account the application of IFRS 16 in the half-year, which has the mechanical effect of improving EBITDA by €7.3 M.
Taxes and duties represent an expense of € 5.6 M down by –35.6%.
The change in amortization and depreciation on fixed assets, down -1.82% to € 28.5 M, reflects the slowdown in the sustained investment policy of recent years, hampered by the health crisis.
Other current operating income and expenses represent a net income of € 5.9 M compared to a net expense of € 4.0M in the first half of 2020. This is mainly due to operating grants received or receivable obtained as part of the business subsidiaries measures put in place by the Government in the face of the health crisis, in particular the fixed costs subsidiaries for € 10.0 M.
The operating income stands at -€ 81.8 M against -€ 2.4 M in the first half of 2020.
Income before tax represents a loss of € 84.0 M compared to a loss of € 3.3 M in the first half of 2020.
The tax expense (including CVAE) reached € 4.0 M, compared with € 0.6 M in the first half of 2020. The exceptional income recorded in Belgium following a dispute amounts to a tax of € 1.3 M. Conversely, CVAE's tax charge decreased due to the shutdown of the Group's activity over the half-year. With regard to deferred taxes, the Group has adopted the cautious position of not activating, even partially, the tax losses related to tax consolidation generated over the half-year (against a deferred tax asset of +€ 1.8 M during the 1st half-year 2020).
The quota-share of earnings of equity-accounted associate remained stable and non-material.
The consolidated net Income over the half-year is a loss of € 88.0 M against a loss of € 3.9 M at 30th April 2020, of which the Group share represents a loss of € 81.6 M compared to a loss of € 5.3 M at 30th April 2020.
Balance Sheet
Total net assets at 30th April 2021 decreased, totalling € 753.7 M against € 787.7 M at 31st October 2020. The remarkable developments during the period under review are as follows:
A decrease in non-current assets of € 35.2 M mainly due, on the one hand, to the decrease in the "tangible fixed assets" item to the tune of -€ 17.5 M resulting from the depreciation expense for the half-year combined with the contraction in investments, and on the other hand, the decrease in the "goodwill" item for € 15.0 M, linked to the depreciation in the half-year of goodwill of certain sensitive CGUs in this crisis context;
An increase in current assets of € 1.3 M, mainly due to an increase in the "receivables and other debtors" item of € 12.1 M (of which an increase of € 3.3 M in receivables from social organizations due to partial unemployment indemnities receivable in the context of the Covid-19 crisis, and € 9.4 M in subsidies receivable for fixed-cost assistance); as well as "Other current assets" of € 2.3 M (in particular VAT receivables). Conversely, we note a cash consumption of € 13.2 M.
On the liabilities side, shareholders' equity including minority interests fell from € 371.9 M as of 31st October 2020 to € 283.2 M as of 30th April 2021, weighed down by the net result for the half-year. Financial debt increased by €53.7M. Consideration should be given to:
the subscription, in mid-April 2021, of a second loan guaranteed by the State for € 59.5 M and new bank loans for + € 4.5 M;
the quarterly maturity of the syndicated loan settled on 30th April 2021 in the amount of -€ 2.7 M, the maturity of 31st January 2021 having been postponed to 2026, as well as the repayment of other bank loans for -€ 1.9 M;
the postponement of the 12-month maturities (in capital and, for the most part, in interest) of the Group's bank debts, the resumption of repayments having taken place for some in March but for the majority in April 2021.
In addition, it should be noted that, due to the negative EBIDTA induced by the closure of the Group's establishments over the half-year, the institutional investor carrying the EuroPP as well as all the banks making up the banking pool of the syndicated loan have given up the calculation of the leverage ratio provided for on the closing date of 30th April 2021. This with a retroactive effect from 30th April 30, 2021. However, the waiver having taken place after the closing, the application of IAS 1 has forced the Group to restate all of the outstanding amounts relating to the bond loan and the syndicated loan as a current share this half-year.
Financial structure – Summary of net debt
One can consider the Group's financial structure using the following table (set up as provided by the terms of the syndicated loan contract, according to the old IAS 17 standard, excluding IFRS 16):
| | | | |
| --- | --- | --- | --- |
| In €M | 30/04/2021 | 31/10/2020 | 30/04/2020 |
| Equity | 283.2 | 371.9 | 384.1 |
| Gross debt (*) | 253.7 | 194.7 | 168.8 |
| Cash less gaming levies | 104.1 | 103.1 | 78.9 |
| Net debt | 149.7 | 91.5 | 89.9 |
| Ratio Net debt / Equity (« gearing ») | 0.5x | 0.2x | 0.2x |
| Ratio Net debt / Consolidated EBITDA (« leverage ») (**) | N/A (***) | 2.3x | 1.7x |
(*)The gross deb includes bank borrowings, bond loans and restated leases (with the exception of old leases restated according to the new IFRS 16 standard), accrued interest, miscellaneous loans and financial debts, bank loans and financial instruments.
(**) The EBITDA used to determine the "leverage" is calculated over a rolling 12-month period, according to the old IAS 17 standard (that is to say before application of IFRS 16), at namely € 39.8 M at 31/10/2020, and € 54.3 M at 30/04/2020.
(***)The bond and banking partners have waived the calculation of the "leverage ratio" expected at the closing date of 30th April 2021 due to negative EBITDA over the period.
Glossary
The "Gross Gaming Revenue" corresponds to the sum of the various operated games, after deduction of the payment of the winnings to the players. This amount is debited of the "levies" (i.e. tax to the State, the city halls, CSG, CRDS).
The «Gross Gaming Revenue» after deduction of the levies, becomes the "Net Gaming Revenue ", a component of the turnover.
"Current Operating Income" COI includes all the expenses and income directly related to the Group's activities to the extent that these elements are recurrent, usual in the operating cycle or that they result from specific events or decisions pertaining to the Group's activities.
Consolidated EBITDA is made up of the balance of income and expenses of the current operating income, excluding depreciation (allocations and reversals) and provisions (allocations and reversals) linked the Group' business activity included in the current operating income but excluded from Ebitda due to their non-recurring nature.
Week 39/2023 slot games releases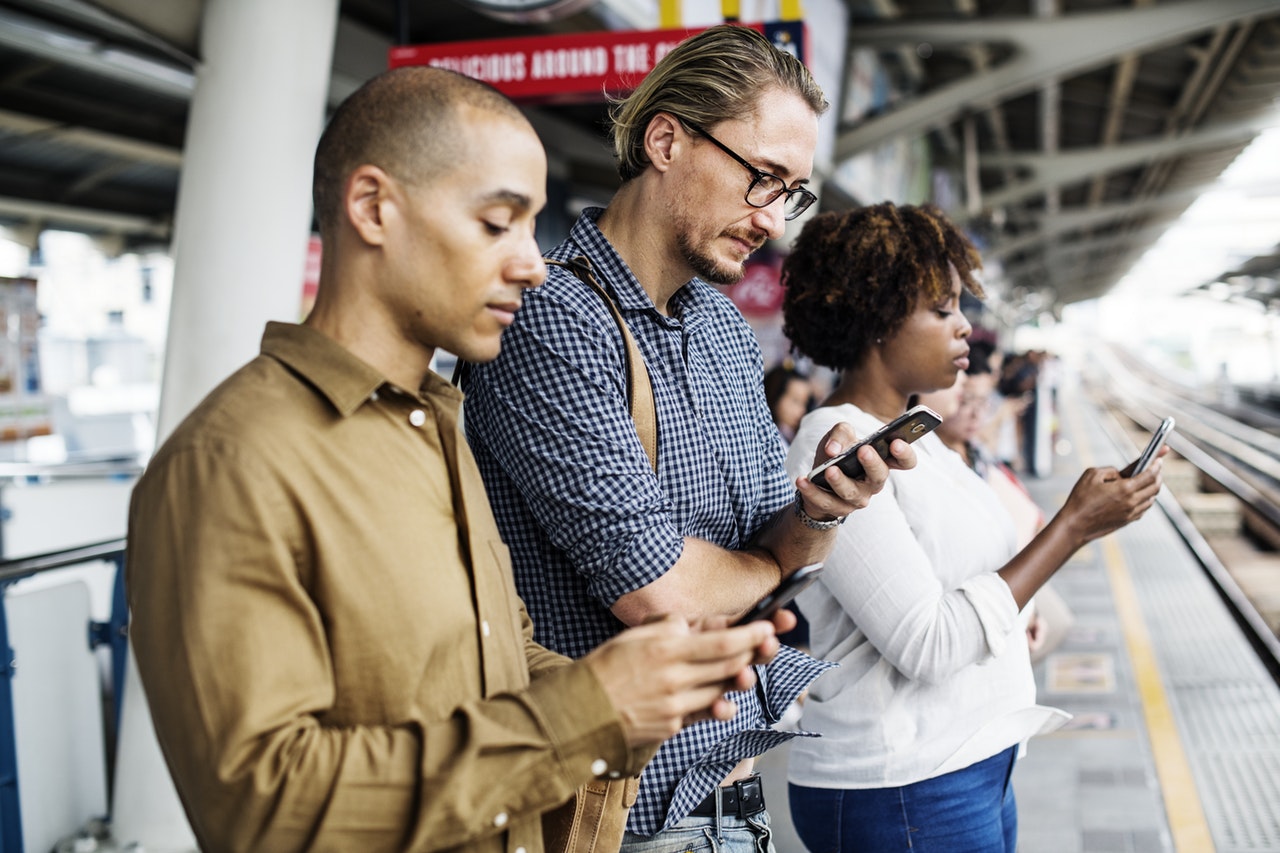 Reading Time:
6
minutes
Here are this weeks latest slots releases compiled by European Gaming
Players are being given the opportunity to travel back in time to the ice age in the latest slot from in-demand provider, Booming Games. Those who can brace the icy winds of Mammoth Tundra will come face to face with beasts and potentially big wins. Players must trek across the frozen reels – which take the 5×3 format – and keep their wits about them at all times. Not only can Woolly Mammoths cross their path, but so too can sabre tooth tigers and other wild animals.
Don your best disguise and adopt a cunning alter ego in a bid to nab the museum's prize assets in Crown Heist, REEVO's latest classic low-volatility jewel-themed game. Based on a proven maths model and appealing to new players who enjoy frequent wins and a swag-bag full of free spins, Crown Heist is a 5×3, 25-payline slot overflowing with jewel-encrusted free spins.
Habanero has launched Meow Janken, its newest slot with an inter-galactical theme, based on the classic Rock-Paper-Scissors game. Players take off on a thrilling journey across the galaxy in this captivating one-line game, with the task of beating Janken at Rock-Paper-Scissors – the most compelling aspect of this epic voyage. If a player is lucky enough to beat Janken in a Rock-Paper-Scissors tussle, any win is multiplied by x9 with a tie multiplied by x2.
Step into Aztec SuperTracks™, the latest game release from Raw iGaming, the studio on a mission to blast industry monotony out of the sky. In this unique 9×7 experience, an adventure unfolds filled with warriors, gods, and epic win potential! Aztec SuperTracks follows the journey of four heroes as they seek to discover special offerings to appease their angry gods and preserve world order. They are helped on their way by RAW's innovative SuperTracks® pay mechanic opening a treasure trove of power-ups, gems and bonuses along its path.
Greentube, is presenting players with a deathly yet cheerful adventure in its latest release Cash Connection™ – Candelas de los Muertos™ – Señorita Suerte. The scare-filled slot, which has a Mexican Day of the Dead theme, fuses together winning destiny and mystical features, as players bid to unlock the riches of the Grand Jackpot.
Feel the gentle embrace of nature with Endorphina's 6-reel, 5-row slot – Fresh Crush! Embark on a hiking adventure through steep mountain trails and thick forests scattered with some of nature's finest fruits! Climb the tallest mountains, enjoy the scenery as the sky changes from peaceful blue to majestic gold and find the real diamond before the sun sets!
Introducing 100 Sevens from Apparat Gaming, the developer of slots with a German accent. As the name suggests, this title is all about the numbers 100 and seven – and here's why… 100 Sevens is set across five reels and four rows, with 100 paylines active. That's right, 100 paylines active. In this classic fruit-themed game, neon lights guide the way to sparkling wins with Double Wild symbols.
Armadillo Studios has released its latest slot title Surging 7s. This game is a classic fruit-themed slot with 6×4 reels, low to medium volatility, colourful visuals and the all-time-favourite 7s. Landing three or more adjacent stacks of 7s triggers Surging 7 Multipliers, which creates a random multiplier to boost wins. When four or more Link Bonus Coins land anywhere on the reels, coins will either change colour and reveal corresponding Prizepot colour wins, or award random credits.
Everygame Casino is taking players on a pirate adventure with its new Legend of the High Seas slot game from Spin Logic. With Wilds that double wins and Scatters that TRIPLE wins, there's plenty of booty to be won in this full-featured new game. Pirates, parrots, treasure and treasure maps spin on the five reels of this high volatility game. When Wilds appear in a winning combination they double the payout.
Get ready for Stakelogic's next page-turner with the release of Book of Jones – Golden Book. Players can embark on a thrilling adventure that transports them to a world of ancient secrets and incredible treasures. As players delve deeper into the mysteries of this five-reel, three-row, 10-payline slot, they will want to keep their eyes peeled for the Book Symbols that can land at any time during the base game. If three Book Symbols drop, 10 Free Spins are awarded.
3 Oaks Gaming, has released Black Wolf 2: Hold and Win – a howling hit title boosted by the addition of the Fortune Slide feature, awaiting to be hunted down by players. In this 5×4 follow-up to Black Wolf: Hold and Win, users trek into a moonlit wilderness to uncover surprises in this feature-rich slot, including the Fortune Slide mechanic, which is active during the Bonus Game.
Kalamba Games focuses on player personalisation in its gemstone-inspired release Diamond Supreme Hold and Win. Influenced by retro AWP machines, symbols are represented by iconic bells, cherries and bars. Wilds up the win potential by substituting for all base game symbols making it easier to create a winning combination across the slot's 20 paylines.
Wazdan, has given the Extremely Light treatment to the latest leading game in its portfolio in Hot Slot™: 777 Cash Out Extremely Light. By creating a version of its top-performing title with light and more elegant graphics, the new slot becomes energy efficient and optimised for players on mobile devices, prolonging the gaming experience with less battery drain.
Blueprint Gaming's mastery of the oceans and all its bounty returns for an anticipated sequel with Crabbin' for Cash Extra Big Catch Jackpot King. The familiar charm and aesthetic of the original game's backdrop are back with colourful crustaceans consuming the screen as the fisherman helps players with a host of features and the iconic Jackpot King progressive jackpot system.
Red Rake Gaming, has added Triple Irish to its extensive range of games. An exciting video slot with 5×3 reels and 20 paylines that immerses players in Ireland's rich folklore and tradition, where three key elements trigger a journey full of opportunities and wins.
Gaming Corps invites players to the best ramen joint they will ever visit with the release of slot game Ramen Puzzle. This is an instant win game, made up of a grid of 25 tiles, which either conceal ramen bowls or leftovers. Players can savor Ms. Kawai's delicious, sparkling ramen to their heart's content as they open bowl after bowl.
FBMDS' First Ever Crash Game, Champion Tales, is Out Worldwide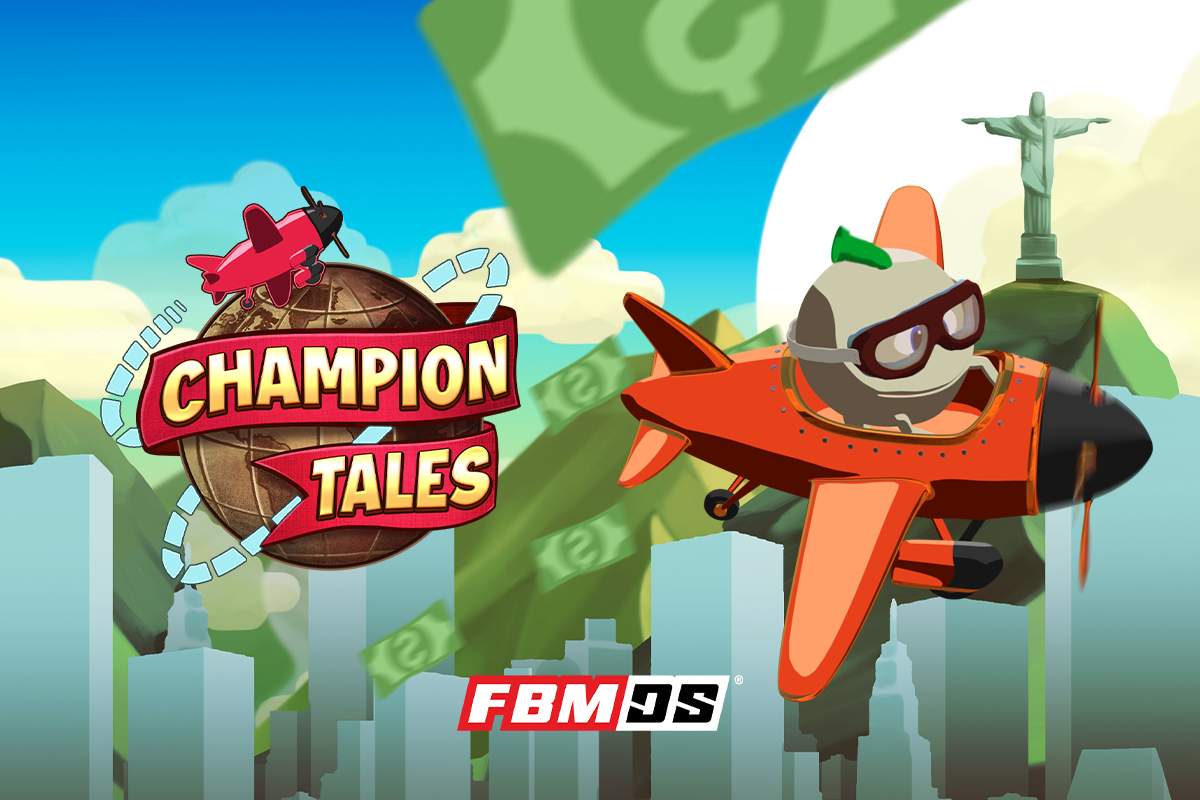 Reading Time:
2
minutes
Get ready to witness the dawn of a new era in online casino gaming as FBMDS unveils the highly anticipated Champion Tales, the brand's first ever non-traditional game available worldwide. Brace your players for an immersive gaming experience that will transport them across the globe, hand in hand with the legendary Mr Champion himself.
Champion Tales captures the essence of the emergent non-traditional gaming trend with its strategic betting rounds and monumental winnings. FBMDS' new game merges top-notch technology with the brands' expertise, creating a thrilling and immersive experience with high stakes for players and a safe choice for casino operators.
A distinctive non-traditional game with big prizes to award
Following a crash gaming logic, FBMDS' release evokes players' heart-pounding anticipation as the multiplier reaches new heights, requiring strategic decision-making and a thrilling rush to hit the 'Collect' button before it's too late.
FBMDS has balanced gameplay mechanics to increase players' chances of earning significant rewards, making it a lucrative choice for online casino operators. Furthermore, Champion Tales boasts a highly profitable RTP rate, surpassing competitors in the market.
But that's not all. Champion Tales comes loaded with features designed to elevate the gaming
experience:
Autoplay: Players can choose how many rounds they want to play without any hassle, making continuous play even more convenient and enjoyable.
Auto Cashout: The Auto Cashout feature, where players can choose the value they want to cash out, minimizing mistakes or distractions that could impact their winnings.
Responsible Gambling: FBMDS prioritizes players' safety with the responsible gambling feature, allowing players to set limits above or below their initial balance, preventing any unwanted excessive play.
Detailed Play History: A detailed play history feature ensures that players always remain safe and in control. They can review their past gaming sessions, bets and outcomes, promoting transparency and responsible gaming practices.
"Listening to our partners and clients was always the number-one priority during the creation process of Champion Tales," the Director for FBM, Renato Almeida, said. "Since the crash gaming category has been getting a lot of popularity, we made sure we understood market needs to make sure our clients' expectations and profitability rates were being met, while delivering an innovative solution able to provide players with an amazing gaming experience."
A personalized crash gaming atmosphere
Champion Tales goes beyond colossal wins with its debut, offering a captivating Brazil-inspired tropical ambiance. Moreover, the game's background, scenery and music can be customized to meet the needs of casino operators in diverse markets, cultural contexts and geographical locations.
This allows for an enriched gaming experience worldwide, whether by incorporating local landmarks, cultural references or regional music, to resonate with operators' requirements, enhancing customer engagement and satisfaction.
In addition, clients can have their respective logos applied to the game's flag, further aiding in branding. FBMDS maintains product localization as a priority by developing characters and backgrounds that resonate with the regions where partners operate and represent the seasonality of the market. This approach generates greater player identification, leading to increased retention and loyalty.
By developing mobile-friendly, cutting-edge and highly customizable gaming solution like Champion Tales, FBMDS proves once again its ability to deliver profitable and satisfying products for casino operators worldwide.
Hub88's Mark Taffler Taking to the Ring to Support Oliver's Wish Foundation at the SBC Charity Boxing Championship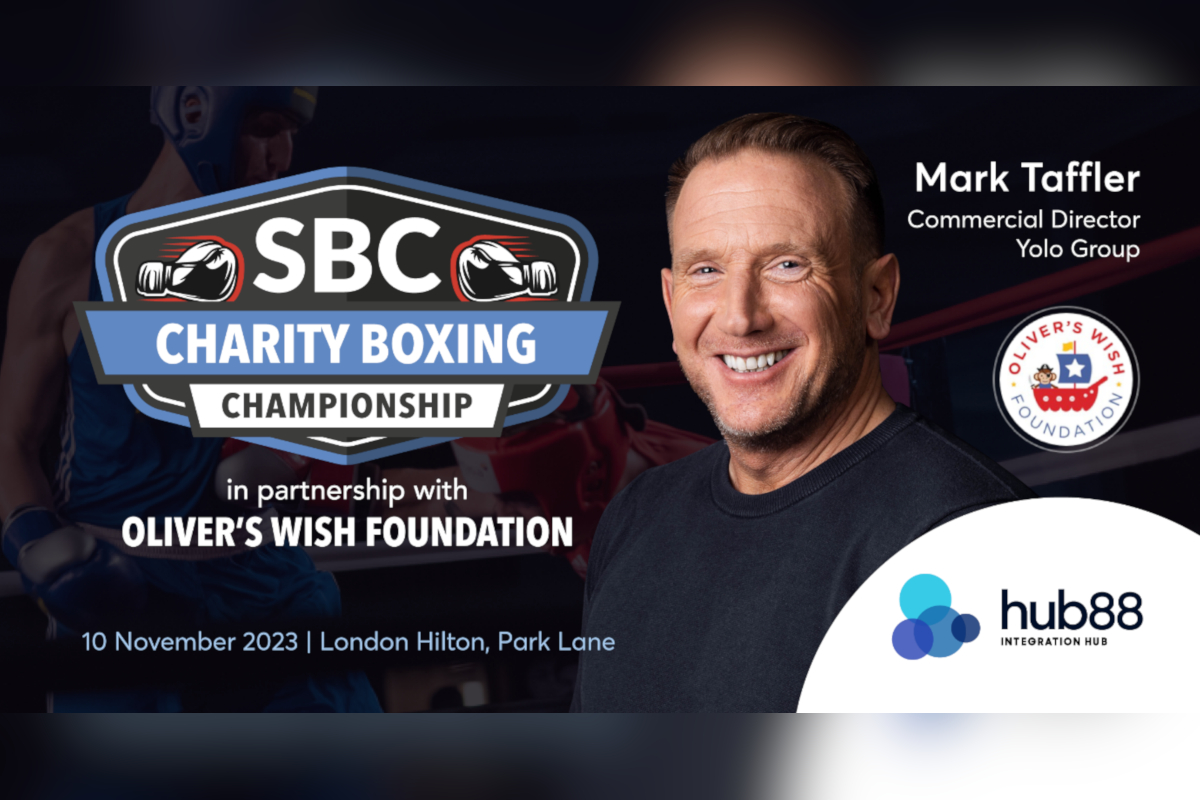 Reading Time:
< 1
minutes
Supplier's Commercial Director to don the gloves at prestigious industry charity event
Mark Taffler, Commercial Director for Hub88 and Bombay Group, is joining an industry lineup to compete in a white-collar boxing match at this year's SBC Charity Boxing Championship fundraising event.
Taffler, who is being sponsored by One.io, whom is part of the Yolo Investments' portfolio, will face SMPL Consulting's Director Simon Pilkington in the opening bout of the night to raise money for three charity organisations.
Hub88 will be hosting a VIP table at the event, which was set up by SBC in partnership with Oliver's Wish Foundation.
Over 500 industry representatives will be in attendance for an evening of boxing on November 10, with a blend of fierce competition and camaraderie taking place at the luxurious Hilton Hotel in London.
Last year's event raised a staggering £152,000 and was donated to the Oliver's Wish Foundation and its amazing partner charities Chestnut Tree House, Cystic Fibrosis Trust and SUDC UK.
"Mark's fantastic work so far will be rewarded in the boxing ring and we look forward to seeing how he gets on against his fierce competition Simon when the action unfolds," the Head of Hub88, Ollie Castleman, said.
"Ultimately, the goal is to raise money for a great cause and, following the success of last year's event, we are delighted to play a part in the 2023 instalment of the SBC Charity Boxing Championship."