Germany: Game downloads surge in the Covid-19 year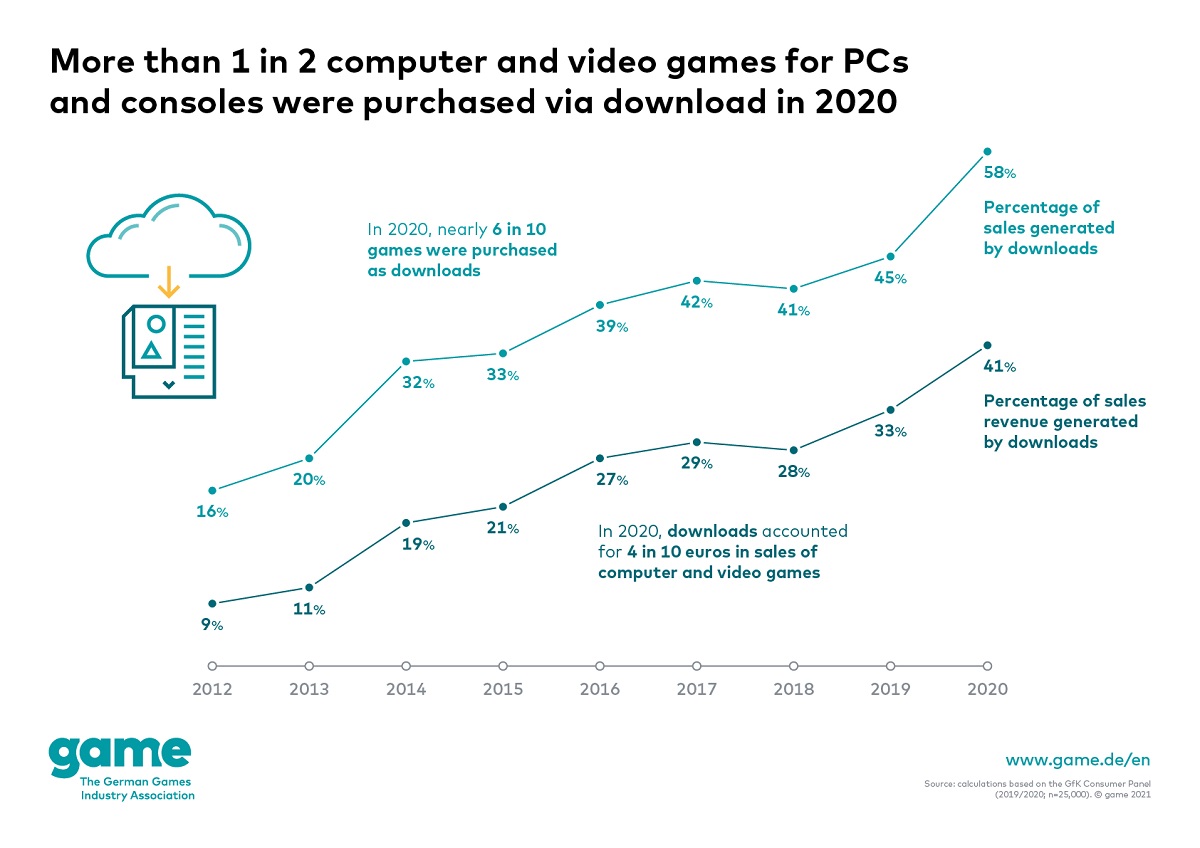 Reading Time:
3
minutes
6 in 10 PC and console games sold in 2020 were purchased as downloads
Share of sales revenue from game downloads rises to over 40 per cent
Great differences between PC and console games
German games market grows to 8.5 billion euros in 2020
The trend of purchasing computer and video games by download accelerated significantly in the Covid-19 year 2020. Alongside the mail-order trade, the only option open to many games fans during periods of closed retail businesses was purchase via download to PCs and games consoles. This spurred a jump in the download share of sales in PC and console games from 45 to 58 per cent within 12 months – meaning that 6 in 10 games purchases in 2020 were made via download. The download share of sales revenue is somewhat lower: downloads account for about 4 in 10 euros in sales made in Germany in 2020 with PC and console games, up from 33 per cent in 2019. As a general rule, the cheaper the game is, the greater the share of download purchases. 8 in 10 computer and video games costing up to 30 euros are purchased as downloads. These are the numbers released today by game – the German Games Industry Association, based on data collected by the market research company GfK. There are big differences between PC and games consoles. For PC games, the download share of sales is 94 per cent. For games consoles like PlayStation, Switch and Xbox, on the other hand, only about 1 in 3 games (35 per cent) is purchased via download. However, this represents a considerable increase in comparison to 2019, when the share was 24 per cent.
'The purchase of games via download has taken longer to establish itself in Germany than in other countries,' says Felix Falk, Managing Director of game. 'Many players continue to buy games on data storage devices due to internet connections with too little bandwidth or the numerous businesses with games departments – from electronics retailers to drugstores. In the Covid-19 year 2020, there was a tremendous surge in the share of download games. Not least, the shop closures during the shutdowns contributed strongly to this development.'
German games market: big jump in sales revenue in 2020
The German games market recorded a strong jump in sales revenue in the Covid-19 year 2020: total sales revenue of around 8.5 billion euros was achieved in computer and video games and associated hardware, as already reported by game. This is an increase of 32 per cent compared to the previous year. Sales of more than 3.2 billion euros were registered with games consoles, gaming PCs and the corresponding peripheral equipment – an increase of 26 per cent over 2019. The submarket for computer and video games showed even stronger growth, with purchases of games, in-game and in-app purchases, subscriptions and charges for online services climbing to 5.2 billion euros, an impressive 36 per cent rise compared to the previous year.
About the market data
The market data is based on statistics compiled by the GfK Consumer Panel. The methods used by GfK to collect data on Germany's video games market are unique in terms of both their quality and their global use. They include an ongoing survey of 25,000 consumers who are representative of the German population as a whole regarding their video game purchasing and usage habits, as well as a retail panel. The data collection methods provide a unique insight into the German market for computer and video games.
game – the German Games Industry Association
We are the association of the German games industry. Our members include developers, publishers and many other games industry actors such as esports event organisers, educational establishments and service providers. As a joint organiser of gamescom, we are responsible for the world's biggest event for computer and video games. We are an expert partner for media and for political and social institutions, and answer questions relating to market development, games culture and media literacy. Our mission is to make Germany the best games location.
Edict Egaming Partners with 888casino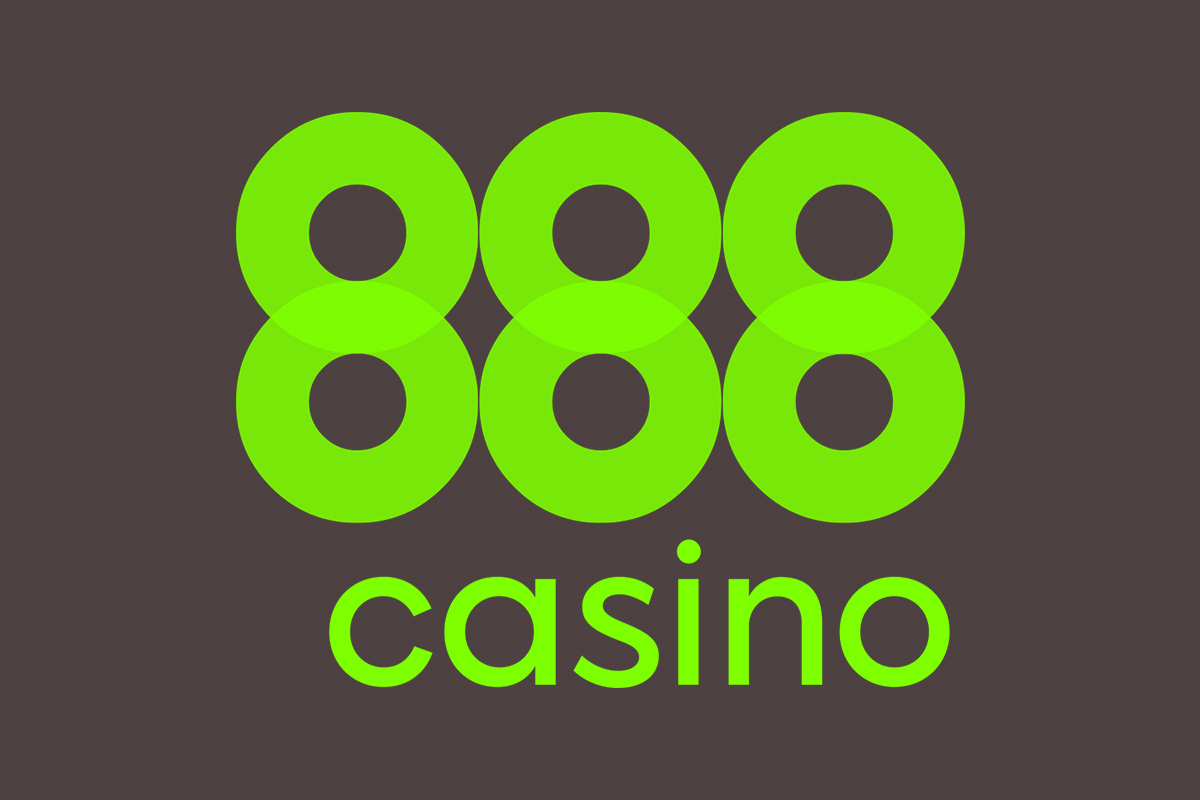 Reading Time:
< 1
minute
Edict egaming GmbH has officially signed an agreement with 888casino, one of the world's leading online casino brands and part of 888 Holdings. Within the scope of the collaboration, the Merkur games, which are a game provider of edict and produced by the Gauselmann Group subsidiary that specialises in sales and distribution of games for the online casino market, have been made available for players on 888casino's platform.
Currently, more than 10 Merkur slots are available on 888casino's website, including popular classic games such as Eye of Horus, El Torero and Blazing Star. The selection will be successively expanded to include more Merkur games in the coming weeks.
"888casino is one of the world's leading online casino brands and, through this collaboration, we have gained a globally established partner. We are proud to be able to offer 888casino users our diverse portfolio of Merkur games and are confident that our offering will be met with great enthusiasm by customers," Dominic-Daniel Liénard, CEO of edict egaming GmbH, said.
"We are delighted to be collaborating with edict to add its Merkur slots to our entertaining and content-rich portfolio of games on 888casino. Partnering with quality organisations like edict is a critical part of our product and content leadership strategy and ensures we continue to offer the very best gaming experience for players around the globe. We look forward to working with Dominic-Daniel and the team in the months ahead," Nir Hakarmeli, International Managing Director of 888 Group, said.
STS Reports Consolidated Revenue Rise of 16% for FY22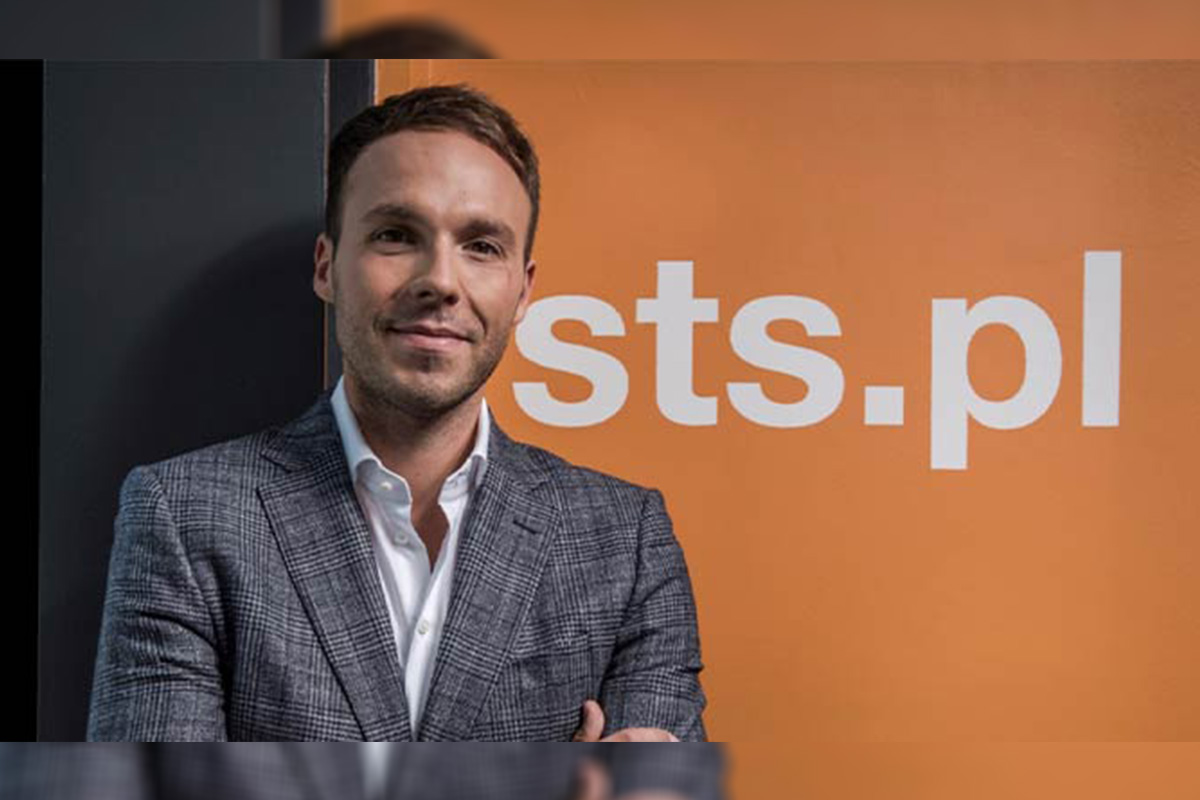 Reading Time:
3
minutes
The STS Group – one of the largest bookmakers in Central Europe and the market leader in Poland – recorded consolidated revenue of PLN 579 million in 2022, compared to PLN 498 million a year earlier. This represents a year-on-year increase of over 16%. The net profit attributable to the shareholders of the parent company amounted to PLN 169 million, as compared to 131 million in 2021. This represents a year-on-year increase by almost 29%. In addition, adjusted EBITDA reached the level of PLN 273 million last year, which is an increase of over 26% compared to the result from 2021. The adj. EBITDA margin in 2022 was 41.2%, compared to 38.2% the year before. Thus, it increased by 3 percentage points.
In Q4 2022 alone, the STS Group generated revenue of PLN 167 million, that is 43% more than in the previous year. Consolidated net profit attributable to shareholders of the parent company from October to December 2022 amounted to PLN 58 million, i.e. 290% more year-on-year. Adjusted EBITDA in Q4 2022 amounted to PLN 83 million, which means a year-on-year increase by 122%.
"A very good year is behind us – we generated the highest operating results in the Group's history, which translated into extremely satisfactory financial results. We will soon make a decision regarding the payment of dividends. In accordance with the applicable policy, we will pay 100% of the profit of STS Holding S.A. to the shareholders. Due to the structure of the Group, we will make two payments, as was the case last year," Mateusz Juroszek, President of the Management Board of STS Holding, said.
"The plan for the current year is to focus on a number of efficiencies. We focus on Poland to increase profitability and fully exploit the potential of the dynamic market. We implement savings and improve our product. We assume that turnover, NGR as well as EBITDA will be higher this year than last year," Mateusz Juroszek added.
In 2023, the Group is planning a number of activities aimed at increasing the profitability of its operations. To this end, the company reorganised its operations, focusing on Poland and closing its activities under licenses in the UK and Estonia. The operating results achieved by STS S.A. in 2022 indicate the extremely high attractiveness of the Polish market. The company intends to concentrate its activities in order to be able to use the development potential in the country.
In 2022, the STS Group generated NGR of PLN 663 million, compared to PLN 565 million in the previous year, which means a year-on-year increase of 17%. The value of amounts staked by the customers of the STS Group amounted to PLN 4.679 billion, compared to PLN 4.492 billion in the previous year. The number of active users amounted to 783 thousand in 2022 and 693 thousand in 2021. In 2022, the Group recorded 439 thousand new registrations (370 thousand in 2021), and the number of customers who made their first deposit amounted to 317 thousand (249 thousand in 2021). All operational data is at historical highs.
In Q4 2022 alone, the Group generated the historically highest NGR on a quarterly basis; it amounted to PLN 200 million, compared to PLN 136 million in the previous year. The value of amounts staked by the customers of the STS Group in Q4 2022 amounted to PLN 1.38 billion, compared to PLN 1.218 billion in the previous year. In Q4 2022, the number of active customers was 542 thousand, compared to 386 thousand in Q4 2021. The number of registrations in Q4 2022 was 202,000, compared to 87,000 a year earlier. The number of customers making the first deposit in Q4 2021 amounted to 154 thousand, compared to 60 thousand a year earlier.
Win2day Expands its Partnership with Austrian Tennis Association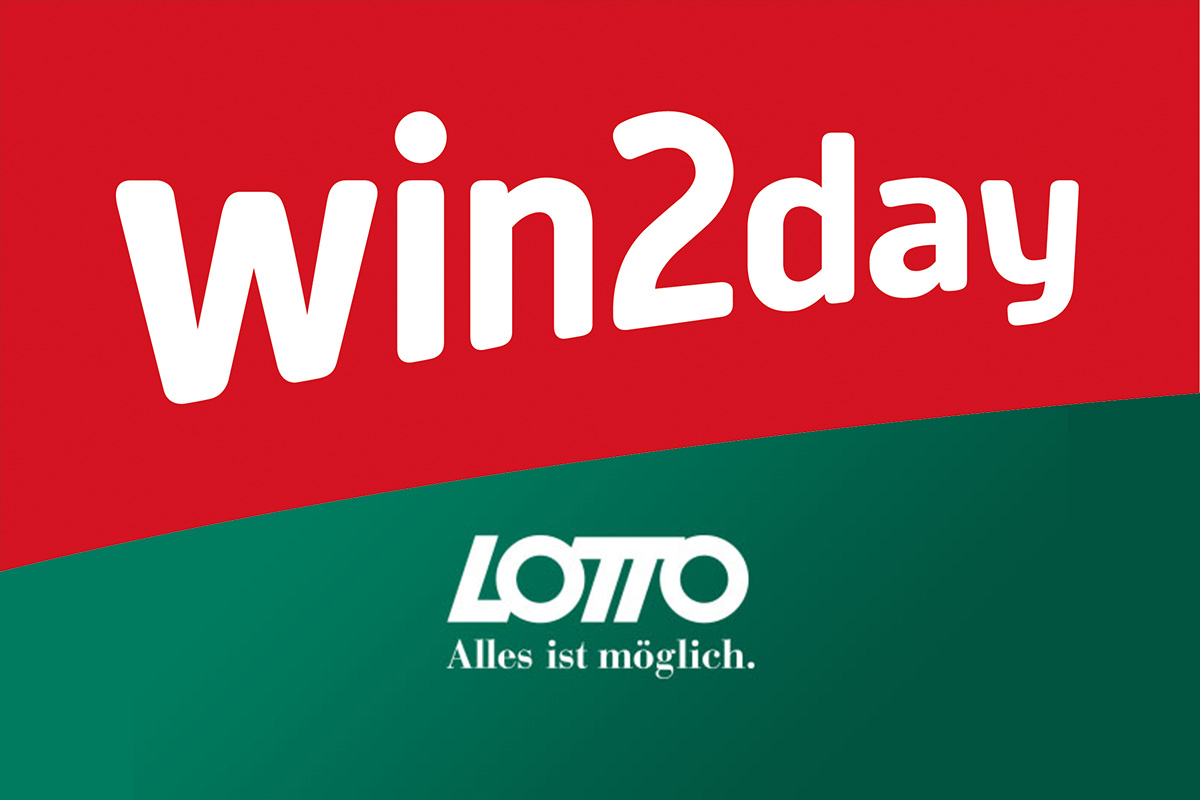 Reading Time:
2
minutes
Austrian Lotteries' iGaming arm win2day has expanded its partnership with the Austrian Tennis Association (ÖTV).
The agreement will see win2day continue as title sponsor of the win2day Austrian National Championships and the win2day Wheelchair Tennis National Championships.
In addition, the operator will support the women's, men's and disabled divisions in tennis, which will be known as the IMMOunited Tennis Bundesliga presented by win2day.
win2day has also named Nico Langmann, a 23-year-old wheelchair tennis player from Austria, as a tennis ambassador for the next two years.
"Tennis is a popular sport in Austria. Through our commitment, we reach players, events or officials. As in all other sports of the win2day sponsoring portfolio, the focus is also on the domestic scene. Nico, as the current top-ranked Austrian tennis player, will help us as an ambassador in our long-term partnership with the ÖTV to establish fair play and tennis as a perfect match," Georg Wawer, Managing Director of win2day, said.
"I am very happy that we have found a new, very strong partner who will support the most important activities and areas of the Austrian Tennis Federation such as the national league, the national championships and especially inclusion, which is particularly close to my personal heart, in the coming years. win2day has already shown in the past what a big heart they have for disabled sports," Thomas Schweda, Managing Director of ÖTV, said.
"It is great to see and I am also personally very pleased that such a high-calibre company is so interested in our sport and wants to support it. You can also see in the other sports in which win2day is active that it is a very good, reliable partner," ÖTV sports director and Davis Cup captain Jürgen Melzer said.
"With win2day, ÖTV has a major Austrian partner at its side who, for the first time, is supporting all important ÖTV competitions at the same time. The partnership not only enhances the win2day ÖTV national championships and the IMMOunited Bundesliga presented by win2day, but also enables us to initiate or intensify projects in popular sports within the wheelchair tennis department. Thank you for your trust," Markus Ambrosi, who is in charge of Marketing/Sponsoring at ÖTV, said.