Danny Lopez Joins Galaxy Racer As Chief Content Officer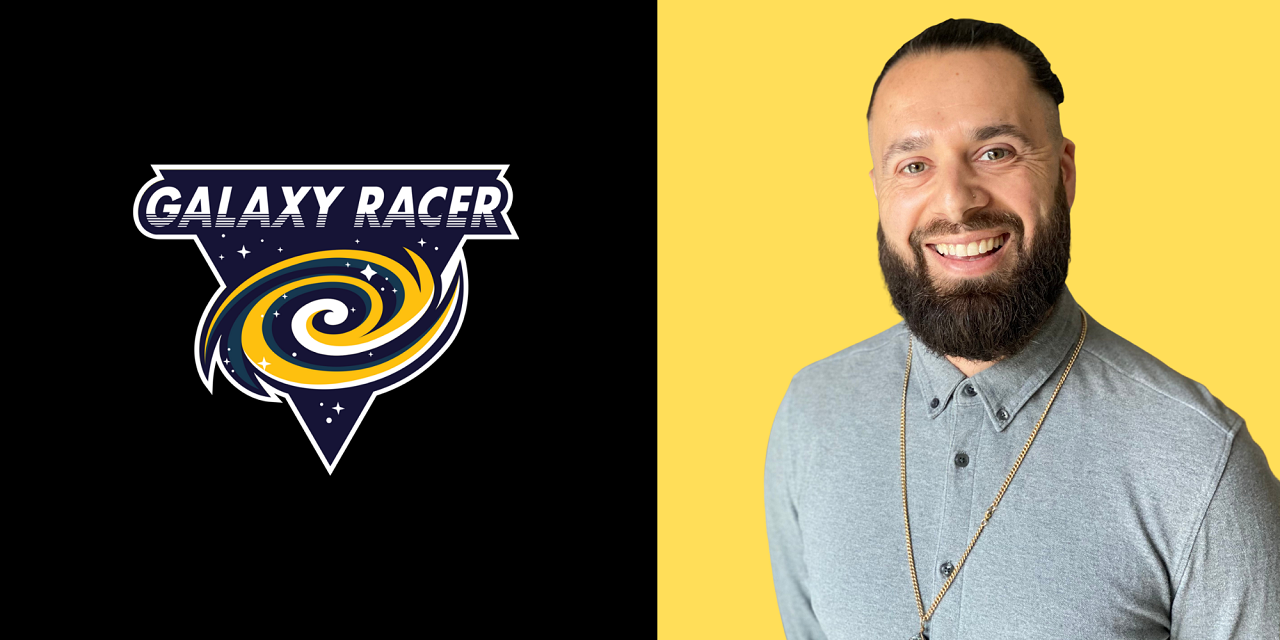 Reading Time:
3
minutes
Galaxy Racer (GXR), one of the fastest-growing esports organizations in the world, headquartered in Dubai, has announced the appointment of Danny Lopez as Chief Content Officer.
Lopez has over six years of experience at a senior level in esports and gaming, and will lead the development and implementation of best-in-class global content strategy by creating show-stopping entertainment across all areas of the business. He has recently been nominated as a finalist for 'Esports Creative Of The Year' by the Esports Awards, which is dedicated to showcasing top class performance and innovation.
Lopez was previously the Director of Brand and Content at Guild Esports, an esports team co-owned by David Beckham, where he led the creative content development and execution across the board. He has also held Creative Director roles at a number of organizations, including the likes of Fnatic. Further to this, he played an instrumental role in the viral content between Dr. Disrespect (one of the biggest global streamers) & Astralis (4 time CS:GO major world champions).
Galaxy Racer was founded in 2019 with an impressive roster of eleven esports teams in League of Legends, Dota 2, CS:GO, Fortnite, PUBG Mobile and Free Fire, with over 60 male and female esports athletes from 22 countries, with over 20 content creators across Middle East North Africa (MENA) and Southeast Asia (SEA), amassing over 160 million followers and generating over 1 billion monthly views.
Paul Roy, CEO of Galaxy Racer said, "Danny brings along a wealth of experience, which we recognize and value his creative talent. I've personally seen his content and he's definitely the best of the best in the industry. As Galaxy Racer pushes forward with our aggressive expansion plans, having a creative leader to spearhead our content across the group is imperative, especially for our esports and content creators' verticals. We look forward to having Danny onboard with us. Welcome to our galaxy!"
Danny Lopez, Chief Content Officer of Galaxy Racer added, "After meeting with Paul, I was bought in immediately, his global aspirations for Galaxy Racer were something I wanted to be a part of. The creators that Galaxy Racer work with have unrivalled scale and this is a great opportunity for me to help drive that growth by creating best-in-class content. I'm excited to lead the brand vision and continue to create groundbreaking content on a global platform – so watch this space! As a proud father to twin girls, I admire Galaxy Racer's commitment to support female gamers and love how passionate the business is about leading the change of the narrative in our exciting industry. "
Recently, Galaxy Racer joined forces together with Arsenal superstar English Premier League footballer Pierre-Emerick Aubameyang and his brother William-Fils "Willy" Aubameyang, by hosting the first-ever Fortnite esports tournament between Europe and the Middle East, the Galaxy Racer Aubameyang Cup, with a EURO 10,000 prize pool.
Galaxy Racer has formed a global partnership with Waverider, an IP content creation and management company centred around pop culture and entertainment.
Galaxy Racer is the organizer in Dubai for Girl Gamer Festival – the first and only 'Esports Festival' to celebrate women's competitiveness in video games, and has organized Australia's largest independent Fortnite tournament for the esports community and Fortnite tournaments in India and Pakistan, each tournament with a US$10,000 prize pool.
Galaxy Racer has formed a partnership with eLaliga, the top professional football division of the Spanish league system. This partnership is the first time a Dubai-based esports organisation will team up with a significant worldwide FIFA event.
Galaxy Racer is creating a true 360-degree esports, gaming, content and lifestyle brand. Their group company, Riva Technology and Entertainment (RTE), have secured a strong streak of acquisitions, partnerships and brand licensing deals, including the iconic comic book series publisher Dark Horse Comics, with RTE producing multiple mobile games based on the massively successful The Umbrella Academy comic books and Netflix series.
Earlier this year, RTE invested in multiple companies including SUB2r who produce broadcast-quality streaming video cameras, Recast an over-the-top (OTT) platform, BBox Sports an Augmented Reality company, the leading games publisher Rogue Games and OKLetsPlay, the leading platform for players to compete each other in competitions against other players across the world.
RTE also owns a majority stake in global games producer Firefly Games, who have experience working with major studios and brands for world-renowned intellectual properties (IP) from Dreamworks Animation, NBC Universal, Skydance Media, and now MGA Entertainment, a consumer entertainment products company, to produce and publish mobile games based on their hit properties L.O.L Surprise!™ and Rainbow High, both featured in Netflix.
RTE has recently invested in My LADS, an Augmented Reality (AR) technology engagement firm which powers fan engagement.
Galaxy Racer has recently brought onboard former Disney executive Guenther Hake, Senior Vice President and General Manager of Disney Consumer Products in Greater China and CEO at Oriental DreamWorks, who will be assisting in an advisory role with Galaxy Racer's brand partnerships, consumer products, apparel and merchandising endeavours.
Galaxy Racer has also recruited 'Marketing Innovator of the Year – Finalist' in the Marketing Excellence Awards 2020, former AirAsia and EVOS Esports marketer, Allan Phang as their Chief Marketing Officer, who will be leading global marketing initiatives.
Galaxy Racer is on hyper-growth mode and is actively hiring executive roles, including esports and gaming talents across the globe.

Eight partners on board for BLAST Premier's return to arena events at November's Fall Final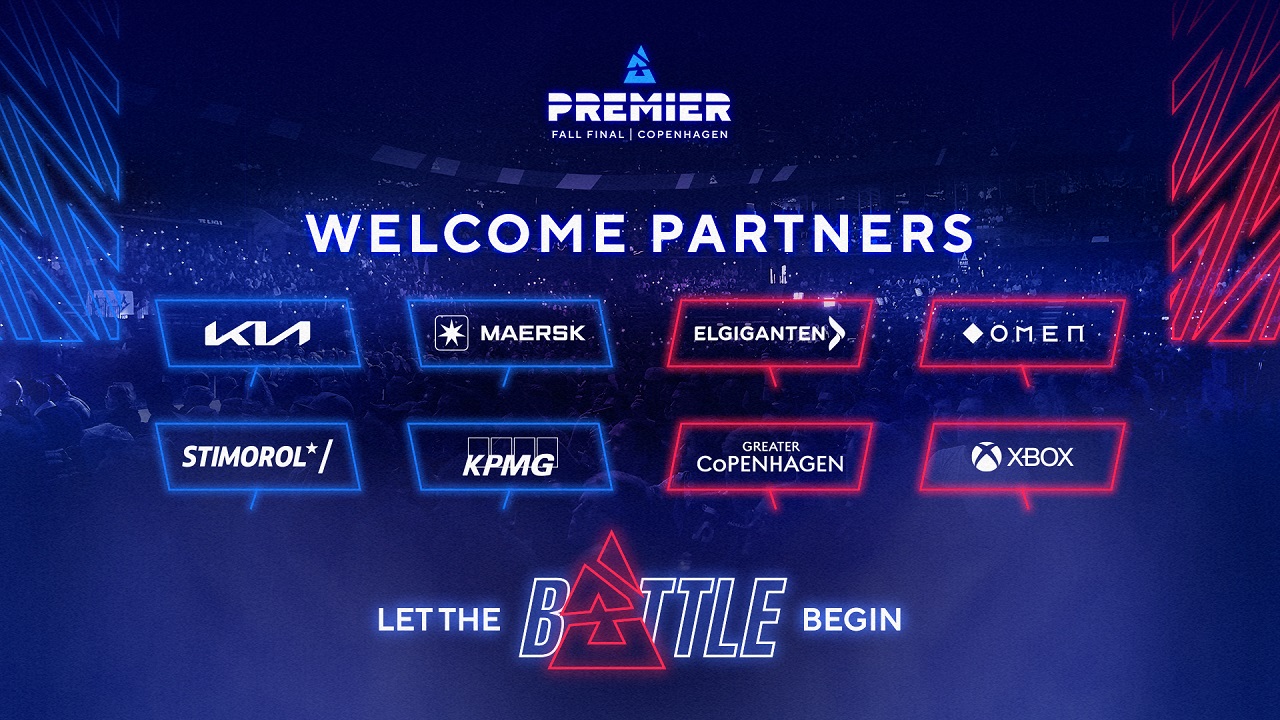 Reading Time:
2
minutes
BLAST Premier teams up with Elgiganten, Kia Denmark, A.P. Moller – Maersk, Xbox, OMEN, Stimorol, KPMG and Greater Copenhagen ahead of next month's Fall Final in Copenhagen's iconic Royal Arena
BLAST Premier has brought on board eight new partners ahead of next month's highly-anticipated Fall Final (24-28 November) – the esports tournament organiser's first LAN event in over 20 months.
Elgiganten, Kia Denmark, A.P. Moller – Maersk, Xbox, OMEN, Stimorol, KPMG and Greater Copenhagen will all team up with BLAST Premier ahead of the long-awaited return of fans and physical events at Copenhagen's iconic Royal Arena venue in late November.
The return of arena events with spectators provides a number of exciting in-person opportunities to engage and excite BLAST Premier's Counter-Strike community at the first LAN event since the London Spring Series in February 2020.
Kia Denmark, A.P. Moller – Maersk and Xbox team up with BLAST Premier for the first time, with the three brands making their first move into Counter-Strike, while the remaining line-up of partners have a strong history with the Copenhagen-based event.
Greater Copenhagen and BLAST Premier worked together to create Counter-Strike's first ever live in-game prediction tool for last year's Fall Final and will be sponsoring their first BLAST Premier event next month.
KPMG, OMEN and Stimorol will be partnering with BLAST for a third event – following last year's online Fall Final and the 2019 Pro Series in Royal Arena. November's tournament will be Elgiganten's second event after the 2019 Pro Series.
All partners will be activating at BLAST Premier's eagerly-anticipated return to LAN events at November's Fall Final – via a number of fan engagement initiatives, giveaways and designated spaces at the venue to activate around on top of digital branding that will reach BLAST's global audience watching from home.
The eight brands will join current partners, Betway, CS.MONEY, EPOS, SteelSeries and L33T Gaming – taking BLAST Premier's portfolio of partners for the Fall Final to 13 in total.
Oliver Clarke, Head of Brand Partnerships for BLAST, said: "We are thrilled to be welcoming a great, diverse line-up of partners for the BLAST Premier Fall Final in Copenhagen – one of Counter-Strike's most eagerly-anticipated events of the year. We look forward to creating new activations and content together while capturing the huge fan excitement around BLAST's return to LAN events and the iconic Royal Arena in November. The return of fans and physical events means we can provide our partners with further value and opportunities to engage and interact with the audience in-person."
The Fall Final is BLAST Premier's sixth event of the 2021 season and will see eight of world's best CS:GO teams fighting it out for $425,000 in prize money along with a place in December's World Final.
Full list of partners for the BLAST Premier Fall Final: Betway, CS Money, EPOS, SteelSeries, L33T Gaming, Elgiganten, Kia Denmark, A.P. Moller – Maersk, OMEN, Stimorol, Xbox, KPMG and Greater Copenhagen.
Trinity Gaming forays into South India, set to create influencer marketing roadmap for talents of Blind Esports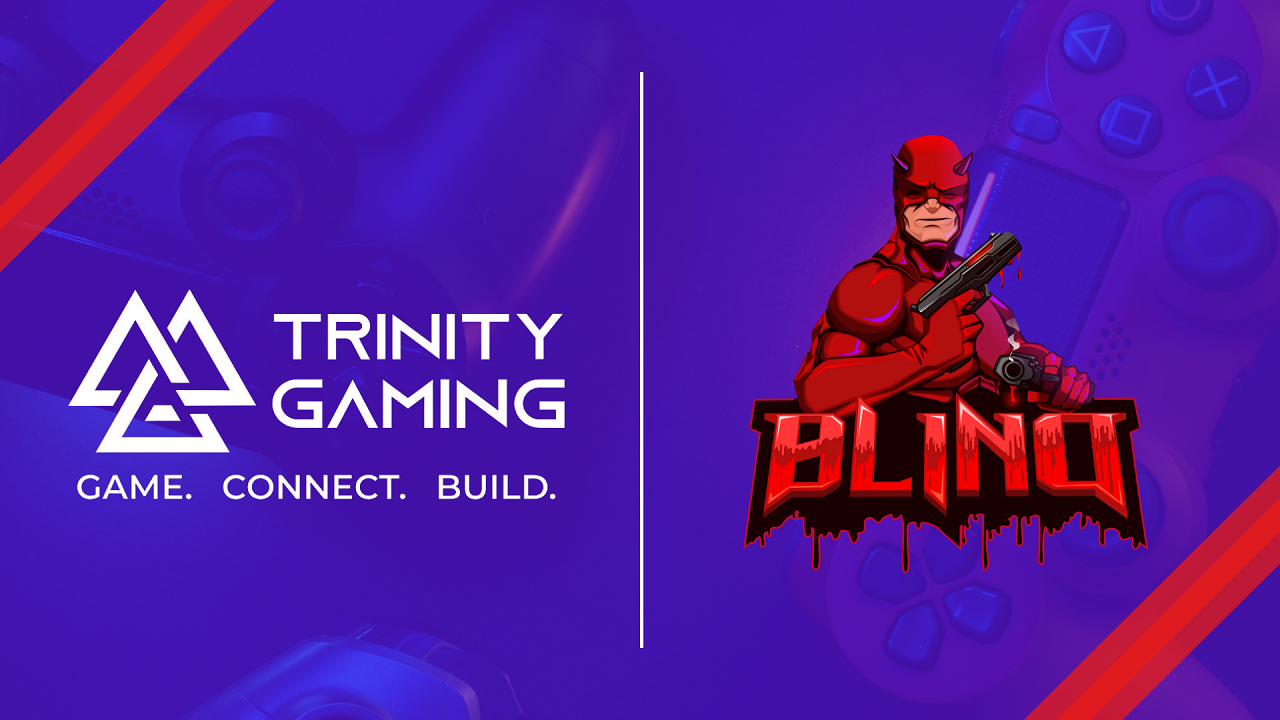 Reading Time:
2
minutes
Trinity Gaming—India's top gaming talent management company, has strengthened its influencer's management portfolio by signing Blind Esports, which are known to have the best esports rosters and content creators on board in the southern part of the country.
With an aim to provide best talent management services to the dynamic professional players of the team, the partnership will create opportunities to connect them with brands and support them in monetising their craft.
Commenting on the partnership, Abhishek Aggarwal, Co-Founder & CEO of Trinity Gaming, said: "We have always strived to provide best of services to our content creators and helped them financially to stabilise their career in gaming. We are extremely delighted to have professional players of Blind Esports on board as it will open more opportunities not only for the esports team but also for Trinity Gaming as we will be able to explore deeper bonds in the southern part of India as an agency."
Blind Esports have emerged champions in some of the biggest esports tournaments including BGMI titles in Thug Invitational, Nimo TV Cup, KPL Season 3 and were the finalists in PMCO Fall Split 2019 and, Free Fire titles in FFCO 2021 and Booyah Summer League 2021. The team also finished fourth in the India Cup Open in Call of Duty Mobile.
Trinity Gaming will help Blind Esports creators to not only grow but also provide them with graphic assistance, PR, educate them about social media presence, outreach and engagement and how to benefit from all such activities both monetarily as well as establishing themselves in the gaming industry. The agency will also educate the talents to develop best content for audiences, facilitate brand deals for the influencers, and get notable attention for both brand and influencers.
"We have always been aiming to partner with an esports talent management sector to provide better opportunities to our players and we are delighted that Trinity Gaming would be helping us in carrying forward that vision for our team. We aim to create a national footprint for ourselves and our players and creators," said the owner of Blind Esports Arjun Suresh, who is popularly known as 'Blind Satan'.
G2 Esports and Ralph Lauren to Host Pink Pony Charity Stream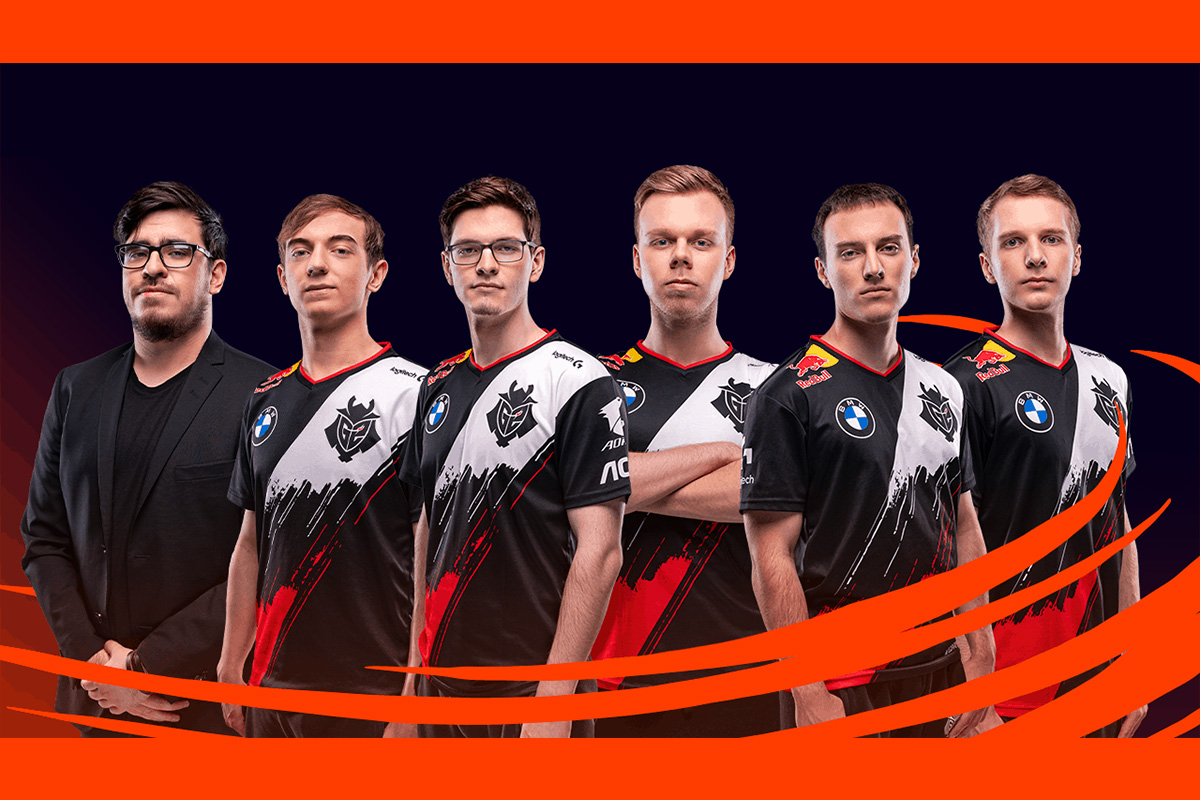 Reading Time:
< 1
minute
G2 Esports and luxury fashion brand Ralph Lauren will be hosting a three-hour charity stream on October 27 to raise funds for the global fight against cancer.
For more than 20 years, Ralph Lauren Corporation has been committed to reducing disparities in cancer care and leading the fight to find a cure, through the Company's global philanthropic programme Pink Pony.
The three-hour live event, broadcasted from LVL World of Gaming studio in Berlin and streamed live on Twitch, will feature some of G2's most-watched players competing in a series of challenges, plus live music and more. The funds raised will be donated to The Royal Marsden Cancer Charity, which raises money to support The Royal Marsden, the largest and most comprehensive cancer centre in Europe.
Marcin 'Jankos' Jankowski, G2 player comments: "I'm excited to be a part of the Pink Pony charity stream – It's going to be a great event.  Not only do I get to play with other G2 members, but we're also doing it for an amazing and important cause. I hope everyone will tune in and donate!"
The G2 Esports and Ralph Lauren Pink Pony streamathon will be available to watch live on Twitch, Wednesday, October 27 from 6 pm GMT.