PS4, PS5 and Xbox controllers for fans of FC Porto football club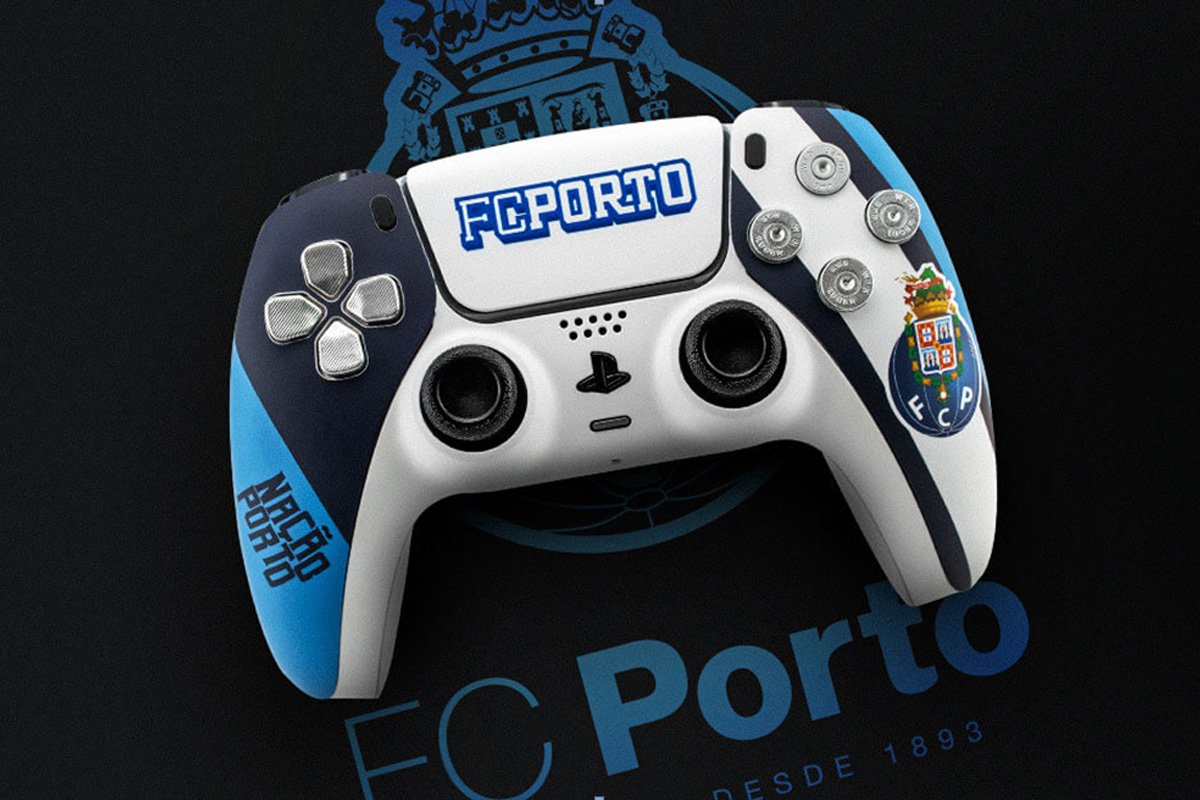 Reading Time:
3
minutes
If you are both a fan of football and console games, you are probably rubbing your eyes in surprise when you read this title! PS5, Xbox or PS4-Controller with FC-Porto-Logo? Is that possible? Quite a legitimate question, because not everyone knows that they are not condemned to boring, standard controller models. Shops are full of ordinary, traditional controllers manufactured by the biggest companies, which lack a bit of soul, but also the ability to adapt to the player's physical conditions. Fortunately, the AimControllers team comes to the rescue here too, offering not only aesthetically appealing designs, but also controllers with customizable buttons for their functions and settings. Intrigued? Then let us tell you a little more about our selection of Xbox, PS5 and PS4 controllers for FC Porto fans.
What is AimControllers' partnership with FC Porto all about?
We are more than proud to announce that after several months of design work and technological research, as well as marketing analysis, we have developed the latest models of our controllers, compatible with PS4, PS5 and Xbox One consoles and designed with FC Porto fans in mind. We must admit that these products are innovative and state-of-the-art controllers in our range. Their additional advantage is their ergonomics and efficiency, as the Nacao Porto and Dragons lines have been designed in collaboration with the best specialists and tested by professional gamers to meet the highest standards of quality and gaming comfort. These last few months were busy, but also resulted in two lines of controllers inspired by the emblems of the FC Porto team – the Nacao Porto and the Dragons line – which will not only capture the hearts of football lovers, but especially passionate gamers.  The Nacao Porto line of controllers is inspired by the FC Porto football team and its colours, while Dragons, refers to the mascot of FC Porto e-sports team. Both series are available in two versions – Basic and Premium. Do you dream of an Xbox, PS5, PS4-Controller with FC-Porto-Logo? Now let's take a look at their characteristics.
Nacao Porto and the Dragons line – a bit about the characteristics of AimControllers controllers for PS4, PS5 and Xbox
The Nacao Porto and Dragons lines from AimController are the perfect Xbox, PS5 and PS4 controllers for FC Porto fans. One of them refers to the legendary football team, while the design of the other is inspired by the e-sports team FC Porto. True fans of this team will certainly guess which line refers to which, but let us tell you about both of them in detail, because beyond the aesthetic value we have much more to share.
Nacao Porto line by AimControllers
The Nacao Porto product line, just like the Dragon variant, is sold in two versions Basic and Premium. The Basic controllers are the highest quality gaming gadgets, made in the style and colours inspired by the colours of one of the most popular football teams in the world – FC Porto. The Nacao Porto Basic series will meet your expectations if you love games and gaming accessories of the highest quality and you would like to support your favourite team at the same time! The Nacao Porto Premium series controllers are high-end accessories, developed according to the best industry standards and characterised by a unique design. But looks are not everything, as the Nacao Porto Premium series is also equipped with Smart Triggers and Paddles, that you can customize according to your preferences and get an edge over other players!
Dragons line by AimControllers
The Dragons series combines attractive design solutions, featuring motifs referring to the team mascot – a dragon, with the most innovative and renowned technologies used in the production of console controllers. The Dragons line comes in two versions – Premium and Basic. Controllers from the Basic line are a reliable product, that will immediately improve your results in every game! Whereas Premium is dedicated to true gaming enthusiasts, for whom, in addition to the standard options, the ability to optimise their performance, change the layout and functionality of the keys and improve the comfort of the game is important. Dragons Premium Controllers for PS4 can be further equipped with innovative Smart Triggers and special Paddles with default configuration! In a word, both series of Xbox, PS5 and PS4 controllers for FC Porto fans are a combination of the best technology and comfort, and the only differences are the additional customisation options, which all experienced gamers will appreciate.
So, if you are looking for top quality console gaming hardware and dream of an Xbox, PS5 or PS4-Controller with FC-Porto-Logo then be sure to visit the AimControllers website and choose between the Dragons and Nacao Porto series.

Galaxy Racer signs YouTube sensation Noor Stars as new content creator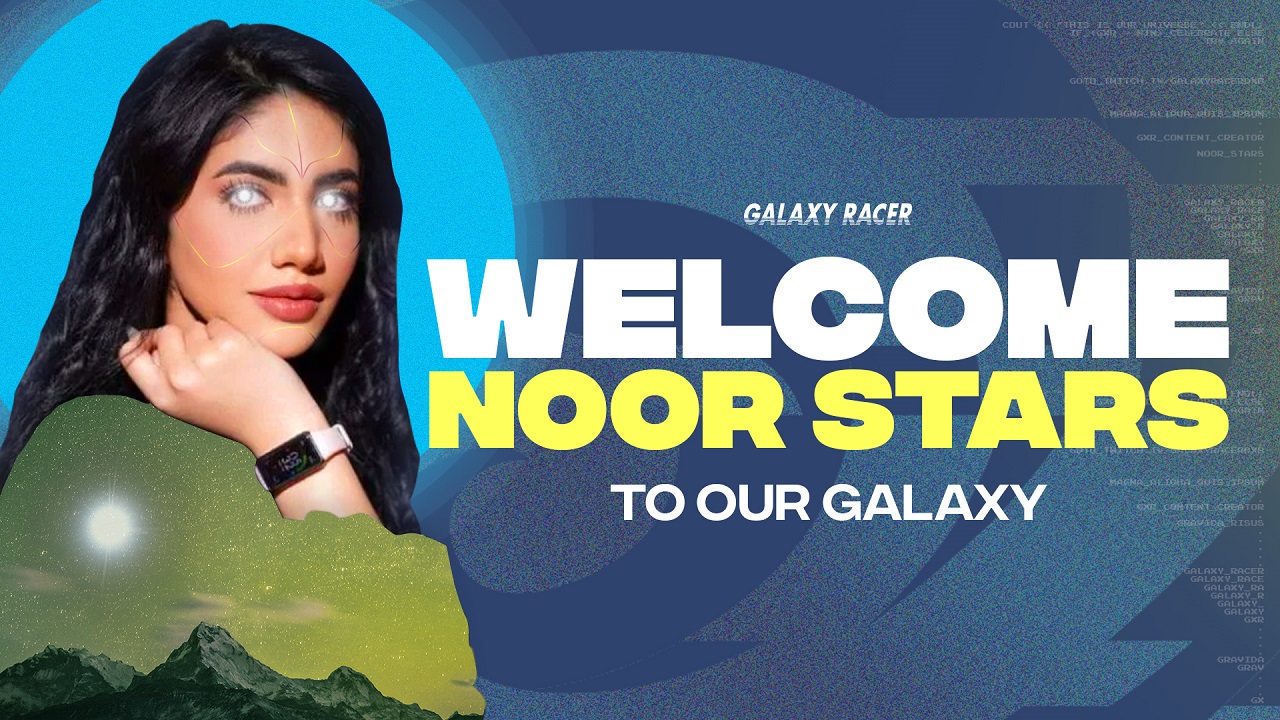 Reading Time:
2
minutes
One of the biggest female content creators from the Arab speaking world with a following of over 40 Million, Noor Stars will be representing Galaxy Racer across her many channels and creating a variety of content
Galaxy Racer (GXR), the biggest esports, gaming and lifestyle organisation, headquartered in Dubai, with market presence in the Middle East, North Africa, South-East Asia, Europe and South Asia, has announced it has signed one of the most popular content creators in the Arab speaking world, Noor Stars, as its new content creator.
As the latest addition to Galaxy Racer's constantly growing content creator team, Noor Stars will be representing the organisation across her many channels and creating a variety of exciting and compelling content – which includes everything from music, videos and films to comics and product launches – for her millions of fans around the world.
Galaxy Racer launched in 2019 and has already become one of the biggest esports, gaming, and lifestyle organisations globally. The organisation prides itself on having five separate business offerings; Esports Teams, Content Creators, Tournament Management, Merchandising and Lifestyle and GXR Records, a newly established record label that already carries two signed artists from the MENA region and are looking to expand globally.
Galaxy Racer's content creator team has enjoyed startling success in just two years, and Noor Stars will join a roster that features some of the biggest content creators in the MENA and Southeast Asia regions, including Abo Flah, the biggest and fastest-growing gaming channel in the Arabic speaking world. The organisation now carries over 100 content creators, with a total reach of over 370 million followers across all platforms and more than two billion views.
The first person in the region to reach 10 million subscribers on a social platform and one of the most popular content creators in the Arab speaking world, Noor Stars began her career on YouTube in 2015. Paving the path for female content creators in the region, Noor Stars had to overcome serious challenges early in her career for simply being an Arab woman on YouTube. Her success on the platform, with passionate fans and a devoted family behind her, has seen Noor Stars become an inspiration to aspiring female content creators in the region, and globally.
Galaxy Racer's Content Creator and YouTube sensation, Noor Stars commented: "I am excited to be joining Galaxy Racer as their newest content creator! I am always looking to grow as a person and felt I wanted to expand into different verticals and create many more exciting content for my audience such as movies, films and product launches. I am confident at Galaxy Racer I will be able to create and provide fresh and engaging content to my followers. I hope my journey inspires more female content creators to build confidence in themselves and believe that if you truly enjoy doing something, that is a good enough reason to keep going. Never take no for an answer – the most important story to tell is yourself!"
Paul Roy, CEO and Founder of Galaxy Racer, commented: "We are thrilled to announce that Noor Stars will be joining Galaxy Racer as one of our content creators! With an impressive social media following and inspiring the next generation positively, we are excited with the content she will be creating. We have already signed some of the biggest content creators in the region and I believe that Noor Stars will be a great addition to our ever-growing list of content creators. Welcome to our galaxy, Noor Stars!"
Cheers! Veloce launches official beer with partner 1936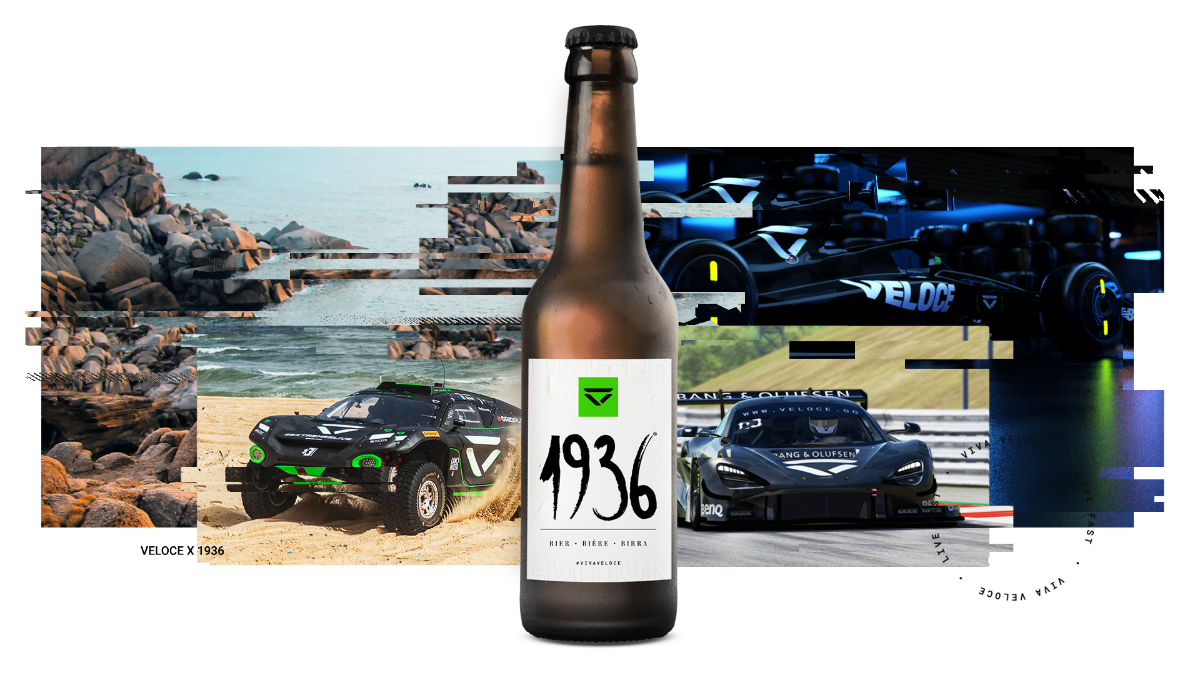 Reading Time:
< 1
minute
Gaming watch along event at prime Kings Road, London pub celebrates new launch
Veloce has revealed another exciting brand collaboration, this time with Swiss beer company 1936. The London-based pairing are set to launch Veloce's very own branded beer that will be available at prestigious events around the world, for team members at the Veloce HQ in Fulham, London and across the UK for fans via The Drop Store.
1936 is the latest lifestyle brand to partner with Veloce's sports and media entertainment platform, joining the likes of the Mercedes-AMG Petronas Esports Team, Codemasters, Bang & Olufsen, Regatta Professional and TW Steel that were announced earlier in the year.
The newly-revealed beverage will also be stocked on board Extreme E's floating paddock, the St. Helena ship, providing the crew and championship personnel with refreshing beer at selected X Prix around the globe.
1936 lager has already established itself as a firm favourite at some of the country's most prestigious venues including The Ivy London, Burger and Lobster, The Hut in The Isle of Wight and Beast Restaurant London among others.
To mark the occasion, Veloce hosted an F1 Esports watch along at The Cadogan Arms pub in Chelsea where the world's largest virtual motorsport competition was streamed throughout the venue.
At the event, attendees tried out the F1 2021 video game on a state-of-the-art Motion Simulation set-up as well as meeting fan-favourite influencers from Veloce's pool of online talent.
Rupert Svendsen-Cook, CEO, Veloce Esports added: "It's funny how this partnership has come about after discovering the beer via 1936 supplying our Veloce HQ's draft beer during lockdown! We couldn't be prouder to be launching a Veloce beer in collaboration with our good friends at 1936. We're also delighted that Extreme E will be welcoming our beer on board the St. Helena!"
GGPoker's $7.25M-Guaranteed GGSOP To Launch October 23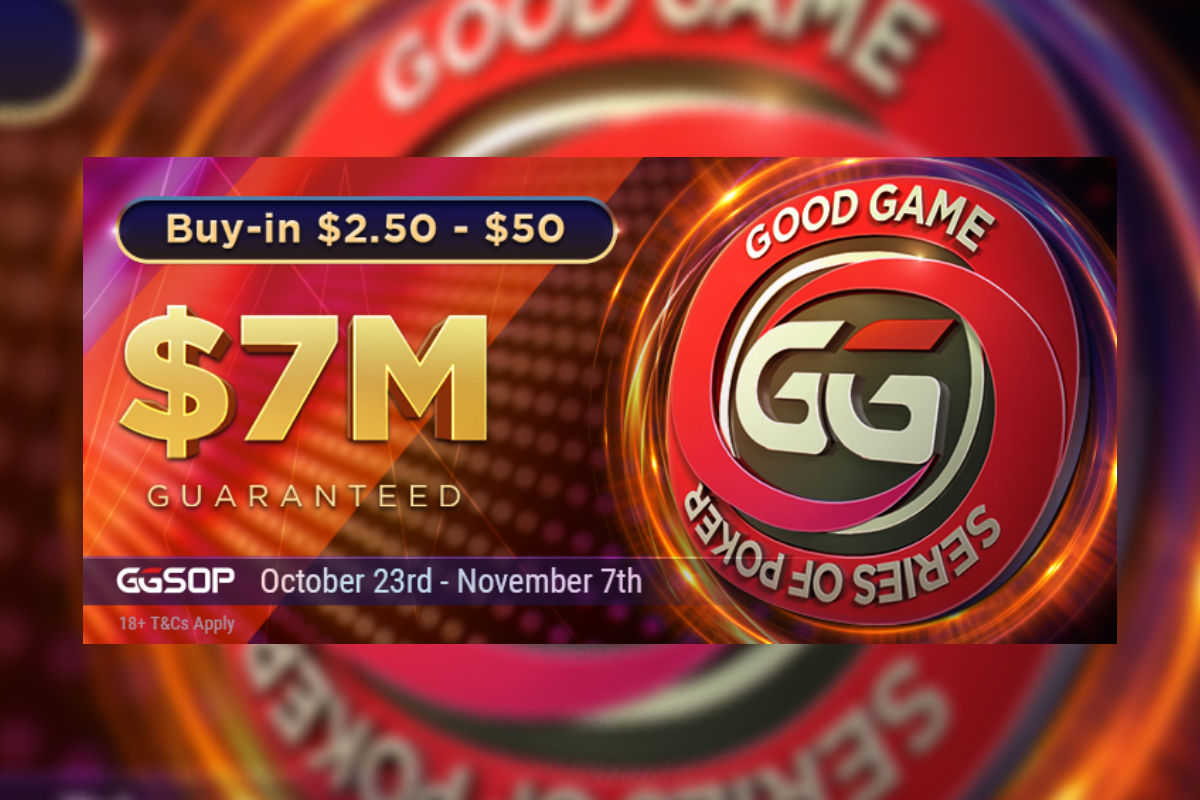 Reading Time:
< 1
minute
Ultra-affordable tournament series will include feature events with buy-ins from $2.50
GGPoker today announces that the next iteration of its ever-popular GGSOP online tournament series will run from October 23 through November 7, with certain Day 1 flights already underway.
GGSOP guarantees at least $7.25M in cash prizes across 54 events, with buy-ins ranging from $2.50 to $150. The GGSOP schedule closely mirrors that of the recently-hosted WSOP Online 2021, with buy-ins set at a fraction of those of that enormously popular series.
GGSOP headline events include:
$5 The Return NLH – $5 buy-in – October 23 [Final Day] – $100K guarantee

FLIP Ladies Championship – $25 buy-in – October 24 – $100K guarantee

$50 GGSOP MILLION$, $1M GTD – $50 buy-in – October 24, 31 & November 7 [Final Days] – Day 1s from Oct 17

$15 MILLIONAIRE MAKER Jr – $15 buy-in – October 30 [Final Day] – $250K guarantee (at least $50K for winner)

$50 GGSOP MAIN EVENT – $50 buy-in – November 6 – $200K guarantee
"GGSOP is a tournament series designed for every kind of poker player, with affordable buy-ins and lots of events to choose from," said Paul Burke, Head of PR at GGPoker. "With millions in cash prizes up for grabs, we know GGPoker players will relish the chance to take down a GGSOP title!"
New GGPoker players are eligible to claim the poker room's Welcome Bonus, earn even more rewards with the Honeymoon for Newcomers promotion and automatically join GGPoker's Fish Buffet loyalty program, with regular cash prizes on offer.