Climb the 9 Pyramids of Fortune in Stakelogic and Hurricane Games' latest slot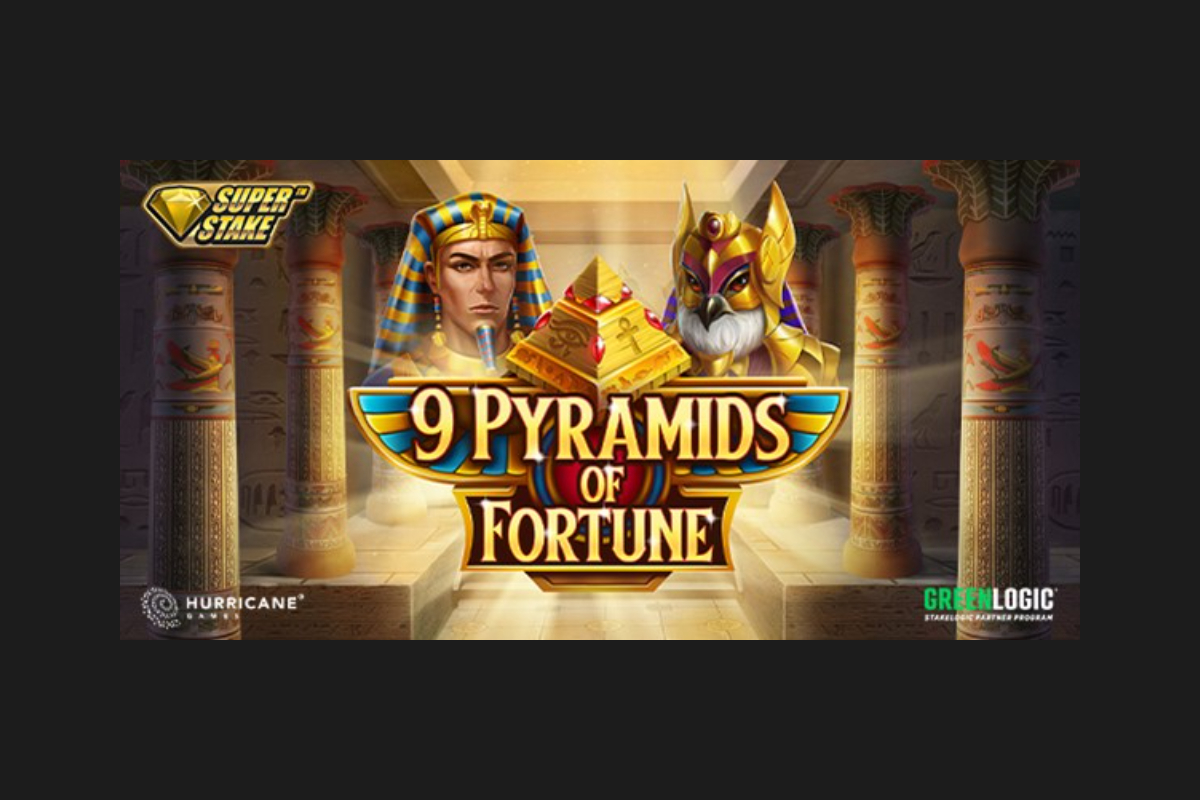 Reading Time:
2
minutes
New title offers Avalanches, Multipliers, Free Spins and the potential to win treasures beyond the player's wildest dreams
Stakelogic and Hurricane Games are taking players to the hot and dusty climes of Ancient Egypt in their latest release, 9 Pyramids of Fortune.
In the base game, symbols tumble onto the 5×3 reel matrix with 25 fixed paylines active. If a win lands, the winning symbols are destroyed and new symbols fall into their place to create even more win combinations for the player.
These are known as Avalanches; landing Avalanche Wins one after the other increases the Avalanche Multiplier up to a maximum of x5 in the base game. The Avalanche Multiplier is awarded to all winning combinations in that Avalanche.
The treasures that can be found in the base game do not stop there. If three or more Pyramid symbols land, the Pyramids of Fortune feature rumbles into life. Each Pyramid Scatter symbol that lands explodes and is added to the payment card that sits at the left hand side of the reels.
After all Avalanches complete, and if three or more Pyramid symbols has been collected, the Pyramids of Fortune reward is paid with nine levels of fortune for players to unlock. What's more, the Avalanche Multiplier is applied to the Pyramid Fortune win.
Free Spin Scatter symbols explode when they land on the reels, adding to the Free Spins collection that sits above the reels. If the Free Spins collection hits four, the Free Spins feature triggers once the Avalanche comes to an end.
A Free Spins Wheel then appears and awards the number of Free Spins and upgrades the Avalanche Multiplier. Players can receive a maximum of 15 Free Spins and up to a x6 Avalanche Multiplier. While active, any additional Free Spins symbols that land will add another Free Spin to the counter.
9 Pyramids of Fortune also comes hooked up to Stakelogic's ground-breaking Super Stake™
feature which allows players to double their bet to increase the chance of unlocking a bonus which in this case is double chance – Free Spins Scatters are twice as likely to land.
Players are given the option to Gamble their winnings with the chance to increase the value of their prize. They can either gamble on the card colour or the card suit and if they guess correctly their win will be multiplied by x2 or x4 respectively. Of course, if they guess wrong they will forfeit their win.
Salvatore Campione, Head of Greenlogic® at Stakelogic, said: "9 Pyramids of Fortune delivers heightened anticipation as the Avalanches build and the Multiplier climbs and climbs, delivering big win potential to rival the riches of the most powerful Pharaohs.
"The teams at Stakelogic & Hurricane Games have done an incredible job of taking the popular Ancient Egypt theme and adding that unique magic to create a slot that engages and entertains players while delivering a thrilling experience with every single spin."

Semper Fortis Esports enters Axie Infinity and Hearthstone with Dual Capacity Player Reading Time:
4
minutes
Semper Fortis will become one of the first professional esports companies to enter the play-to-earn market via its very own division of the SMPR team                                                                              
Semper Fortis Esports PLC, the esports company focused on establishing esports teams, forming brand and technology partnerships, and providing business to business advisory services, is pleased to announce its entry into the blockchain based, Non-fungible Token (NFT) video game, Axie Infinity and collectible card game, Hearthstone.                                                                             
The company's esports team, SMPR has made an official signing of Aleksei Bakumenko ('Iner') to compete in both Axie Infinity and Hearthstone for the upcoming season. The player has signed a three-month contract with an option to renew for an additional six months thereafter. They will receive an annual salary and performance-based incentives.                                                                           
The new hire is the first competitive esports players competing in the play-to-earn division of Semper Fortis Esports, where players will be incentivised to compete on behalf of the company for cryptocurrency-based returns in the form of NFTs.                                                                           
Axie Infinity is a trading and battling game that allows players to collect, breed, raise, battle and trade creatures known as "axies" (characters based on axolotl), which are digitized as NFTs. The game uses a "play-to-earn" model (also called "pay-to-play-to-earn" model) where participants can earn a token which is traded on Binance as an Ethereum-based cryptocurrency. Players can also exchange in-game assets as NFTs. Axie Infinity allows users to cash-out these tokens for monetary gains every 14 days.                                                                              
In October 2021, Vietnamese studio Sky Mavis the developer of Axie infinity raised $150 million Series B at a $3 billion Valuation with highly renowned investors involved including Andreessen Horowitz and Mark Cuban. As of October 2021, the game nears 2 million Daily Active Users and has generated close to $2.3 billion in total sales volume since it was launched in 2018.                                                                              
With this appointment, the company will be one of the first professional esports companies to enter the play-to-earn market via its very own division of the SMPR team. The company will look to expand on this division through development and recruitment to earn NFT based rewards through games as a revenue model going forward. Axie tokens are currently trading at circa $120, a staggering 1,200x their initial offer price from 2020.                                     
In addition to Axie Infinity, the newly recruited Aleksei Bakumenko ('Iner') is a current ranked Hearthstone player and will also look to compete in the popular free-to-play online digital collectible card game developed and published by Blizzard Entertainment. The game is played as an esport, with high-level tournaments such as Blizzard's official World Championship featuring a prize pool of up to $1 million.                                                                           
Iner' is currently ranked in ninth place in the Hearthstone EMEA and comes with a digital footprint of almost 75,000 followers across social media channels comprising of 1,475 followers on Twitter, 68,200 followers on Twitch and 4,770 subscribers on YouTube.                                                                            
Iner's addition takes the total number of active players on the SMPR roster across to nine and opens the brand up to two new competitive esports and audience types across a digital presence. The player comes with a distinguished digital footprint and a significant following from his competitive region of Russia, a market which the Company sees as a large opportunity to capture in the esports space.                                                                                                   
Kevin Soltani, CEO of Semper Fortis Esports, commented: "Our team is extremely proud to share the additions of Axie Infinity and Hearthstone to our esports games participation and to further strengthen our player roster. Semper Fortis is determined to revolutionise the play to earn space, in merging it with competitive esports play. Our latest signing will pioneer our strategy to build out the SMPR play-to-earn division, opening doors for a new pool of players entering the esports space and diversifying the company's revenue model. Gaming and blockchain are two of the fastest growing industries and with our team being highly experienced in both, we are geared for an exciting season ahead."                                                                        
Nolan Bushnell, a Non-Executive Director of Semper Fortis Esports, commented: "The play-to- earn movement is currently in rapid growth and we are very excited to see its evolving nature in the world of competitive esports."
Galaxy Racer signs YouTube sensation Noor Stars as new content creator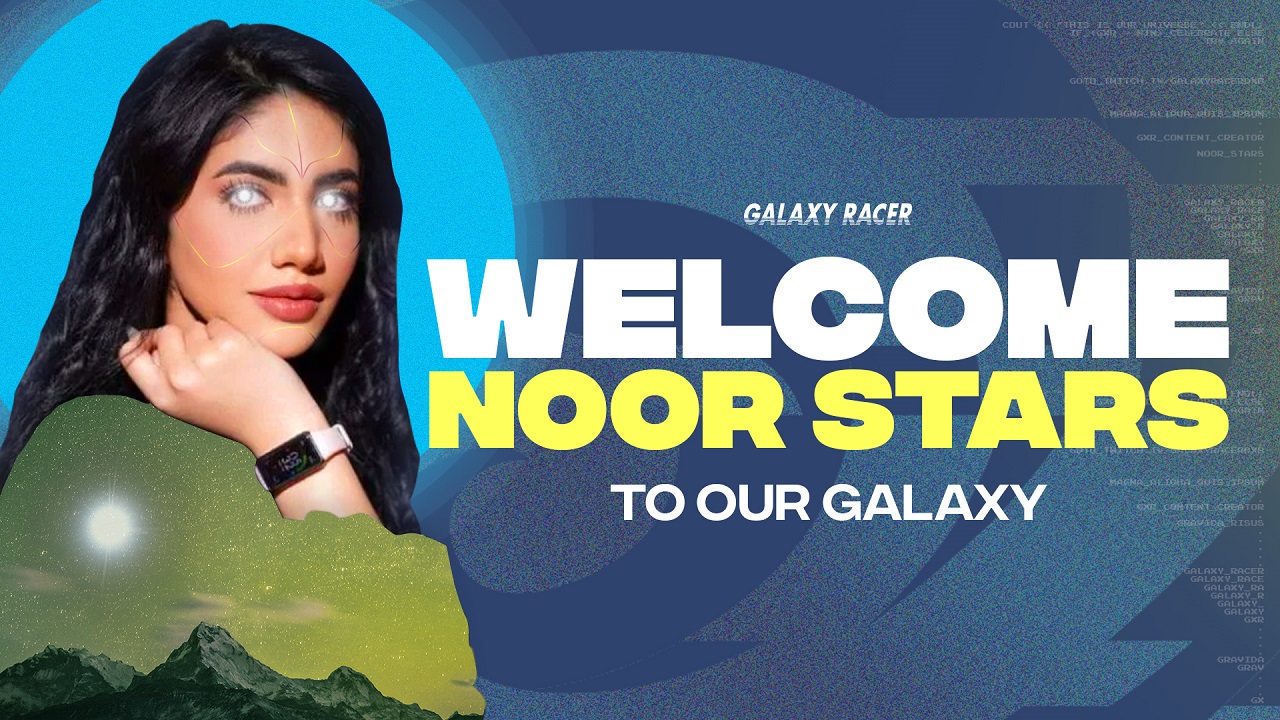 Reading Time:
2
minutes
One of the biggest female content creators from the Arab speaking world with a following of over 40 Million, Noor Stars will be representing Galaxy Racer across her many channels and creating a variety of content
Galaxy Racer (GXR), the biggest esports, gaming and lifestyle organisation, headquartered in Dubai, with market presence in the Middle East, North Africa, South-East Asia, Europe and South Asia, has announced it has signed one of the most popular content creators in the Arab speaking world, Noor Stars, as its new content creator.
As the latest addition to Galaxy Racer's constantly growing content creator team, Noor Stars will be representing the organisation across her many channels and creating a variety of exciting and compelling content – which includes everything from music, videos and films to comics and product launches – for her millions of fans around the world.
Galaxy Racer launched in 2019 and has already become one of the biggest esports, gaming, and lifestyle organisations globally. The organisation prides itself on having five separate business offerings; Esports Teams, Content Creators, Tournament Management, Merchandising and Lifestyle and GXR Records, a newly established record label that already carries two signed artists from the MENA region and are looking to expand globally.
Galaxy Racer's content creator team has enjoyed startling success in just two years, and Noor Stars will join a roster that features some of the biggest content creators in the MENA and Southeast Asia regions, including Abo Flah, the biggest and fastest-growing gaming channel in the Arabic speaking world. The organisation now carries over 100 content creators, with a total reach of over 370 million followers across all platforms and more than two billion views.
The first person in the region to reach 10 million subscribers on a social platform and one of the most popular content creators in the Arab speaking world, Noor Stars began her career on YouTube in 2015. Paving the path for female content creators in the region, Noor Stars had to overcome serious challenges early in her career for simply being an Arab woman on YouTube. Her success on the platform, with passionate fans and a devoted family behind her, has seen Noor Stars become an inspiration to aspiring female content creators in the region, and globally.
Galaxy Racer's Content Creator and YouTube sensation, Noor Stars commented: "I am excited to be joining Galaxy Racer as their newest content creator! I am always looking to grow as a person and felt I wanted to expand into different verticals and create many more exciting content for my audience such as movies, films and product launches. I am confident at Galaxy Racer I will be able to create and provide fresh and engaging content to my followers. I hope my journey inspires more female content creators to build confidence in themselves and believe that if you truly enjoy doing something, that is a good enough reason to keep going. Never take no for an answer – the most important story to tell is yourself!"
Paul Roy, CEO and Founder of Galaxy Racer, commented: "We are thrilled to announce that Noor Stars will be joining Galaxy Racer as one of our content creators! With an impressive social media following and inspiring the next generation positively, we are excited with the content she will be creating. We have already signed some of the biggest content creators in the region and I believe that Noor Stars will be a great addition to our ever-growing list of content creators. Welcome to our galaxy, Noor Stars!"
Cheers! Veloce launches official beer with partner 1936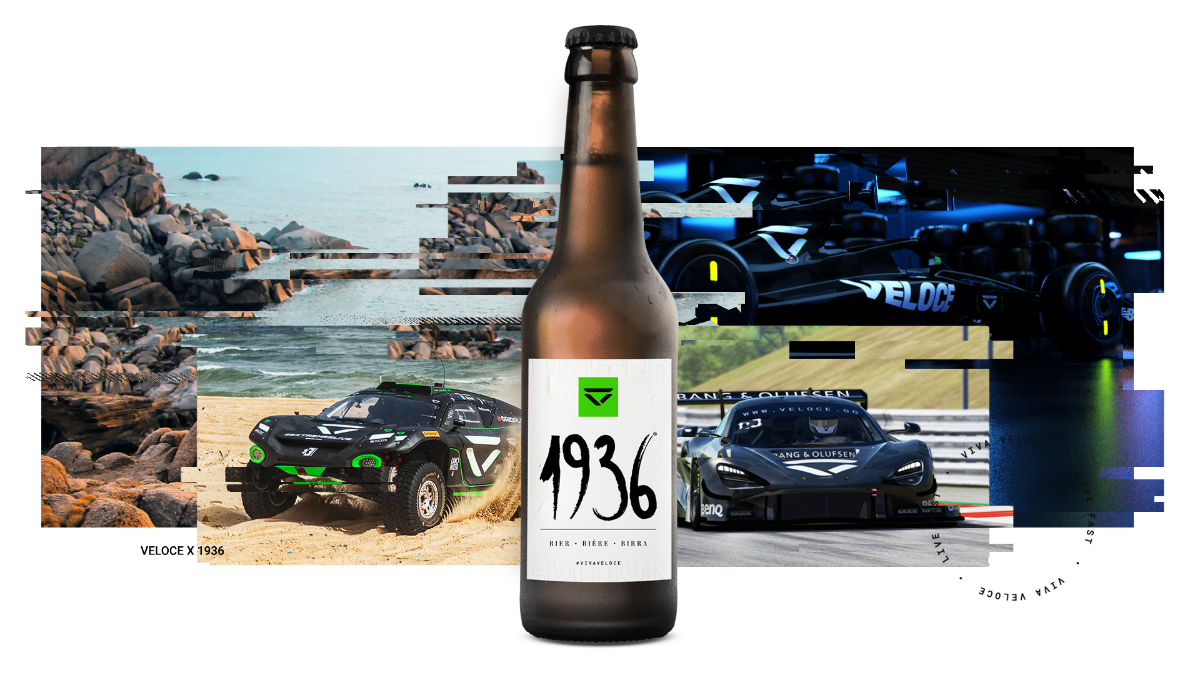 Reading Time:
< 1
minute
Gaming watch along event at prime Kings Road, London pub celebrates new launch
Veloce has revealed another exciting brand collaboration, this time with Swiss beer company 1936. The London-based pairing are set to launch Veloce's very own branded beer that will be available at prestigious events around the world, for team members at the Veloce HQ in Fulham, London and across the UK for fans via The Drop Store.
1936 is the latest lifestyle brand to partner with Veloce's sports and media entertainment platform, joining the likes of the Mercedes-AMG Petronas Esports Team, Codemasters, Bang & Olufsen, Regatta Professional and TW Steel that were announced earlier in the year.
The newly-revealed beverage will also be stocked on board Extreme E's floating paddock, the St. Helena ship, providing the crew and championship personnel with refreshing beer at selected X Prix around the globe.
1936 lager has already established itself as a firm favourite at some of the country's most prestigious venues including The Ivy London, Burger and Lobster, The Hut in The Isle of Wight and Beast Restaurant London among others.
To mark the occasion, Veloce hosted an F1 Esports watch along at The Cadogan Arms pub in Chelsea where the world's largest virtual motorsport competition was streamed throughout the venue.
At the event, attendees tried out the F1 2021 video game on a state-of-the-art Motion Simulation set-up as well as meeting fan-favourite influencers from Veloce's pool of online talent.
Rupert Svendsen-Cook, CEO, Veloce Esports added: "It's funny how this partnership has come about after discovering the beer via 1936 supplying our Veloce HQ's draft beer during lockdown! We couldn't be prouder to be launching a Veloce beer in collaboration with our good friends at 1936. We're also delighted that Extreme E will be welcoming our beer on board the St. Helena!"