Pronet Gaming appoints Nedda Kaltcheva as new CTO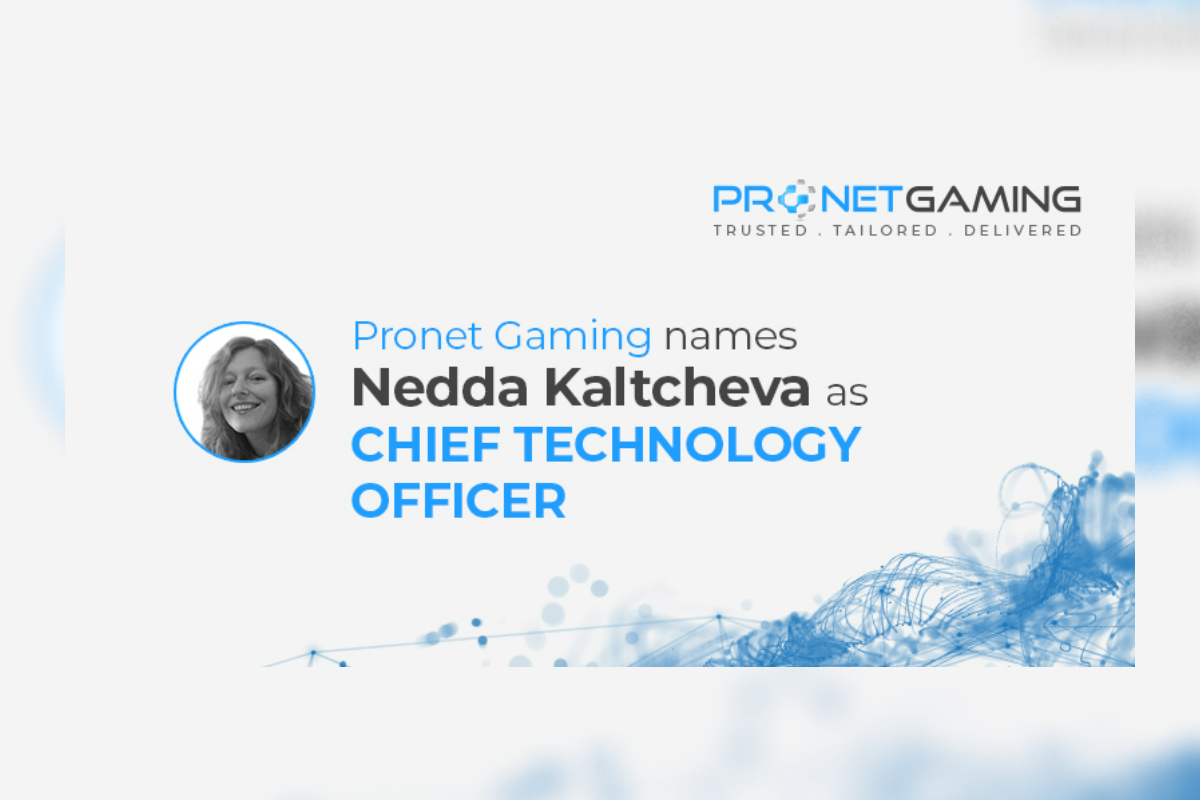 Reading Time:
2
minutes
Experienced iGaming tech expert joins progressive provider's growing team
 Platform specialist Pronet Gaming has appointed Nedda Kaltcheva as its new Chief Technology Officer, further growing the company's management team as it continues to make decisive strides within the global iGaming landscape.
Pronet Gaming is currently in the process of significantly increasing its overall number of developers across all locations as it seeks to further strengthen its industry leading technological foundations and Nedda's responsibilities include overseeing this process. The appointment follows the opening of Pronet Gaming's office in Sofia, Bulgaria, where Nedda will be primarily based.
She brings with her a wealth of iGaming experience, having held the position of Director of Engineering and CTO at William Hill International, Pokerstars and SimpleBet. She also has experience in a number of software development roles and co-founded the AI-powered betting insights company Tipstly. She also boasts a great deal of general corporate management experience from her various roles in the US and Middle East.
Pronet Gaming will look to benefit from Nedda's extensive experience in mobilising resources to delivering on its expanding roadmap, ensuring its technological prowess remains at the forefront of the industry.
Pronet Gaming's CEO, Alex Leese, said: "Our plans for next year are ambitious, to say the least, with some big announcements on the immediate horizon. With that in mind, it's fantastic to have Nedda on board as so much of this depends on our technology capabilities being first-class.
"The IT expertise and industry experience she brings to the table is clear for everybody to see and she is going to be a major asset to Pronet Gaming."
Nedda Kaltcheva, Pronet Gaming's CTO, said: "I am passionate about all things technology, gaming, diversity and innovation oriented, so Pronet Gaming was clearly the right choice for me.
"It's such an exciting time to be coming on board, with some huge projects just around the corner. I look forward to building dynamic new relationships as these come to fruition and Pronet Gaming continues to grow."
Lion Gaming Off to the Races With Latrobet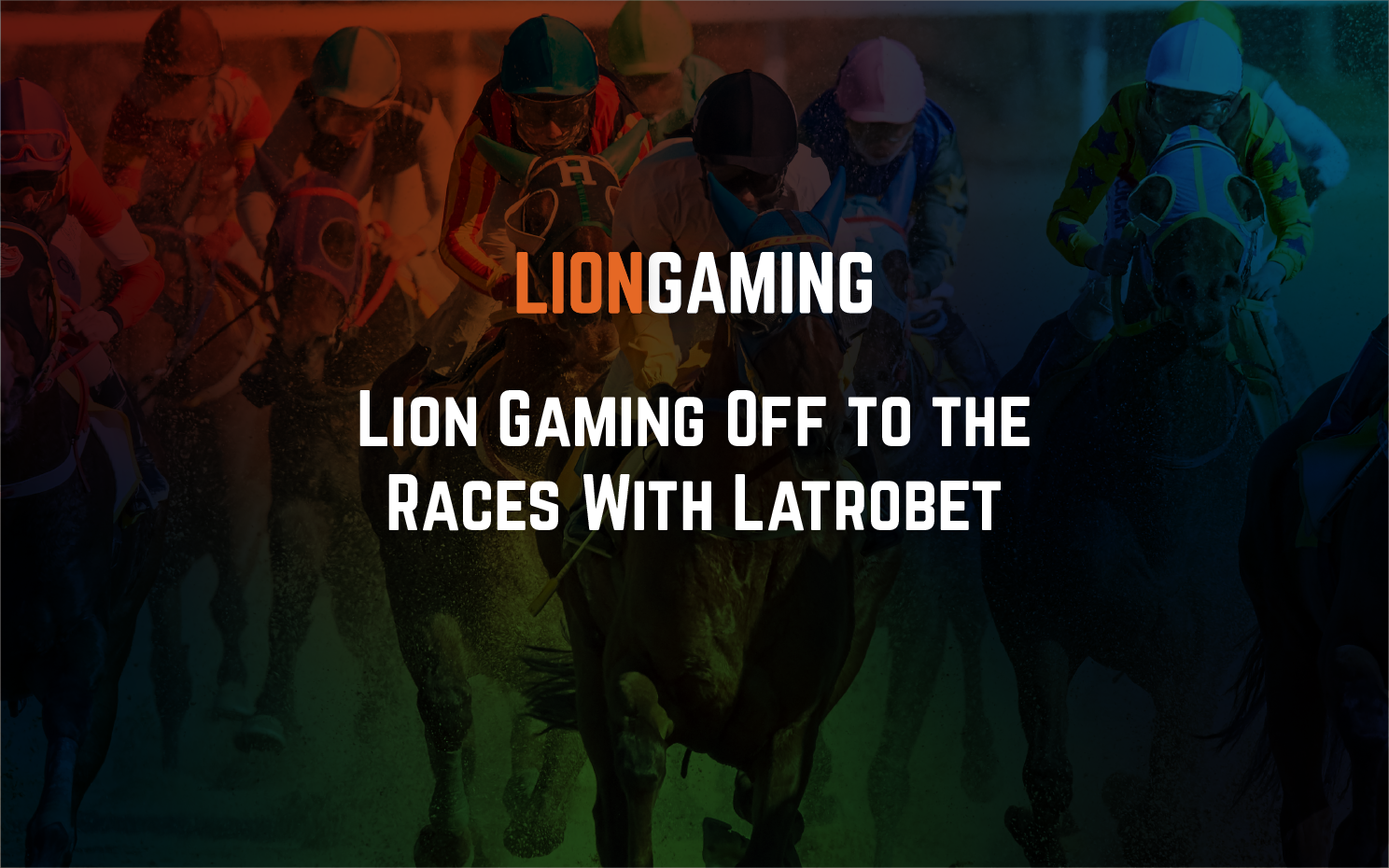 Reading Time:
2
minutes
Lion Gaming has announced the addition of Latrobet into its sportsbook platform. The integration of Latrobet's innovative horse racing betting API solution further strengthens Lion Gaming's commitment to providing offerings that operators and their players expect.
Latrobet, known for its horse racing betting technology, offers a complete risk management system and dynamic real-time odds for horse racing betting enthusiasts. By incorporating Latrobet into its platform, Lion Gaming ensures that its users have access to a comprehensive horse racing betting experience, complete with a wide range of betting options and competitive odds.
What sets Latrobet apart is its customizable user interface (UI), perfectly aligning with Lion Gaming's mandate of providing tailor-made solutions. The UI can be personalized to meet the unique preferences and branding requirements of Lion Gaming's operators, ensuring a streamlined betting experience across properties.
"Latrobet are pleased to announce the formation of a new partnership with liongaming.io. We are very excited to combine our experience and technology with their market leading wagering platform," Said Shaun White, Founder of Latrobet.
As part of the integration, Latrobet's horse racing streams will be embedded directly into Lion Gaming's sportsbook platform interface, allowing bettors to enjoy the excitement and thrill of live horse racing events. This feature adds an immersive element to the betting experience, enabling users to watch races in real-time while placing their bets, enhancing engagement and entertainment value.
"Lion Gaming is thrilled to integrate Latrobet into our expanding portfolio of sports betting offerings," said Jason Poprawa, Head of Sportsbook at Lion Gaming. "Latrobet's advanced horse racing betting API, customizable UI, and embedded live streaming align perfectly with our commitment to delivering customized solutions and captivating sports betting experiences for players."
Lion Gaming continues to expand its range of gaming options and provide a diverse and compelling platform for its users. By leveraging Latrobet's state-of-the-art  horse racing technology, Lion Gaming further strengthens its product offering and its position as a leader in the gaming industry.
Gamanza showcasing gamification solutions at Gaming in Holland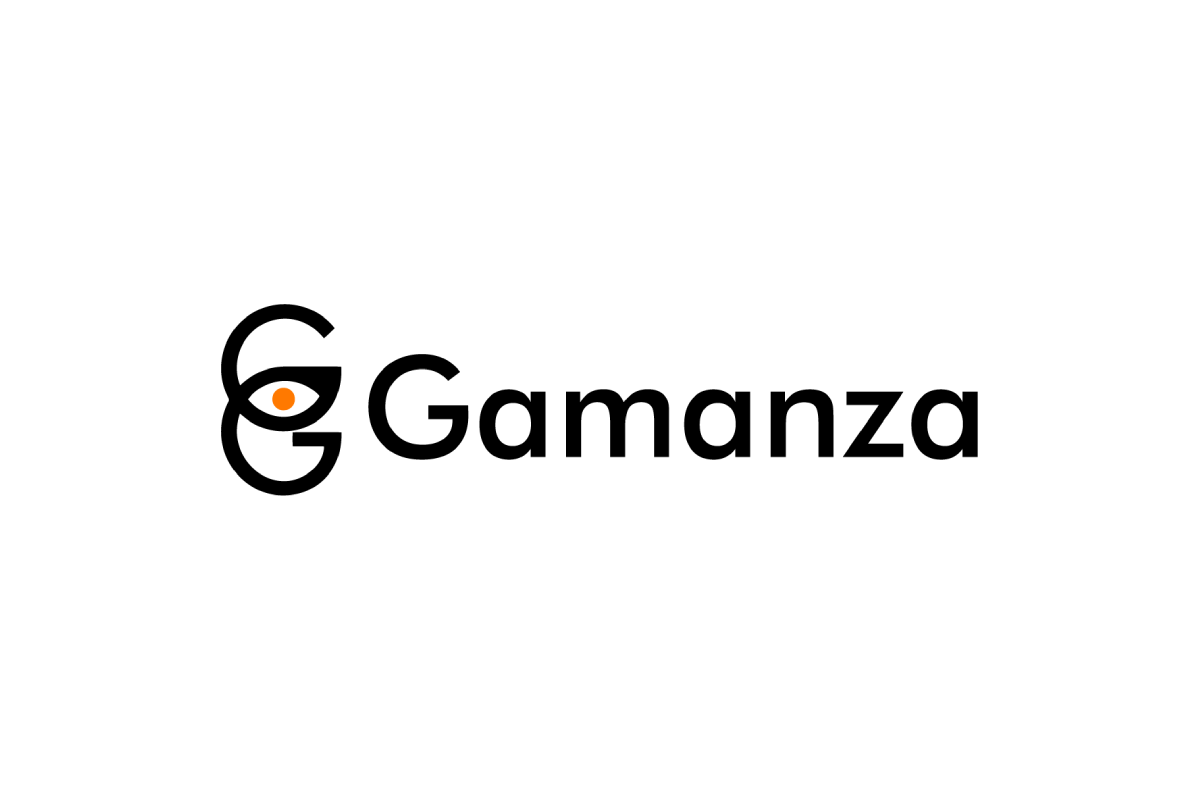 Reading Time:
2
minutes
Gamanza, an ISO 27001 certified iGaming technology provider, will participate in the Gaming in Holland Conference on 8th June, 2023. The event will be the first of multiple European stops throughout the remainder of 2023 where Gamanza will showcase its Player Engagement Platform, which boasts a new loyalty and gamification system. With a wealth of experience in gamification strategy, Gamanza recently completed a revamp of its original flagship product and re-structured the business to focus efforts on taking it to market.
Still in relative infancy, gamification has huge potential to transform the iGaming industry not only with engagement mechanics such as ranks, objectives and competitions, but also by offering an alternative to the ever-more maligned traditional bonuses. Having built highly successful gamification and loyalty strategies in the past, Gamanza's experts can help operators implement a cost-effective and viable system that introduces features that will appeal to new audiences, improve retention levels amongst the casual player base and boost their lifetime value.
The regulated Dutch market faces a complete ban on untargeted advertising on TV, radio and printed media from 1st July, 2023. This creates an even greater challenge for operators to acquire and re-activate players effectively as they will need to pivot away from these popular channels. Gamanza understands these challenges and seeks to provide operators with new tools and an alternative approach that can play a significant part in the marketing mix going forward.
"We're really happy to have a presence at the Gaming in Holland conference again this year", stated Robert Civill, Chief Commercial Officer at Gamanza. "As with other newly regulated jurisdictions, market conditions in the Netherlands are in flux and operators will need to find new and innovative ways to roll with the punches. I feel this brings gamification to the fore – and we can help operators to differentiate their brand, and to acquire, retain and re-activate players within the boundaries of the reforms while also presenting them with a new layer of entertainment."
By utilizing Gamanza's gamification solutions, operators can create personalized experiences that adhere to regulatory requirements. These solutions enable operators to implement tailored gamification strategies that drive player acquisition, boost retention, and generate revenue responsibly. The Gaming in Holland Conference takes place on 8th June, 2023 at the KIT Royal Tropical Institute in Amsterdam.
Finals for 2023 'Porsche Esports Challenge USA' to be held at Rennsport Reunion 7 in September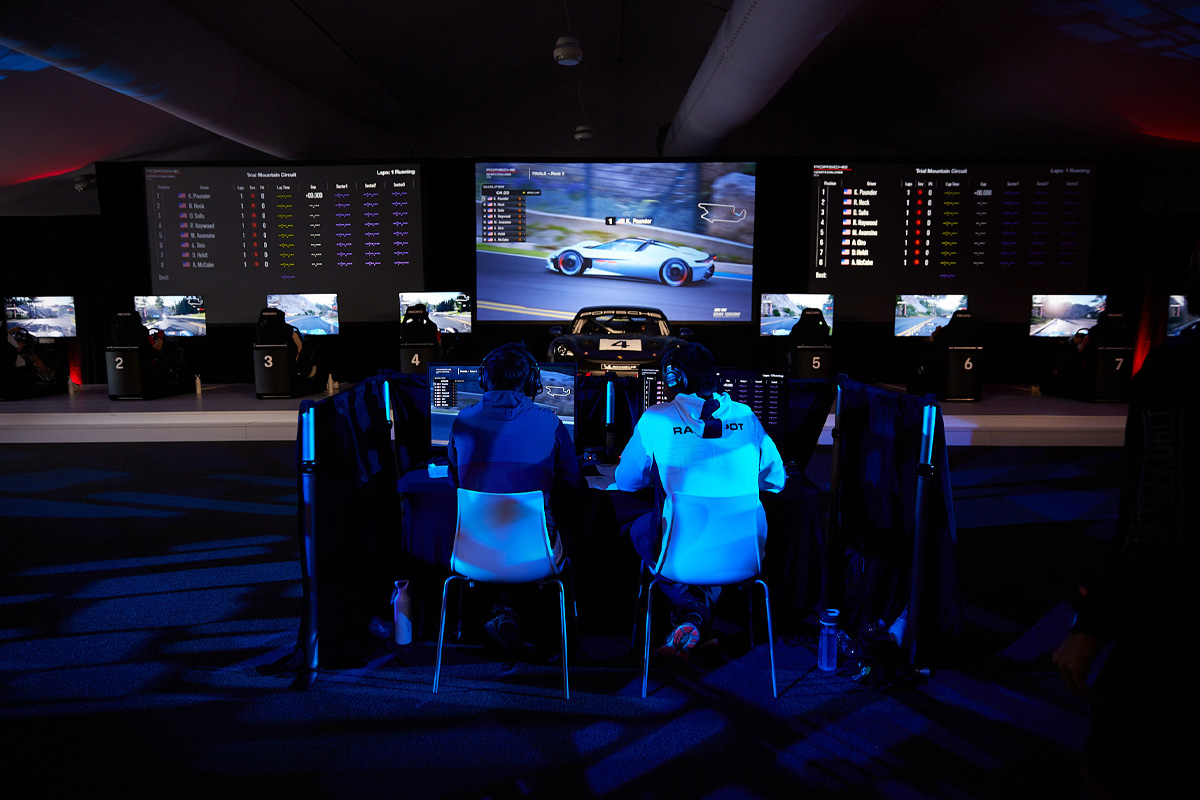 Reading Time:
2
minutes
The only virtual racing challenge of its kind in the United States returns this year with an even bigger and more thrilling venue for the finals –the legendary WeatherTech Raceway Laguna Seca during the world's biggest Porsche festival, Rennsport Reunion. Thousands of drivers from all over the country are expected to compete via Gran Turismo™ 7 to be one of only 16 people to qualify for the Grand Final. The Grand Final will take place in the Bose Esports Arena at Rennsport Reunion 7 from September 28 to October 1, 2023.
The Porsche Esports Challenge USA is now in its second year, after crowning the inaugural champion at Sports Car Together Fest at Indianapolis in 2022. The 16 finalists will compete to win their share of the $30,000 prize pool, with other driving experiences and prizes up for grabs. Most notably, the top three winners will each receive a TAG Heuer Connected Calibre E4 Porsche Edition Watch.
The cash payouts are as follows:
1st Place – $15,000

2nd Place – $10,000

3rd Place – $5,000
Drivers from the U.S. have two paths to qualify for the Grand Final at Rennsport Reunion 7 (RR7).
The Online Qualifiers:
The online qualifying competitions will be held in-game July 10th – 30th in Gran Turismo™ 7 with the top four drivers from each round being invited to the finals at RR7. As 2023 represents Porsche's 75th anniversary, the three online time trials will highlight significant vehicles throughout Porsche's 75 year history. Each car and track combination require a unique set of driving skills that will push both driver and car to their limits.
Monday, July 10-16th, Round 1: Porsche 917K '70 @ Circuit de la Sarthe (24h of Le Mans)

Monday, July 17-23rd, Round 2: Porsche 959 '87 @ Sardegna Windmills

Monday July 24-30th, Round 3: Porsche 911 RSR (991) 2017 @ Daytona International

Speedway (R

Offline qualifiers will take place at the following Porsche Centers:


• Porsche Experience Center Los Angeles (Carson, CA) – June 11
• Porsche Redwood City (San Francisco, CA) – June 16-17
• Porsche Bethesda (Rockville Pike, North Bathesda, Maryland) – June 23-24oad Course)
The Offline Qualifiers

:
The Porsche Experience Center Los Angeles, the Porsche Experience Center Atlanta and three U.S. Porsche Centers will host offline qualifying competitions. Competing drivers will be tasked with submitting their fastest lap in Gran Turismo™ 7 on WeatherTech Raceway Laguna Seca in the Porsche 911 GT3 RS (991) '16. The top four fastest drivers across all offline qualifiers will be invited to the Grand Finals.
Offline qualifiers will take place at the following Porsche Centers:
Porsche Experience Center Los Angeles (Carson, CA) – June 11

Porsche Redwood City (San Francisco, CA) – June 16-17

Porsche Bethesda (Rockville Pike, North Bathesda, Maryland) – June 23-24

Porsche Paul Miller (Parsippany-Troy Hills, NJ) – July 14-15

Champion Porsche (Pompano Beach, FL) – July 21-22

Porsche Experience Center Atlanta (Atlanta, GA) – July 28-29
To attend the offline qualifier at the Porsche Experience Center Atlanta (PECATL), individuals must first send an email that includes their first and last name to the organizers at [email protected] . For all other locations, perspective competitors need to visit the appropriate dealership during regular business hours on the day of the competition.
With Porsche Rennsport Reunion 7 just around the corner, there is plenty of Gran Turismo™ action to go before crowning our Porsche Esports Challenge USA 2023 champion. Keep an eye on Porsche's Instagram, Twitter and Twitch pages for the most up-to-date information and to follow all the exciting racing action ahead.