Le Mans Virtual Series takes on the challenge of the Nordschleife with 8 Hours of Nürburgring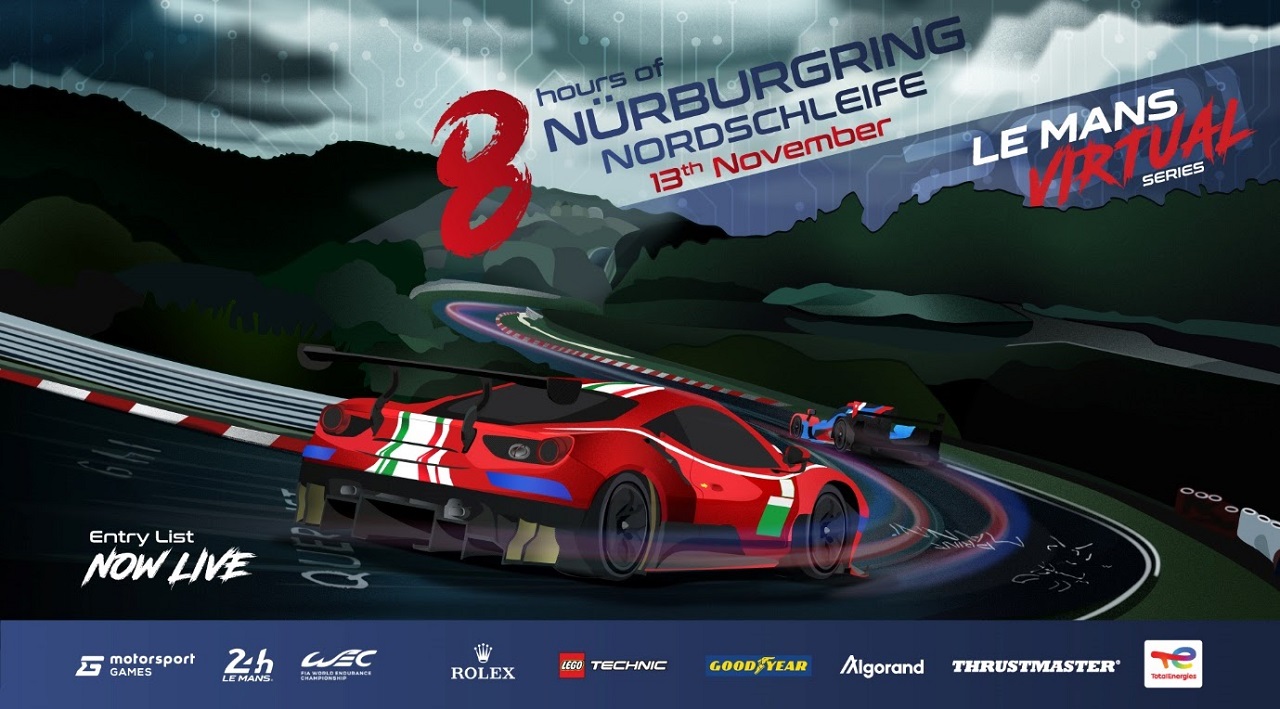 Reading Time:
2
minutes
Nestled in the Eifel mountains in western Germany, the Nürburgring Nordschleife is one of the most famous circuits in Europe and has long been one of the definitive tests of skill, speed and endurance for automotive manufacturers and racing drivers across the world. Now it's going to host round 3 of the 2021-22 Le Mans Virtual Series on Saturday,  November 13 which presents the drivers on the entry list – both professional and sim – with a whole new challenge.
The 8 Hours of Nürburgring will take place on the 21 km/13 mile Nordschleife (literally, northern loop) which features over 100 corners, sweeping curves, rapidly changing weather, dramatic climbs and drops, and a straight over 1.6 km/one mile long.  It is a notoriously difficult and challenging track and not as regularly used as some other European circuits either in the real or virtual worlds so maximum concentration and competitive spirit will be required as well as a steady touch on the wheel and pedals.  In addition, LMP2 cars have never raced on the Nordschleife in real life so there are no recorded laps to reference…it will truly be a race into the dark for many!
IndyCar star Felix Rosenqvist and Bono Huis, this time teamed with Collin Spork, in the No.123 Team Redline LMP2 will be looking to repeat their victory in the last round at Spa, while the No.2 Floyd ByKolles-Burst trio of Dillmann, Pedersen and Simončič will surely be hoping to go one step further than the 3rd and 2nd places achieved so far.
GPX Rebellion Williams No.22 will feature the considerable talents of Williams F1 reserve driver Jack Aitken alongside Jiri Toman and Marcell Csincsik, while FIA F2 star Liam Lawson is racing in the No.11 Red Bull Racing Esports entry with Alex Siebel and Dennis Jordan.                                 
Young Argentinian driver Franco Colapinto has fast made a name for himself in endurance racing and now he's bringing that same racing flair with him to the No.31 Team WRT SIMTAG Esports, the team hoping for a better run than in the last two rounds to complement the FIA WEC LMP2 world championship title just won by Team WRT.
In GTE, the fight is going to be as close as ever and the No.71 BMW Team Redline plus the No.91 Porsche Esports entries are currently the teams to beat.  Two GTE pole positions from two races, a 2nd place at Monza and a win on the legendary Spa-Francorchamps circuit for Kevin Siggy, Enzo Bonito, and Rudy van Buren in the BMW tied them in the standings with the Porsche of Mitchell DeJong, Mack Bakkum and Martin Krönke. This will definitely be a battle to keep a close eye on.  Endurance racer Alessio Picariello joins GR Wolves Racing in the No.87 Porsche 911 RSR GTE with Turkka Hakkinen and Philipp Puschke, the team looking for a better result in this longest race of the series before the 24 Hours of Le Mans Virtual in January.

Anda Seat Launches the New Phantom 3 Six Invitational 2022 Edition Gaming Chair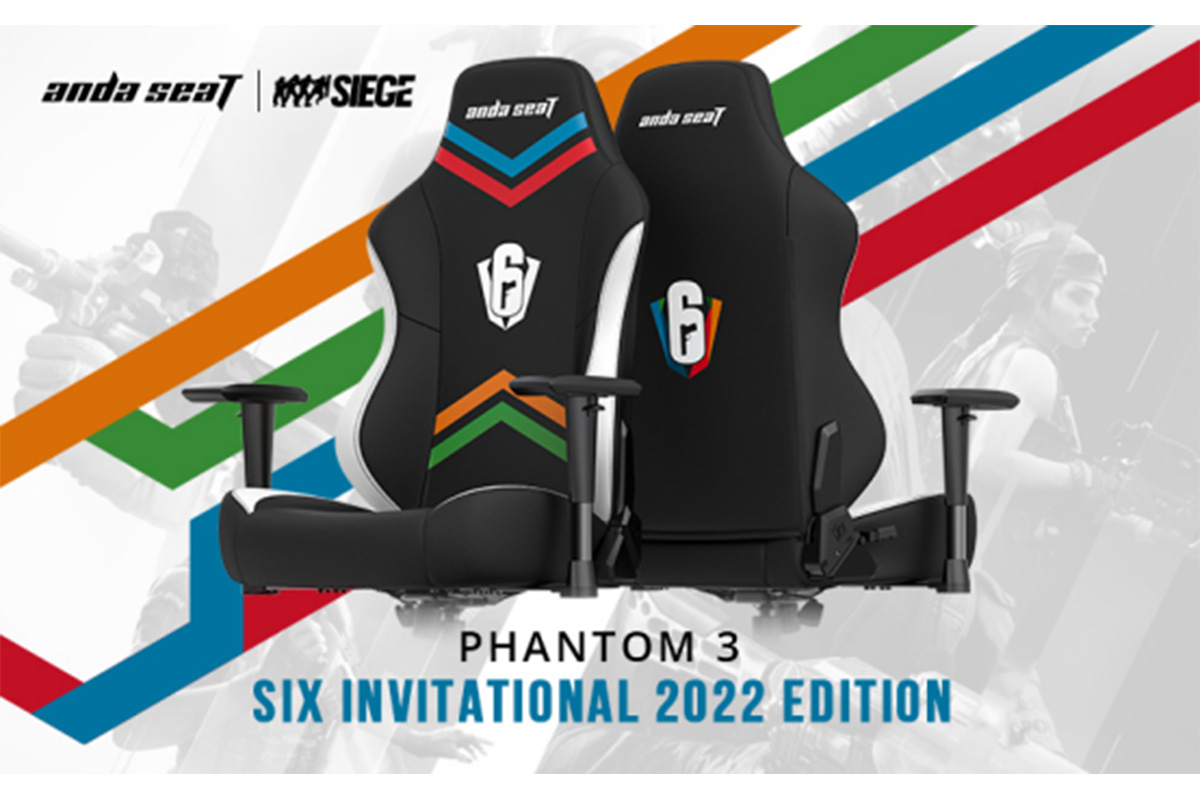 Reading Time:
2
minutes
World leading gaming chair brand, Anda Seat, who previously manufactured race car seats and partnered with prestigious brands in the sports and e-sports field, today, presents its Phantom 3 Six Invitational 2022 Edition gaming chair. In association with Ubisoft, Anda Seat Rainbow Six Invitation 2022 Edition gaming chair is designed to provide ultimate support and comfort to enhance the gaming or working experience. This Anda Seat 2022 revolutionary Phantom 3 Six Invitational 2022 Edtion will first debut in the US and the MSRP is $329.99 on the Anda Seat official website with the early bird discounts!
The 2022 Six Invitational, the world championship tournament for Tom Clancy's Rainbow Six Siege, will be taking place from February 8th to 20th this year. To celebrate the tournament, the new branded chairs from Anda Seat bring design, comfort, functionality and quality to e-sport fans. The Six Invitational 2022 edition includes the Rainbow 6 Siege icons and features orange, green, red and blue arrows in a stylish design, sure to appeal to fans of the game.
What is Rainbow Six?
Rainbow Six, developed by Ubisoft, is a game where multiplayers are at the forefront the experience, focusing on gameplay that is just the right mix of tactics, destruction and unique heroes. Tom Clancy's Rainbow Six Siege by Ubisoft is more than a game, it's a thriving community with 25 million players now and counting. Likewise, the Anda Seat Six Invitational 2022 Edition gaming chair is more than a gaming chair, it's a healthy and productive way for gaming or working.
What are the benefits of the Anda Seat Six Invitational 2022 Edition gaming chair?
The Rainbow Six Invitational 2022 Edition are based on the Anda Seat latest sumptuous series gaming chair- the Phantom 3 which is part of the revolutionary Anda Seat 2022 range. This series is made from updated leatherette where the top grade PVC leather is the best from the company yet with a soft and smooth touch that rivals the texture of genuine leather. The reshaped flatter seat wings ensure a spacious and cozy seat base whilst the ergonomic backrest nestles into the natural curvature of the back. This coupled with premium velvet covered XL size lumbar pillow and head pillow keep users at peak performance.
Unlike other gaming chairs, the Phantom 3 has a special modular MagClap design that can be assembled by one person with ease. Just slide the backrest into the seat base, then clamp magnetic side covers on both sides. The Anda Seat Phantom 3 series gaming chair provides next-level sitting experience with ultimate all-day-comforts.
The Phantom 3 Six Invitational 2022 edtion gaming chair will first debut in the US and the MSRP is $329.99 on the Anda Seat official website with the early bird discounts. Buy earlier, save more.
| | | | |
| --- | --- | --- | --- |
| Discount | 15% OFF | 10% OFF | No Discount |
| Price | $280.49 | $296.99 | $329.99 |
| Time Frame | Buy Now | Buy in February | Buy in March |
BETER expands Esports offering with vast boost to Efootball events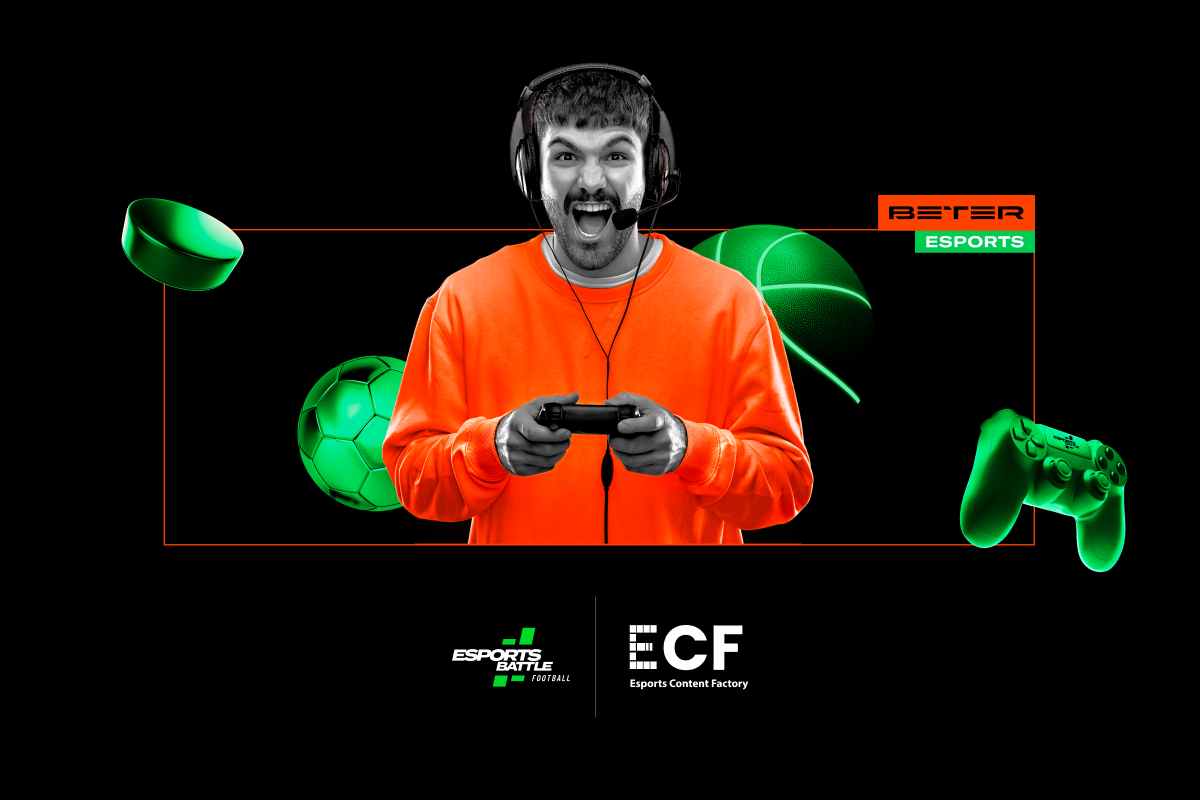 Reading Time:
2
minutes
BETER, the industry's leading provider of next-gen betting and gaming solutions, has announced an exclusive distribution deal that will allow it to significantly increase its Efootball offering to up to 15,000 events per month.
In a move that notably strengthens its position as the market's leading provider of next-gen betting and gaming solutions, BETER's newly enhanced Efootball provision further underpins its offering as the most comprehensive package available across the European market.
In a further boost to the supplier's extensive Esports offering, a deal has been struck with the Esports Content Factory (ECF) giving exclusive distribution rights to BETER which adds more depth of content to the events it supplies.
Available via existing feeds to BETER partners across 40 different global markets, each eight-minute event will comply with BETER's strict integrity policies and technical requirements, supported by the provider's expert and trusted team.
Commenting on the development, Gal Ehrlich, CEO of BETER, said: "We are confident that Efootball will continue to play a key role in the gaming industry and as such, BETER continues to meet the demand for fast-paced events that are gaining momentum across sportsbooks.
"We're constantly refining and improving our provision of the most advanced selection of high-velocity betting products that the current generation of players require. Our huge increase in the number of events along with our exclusive distribution deal promises a more complete and diverse Efootball experience, which will further our engagement value as the industry's most comprehensive supplier.
"We can now provide a jam-packed match schedule that's available 24/7, catering to all operators and their players. Our leading content allows sportsbooks to fill free airtime and engage their customers with fast, high quality Efootball content designed to meet their specific needs."
Already renowned as a leading supplier of data and content, BETER is used by the likes of Sportradar, Bet365, William Hill and Fortuna Entertainment Group. The company recently overhauled its multiple verticals spanning fast sports, esports, gaming and live casino.
Ebullient Gaming exclusively ties up with AKEF; bags influencer management mandate of SIGMA talent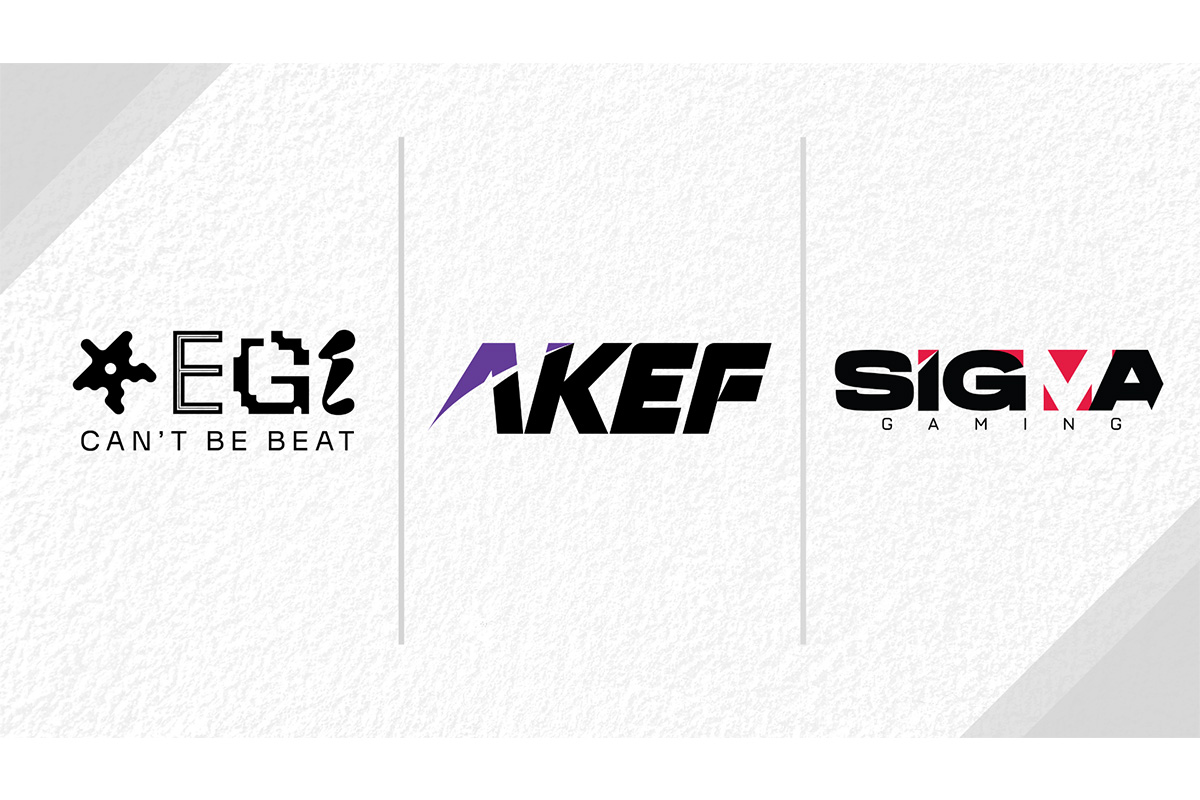 Reading Time:
3
minutes
Ebullient Gaming, one of India's first and leading talent management agencies, have exclusively joined hands with the AKEF to manage and accelerate the growth of around 24 big gaming talents from their talent roster of Sigma Gaming which has a massive viewership of 10 million plus on a monthly average.
AKEF PLAY PVT LTD is one of the largest gaming communities in Kerala. Having started as a niche platform, with an aim to provide better exposure to the gamers from the state, AKEF has grown into a strong community of one lakh-plus that not only provides support to serious gamers but also goes beyond esports and look into talent and event management. And now, through this partnership with Ebullient Gaming will be focusing on building a robust gaming ecosystem and leveraging the brand value of gaming influencers and the esports athletes of Sigma Gaming with their efficient talent management services.
"We have a community made up of the gamers, by the gamers for the need in the gaming ecosystem. Ebullient Gaming, being a front-runner in the gaming talent management sector, will provide enormous opportunities for our hidden talents in Kerala to come to the limelight. With a common vision, we are entitled to give maximum support and act as a catalyst to bridge the gap between budding talents and brands. With this partnership, we aim to create national footprints for ourselves as well as our players and creators," said Amal Arjun, Director of AKEF.
Ebullient Gaming, an influencer marketing and management agency—led by Anirudh Nagpal, co-founder and CEO, and Aman Garg, co-founder and COO—envisions the growth of the esports & gaming industry while being one of the enablers in the process. The agency has created an influencer marketing roadmap for many gaming talents in the past with the association of some of the top international brands such as NBA, Gillette, One Plus, Huawei and many more.
Sharing the excitement on their latest partnership, Anirudh Nagpal, Co-Founder and CEO of Ebullient Gaming, said: "We have always strived to provide the best talent management services to our gaming influencers, helping them financially to succeed in their gaming career. Being an agency that excels in planning talent needs, an event arm, and a creative agency vertical that works with the biggest brands and talents in gaming, we are extremely delighted to have an exclusive association with AKEF and look forward to offering a stabilised career to big gaming talents from Sigma Gaming. With a common vision of helping gaming streamers to flourish and achieve greater traction in the ecosystem, this association will surely reach its ultimate fruition. The partnership will help AKEF to expand even more and we can explore deeper bonds in the southern part of India as an agency."
"The Indian esports market is expected to triple in size by 2025, from Rs 250 crore today, to Rs 1,100 crore, representing a compounded annual growth rate of 46 percent, demonstrating how quickly esports is growing in India" added Aman Garg, Co-founder and COO, Ebullient Gaming.
AKEF has so far conducted more than 200 competitions across various games like Clash of Clans, FIFA, BGMI, Call of Duty and Pro Evolution Soccer. With a huge number of talented streamers, it also organises community tournaments regularly and acts as a talent incubator.
Krishna Narayan, who heads Brand Partnerships at Ebullient Gaming said, "This is going to be a fantastic collaboration. It will benefit both gaming companies and will create several prospects for future collaborations. Working on this project will be terrific."
As per the mandate, Ebullient Gaming will handle queries and concerns of all the gamers, ensuring that they have a pleasant and smooth experience in their upcoming opportunities.