Le Mans Virtual Series ready for battle in Belgium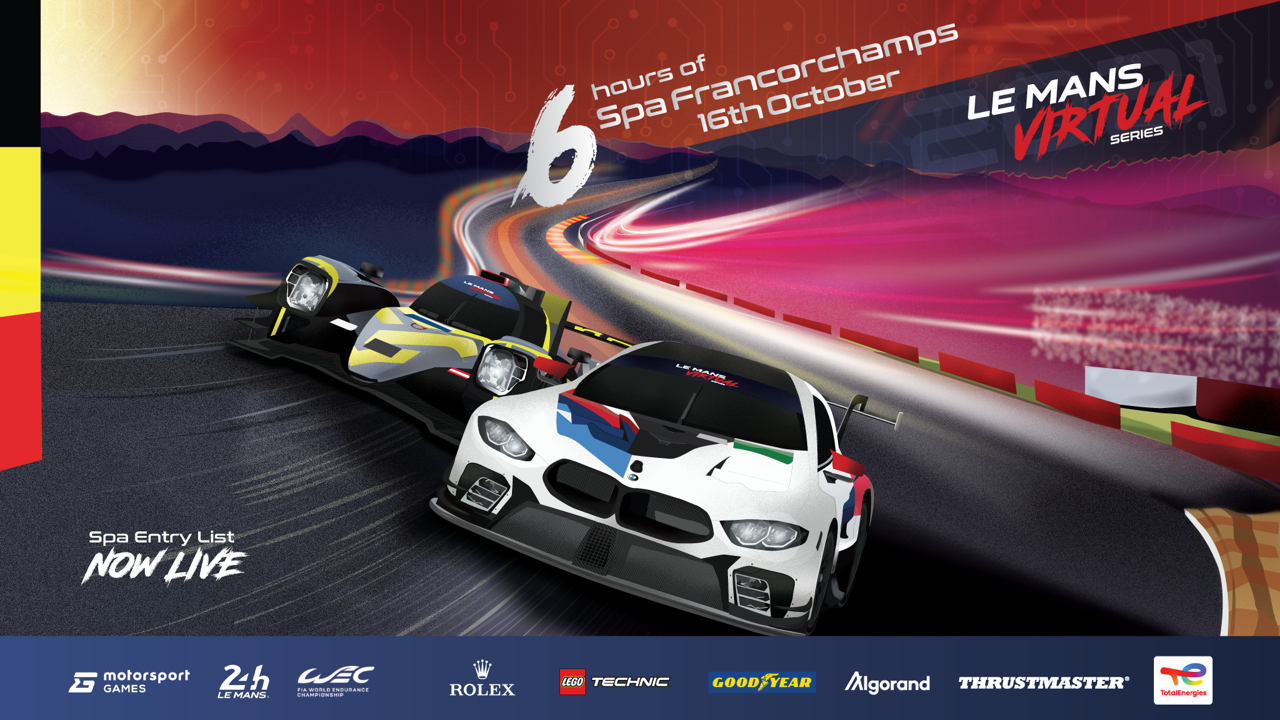 Reading Time:
2
minutes
The second round of the Le Mans Virtual Series is fast approaching and the 38-strong, star-studded entry list for the 6 Hours of Spa Virtual on Saturday, October 16 has been revealed.                                    
Whether in real life or in the virtual world, any race held at Spa is an event which never fails to deliver excitement, tension and drama. The 7km track always provides incidents and plenty of action, and the combined skills of the racing pros and sim experts will be fully put to the test on the rFactor2 platform's excellent portrayal of the legendary circuit. Among the features which can be put into play by the event organisers are dynamic weather and, as unpredictable conditions at Spa are extremely common, this may well shake things up even further.                                         
Leading the battle among the 21 LMP2 prototype entries will be Monza winners, Realteam Hydrogen Redline, with Jeffrey Rietveld and Michal Smidl being joined for this round in the No.70 by FIA F3 star Caio Collet as Dani Juncadella has prior racing commitments.                                  
With the IndyCar season now over, ex F1 driver Felix Rosenqvist joins the series in the No.123 entry, as does recently crowned FIA F3 Vice Champion Jack Doohan in the No.11 Red Bull Racing Esports ORECA 07 LMP2. Both will be relying heavily on the talents and experience of the sim stars (Atze Kerkhof/Bono Huis in #123 and Alex Siebel/Dennis Nordan in #11) in their entries as they get to grips with the Le Mans Virtual Series.                                                                                            
After four hours of intense racing in the opening Italian round, a scant 2 seconds separated the No.22 GPX Williams Esports and No.4 Floyd ByKolles-Burst cars and both will be looking to maintain their good form – the experienced sportscar racer Tom Dillman replacing Sergio Sette Camara in the No.4 for this round.                     
No fewer than five manufacturers (Ferrari, Porsche, BMW, Corvette and Aston Martin) have entries in LMGTE and Porsche will be hoping for a repeat of their Monza success. The No.91 Porsche Esports Team 911 RSR GTE retains the winning line up of Mitchell deJong, Mack Bakkum and Martin Krönke, as does the No.71 BMW Team Redline of sim star turned pro racer, Rudy van Buren, Enzo Bonito and Kevin Siggy which took a close second and will be looking for a step up on the virtual podium.   
Indy 500 and IndyCar hotshot Sage Karam makes his Le Mans Virtual Series debut with Porsche Esports Team, as does Ryan Cullen in the No.87 GR Wolves Racing Porsche and current ADAC F4 champion Jonny Edgar who will be racing the No.111 Corvette C8.R for Red Bull Racing Esports.     
The Le Mans Virtual Series brings together top level real life drivers and some of the world's best sim racers to compete together in 5 endurance races of between 4 hours and 24 hours in duration and concludes with the 24 Hours of Le Mans Virtual which will take place live at the Autosport International show in Birmingham, UK in January 2022.                                                               
About Le Mans Virtual Series                                    
Round 1 – 4 Hours of Monza, Italy – September 25, 2021 – Online only
Round 2 – 6 Hours of Spa, Belgium – October 16, 2021 – Online only
Round 3 – 8 Hours of Nürburgring,  Germany – October 16, 2021 – Online only
Round 4 – 6 Hours of Sebring, USA – December 18, 2021 – Online only
Round 5 – 24 Hours of Le Mans Virtual – January 15/16, 2021– ASI, UK

Dignitas Partners with Virus International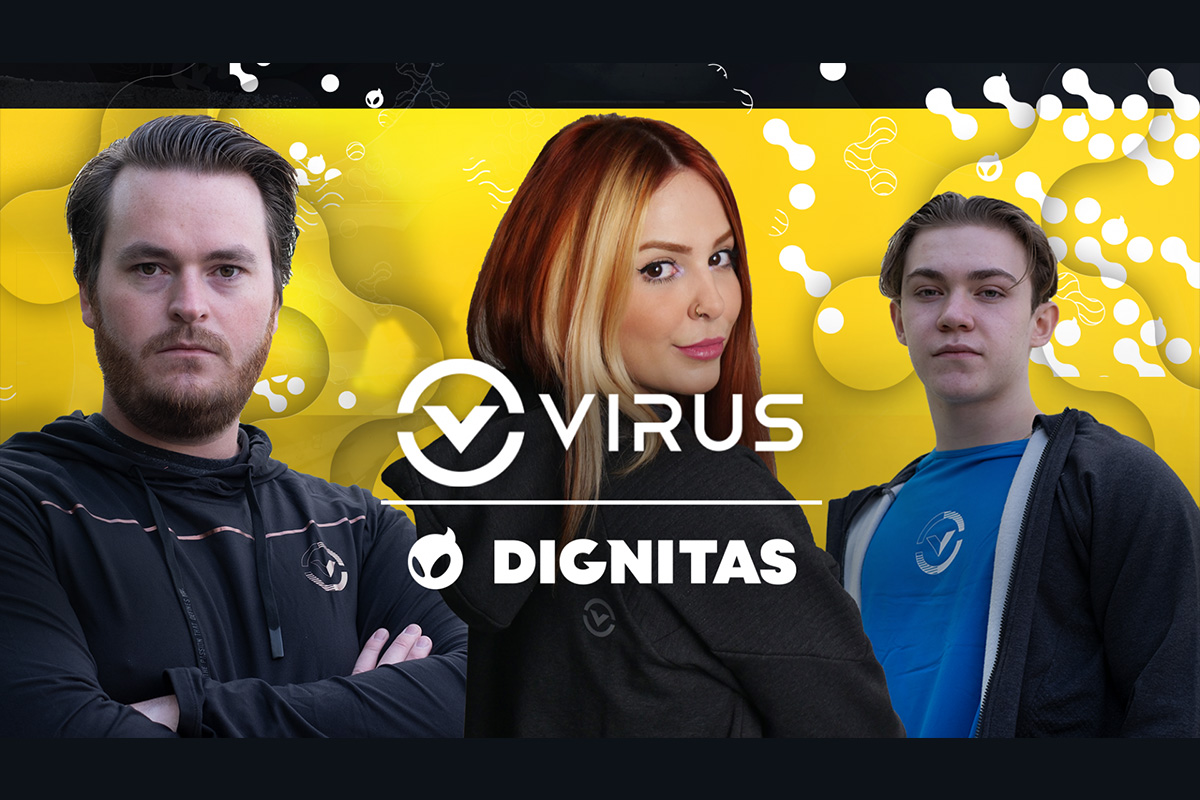 Reading Time:
2
minutes
Dignitas, the esports vertical of New Meta Entertainment (NME), has announced athletic wear brand VIRUS International as its Official Game Day Apparel Partner.
As per the deal, VIRUS International will create Dignitas' Official Competitive Game Day uniform including the Official Team Jersey with logo presence on the front of the jersey, Game Day Warm Up and Performance Workout Apparel kits which include T-Shirt, Sweatshirt, Hoodie, Player Jacket, Joggers and Leggings. Both kits will be uniquely designed to fit Dignitas Women's and Men's teams. All apparel will be co-branded with Dignitas and VIRUS International.
Dignitas will integrate Dignitas and VIRUS International co-branded merchandise into its online store, which will be available for fans to purchase at DignitasStore.com.
"We're excited to partner with Dignitas and break into the esports & gaming community. The synergy is perfect. VIRUS' mission has always been to provide the highest quality gear to our athletes in order to help them perform their best and to enable them to achieve their athletic & lifestyle goals without restriction," Ashley Gomez, Director of Brand & Partnerships at Virus International, said.
"VIRUS operates at the forefront of the latest innovations in apparel and bio-physical technology which has allowed our brand to produce technology-infused fabrics that have stood the test of time since 2010. Like VIRUS, Dignitas marries technology with its sport and industry, and this synergy between technology and gamers is undeniable," Melanie Lin, Director of B2B Sales at Virus International, said.
"Dignitas is thrilled to partner with VIRUS International, an athleticwear brand that understands the needs of our esports athletes. Performance apparel is an everyday part of our athletes' lives as they train, travel the world, and compete against the world's best competition on-stage. VIRUS' end-to-end control of the design and manufacturing process allows us to collaborate on new silhouettes to match our diverse fans and athletes' tastes season to season and in real-time globally," Ian K. Partilla, SVP of Strategic Global Business Development at Dignitas, said.
Intema announces Isle of Man OGRA license application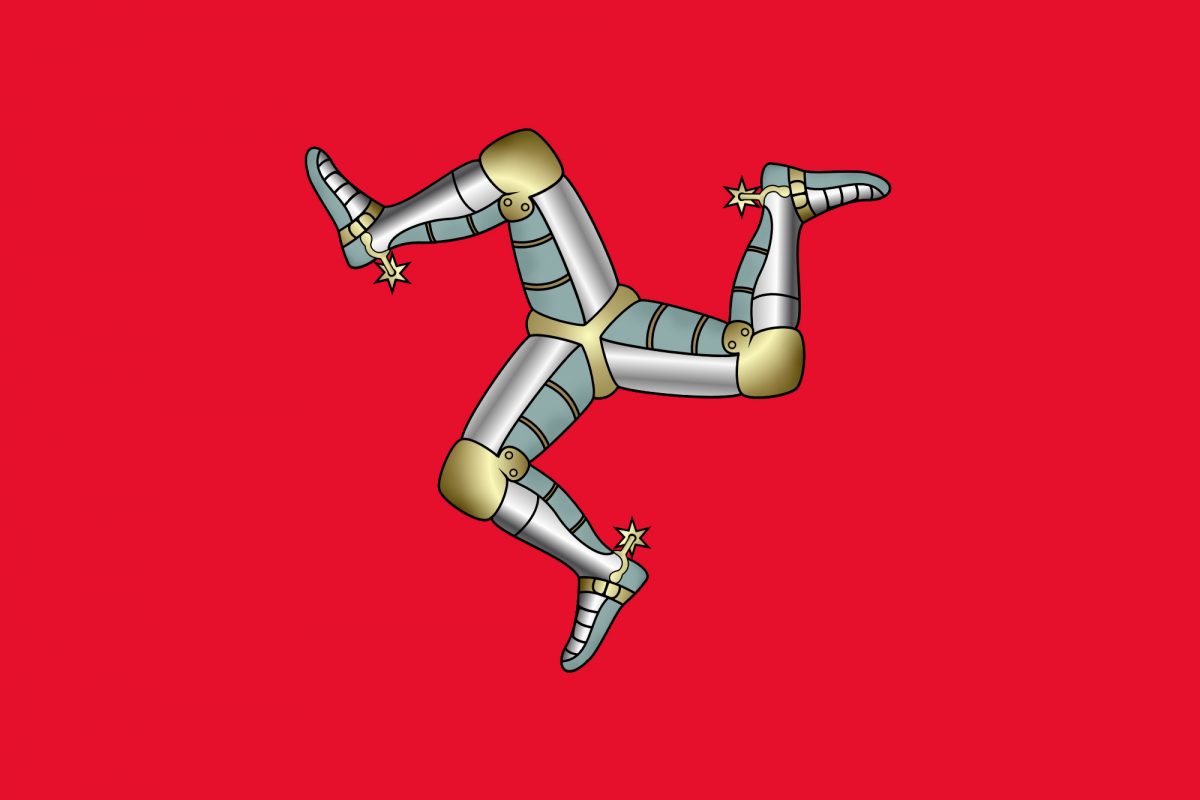 Reading Time:
< 1
minute
Intema Solutions Inc. is pleased to announce that the Isle of Man regulatory authorities have formally accepted for review the application by Livestream Esports Limited, a wholly owned subsidiary of Intema, for a license under the Online Gambling Regulation Act (OGRA) 2001.
"Obtaining this license from one of the world's most prestigious gaming jurisdictions would be another great milestone for Intema, particularly in the context of the proposed acquisition of LOOT.BET," said Laurent Benezra, Intema's President and Chief Executive Officer. "The Isle of Man promotes the highest standards of jurisdictional control in the gaming industry. In addition, the license granted by this regulatory body has many financial and logistical benefits, and would allow us to offer continuous fun, safe and responsible gaming experiences for gamers around the world."
Team Bloodhounds Inc. Acquisition
Additionally, further to the press release dated June 22, 2021 and the press release dated September 24, 2021, as consideration in respect to the acquisition of Team Bloodhounds Inc. ("Team BH"), Intema has made a cash payment of $60,500 and issued 943,396 common shares of Intema to the shareholders of Team BH (with an additional cash payment $60,500 payable in three months following the closing of the acquisition).
M88 expands esports coverage by partnering with BETER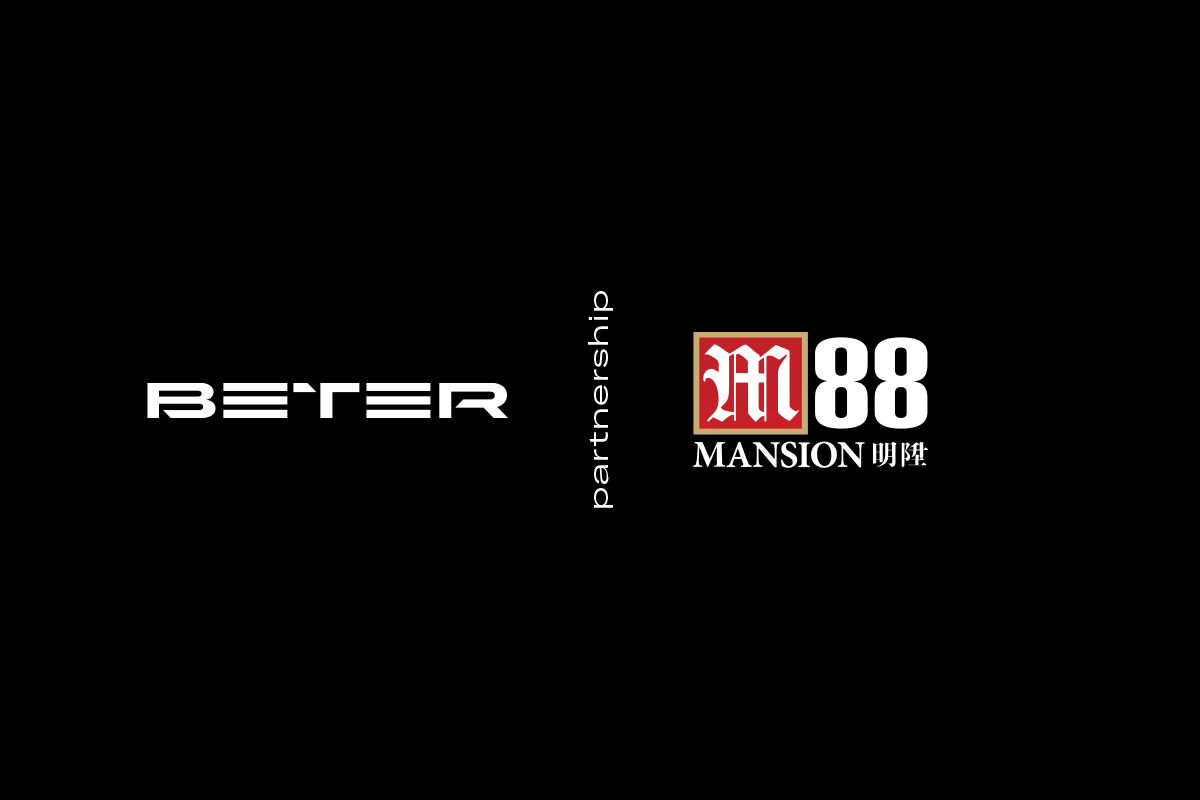 Reading Time:
2
minutes
International sports and esports betting provider BETER announced today that they have teamed up with M88. The leading Asian sportsbook has decided to take advantage of BETER's portfolio to further engage their players across the region with the addition of more than 30,000 extra global esports tournament events and 200,000 ESportsBattle matches every year.
"Here at BETER, we are convinced that collaborating with M88 is another significant step towards increasing our presence in the Asian market, which is one of our primary focuses for the next few years. We firmly believe that this partnership will prove to be prosperous and beneficial for both parties," said Gal Ehrlich, CEO at BETER.
BETER will provide M88 with customised quarter markets that perfectly suit their players' needs. All live streams, data, odds, and margins can easily be managed in the BETER's Client Console.
"We've been interested in the type of fast content which BETER provides for some time, and we also see exactly what BETER can offer to M88 customers with live streaming of engaging ESportsBattle matches and odds for the most popular global esports tournaments. The integration and testing process proved that we found a reliable partner with top-notch solutions that will help us further enhance what we offer bettors," said Alan Wafer, Head of Business Development at M88.
In his strategy presentation in July 2021, Gal Ehrlich emphasised that expanding into the Asian market is one of BETER's core goals, as this region represents a promising avenue for future business growth. He also added that the company would focus on expanding its product portfolio and developing exclusive content.
BETER is a leading provider of fast sports & esports content, live streaming, live data, and odds for the betting industry. BETER powers Setka Cup, ESportsBattle and Asia Pro League tournaments and offers trading of world esports events. BETER sports and esports content is featured on more than 100 sportsbooks across the globe.