Outfit7 partners with One Tree Planted to celebrate Earth Day with Talking Tom Gold Run in-game event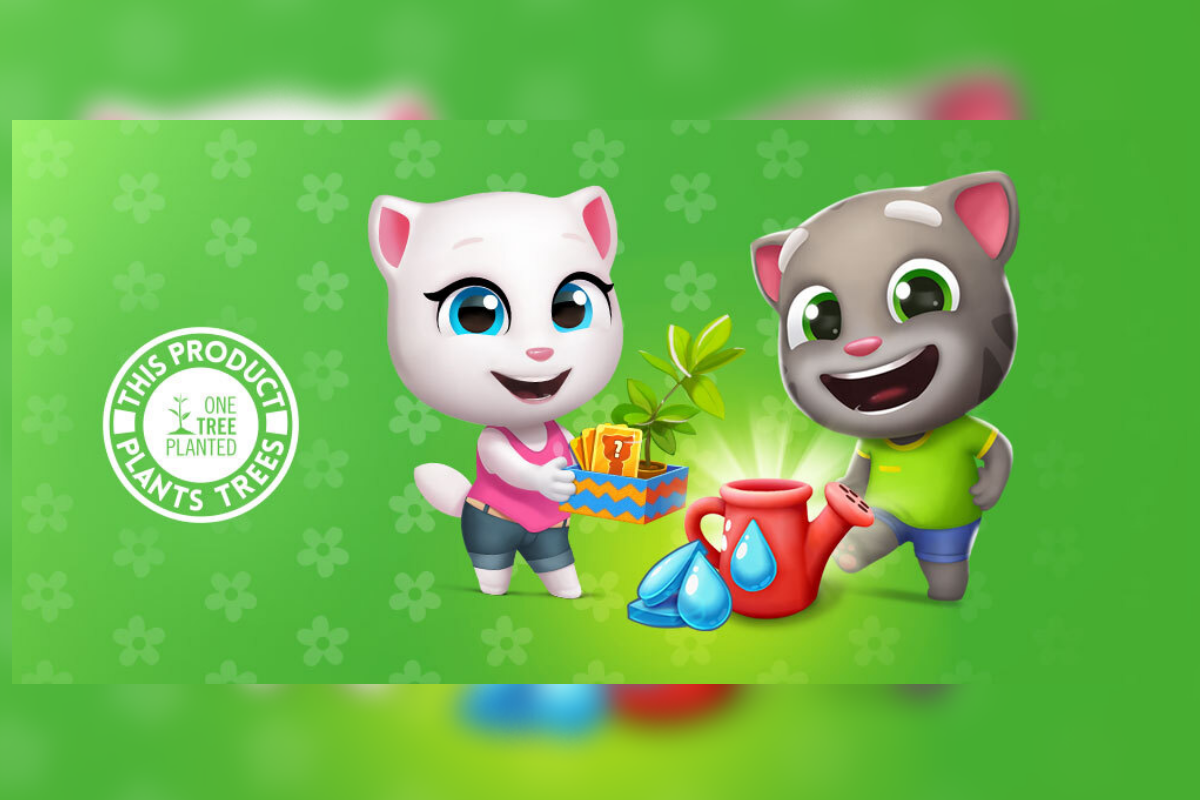 Reading Time:
2
minutes
Outfit7 announced its pledge to help plant at least 30,000 trees through its Earth Day celebrations. The company is hosting a special in-game event in its most popular endless runner, Talking Tom Gold Run. Inviting players to run and help the environment, "Grow & Go" aims to raise awareness about the importance of trees to the overall health of the planet. Outfit7 will be donating all of the game's revenue from in-app purchases made during the event to help plant trees.
During the Grow & Go event, players will be invited to run and collect special droplets in order to care for their in-game trees, helping them grow through nine stages and unlocking rewards along the way. Helping trees is central to the mission of the event, and to Outfit7's mission to help make a positive difference this Earth Day.
"Our commitment to giving back and helping our communities is at the heart of our culture at Outfit7," said Xinyu Qian, CEO of Outfit7. "Last year, we helped build a playground, plant trees following a wildfire in Cyprus, host a coding school for children, and more. Our Earth Day campaign this year is another great activation in which we can use the power of our brand to make a positive impact where it is truly needed."
Outfit7 is translating the in-game fun of the event into real-world action through its partnership with the environmental non-profit, One Tree Planted. The organization plants a tree for every dollar donated as part of its global reforestation efforts, aiming to restore forests and biodiversity habitats, as well as making a positive social impact. All of the in-app purchase revenue generated in Talking Tom Gold Run during Grow & Go will go to One Tree Planted to help on its mission to plant trees worldwide.
The Grow & Go event goes live in Talking Tom Gold Run today and runs through to May 2, 2022.
The Future of GameFi – Why are Firms Still Investing?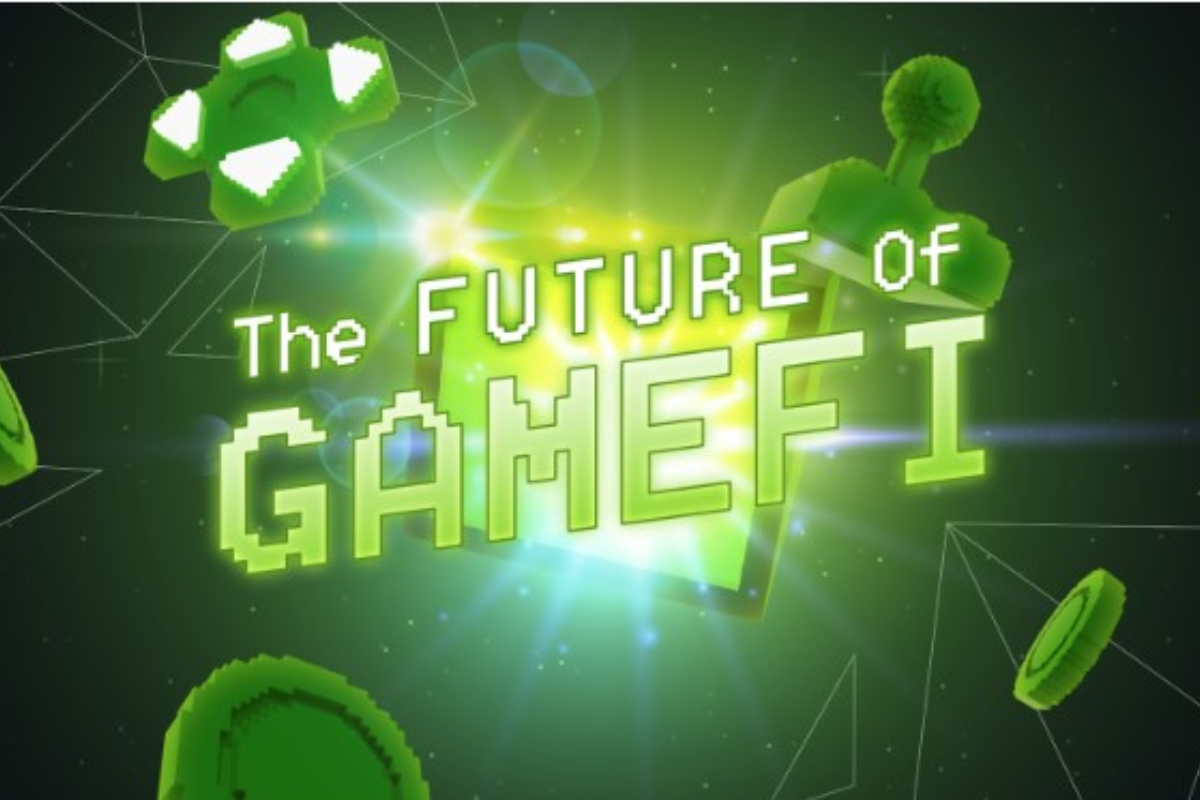 Reading Time:
5
minutes
During a bloody period in the crypto industry when liquidity is drying up, the developers keep on developing, and the investors keep on investing. With all of the turmoil happening around us, it can be difficult to see positive developments happening in the space, one of which is the increasing investments in and the gradual evolution of the blockchain gaming (GameFi) industry.
After the NFT craze of 2021, many metaverse projects saw a dramatic uptick in users and revenue during that time. However, as the bear market has ensued from the start of 2022, the GameFi space has also taken a hit, with many popular Play-to-Earn games reporting record low revenues, as indicated by GameFi NFT trade volumes for Axie Infinity and others.
NFT game trade volume has dropped significantly over the past year (The Block)
Although there are some real challenges to be solved, it's clear that VCs see beyond short-term hurdles, as is indicated by the accelerated investments in the space. In Q2 of 2022 alone, $2.5 billion was invested in GameFi, indicating a huge leap compared to 2021's aggregate investment of $4 billion – and this year is still not over!
So then the question needs to be asked – is GameFi dead, or is there true potential for blockchains to revolutionize the gaming industry and absorb at least some of the current $220 billion (and rapidly growing) gaming market?
What is GameFi?
GameFi is a portmanteau of the terms "game" and "decentralized finance," and it refers to a financial system in which users can earn money by participating in video games. While most play-to-earn projects place emphasis on the "gaming" aspect, the most critical aspect of GameFi at its foundation is "money". Its beauty lies in the financial opportunities provided by a highly viewed form of entertainment – gaming.
While GameFi has shown  a slight decline compared to its popularity earlier in the year, it was definitely the highlight of 2021, growing from 658 projects to over 1,100 projects in one year. The gamification of blockchain made the technology more approachable, appealing and acceptable for the public,
GameFi – Challenges Abound, But So Are Opportunities
Before we discuss the future prospects of GameFi, we have to acknowledge the challenges currently faced in the GameFi sector. For anyone involved in crypto, it won't come as a surprise to find out that the public perception of GameFi is not great – hostile even. And a good amount of that negativity is not without merit.
Public Image Issues
The biggest challenge by far will be to convince traditional gamers of the underlying true value of NFTs. Not for their perceived and oft-reported highly speculative value, but for their digital scarcity, provable ownership, security and programmability that enables in-game assets to be used far beyond their main purposes. The 2021 NFT Cambrian explosion led to an immense crypto adoption and made a lot of people wealthy. But it also left some pretty big scars after the market cooled down; countless stories of project rug pulls by anonymous operators and celebrities, and NFT newcomers getting scammed are still circulating the news. 
Mainstream gamers still need to be convinced that the web3 space can tackle the challenge of building a self-sustaining game economy. One that gives the players a chance to decide whether they want to play the game for free and for fun, or whether to take it to the next level and earn an income from it.
Free-to-Play – Adjusting Course for the Better
To draw inspiration for how to structure and monetize a game, the web3 gaming industry need not look further for its most ideal strategy than the one that's been right in front of their eyes for more than a decade – Free-to-Play. Countless titles, such as Candy Crush, Farmville, Roblox, Pokemon GO, League of Legends and many more, have proven to the world that free-to-play games can be highly lucrative without setting up paywalls for their users, sometimes even more so than paywalled games.
The F2P mechanism flips P2E on its head – instead of letting whales hoard all of the in-game assets and generate passive income, F2P games let them bring in 80% of the revenues through Pay-to-Win (P2W), which allows players to pay for in-game advantages. These P2W features are typically low-cost small advantage boosts such as resource packs, gacha characters, healing boosters and more. But in the aggregate, these small payments compound into enormous profits for the game. It works for everyone – most players get to play the game for free, big players get to accelerate their in-game success, and the game itself generates more revenue than it knows what to do with.
And this realization is one of the reasons why more and more investments are flowing into GameFi. Though it had a rocky start, the value proposition of NFT-based games is clear – every single aspect of traditional F2P games is made simpler and safer. In addition, every in-game NFT asset can be added to a highly liquid global market of all NFT assets, offering ways to trade NFTs from different games, as well as build in utility for them in order to grant unique capabilities, access rights, invites and more. And if that's not enough, on-chain data also shows a clear trend – gaming activity currently accounts for 52% of all Unique Active Wallets (UAW), a 232% increase from last year. The numbers speak for themselves — the opportunity offered by blockchain gaming is immense, and investors are paying attention.
The Path Forward for GameFi – Keeping It Simple
In the past years, the approach taken by many blockchain game projects has been to advertise their games to crypto-natives, typically with the express aim of offering earning opportunities for players. As a result, we've mostly gotten games of subpar quality that have served players mainly as profit extraction vehicles with limited long-term sustainability, especially during bear markets when hype and liquidity are low.
This may not be the end of the GameFi sector just yet, however. The newer form of web3 gaming has started to practice patience, build a great, addictive game, and quietly build all of the exciting and innovative web3 features into the backend of the game without making too much fuss about it. The industry is steering away from P2E, embracing Free-to-Play with Pay-to-Win as a sustainable means of monetization. Attracting talent from traditional gaming and finally forcing large game studios to build blockchain tech into their backends are all crucial pathways to making a blockchain-based gaming future a reality.
However, these great leaps will not happen out of thin air — a lot of capital will need to be deployed over many years. Luckily, companies such as Immutable X, the NFT-gaming optimized Ethereum L2 startup, have launched a $500 million development fund to invest in GameFi. Solana Ventures has also amassed a $100 million fund to invest in GameFi and DeFi targeting South Korea. And they're not alone. More than $10 billion is expected to flow into GameFi this year alone. 
The amount of capital invested perfectly demonstrates the potential these firms see in the upcoming, more improved version of GameFi. With this amount of capital, and GameFi's tendency to revamp, improve and further develop its new generation of play-to-earn games, it's a matter of when, not if, blockchain gaming will become the norm in the future.
Written by Boxmining
LEAP onboards former Rockstar Games co-founder Jamie King as an advisory board member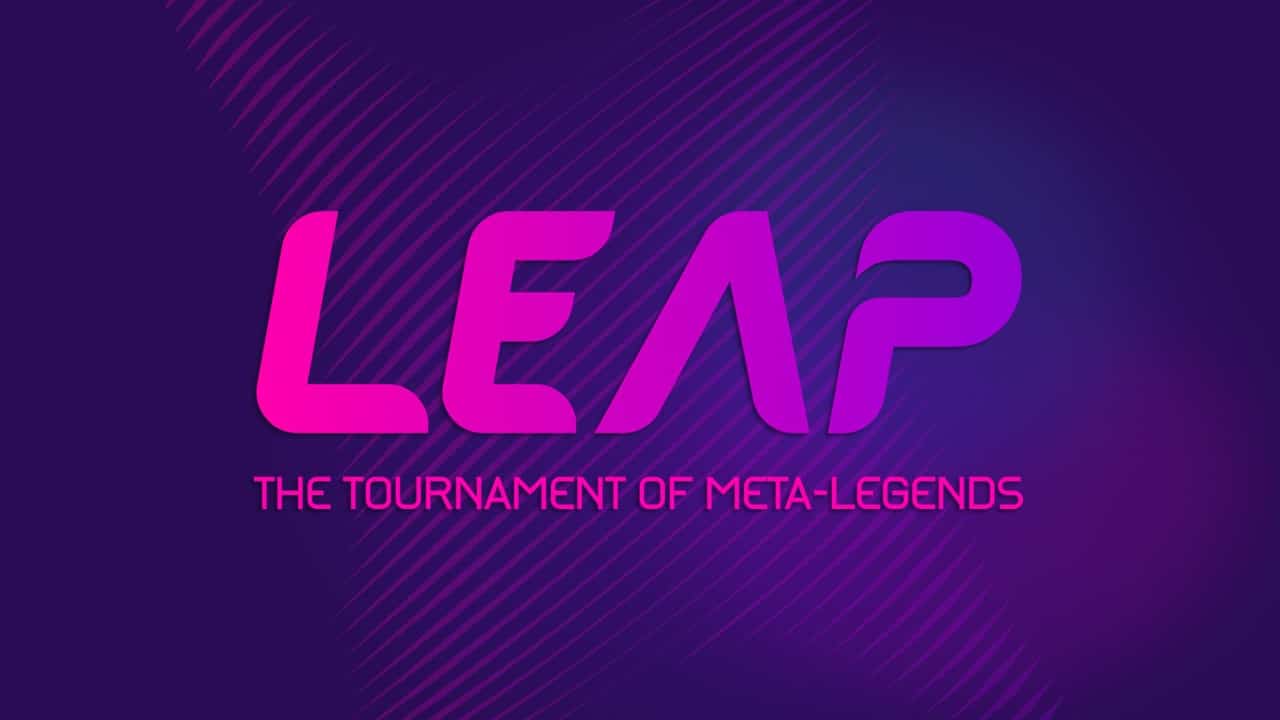 Reading Time:
3
minutes
LEAP, a next generation sports-discovery and endorsement platform, signs Rockstar Games original co-founder Jamie King to serve as an Advisory Board Member. As an official member of the advisory board, King will leverage his experience and expertise in the gaming industry and product development to support LEAP's upcoming platform launch, grow LEAP's global community, and serve as spokesperson and evangelist for the company.
The mobile gaming industry's meteoric rise in recent years culminated in 2021 with the generation of $93.2 billion, more than both the recorded music and box office industries combined. To continue this growth in the coming decades, industry leaders will find ways to adopt breakthrough technologies making giant strides in gaming, including within the blockchain and Web 3.0 ecosystem. Conversely, Web 3.0 companies looking to shake things up could benefit from the expertise of gaming industry veterans.
By recruiting King to join the LEAP team as an Advisory Board Member, the company adds a real asset with decades of experience and expertise in developing high-quality video games to its team. King will apply his experience and knowledge from the gaming industry to provide crucial insights for LEAP as it prepares for the platform's launch.
Jamie King co-found Rockstar Games, the gaming studio behind the wildly successful GTA franchise, as well as Red Dead Redemption, Bully, Midnight Club and countless other popular games. As VP of Development at Rockstar, King was responsible for recruiting and managing the core team of engineers that designed the famous Rockstar Advanced Gaming Engine (RAGE) used for GTA, Red Dead Redemption, and other Rockstar games.
Starting in 2018, King served as Head of Esports for Engine Shop, where he worked with major clients such as the MLB, MLS, NHL, Anheser Bush, Twitch, and the Leukemia and Lymphoma Society. During his time at Engine Shop, King won a couple of Tempest esports awards, three Chief Marketer Pro Awards, a 34th Sports Emmy nomination, and a Silver Clio for Bud Light's BL6 gaming console. King currently works as the VP of Marketing for Solace Lifesciences Inc., where he's part of the team responsible for NuCalm, the only patented, clinically proven neuro acoustic technology in the world that reduces stress and improves sleep without the need for drugs.
Through LEAP, youth athletes get to showcase their skill-sets in short-form videos uploaded to the platform. By specifically working with young athletes from impoverished and isolated communities, LEAP brings together a digital community of both youth sports talent and talent seekers to help the athletes, not only gain recognition, but also get rewarded based on their skill levels and continuous engagement in sport activities. The app features a customized video creator—LEAP Studio—with specific filters, sticks, and add-ons to help talents better highlight their individual skills based on their sport. Talents can use the videos to challenge each other in LEAP DARE Battles, where the community votes for whoever they think performed the skill better, and winning will boost the value and rarity of the users NFT Player Card.
"A gaming maverick of the likes of Jamie King will help LEAP not only grow our community, but also really pushes forward the integration of sports and gaming in a Web3.0 environment," says Omri Lachman, CEO and Co-Founder of LEAP. "We are beyond thrilled to have Jamie on our team as an advisor and we have no doubt that he will do a tremendous job representing LEAP, building credibility and bringing our product closer to the people who can benefit the most from it."
"I'm excited to be a part of the LEAP team because their platform is innovative and unique, something I've never seen before," says Jamie King. "LEAP's product aims to correct a major blindspot in the sports industry, and that is the lack of growth opportunities for athletes from isolated and disadvantaged communities around the world. I love the gamification aspect of LEAP's platform but I especially love how it aims to democratize the sports industry."
Haste Arcade launches new Monster Bombs game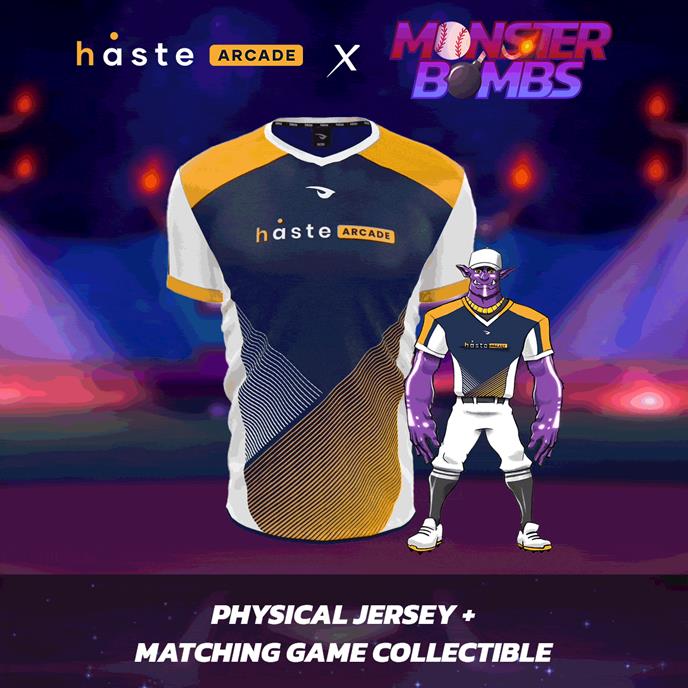 Reading Time:
2
minutes
The Haste Arcade has released its newest game – Monster Bombs, a space-themed baseball game built on the BSV Blockchain.
It features the world's first physical and digital copy NFT items that can be equipped within the game, along with Haste's patent-pending Instant Leaderboard Payout™ technology.
The game's main character, Tank, is trapped on the planet Avachrome, and must compete in the planet's home run derby to get off the dreaded planet. Players must hit a variety of pitches, while avoiding the bombs that occasionally get thrown at Tank. Points are accumulated by not swinging at the bombs, hitting singles, doubles, triples, home runs, and "Monster Bombs" (supercharged home runs). The more points a player gets, the higher up the leaderboard their score is.
One of the most exciting aspects of the release is the game collectibles. Prior to the release, Haste sold 20 Limited Edition Haste Jerseys, 10 Limited Edition "Tank" shoes, and 125 Limited Edition Haste hats. Each item came with a digital copy NFT, that allowed the owner to equip the NFT onto Tank within the game. The items were sold on the Take It NFT auction platform.
Along with the collectibles, the game also features Instant Leaderboard Payouts™, which give gamers a new way to play and earn from casual games. For example, players can play Monster Bombs for free, but if they want the chance to earn, they can also play at different paid levels ranging from $0.01 all the way up to $100 per game. If the player makes a level's leaderboard, they earn a percentage of each subsequent gameplay. The payouts are instantly deposited to their Bitcoin SV wallet in the form of a micropayment, and the player will continue earning until their score is no longer on the leaderboard.
Joe De Pinto, co-founder of Haste, said: "We are extremely excited with the release of Monster Bombs. The gameplay is impressive for a casual home run derby, and the ILPs add an extra level of excitement for the players. We really think it is the most unique home run derby game on the internet."
De Pinto continued: "The game also serves as a demonstration of what blockchain technology and Haste can do for professional sports franchises. To our knowledge, there has never been a physical item a fan could purchase, receive a digital copy NFT of that item, and then actually use the NFT within a video game.
"Imagine every shirt, jersey, and hat at the New York Yankees team store coming with an NFT that a fan can go home and equip on their player in MLB The Show. You will be wearing your real jersey that you just bought and playing with it in the video game at the same time! This concept is going to be a massive way to drive fan engagement outside of the ballpark."