LEAP and INEOR team up to create 'GOOOAL' for Swisslos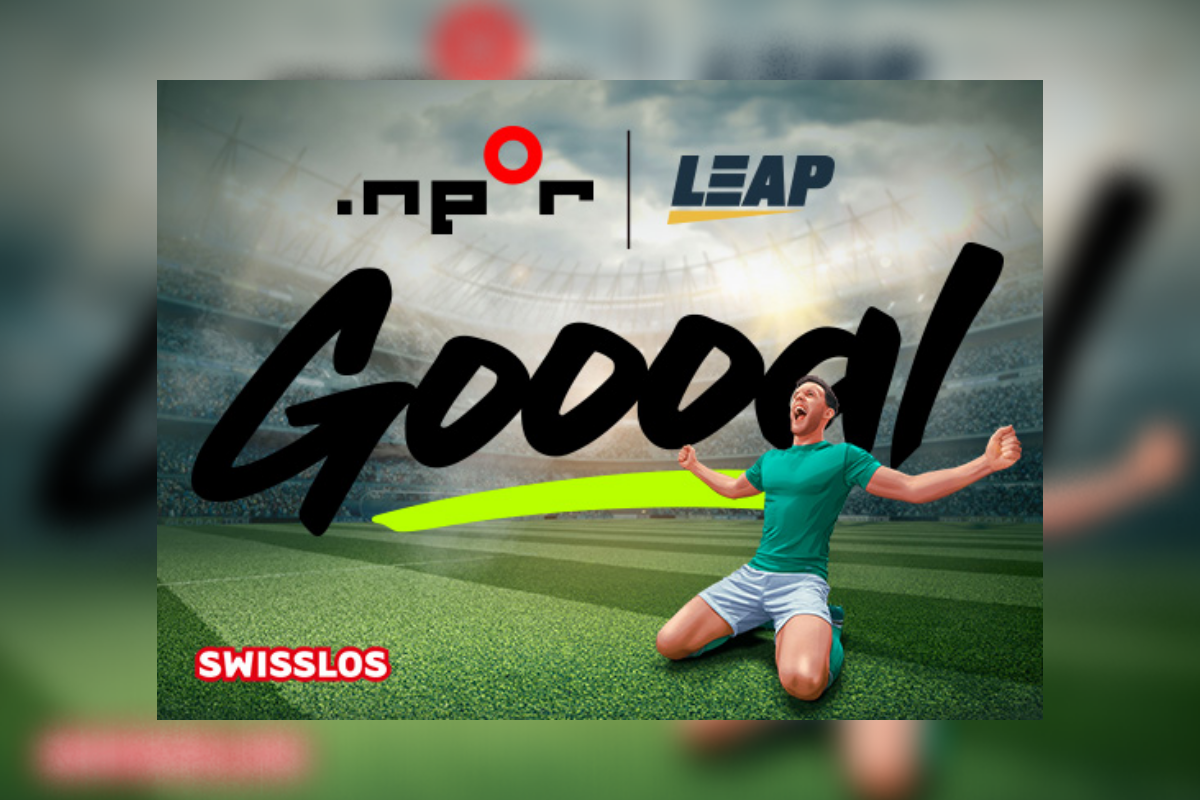 Reading Time:
< 1
minute
LEAP's inventive developing team has recently partnered with INEOR, to produce 'GOOOAL' – a high-end 3D virtual football lottery game with seamless gameplay, for Swisslos, online gaming platform and national lottery game provider Swisslos.
INEOR is a software development company providing advanced software development services using AI and innovative machine learning technologies. INEOR's products are distinguished for their high responsiveness, excellent user experience and ease of maintenance. The combination with LEAP's digital art expertise, excellent 3D soccer visualisations, streaming capabilities, and gaming experience.
GOOOAL's virtual football matches offer everything a football fan can possibly desire. The superb 3D graphics replicate the realism of a real-life football game, creating a fully immersive experience. These visually stunning football matches are highly entertaining and accessible on any mobile device at any time, allowing punters to relax, enjoy the match, cheer on the action, and see whether they've scored a win.
We are therefore absolutely thrilled to announce that thanks to LEAP and INEOR's partnership and collaboration, Swisslos has now launched GOOOAL online, and it is available in English, Italian, French and German.
LEAP onboards former Rockstar Games co-founder Jamie King as an advisory board member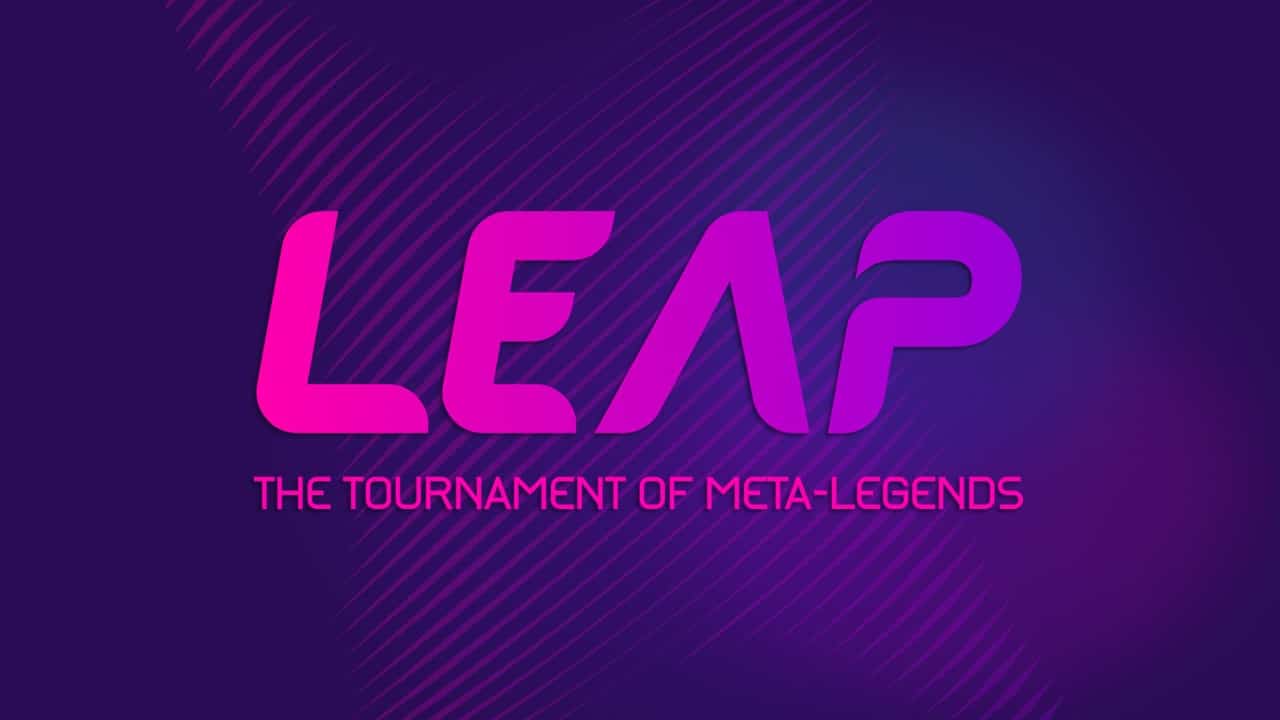 Reading Time:
3
minutes
LEAP, a next generation sports-discovery and endorsement platform, signs Rockstar Games original co-founder Jamie King to serve as an Advisory Board Member. As an official member of the advisory board, King will leverage his experience and expertise in the gaming industry and product development to support LEAP's upcoming platform launch, grow LEAP's global community, and serve as spokesperson and evangelist for the company.
The mobile gaming industry's meteoric rise in recent years culminated in 2021 with the generation of $93.2 billion, more than both the recorded music and box office industries combined. To continue this growth in the coming decades, industry leaders will find ways to adopt breakthrough technologies making giant strides in gaming, including within the blockchain and Web 3.0 ecosystem. Conversely, Web 3.0 companies looking to shake things up could benefit from the expertise of gaming industry veterans.
By recruiting King to join the LEAP team as an Advisory Board Member, the company adds a real asset with decades of experience and expertise in developing high-quality video games to its team. King will apply his experience and knowledge from the gaming industry to provide crucial insights for LEAP as it prepares for the platform's launch.
Jamie King co-found Rockstar Games, the gaming studio behind the wildly successful GTA franchise, as well as Red Dead Redemption, Bully, Midnight Club and countless other popular games. As VP of Development at Rockstar, King was responsible for recruiting and managing the core team of engineers that designed the famous Rockstar Advanced Gaming Engine (RAGE) used for GTA, Red Dead Redemption, and other Rockstar games.
Starting in 2018, King served as Head of Esports for Engine Shop, where he worked with major clients such as the MLB, MLS, NHL, Anheser Bush, Twitch, and the Leukemia and Lymphoma Society. During his time at Engine Shop, King won a couple of Tempest esports awards, three Chief Marketer Pro Awards, a 34th Sports Emmy nomination, and a Silver Clio for Bud Light's BL6 gaming console. King currently works as the VP of Marketing for Solace Lifesciences Inc., where he's part of the team responsible for NuCalm, the only patented, clinically proven neuro acoustic technology in the world that reduces stress and improves sleep without the need for drugs.
Through LEAP, youth athletes get to showcase their skill-sets in short-form videos uploaded to the platform. By specifically working with young athletes from impoverished and isolated communities, LEAP brings together a digital community of both youth sports talent and talent seekers to help the athletes, not only gain recognition, but also get rewarded based on their skill levels and continuous engagement in sport activities. The app features a customized video creator—LEAP Studio—with specific filters, sticks, and add-ons to help talents better highlight their individual skills based on their sport. Talents can use the videos to challenge each other in LEAP DARE Battles, where the community votes for whoever they think performed the skill better, and winning will boost the value and rarity of the users NFT Player Card.
"A gaming maverick of the likes of Jamie King will help LEAP not only grow our community, but also really pushes forward the integration of sports and gaming in a Web3.0 environment," says Omri Lachman, CEO and Co-Founder of LEAP. "We are beyond thrilled to have Jamie on our team as an advisor and we have no doubt that he will do a tremendous job representing LEAP, building credibility and bringing our product closer to the people who can benefit the most from it."
"I'm excited to be a part of the LEAP team because their platform is innovative and unique, something I've never seen before," says Jamie King. "LEAP's product aims to correct a major blindspot in the sports industry, and that is the lack of growth opportunities for athletes from isolated and disadvantaged communities around the world. I love the gamification aspect of LEAP's platform but I especially love how it aims to democratize the sports industry."
Haste Arcade launches new Monster Bombs game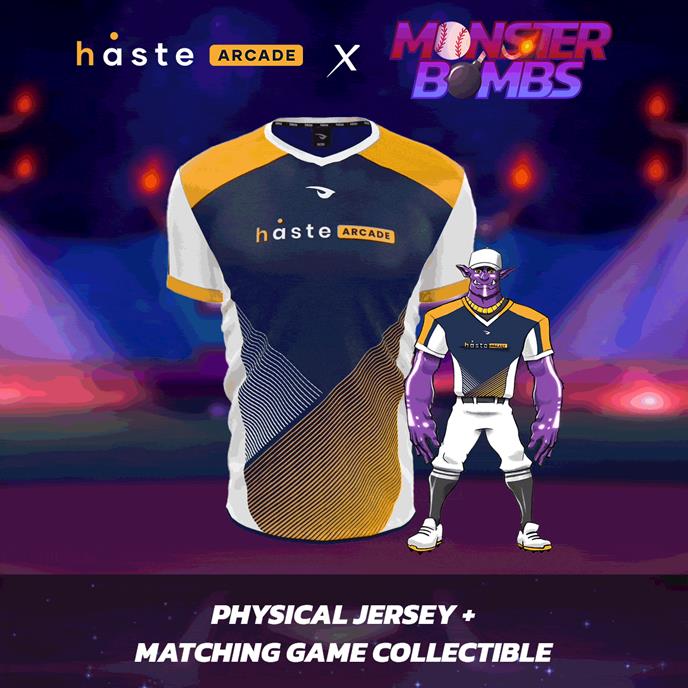 Reading Time:
2
minutes
The Haste Arcade has released its newest game – Monster Bombs, a space-themed baseball game built on the BSV Blockchain.
It features the world's first physical and digital copy NFT items that can be equipped within the game, along with Haste's patent-pending Instant Leaderboard Payout™ technology.
The game's main character, Tank, is trapped on the planet Avachrome, and must compete in the planet's home run derby to get off the dreaded planet. Players must hit a variety of pitches, while avoiding the bombs that occasionally get thrown at Tank. Points are accumulated by not swinging at the bombs, hitting singles, doubles, triples, home runs, and "Monster Bombs" (supercharged home runs). The more points a player gets, the higher up the leaderboard their score is.
One of the most exciting aspects of the release is the game collectibles. Prior to the release, Haste sold 20 Limited Edition Haste Jerseys, 10 Limited Edition "Tank" shoes, and 125 Limited Edition Haste hats. Each item came with a digital copy NFT, that allowed the owner to equip the NFT onto Tank within the game. The items were sold on the Take It NFT auction platform.
Along with the collectibles, the game also features Instant Leaderboard Payouts™, which give gamers a new way to play and earn from casual games. For example, players can play Monster Bombs for free, but if they want the chance to earn, they can also play at different paid levels ranging from $0.01 all the way up to $100 per game. If the player makes a level's leaderboard, they earn a percentage of each subsequent gameplay. The payouts are instantly deposited to their Bitcoin SV wallet in the form of a micropayment, and the player will continue earning until their score is no longer on the leaderboard.
Joe De Pinto, co-founder of Haste, said: "We are extremely excited with the release of Monster Bombs. The gameplay is impressive for a casual home run derby, and the ILPs add an extra level of excitement for the players. We really think it is the most unique home run derby game on the internet."
De Pinto continued: "The game also serves as a demonstration of what blockchain technology and Haste can do for professional sports franchises. To our knowledge, there has never been a physical item a fan could purchase, receive a digital copy NFT of that item, and then actually use the NFT within a video game.
"Imagine every shirt, jersey, and hat at the New York Yankees team store coming with an NFT that a fan can go home and equip on their player in MLB The Show. You will be wearing your real jersey that you just bought and playing with it in the video game at the same time! This concept is going to be a massive way to drive fan engagement outside of the ballpark."
The 5 Most played Slots In Canadian online casinos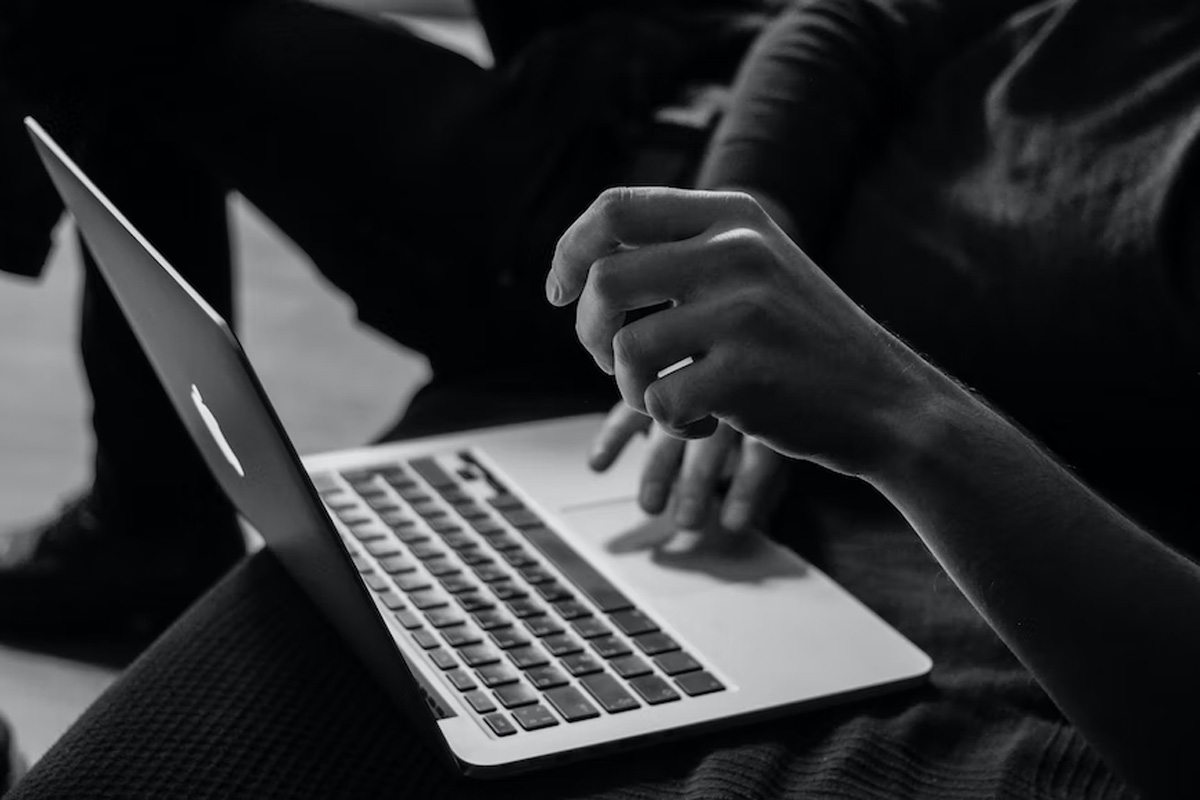 Reading Time:
4
minutes
Canada is one of the major online gambling hotspots. People enjoy playing games online. Even so, online slots seem to have the largest audience. Why are they such a draw? While the reasons for this are much-debated, we can all agree that there's an increasing number of slot games in Canadian online casinos. Even with a variety of options, Canadian players seem to be attracted to specific games. In 2022, the following are the 5 most played slots in Canada:
Immortal Romance
Immortal Romance is played on 5 reels and 3 rows with 243 paylines. The game is mobile-friendly and is playable from at least 30 coins per spin. As such, it caters to players with different budgets. The Microgaming release has a vampire theme that isn't quite common. Coupled with various bonus features, you get a gambling experience like no other.
You must land 3 or more similar symbols to get a winning combination. Also, the matching symbols must appear on adjacent reels starting from reel 1. As for specific features, the game has an Autoplay feature that lets you select between 10 and 25 auto spins. Moreover, you can opt to play in Quick spin mode.
Off to the technicals, Immortal Romance has an RTP of 96% and a hit frequency of 31.21%. Basically, you can land winning combinations in every 3 spins. Nonetheless, the maximum possible win is 12150x your stake.
| | |
| --- | --- |
| Slot | Immortal Romance |
| Provider | Microgaming |
| RTP | 96% |
| Min. Bet | 30c |
| Max. Win | 12150x |
Starburst
With an outer space theme, Starburst was created for players who love extraterrestrial-themed slots. The NetEnt release is played on 5 reels, 3 rows with 10 fixed paylines. Here, the minimum stake required per spin is 10 coins. High-rollers can stake up to CAD 100 per spin. Starburst has an RTP of 96.09% and a low to medium variance. Therefore, you can expect plenty of small wins.
To form a winning combination, you will need 3 or more similar symbols on a line. However, the game uses a win-both-ways technology. Therefore, the matching symbols can appear on adjacent reels starting from reel 1 or 5. With the Autoplay function, you can choose between 10 and 1000 auto spins. For responsible gambling, you can stop the autoplay feature at any point.
| | |
| --- | --- |
| Slot | Starburst |
| Provider | NetEnt |
| RTP | 96.09% |
| Min. Bet | 10c |
| Max. Win | 600x |
Mega Moolah
Mega Moolah currently holds the record for the biggest payout as far as slots are concerned. The Microgaming release has a unique African theme that makes it stand out. It is played on 5 reels, 3 rows with 25 ways to win. Moreover, the slot features wilds that help in doubling your winnings.
While some slots lack free spins features, Mega Moolah takes a different path. You can activate its Free Spins feature and get up to 30 free spins with a 3x multiplier. Anyway, the minimum stake required per spin is 25 coins. You can use the AutoPlay function, with a range of 10 to 100 auto spins.
Away from that, Mega Moolah has an RTP of 93.42% and a 46.36% hit frequency. Therefore, close to half of your spins could potentially land you winning combinations. By the way, in April 2021, a Canadian player won CAD 19.4 million in the Mega Moolah Jackpot. This record remains unbeaten to date.
| | |
| --- | --- |
| Slot | Mega Moolah |
| Provider | Microgaming |
| RTP | 93.42% |
| Min. Bet | 25c |
| Max. Win | 1,955 x excluding jackpot |
Thunderstruck 2
Thor fans have a slot game from Microgaming to be pumped up about. Thunderstruck 2 is among the most popular slot titles in Canada. It was released in 2010 and has since been remastered to allow mobile gaming.
Thunderstruck 2 is played on 5 reels and 3 rows with 243 ways to win. The Microgaming release has a Norse mythology theme. It is playable from as low as 30p. With its Autoplay option, you can pick from 10 to 100 auto spins. Additionally, you can activate the quick spin feature to increase your winning chances.
For a winning combination, a player must land 3 or more similar symbols on adjacent reels from reel 1. For instance, land Thor symbols on reels 1 to 4, no matter the position. With regard to player returns, Thunderstruck 2 has an RTP of 96.65% and a hit frequency of 32.62%. Therefore, one in every three spins could result in a win. Nonetheless, the game has a max win cap of x8000 the stake.
| | |
| --- | --- |
| Slot | Thunderstruck 2 |
| Provider | Microgaming |
| RTP | 96.65% |
| Min. Bet | 30c |
| Max. Win | 8000x |
Gonzo's Quest
Gonzo's Quest is powered by NetEnt. It has a Mayan theme that packs a punch on the game's outlook. Here, the action takes place on 5 reels, 3 rows, and 20 fixed paylines. A single spin costs as little as 20p. This way, any player can play regardless of their budget.
Notably, the game's Autoplay function lets you pick from 10 to 1000 auto spins. You can choose to end Autoplay on any win. This way, you get to play responsibly. Further, Gonzo's Quest was designed using HTML5 technology. This makes it mobile-friendly and therefore platform-independent.
To win, you need to get more than 3 matching symbols on a line. The symbols can appear across any payline starting from reel 1 on the left. Since the game has a 95.97% RTP, you can win big on every base game in case you're lucky.
| | |
| --- | --- |
| Slot | Gonzo's Quest |
| Provider | NetEnt |
| RTP | 95.97% |
| Min. Bet | 20c |
| Max. Win | 37,500x |
Final Remarks
In a nutshell, there are thousands of online video slots available in Canada. Most of them are fun. They have modern graphics, amazing visuals and soothing soundtracks. Some even have insanely high RTPs. Nonetheless, the five titles we've discussed above are the most played in the country. We've tried them, and we can confirm that they're fun. You may want to try them as well.