CEEGC Budapest '22 Speaker Profile: Andrius Gabnys – Founding Attorney at Gabnys.Gabniene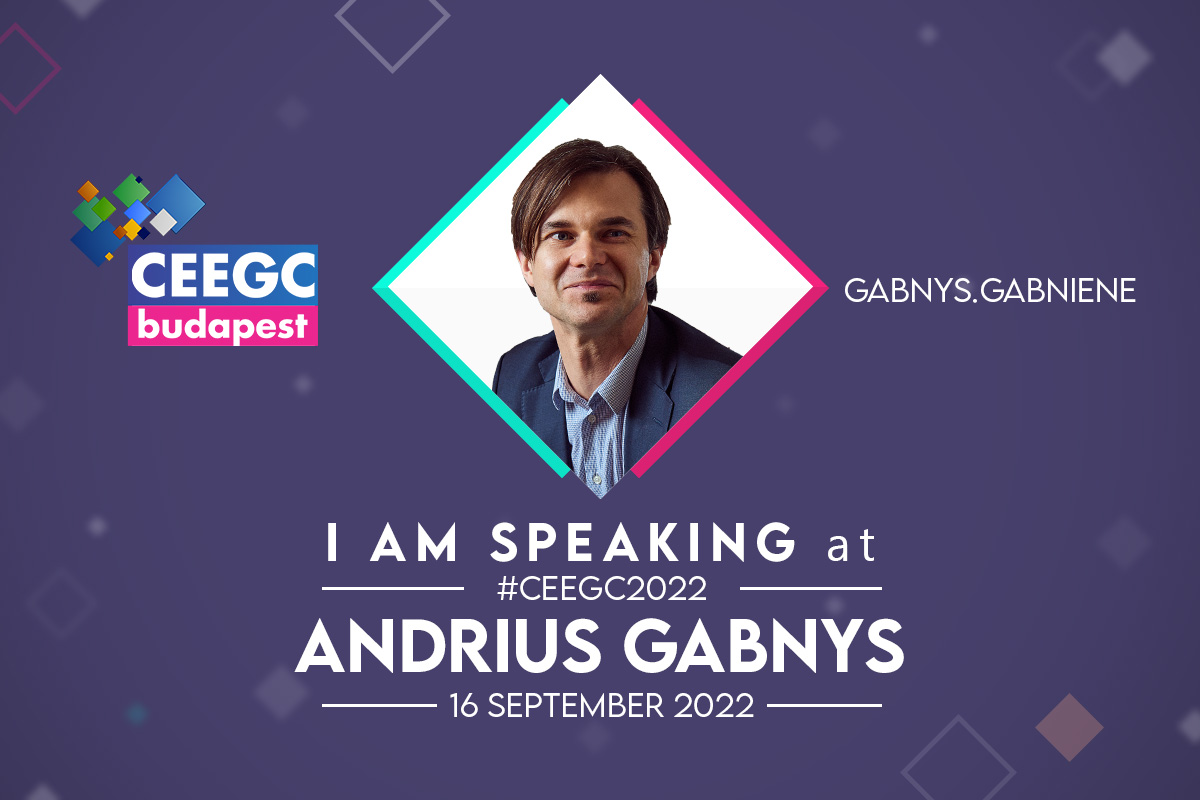 Reading Time:
2
minutes
The 7th edition of CEEGC Budapest and CEEG Awards will take place on 16 September 2022 and welcomes leading operators, service providers, and gambling industry experts from all across Central and Eastern Europe, and the Balkans regions.
Find more details here | Register / Get tickets here 
#ceegc2022 –You are invited to join the eminent gaming conference in the Central and Eastern European region.
It would be our honor to see you at the seventh edition of the yearly Central and Eastern European Gaming Conference which includes several panel discussions about regulatory updates in the region, industry topics, technology workshops, quality networking opportunities, and the prestigious CEEG Awards.
CEEGC and the CEEG Awards is the key event of the Central and Eastern European region during Autumn and brings a wealth of information while also focusing on quality networking.
As mentioned above the conference will take place on the 16th of September in Budapest at The Ritz-Carlton Budapest and is bringing a new format that will allow more interaction among the attending delegates.
The event gathers experts who share their knowledge around compliance-related matters and updates from the CEE, Balkans, and CIS, and even includes talks about the Scandinavian region and North America to the participants! Make sure you are one of them!
Each week we are introducing some of the great minds that are going to share the stage in Budapest and bring you the latest and most vital information.
Today, we are introducing: Andrius Gabnys – Founding Attorney at Gabnys.Gabniene
Andrius Gabnys is Founding Attorney at Gabnys.Gabniene, a legal boutique based in Vilnius, Lithuania and Tallinn, Estonia. The Firm specializes in entertainment (gambling, media, arts) and technology (IT, cybersecurity) legal aspects. Andrius Gabnys has been working in the online gambling sector for over 10 years, and focuses on the multijurisdictional licensing, IP and related matters. He has an extensive experience dealing with the gambling authorities in Europe, CIS countries, Africa and South America.
Order your Delegate Pass or VIP (Combo) Package (Delegate Pass +Accommodation) now!
The summit has the support of Global Bet and Nordic Gambling as sponsors.
Here is what the participants of the CEEGC series are saying:
"CEEGC in Budapest 2019 was my first of hopefully many European Gaming Media events. Combining a balanced and interesting range of topics presented by quality speakers and an excellent networking environment, the organizers did a great job of demonstrating that they know what they are doing to make a great conference." – Jessica Maier, LLM, Partner at MELCHERS law firm

Entain Partners with EMMA Capital to Establish Entain CEE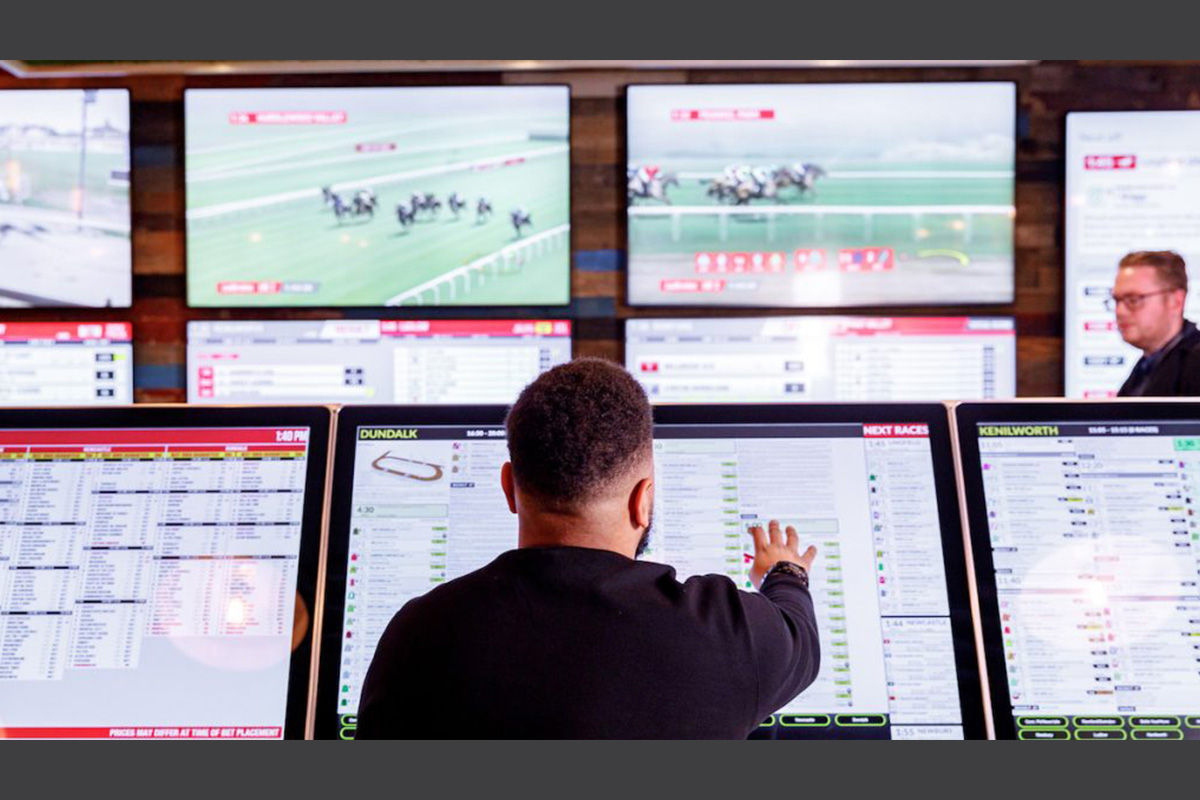 Reading Time:
2
minutes
Entain has partnered with EMMA Capital (EMMA), a leading investment firm based in the Czech Republic, to establish a new venture (Entain CEE) to drive expansion in Central and Eastern Europe. Entain will own 75% of the economic rights in Entain CEE. Entain CEE will acquire the SuperSport Group, the leading gaming and sportsbook operator in Croatia from EMMA.
The new platform will be led by SuperSport's CEO, Radim Haluza, who has significant experience across the region. The combination of Entain's global scale, access to capital and content, EMMA's regional knowledge and connectivity, alongside the expert local operational knowledge of Radim and his team, makes Entain CEE uniquely positioned to unlock the significant opportunity across the region. This bespoke structure will allow Entain to join with further leading local operators through Entain CEE to continue to grow this unique platform across the region.
For 75% of the economic rights in SuperSport, Entain will pay EUR 600 million in cash at completion; and a further contingent payment of EUR 90 million made to EMMA in early 2023 based on SuperSport's EBITDA for the financial year ending 2022.
EMMA will contribute their 25% stake in SuperSport to Entain CEE at an initial implied valuation of €200m, with the contingent payment implying an additional €30m value contributed by EMMA.
The Acquisition is expected to value SuperSport at €920m which implies a transaction multiple of 9.6x 2022 EBITDA, or 9.1x 2022 fully synergised EBITDA.
The Acquisition will be financed through a €700m bridge loan from Deutsche Bank, Lloyds, Mediobanca, NatWest and Santander. The Acquisition will increase Entain's pro-forma net debt to EBITDA leverage ratio in 2022 by 0.4x. The Acquisition is expected to complete in Q4 2022 and is conditional upon regulatory approvals.
"We are excited to create Entain CEE with EMMA to underpin our strategy across the CEE region, and to be acquiring the leading betting and gaming operator in the highly attractive, fully regulated Croatian market. We see Croatia as an exciting, dynamic country which Entain CEE is perfectly positioned to expand from – we are very much looking forward to growing our business responsibly within the country and the region. By bringing together Entain's global expertise and EMMA's regional investment track record, we are creating a growth platform with considerable opportunity. Expansion across CEE is a core component of our growth strategy, and we look forward to having Radim on board to help drive this opportunity," Jette Nygaard-Anderson, CEO of Entain, said.
"EMMA is very happy to be partnering with the leading global betting, gaming and interactive entertainment business to unlock the opportunity posed by the CEE betting and gaming market. We see the Entain CEE structure as a clear opportunity for creating value for shareholders, and we look forward to working closely and collaboratively with Entain," Pavel Horák, Chief Investment Officer at EMMA, said.
"I am looking forward to joining with Entain and further building on the significant opportunity presented in this region. The prospect of leading Entain CEE to drive expansion in fully regulated markets is an exciting opportunity, and EMMA's investment expertise combined with Entain's world-class platform will give us the competitive edge in delivering on the CEE opportunity," Radim Haluza, CEO of SuperSport, said.
CT Interactive in content deal with AdmiralBet Serbia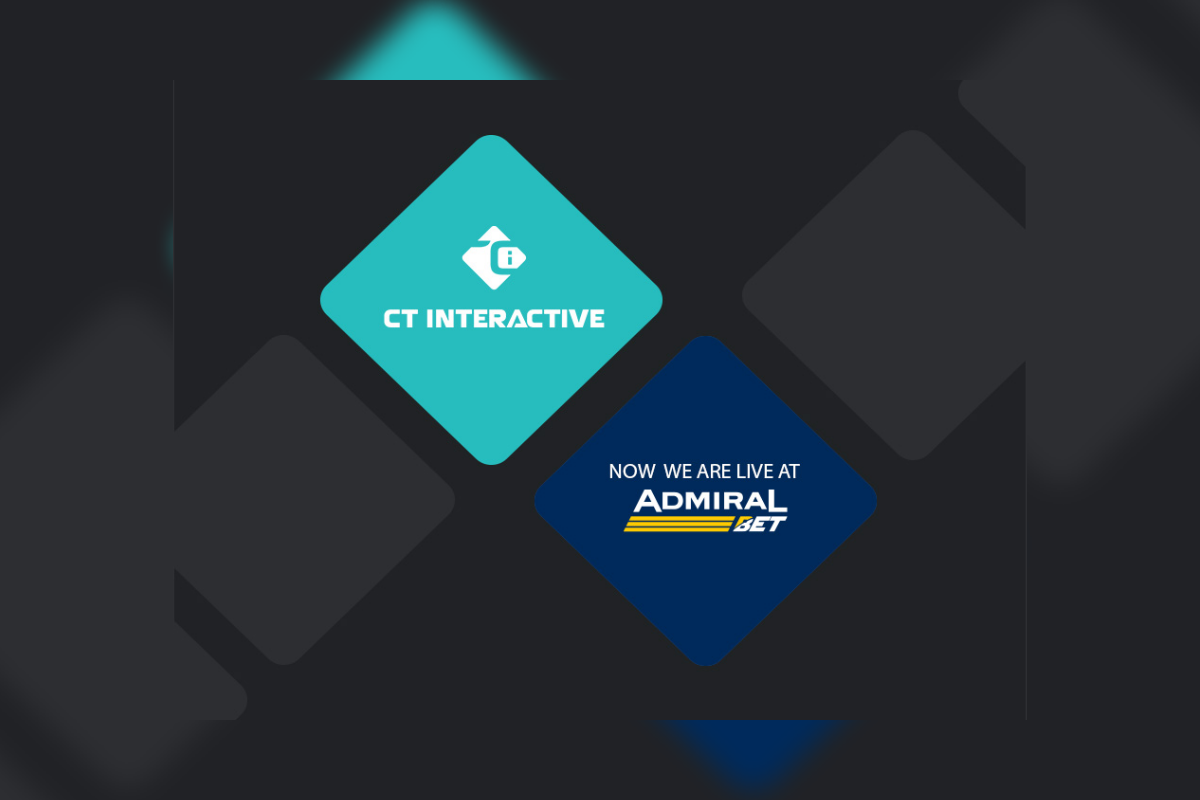 Reading Time:
< 1
minute
CT Interactive continues its stellar performance with yet another deal that builds on its expansion in regulated markets. The premium online games supplier entered into a collaboration deal with AdmiralBet Serbia, adding a new online casino market to the existing over 800.
After successful integration, CT Interactive already launched a selection of its games with the leading operator in Serbia that successfully operates in many markets globally.
"We keep delivering on our global growth strategy by strengthening our position on regulated markets", says Milena Tsankarska, Head of Business Development EMEA at CT Interactive. She added that AdmiralBet Serbia focuses on ensuring amazing entertainment and user experience for its players, and CT Interactive games will ideally fit the operator's goals.
The deal with AdmiralBet Serbia is another significant step in CT Interactive`s rapid expansion plans and comes off the back of a strong performance in 2022.
"We are excited to reach a new audience with AdmiralBet`s growing customer base. We are sure that our long-standing fan-favorites games will be huge hits with AdmiralBet's customers very soon," commented Mrs. Tsankarska.
"We are thrilled to conclude a partnership with a leading casino provider as CT Interactive. We trust that their high-quality, innovative game features will be very well perceived by players. We are pleased to welcome them to the AdmiralBet family", commented Milan Djurmez, Head of Online Gaming at AdmiralBet Serbia.
Why SiGMA CIS/Balkans: Your gateway into the future of iGaming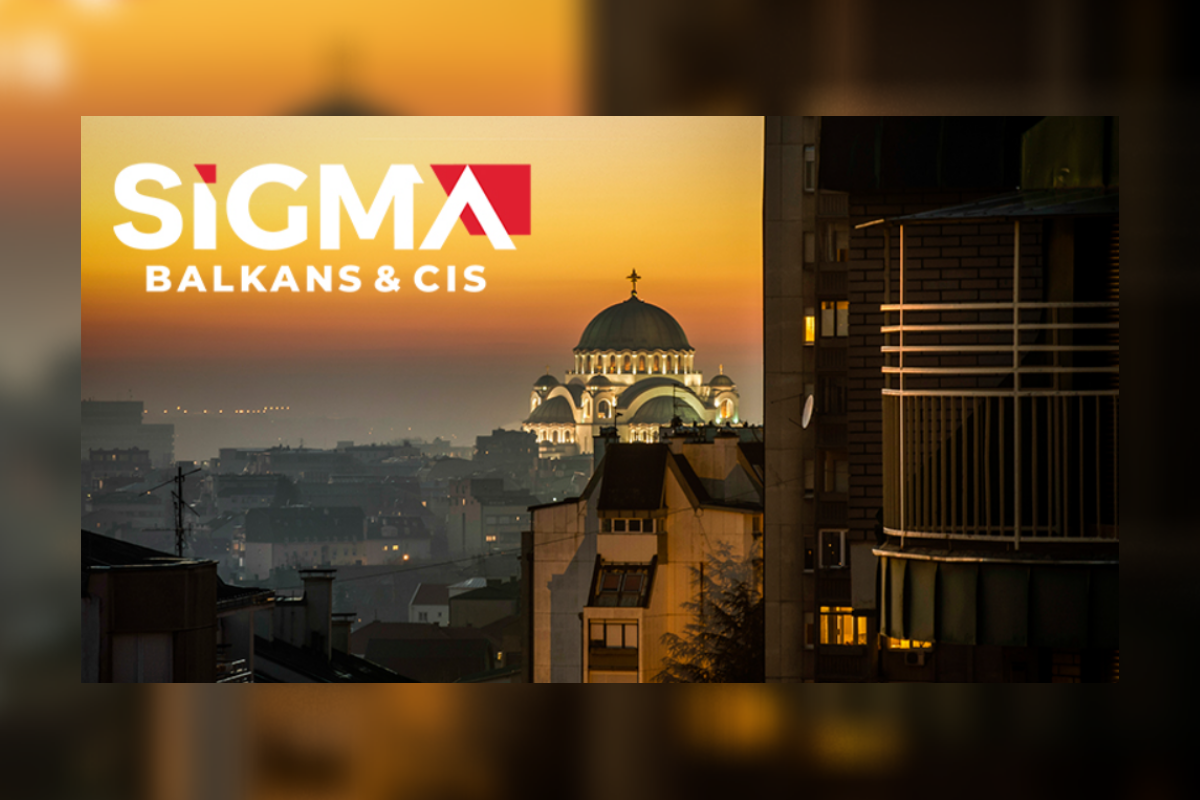 Reading Time:
3
minutes
Premiering for the first time in the Balkans between the 22nd and the 25th of this month, SiGMA is a global leader in everything iGaming. Growing exponentially since its original debut in 2014 in the iGaming nexus of Malta, the Summit has become an international hub for iGaming operators, affiliates, innovators, investors and entrepreneurs. This article will cover some of the main reasons why SiGMA is the expo the Balkans have been looking for.
Why SiGMA: Global network with a start-up's heart
Growing from a local iGaming conference in 2014 to amassing 13,500 delegates, 800 sponsors and exhibitors as well as 400 speakers under one roof, SiGMA is ever-growing but remains ever entrepreneurial.
Geographically, the Summit now debuts on all four corners of the globe. From snowy Toronto to shining Dubai, the industry-leading expo has hosted all the big players in every part of the iGaming ecosystem. Beyond that, our network of industrial leaders, serial entrepreneurs, consummate investors and inspiring thought-leaders have led the charge on the future of the industry though our keynote speeches and panel discussions.
Why SiGMA: A hub of innovation and enterprise
Going above and beyond the present of the iGaming industry, SiGMA is well-known for being proactive and future-focused. The summit includes a healthy presence of Deep Tech operators, innovative technologists and visionary founders ready, willing and able to use the cutting edge of Blockchain, AI, Quantum Computing and more. From Quantum-empowered esports betting to crypto payment providers, SiGMA has everything you need to stay above the competition.
With SiGMA's sister-summit, the AIBC Summit, debuting in parallel to SiGMA in the same venue, the Deep Tech potential is boundless. Focusing mainly on Blockchain and Artificial Intelligence but expanding to include IoT, Quantum Computing and several others, AIBC is a networking hub and thought-leadership platform for anyone seeking to get their foot into tomorrow's technology.
Why SIGMA: A platform for start-ups
Present in both SiGMA and AIBC Summits, our Start-Up Pitches combine the best showmanship in the industry with the leading visionaries of the iGaming and Deep Tech ecosystems. Creating a competition wherein the best 100 start-up applicants in each industry challenge each other for the grand prize of up to $500,000 in equity investment and a portfolio of fringe benefits.
SiGMA is also partnered with the ever-innovative UK-based Venture Capital firm, Ikigai Ventures. Having a physical presence at every summit, the Ikigai lounge is the place to meet the best investors in the space.
Why SiGMA: World-class media exposure
With our reach being global, our media presence is equally international with a broad array of thought-leaders, C-Suite executives and visionaries leading the industry forward. From premier podcasts to a spot in the globally renowned SiGMA magazine, participating in the Summit is a quick-fire way to grow far beyond the Balkans.
Driven forward by our elite in-house media team for videographers, content specialists, documentary makers and reporters, SiGMA has mastered the art of giving our sponsors, exhibitors and pioneers their time in the limelight.
Why SiGMA: Network with the best in the business
As the saying goes, your network is your net-worth. To that end, SiGMA is a leading connector as well as the place to be seen. Join networking dinners and investor brunches with some of the leading minds in the industry, our delegates never leave a summit without striking new partnerships or making friends in high places. From respected regulators to serial entrepreneurs calling the Summit home, come and grow your network with us!
If you want to celebrate in style, our world-renowned Awards Night is the place to be. Letting the best and brightest get their chance in the limelight, the Awards Night is both a brilliant platform for our industry leaders as well as an incredible marketing opportunity for sponsors.
Interested now? Join us in Belgrade
Renowned for its beautiful scenery, delicious cuisine, rich culture, and penchant for parties, the Balkans have been sought after by both tasteful tourists and entrepreneurs with an eye on the growing iGaming ecosystem calling the region home. As the home to the global gaming community, the SiGMA Conference is known far and wide for its enlightening panels, inspiring speeches, ample opportunities to invest and network, and the ability to do it all while having the time of your life. Join us in Belgrade for the best the industry has to offer and for a window into the future of worldwide gambling. To learn more about sponsorship and speaking opportunities or to inquire about attending the event, please contact Sophie at sophie @sigma.world.