The number of games companies and employees in Germany continues to grow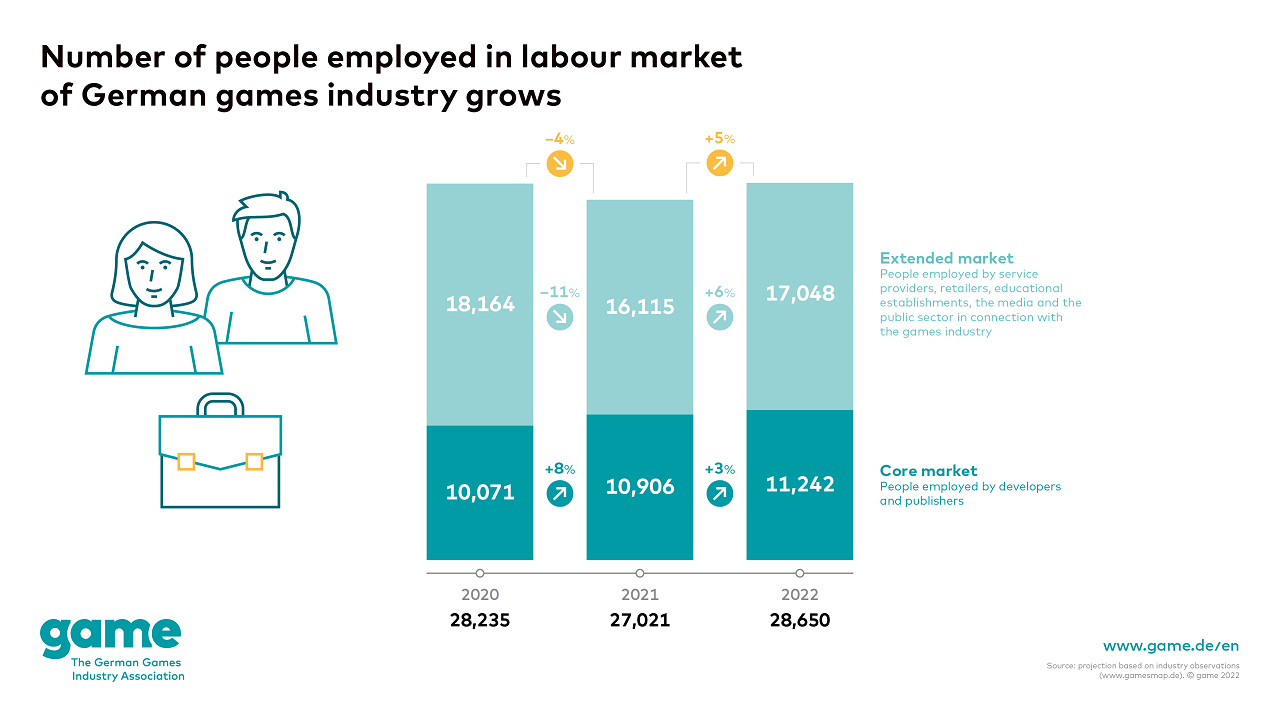 Reading Time:
3
minutes
The upswing in the German games industry continues: significant increases in the number of German games companies and employees in 2021 are being followed up by further growth in both figures. There are currently approximately 786 companies in Germany that are involved in the development and marketing of computer and video games or in one of these two areas. This is 5 per cent more than in 2021. These are the figures released today by game – the German Games Industry Association, based on data collected by gamesmap.de. A majority of these companies (392, down by 3 per cent) are active in both development and publishing. 358 games studios focus solely on the development of games for PCs, games consoles and mobile devices. The number of these companies exhibited particularly strong growth, rising by 14 per cent compared to the previous year. The number of companies who are active solely as publishers is significantly lower, with just 36 such companies in Germany (up 13 per cent).
The positive trend in the number of employees has also continued, as the previous year's 8 per cent growth has been followed up by approximately 3 per cent growth in the core market. This brings the total number of people employed in the development and marketing of games in Germany to 11,242. Differences in the growth rates underscore the degree to which the establishment of numerous smaller companies is driving the current growth trend in the German games industry: whereas the number of games companies in the core market has increased by 26 per cent over the past two years, the rate of growth in the number of employees during this same time span has been lower, at just under 12 per cent. Following a decline in the previous year, the games industry's extended labour market also recovered somewhat: the estimated number of people employed here increased by nearly 6 per cent to 17,048. This extended labour market includes people employed by service providers, retailers, educational establishments, the media and the public sector in connection with the games industry. In total, the German games industry currently therefore secures more than 28,000 jobs.
The upswing in the German games industry continues: the increase of 26 per cent in the number of companies in just two years shows that Germany is on the right track as it strives to improve its attractiveness as a games location. Many of the positive impacts of the relatively new federal support programme for the games industry have yet to show up in the statistics, because most games are the result of a multi-year development process. Even so, growth in the number of companies and in their employees already offers us evidence of the industry's high level of confidence that this upswing is going to last, particularly if policymakers continue to take the decisions necessary to continue this course,' said Felix Falk, Managing Director of game.
Another year of strong growth for the German games market
Sales revenue from computer and video games and associated hardware is currently experiencing even stronger growth than that enjoyed by numbers of companies and their employees: following a historic 2020 performance with a 32 per cent jump in sales, sales revenues in the German games market continued to rise significantly in 2021 with a total of approximately 9.8 billion euros in sales revenue generated by games, games hardware and fees for online gaming services – an increase of 17 per cent compared to the previous year. Sales revenue from computer and video games grew by 19 per cent to about 5.4 billion euros, due among other things to increases in in-game and in-app purchases. Sales revenue from games hardware has also grown, by 18 per cent overall to about 3.6 billion euros. Demand for games consoles and gaming PC accessories was particularly strong.
About the market data
The online directory gamesmap.de records developments in the German games industry on an ongoing basis. game continuously calculates the industry's employment situation in Germany using detailed industry observations and research, together with appropriate projections and surveys of experts.
The market data is based on statistics compiled by the GfK Consumer Panel and data.ai. The methods used by GfK to collect data on Germany's digital games market are unique in terms of both their quality and their global use. They include an ongoing survey of 25,000 consumers who are representative of the German population as a whole regarding their video game purchasing and usage habits, as well as a retail panel. The data collection methods provide a unique insight into the German market for computer and video games.
game – the German Games Industry Association
We are the association of the German games industry. Our members include developers, publishers and many other games industry actors such as esports event organisers, educational establishments and service providers. As a joint organiser of gamescom, we are responsible for the world's biggest event for computer and video games. We are an expert partner for media and for political and social institutions, and answer questions relating to market development, games culture and media literacy. Our mission is to make Germany the best games location.
ZITRO'S WHEEL OF LEGENDS IS NOW LIVE AT CASINO ZÜRICH IN SWITZERLAND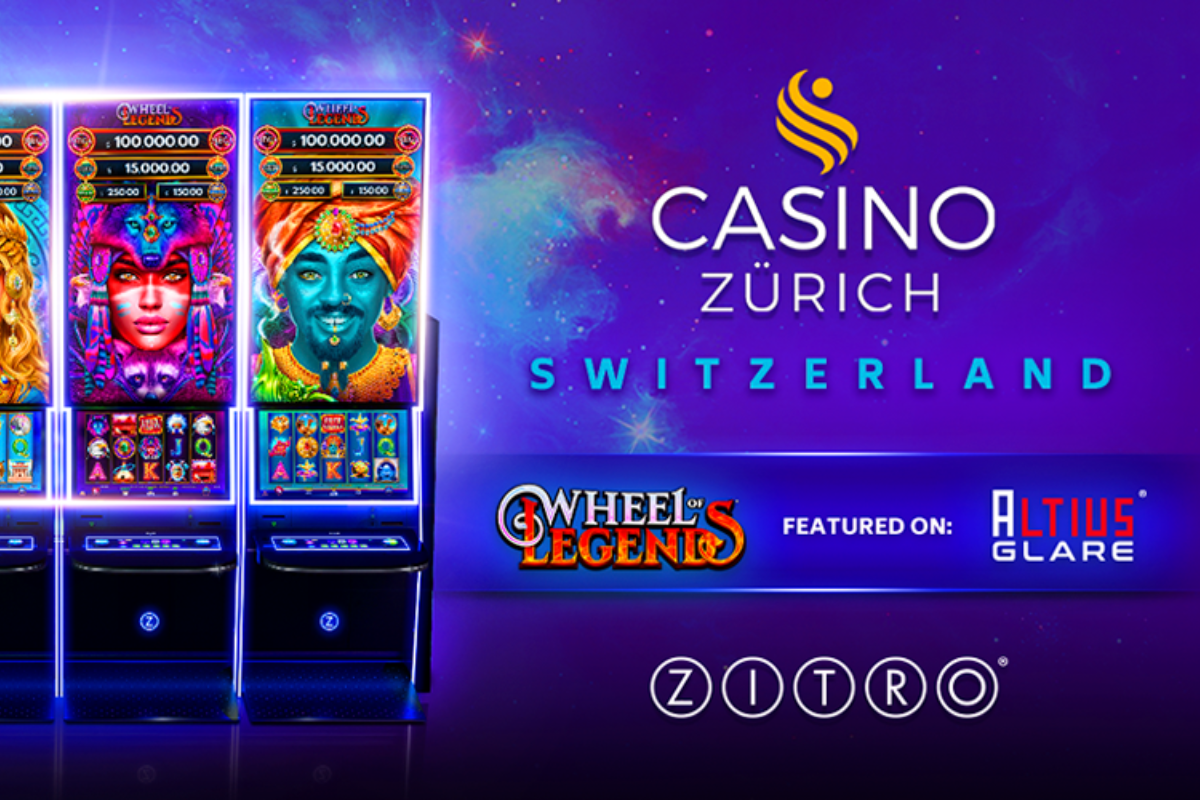 Reading Time:
< 1
minute
Casino Zürich, a member of the Swiss Casinos group, has once again bet on Zitro to introduce immersive experiences with the addition of the premium multi-game, Wheel of Legends. Along with other renowned Zitro games, this slot title has captivated players thanks to its stunning graphics, performance, and compelling game mechanics.
Wheel of Legends is featured on Altius Glare, which stands out on any casino floor, thanks to its large screens and unique game themes. Altius Glare features an impressive 55" 4K top display and 27" Full HD base game display and an intelligent LED Halo, making it the perfect form-factor for an immersive player experience.
André Zünd Gaming Manager at Swiss Casino Zürich commented: "Zitro's new game title has been an outstanding addition to our product catalog. We are confident that it will appeal to our loyal customers, along with the impressive Altius Glare cabinet. We are pleased to partner, once again, with such an important casino supplier as Zitro".
"We are delighted to announce this agreement with Casino Zürich at an exciting period of growth in this market. It thrills us that players will also be enjoying one of Zitro's new and most popular titles, and we have no doubt that it will be as successful as it has been in many casinos around the world", added Nadège Teyssedre, Zitro's Regional Director for EMEA.
Slovak Gambling Authority raided again! Secured were especially the so-called crypto-mining machines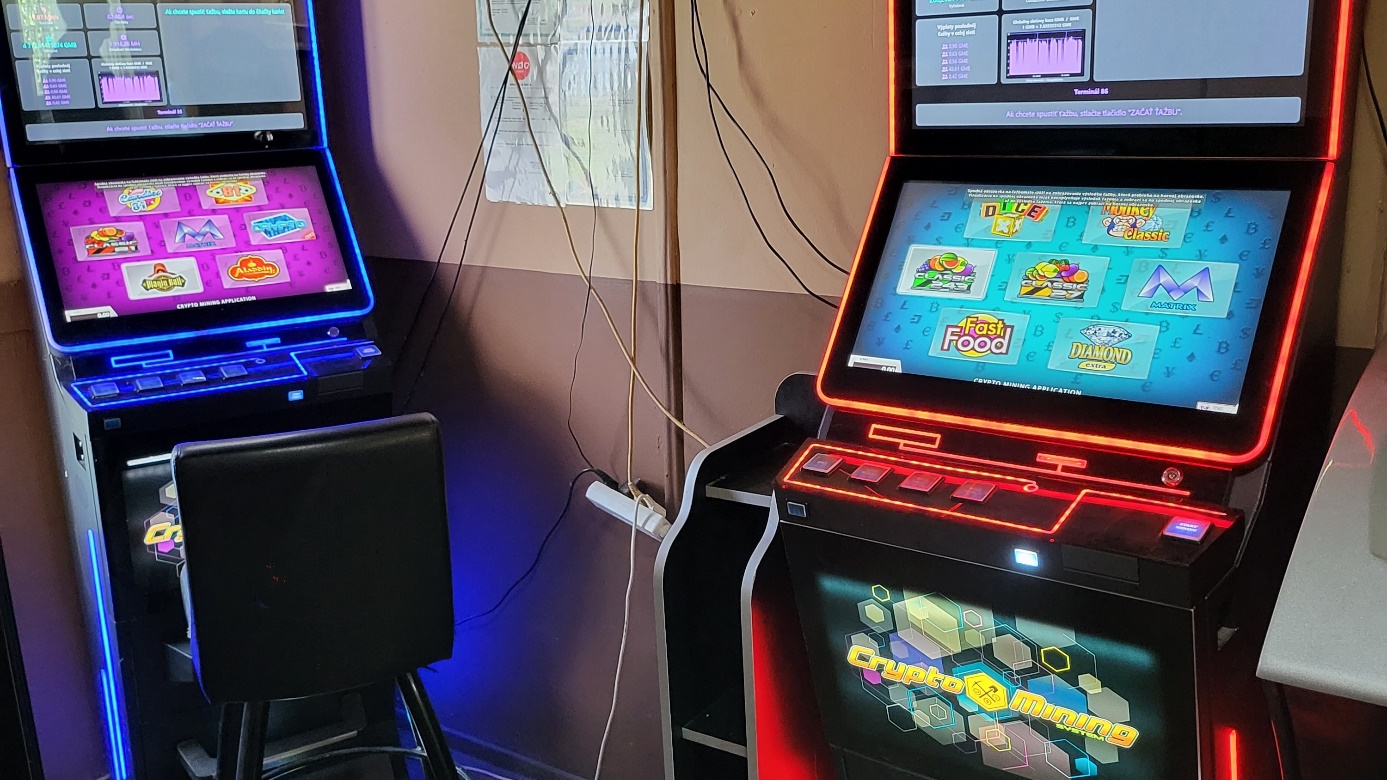 Reading Time:
2
minutes
The Gambling Regulatory Authority seized 54 illegal gaming machines in a recent nationwide raid. This is the second successful move carried out by the Authority in the last four months to combat this type of illegal gambling.
Seized were especially the so-called mining machines and quiz machines. The majority were taken based on searches carried out by inspectors of the Office for the Regulation of Gambling (URHH). "As these gaming machines have not been issued or granted a valid licence, we consider them illegal. Our staff actively monitor these machines' occurrence; most of them have been seized due to their diligent work. Some have also been seized because of complaints from the players," said general director URHH, Dávid Lenčéš.
The recent seizures were carried out in all regions in accordance with § 81 article 11 of the Gambling Act in cooperation with the police force. According to the director general of the URHH, the role of the police officers was to maintain public order and security of the employees as public officials, as not every seizure went smoothly. "It has happened in the past that the office staff has faced physical attacks or had to remove some equipment by professional locksmiths. Illegal operators sometimes try to make the seizure impossible by fixing machines firmly against the floor or the wall."
According to the Gambling Act, small operators, such as pubs, cannot operate gaming machines. The URHH must license each gaming machine since it is the only official body authorised to issue a licence.
However, some speculators try to bypass the law by operating machines that have been "authorised" by other entities or posing as knowledge competitions or cryptocurrency mining machines. In each case, URHH carefully investigates whether a gambling game is taking place on the device, regardless of its name, visual elements, or type of device.
The most significant number of machines was seized in the Bratislava Self-Governing Region, representing half of all. Nine machines were held in the Košice Region, 8 in the Banská Bystrica Region, 7 in the Nitra Region, 2 in the Žilina Region and 1 in the Prešov Region. Among the 54 machines seized nationwide, the majority were cryptocurrency mining.
A "mining machine" is a device that pretends to be used to mine cryptocurrencies, and a "quiz machine" seems to be a knowledge game. In both cases, the game played on these machines fulfils the characteristics of a gambling game. However, on these gambling games, the Authority is not granted an individual licence; if someone is operating them without a licence, it is undoubtedly an illegal activity.
Operating gambling without an issued licence is prohibited in Slovakia.
In many cases, these were premises where illegal technical equipment had been seized. "Their operators are unteachable, as they operate illegal machines again despite previous experience. On the other hand, there are more and more machines whose owners are persuaded by the vision of profit and place unlicensed machines on their premises. According to § 95 article 2 point h) of the Gambling Act, such operators are liable to a fine between 20 000 EUR and 250 000 EUR," said Dávid Lenčéš. The penalty of up to 500 000 EUR faces the owners of the gambling machines if it is proven that they are operating gambling without an individual licence or a general licence. The sealed gambling machines have been taken to the URHH warehouse, from where they will go to further proceedings.
FSB secures major new partnership with Olympic Entertainment Group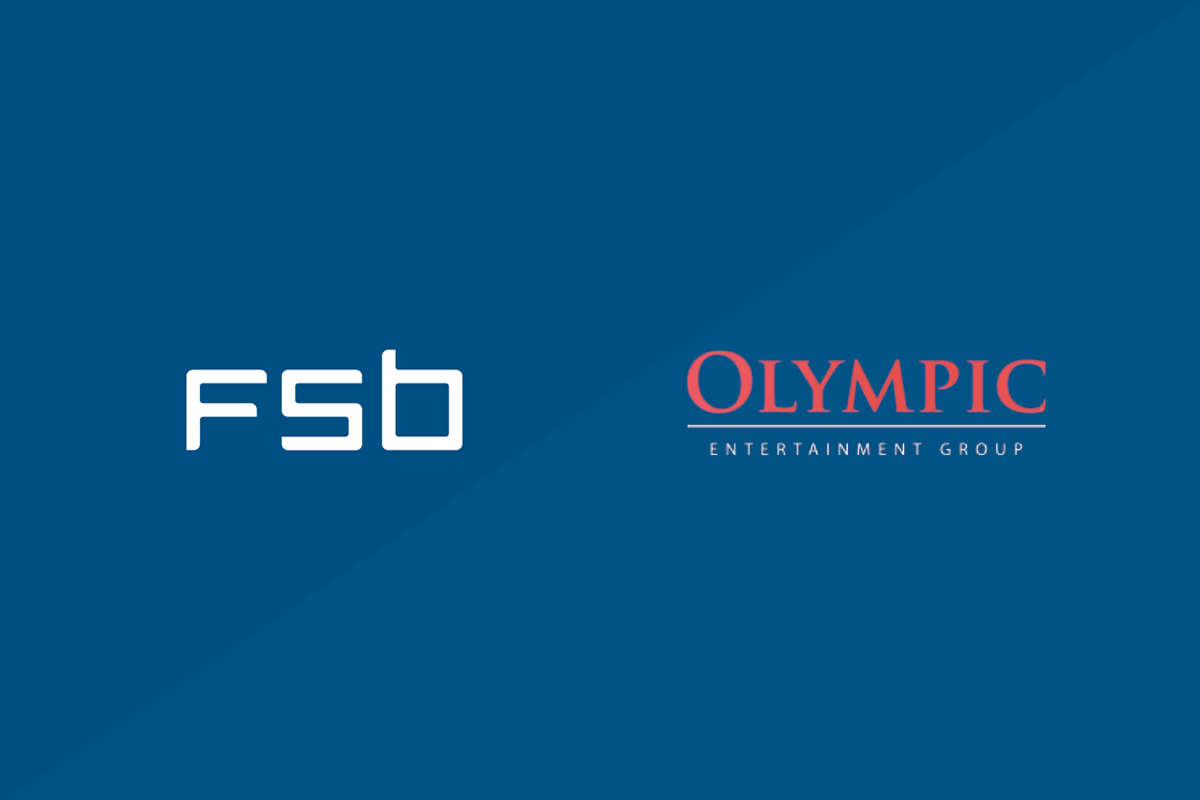 Reading Time:
2
minutes
Award-winning technology services provider furthers European momentum in significant omni-channel partnership with leading Baltic casino group.
Global B2B sports betting & iGaming supplier FSB has strengthened its European presence by entering into a multi-year multi-market agreement with Tier 1 sports betting, online games and gambling operator, Olympic Entertainment Group (OEG) and its "OlyBet" brand that is a leading sports, games and entertainment platform in Europe.
The fresh partnership will see FSB power OEG's "OlyBet" brand across the online casino vertical in selected European markets enabling the Baltic giant to leverage the supplier's fast-growing casino platform, proprietary player account management services and gaming content totalling access to over 10,000 games.
As part of the agreement, FSB will integrate its over-the-counter retail solution into multiple OEG casino venues across key Central and Eastern European markets. This upgrade will equip these environments with a seamless omni-channel experience by enabling players to make credit and withdrawal transactions directly to or from their online account at the venue.
The announcement follows the recent news that FSB has opened up new technical delivery offices in Scotland and Colombia as the EGR Multi-Channel Supplier of the Year continues to rapidly expand it's global footprint.
Ian Freeman, Chief Revenue Officer at FSB , said: "This was a long, competitive and extensive selection process and we are delighted to have been selected. The new partnership with the Olympic Entertainment Group is another major step forward for the business. OEG has great heritage as well as being a highly skilled operator, our selection is further testament to the strength of our Tier 1 omnichannel tech stack and the fantastic team we are building at FSB.
Corey Plummer, Chairman and CEO at Olympic Entertainment Group, said: "We are excited to work with FSB as part of our expansion strategy in CEE markets. The partnership enables Olympic Entertainment's brands, products and operations to build connected, experiential environments that our customers enjoy."