Runner Runner Roulette 5,000X launches exclusively with Unibet in the Netherlands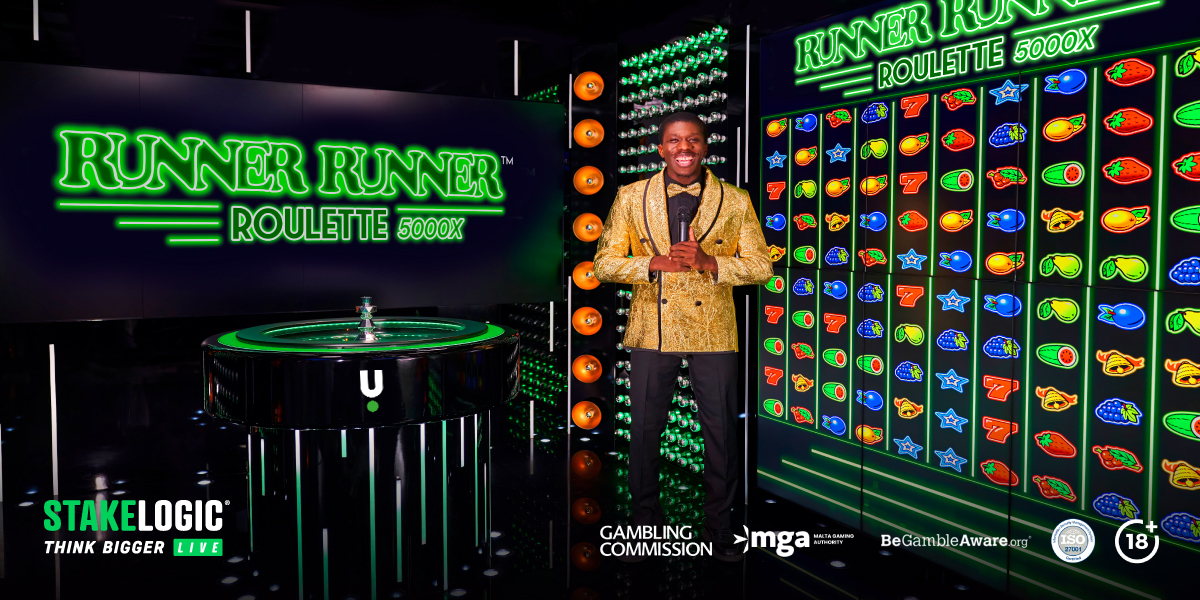 Reading Time:
2
minutes
Players will want to trigger the special bonus round where they select one of the Runner Runner symbols to reveal mega Multipliers up to 5,000X in the latest game from Stakelogic Live
Players in the Netherlands are being advised to strap themselves in for the latest live dealer thrill ride from the in-demand provider, Stakelogic Live. Runner Runner Roulette 5,000X promises fast-paced gameplay and big win potential and will be available exclusively at Unibet.
The branded game is based around a TCS Huxley Saturn Auto Roulette wheel with thirty-seven numbered separators including 0 (green) and numbers 1 to 30 divided into 18 red and 18 black. So far, so standard, but this being a Stakelogic Live game, the gameplay is taken to the next level.
This is done via a screen behind the wheel that projects random roulette numbers on each spin. The numbers projected vary from one to five and if a number that appears on the back screen is the same as the winning number, the game moves to a special bonus round.
Here, Runner Runner symbols (Bar, 7, Star, Melon, Strawberry, etc) are superimposed on a separate screen within the studio. At the start of the bonus round, Random Multipliers ranging from 50X to 5,000X also appear on the screen and are hidden behind the symbols.
The Runner Runner symbols then shuffle on the screen and the player selects the one they want to go for. They are then awarded the Multiplier that sits behind that symbol.
Runner Runner Roulette is set against a striking studio backdrop, with neon lights that give a distinct showbiz feel. Broadcast from Stakelogic Live's cutting-edge studio in the Netherlands, the game benefits from state of art cameras, microphones and broadcast technologies.
Game hosts have also been trained to the same high standards as the dealers that entertain players on the gaming floors of prestigious land-based casinos around the world. This means players receive an authentic, engaging VIP experience at all times.
Runner Runner Roulette 5,000X is a blockbuster addition to the provider's extensive live casino game portfolio which also includes titles for American Blackjack, European Roulette, Auto Roulette, Auto Roulette Classic, Gameshow and more
Richard Walker, Head of Live at Stakelogic, said: "Runner Runner Roulette 5,000X promises to put Unibet players on the edge of their seats as the numbers appear on the screen with each spin. If they match the winning number, the bonus triggers and they can enhance their win with a massive Multiplier.
This is one of our most visually impactful live roulette games to date – the studio really is a cut above others in the Netherlands and ensures the game delivers unrivalled levels of fun and entertainment."
Martina Mlcochova, Head of Live Casino at Unibet, said: "Stakelogic Live has become a crucial partner for us in the Netherlands and the exclusive launch of Runner Runner Roulette 5,000X is another big moment for us. This is a high entertainment game that will be a big hit with our players for sure."
Gods Reigns unveiled as franchise of Skyesports Masters; star-studded CS:GO roster ready to dominate India's biggest gaming tournament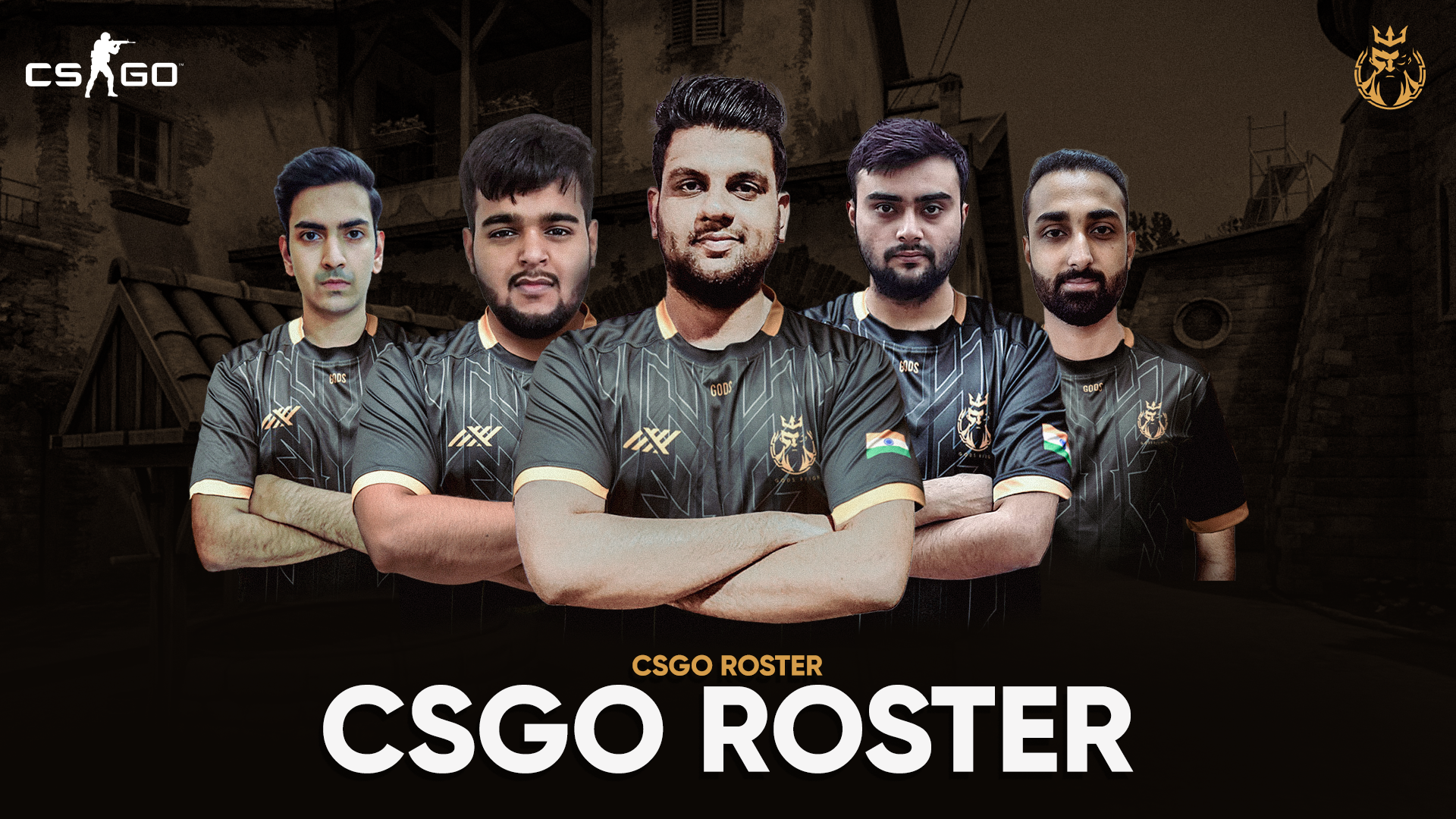 Reading Time:
2
minutes
Gods Reign, India's leading Esports organization based in Bangalore, has been announced as a franchise team of the Skyesports Masters, the country's biggest gaming tournament with its star-studded Counter-Strike:GO (CS:GO) roster gearing up to make waves at the prominent tournament.
Gods Reign has revealed its CSGO roster ahead of the tournament, which is home to some of the title's biggest stars from the country. Their lineup includes:
Anshul "KiiLSwitCh" Adarkar – IGL / Support
Hrishikesh "Crazy_Gamer" Shenoy – Rifler
Piyush "Clouda" Kalwania – Rifler
Akash "Ph1NN" Bose – Rifler
Parijaat "Rev3nn" Banerjee – Awper/ Secondary IGL / Support
The Skyesports Masters is India's first-ever franchised league with eight teams and is set to begin soon with its League Stage spanning multiple weeks. From here, the top teams will advance to the Skyesports Masters Playoffs, which is set to happen as a LAN event. With a total prize pool of INR 2 crore and some of the biggest names in gaming set to compete, the tournament will be a spectacle for Esports audiences across the country.
Commenting on the development, K.R.Rohith, CEO of Gods Reign stated, "We are incredibly delighted to announce our participation in the biggest Esports tournament. Our organization is committed to contributing to the growth of CS:GO's ecosystem in the country and Skesports Masters will act as the perfect catalyst for it. The tournament is not just an opportunity to compete with India's best CS:GO teams, but a chance to showcase the immense potential of Esports and the incredible talent of our team. We believe in the ability of our supremely skilled athletes and cannot wait to show the nation what we're made of."
While the team's notable players including team captain KiiLSwitCh and Crazy_Gamer have represented India on the international stage in CS:GO at the World Esports Championships in 2021 and 2022, star rifler Clouda is part of the team that will be competing to secure their berth in the title at the prestigious tournament this year.
"Representing our organization in this revolutionary tournament is a feeling of great pride for the entire team. All of us will be pouring our hearts and souls into preparing for the league by developing strategies, perfecting our teamwork to excel as a team and improving our individual gameplay. We are looking forward to making our fans proud and proving our mettle against the very best in the game," said Anshul Adarkar, captain of Gods Reign's CS:GO team.
Gods Reign will further be making two additions to the team from the open-for-all cafe qualifiers to abide by the Skyesports Masters roster rules. The Skyesports Masters cafe qualifiers are set to happen across 20 Indian cities.
By utilizing their supreme ability and the efficient teamwork, the team will go out with all guns blazing to win the tournament and cement their name as India's best CS:GO unit.
Fishin Frenzy Slot Game Review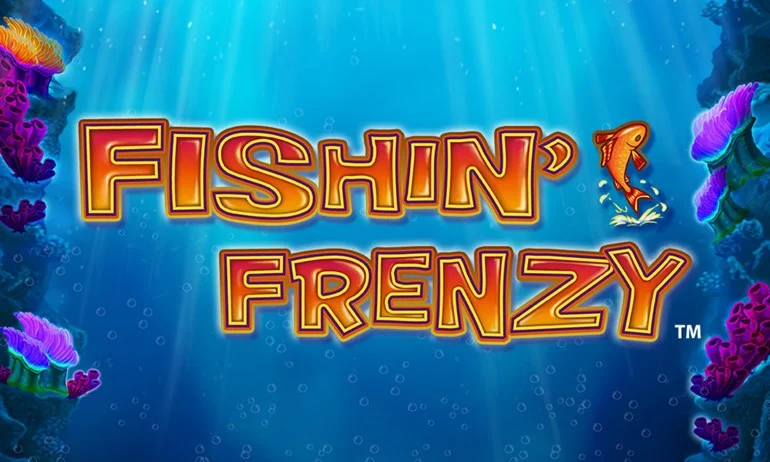 Reading Time:
4
minutes
Fishin' Frenzy at non GamStop casinos – a classic video slot with an entertaining theme. The slot machine is the result of Merkur's cooperation with Real Time Gaming and has been around for quite a while. Fishin' Frenzy 2023 is still a big topic among players who prefer to play video slots. As the name suggests, Fishin' Frenzy is all about the fish and fishing. And just as it should be for a Merkur slot, there are no big surprises here, but very solid gaming fun. Let's see how far we get in our ten payline slot test and if the Fishin' Frenzy Free Spins get us any further.
How to Play Fishin' Frenzy Slot at Non GamStop Casino?
As already mentioned, Fishin' Frenzy slot machine game 2023 is about fish and fishing. Merkur came up with this slot in cooperation with Real Time Gaming and focuses on the maritime theme. The graphics are good, if not very detailed or fancy. Mercury is known to prefer familiar patterns and techniques rather than groundbreaking new ideas.
Merkur is a major game provider that has been around for decades and started out with analog slot machines. Merkur is now represented with an incredible number of slot machines in international online casinos. You won't see any groundbreaking innovations, but you will see a well-made Fishin' Frenzy Slot 2023. The slot machine has five reels and ten paylines. The number of paylines is actually a bit low, in other slots there are sometimes up to 243.
Symbols on the Reels
In the Fishin' Frenzy slot machine 2023 the following symbols are available: the card deck with J, K, Q, A and 10, a lifebuoy, tackle box, a blue fish, a cutter, a rod, the angler and a seagull. All symbols, of course, have a meaning and a different value.
The deck symbols are the lowest symbols. The cutter is the scatter symbol. If you play in a free spins round, you can hope for the symbol of the fisherman, which also only appears here. With a bit of luck, the angler will fish out the other symbols on the reels and wins will be plentiful! This is one of the Fishin' Frenzy tricks that is extremely beneficial for the player.
Fishin'Frenzy Slot Machine 2023 starts at €0.01 and you can only bet a maximum of €20 per spin. Except – Play Fishin' Frenzy for free without registration. This is possible in some UK non GamStop casinos. But more on that later.
Fishin' Frenzy Free Spins and Bonus
The cutter is the scatter symbol and generates free spins that can be used to play Fishin' Frenzy for free. If you get several scatter symbols in a certain formation, the player gets these free spins. With three cutters there are 10 free spins, with four cutters 15 free spins and with five cutters 20 free spins.
Free spins of non GamStop casinos let you play Fishin' Frenzy online, for free. However, this function has one disadvantage. Because unlike in many other slots, the free spins round in the Fishin' Frenzy slot machine 2023 cannot be reactivated. You cannot generate any additional free spins in the free spins round.
On the positive side, at the beginning of the free spins round there is sometimes a cash win that appears randomly, which depends on how much money has been used so far. Which logically applies to the whole game – deposit big, get big. It doesn't matter if you hit the jackpot or win smaller amounts, but you can only win as much in one game as you are willing to risk. If the bet is only €0.01 (as we already know, that is the minimum bet in the casino), the chances of hitting the jackpot are rather slim. The more you risk, the higher the profit.
Play Fishin' Frenzy for Free at Non GamStop Casinos
At a Fishin' Frenzy Casino there is often an opportunity to try out the game before making a deposit. Normally no Fishin' Frenzy app is necessary to play the game, you simply play via Flash Player on the casino's website. The free version of Fishin' Frenzy Slot 2023 is no different from the regular slot machine.
You can win, but by not making a deposit, the winnings are fictitious. Many non GamStop casinos offer this "fun version" so that players can try out new games without stress. If you like the game, you can easily transfer the first deposit. The try-out version is available on mobile, without a Fishin' Frenzy app, but on the online casino's mobile site. The Fishin' Frenzy Android and iOS versions run equally well no matter the mobile device.
Jackpot and Payout at Non GamStop Casinos
Other game providers have overtaken Merkur a bit when it comes to RTP rate. Although this is not too bad at 96% in Fishin' Frenzy Slot 2023, there are better ones. Nevertheless, we want to mention here that the winnings are high and the jackpot to be reached is considerable. It depends on the stake, but some players have already won several thousand euros.
To get more out of the Fishin' Frenzy slot machine, one should look around for a suitable bonus, maybe even a non GamStop casino bonus. It almost guarantees that you win more and deposit less. You should note, especially with this bonus, that any winnings must always be wagered a few times before you can pay them out. How often this has to happen varies and can be found in the bonus conditions. Sometimes it's 40 times.
If you are unsure, you can always ask the online casino customer service about the best strategies and how to win in Fishin' Frenzy Slot 2023. You can definitely get one or the other tip.
Conclusion
The Fishin' Frenzy slot machine 2023 is still on everyone's lips and many players are enthusiastic. Even if Merkur (and Real Time Gaming) didn't reinvent the wheel with this game, it still works according to a tried and tested pattern. The free spins feature in Fishin' Frenzy slot deserves special mention, as it gives players plenty of chances to win and makes the game fun.
And the angler who "fishes" the symbols and connects them with each other can generate promising profits. All in all, the Fishin' Frenzy Slot 2023 is consistent and there isn't too much to complain about. Merkur delivers good quality here, which most players will really like.
Why You Should Play at Non GamStop Casinos UK?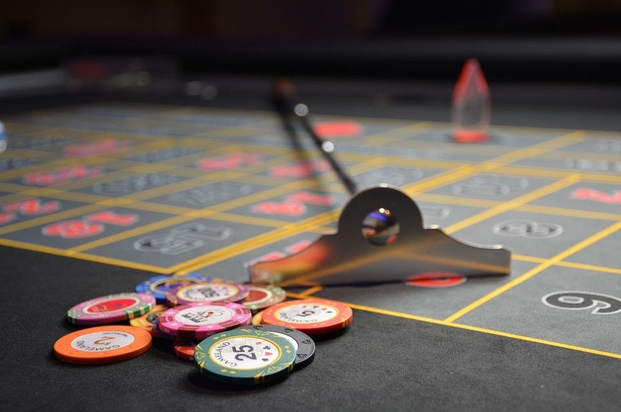 Reading Time:
4
minutes
Since the arrival of non GamStop casinos to the British gambling market, more and more people choose to gamble online. Of course, the land-based casinos are still accessible and fun. But now, non GamStop casinos Just UK offer even more advantages. This way you can take a gamble at any time without having to travel a long time first. Do you want to know what the advantages of online gambling are? Then you've come to the right place, because we're going to tell you!
You Don't Have to Leave Your Home to Play at Non GamStop Casinos UK
Perhaps the biggest advantage is that you don't have to leave the house. Do you want to take a chance on, for example, a fun slot machine or do you want to play a table game? Then you no longer have to take your car or bicycle to end up at a land-based casino. You can simply look up the non GamStop casino from your home via the internet and this is very fast. If you fancy online gambling, you can actually get started in an instant. In addition, it does not matter what you look like, because there is no dress code that you have to take into account. So even if you're in a suit, pajamas or you haven't done anything to your hair, you can just take a chance.
No Opening Hours at Non GamStop Casinos
Another advantage is that you will not encounter any opening hours that you have to take into account. The non GamStop casino is open 24 hours a day, 7 days a week. This way you can play your favorite Roulette game online at any time.
Whether this is early in the morning, in the afternoon or very late in the evening, you can always go to the gambling sites. So you don't have to rush yourself to be on time to play, because you always decide when you are going to take a chance.
It Is Always Possible to Stop Anytime at Non GamStop Casinos UK
If you have seen it again after a while, you can always leave the online casino not on GamStop. Then you can return when you want. If you play at a land-based casino, you don't just leave the casino in the meantime and return after half an hour. You often linger much longer and that is not the case at an online casino not on GamStop. You come and go when you want.
Low Bets Can Be Placed
At the non GamStop casino UK, you will have to deal with betting limits just like at land-based casinos, but the minimum bets are much lower online. At a land-based casino, the minimum bet is often between 1 and 5 euros. If you play online you can often take a gamble from 10 cents per round. This way you can always play within your budget and spend much less money than you would like.
Wider Range of Games
Online you will come across a much wider range of games than at a land-based casino and that makes it immediately interesting. There is much more choice and you can alternate much more often. Due to the wide range of games, you will certainly not have to get bored, because you almost always come across a game that interests you. At the online casino, you can play slots, for example, but also video slots, table games, bingo, scratch cards and of course the popular and indispensable Roulette. You will find countless games in all game categories. For example, you will come across a lot of variants in the section of Roulette that you do not have at a physical location.
Live Casino Games Are Available at Non GamStop Casinos UK
Playing at an online casino is of course possible on many Roulette variants. If you choose RNG Roulette you may miss the interaction after a while, but in that case, you can also just choose the live casino. There you play live Roulette via a video connection. The game is then streamed from a real studio and is therefore also called studio Roulette. A professional host will guide the game and it will seem as if you are playing at a land-based casino.
Mobile Play
A gamble at the online casino is also possible on mobile. That's an advantage because that way you really play when it suits you. You are not always near a computer or laptop, but you almost always have a smartphone or tablet at hand. So you can also take a chance during a break at work or if you have to wait somewhere. Online gambling at non GamStop Casinos does not necessarily have to be done from home, but can also be done away from home.
A Higher Return to Player
When you opt for online gambling, you will also have a great advantage in terms of the Return to Player. For example, the Return to Player, also known as the payout percentage or RTP, is much higher online than at land-based casinos. This is because the online casino has to incur less costs to be able to offer the games of chance and can therefore use a lower house advantage. This increases the Return to Player and that is in favor of the player. If you opt for online gambling, you can secretly say that you have a better chance of winning than with physical providers.
Non GamStop Casinos' Games Have More Additional Features
The games at online casinos also have more extra features to offer. Take roulette as an example. At the online casino, you can choose Lightning Roulette, which is full of sky-high multipliers. These can go up to 1000x, so any cash prizes can also run very high. At a physical casino you do not have this and you will therefore only encounter the standard variant, such as European Roulette.