Leap Gaming Launches All-Out Football on SG Digital's Open Gaming System Network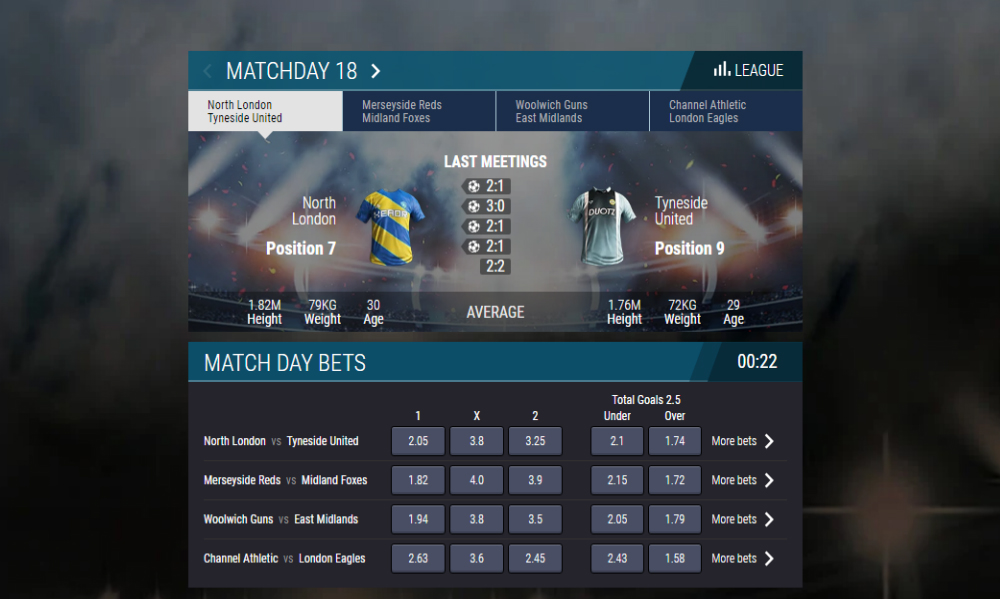 Reading Time:
2
minutes
Leap Gaming announced today that All-Out Football is now available on the SG Digital™ OGS Platform.
14 May 2018 – The All-Out Virtual Football product, created by Leap Gaming and run through 1X2 Network, is now integrated into the Open Game System (OGS) platform from SG Digital. Leap Gaming's All-Out Football offers a state-of-the-art virtual football experience, featuring a flexible and customisable user interface designed responsively for mobile and desktop. All-Out Football empowers operators by giving them a best-in-class sports betting product via a casino application program interface (API) integration.
Dylan Slaney, Senior Vice President, Gaming at SG Digital, said, "The release of All-Out Football on our OGS platform represents our commitment to offering customers a wide variety of world class gaming and sports products. We're excited to announce this launch in partnership with Leap Gaming."
Yariv Lissauer, CEO of Leap Gaming, commented, "We are thrilled about this new release with SG Digital, which will allow us to provide our content via their robust OGS platform. All-Out Football will perfectly complement SG Digital's existing gaming portfolio and should be easily activated by operators through our turnkey solution. We look forward to a fruitful and enjoyable collaboration with our new partners at SG Digital".
About Leap-Gaming:
Leap Gaming is a developer of state of the art 3D desktop, web and mobile games with main focus on virtual sports. Leap's business is based on long lasting partnerships with leading gaming operators as well as on its commitment to achieve great products which beat the industry standard. www.leap-gaming.com.
About Scientific Games:
Scientific Games Corporation (NASDAQ: SGMS) is a world leader in gaming entertainment offering the industry's broadest and most integrated portfolio of game content, advanced systems, cutting-edge platforms and professional services. The company is #1 in technology-based gaming systems, digital real-money gaming and sports betting platforms, casino table games and utility products and lottery instant games, and a leading provider of games, systems and services for casino, lottery and social gaming. Committed to responsible gaming, Scientific Games delivers what customers and players value most: trusted security, engaging entertainment content, operating efficiencies and innovative technology. For more information, please visit www.scientificgames.com.
LeoVegas completes migration of 12 brands to create a better customer experience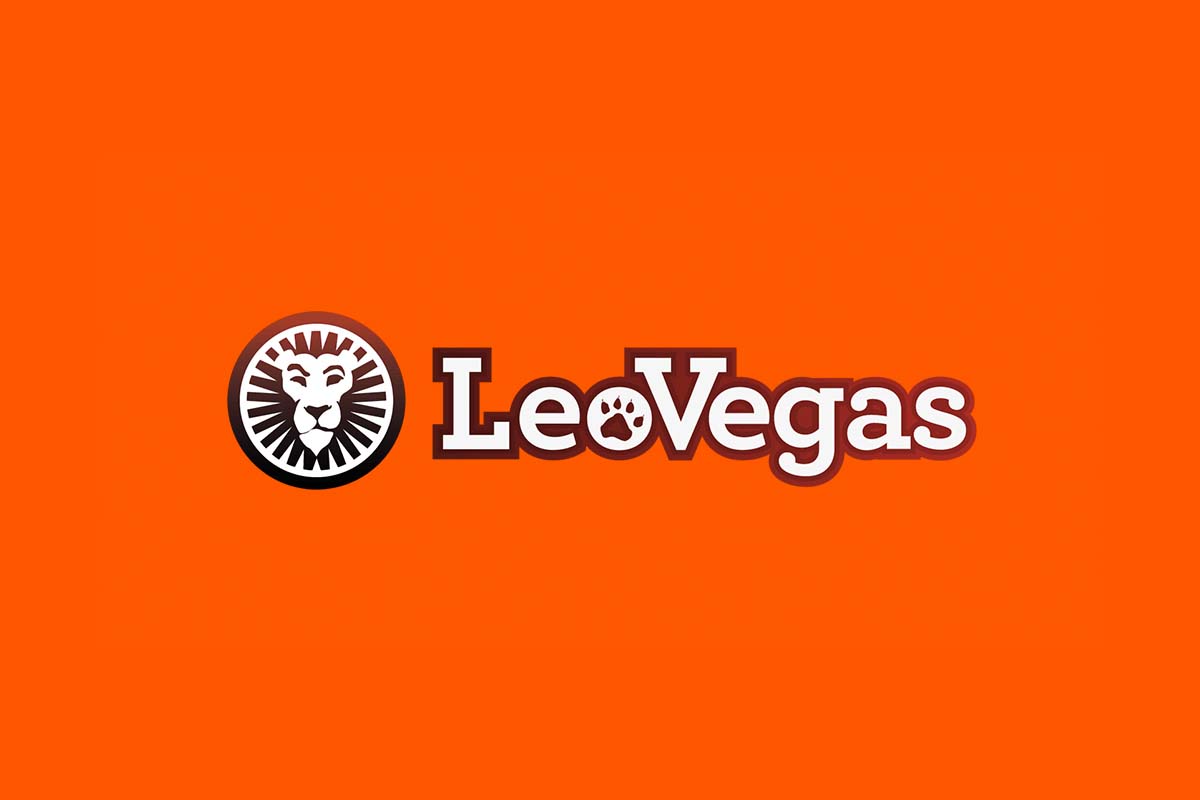 Reading Time:
2
minutes
LeoVegas operates several brands in the UK under the collective name of Rocket X. During the first quarter of 2020 these brands, including 21.co.uk, Bet UK and Pink Casino among others, were migrated to LeoVegas' proprietary technical platform. As a result, all LeoVega's brands in the UK are now run on the group's technology platform. This creates a more focused and efficient business, which fully utilizes the Group's economies of scale in technology, product and organization. The migration contributes to a better customer experience in the form of greatly expanded game offering, payment options and faster functionality.
ADVANTAGE OF PROPRIETARY TECHNOLOGY
The UK market for online gaming has changed dramatically in recent years, such as with respect to stricter requirements in compliance and higher gambling taxes. In parallel with this, since acquiring the assets of IPS (today referred to as Rocket X), LeoVegas has conducted its operations in the UK using a third-party platform solution. The switch from a third-party provider means that the Group now has full control over all technology, and it reduces the complexity of daily operations. The migration is contributing to a significantly expanded game offering, where LeoVegas' exclusive titles as well as games developed by third parties are accessible. The payment options and other functionality have also been expanded.
Owning and having control of the technology is a strong competitive advantage that eliminates the need for any redundant development that is needed for multiple platforms at the same time that it provides greater speed and flexibility in connection with rapidly changing compliance requirements.
"This is a milestone for the entire Group, but above all for our technology organisation and all of our employees who work in the UK market," comments Gustaf Hagman, Group CEO. "I am incredibly impressed by how the migration was carried out in a short time and during a period and situation in which our people are working from home. It shows that our culture of empowered and determined employees is a competitive advantage. The migration to our own platform makes us even more scalable, and our brands in the UK will now be able to benefit from all of the innovation that is developed on our platform. Such an example is our recommendation engine, which is a success for the LeoVegas brand. Our customers in the UK will have a better customer experience with a wider range of games, many more payment options and generally a faster site and app. We have high aspirations for our brands in the UK, and this migration is a great step for us in delivering according to our vision to be King of Casino in all our markets."
HIGHLIGHT GAMES STRIKES IIHF ARCHIVE FOOTAGE AGREEMENT WITH INFRONT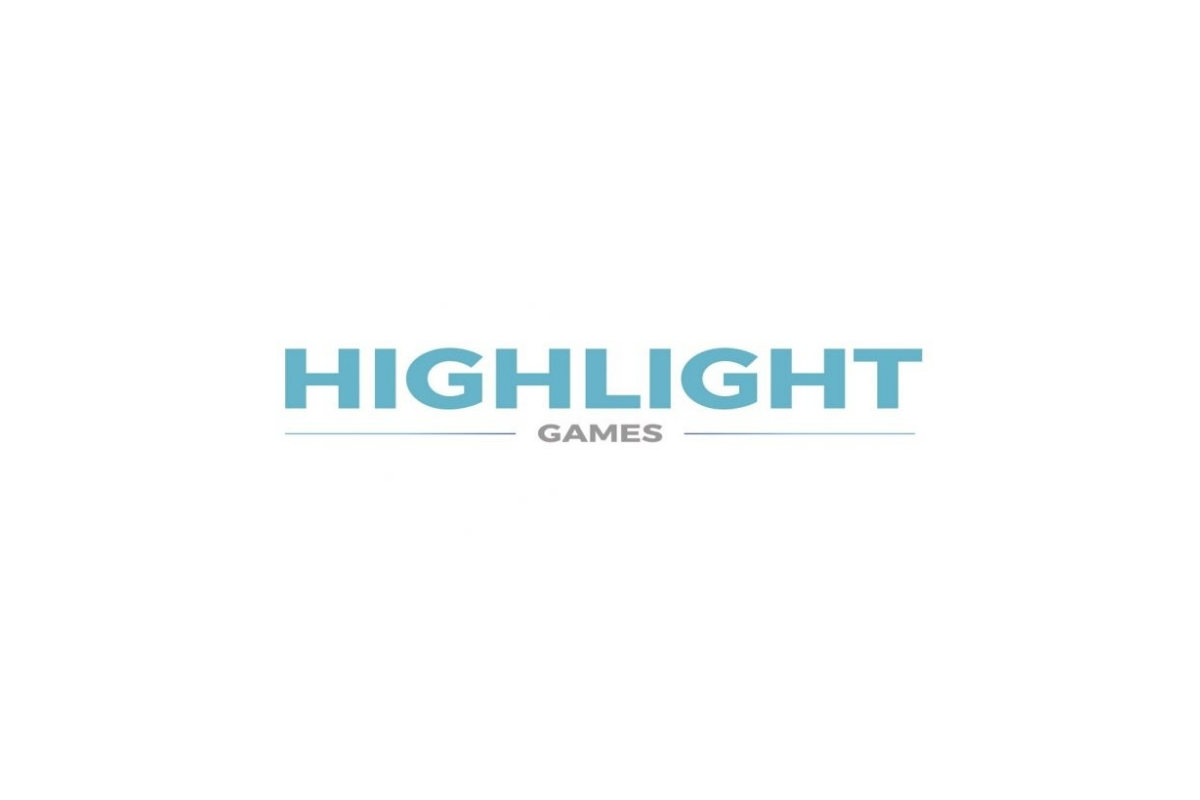 Reading Time:
2
minutes
London-based video virtual sports specialist Highlight Games Limited today announces that it has reached an agreement with Infront, a Wanda Sports Group company and the exclusive media and marketing partner of the International Ice Hockey Federation (IIHF), for the use of archive IIHF Ice Hockey World Championship footage.
Highlight Games creates innovative betting experiences using past competition footage. Fans will be able to pick a match-up between two teams and bet on several outcomes, with the footage pulled together randomly from tournament archives.
Stewart Whittle, Highlight Games Limited Founder, said: "This is an important milestone in Highlight's product roadmap as we diversify our portfolio of games to reach new customers and territories. Ice hockey has a huge international following and we are confident that fans in global gaming, betting and lottery markets will be excited to engage with this new and credible content. We have enjoyed an overwhelmingly positive response to our live products and look forward to building on this success as we launch our new ice hockey product with our international partners in 2020."
Amikam Kranz, Infront Vice President Media Sales & Operations said: "We are always looking for innovative ways to broaden the exposure of the IIHF Ice Hockey World Championship and Highlight Games' offering is a new direction for that goal. These unique games are the perfect showcase for the tournament and we look forward to increasing the reach of the competition worldwide."
The exclusively acquired content will be included in a suite of games that feature Canada, the Czech Republic, Denmark, Finland, Norway, Russia, Slovakia, Sweden and the USA. The footage will be used in the creation of Highlight's exclusive IIHF Ice Hockey World Championship game which will be available in formats including Single Game, League and Tournament play as well as games for the international lottery market.
About Highlight Games Limited:
Highlight Games is a London-based video virtual sports and games supplier which specialises in the creation of innovative, sports-focused betting experiences. Using a unique patent-protected live video game format, Highlight's products feature top teams and players from the world's favourite sports.  The company's flagship SOCCERBET game is the #1 selling product in Europe's largest virtual sports market and its branded portfolio of products, which include NBA Last 90 and NBA Last 60, will launch in gaming and lottery markets in the US and around the world in 2020. Featuring highly optimized game design based on decades of archived live action sports footage, Highlight's products can be tailored to suit the sportsbook or virtual sports offering of operators across retail, online and mobile.
AGA CEO Statement on the SBA's Interim Guidelines for the Paycheck Protection Program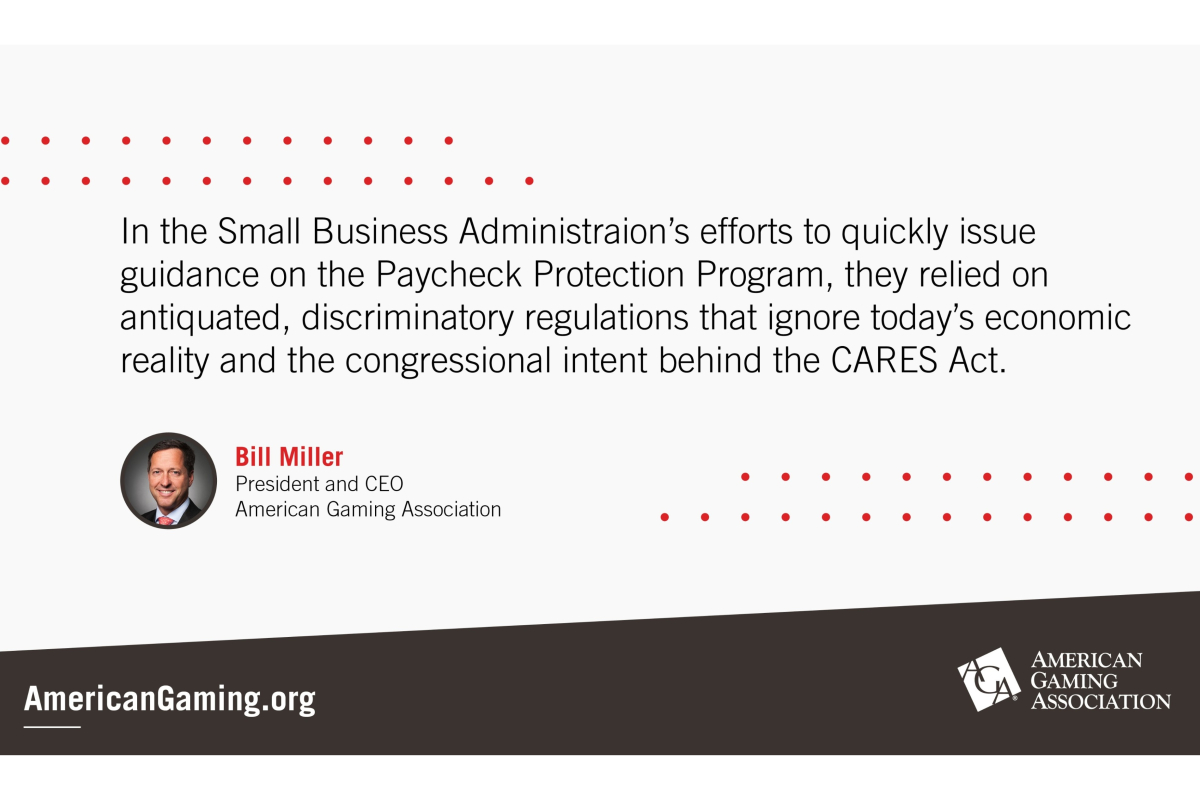 Reading Time:
2
minutes
American Gaming Association President and CEO Bill Miller released the following statement on the interim regulatory guidelines issued by the Small Business Administration for the Paycheck Protection Program:
"The American Gaming Association (AGA) is deeply concerned with the interim regulatory guidelines issued by the Small Business Administration (SBA), which preclude small gaming entities and their employees from receiving economic support under the newly-established Paycheck Protection Program (PPP).
"In SBA's efforts to quickly issue guidance on the PPP, they relied on antiquated, discriminatory regulations that ignore today's economic reality and the congressional intent behind the CARES Act, which states that any business concern shall be eligible to receive an SBA loan if they meet specific qualifications regarding their number of employees.
"Unless amended, these initial guidelines will irreparably harm one-third of the U.S. casino industry and the hundreds of thousands of Americans that rely on gaming businesses for their livelihood.
"This decision will affect hard-working Americans from Pennsylvania to Nevada, Ohio to Colorado, and everywhere in between who need and deserve the same level of support as anyone across the country during these unprecedented times. Moreover, as the AGA pointed out in a letter to SBA and the U.S. Department of Treasury, the inclusion of gaming businesses in the PPP is critical to help ensure employees can remain connected to their employers, stay off of unemployment, and quickly return to their jobs when this pandemic subsides.
"The AGA urges SBA Administrator Carranza to immediately correct this oversight and extend this needed relief to all of America's small businesses and their employees, including those in the communities across 43 states that rely on our industry's contributions."
Background
Casino gaming is vital to local small businesses, supporting 350,000 small business jobs and delivering $52 billion annually in small business revenue, including construction, manufacturing, retail, and wholesale firms.
Nearly all (987 of 989) commercial and tribal casino properties have shuttered their doors because of the COVID-19 pandemic. More than half of the 1.8 million jobs gaming supports are at non-gaming businesses, such as restaurants and local shops, which are all dramatically affected by a local casino's closure.
In many states, gaming pays among the highest tax rates of any industry with $10.7 billion in gaming taxes and tribal revenue share payments that support fundamental and critical programs from infrastructure to education.
More information on COVID-19's impact on U.S. casino industry workers and local communities is available here.
Source: americangaming.org