Insights of the Hungarian gambling industry with Gábor Helembai (Bird&Bird) at CEEGC2018 Budapest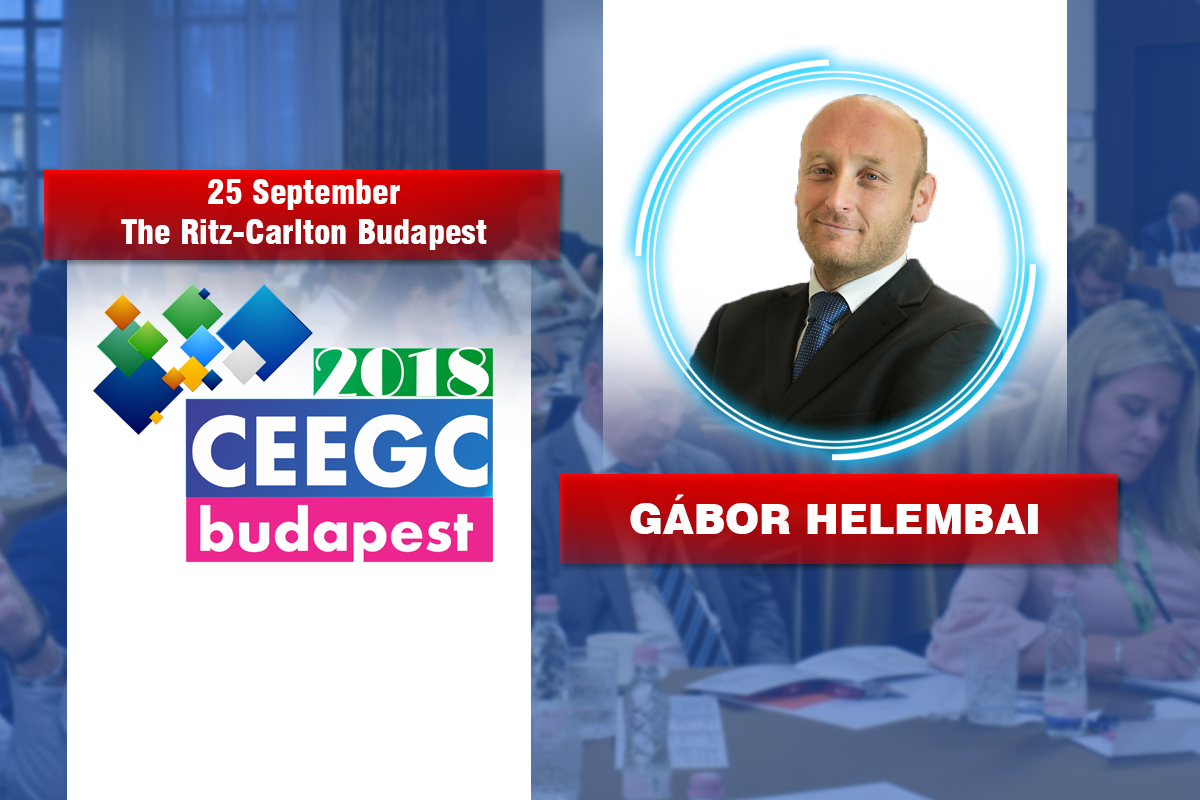 Reading Time:
3
minutes
Budapest – 17 July 2018 – The online gambling industry in Central Europe is the subject of many restrictions. This is the situation especially when it comes to regulation the market and creating a fair licensing law.
For years operators have been struggling to enter the market, but not many have succeeded as under Hungary's gambling regulations, only operators of land-based casinos across the country are able to obtain licenses from local regulators to provide online casino games. CJEU ruled against Hungary this year that the particular provision in the country's gambling law represents a "radical restriction" of EU treaties for the free movement of services across Member States.
If we take a look on the service provider side, it hasn't been subject of such restrictions. Earlier this year, Scientific Games Corporation (NASDAQ: SGMS) ("Scientific Games" or the "Company") announced that it has successfully launched an online sports betting channel for Szerencsejáték Zrt., the largest gaming service provider in Hungary. Szerencsejáték Zrt. is fully owned by the Hungarian State, has the exclusive right to sell sport games as well as instant and draw-based lottery games.
If we take a look at the land based industry, things are also positive. Just recently, EGT has launched its T-Line touch table live roulette multiplayer in Hungary. This is the first time this model is installed in the country.
There are some rumors floating in the local media that 2018-2019 might be the season when a new online gambling related legislation is drafted which might reshape the industry in the region.
The Hungarian industry update will be part of the "Focus on Central Europe – Slovakia, Czech Republic, Hungary, Poland" panel discussion and will be presented by local industry expert Gábor Helembai.
About Gábor
Gábor is an experienced specialist in corporate, commercial and real estate matters, and has an in-depth understanding of the gambling sector
As a Senior Associate in the Corporate and Commercial teams at Bird & Bird Budapest, Gábor advises on both domestic and cross-border transactions and investments in various industries.
Gábor provides regulatory advice and support to clients with (international) restructuring, insolvency and winding-up cases. He also assists clients (including foreign corporations, the Hungarian businesses of multinational companies and medium to large Hungarian companies) on general corporate housekeeping matters, and provides legal assistance to the operation of business associations' different commercial and real estate matters.
He has a special sector focus on gaming/betting, advising major online and land-based operators, and slot machine manufacturers on regulatory matters. Gábor has represented clients in negotiating a concession agreement with the Hungarian State, assisted different clients from non-gaming industries in their gaming related matters (e.g. promotional games), and supported clients in transaction matters in the gaming sector.
Gábor regularly speaks in prominent international gambling conferences and his articles and opinions can often be found in well-known gambling journals and/or websites.
He graduated from the Faculty of Law at Károli Gáspár Protestant University and completed post graduate coursework at Eötvös Loránd University. Gábor is a member of the Budapest Bar.
You can browse the full agenda and already confirmed speaker list on the following link.
Make sure you grab your seat in time and attend the most prestigious boutique style gaming event which gather C-level executives yearly in one of Europe's most visited city.
Quotes about CEEGC Budapest from attending delegates
Rafal Nowak – iGaming Sales Director at Mobiyo
"A week after the Budapest Gaming CEE conferences, I'm still discussing the topics brought up there with fellow delegates. Thank you Zoltan Tundik for organizing an informative an well shaped event on this, often underestimated iGaming territory and good luck with the next one!"
Roy Pedersen – CEO & Chief Editor at All In Translations
"For All-in Translations' 10 Year Anniversary Tour we decided to attend more smaller conferences. Zoltan and Betty are much of the reason for this. They have a unique way of giving a personal touch to the events they organise while at the same time keeping them highly relevant. CEEGC Budapest was another great example where we felt truly welcome, and at the same time it was great for business."
Fantasy Sports Interactive bags CEEGC 2018 award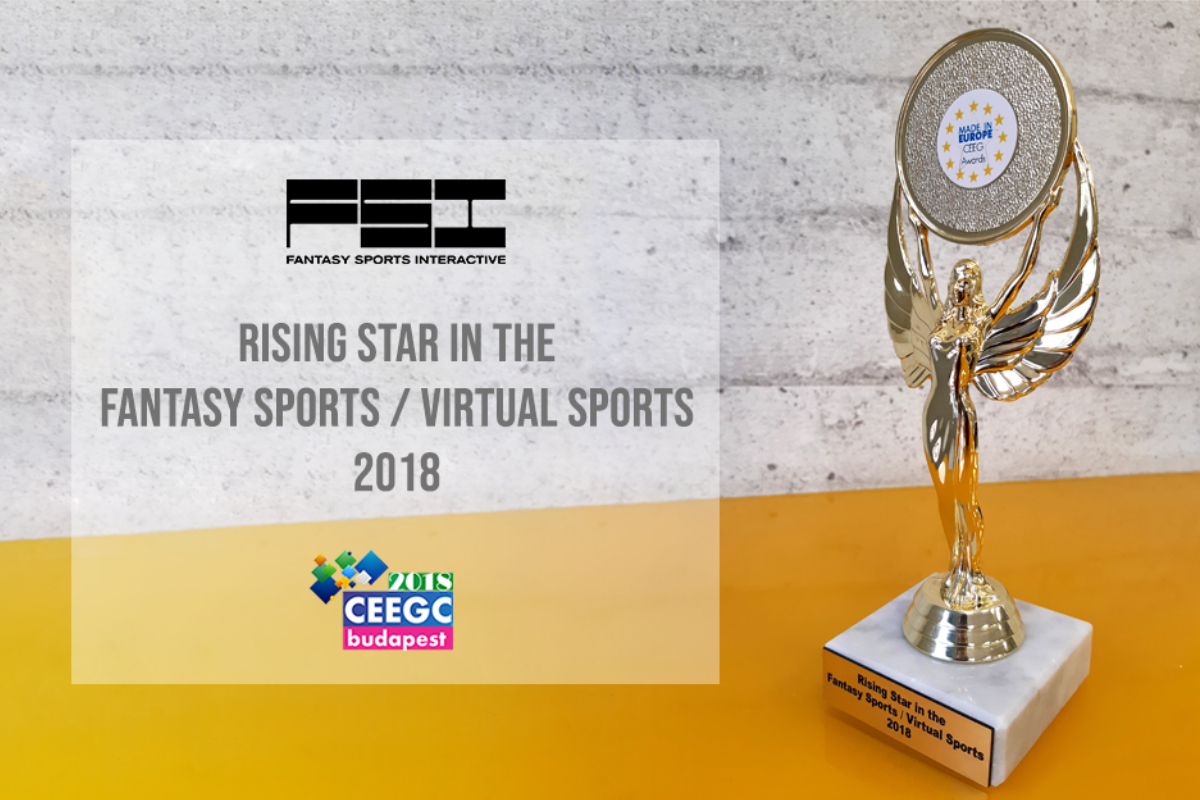 Reading Time:
2
minutes
Fantasy Sports Interactive – FSI are proud to announce they have won the "Rising Star in the FantasySports / VirtualSports Award" at the CEEGC Budapest 2018!
The CEEGC (Central and Eastern European Gaming Conference) Budapest is an annual boutique event for the iGaming industry, which was held for a third consecutive year on September 25th 2018.
The organisers brought together a select team of successful professionals from the fields of the overall gambling and iGaming industry, as well as experts from the Regulatory and Legislation fields, for a series of insightful panel discussions.
The panels focused on the current situation and Regulation steps happening in Central and Eastern Europe. A highly informative IMGL Masterclass TM took place as well, regarding the U.S Market, its evolution in the post-PASPA era and the role of the European Operations in the ongoing establishment and application of the required regulatory frame.
The Conference was attended by a variety of high-level representatives from some of the most well-known companies in the online gambling industry and several experts from the Legal and Blockchain sectors.
Some of the companies attending the Event were BetConstruct, BtoBet, Betsson, NetEnt, SBTech, Tom Horn, iForium, Play'n'Go, Altenar and FederBet.
Fantasy Sports Interactive was originally nominated by the European Gaming Media Committee in both Fantasy Sports Categories of the Awards:
Best Overall Fantasy Sports / Virtual Sports Provider 2018
Rising Star in the Fantasy Sports / Virtual Sports 2018
The Committee decided based on criteria indicating the companies' outstanding contributions to the online sector of industry in their respective fields.
Fantasy Sports Interactive competed with other Fantasy and Virtual Sports Software companies in an online voting phase between 1st and 31st August 2018 and managed to get shortlisted in both Categories.
The final winners of each category were decided by envelope vote, casted by the CEEGC attendees.
FSI was represented by the company's Marketing and Communications Manager, Maria Arnidou. The Fantasy Sports Interactive team greatly appreciate their peers' support and look forward to presenting more of their work to the industry.
As FSI's founders, CEO Dennis Tsalikis and COO Bill Mexias, stated:
"We are proud to receive the CEEGC Rising Star in the FantasySports / Virtual Sports Award. We would like to thank our team, for bringing the company's vision to life, the European Gaming Events for hosting us and everyone who kindly supported us with their vote, from the very beginning and during our journey from the nomination, to the shortlist and to this award. We'd like to congratulate our worthy fellow-nominees and let everyone know we are committed to working hard and advancing further. We are looking forward to meeting you all at ICE 2019!".
FSI have been working on Fantasy Sports since 2013. They aired a beta version of their proof of concept B2C site, Bet4theBest, in 2014; they officially launched with Bet4theBest in the UK in 2015 with an extended Marketing Campaign both in Digital and Traditional Marketing and former footballer and pundit Jermaine Jenas as brand ambassador. After gaining hands-on experience both on B2C handling and marketing, they proceeded with founding Fantasy Sports Interactive; a B2B Fantasy Sports Software House offering a complete and fully customizable range of fantasy sports solutions.
CEEG Awards 2018 Budapest – Official list of winners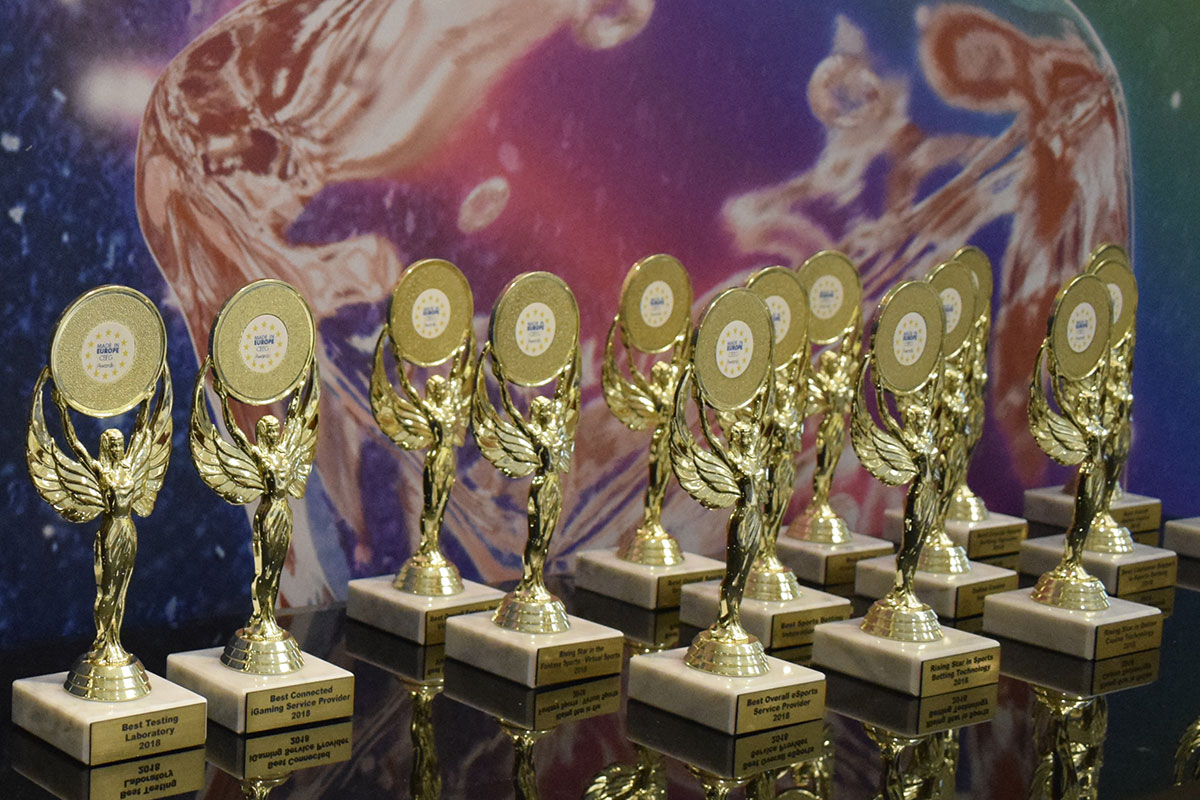 Reading Time:
4
minutes
Budapest – 28 September 2018 – The 2018 CEEG Awards Ceremony took place on the 25th of September at the Ritz-Carlton Budapest and was once again embedded in the official agenda of CEEGC Budapest. The winners of each category were announced after 2 months of excitement, which included online voting, shortlist creation and the final vote of the attending delegates of the event.
The awards were presented by Julia Peeva (Amusenet) and Assaf Stieglitz (Odds1X2.com) during the final session of the event and the organizers are honored to reveal the public list of the winner per each category:
Best Customer Support in Online Casino 2018: Betsson Group
Best Overall Online Casino 2018: Mr. Green
Best Customer Support in Sports Betting 2018: Superbet
Best Overall Sports Betting Operator 2018: Superbet
Best Overall eSports Service Provider 2018: UltraPlay
Best Overall Fantasy Sports / Virtual Sports Provider 2018: NSoft
Rising Star in the Fantasy Sports / Virtual Sports 2018: Fantasy Sports Interactive (FSI)
Best Sports Betting Innovation in 2018: Altenar
Rising Star in Sports Betting Technology 2018: Digitain
Best Overall Sports Betting Provider 2018: SBTech
Rising Star in Online Casino Technology 2018: Tom Horn Gaming
Online Casino Innovator 2018: Wazdan
Best Online Casino Provider 2018: Play'n GO
Best Lottery Service Provider 2018: Playtech
Best Cryptocurrency Gaming Platform Provider 2018: Bethereum
Best Overall Payment Service Provider 2018: paysafecard, part of the Paysafe Group
Best iGaming Press in the region 2018: GamblingCompliance
Best Connected iGaming Service Provider 2018: Iforium
Best Testing Laboratory 2018: Gaming Laboratories International (GLI)
Best Support for Responsible Gambling 2018: Betsson Group
The official press releases are already rolling out through industry media and here is what the winners are saying:
Johan Törnqvist, CEO at Play'n GO: "We are very active in this region and, as with all areas we work, we have dedicated ourselves to creating the best content we can and making sure we give the operators what they need to best entertain their players.
Our people work incredibly hard to make sure we're only putting out the finest games and services possible and I'm sure this kind of recognition will only serve to make us work harder to continue setting high standards."
Andrzej Hyla, Head of Sales at Wazdan: "As a company we're very proud to win this CEEG Award, and to be recognised in this way for our role as an innovation leader. Behind every achievement, award or milestone reached there is a team of dedicated individuals who work endlessly towards achieving that goal. I'd like to thank our team for their dedication, great work and constant motivation. This one's for you!"
FSI founders, CEO Dennis Tsalikis and COO Bill Mexias: "We are proud to receive the award. We would like to thank our team, for bringing the company's vision to life, European Gaming Events for hosting us and everyone who kindly supported us with their vote, from the very beginning and during our journey from the nomination, to the shortlist and to this award."
"We'd like to congratulate our worthy fellow-nominees and let everyone know we are committed to working hard and advancing further. We are looking forward to meeting you all at ICE 2019."
Andrew Cochrane, Chief Commercial Officer of SBTech: "We are very proud of our strong relationship with the region, with two of SBTech's biggest offices based in Bulgaria and another major operation in Kyiv. Just this month we opened a state-of-the-art sports-themed office in Sofia and we have a number of key clients in the region. I look forward to growing our presence in Eastern Europe still further over the coming years.
After a period of intense activity for SBTech in the US and Western Europe, it's gratifying to be recognised once again for our work in a region that remains vital to our international strategy"
Ondrej Lapides, CEO at Tom Horn Gaming: "At Tom Horn, we always strive for excellence, combining the latest technology with creative ideas to deliver high-quality gaming products that are popular with players and operators, and always comply with the most stringent regulations in the industry. We are proud of the work we do and are honoured to have won this award."
Udo Müller, CEO of paysafecard: "I am very proud that our team has won the CEEGC Award 2018 for the best payment solution provider in the gaming sector, as further proof that paysafecard is the leading online prepaid payment method for gaming enthusiasts. We won't rest on our laurels, and will take this award as further motivation to continue our commitment to offering gamers a safe and simple alternative payment method."
Suren Khachatryan, CEO at Digitain: "The CEEG Conference is one of the industry's best events to attend in the iGaming calendar and grows in stature every year. We are therefore honoured to be the recipient of the 2018 Central and Eastern European Gaming Awards 'Rising Star in Sports Betting Technology' category and look forward to delivering continued technical excellence to our customers."
Domenico Mazzola, Comercial Director at Altenar: "We are thrilled to receive the award for Best Sports Betting Innovation this year. Thanks to the CEEGC for recognising the power of innovation to shape the future of online sports betting".
 More quotes and testimonials can be found on www.ceegc.eu
The official Post Event Press Releases is scheduled to be published at the beginning of October with a full overview of the happenings and the content that was shared by the top experts of the industry at the event.
We would like to thank once again the event sponsors and media partners for their support!
For more details about the event, visit www.ceegc.eu
UltraPlay received the best eSports supplier of the year from two industry's Awards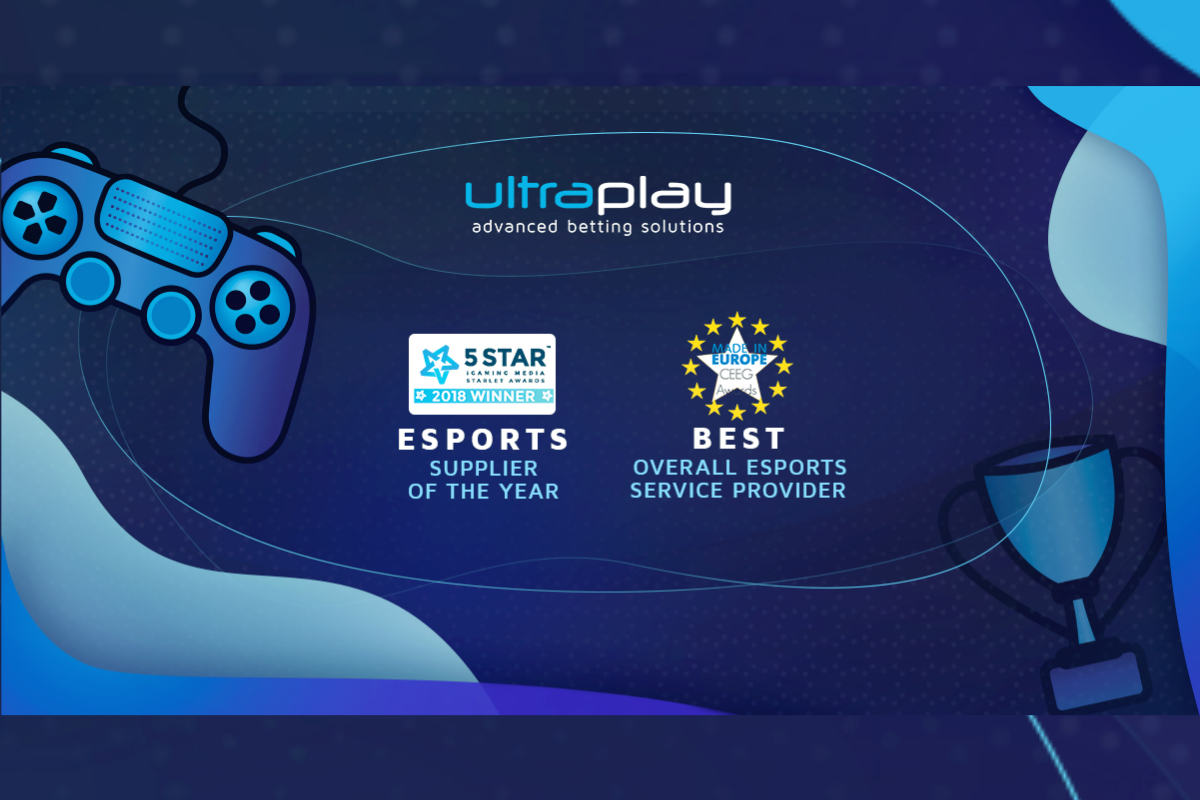 Reading Time:
2
minutes
UltraPlay has been awarded as the best eSports betting service provider of 2018 by Starlet Awards, organized by the 5 Star iGaming media and Central and Eastern European Gaming (CEEGC) Awards, held in Budapest. The two accolades came a week after the successful performance of the company during the key eSports event of the year – ESI London, where UltraPlay has presented its latest updates and insights from its advanced eSports betting suite during the exhibition and conference days.
Mario Ovcharov, CEO of UltraPlay, who also participated in the Innovation Talks at the CEEG Conference in Budapest, has commented: "It is a great honor to be acknowledged as the best eSports service provider of the year by two industry's Awards – one focused on the CEE region and the other covering the leading B2B iGaming providers. This wouldn't be possible without the hard work and dedication of the entire team of UltraPlay creating the innovative concepts that make the company standing out from the crowd. We would also like to thank all who voted for us and our clients who spread the word for our unrivaled eSports betting products around the globe."
Having been at the forefront of the iGaming industry for more than 8 years now, UltraPlay has been creating and developing innovative concepts embracing the entire spectrum of the industry with its turn-key iGaming platform and betting solutions with a leadership position on the eSports betting vertical. The company's eSports betting suite is used by the leading eSports dedicated brands and covers both established and emerging markets.
The Starlet Awards celebrate the best providers in the B2B supply chain. Judging is conducted by a specifically selected panel of industry experts all with diverse experience and ideally placed to be able to decide which products and innovations are outstanding in their field. Offering the widest coverage of competitive games (25+), 3000+ events monthly as well as 1500+ live events a month and more than 50 markets, UltraPlay has been awarded for its leading position on the eSports betting service provision for 2018.
Celebrating gaming software suppliers with their outstanding contributions to the online sector, CEEG Awards recognized UltraPlay as the Best Overall eSports service provider of 2018 with the votes given both online and on-site, during the CEEG Conference.
About UltraPlay:
UltraPlay is a modern technological company, founded in 2010, with the core ambition to offer an innovative approach to the online gaming industry by providing advanced betting solutions, focused on sports and eSports betting, live betting, white label, online casino and Blockchain technology.
Assembled by a team of iGaming professionals with vast experience in betting product development, operations, eSports and marketing, UltraPlay is a trusted partner for delivering superior sports software and odds products to its customers. Learn more about the company here: www.ultraplay.co