Guns of Boom Announces Gods of Boom Stadium-level Esports Series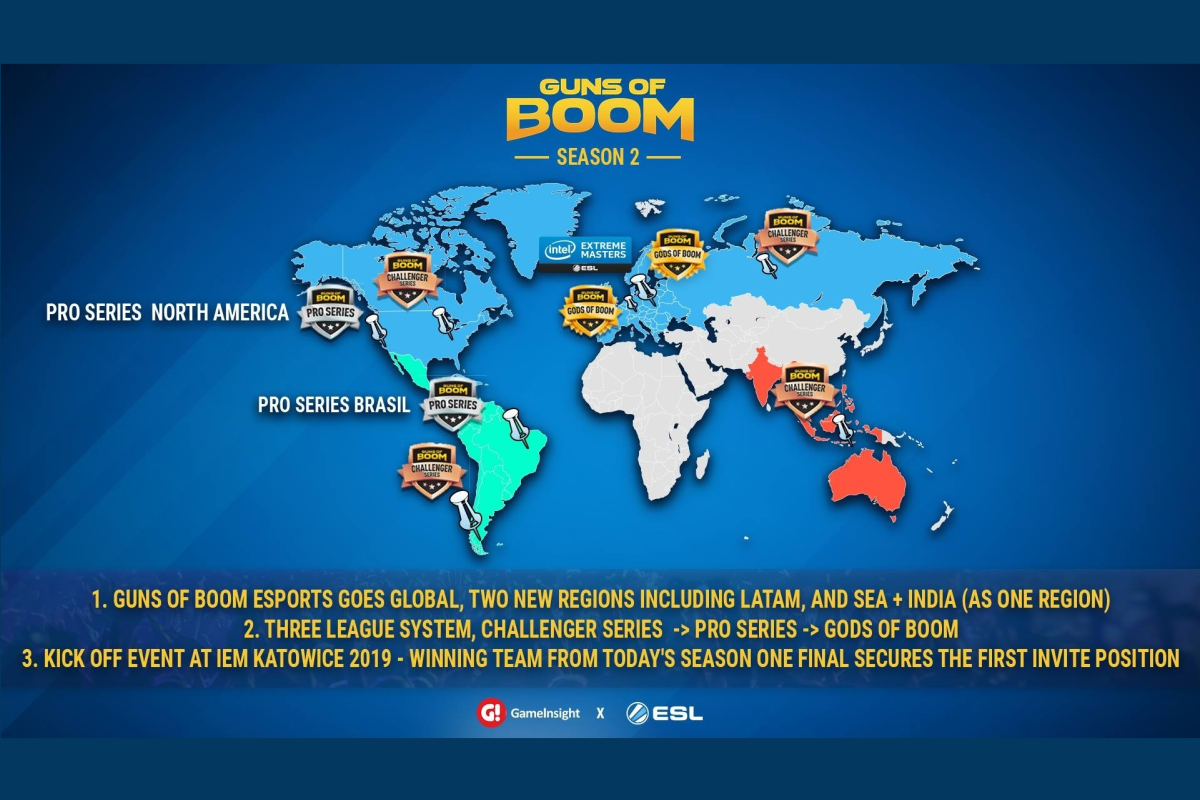 Reading Time:
3
minutes
Global esports expansion and Season Two details announced
Black Bulls crowned Season One Champions
As part of the celebrations at the recent Guns of Boom Season One Finals in Los Angeles, Game Insight has revealed the plans for the game's second esports season in partnership with ESL, the world's largest esports company. Beginning in early 2019, Guns of Boom Season Two will introduce Gods of Boom, a new stadium-level series of tournaments that will be part of the world's biggest esports events. The first Gods of Boom competition will take place at the IEM Expo in Katowice, Poland, with the final match taking place on the main stage. Guns of Boom will be the first mobile game to step on to one of ESL's mega stages.
"I was competing in esports nearly 20 years ago, and have been a fan of competitive gaming ever since," said Anatoly Ropotov, CEO of Game Insight. "To bring Guns of Boom to IEM Expo, the biggest esports trade show out there, feels like something of a homecoming. I can't imagine a better place to debut our Gods of Boom tournament series."
Game Insight has also revealed that their Pro League will be welcoming players from Latin America and Southeast Asia to compete for the first time. Previously limited to Europe and North America, Guns of Boom's Pro League now welcomes competitors from four of the world's largest regions to complete in their live studio events.
"From the moment we launched Guns of Boom, we've been fortunate enough to see passionate player communities develop around the world," said Nikita Sherman, Game Insight's Head of Strategy. "In regions like Brazil and India, our fans have been clamoring for a way to show off their skills in professional competition. Expanding our reach to these territories was our top priority for Season Two. We'll also be bringing some of our Pro League studio competitions to these new regions. To our players around the world: we've heard you, and we're excited to see what you can bring to the arena! Let's mix things up and see which team from which territory can take home the trophy in Season Two."
Guns of Boom will continue to welcome all players to join in their esports season by competing in Challenger Series online matches. Formerly known as Go4, Season Two's Challenger Series will give all players a chance to earn rewards and prizes, with the top Challenger Series teams earning a place to compete at Pro League events throughout the season. Together with Gods of Boom and Pro League, Guns of Boom Season Two will be supporting three distinct levels of competition for the first time. Challenger Series competition will kick off Season Two beginning in January.
"Seeing Game Insight embrace ESL's 'Zero to Hero' approach in their second year is fantastic," said Sean Charles, ESL's Senior Vice President of Publisher & Developer Relations. "Guns of Boom is taking a dominant stance in mobile competitive play, and it answers directly the desire of the community."
The Guns of Boom Season One Finals ended in a rematch between the teams that duked it out for the title of European Invitational Champion earlier in the season. Black Bulls triumphed over Back-to-Back during the Season One Finals for the second time to take home $60,000 in prize money. Black Bulls secured their place in the final round after defeating Yakuza in the semi-finals — a new team created by a former Black Bulls teammate, using their original moniker. In addition to the prize money, Black Bulls have also been awarded with the first confirmed competitor slot for the Gods of Boom Invitational at IEM Expo 2019 in Katowice.
About Game Insight
Founded in 2009, Game Insight is the world's leading innovator of mobile and social games, creating exceptional gameplay experiences across casual to hardcore titles. With more than 300 million players, Game Insight is one of the largest games companies in the world. The company is pushing the boundaries of technology and graphics across all platforms to make the most entertaining and fun experiences for everyone. Game Insight is based in Vilnius, Lithuania with development studios around the world.
For more information go to http://www.game-insight.com/ .
About ESL
ESL, a part of the international digital entertainment group MTG, is the world's largest esports company, leading the industry across the most popular video games with numerous online and offline competitions. It operates high profile, branded international and national leagues and tournaments such as the Intel® Extreme Masters, ESL One, ESL National Championships and other top tier stadium-size events, as well as grassroots amateur cups, leagues and matchmaking systems. ESL covers a broad field of services in gaming technology, event management, advertising and television production, fully catering to the needs of the esports ecosystem. With offices in North America, Germany, UK, France, Poland, Spain, China, and partners in many other countries, it has a truly global footprint.
Source: Game Insight
WePlay! Dota Underlords Open: the registration for all comers starts!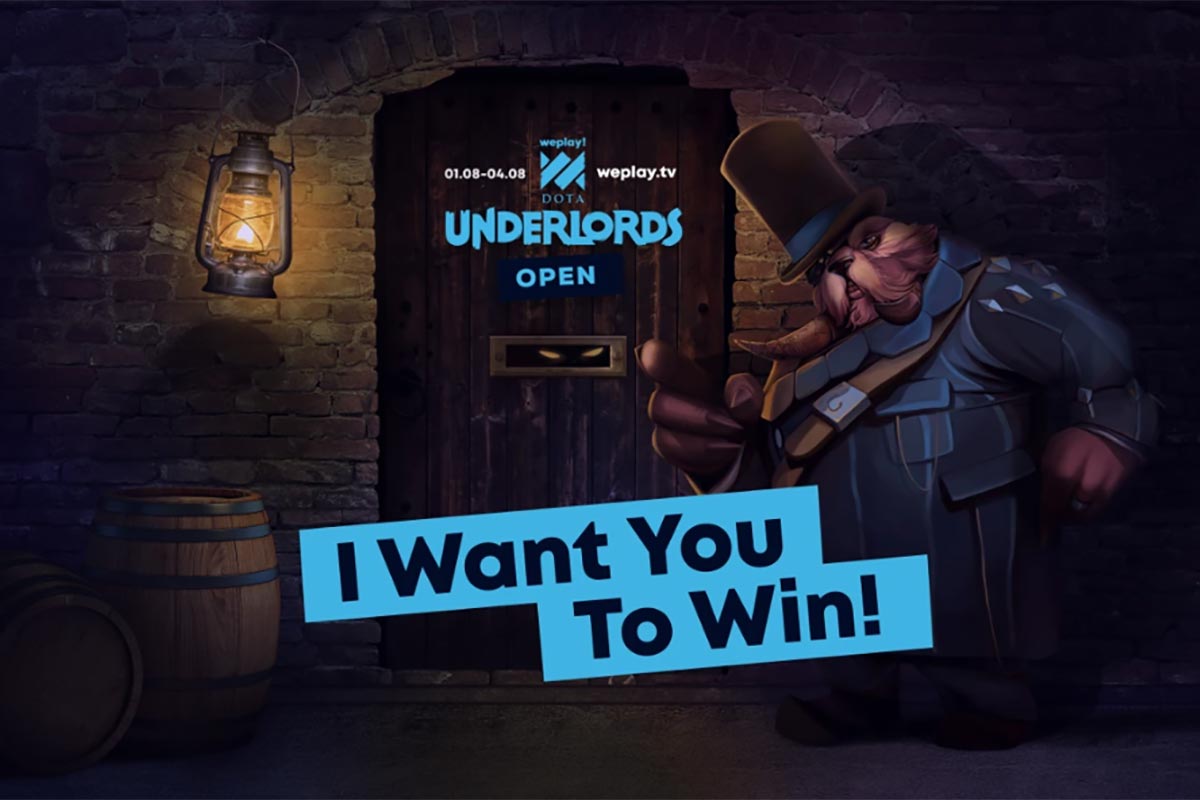 Reading Time:
1
minute
Dota Underlords fans from all over the world are welcome to register and compete for the total prize pool of $15,000.
WePlay! Esports has revealed the details for everyone willing to take part in WePlay! Dota Underlords Open open qualifiers. The registration is open from July 15th till July 23th, 2019, 23:59 CEST (14:59 PDT). The schedule and registration process details are available at WePlay! Esports website.

To sign up for WePlay! Dota Underlords Open participants are needed to have an account at Challonge.com and also join WePlay! Esports Discord channel. Regular announcements and news will be available at the #underlords_open_announces group; all communication with the players will be held through Discord.

Dota Underlords Open will have two divisions: Vicious Order (Europe) and Crimson Gang(Americas). The divisions are not region-locked, so players from all over the world can participate. Each round will have three games. The best four players with the highest points move on to the next round. The qualifiers will be taking place until there are only eight players. Those eight players will be invited to the main event, taking place from August 1st to August 4th, 2019.

Players are entitled to participate in qualifiers through multiple regions and, moreover, they can play from a mobile device. Participants are also allowed to stream their games on their private Twitch channels, but they are not allowed to stream the main event (after the end of the qualifiers).

WePlay! Dota Underlords Open open qualifiers start on July 24th and will be taking place till July 28th, 2019. The winners will be invited to the main event with a $15,000 prize pool.

More details of WePlay! Dota Underlords Open tournament are available at WePlay! website.

#WePlay #WePlayDotaUnderlords

Source: WePlay! Esports Press Office
Infographic: eSports – Bringing the game to a new level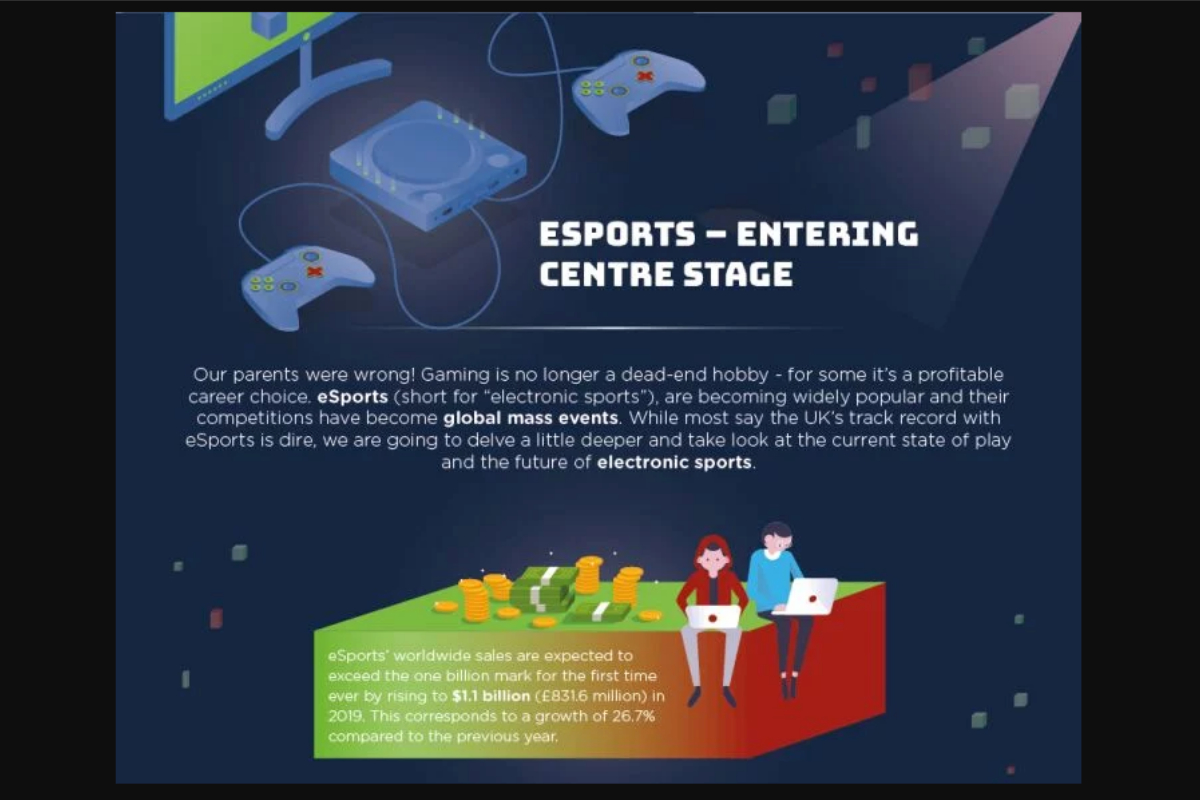 Reading Time:
1
minute
2019 marks a major milestone for the global eSports market: the industry will top $1 billion in revenue for the first time. An impressive increase of 26.7% since last year and the revenue should continue growing, hitting $1.8 billion by 2022.
eSports have undoubtedly become especially popular across the globe. According to the Newszoo Global eSports Market Report, the number of viewers amounts to 454 million in 2019, with most of the enthusiastic fans being in China (75 million viewers).
Additionally, the Land of the Red Dragon has recently recognized esports as a profession and citizens can now pursue careers as "esports operator" or "esports player", among 15 new paths.
Thus, what is still considered by some as a niche industry today should certainly move to the mainstream in a couple of years, with the only question remaining: how far will this exciting industry go?
Explore through this infographic how fast this industry is growing and what its future will seemingly look like.
eSports – an Infographic by hotukdeals
ICOx Innovations Announces Launch of sBetOne Inc., to Develop Opportunities for Celebrity-endorsed Branded Digital Currencies in Golf Betting and eSports Betting for US Regulated Markets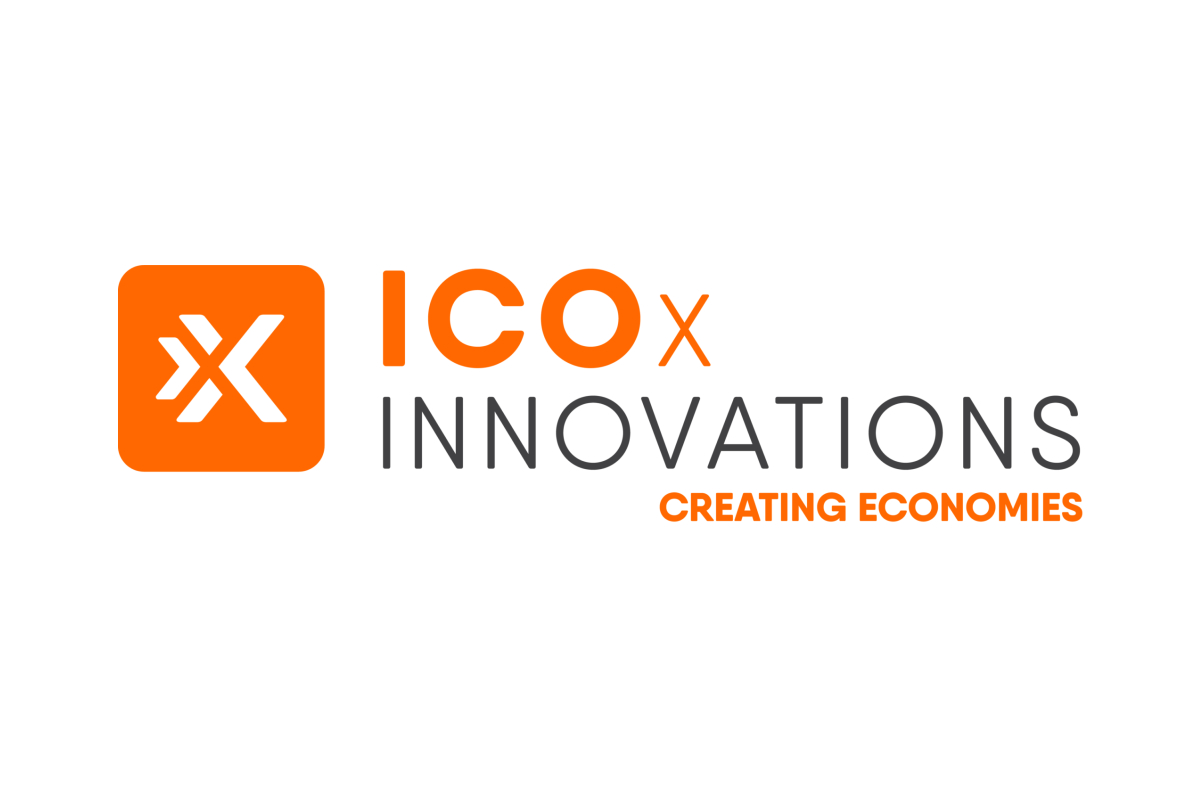 Reading Time:
2
minutes
sBetOne Advisory Board includes key industry leaders including Gabe Hunterton 
(Bellagio, City of Dreams Casino Macau, Starwood Casino) 
and Advisors with over $1 Billion in exits in online gambling companies
ICOx Innovations Inc., which designs, builds and manages branded digital currencies so organizations can grow their businesses by attracting, engaging and retaining customers, announced today that sBetOne Inc., its subsidiary, has established its inaugural Advisory Board and Board of Directors and is developing opportunities for branded digital currencies and blockchain platforms for the US regulated online gambling market.
sBetOne's initial focus will be on celebrity-sponsored golf sports betting and eSports betting markets, which are targeted to be two of the fastest growing sports betting markets benefiting from the opening of state-by-state gambling regulations in the US.
sBetOne features
Digital wallet and currency development for Celebrities and Brands driving lower transaction costs and stronger customer data management for brands involved in sports betting
Digital wallet and branded currency for reduced friction to wager and transact online for end users in a compliant regulated environment
Making sports betting more socially entertaining for fans and the celebrities / brands they follow
Enabling sports betting to become more mainstream with peer-to-peer (P2P) and freemium (free-to-play) games
sBetOne's Board of Advisors and Board Members include
Gabriel Hunterton – sBetOne Board of Advisors, former Property President City of Dreams Casino and Hotel Macau, former COO Galaxy Macau and former CEO of iTeam fantasy sports
David Flynn – sBetOne Board of Advisors, former CEO VeraJohn.com, former CCO NYX Gaming (sold to Scientific Gaming for $500M), and former Head of Poker Network at Ongame (sold to BWIN for $500M)
Ashley Sandyford Sykes – sBetOne Board of Advisors, former Exec. Vice President Digital Games for Scientific Games, former Head of Microgaming Quickfire casino platform, and former Head of Business Unit at OpenBet (sold for $250M)
Aaron Wagner – sBetOne Board of Directors, founder Wags Capital
Rick Dugdale – sBetOne Board of Directors, an American Film producer and President/CEO Enderby Entertainment, a film and television production company
Cameron Chell, sBetOne Chairman, ICOx Innovations Chairman and Co-Founder
"We are excited to announce our new Advisory Board for sBetOne Inc. This group of internationally renowned experts in the regulated online gaming space will help us to craft winning strategies in the US online gambling market which Deloitte forecasted to grow from $4.9B to $287B in the next 5 years due to new state by state legislation. sBetOne will leverage the ICOx platform for celebrity-sponsored, branded digital currencies in this high growth market, offering lower cost transactions and new brand-wide data-driven loyalty and rewards models.", said ICOx Innovations President Bruce Elliott.
Gabe Hunterton, former Property President City of Dreams Casino and Hotel Macau and former National Director of Marketing for Bellagio Las Vegas, noted, "Sports betting in the US is going mainstream. As it becomes a much more widely accepted form of entertainment, I believe the market is massively undervaluing the mid to long term value that will be created in this exciting and regulated sector. I look forward to helping the sBetOne team with its clear product, marketing and regulatory focus which will be positioned to win in the long term."
The sBetOne sports betting platform is being developed to include regulated sports betting, peer-to-peer betting (P2P), sports betting tournaments and freemium/play-for-free options, all with advanced geo-fencing, know-your-customer (KYC), anti-money laundering (AML), money transmitter business licensing (MSB) regulatory requirements and branded digital currencies as permitted.