Betinvest lays foundation for esports' future through OMG.BET partnership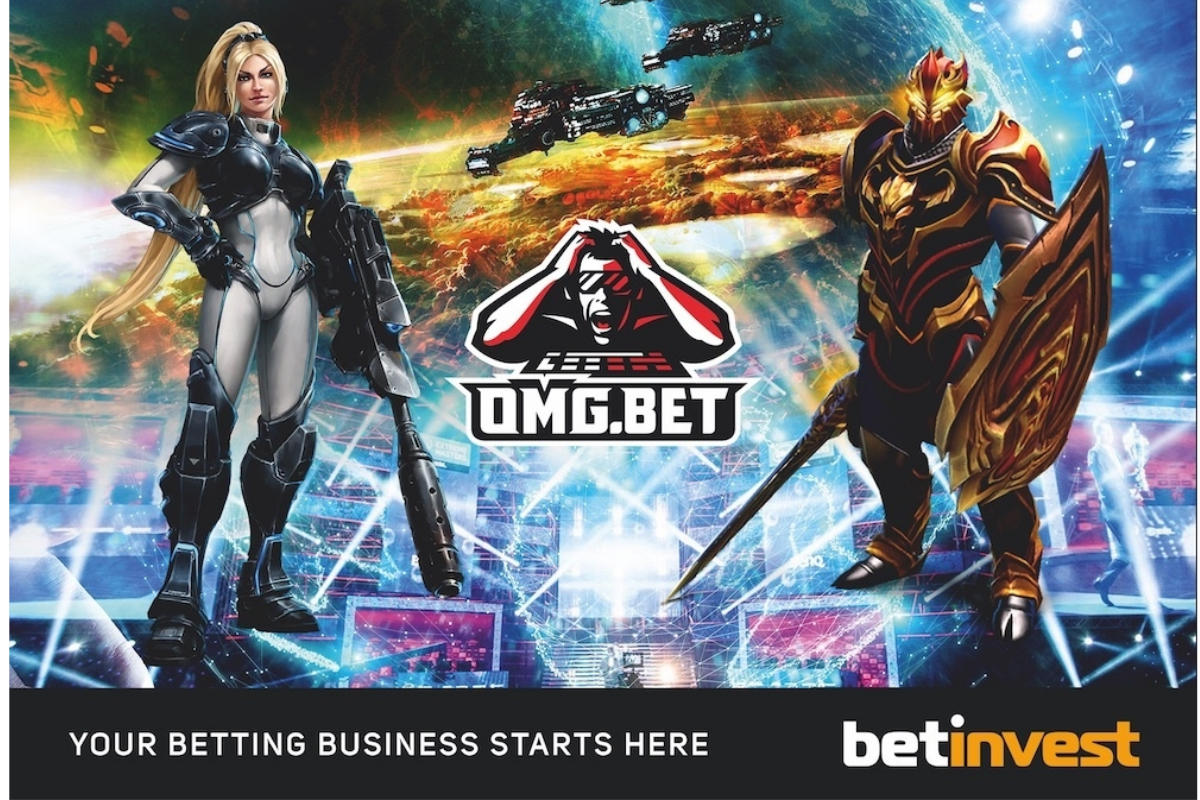 Reading Time:
3
minutes
Strengthening its goal to develop the esports industry internationally, Betinvest's latest platform integration with OMG.BET showcases why their new iFrame integration, innovative marketing tools and 24/7 client support is the ideal launching pad for the next wave of esports developers. Vitalii Humeniuk, eSports Development Manager at Betinvest, uncovers the nuances behind the B2C platform partnership and why the 'Oh My God' phrase exemplifies the solution's winning charm!
What's the background behind the concept and design for OMG.BET?
OMG.BET is our client and as a B2B provider we worked with them to supply a platform, odds and expertise to chime ahead of the site launch at the end of April. We helped develop the platform in accordance with the global move towards minimalism and fewer devices, meaning that it has been optimised to look great and to run smoothly across mobile, computers, tablets, laptops and TV screens as well.
The idea behind the brand's logo and the platform name was the "Oh my God!" feeling that people often experience in their lives and because it best describes the feeling of winning. Of course, all players experience both positive and negative emotions – sometimes our favourite teams lose – but in general, playing and watching games puts fans in high spirits.
Despite the fact that OMG.BET has only recently launched, we are proud it has already distinguished itself from other bookmakers in a few ways, primarily through the simplicity of its design.
The idea is that, when you are on OMG.BET, you'll dive right into the world of esports, the world of games. Fans love this world. There aren't many bookmakers that offer esports separately from traditional sports. Our customers who aren't interested in sports like football or basketball see this as a real advantage.
The second distinction is that Betinvest's team of traders and analysts provide odds for special markets that nobody else in the industry offers. For example, you can place a bet on the probability that a particular player will leave their team or return to it, or even bet on the probability that the Dota 2 heroes will be released as little surprises in Kinder eggs.
In addition, we can proudly and confidently say that OMG.BET is among the top five leaders for the number of live and pre-match events offered. All of these distinctions from partnering with Betinvest as their provider are part of our esports strategy, which allows any provider or bookmaker to integrate with our iFrame solution and benefit from our progressive eSports platform and odds capabilities.
The platform aims to raise betting culture and help popularize and develop eSports, what new ideas are Betinvest and OMG.BET bringing to the table?
We want to help young people to realise that playing or watching games isn't a waste of their time, but actually can help them to build a good career. We plan to hold our own competitions as well as supporting the development of amateur leagues and tournaments. We'll be creating opportunities for young players to put themselves out there and move up to professional teams. We hope to make a significant contribution to the development of the esports industry and to young people's experience of it.
Creating original content and sharing news about esports is an integral part of the OMG.BET platform and their team is very adept at engaging with the target audience. Our partner closely follows all the tournaments, famous athletes and industry innovations so every customer can find up-to-date news.
As their provider we have been able to provide our expertise and experience, and as we work with other organisations we are able to develop strategies for other brands – even those that have no relation to betting, like game studios and esports tournament organisations.
Which markets is OMG.BET targeting?
Betinvest traders cover all the top esports events from around the world, 24/7.  To begin with, OMG.BET is targeting predominantly at Europe and CIS countries, but once they find some good strategic partners who want to develop the betting industry in Asia and the States, they'll be delighted to work with them. Esports has reached substantial level in both those markets, so we're looking forward to providing them with a unique betting product.
How does it feel to be forging a new path in esports wagering?
It's certainly an interesting experience for us to be concentrating so many of our resources on the development of a product with customers who are different from traditional sports enthusiasts. A love of games unites all esports fans and it's no secret that people love playing games. The desire to play does not disappear with age, it is only the games that change.
Where do you see esports' growth over the next few years?
Over the past few years, the esports industry has grown dramatically. For example, we've seen the addition of the Battle Royale genre which is designed for big maps where teams or individuals must try to stay alive. It is well-liked by much of the audience, with games becoming popular in the blink of an eye. Looking to the future, the industry will continue to develop rapidly and we envisage that one of the next steps will be to make use of more virtual reality technology.
WePlay! Dota Underlords Open: the registration for all comers starts!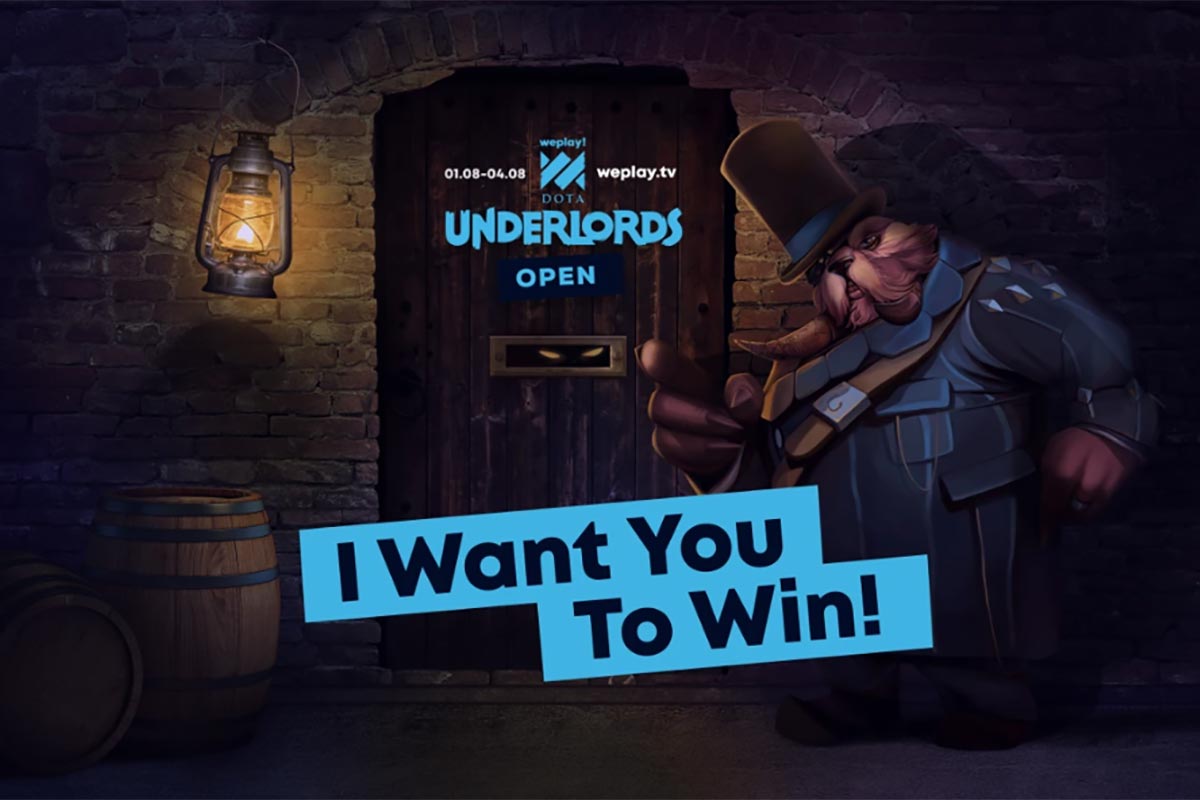 Reading Time:
1
minute
Dota Underlords fans from all over the world are welcome to register and compete for the total prize pool of $15,000.
WePlay! Esports has revealed the details for everyone willing to take part in WePlay! Dota Underlords Open open qualifiers. The registration is open from July 15th till July 23th, 2019, 23:59 CEST (14:59 PDT). The schedule and registration process details are available at WePlay! Esports website.

To sign up for WePlay! Dota Underlords Open participants are needed to have an account at Challonge.com and also join WePlay! Esports Discord channel. Regular announcements and news will be available at the #underlords_open_announces group; all communication with the players will be held through Discord.

Dota Underlords Open will have two divisions: Vicious Order (Europe) and Crimson Gang(Americas). The divisions are not region-locked, so players from all over the world can participate. Each round will have three games. The best four players with the highest points move on to the next round. The qualifiers will be taking place until there are only eight players. Those eight players will be invited to the main event, taking place from August 1st to August 4th, 2019.

Players are entitled to participate in qualifiers through multiple regions and, moreover, they can play from a mobile device. Participants are also allowed to stream their games on their private Twitch channels, but they are not allowed to stream the main event (after the end of the qualifiers).

WePlay! Dota Underlords Open open qualifiers start on July 24th and will be taking place till July 28th, 2019. The winners will be invited to the main event with a $15,000 prize pool.

More details of WePlay! Dota Underlords Open tournament are available at WePlay! website.

#WePlay #WePlayDotaUnderlords

Source: WePlay! Esports Press Office
Infographic: eSports – Bringing the game to a new level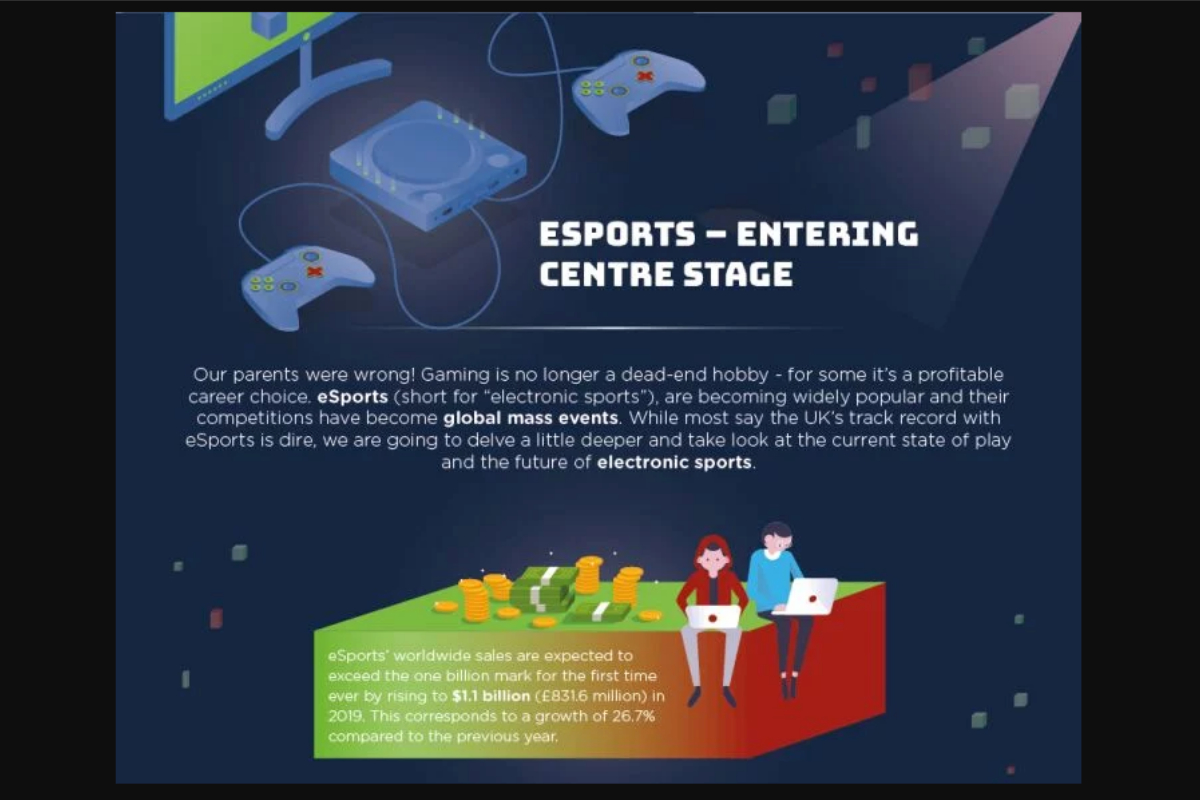 Reading Time:
1
minute
2019 marks a major milestone for the global eSports market: the industry will top $1 billion in revenue for the first time. An impressive increase of 26.7% since last year and the revenue should continue growing, hitting $1.8 billion by 2022.
eSports have undoubtedly become especially popular across the globe. According to the Newszoo Global eSports Market Report, the number of viewers amounts to 454 million in 2019, with most of the enthusiastic fans being in China (75 million viewers).
Additionally, the Land of the Red Dragon has recently recognized esports as a profession and citizens can now pursue careers as "esports operator" or "esports player", among 15 new paths.
Thus, what is still considered by some as a niche industry today should certainly move to the mainstream in a couple of years, with the only question remaining: how far will this exciting industry go?
Explore through this infographic how fast this industry is growing and what its future will seemingly look like.
eSports – an Infographic by hotukdeals
ICOx Innovations Announces Launch of sBetOne Inc., to Develop Opportunities for Celebrity-endorsed Branded Digital Currencies in Golf Betting and eSports Betting for US Regulated Markets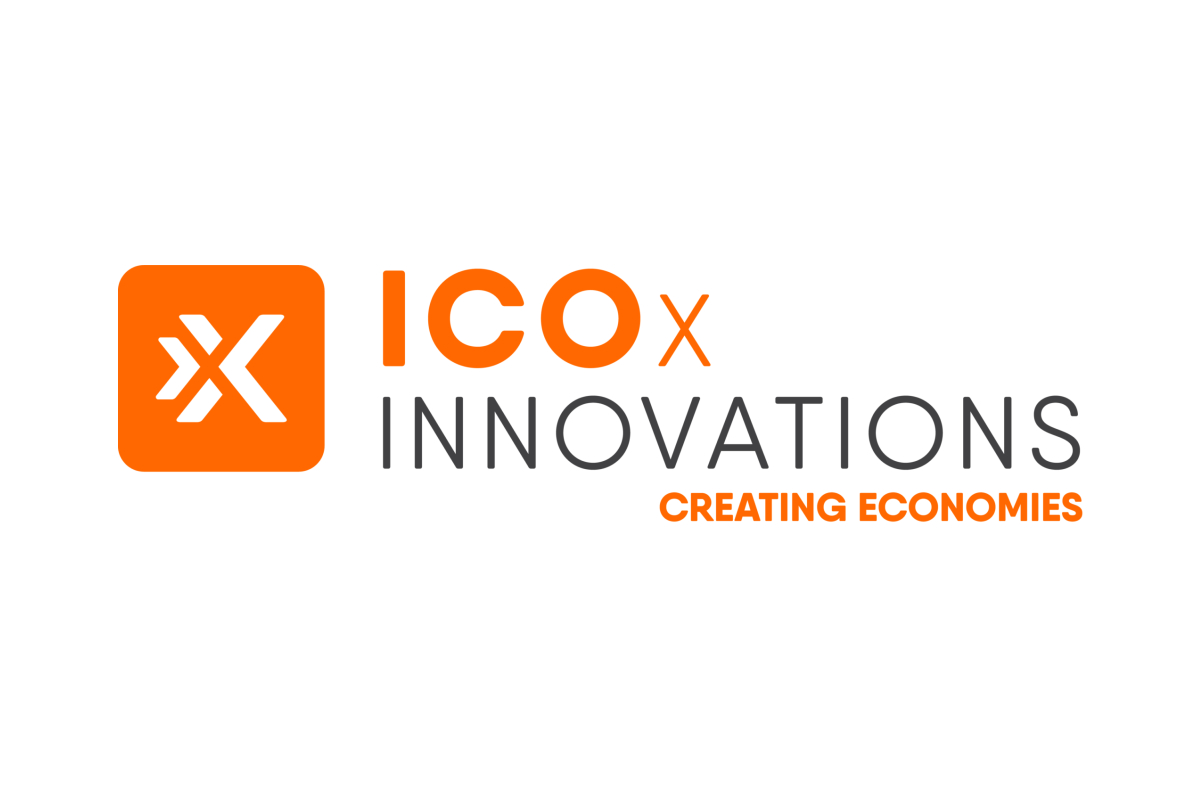 Reading Time:
2
minutes
sBetOne Advisory Board includes key industry leaders including Gabe Hunterton 
(Bellagio, City of Dreams Casino Macau, Starwood Casino) 
and Advisors with over $1 Billion in exits in online gambling companies
ICOx Innovations Inc., which designs, builds and manages branded digital currencies so organizations can grow their businesses by attracting, engaging and retaining customers, announced today that sBetOne Inc., its subsidiary, has established its inaugural Advisory Board and Board of Directors and is developing opportunities for branded digital currencies and blockchain platforms for the US regulated online gambling market.
sBetOne's initial focus will be on celebrity-sponsored golf sports betting and eSports betting markets, which are targeted to be two of the fastest growing sports betting markets benefiting from the opening of state-by-state gambling regulations in the US.
sBetOne features
Digital wallet and currency development for Celebrities and Brands driving lower transaction costs and stronger customer data management for brands involved in sports betting
Digital wallet and branded currency for reduced friction to wager and transact online for end users in a compliant regulated environment
Making sports betting more socially entertaining for fans and the celebrities / brands they follow
Enabling sports betting to become more mainstream with peer-to-peer (P2P) and freemium (free-to-play) games
sBetOne's Board of Advisors and Board Members include
Gabriel Hunterton – sBetOne Board of Advisors, former Property President City of Dreams Casino and Hotel Macau, former COO Galaxy Macau and former CEO of iTeam fantasy sports
David Flynn – sBetOne Board of Advisors, former CEO VeraJohn.com, former CCO NYX Gaming (sold to Scientific Gaming for $500M), and former Head of Poker Network at Ongame (sold to BWIN for $500M)
Ashley Sandyford Sykes – sBetOne Board of Advisors, former Exec. Vice President Digital Games for Scientific Games, former Head of Microgaming Quickfire casino platform, and former Head of Business Unit at OpenBet (sold for $250M)
Aaron Wagner – sBetOne Board of Directors, founder Wags Capital
Rick Dugdale – sBetOne Board of Directors, an American Film producer and President/CEO Enderby Entertainment, a film and television production company
Cameron Chell, sBetOne Chairman, ICOx Innovations Chairman and Co-Founder
"We are excited to announce our new Advisory Board for sBetOne Inc. This group of internationally renowned experts in the regulated online gaming space will help us to craft winning strategies in the US online gambling market which Deloitte forecasted to grow from $4.9B to $287B in the next 5 years due to new state by state legislation. sBetOne will leverage the ICOx platform for celebrity-sponsored, branded digital currencies in this high growth market, offering lower cost transactions and new brand-wide data-driven loyalty and rewards models.", said ICOx Innovations President Bruce Elliott.
Gabe Hunterton, former Property President City of Dreams Casino and Hotel Macau and former National Director of Marketing for Bellagio Las Vegas, noted, "Sports betting in the US is going mainstream. As it becomes a much more widely accepted form of entertainment, I believe the market is massively undervaluing the mid to long term value that will be created in this exciting and regulated sector. I look forward to helping the sBetOne team with its clear product, marketing and regulatory focus which will be positioned to win in the long term."
The sBetOne sports betting platform is being developed to include regulated sports betting, peer-to-peer betting (P2P), sports betting tournaments and freemium/play-for-free options, all with advanced geo-fencing, know-your-customer (KYC), anti-money laundering (AML), money transmitter business licensing (MSB) regulatory requirements and branded digital currencies as permitted.