Betinvest lays foundation for esports' future through OMG.BET partnership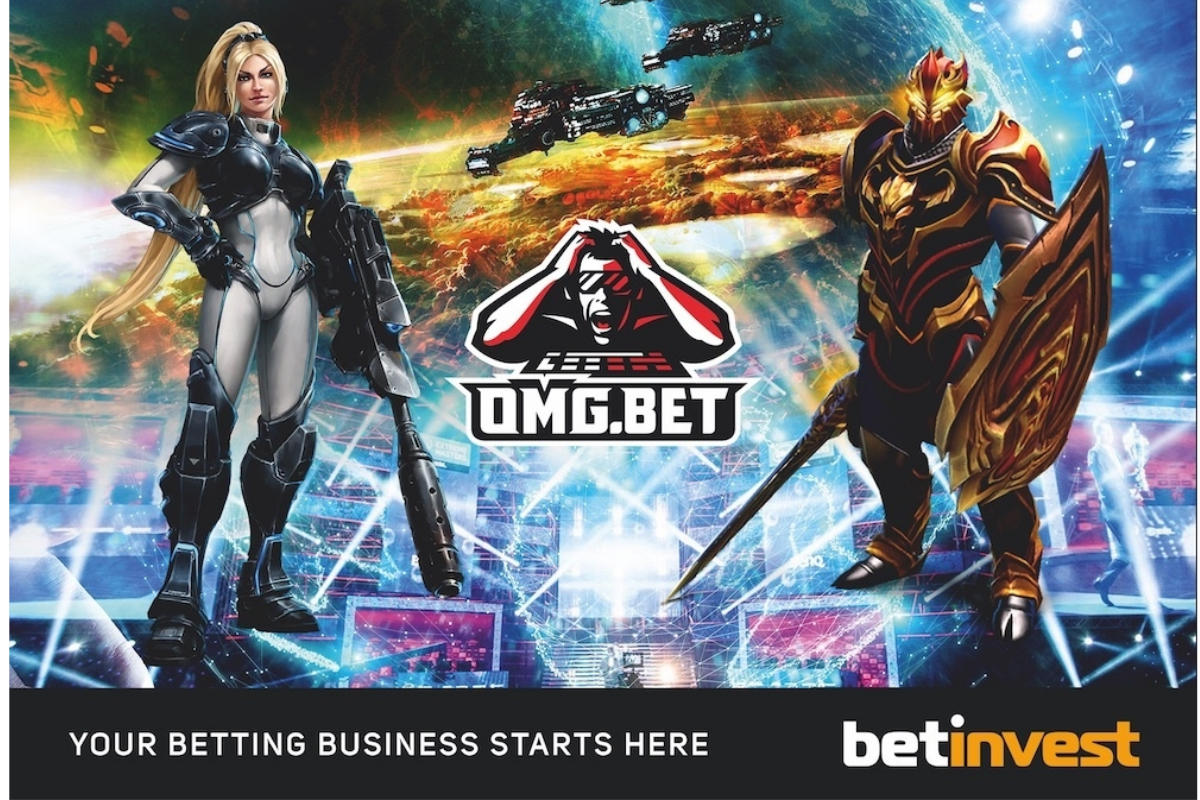 Reading Time:
3
minutes
Strengthening its goal to develop the esports industry internationally, Betinvest's latest platform integration with OMG.BET showcases why their new iFrame integration, innovative marketing tools and 24/7 client support is the ideal launching pad for the next wave of esports developers. Vitalii Humeniuk, eSports Development Manager at Betinvest, uncovers the nuances behind the B2C platform partnership and why the 'Oh My God' phrase exemplifies the solution's winning charm!
What's the background behind the concept and design for OMG.BET?
OMG.BET is our client and as a B2B provider we worked with them to supply a platform, odds and expertise to chime ahead of the site launch at the end of April. We helped develop the platform in accordance with the global move towards minimalism and fewer devices, meaning that it has been optimised to look great and to run smoothly across mobile, computers, tablets, laptops and TV screens as well.
The idea behind the brand's logo and the platform name was the "Oh my God!" feeling that people often experience in their lives and because it best describes the feeling of winning. Of course, all players experience both positive and negative emotions – sometimes our favourite teams lose – but in general, playing and watching games puts fans in high spirits.
Despite the fact that OMG.BET has only recently launched, we are proud it has already distinguished itself from other bookmakers in a few ways, primarily through the simplicity of its design.
The idea is that, when you are on OMG.BET, you'll dive right into the world of esports, the world of games. Fans love this world. There aren't many bookmakers that offer esports separately from traditional sports. Our customers who aren't interested in sports like football or basketball see this as a real advantage.
The second distinction is that Betinvest's team of traders and analysts provide odds for special markets that nobody else in the industry offers. For example, you can place a bet on the probability that a particular player will leave their team or return to it, or even bet on the probability that the Dota 2 heroes will be released as little surprises in Kinder eggs.
In addition, we can proudly and confidently say that OMG.BET is among the top five leaders for the number of live and pre-match events offered. All of these distinctions from partnering with Betinvest as their provider are part of our esports strategy, which allows any provider or bookmaker to integrate with our iFrame solution and benefit from our progressive eSports platform and odds capabilities.
The platform aims to raise betting culture and help popularize and develop eSports, what new ideas are Betinvest and OMG.BET bringing to the table?
We want to help young people to realise that playing or watching games isn't a waste of their time, but actually can help them to build a good career. We plan to hold our own competitions as well as supporting the development of amateur leagues and tournaments. We'll be creating opportunities for young players to put themselves out there and move up to professional teams. We hope to make a significant contribution to the development of the esports industry and to young people's experience of it.
Creating original content and sharing news about esports is an integral part of the OMG.BET platform and their team is very adept at engaging with the target audience. Our partner closely follows all the tournaments, famous athletes and industry innovations so every customer can find up-to-date news.
As their provider we have been able to provide our expertise and experience, and as we work with other organisations we are able to develop strategies for other brands – even those that have no relation to betting, like game studios and esports tournament organisations.
Which markets is OMG.BET targeting?
Betinvest traders cover all the top esports events from around the world, 24/7.  To begin with, OMG.BET is targeting predominantly at Europe and CIS countries, but once they find some good strategic partners who want to develop the betting industry in Asia and the States, they'll be delighted to work with them. Esports has reached substantial level in both those markets, so we're looking forward to providing them with a unique betting product.
How does it feel to be forging a new path in esports wagering?
It's certainly an interesting experience for us to be concentrating so many of our resources on the development of a product with customers who are different from traditional sports enthusiasts. A love of games unites all esports fans and it's no secret that people love playing games. The desire to play does not disappear with age, it is only the games that change.
Where do you see esports' growth over the next few years?
Over the past few years, the esports industry has grown dramatically. For example, we've seen the addition of the Battle Royale genre which is designed for big maps where teams or individuals must try to stay alive. It is well-liked by much of the audience, with games becoming popular in the blink of an eye. Looking to the future, the industry will continue to develop rapidly and we envisage that one of the next steps will be to make use of more virtual reality technology.
UltraPlay signs deal with WINBET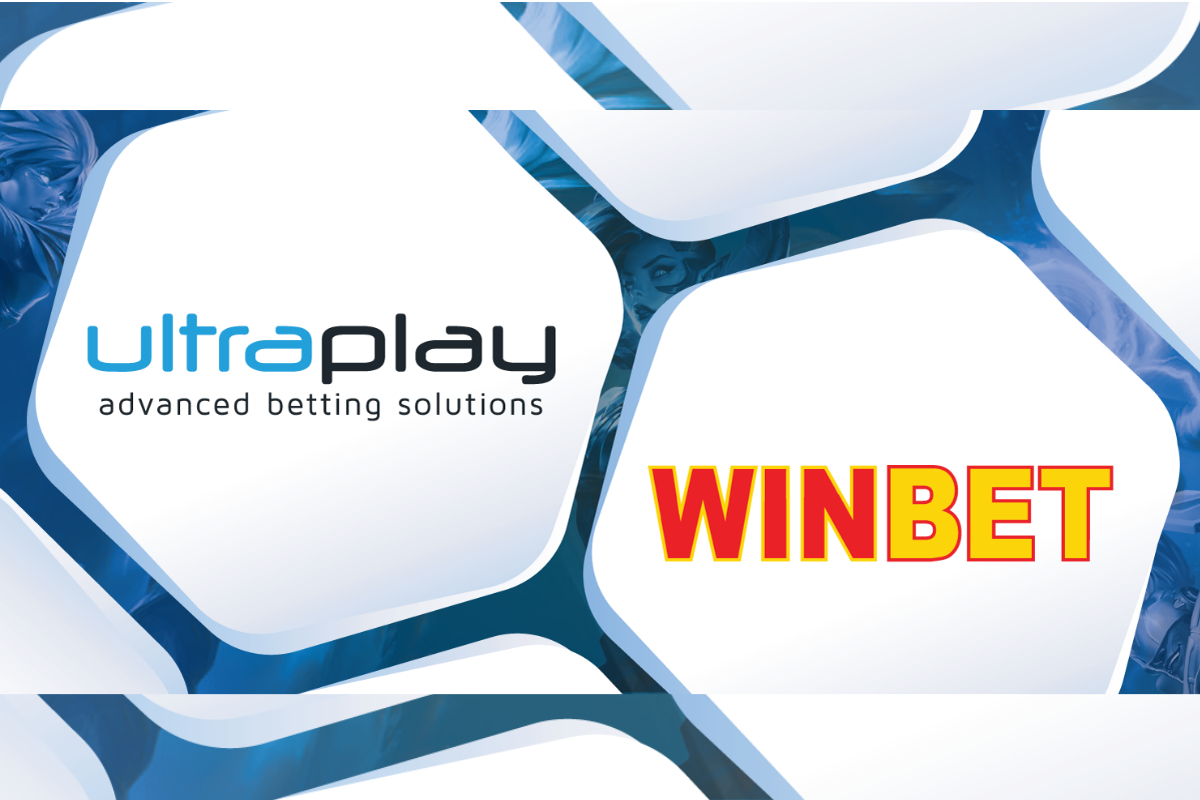 Reading Time:
2
minutes
B2B iGaming company UltraPlay has signed a deal to provide its multi award-winning eSports betting solution to WINBET, an online betting website operating on the Bulgarian market.
UltraPlay's eSports product will power up WINBET with its unrivaled coverage of competitive games, pre-match and live odds. WINBET will be one of the few sportsbooks on the Bulgarian market to offer extensive eSports coverage and effectively engage with the new generation of bettors. Combined with UltraPlay's Hybrid eSports live betting model, real-time data, scores and settlements, WINBET's players will receive fast and secure betting on eSports.
This partnership further confirms UltraPlay's leading position in providing eSports betting solutions to sportsbooks across markets.
Mario Ovcharov, CEO of UltraPlay, said: "We are delighted to announce our new partnership with one of the leading licensed operators in Bulgaria. WINBET is a well-known and trusted brand with a rapidly growing sportsbook. We share a common vision for progress and long-term partnership, which will be bonded by eSports as a new and exciting vertical for their players."
Tsvetin Yordanov, WINBET's CEO, said: "WINBET is a brand that has always tried to offer the very best and diverse content to its clients. In adding eSports to our betting portfolio, I saw an opportunity to expand our market share by satisfying a newly emerging client demand, while continuing to follow our "brand way". In order to achieve our goals we knew we had to find a reliable business partner, with a proven and successful product. I am very pleased that we found that partner in UltraPlay and I believe that this is the beginning of a long and very successful partnership."
Over the last two years, UltraPlay has been awarded with twelve accolades for its overall eSports betting provision. The latest one for eSports Betting Software was received from the International Gaming Awards 2020, which were held in London last week. Following up with the ODDS.GG constant developments, the company has recently released its new web design, aligned with the latest UX/UI design trends.
THETA Live Embed Launches to Bring 24/7 Esports Content and Blockchain Rewards to Any Website, Starting With G FUEL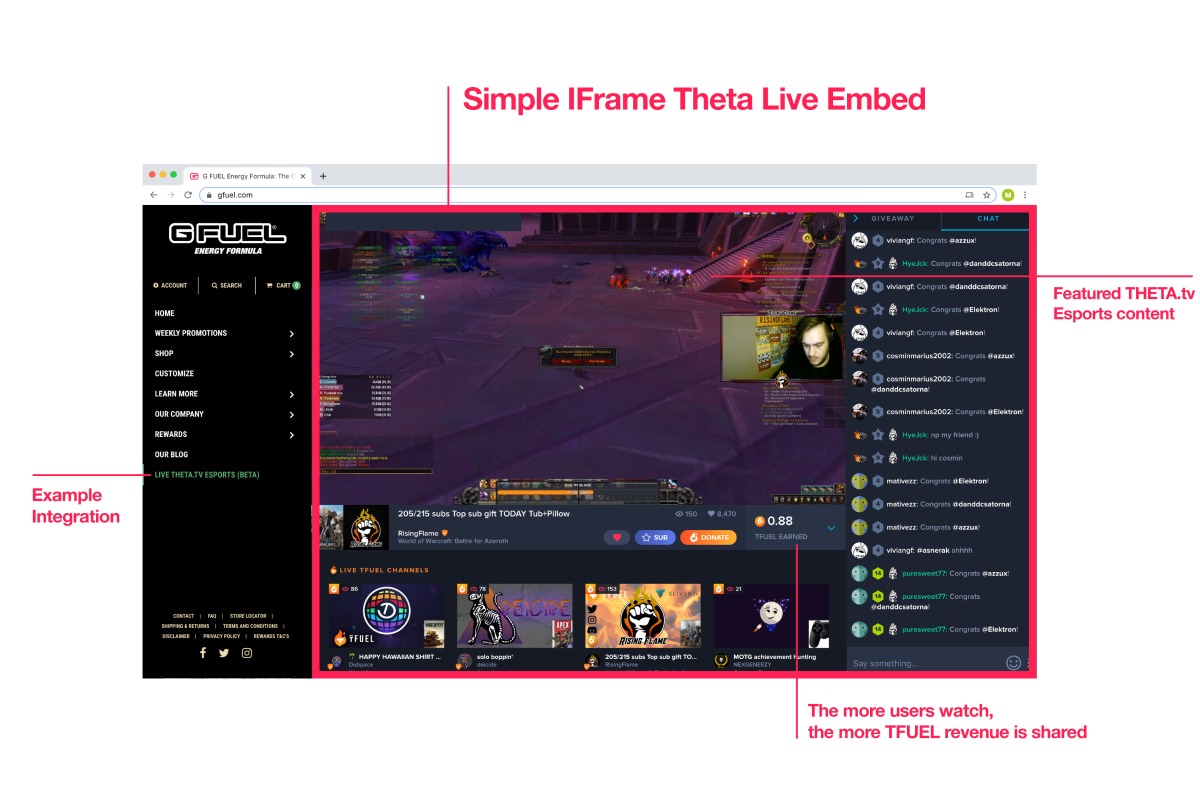 Reading Time:
2
minutes
Using simple IFrame any site can easily add THETA.tv esports streaming content, such as Fortnite, League of Legends and CS:GO, to earn incremental revenue.
Theta Labs, the leading video delivery network powered by blockchain, today announced the launch of THETA Live Embed, a new turnkey product that allows 24/7 THETA.tv Esports live streaming content to be added to almost any website, blog, or social media platform with minimal technical effort. Popular games like Fortnite, League of Legends and CS:GO streamed through THETA Live Embed are fully integrated with the Theta Network blockchain, allowing viewers to relay streams to their peers and earn Theta token rewards, TFUEL, just for watching and sharing their bandwidth resources. The first partner to integrate the product is G FUEL, The Official Energy Drink of Esports®.
Any partner site with THETA Live Embed automatically benefits from THETA.tv's highly engaging and entertaining roster of more than 300 top Esports streamers including RisingFlame, teamtnt, and Deicide. The site and its users each earn 33% of the total TFUEL based on the amount of content and bandwidth shared, with the remaining 33% donated to support the streamers. All the revenue share is automated and transparent through Theta Blockchain's "auto-split" smart contract and is easily auditable on the public chain. On average, sites can expect to see incremental revenues of $50,000 to over $100,000 per 1 million monthly active users.
"As The Official Energy Drink of Esports, we pride ourselves on pushing the envelope and providing the best experience possible to our Esports and gaming communities," said G FUEL Founder and CEO, Cliff Morgan. "This includes expanding our long-term partnership with the innovators at THETA.tv and being an early adopter of THETA Live Embed — all so that we can easily provide live action-packed Esports content to our worldwide fans for free."
With a simple IFrame approach and a few lines of JavaScript, THETA Live Embed can be added to any site with minimum development. This turnkey integration enables platforms to seamlessly adopt THETA.tv Esports content and the underlying Theta Network peer-to-peer video delivery infrastructure, without the need to understand digital wallets, security and other technical aspects of blockchain technology.
"As we engaged with potential Theta partners over the past year, we heard more and more that live 24/7 Esports content coupled with a loyalty or rewards program is strategic to their global business and user growth," said Mitch Liu, CEO of Theta Labs, Inc. "We took THETA Live Embed a step further where our partners can integrate it in a few hours, and immediately start earning new revenues. Their users can earn rewards by simply watching content they love, sharing their bandwidth and being part of the community. It's a powerful way for platforms to naturally drive retention and increase conversion to paid and premium products and services."
To learn more about THETA Live Embed, visit us at embed.theta.tv.
1,000 Dreams Fund Announces 'BroadcastHER Academy': First-of-its-Kind Esports and Gaming Fellowship Program for Women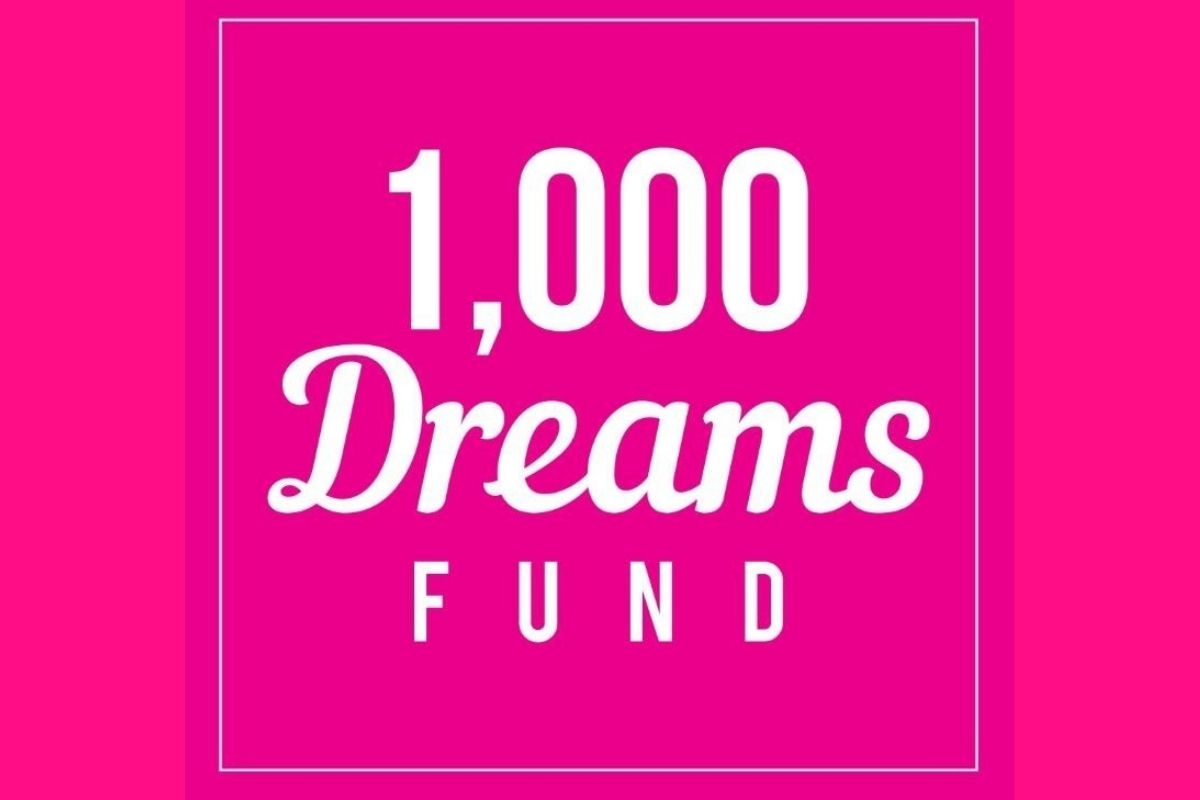 Reading Time:
2
minutes
The 1,000 Dreams Fund (1DF), a national nonprofit that provides micro-grants that support the dreams of talented young women, announces the expansion of the BroadcastHER Academy (powered by Allied Esports & HyperX) into the first-ever esports and gaming fellowship program for high potential women interested in pursuing careers in the industry – whether in-front or behind the camera. Partners include premier esports entertainment company Allied Esports and HyperX Gaming.
"In order for the esports and gaming industry to continue to thrive, a diverse and talented workforce is needed – and women must have a seat at the table," says 1,000 Dreams Fund Founder and CEO Christie Garton. "We believe that the Academy, with further investment and support by our partners, can become a talent pool for our partners and the industry, while providing a clearer pathway for women who want to thrive in the industry."
Esports, a booming and lucrative industry, is expected to exceed $1.65 billion in global revenue by 2021, according to Newzoo—and Statista reports that about 44% of gamers are women. While women are rising in influence, the challenges they face in what is still considered to be a "male-dominated" world include a substantial pay gap.
In 2020, a group of 10 talented women will be announced to the fellowship program for one year. Applicants will submit a proposed plan for goals they hope to accomplish by the end of the program.
Selected winners will receive:
$1,000

 microgrant to further their education;
One 60-minute mentor session with an executive from one of our partners by video conference. Matches made based on skills and career interests of both the mentor and mentee;
The program will include an all-expense paid trip for winners to visit a center of esports excellence, including the HyperX Esports Arena Las Vegas to shadow the Allied Esports team which would include:


A comprehensive hands-on tour
Time with the broadcast unit to learn about the broadcast operations
Lunch or dinner with an Allied Esports executive or broadcast professional
Opportunity to call a game in a professional broadcast boot
Video reel, and/or the work streamed live through the 1,000 Dreams Fund channel on Twitch;

Additionally, winners will have access to additional "pop up" opportunities with partners whether live events, conferences, tournaments, project-based contract roles, internships, apprenticeships or even full-time employment.
"Our affiliation with the 1,000 Dreams Fund and BroadcastHER Academy has been one of the most rewarding opportunities we've had since opening the HyperX Esports Arena Las Vegas, and we're excited to see the program continue to grow," said Jud Hannigan, CEO of Allied Esports. "The curiosity, enthusiasm and talent of these female gamers has been an inspiration and we look forward to continuing to open industry doors for them in any way possible."
"We're impressed daily by the emerging talent in the esports industry and excited to be part of this partnership supporting future female champions—both players, and working behind the scenes," says Wendy Lecot, head of HyperX strategic alliances. "Aspiring women in this industry today will have the opportunity to share their experiences with future broadcasters and we are proud to be a part of this initiative."
SOURCE 1,000 Dreams Fund