DappRadar partners with EverdreamSoft to launch first blockchain game 'Spells of Genesis' on Ethereum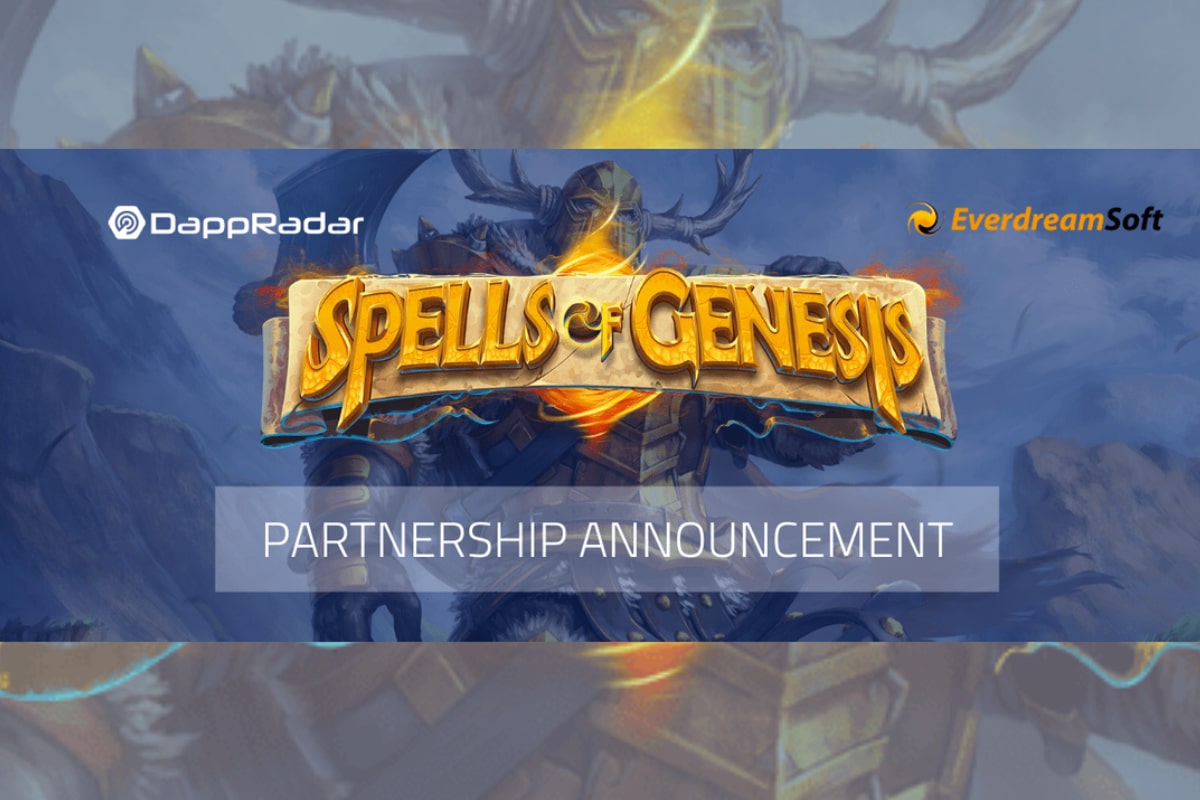 Reading Time:
2
minutes
Helping to drive adoption of blockchain gaming and NFT collectibles.
Geneva-based EverdreamSoft, pioneers in the use of blockchain technology in gaming since 2014 today announced their plan to integrate the Ethereum blockchain into their flagship game "Spells of Genesis".
In 2017 Spells of Genesis allowed users to convert in-game cards into blockchain-based digital assets and export them into their own digital wallets.
EverdreamSoft was the first gaming studio to offer such features and Spells of Genesis is currently playable on iOS and Android with around 1.3k active monthly users.
Ethereum-based games and associated collectibles have generated strong communities that eagerly await new and innovative projects and in 2019 the Ethereum games and marketplaces categories accounted for 50% of overall daily active users, showing total growth of 195%.
Crystal Spark
Thanks to a collection of open-source software – Crystal Spark – EverdreamSoft can easily gather data from different blockchains and present them to the players in a unified and simplified way, no matter the chain. EDS believes that this approach will help the NFT community grow and bring new, less tech-savvy users into blockchain gaming.
Why is Spells of Genesis important?
As the first blockchain-based game ever made, Spells of Genesis combines trading card game (TCG) functionalities with the point-and-shoot aspects of arcade games and has arguably inspired other decentralized TCGs that have seen great success with Ethereum game projects.
Collect, trade and combine to build the strongest decks
Players have to collect and combine cards to create the strongest deck in order to fight their enemies in a series of battles with two types of card used: in-game cards and blockchain cards.
Players who have fused four cards together and leveled up the fused card to its maximum power will be able to export it from the game into their own digital wallets.
Spells of Genesis will release the first round of exclusive NFT collectibles in mid-February and have plans to launch on Ethereum in mid-2020. For now, the game can be played on iOS and Android devices.
Trump vs Biden I: Cloudbet Markets Give it to Not-So-Sleepy Joe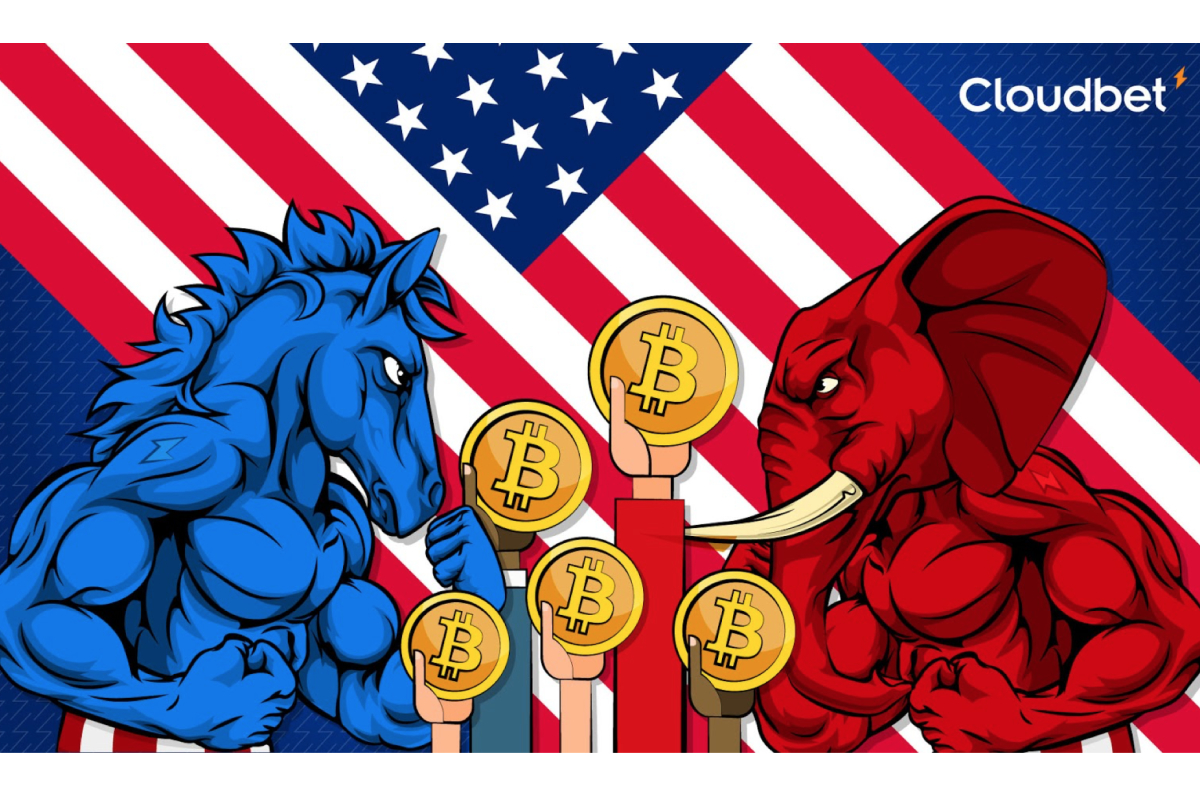 Reading Time:
2
minutes
Joe Biden, the Democratic candidate for the U.S. presidency, won support from the betting public as he withstood a hail of bluster and interjection from President Donald Trump during a combative and fiery first presidential debate.
Odds on a Biden win shortened to 1.65, meaning betting markets give him a 61% chance of being elected, according to prices compiled by crypto sportsbook Cloudbet. That compares to 1.73 (58%) just before the debate. Trump's odds drifted to 2.28 from 2.16, amid indications that bettors had taken significant positions on the president ahead of the debate.
Biden had managed to mostly fend off Trump's constant interruptions and aggression, as part of his campaign's ongoing attack on the Democrat's mental acuity and cognitive abilities, commentators on both sides of the political spectrum said after the debate. Others said the chaos of the encounter blurred any attempt at messaging on key issues, and did little to sway undecided voters who are crucial for victory in key swing states.
Cloudbet is tracking the two candidates' price movements closely as part of its comprehensive politics offering that allows customers to bet on the election winner as well as on state-by-state outcomes. The operator's politics page features a superbly designed electoral college map integration that gives users an instant opinion on which party is likely to win the election, based on real-time odds presented for each state.
Cloudbet saw a significant pick-up in betting activity ahead of the debate: About 10% of the value of all bets on the U.S. election were placed in the 24 hours leading up to the event, a spokesperson for the crypto operator said. Bets on Trump accounted for 90% of the new positions.
"Some people thought that Biden's weaknesses were going to get clearly exposed in the debate," the spokesperson said.
The election map significantly amplifies what's on offer at Cloudbet for players seeking the best odds for bitcoin politics betting from the comfort of their homes or on the go. Since it relaunched its website in April, the operator has unveiled a swathe of bold new features to attract a more diverse audience, including esports, USDT betting, and easy credit-card coin purchases.
Founded in 2013, Cloudbet is one of the world's longest established bitcoin operators. The site also accepts ethereum and bitcoin cash.
The operator grabbed the attention of industry observers in June with an ambitious English Premier League campaign, under which its sportsbook charged no margin on pre-match bets for all games left in the season. That allowed customers to access the fairest prices — and therefore the highest returns — in the market.
The campaign was an extension of Cloudbet's long-standing "best odds" campaigns on sports including soccer, basketball and tennis.
Trustbet.io first brand to go live on DAOPlatform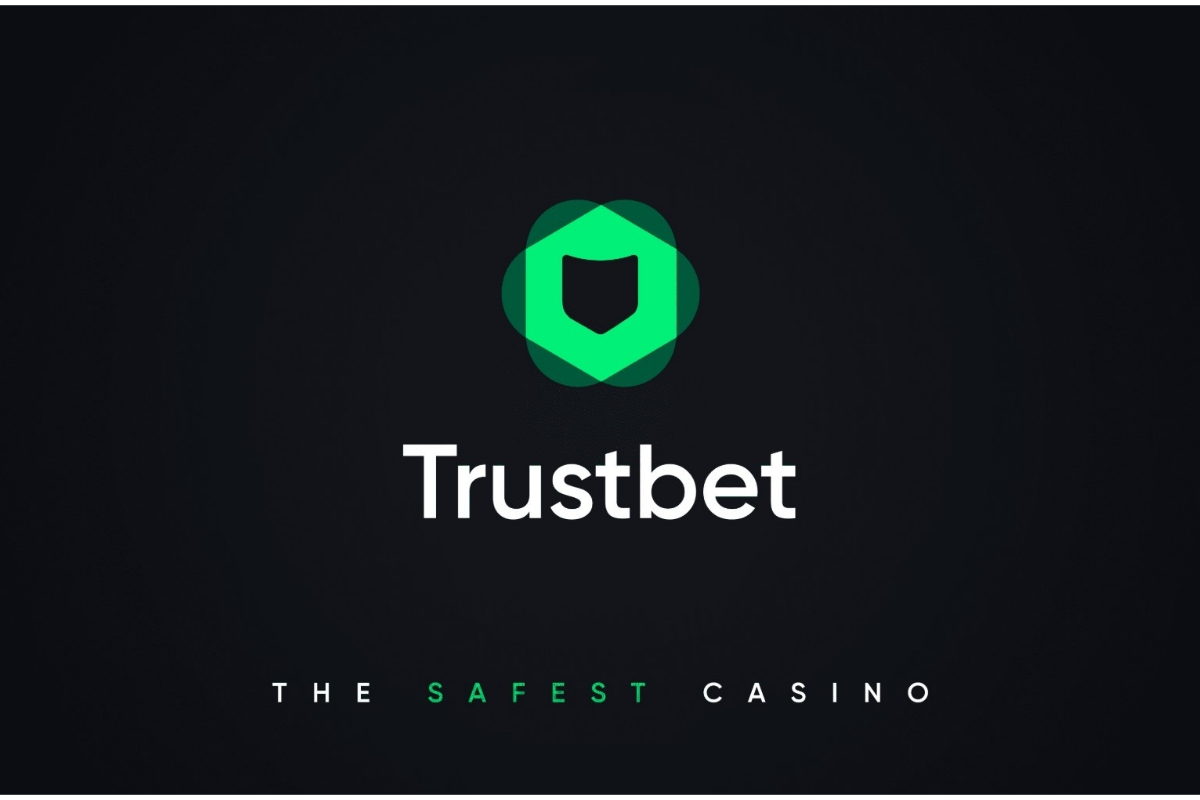 Reading Time:
2
minutes
Ultra-fast blockchain casino platform launches first white label
DAOPlatform, a DAOGroup partner, is very pleased to announce the launch of Trustbet.io, the inaugural brand to go live on their pioneering igaming platform, built on the DAOBet blockchain.
Having successfully completed a community-focused soft launch in mid-August, Trustbet.io is now available for players in a variety of jurisdictions including Latin America, Africa, Europe and the CIS.
The landmark casino has initially launched with five game titles from the provider's in-house publisher, DAOGames: Blackjack, Dice, Baccarat, Three Card Brag and High Card, all featuring tamper-proof on-chain RNGs approved by GLI.
Trustbet.io players will also benefit from no deposit requirements, instant pay outs, ultra-fast game finality, as well as the avoidance of complicated and costly blockchain transaction fees.
DAOPlatform delivered a rapid deployment to the Trustbet team, including natively agile design and easily configurable deposit and max bet limits as part of the game selection process.
Players and white label operators, like Trustbet.io, also benefit from the provision of the powerful crypto-fiat gateway DAOWallet, allowing for both on and off-ramp payments for crypto (ETH, BTC), stable coins (TrueUSD, Tether) and fiat (Euro via SEPA, USD via Swift).
Commenting on the landmark launch, DAOGroup's CCO Glen Bullen said: "Trustbet.io will do just as it says on the tin: offer players the ability to keep their money where they can control it, while reaping instant pay outs from quality games with verifiable randomness."
"We're very excited to showcase the DAOPlatform and its cutting-edge performance with such a quality brand as TrustBet.io; and, with their initial success proving the product, we look forward to rolling it out to further brands and help shape the future of igaming."
Eligible players can gamble with the native gambling token BET at Trustbet.io today. Interested white label partners can also find more about the group's ability to support player acquisition and new market expansion, while delivering cost-effective new revenue streams, at DAO.Group.
Fantasy football platform Sorare officially launches out of Beta in the UK as Paris-Saint Germain joins the platform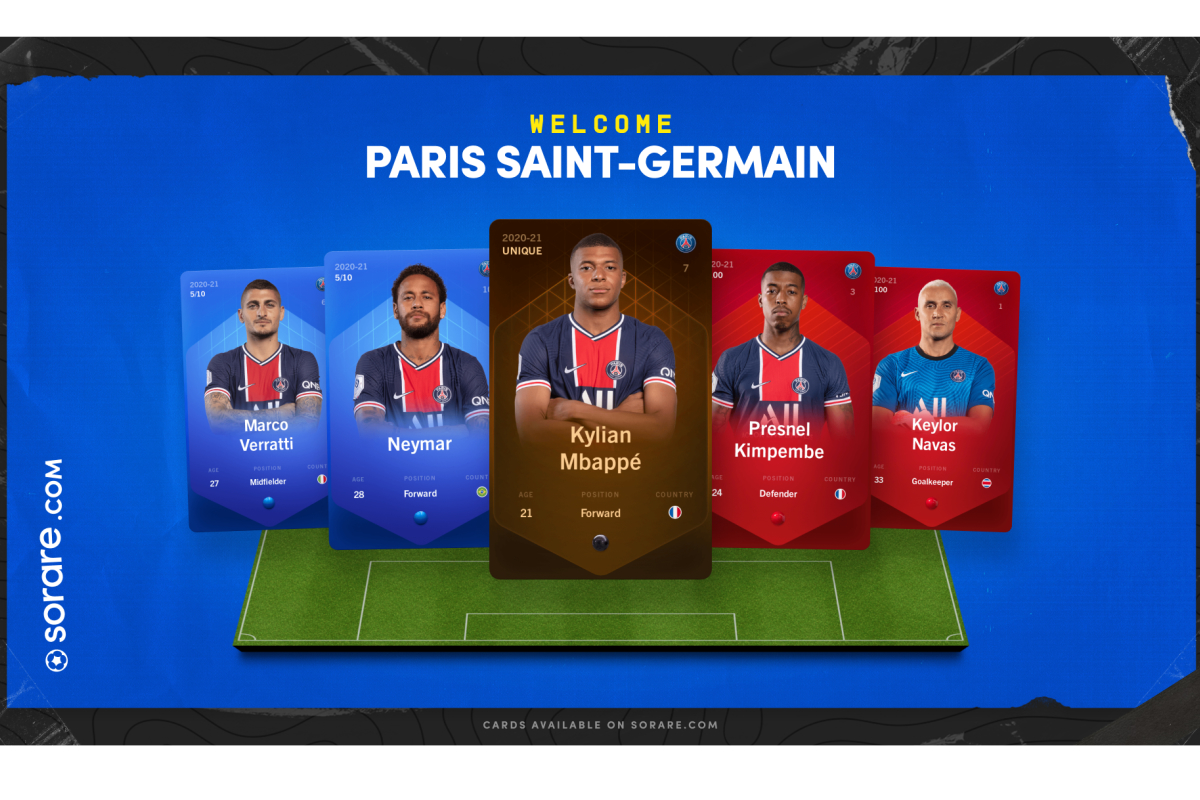 Reading Time:
4
minutes
Paris Saint-Germain, the 2020 Champions League Finalist, and Sorare, the global fantasy football game, has signed a partnership to create digital collectibles of PSG players making it the 100th club to join Sorare
The UK ranks 5th in terms of total number of Sorare users, and number one in terms of total time spent on the platform per user, a reflection of the country's appetite for Fantasy Football
The announcement comes as a first step in Sorare's ambitious plans to partner with leading football teams and clubs in the UK, as its revenue increased twentyfold in the last 12 months
As part of this partnership with PSG, Sorare will gain the rights for 'legendary players' from 2013, including David Beckham
Paris, September 29th, 2020​- Global Fantasy Football platform Sorare announces today that it officially launches in the UK, paving the way for significant partnerships with UK-based football teams
and clubs. Additionally, starting​ today and following PSG's partnership with Sorare, collectors and gamers in the United Kingdom and elsewhere will now be able to freely buy, sell, and play with limited edition digital player cards of PSG players such as Neymar and Kylian Mbappé. This also includes historic players from 2013 such as David Beckham. Since its launch in early 2019, the platform has grown an average of 52% month on month, and today counts over 40​.000 users worldwide.
Through organic growth alone, the UK has quietly grown into Sorare's 5th largest market in terms of user base, sustained by a 70% month on month user growth in the country. The UK is also ranked the number one market as far as time spent on the platform, with an average of 1h25 mins per day per user. Sorare's organic growth in the UK is a reflection of the country's appetite for Fantasy Football, with Fantasy Premier League reaching close to 8million users, and more than doubling in the last 4 years. Today's launch comes in response to the significant user demand from the market, and serves as an additional step in consolidating Sorare's plans to secure partnerships with leading teams and clubs in the UK.
Nicolas Julia, CEO at Sorare, said:​ "We​ are delighted to officially launch in the UK today, getting Sorare one step closer to closing game changing partnerships with major teams and clubs in the country. The​ European Fantasy Football market was estimated at close to USD 900M per annum1 in 2018, and expected to double in the next five years. Expanding into more European markets early on in our growth is a strategic step for Sorare both in terms of market acquisition and brand recognition with users, football teams, and investors alike. With the inclusion of PSG to the platform, football fans in the UK and elsewhere will be able to leverage their football knowledge to play as a strategic manager and compete for rewards with skin in the game. PSG fans will be able to join the economy of their passions in a way that wasn't possible before Sorare's global fantasy football."
The company is using blockchain technology to​ create digital scarcity and establish who owns the digital card of a player at any given time. It creates a new level of trust and freedom for collectors. The cards are more than just collectibles: they are useful in Sorare's global fantasy football game to compete every weekend and fight for the best rewards.
Paris Saint-Germain is embracing Sorare's vision to become the go-to fantasy game to increase the enjoyment of live football. PSG fans will be able to play with their favorite footballers by using their cards in their team. The score of the player card will depend on the performance of the player in real-life, would it be a Ligue 1 game or a Champions League game.
Andre Schurrle, early investor in Sorare, said​: "Today's​ UK launch is a major milestone for Sorare. Anyone remotely interested in football knows that the UK is home to some of the best teams and players in the world. I can't wait to see Sorare announce UK Premier League teams and players in the coming months. Additionally, the inclusion of Paris Saint-Germain on the platform, a top division team in French and international football, is huge news for Sorare's user base. As Sorare players know, the game is based on the real life performance of players, and from today, anyone on Sorare can purchase or trade cards from an outstanding team including world famous players such as Mbappe, Neymar and more. I stand behind Sorare's mission to become the go-to platform for Fantasy Football and today's announcement is yet another proof that the company is well positioned to execute on its objective."​
PSG is joining 99 other football clubs from Europe, the United States, and Asia have partnered with Sorare to issue officially digital player cards, amongst them Juventus and Atletico de Madrid. Through these partnerships, Sorare is able to create the first truly global fantasy football experience. Fantasy players can create a lineup with a Ligue 1 midfielder such as Neymar, a Serie A striker such as Cristiano Ronaldo, a La Liga goalkeeper such as Jan Oblak and a Bundesliga defender such as Sven Bender.
The game was launched in March 2019 by two experienced entrepreneurs, Nicolas Julia and Adrien Montfort, that saw the potential of blockchain technology to create a new category in the sports gaming industry. Sorare has generated USD 1.5 million of revenues from the sale of cards across 60 countries in just over 12 months. It is ranked as the blockchain game with the most volume according to nonfungible​​.
Fabien Allegre, Merchandising and Paris Saint-Germain Brand Diversification, explains​: "Paris Saint-Germain is the new generation club. We are driven by our values of competitiveness. At the forefront of innovation, we are always looking ahead, looking to the future, to offer our fans new experiences. To constantly improve them, and to offer better coverage for our brand, Sorare will enable us to reach out to new, young communities, especially in Asia and America. We are proud of this new collaboration".
See all licensed clubs on Sorare here.