Exclusive Interview with Chris Armes – Group Chief Technology Officer at SG Digital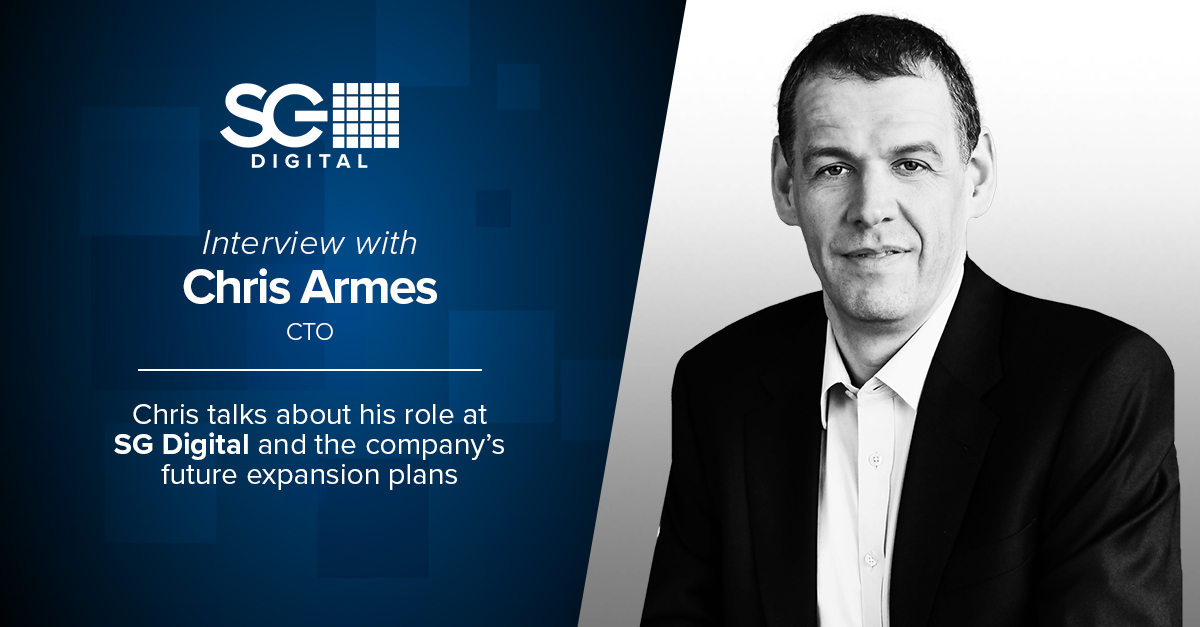 Reading Time:
5
minutes
I am thankful to have the opportunity to take this interview with a professional such as Chris Armes, who has over 25 years' experience of managing high performing global teams, covering the full delivery experience for large-scale international projects, across both hardware and software.
Chris was appointed as Group Chief Technology Officer at NYX Gaming Group in October 2017, and following its acquisition by Scientific Games, is now taking the newly-created division SG Digital to the next level..
I would also like to thank you for following my interview series and for sharing these information with your colleagues and partners. If you would like to be featured in an upcoming interview, please send me an e-mail to [email protected] and I will happily get back to you!
We are grateful for your generosity to answer our questions. First, I would like to ask you to shortly introduce yourself and tell us when and why you started working in this industry.
Chris: It's a pleasure to speak with European Gaming Magazine. My name's Chris Armes, and I'm the Chief Technology Officer at SG Digital, the newly created division of Scientific Games following its acquisition of NYX Gaming Group at the beginning of 2018. At SG Digital, I oversee the support and development of our products and services across digital gaming, iLottery and sports betting.
This is my first role in the betting and gaming industry, having previously worked for computer software and hardware companies Oracle and Sun Microsystems and one that I'm enjoying greatly since joining the company in September last year. It's a really exciting industry with lots happening, but there's also so much more that can be done to capitalise on new technologies and improve both back-end operations and the user experience.
Before joining SG Digital you worked at Oracle and held the position of Vice President, Engineering for Systems. What are those experiences, key-values that you gained at your past workplace and can use in this new role?
Chris: I have more than 25 years' experience in working and managing global teams for the delivery of both hardware and software products. Oracle and Sun were both worldwide organisations that gave me the experience to take the Digital division forward with a product-led strategy that focuses on innovation backed by new technology. Global engineering in particular is hard to get right, and to make it successful requires a huge time investment. The digital gaming industry today reminds me a lot of the ".com" era with growth opportunities and time-to-market pressures. I plan to bring those learnings to this industry so we can capitalize quickly on the massive opportunity ahead of us.
What role do you undertake in the company's life? What are your tasks and responsibilities?
Chris: Now that the acquisition is complete and the SG Digital division created, the focus for us now is to implement a strategy that accelerates product innovation and delivery across all our verticals.
Central to our plans is the opening of our new Technology Development Centre in Krakow, Poland. We aim to staff the office with over 100 new product-focused employees by the end of 2018, forming our fourth development centre in Europe. Poland has an established reputation for housing high-quality tech hubs, and we're thrilled to establish a presence in the region.
It is my responsibility to oversee all our global technology teams and to bring together our different product development teams under one cohesive delivery model.
A big part of that responsibility is helping build an employer brand that attracts the top talent to SG Digital. We aim to attract talent from across the technology spectrum–not just people who have worked in gaming. A lot of our business is about high transaction rates, low latency and a seamless user experience, things you see in many other sectors such as financial services and telecoms. Expertise from various industries is crucial. We need to welcome new ideas and techniques to maximize our potential.
Which have been the most difficult periods in your career so far and what do you consider your greatest personal success?
Chris: The most difficult periods are those two extreme ends of the spectrum when it comes to resourcing: significant growth and significant reductions. Both are challenging times for very different reasons. Growing and scaling a business brings with it the most basic challenge of finding the right talent. From there, though, you also have to retain the best talent. This is not just about compensation, it is also about the importance of building the brand and proving that you are really a great place to work. Hiring momentum is key, but it's also important to understand that finding the best employees can take time. Employees should feel good about coming to work, even during times of growth. The other challenge with growth is scaling in an efficient and effective manner and having business processes that will scale at the same time. Churning out product is one thing; releasing a polished, quality product is another.
There have been so many things I've been proud to be a part of—I'm sure I'd leave many off by accident if I tried to list them. Building technology teams in new locations such as Prague and Bangalore is greatly satisfying, but so is watching talent grow during a career, as junior engineers become engineering thought leaders on my team. Then you see those engineering leaders come up with new and innovative ways to do things, helping to build a world-class, industry leading product.
What can you tell us about the services SG Digital provides?
Chris: The combination of NYX and SG Interactive means we now provide the broadest portfolio of products and services to iGaming brands across the globe. From nine in-house game studios and a network of third-party suppliers, SG Digital offers over 2000 game titles across our platforms. In addition, OpenBet™, the #1 sportsbook platform, used and trusted by the world's leading sports betting operators.
We're focused on improving all aspects of our products and services, which is why we have opened a new tech hub in Poland to find people who can drive innovation within our product portfolio.
I am sure that you have experience and knowledge about the European gambling industry, especially the Eastern European one. I would like to ask you to share your opinion about the gambling industry in general in Europe or in the countries you know better?
Chris: Europe has and will remain a key focus for us as we look to expand into established territories and emerging markets, which of course includes those in Eastern Europe. Online gaming continues to gain popularity in the central and eastern regions, particularly as regulation becomes more robust.
Another region that is exciting for us is the U.S., where the potential expansion of sports betting will present us with significant opportunities. Although sports betting is currently limited to Nevada, proposals to amend existing laws are gathering momentum, and we could soon see a flurry of states allow punters to place wagers on sporting events for the first time. From a technology perspective, we have to ensure our products are ready and compliant to meet the standards of these new markets, which is a major focus for us right now.
Which are the future plans of the company that you can talk about to our readers?
Chris: We're undertaking a major recruitment drive following the opening of our new development centre in Poland. We're hiring for new people in quality assurance, core software development and product innovation. We're also keen on continual recruitment across the globe, especially as the gaming landscape evolves. To prepare for potential sports regulation in the U.S., for example, we aim to expand our employee base in the region with talented individuals who can ensure our success in a new territory.
Crucial to making ourselves an attractive company to work for is the promise of a career opportunity, which is exciting and provides them with a platform to be creative. We're looking into many areas of technology right now, such as video streaming and voice recognition software, as well as looking into how we can provide a more personalised user experience through a deeper understanding of consumer habits.
What upcoming events are the company focusing on nowadays and how prepared is the company for these events?
Chris: For the short-term at least, much of our focus will be on hiring skilled technology leaders to drive growth and innovation.
It's an exciting time to be a part of SG Digital with so much going on across the many verticals we operate and among the talented teams we have all around the world, all pulling in the same direction.
Soft2Bet's Teodora Breskovska: What it takes to make a good brand?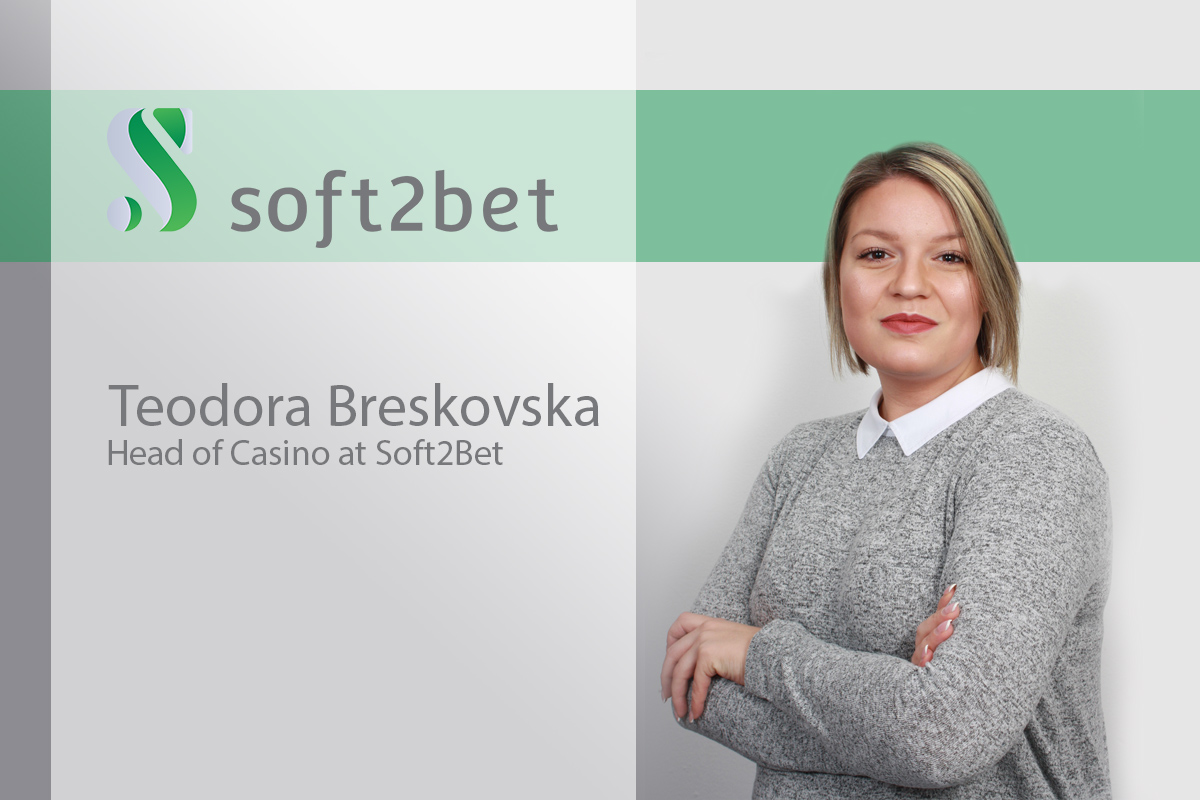 Reading Time:
3
minutes
Teodora Breskovska, Head of Casino for Soft2Bet, discusses the company's impressive year and what players have to look forward to from its selection of innovative brands.
You've come a long way in a short time. What casino brands do you now operate, and which countries can players play them in?
Currently, Soft2Bet's multi-brand portfolio consists of 13 unique casinos and sportsbook brands – 11 of them operate under the Curaçao gambling licence and two run under the MGA. We are constantly working on both updating them as well as on developing new ones which we launch every few months.
Our websites are created with the idea to gather people from all around the globe, therefore, they are translated into several languages, allow playing with various currencies and using local payment solutions as well as offering thousands of casino games to suit all gambling needs. Each brand has a unique look and feel and appeals to different types of customers – from casual players all the way to the regular Slot and Roulette players.
Of course, we have main markets, and the biggest ones for us are the Nordics and Central Europe. Players from these regions have different needs, but as already mentioned, we try to suit all preferences and not just meet but exceed players' expectations.
You have some big name studios on the books. Could you talk us through some of the highlights?
We offer more than 2,500 games on our online casinos and all of them come from trusted iGaming companies. Working with the biggest casino suppliers in Europe, as well as with some rising stars on the market, allows Soft2Bet's brands to provide players with the biggest variety of casino entertainment out there! Our online casinos have titles from giants like Play'n GO, NetEnt, Evolution, Pragmatic Play, Microgaming, Novomatic and others.
How many studios do you now take products from?
At present, we work with over 45 game suppliers, but we are in a continual communication process with new ones that might enrich our already bright portfolio. Thanks to our excellent collaboration with all partners, we manage to offer one of the largest gaming portfolios among all online casino operators and we are proud of the fact!
What were the latest studios that you integrated into Soft2Bet's brands?
Not long ago, we shook hands with BeeFee, one of the most recognised casino software development studios. Now, most of our brands have their top-quality games integrated, meaning that our players enjoy even more entertainment options with high-end graphics, amazing sound-effects and ultra-modern bonus features.
Also, we've recently closed deals with Edict Gaming, which gave us access to the game portfolios of Gamomat, Bally Wulf and Mercur – German based iGaming software developers. We are impressed by the quality of their games and happy to provide our players with them. You know… Germans have quite a good reputation for creating things that work well, and these partnerships prove it 100%!
Tells us more about the other features that players can look forward to on the site.
If you follow us you know that this year, we released three new brands, two of which, namely Wazamba and Nomini, offer unrivalled online casino experience thanks to an inbuilt gamification. These online casinos exceeded all our predictions and turned out to be absolute blockbusters breaking all our records! It seems that people enjoy playing a game within a game – both brands allow clients to select a hero character (totems for Wazamba and fruits for Nomini) and collect points, unlock achievements, customise their hero, receive additional awards. What's more, Nomini, our fruity casino land, attracts all sorts of players giving them the freedom to select a Welcome Bonus that suits their needs best. Upon registration, players choose one out of seven fruit avatars, each with unique bonus offers such as free spins, cash bonuses, cashbacks, live casino package. We've collected the best welcome bonus offers out there and put them into one brand. Nomini warmly welcomes players whatever their casino interests.
What are your plans for 2020?
Concerning the company's growth and development plans, we are aiming to broaden our reach across regulated markets. For example, we are in the process of obtaining licenses for jurisdictions such as Sweden and Portugal.
When it comes to the development of our products, we plan to add layers of personalisation and customisation to our online casinos – that's on our road map for the next year along with developing our own fast tournaments solution, instant player gratification mechanics and further levels of gamification and engagement tools which players can enjoy. We are planning to release a few more brands in 2020, all of which with come with remarkable innovative features, so stay tuned.
The fun, fast and fiscal needs of millennials are no joke, claims 1xBet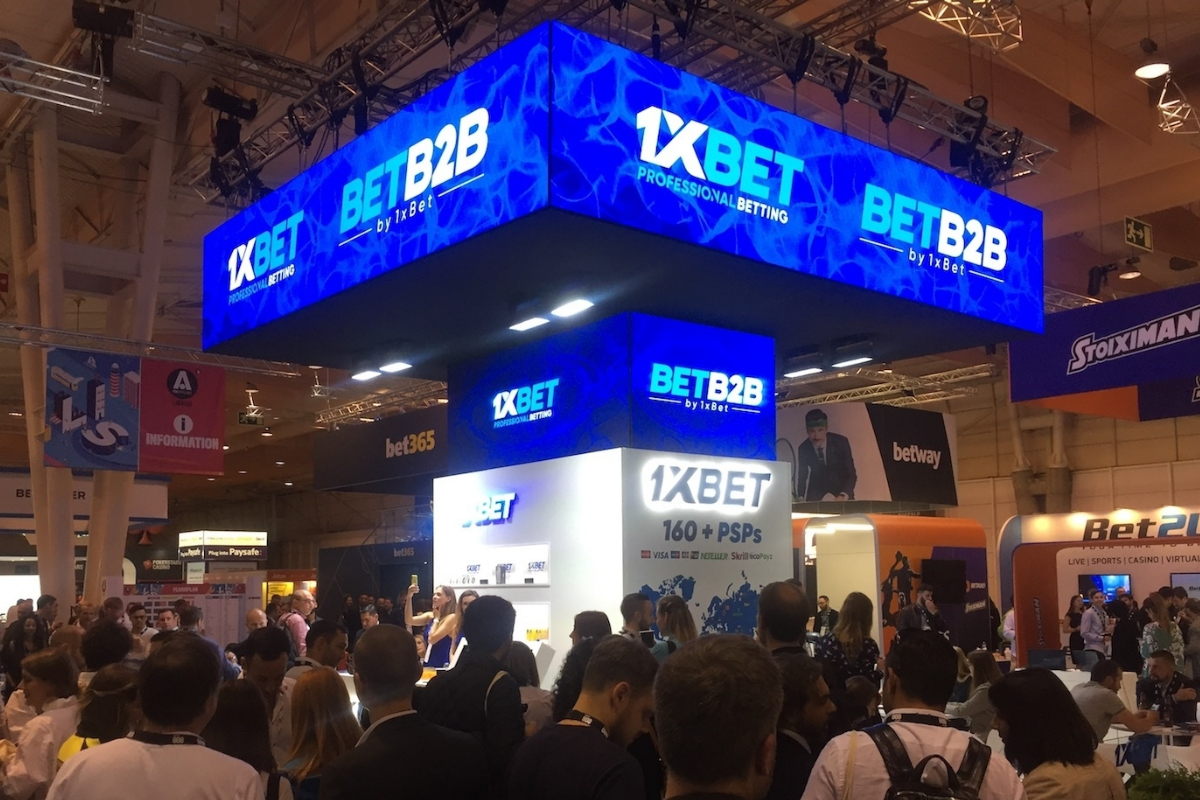 Reading Time:
3
minutes
Delivering entertaining, trendy and disruptive gaming opportunities is "crucial for a generation that is used to not taking everything too seriously", stated the 1xBet team when discussing how bookmakers can attract and hold the interest of the misunderstood millennial market. Highlighting the importance of mobile apps, instant data and unique bets on Brexit, the team explores why betting's new blood is the injection of fun the industry needs…
The younger millennial market is a key focus for casinos and bookmakers in the US, Asia, Africa and beyond, how is 1xBet targeting this segment of players responsibly?
We are carefully studying this segment of the audience and paying special attention to it. The company understands that the time of the millennials has emerged, which means that it is not only important for the future, but also the present. This is a generation that is used to acting and is not afraid to take responsibility, therefore it is vital to build an effective communication strategy with them. Being open, giving all relevant information for decision making, together with using social networks and other communication channels are the most effective ways to communicate with millennials.
Through all these channels, we can offer both potential and existing customers diversified content. And let's also not forget that after millennials, when the so-called Generation Z are fully on their feet, they will be even more mobile in every sense.
On paper it often appears millennial players are swayed by trends and a quest for the 'next big thing', what can companies do to stay ahead of the curve whilst remaining true to their core player base?
There are two main routes that we use. The first is to keep abreast of all possible new products, to participate in various conferences, seminars and other events, while also exchanging experiences with colleagues and partners. The second is to set trends yourself by conducting deep market surveys and testing new products in different markets before launching them on a global scale. We combine these methods and intend to refine them further in the future.
Speaking specifically about the demands of millennials, we highlight a variety of ways to interest them. Firstly, the presentation of material in a fun, colourful, multimedia form is crucial for a generation that is used to not taking everything too seriously. Secondly, with Esports betting, which is becoming more diverse and gaining popularity. Thirdly, by providing unusual special bets on a variety of things that interest millennials – from talent shows and TV shows to the election of the US President and Brexit.
Where do you see the next big wins in terms of keeping fans loyal and how does your team balance creating engaging content with revenue?
1xBet offers a truly unique betting portfolio, which simply has no equal in the number of events. High odds also contribute to customer loyalty. Millennials specifically also seek the personalization of proposals, as well as customisable betting options.
At this stage it's obvious that every self-respecting bookmaker should have a mobile application. We have done everything so that our app is on par with the web version of the 1xBet website. Therefore, our customers always have the opportunity to place bets and have access to the data which interests them. Live betting and online broadcasting of matches are both particularly popular from our experience.
Finally, it is important to always be in touch with customers – that's why our support service works 24/7, and our employees carefully monitor all possible channels for submitting information about 1xBet. Together, this ensures a steady growth in the audience of brand fans – and, therefore, 1xBet profit.
Gaming is one of the earliest adopters of new technology – can the advances pioneered by gaming be translated to new avenues for players like we've seen with esports, live casinos, etc. and if so what does the next new gaming sector look like to you?
In 2019, it is impossible to compete if you do not use the most advanced technologies. This applies not only in gaming and betting, but in all other sectors as well. Technology can become antiquated quickly in almost any industry.
An exciting development is the unique interaction between the most popular sports and betting. For example, in American leagues, it's possible during the broadcast to bet on how the attack of a basketball team will end. All this occurs while seeing the statistics of previous attacks from a particular zone appear on the screen. Such integrations offer unique opportunities for bookmakers and players.
Which sectors outside gaming do you admire in terms of their approach to the millennial market and how can the gaming industry adopt these ideas into its strategy?
Millennials really appreciate new technologies, which is why the IT sector is constantly evolving and offers them more and more new developments, services and products. Forward-thinking IT companies are constantly striving to surprise, because today millennials have access to an increasing number of different technological innovations. Of course, some gambling companies are following in these footsteps. Those of them that can constantly offer technological innovations for the convenience and comfort of users will achieve greater success among millennials.
Betinvest sets sights on expansion in 2020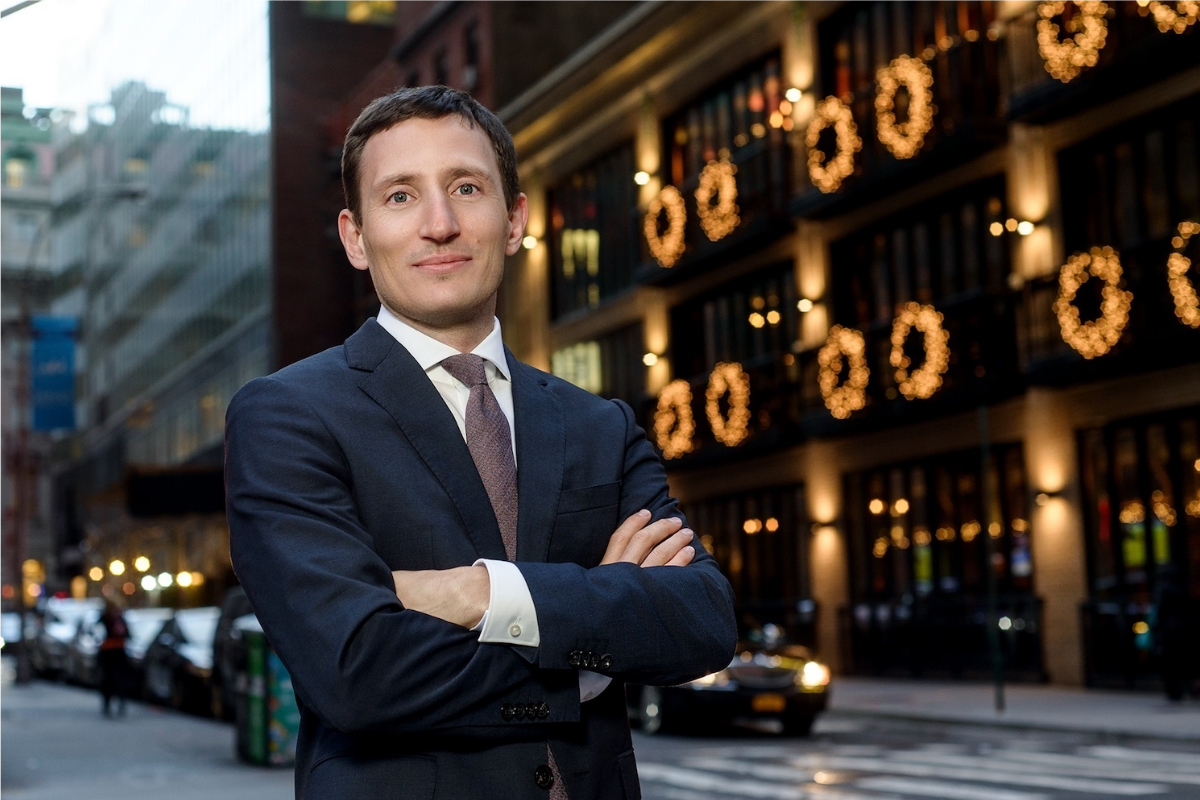 Reading Time:
4
minutes
Betinvest has seen its profits rise by 27% year on year, and experienced a 9% growth in net revenue in 2019. According to COO Max Dubossarsky, the company is keen to invest in its future by "actively building a presence" in the new markets that it has been researching this year. Looking ahead with 2020 vision, Dubossarsky reports on the company's successes of 2019, its plans for ICE London, and why the brand is prioritising its client-led approach.
What has defined the past 12 months for Betinvest?
Throughout 2019, we have proven ourselves innovators in the betting industry by bringing our brand-new approach of providing Sportsbook as a Service (iFrame API) to the market. Not only have we seen an increase in profits from our pre-existing products and partners, our client network has expanded thanks to our new SaaS solution, making it one of our biggest revenue drivers and also inspiring other positive changes in our annual financial results.
We are delighted with this so far and predict more long-term commercial success as we continue to invest in people and innovation.
We also formed our eSports department, launched a new platform for our partners OMG.BET – providing up to 1,000 events for live betting and up to 3,000 events for pre-match betting every month. In addition, we became the first supplier in the gaming industry to use Oracle Monetization Cloud. This solution provides our B2B partners with a single system through which they can manage player information, currency balances and digital wallets, and track all transactions and financial activity.
This year also saw our sports betting solutions shortlisted for widely respected awards such as Global Gaming, SBC and EGR B2B Awards. It is a big honour for us to be named among the best providers in the industry and it motivates us to keep doing what we do best.
By the way, we entered this year with a new creative concept: Betting Genesis. It underlines what our company is all about – we know what is needed to successfully start a betting business and we have all the necessary resources and experience to create and develop one in any region. And we continue to provide our partners with a single entry point into the industry.
You've focused a lot of resources on international expansion, what lies ahead in terms of building your global footprint?
During the course of the year, we have been striving to learn as much as we can about markets all over the world and ensure that we have sufficient understanding of their key features and how best to fulfill their needs with our solutions.
We find that flexible solutions are always required and have therefore developed an approach to providing our Sportsbook as a Service, which has been another important step for us in our mission to develop international gambling markets in 2019. We ensure that our solutions are flexible and customisable for our clients around the globe.
Our team has been reinforced with competent new C-level managers, meaning that we are well prepared for 2020 to be a year of further expansion.
Outside of new markets, are there any other areas of primary focus going forward?
Maintaining a client-centred approach continues to be a priority for us. With this in mind, we are working on our approaches for providing the sports betting solutions. Technology is always evolving and unearthing new possibilities for business, so our aim is to stay up to date with these changes.
Are you hoping to branch into any new areas in the new future?
Our expertise and years of experience in the betting industry is a vital part of our product. Our clients know that they can trust us to provide them with reliable odds on absolutely any event, as well as to manage the risks. As a result, we are always looking to continue developing in this area and perfect our current software, developing new products and approaches to business operations.
With regard to new areas, we plan to present all our new 2020 releases at ICE London, so we will be sharing these with you very soon!
How do you want Betinvest to be seen by the rest of the international gaming industry in 2020 and beyond? 
With our experience in the industry, and the range of sports betting solutions we offer, we can be a single entry point into the gaming industry for our clients. We offer them a fully integrated solution and support with any issue – from launch to day-to-day business operations.
We strongly believe that our success is possible only thanks to the success of our clients, and that is why a client-centered approach plays a key part in our strategy.
Next year is likely to be a year of expansion for Betinvest. By this I mean that, while 2019 was a year where we predominantly studied emerging markets, in 2020 we will be aiming to actively build a presence for ourselves in those markets.
What is more, given that the company is developing, our product range is expanding, and that our client base is increasing – and thus so are our staff numbers, we are making concerted efforts to iron out our internal processes. This is important so that we can be adaptable and are able to react quickly to the demands of the market and the demands of our partners and the times that we live in.