Exclusive Interview with Chris Armes – Group Chief Technology Officer at SG Digital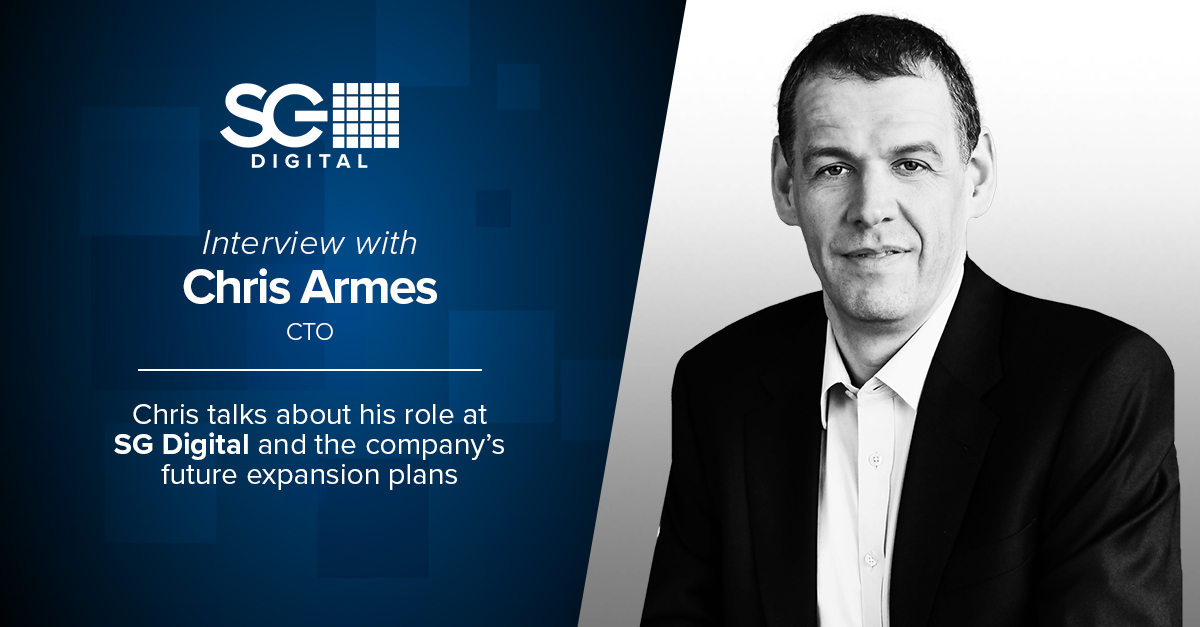 Reading Time:
5
minutes
I am thankful to have the opportunity to take this interview with a professional such as Chris Armes, who has over 25 years' experience of managing high performing global teams, covering the full delivery experience for large-scale international projects, across both hardware and software.
Chris was appointed as Group Chief Technology Officer at NYX Gaming Group in October 2017, and following its acquisition by Scientific Games, is now taking the newly-created division SG Digital to the next level..
I would also like to thank you for following my interview series and for sharing these information with your colleagues and partners. If you would like to be featured in an upcoming interview, please send me an e-mail to [email protected] and I will happily get back to you!
We are grateful for your generosity to answer our questions. First, I would like to ask you to shortly introduce yourself and tell us when and why you started working in this industry.
Chris: It's a pleasure to speak with European Gaming Magazine. My name's Chris Armes, and I'm the Chief Technology Officer at SG Digital, the newly created division of Scientific Games following its acquisition of NYX Gaming Group at the beginning of 2018. At SG Digital, I oversee the support and development of our products and services across digital gaming, iLottery and sports betting.
This is my first role in the betting and gaming industry, having previously worked for computer software and hardware companies Oracle and Sun Microsystems and one that I'm enjoying greatly since joining the company in September last year. It's a really exciting industry with lots happening, but there's also so much more that can be done to capitalise on new technologies and improve both back-end operations and the user experience.
Before joining SG Digital you worked at Oracle and held the position of Vice President, Engineering for Systems. What are those experiences, key-values that you gained at your past workplace and can use in this new role?
Chris: I have more than 25 years' experience in working and managing global teams for the delivery of both hardware and software products. Oracle and Sun were both worldwide organisations that gave me the experience to take the Digital division forward with a product-led strategy that focuses on innovation backed by new technology. Global engineering in particular is hard to get right, and to make it successful requires a huge time investment. The digital gaming industry today reminds me a lot of the ".com" era with growth opportunities and time-to-market pressures. I plan to bring those learnings to this industry so we can capitalize quickly on the massive opportunity ahead of us.
What role do you undertake in the company's life? What are your tasks and responsibilities?
Chris: Now that the acquisition is complete and the SG Digital division created, the focus for us now is to implement a strategy that accelerates product innovation and delivery across all our verticals.
Central to our plans is the opening of our new Technology Development Centre in Krakow, Poland. We aim to staff the office with over 100 new product-focused employees by the end of 2018, forming our fourth development centre in Europe. Poland has an established reputation for housing high-quality tech hubs, and we're thrilled to establish a presence in the region.
It is my responsibility to oversee all our global technology teams and to bring together our different product development teams under one cohesive delivery model.
A big part of that responsibility is helping build an employer brand that attracts the top talent to SG Digital. We aim to attract talent from across the technology spectrum–not just people who have worked in gaming. A lot of our business is about high transaction rates, low latency and a seamless user experience, things you see in many other sectors such as financial services and telecoms. Expertise from various industries is crucial. We need to welcome new ideas and techniques to maximize our potential.
Which have been the most difficult periods in your career so far and what do you consider your greatest personal success?
Chris: The most difficult periods are those two extreme ends of the spectrum when it comes to resourcing: significant growth and significant reductions. Both are challenging times for very different reasons. Growing and scaling a business brings with it the most basic challenge of finding the right talent. From there, though, you also have to retain the best talent. This is not just about compensation, it is also about the importance of building the brand and proving that you are really a great place to work. Hiring momentum is key, but it's also important to understand that finding the best employees can take time. Employees should feel good about coming to work, even during times of growth. The other challenge with growth is scaling in an efficient and effective manner and having business processes that will scale at the same time. Churning out product is one thing; releasing a polished, quality product is another.
There have been so many things I've been proud to be a part of—I'm sure I'd leave many off by accident if I tried to list them. Building technology teams in new locations such as Prague and Bangalore is greatly satisfying, but so is watching talent grow during a career, as junior engineers become engineering thought leaders on my team. Then you see those engineering leaders come up with new and innovative ways to do things, helping to build a world-class, industry leading product.
What can you tell us about the services SG Digital provides?
Chris: The combination of NYX and SG Interactive means we now provide the broadest portfolio of products and services to iGaming brands across the globe. From nine in-house game studios and a network of third-party suppliers, SG Digital offers over 2000 game titles across our platforms. In addition, OpenBet™, the #1 sportsbook platform, used and trusted by the world's leading sports betting operators.
We're focused on improving all aspects of our products and services, which is why we have opened a new tech hub in Poland to find people who can drive innovation within our product portfolio.
I am sure that you have experience and knowledge about the European gambling industry, especially the Eastern European one. I would like to ask you to share your opinion about the gambling industry in general in Europe or in the countries you know better?
Chris: Europe has and will remain a key focus for us as we look to expand into established territories and emerging markets, which of course includes those in Eastern Europe. Online gaming continues to gain popularity in the central and eastern regions, particularly as regulation becomes more robust.
Another region that is exciting for us is the U.S., where the potential expansion of sports betting will present us with significant opportunities. Although sports betting is currently limited to Nevada, proposals to amend existing laws are gathering momentum, and we could soon see a flurry of states allow punters to place wagers on sporting events for the first time. From a technology perspective, we have to ensure our products are ready and compliant to meet the standards of these new markets, which is a major focus for us right now.
Which are the future plans of the company that you can talk about to our readers?
Chris: We're undertaking a major recruitment drive following the opening of our new development centre in Poland. We're hiring for new people in quality assurance, core software development and product innovation. We're also keen on continual recruitment across the globe, especially as the gaming landscape evolves. To prepare for potential sports regulation in the U.S., for example, we aim to expand our employee base in the region with talented individuals who can ensure our success in a new territory.
Crucial to making ourselves an attractive company to work for is the promise of a career opportunity, which is exciting and provides them with a platform to be creative. We're looking into many areas of technology right now, such as video streaming and voice recognition software, as well as looking into how we can provide a more personalised user experience through a deeper understanding of consumer habits.
What upcoming events are the company focusing on nowadays and how prepared is the company for these events?
Chris: For the short-term at least, much of our focus will be on hiring skilled technology leaders to drive growth and innovation.
It's an exciting time to be a part of SG Digital with so much going on across the many verticals we operate and among the talented teams we have all around the world, all pulling in the same direction.