5 Reasons Why Online Slots are the Best Way to Gamble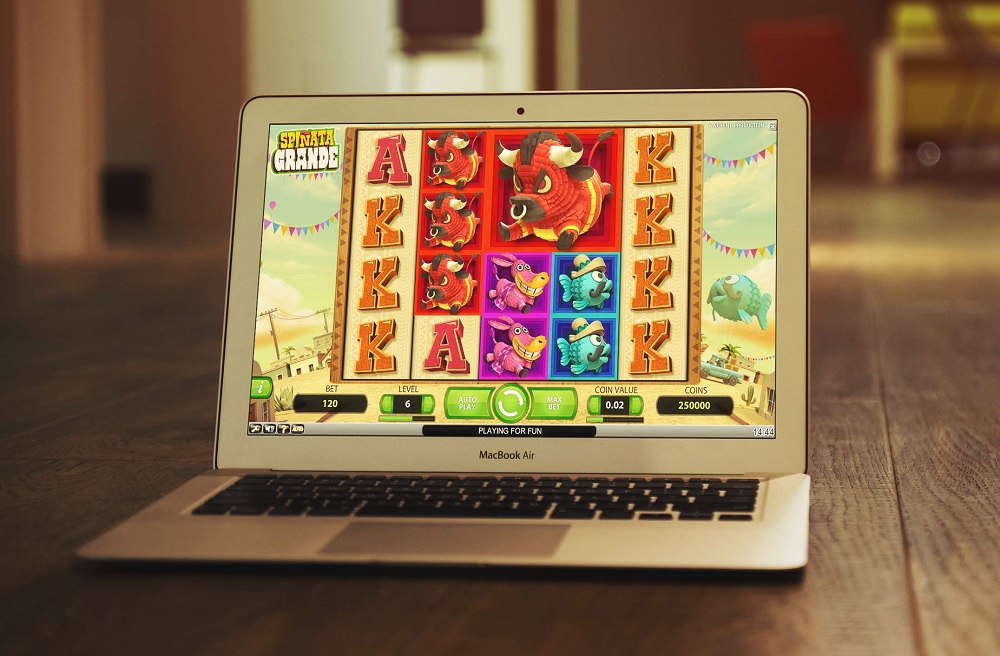 Reading Time:
3
minutes
Casinos – places where everything glows with bright colours and whimsical characters. It's an environment like no other, braggingly vibrant and anxiously solemn at the same time. A melting pot of fat whales, nonchalant Bon Vivants and endearing old ladies that smells like excitement and despair.
Sure, it's a cradle of gambling.
But is it really the cosiest one?
Smart gambling is about keeping it cool, and casinos are about everything but. Designed to wire you up, they use all of their glitter and glitz to distract you from the only thing that truly matters, and that's the game. No doubt, they provide the experience. But is that experience about gambling or spending?
This is why we take online over Las Vegas every time.
Online Gambling Is Far Cheaper
It really is. There are only a handful of places where you can legally gamble and receive the same kind of luxurious treatment that's been born and bred in Las Vegas. That leaves you with only one viable option, and that is to book a ticket, pack your bags, and fly to A.C., Reno, Monte Carlo, or Singapore.
To do so, you need two round-trip tickets, decent accommodation, probably a rented car, some cash for staying costs, and all that in addition to money, you're going to spend gambling. And, unless you're really good at counting cards, it's a thin chance you'll be able to earn enough to make it worthwhile.
Even if we assume that you actually live in a major gambling city, brick-and-mortar casinos are still more expensive than their online counterparts. You wouldn't go there in your sweatshirt, right? You wouldn't go back home without treating yourself with a nice drink, wouldn't you? It is all fine print.
For online classic slots like Slotomania, all you need a computer and good internet connection. Throw in a comfy chair and a beer to compliment that. You don't need to talk to your boss and take a leave of absence. For one night in an online casino, you don't need anything that you don't already have. You simply pay to play.
Online Slots Are More Convenient
And you can do that anywhere you like! We wouldn't go as far as to describe a trip to a gambling city as an inconvenience, though for a lot of people it is. Regardless of the unparalleled popularity of slot machines and how much people love to play them. Not everyone likes to pack, fly, and wake up in a strange bed. But even if you do, online slots offer another kind of convenience that offline slots don't.
We've already mentioned a conversation with your boss, and we've talked about dressing codes. To play an online slot, you don't need to leave your work and think about what to wear. Even a computer is not a necessity anymore. You can play on your smartphone from your home, your office, or a café.
The Games You Like Are Always Available
Have you recently visited an online casino? They offer a myriad of slots for everyone's taste. And boasts hundreds of popular and unique machines with amazing extra features and special treats. That kind of variety is very hard to find in a traditional casino environment.
Feeling nostalgic about Guns N' Roses? There's a slot with their name on it. Obsessed with epic fantasy? Try Mythic Maiden. Sucker for classic reels with cherries and bananas? Simba Games has that too. And what's even better, there's never a waiting line for any online slot you're eager to try out.
Online Casinos Offer Great Perks and Promotions
From player cards and deposit bonuses to surprise payouts and cashbacks, online casinos offer a crazy amount of promotions that make the experience even better. Also, you don't have to do much to claim your money, as it is wired to your casino account and automatically transferred in seconds.
Nobody Is There to Mess with Your Mojo
You know how every casino has that one wise guy who claims to be an expert in every game? Behind him are always a drunk guy who's just lost a bundle and his loud friend who just doesn't care about money at all. These whimsical characters usually come in packs, determined to mess with your mojo.
Shall we mention that online casinos slots like Simba Games for instance, put a satisfying amount of distance between you, a serious player, and anyone who's come there to nag about their cheating wife? Whatever your personal playing style might be, online slots are designed to provide you the best possible gambling experience.
That alone is enough for us to choose online slots over brick-and-mortar casinos. When you add to that the fact that they are way cheaper and convenient, that there's a variety of slots that are always available, and that chances for winning a jackpot are actually higher, we believe the winner is obvious.
Gluck Games break a Guinness World Record at iGB Live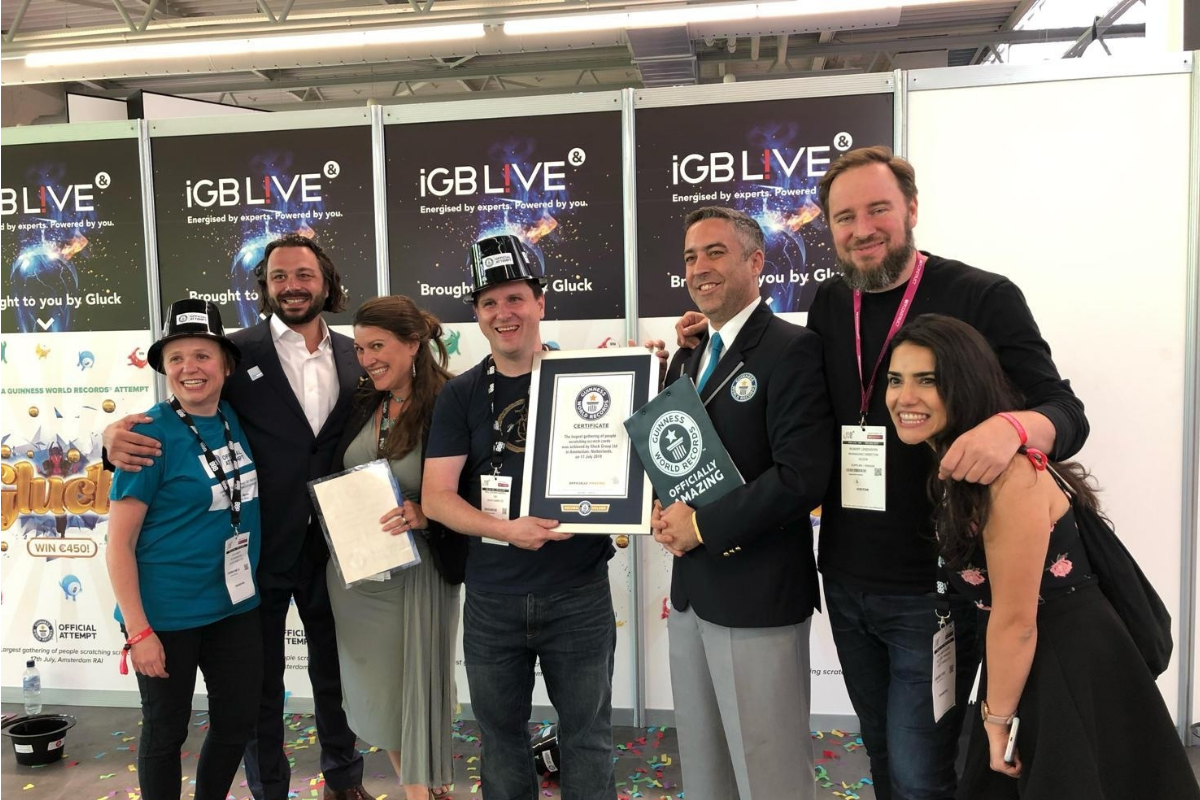 Reading Time:
2
minutes
This iGBLive in Amsterdam made history by breaking a Guinness World Record: the largest number of people scratching scratchcards! Previously the record was held by the lottery in the Philippines, but Gluck and the people at iGBLive scratched that out with 386 people taking part in the final record attempt.
Stewards ushered in the people, before the doors were closed and the official Guinness World Record adjudicator called for the scratching to begin! The sound of nearly 400 people beginning to scratch off to find out if they had won, filled the massive hall. Those without keys, coins or scratching implements resorted to their nails. One participant took off an engagement ring and used the diamond to get scratching – while a man with nails cut too short, made a worrying attempt on the card with his teeth!
Winner Winner!
No matter what they used, people were anxious to find out – were they one of the lucky winner? There were ten top 450€ prizes – making some very happy people at the conference – including two support staff from the venue itself for whom this was the best show they've ever worked at! Others expressed amazement at having won – convinced the winning cards must be a promotion, rather than an actual cash sum! One winner said how she had never won anything before, 'not even a raffle!'
10 winners from 386 participants translates to a 1 in 38 win rate – while the chance of winning just £140 in the National Lottery is 1 in 2,180 – making it clear that the Guinness World Record was about more than just the glory for some lucky people.
Scratch the Record!
There was a nerve-racking rate as each steward confirmed the tally of participants. Overseen by an official Guinness World Record judge and gaming legend, Michael Caselli, the win was announced to excited cheers from the anxious organisers at Gluck Games.
The guys and gals at Gluck Games wish anyone else attempting a record well: "there can never be too much fun in the world," says Chief Commercial Officer and Founder, Helen Walton. "We love playing scratch cards ourselves and we've always wanted the honour of a World Record. Now we can truly say this was a world-record breaking event and an occasion we will never forget!"
Family/Indoor Entertainment Centres Market Growth Driven by Availability of Diversified Gaming and Entertainment Options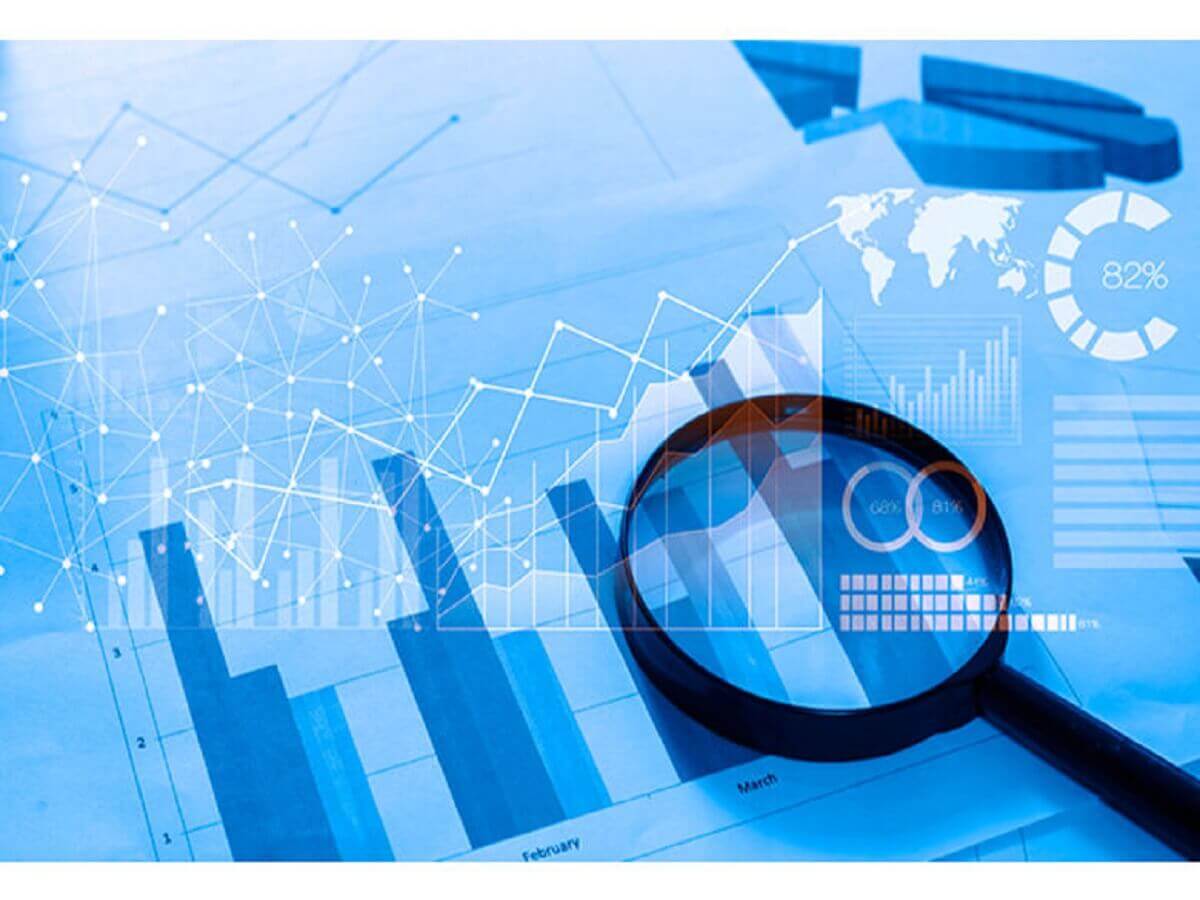 Reading Time:
3
minutes
Family/Indoor Entertainment Centers Market: Dynamics & Forecast
The family/indoor entertainment centers are designed to engage each and every member of the family at very low prices. Family/indoor entertainment centers provide a variety of entertainment to individuals of all ages. Family/indoor entertainment centers follow strategies such as loyalty programs, the offering of gift cards, bonuses, and incentives that expire after a particular period. This helps boost the number of visitors to a particular family/indoor entertainment center.
The family/indoor entertainment centers market is estimated to grow at a CAGR of 13.5% during the forecast period. The family/indoor entertainment centers market was valued at US$ 22,783.9 Mn in 2018, and is expected to grow significantly to reach US$ 80,641.5 Mn by 2028 due to the diversified gaming and entertainment options available in the family/indoor entertainment centers market.
Family/Indoor Entertainment Centers Market: Segmentation
In this report, PMR has segmented the global family/indoor entertainment centers market by type, by facility size, and by region. By type, the family/indoor entertainment centers market is segmented into arcade studios, VR gaming zones, indoor go-kart tracks, sports arcades, and trampoline and indoor adventure parks. The arcade studios subsegment of the global family/indoor entertainment centers market is expected to register a 30.3% market share at the end of 2018. Moreover, the VR gaming zones subsegment is estimated to register a CAGR of 14.9% in the family/indoor entertainment centers market over the projected period. In addition, the arcade studios subsegment is expected to create an opportunity of US $ 17,300.4 Mn in the family/indoor entertainment centers market from 2018 to 2028.
By facility size, the global family/indoor entertainment centers market is subsegmented into <5,000 Sq. Feet, 5,001 to 10,000 Sq. Feet, 10,001 to 20,000 Sq. Feet, 20,001 to 40,000 Sq. Feet and > 40,000 Sq. Feet. The > 40,000 Sq. Feet subsegment is estimated to grow at a CAGR of 15% during the forecast period and the 20,001 to 40,000 Sq. Feet subsegment is projected to create an opportunity of US $ 17,179.2 Mn between 2018 and 2028 in the family/indoor entertainment centers market.
Family/Indoor Entertainment Centers Market: Regional Analysis
The report also offers insights as well as analysis regarding the growth opportunities in the family/indoor entertainment centers market across all the regions worldwide, which include North America (Canada & U.S.), Latin America (Mexico, Brazil, & the rest of Latin America), Europe (France, Germany, Spain, Italy, U.K., Russia, & the rest of Europe),  East Asia (China, Japan, and South Korea), South Asia (India, Thailand, Malaysia, Indonesia, Philippines, and the Rest of South Asia) and MEA (South Africa, GCC Countries, Israel, & the rest of MEA). The family/indoor entertainment centers market in East Asia is expected to increase at a CAGR of 14.3% over the projected period. Increasing disposable income and increasing middle-class population are among the factors boosting the family/indoor entertainment centers market in this region.
Family/Indoor Entertainment Centers Market: Competitive Landscape
As per PMR analysis, strategic developments, such as product innovations, the addition of new attractions, as well as others, are estimated to contribute to revenue generation in the family/indoor entertainment centers market. Some of the key players in the global family/indoor entertainment centers market report are Dave & Buster's, Smaash Entertainment, Time Zone Entertainment, CEC Entertainment, Scene 75 Entertainment Centers, Bowlmor AMF, Main Event Entertainment, Legoland Discovery Center, Lucky Strike, Amoeba Services, Kidzania, Funcity, Nickelodeon Universe, Bandai Namco Entertainment, Tenpin, Toy Town, and Walt Disney. Among these, Main Event Entertainment is focusing on improving its market share by introducing new games and attractions in the family/indoor entertainment centers market. Dave and Buster's is one of the strong players in the family/indoor entertainment centers market owing to its strong presence in the North America region.
These insights are based on a report on Family/Indoor Entertainment Centers Market by Persistence Market Research
bwin Selects Fresh8 Gaming to Support Advertising across Germany and Austria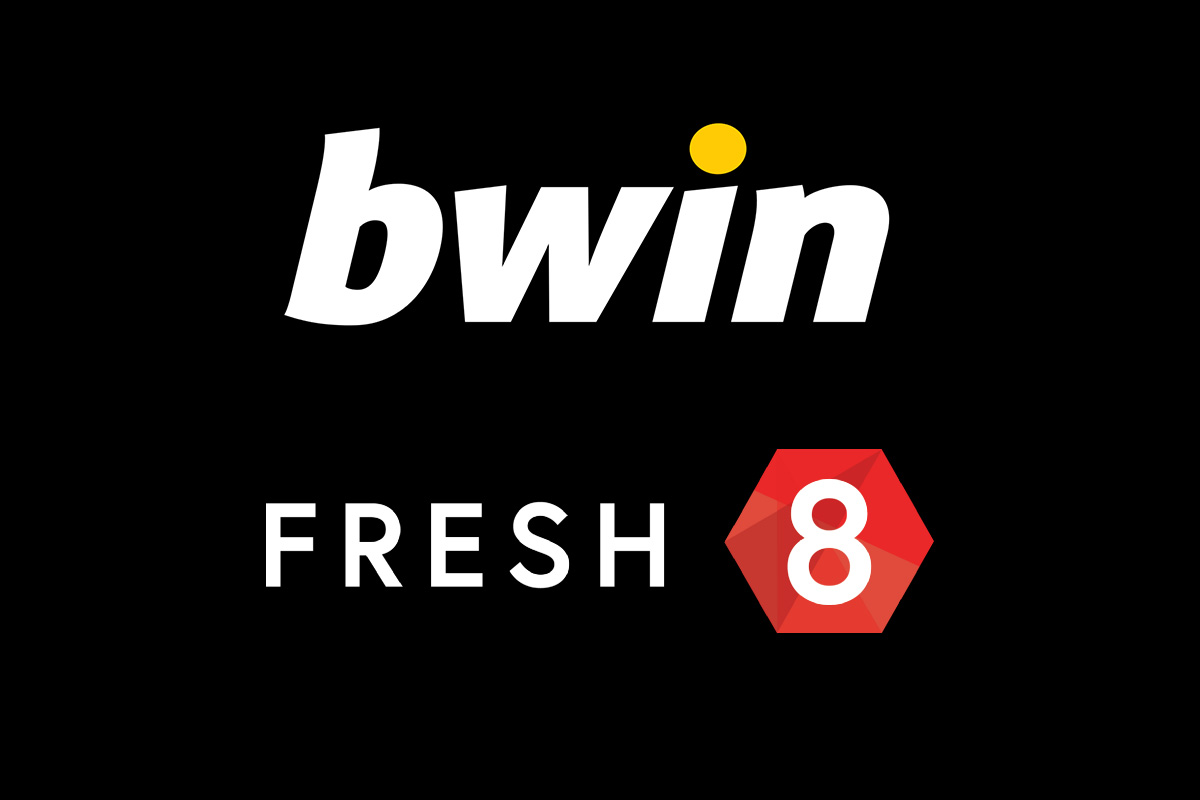 Reading Time:
1
minute
German sports betting company bwin has selected with Fresh8 Gaming to support their advertising across Germany and Austria.
bwin will use Fresh8 across their marketing channels including programmatic, display and social. The deal will see bwin adverts pushed automatically across tier 1 publishers including Bild and other big German sports news sites.
Fresh8 creates optimised marketing assets automatically from an operator's event and CRM data. This optimises bwin's marketing spend through real-time creative decisions and minimises the time and overhead of producing, and distributing, digital marketing assets by hand.
"We are thrilled to enter the German and Austrian market with the region's market leader. Such an iconic brand backing our product and technology is a big win for us. They really understand how automation in marketing departments can be the next big driver of revenues for their business," Andrew Sharland, CEO at Fresh8 Gaming said.
"bwin differentiates itself from the competition in its marketing through its deep customer understanding. We analyze target group behavior and generate as many touchpoints as possible across channels (digital, TV, out-of-home, print, sponsoring, social) on the fans' way to match day. Thanks to the partnership with Fresh8 we are able to bring this difference home in real time and personalized for our customers. It also enables us to do this automatically and on a large scale across all our advertising channels," a spokesperson of bwin said.