FANDOM SPORTS Allows Sports Fans to Unleash Their Primal Sports Passions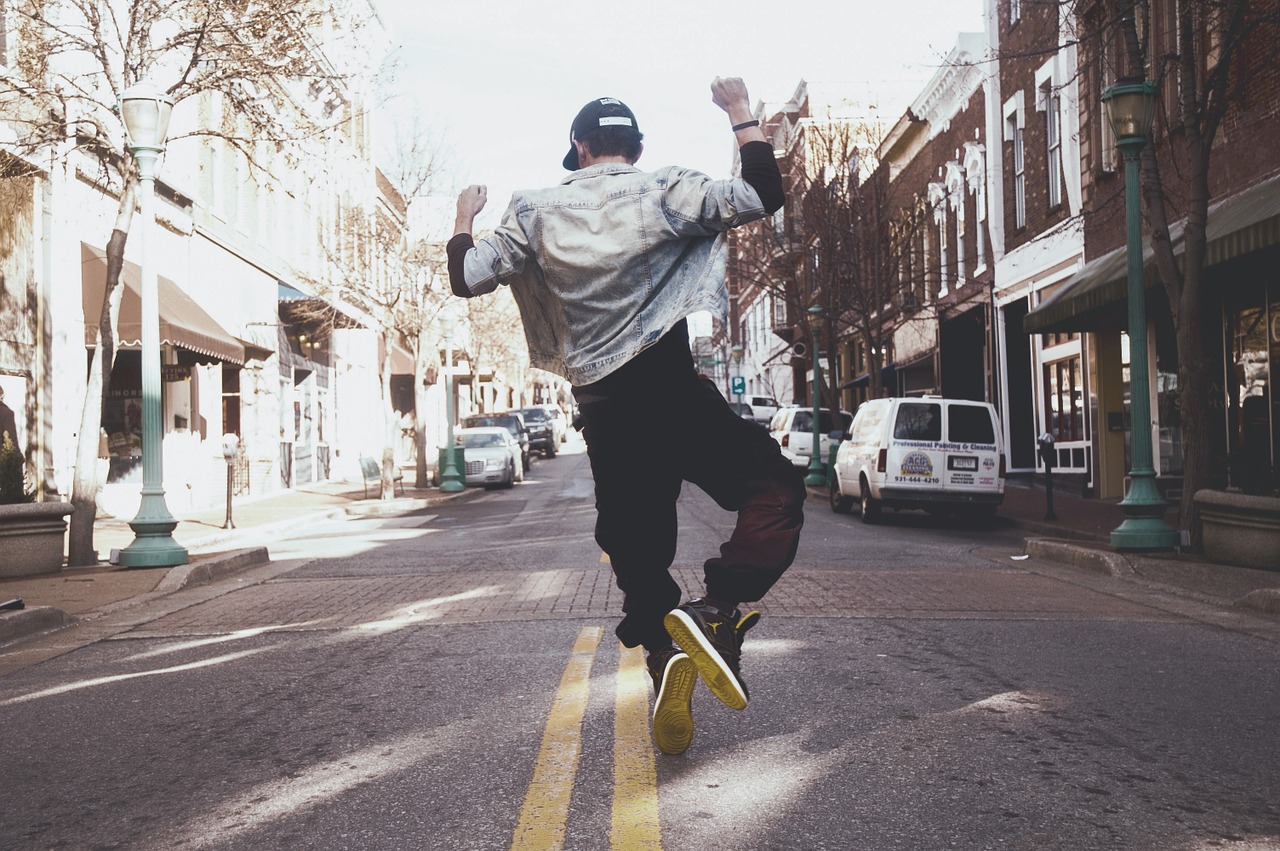 Reading Time:
8
minutes
VANCOUVER, British Columbia, Aug. 07, 2018 – FANDOM SPORTS Media Corp. (CSE: FDM) (OTC: FDMSF) (FRANKFURT: TQ42) ("FANDOM SPORTS" or the "Company"), creator of FANDOM SPORTS, the new app that aggregates, curates and produces fan-focused content, is today pleased to provide an overview and management summary of the last two quarters.
Overview
FANDOM SPORTS Media Corp. is a sports entertainment and gaming company "Hell Bent" on finding and creating the best sports content. FANDOM SPORTS allows passionate fans to unleash their primal sports passions by engaging with other fans, cheering for their favorite teams, players and jeering their opponents.
Investment Highlights
Revolutionary blockchain-based sports entertainment platform targets global market
App scalable through its backend infrastructure to support commercial growth, global reach and potential third-party fiat currency sports gaming settlement
Apps will be available on both Android and iPhone during Q4 2018
Worldwide gaming is forecasted to rise to more than $144 billion by 2018; online gaming is pegged to reach nearly $60 billion by 2020, according to NewZoo.com
Blockchain platform partnership with HHS Technology Group enables global reach and telecom-grade platform maintenance and operations
Global technology providers range from blue-chip companies like IBM, Google, Amazon and Facebook all the way to cutting edge start-up companies covering interactive video players and Augmented Reality solutions.
In-house technology team and game studio for eSports will further strengthen FANDOM SPORTS' operations
Multiple, partnership-based revenue streams maximize sports fan-focused meta data and provide income opportunity across advertising, brand sponsorship, curated content and white-label app options on the blockchain sports entertainment platform
Strong management team with track record in successful business development, best-in-class design team that previously built NBA and NASCAR apps, and digital marketing specialists that apply hyper-targeting data analytics and techniques
FANDOM SPORTS: The Brand
FANDOM SPORTS exists to allow sports fans to unleash their primal sports passions, to express their adoration for their teams and players, as well as their deep scorn for their opponents.
Building on the success of its current, 2015 designed, FANDOM Sports App, the company is phasing out systematically the legacy product and will launch an enhanced IBM Blockchain Platform accompanied by a new iOS and Android sports app in the fourth quarter of 2018. This core mobile product – the FANDOM SPORTS App – taps into the passion of sports fans around the world, bringing "trash talk" to a new level.
Currently in development with HHS Tech Group and overseen by IBM, the new platform will give FANDOM the flexibility to expand into new global markets by tailoring a shell app, based on demand, to that specific market. While the shell app will look and perform the same globally, it will produce new results depending on the user's geographic location. For example, a FANDOM Sports App user in China may not be as interested in the NFL, NBA or NHL like a North American market. Instead, their interests could be in eSports and sports leagues native to their country.
With these features, the FANDOM SPORTS App is the ultimate destination for die-hard sports fans. The app enables users to follow their favorite live-action and fantasy teams and players, as well as test their sports knowledge and track viral sports highlights. During Online and live sporting events, professional athletes, commentators and users can engage and debate. It provides a place for fans to connect and square off in real-time with raw, authentic sports debates.
Users are able to log in, celebrate and commiserate with like-minded fans or debate the enemy. The FANDOM SPORTS app currently targets major sports, including football, basketball, baseball and hockey, with future global expansion based on demand and market expansion plans. FANDOM SPORTS' mighty live sports metadata provider is the Sports radar.
The app's FanFights feature allows sports fans to engage other users and unleash raw opinions, predictions and uncensored debates. Application-use is further driven when sports lovers can keep up with their favorite teams and players, trash talk, invite friends to "Pick a Fight" to win virtual currency and experience points status.
Business Strategy
FANDOM SPORTS has identified a relatively untapped sports market ripe with demand. Large-scale social media players are not nimble enough to fill this gap in the sports entertainment market, and this is where FANDOM SPORTS enters the game.  As a newcomer to the market, the company has chosen best-in-class partners to make its platform and sports app.
Monetization is based on multiple potential revenue streams, including in-house advertising sales, brand partnerships, in-app purchases and more.
In addition to its one-of-a-kind, mobile-only IBM Cloud and IBM Blockchain platform, the company's business model is based on unique features and gamification of FANDOM SPORTS to bring fans, athletes and celebrities together by blending user-generated and curated content.
Through its ability to engage users in a one-of-a-kind social media and competitive mobile sport experience, FANDOM SPORTS is well-positioned within the booming North American and international gaming markets, targeting sports super fans.
FANDOM SPORTS utilizes the IBM Watson learning algorithm, which predicts and services user preferences while building relevant personalized FANFIGHT channels. This brings sports entertainment to a new level, delivering competitive conversation and interaction that rival a sports bar into the user's hand.
FANDOM SPORTS is led by a strategic management team with combined expertise and a great track record in business development, finance, technology and content curation. The team holds veteran expertise across entertainment, media and music industries, while the company's advisory board boasts high-level executives, professional athletes and celebrities. New additions to the advisory board cover the massively growing arena of eSports.
Gamification
Functionality of the FANDOM SPORTS App enables users to engage in sports debates that have definite resolution from live games. The company is implementing strategies extensively used in the mobile gaming industry to attract its users in continued engagement with the FANDOM SPORTS App. Within the application environment, users become invested as "players" to build their profile ("Player Card") while competing for rewards and prestige.
The app further engages players with a unique in-game virtual currency. Not intended for use in real-world gambling, the virtual currency holds in-app value. With the in-app currency, fans are able to create their own "FANFIGHTS," "Pick a Fight," and debate the outcome of arguments. Users are provided a fixed amount of app currency upon initial sign up. As the user contributes and engages with other fans, they accumulate more virtual currency FANCOIN, as well as a higher experience on the platform.
Within the application in Q4, users in certain regions can make in-app purchases to speed up their gaming experience, as well as "Pick A Fight" for prizes, in-game items and potentially live sporting events.
Market Opportunity
FANDOM Sports is establishing routes to take advantage of strong growth of mobile gaming and mobile games. The worldwide gaming market is forecast to rise to $137.9 billion in 2018, according to Newzoo.
Worldwide gaming is forecasted to rise to US $144.31 billion by 2018. In 2015, the online gaming market had a volume of US $37.91 billion, and this figure was forecasted to increase to US $59.79 billion in 2020. In 2015, the online gaming gross win accounted for 10 percent of the total gaming gross win, and this was forecasted to increase to 14 percent in 2020.
Within this space, the FANDOM SPORTS App is the ultimate destination for die-hard sports fans to dive deeper. The app provides engaging and authentic real-time interactive content aimed right at the company's targeted age demographic of 18-34. The FanFights on the app create a platform in which intense sports fans can engage other users, unleashing raw opinions, predictions and debates that you don't want your mom to see on Facebook. Application use is further driven when sports lovers can keep up with their favourite teams and players, vent, gloat, invite friends to Pick A Fight and play to win virtual currency and experience points status.
Management
Henri Holm – Chief Executive Officer
Mr. Henri Holm is president and CEO of FANDOM SPORTS Media Corp. Mr. Holm has an extensive track record of business success, bringing over 20 years of international hands-on strategy execution experience. A Harvard Business School alumni, Henri's career accomplishments include scaling-up functions of multinational firms and expertise in various leadership roles, including covering digital content and implementing as well as enhancing gamification, brand management, licensing, mobile technology, manufacturing, distribution and retail operations processes and functionality.
With key focus on consumer and partner value, Henri's most recent executive position covered leading video products, billing and sports content services within the Middle-East region. Additionally, Mr. Holm was Senior Vice President at Rovio Entertainment, where he oversaw the development and growth of the highly successful Angry Birds franchise across Asia. Prior to these roles, Henri held progressive titles ranging from Chief Financial Officer, Head of Business Operations, Global Category Marketing Manager, Key Account Manager and Product Manager at various divisions of Nokia from 1995 to 2011.
Jonna Birgans – President and Chief Content Officer
A 25-year veteran of the entertainment industry, Ms. Birgans has had an influential career across all entertainment mediums; Television, Film, Radio and digital media. Ms. Birgans has worked extensively with global brands like Billboard Magazine, Viacom Networks and Lexus, producing content for their marketing campaigns as well as for their on-air shows. She has also had two development deals for TV shows she co-created at GSN and USA Networks. Ms Birgans also has had a successful career as a Music Video Producer, working alongside infamous Directors, Hype Williams and Spike Jonze, to name a few. For the last decade, Ms Birgans has made a name for herself in the world of out-of-home and digital media landscapes performing in Executive roles creating Content Strategy, developing business plans, executing brand partnerships and managing teams of creative and sales professionals.
Alex Helmel – Chief Financial Officer
Mr. Alex Helmel is CFO of FANDOM SPORTS Media Corp. He has extensive career experience with over 12 years in Canadian capital markets and over 20 years in the technology sector, focusing on asset development. He has served in leadership positions for various successful companies including in roles as president, secretary and chief financial officer.
Follow FANDOM SPORTS at instagram.com/fandomsportsapp or @FandomSportsApp on Twitter.  Android users can download the FANDOM SPORTS App from Google Play, register. Now you can Pick A Fight. Talk Trash. Get Rewarded!
About FANDOM SPORTS:
"Pick A Fight. Talk Trash. Get Rewarded."
FANDOM SPORTS Media is an entertainment company that aggregates, curates and produces unique fan-focused content.
The FANDOM SPORTS App is the Company's core product, which is the ultimate destination for unfiltered raw sports talk. The app allows passionate sports fans to unleash their primal sports passions, pick fights and earn rewards.
Download the app and bring your crew. Talking trash is better with friends. The more you invite, the more in-app virtual currency FANCOINS you can earn.
The Company's profile may also be viewed on the following websites:
Network Wire:
NNW : https://www.networknewswire.com/clients/fandom-sports-media-corp/?symbol=fdmsf
Investing News Network:
INN: https://investingnews.com/company-profiles/fandom-sports-media/#disclaimer
For additional Information about the Company, please contact:
FANDOM SPORTS:  info@fandomsports.net;
Investor Relations
Tel: (647) 236-4895
Or
Sales & Partnerships
Email: info@fandomsports.net
You may also visit the Company's website: www.fandomsports.net
DISCLAIMER:
The CSE has not reviewed and does not accept responsibility for the adequacy and accuracy of this information. This news release may contain forward-looking statements. These forward-looking statements do not guarantee future events or performance and should not be relied upon. Actual outcomes may differ materially due to any number of factors and uncertainties, many of which are beyond the Company's control. Some of these risks and uncertainties may be described in the Company's corporate filings (posted at www.sedar.com).
The Company has no intention or obligation to update or revise any forward-looking statements due to new information or events. This press release contains forward-looking statements about FANDOM SPORTS. Forward-looking statements may be identified by the use of words like "believe," "expect," "anticipate," "estimate," "plan," "consider," "project," and similar references to the future. Forward-looking statements reflect FANDOM SPORTS' good-faith evaluation of information available at the time the forward-looking statements were made. These forward-looking statements are subject to a number of risks and uncertainties, and our actual results may differ materially from those projected. Please refer to FANDOM SPORTS' annual and quarterly reports filed on SEDAR for a full discussion of those risks and uncertainties we view as most important. Forward-looking statements are not, and should not be relied upon as, a guarantee of future performance or results, nor will they necessarily prove to be accurate indications of the times at or by which any such performance or results will be achieved. As a result, actual outcomes and results may differ materially from those expressed in forward-looking statements. We undertake no obligation to update or revise forward-looking statements.
Corporate Communications Contact: 
NetworkNewsWire (NNW)
New York, New York
www.NetworkNewsWire.com
212.418.1217 Office
Editor@NetworkNewsWire.com
Mercedes-Benz launches a Russia-based esports campaign together with Publicis Sport & Entertainment and ESforce Holding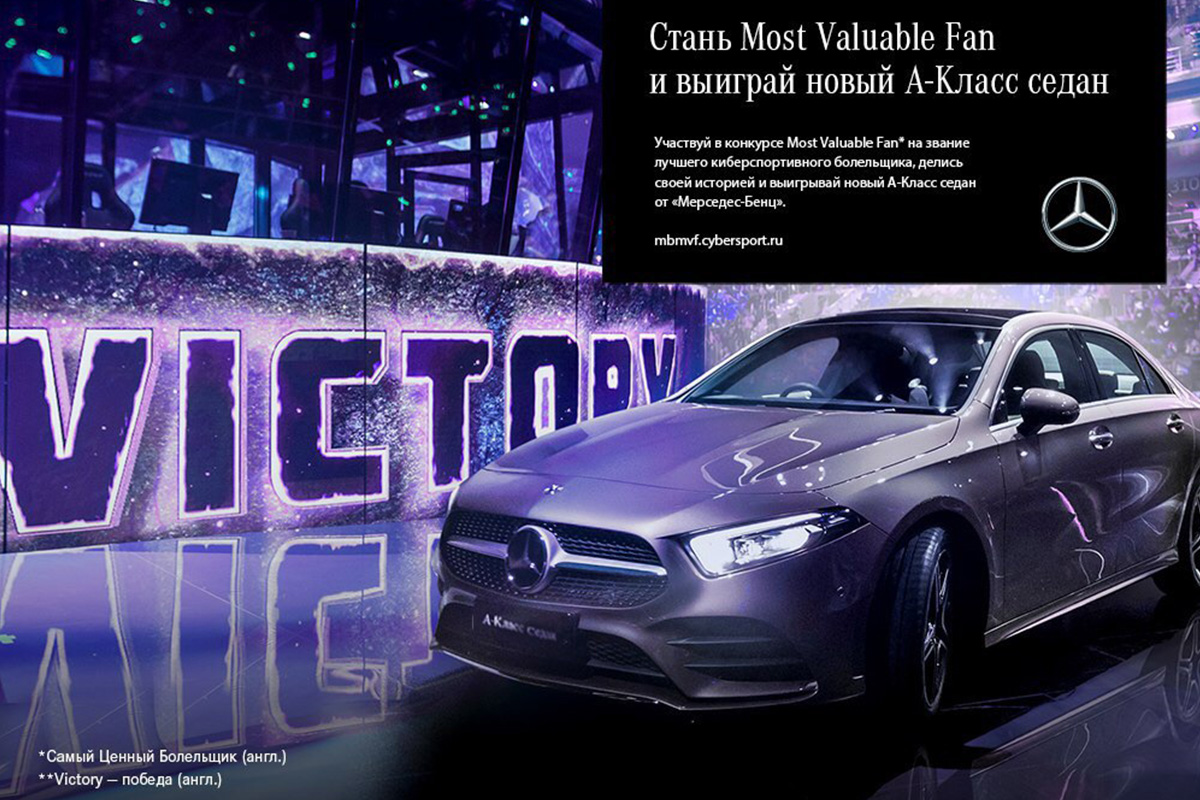 Reading Time:
4
minutes
A premium automotive brand Mercedes-Benz announced the start of the Most Valuable Fan campaign aimed at Russian esports fans. As part of the campaign, a national fan competition will take place throughout August, September and October, culminating at a special event in Moscow during ESL One Hamburg 2019 playoffs. Following the outcome of the vote among the esports community and members of the jury, the chosen fan will receive the title of the Most Valuable Fan and a Mercedes-Benz A-Сlass vehicle.
This partnership between Mercedes-Benz, Publicis Sport & Entertainment, and ESforce holding is a continuation of the brand's devotion to creating unforgettable experiences for both fans and the players. In 2016, Mercedes-Benz became a partner of ESL, founding the Most Valuable Player campaign taking place for the second consecutive year. As per 2019, viewers and members of the expert community have helped award the best ESL tournaments players with 5 automobiles worth a total of €250 000. Virtus.pro (a member of ESforce holding) players have won this award three times: Alexei Solo Berezin was the MVP of ESL One Hamburg 2017, Vladimir RodjER Nikogosyan and Vladimir No[o]ne Minenko became MVPs of ESL One Katowice and ESL One Birmingham in 2018.
"The Russian esports community is among the most engaged and active communities in the world, — says Mercedes-Benz Press Office. — However, the fans' devotion to their favorite disciplines, teams or tournaments is rarely rewarded. We want to say "thank you" to all the fans who travel long hours to visit their favorite tournaments, meet their favorite teams in airports, prepare banners and touching gifts for their idols, share their hobby with their friends and do everything in their power to help esports grow. We hope that the Most Valuable Fan campaign will help elevate esports fan culture to a new level. We are happy to begin our first esports partnership in Russia with the fans themselves!"
To enter the raffle, one needs to register at http://mbmvf.cybersport.ru website, record a video of 5 minutes or less in which fans would talk about their experience supporting esports, fill in a form, and pass moderation. All citizens of Russia who are 18 or older and have a driver's license may take part in the contest. With support the fan community and esports celebrity jury consisting of renowned journalists, casters, and fans, the brand will choose three finalists. They will then receive a ticket to the event's grand finale — a closed award ceremony in Moscow. The event will take place in Yota Arena during ESL One Hamburg 2019 final stage.
"We consider this one of the most important esports projects of the year, its importance for the gaming community and the market as a whole is undeniable. We are certain this campaign will gain a lot of traction on the international market, even though it is being implemented on the territory of Russia. Mercedes expands the horizons and pushes esports to a whole new level. We are happy to be a part of this project. Let the best fan win!" — says Sergey Barkhudaryan, Head of Publicis Sport & Entertainment.
"Mercedes-Benz arrival to the Russian esports market is a clear signal for the community and the industry as a whole. The "Most Valuable Fan" project shows how involved Russian esports audience is on the international level, how much its activity and engagement into their idols' life is evident on the worldwide scale. We are happy to partner with Mercedes, and we are sure that it is just one step further in a series of large-scale campaigns to reward the fans for their passion for esports, loyalty and compassion to their favorite teams and tournaments," — says Alexander Kim, ESforce Holding Commercial Director.
More details at http://mbmvf.cybersport.ru.
Mercedes-Benz Russia AO is a Russian company, a subsidiary of Daimler Group. Daimler AG (Daimler-Benz AG in 1994) was the first foreign automotive company to establish a subsidiary AOZT Mercedes-Benz Avtomobili in the territory of the Russian Federation on December 8, 1994. Mercedes-Benz Russia AO is the only official importer of Mercedes-Benz cars and vans, as well as smart cars in Russia.
In 2013 the company launched production of Mercedes-Benz Sprinter Classic vans at the GAZ plant in Nizhny Novgorod, as well as diesel engines for them in Yaroslavl. In 2018 the company became the leader in the automotive premium segment in Russia for the sixth time running. On April, 3 2019 the gala opening of the production plant for Mercedes-Benz cars in the Moscow region took place.
2019 is an anniversary year for Mercedes-Benz: the brand celebrates 125 years long brand history in Russia.
Publicis Sport & Entertainment is the sports marketing division of Publicis Groupe, headquartered in London. Unit provides clients with full-service support of the whole Groupe but specializing in the sports industry: from strategy and creativity to media, sponsorship of sports events and licensing. Unit operates in all major international markets and provides its services to major global brands: P&G, Mercedes, Heineken, Samsung, Mondelez, Gazprom Neft, Coty, Duracell, EA, etc. As well as sport right holders: FIFA, NBA, Zenit, Russian Premier League, IOC, etc.
ESforce Holding is one of the world's largest esports organizations and the leader of electronic sports in Russia. The holding company integrates all key areas of the esports business, from organizing international tournaments and professional content creation to publishing and advertising activities. ESforce owns over 220 popular online resources with a combined audience of 12 million followers and 114 million annual unique visitors, which provide a 90-percent reach to esports broadcast viewers in Russia and the CIS as well as access to a significant share of relevant international audiences. In 2018, the holding became part of the largest technology company in Russia, Mail.Ru Group.
Sasebo Chamber of Commerce Confirms Speakers for August 27th Seminar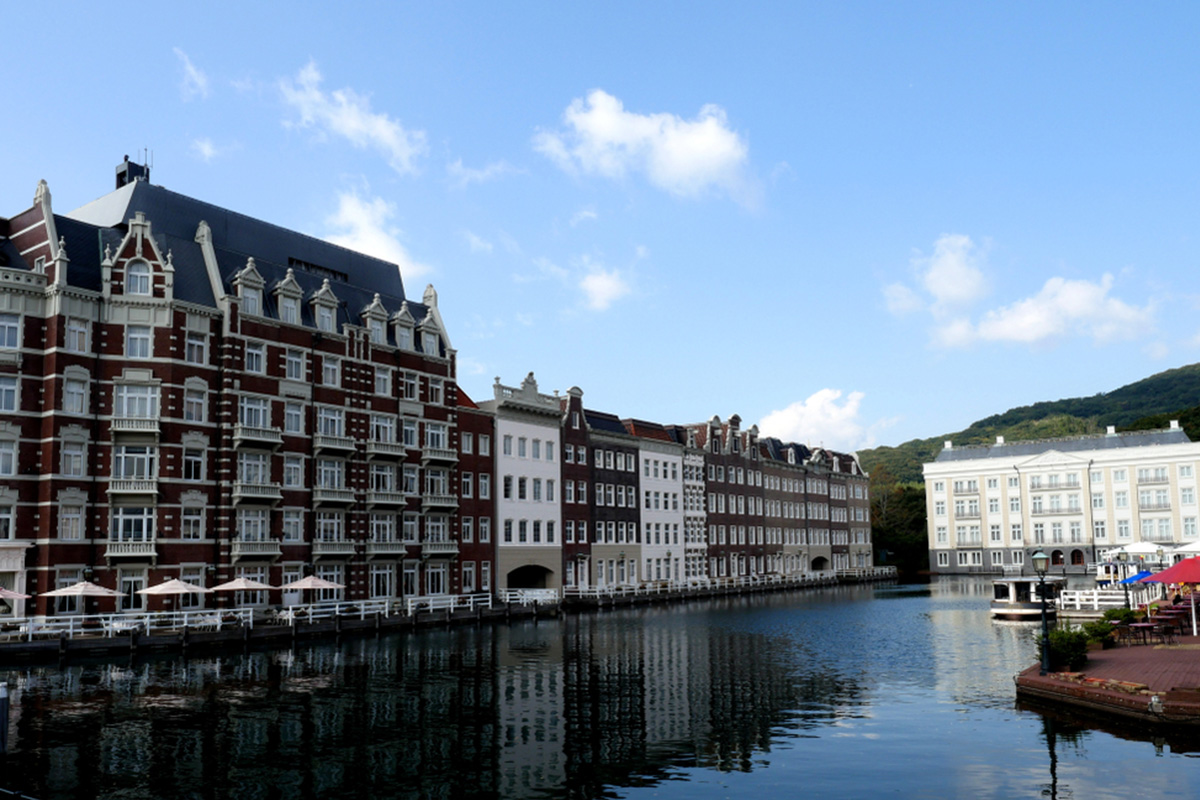 Reading Time:
1
minute
The Sasebo Chamber of Commerce / Nagasaki Marine IR Promotion Council have confirmed speakers for their seminar to be held on 27 August (Tuesday) at the Fuji International Hotel located in Sasebo City. Speakers will include Mr. Brendan Bussmann of Global Market Advisors, Dr. Glenn McCartney of the University of Macau and the Irish and European Chambers of Commerce (Macau), and Mr. Niall Murray, President of the Irish Chamber of Commerce (Macau). The seminar is expected to attract between 50 and 100 participants including local businesses from throughout Sasebo City, Nagasaki Prefecture and the Greater Kyushu Region. Presentations will include overviews on how the private sector should begin to formulate engagement plans with IR operators, as well as best practices with regards to how other Chambers of Commerce engage with both IR operators and the local business communities.
Rivers Casino Waukegan Proposed by State's Most Successful Casino Owners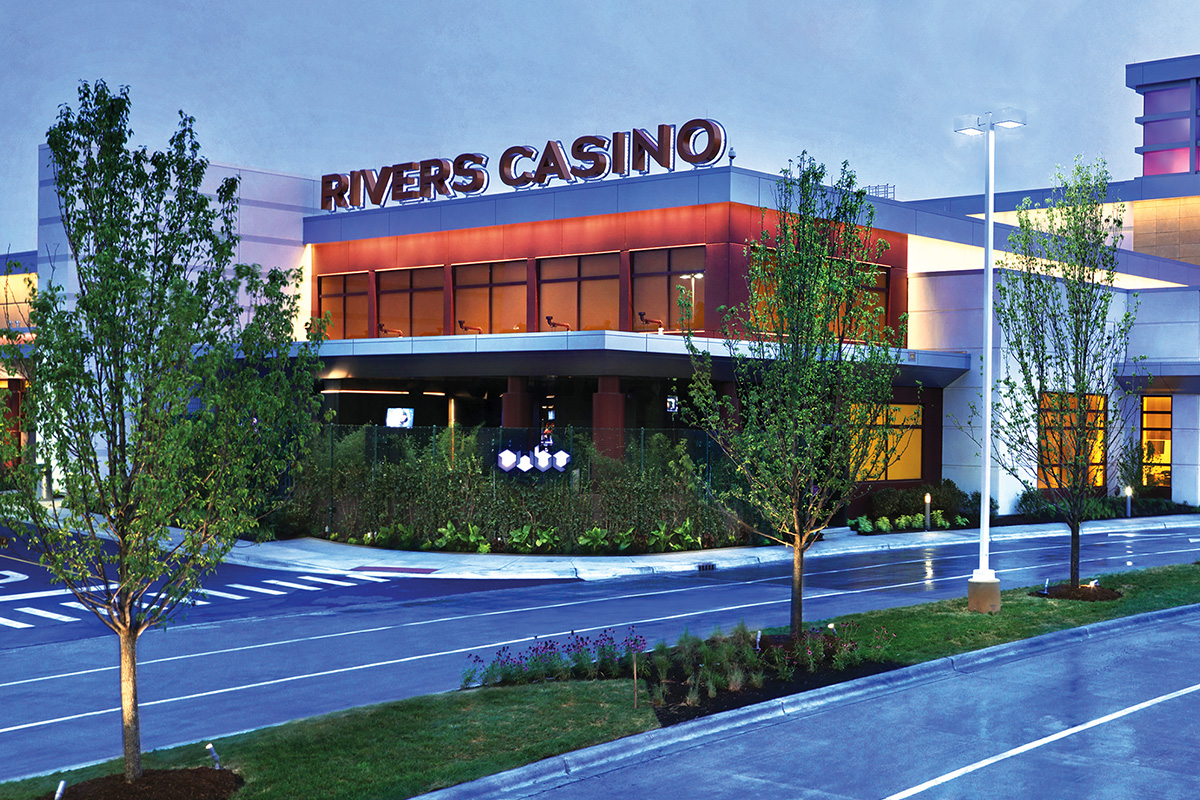 Reading Time:
5
minutes
The developer, operator and owners of the state's most successful casino, Rivers Casino Des Plaines, which earns more than twice as much gaming revenue as any other casino in the state, are teaming up to propose building a 1,625-gaming-seat Rivers Casino Waukegan. Rivers Casino Waukegan expects to create over 1,200 permanent jobs; 900 union construction jobs and pump over $150 million annually into the local Waukegan and Lake County economy.
Churchill Downs Incorporated ("CDI") (Nasdaq: CHDN) and Rush Street Gaming, which jointly own Rivers Casino Des Plaines, would bring their combined expertise as developers and operators of some of the most successful gambling and entertainment venues in the country to Waukegan at the Fountain Square site at Lakehurst and Northpoint Boulevard. The companies say their proven marketing and customer service approach will attract high-end patrons to Waukegan.
Rush Street, the creator of the Rivers Casino brand, is the leading developer of world-class regional casinos in Des Plaines, New York state, Philadelphia and Pittsburgh. In addition to its premier position in Illinois, Rivers is the market leader in the Capital Region of New York state as well as in Pittsburgh.
CDI is an industry-leading racing, online wagering and gaming entertainment company anchored by its flagship event – The Kentucky Derby. The company owns and operates 10 regional gaming facilities in eight states, as well as Arlington International Racecourse in Arlington Heights.
Opening a second Rivers-branded casino in Waukegan creates a synergy in the market. Rivers, with a premier reputation among its customers, would bring Illinois' leading gaming brand and proven record to Waukegan, delivering a tremendous benefit to the city that no other applicant can offer.
Other benefits and highlights of the proposal to bring Rivers Casino to Waukegan are:
Rivers Casino Des Plaines is the most successful casino in Illinois and hosted 2.9 million admissions in 2018. Its extensive patron database will help to attract players from throughout the region to Rivers Casino Waukegan, complementing—rather than cannibalizing—current local video gaming operators.
Rush Street Interactive, recognized by industry publisher EGR (e-gaming review) as Mobile Operator of the Year for North America, will operate in-casino and online sports betting for the proposed showplace. Affiliates of Rush Street operate the most successful sports books in Pennsylvania and New York.
The casino would feature Luxbar, an upscale gastropub, the first Gibsons Restaurant Group restaurant in Lake County.
The casino would have 1,625 proposed gaming seats, including a poker room, at the opening with the flexibility to add more.
CDI and Rush Street are offering to purchase or lease the city-owned Fountain Square property.
Rivers Casino Waukegan will make annual contributions to charities in Waukegan, Park City and North Chicago.
Rivers Casino Des Plaines is the first and only casino in Illinois to comply with a statutory minority- and women-ownership requirement. Rivers Casino Waukegan will use that experience to build strong minority- and women-ownership participation for the new venture. Rush Street also encourages diversity in its ranks, with 46 percent of employees and 28 percent of executives being persons of color.
"We're happy to be considered to develop and operate what we know will be a leading entertainment destination for the City of Waukegan, Lake County and the State of Illinois," said Rush Street Gaming CEO Greg Carlin. "It would be an honor to bring the Rivers brand and experience to Waukegan."
"We are especially proud of our long history of hiring local people and vendors in every market where we have invested. Rush Street spends more than $23 million dollars annually on firms owned by women and minorities," said Rush Street Gaming Chairman Neil Bluhm. "We're especially proud of our diverse workforce and the career opportunities we have provided our associates."
"Waukegan and Lake County deserve a world-class facility and together, with our partner Churchill Downs Incorporated, that is exactly what we will develop," said Bluhm. "We look forward to sharing more about our proposal with city leaders."
"Churchill Downs Incorporated has a 145-year track record of offering unmatched premium entertainment experiences for horse racing fans and significant expertise developing premier casino venues for our patrons throughout the United States," said Bill Carstanjen, Chief Executive Officer of CDI. "We are proud to partner with Rush Street Gaming to bring our shared vision for a world-class entertainment destination to Waukegan."
About Rush Street Gaming
Founded by Neil Bluhm and Greg Carlin, Rush Street Gaming and its affiliates, headquartered in Chicago, Illinois, have developed and operate successful casinos in Niagara Falls, Ontario, Pittsburgh and Philadelphia, Pennsylvania, Des Plaines, Illinois (Chicago area) and Schenectady, New York.  Rush Street Gaming and its affiliates has become one of the leading casino developers in the United States and operators of online casinos and sports books. Additional information at: www.rushstreetgaming.com
About Churchill Downs Incorporated
Churchill Downs Incorporated ("CDI") (Nasdaq: CHDN), headquartered in Louisville, Ky., is an industry-leading racing, online wagering and gaming entertainment company anchored by our iconic flagship event – The Kentucky Derby. We own and operate Derby City Gaming, a historical racing machine facility in Louisville. We also own and operate the largest online horseracing wagering platform in the U.S., TwinSpires.com, and are a leader in brick-and-mortar casino gaming with approximately 11,000 slot machines / video lottery terminals and 200 table games in eight states. We also operate sports wagering and iGaming through our BetAmerica platform in multiple states. Additional information about CDI can be found online at www.churchilldownsincorporated.com.
Information set forth in this news release contains various "forward-looking statements" within the meaning of the Private Securities Litigation Reform Act of 1995 (the "Act"), which provides certain "safe harbor" provisions. All forward-looking statements made in this presentation are made pursuant to the Act. Forward-looking statements are typically identified by the use of terms such as "anticipate," "believe," "could," "estimate," "expect," "intend," "may," "might," "plan," "predict," "project," "seek," "should," "will," and similar words, although some forward-looking statements are expressed differently.
Although we believe that the expectations reflected in such forward-looking statements are reasonable, we can give no assurance that such expectations will prove to be correct. Important factors that could cause actual results to differ materially from expectations include the following: the effect of economic conditions on our consumers' confidence and discretionary spending or our access to credit; additional or increased taxes and fees; public perceptions or lack of confidence in the integrity of our business; loss of key or highly skilled personnel; restrictions in our debt facilities limiting our flexibility to operate our business; general risks related to real estate ownership, including fluctuations in market values and environmental regulations; catastrophic events and system failures disrupting our operations; online security risk, including cyber-security breaches; inability to recover under our insurance policies for damages sustained at our properties in the event of inclement weather and casualty events; increases in insurance costs and inability to obtain similar insurance coverage in the future; inability to identify and complete acquisition, expansion or divestiture projects, on time, on budget or as planned; difficulty in integrating recent or future acquisitions into our operations; number of people attending and wagering on live horse races; inability to respond to rapid technological changes in a timely manner; inadvertent infringement of the intellectual property of others; inability to protect our own intellectual property rights; payment-related risks, such as risk associated with fraudulent credit card and debit card use; compliance with the Foreign Corrupt Practices Act or applicable money-laundering regulations; work stoppages and labor issues; difficulty in attracting a sufficient number of horses and trainers for full field horseraces; inability to negotiate agreements with industry constituents, including horsemen and other racetracks; personal injury litigation related to injuries occurring at our racetracks; our inability to utilize and provide totalisator services; weather conditions affecting our ability to conduct live racing; increased competition in the horseracing business; changes in the regulatory environment of our racing operations; changes in regulatory environment of our online horseracing business; increase in competition in our online horseracing; uncertainty and changes in the legal landscape relating to our online wagering business; legalization of online sports betting and iGaming in the United States and our ability to predict and capitalize on any such legalization; inability to expand our sports betting operations and effectively compete; failure to comply with laws requiring us to block access to certain individuals could result in penalties or impairment with respect to our mobile and online wagering products; increased competition in our casino business; changes in regulatory environment of our casino business; costs, delays, and other uncertainties relating to the  development and expansion of casinos; and concentration and evolution of slot machine manufacturing and other technology conditions that could impose additional costs.