Midnite Raises Over $2.5M in Funding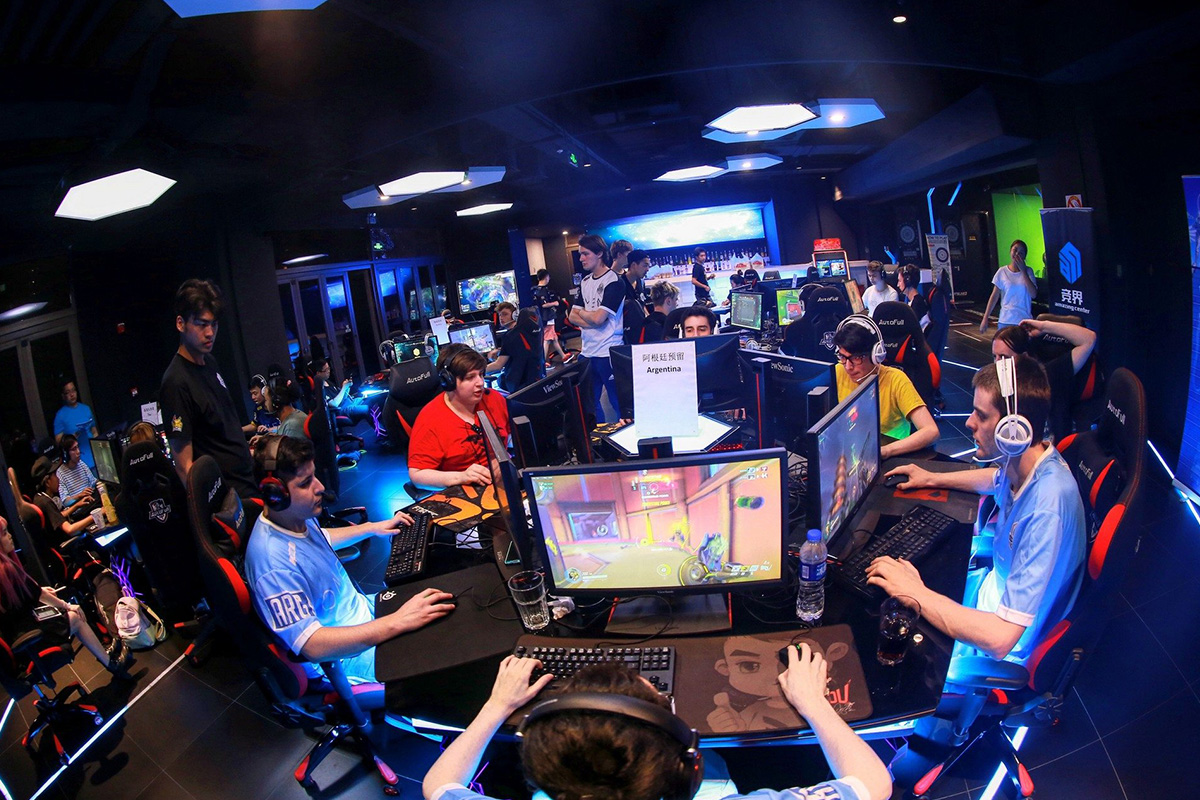 Reading Time:
2
minutes
Midnite, the London-based esports betting startup, has raised just over $2.5 million in funding. The "strategic" investment is led by gaming-focused venture firm Makers Fund.
Previous investors in Midnite include London VC firm Venrex Investment Management, as well as unnamed "founders and executives" from leading gaming companies, including Betfair and GVC. The new round brings the total raised by the 2016-founded company to around $4.5 million.
"The esports market is seeing rapid year-on-year growth and we believe that betting represents the single biggest opportunity in this space. Wagering on esports is expected to exceed $12 billion by the end of 2020, making betting already one of the fastest growing verticals within esports," Midnite co-founder Nick Wright said.
However, despite the size of opportunity, Wright says that for most big sports betting sites, esports is "just another tab" in their legacy sports betting offering, but that esports fans are not simply just another type of sports fan. "They are an entirely new customer category and deserve a platform tailored to them," he says. "This is why Midnite exists."
With that in mind, Wright pitches Midnite as an "entertainment platform" that provides an immersive experience for esports fans. He says fans get the thrill of watching, analysing and betting on their favourite teams and players as they face off in tournaments around the world.
"What makes esports differ from other sports is the constant action and its highly dynamic nature. This is conducive to a variety of live betting opportunities that you can seldom find in real sports. Users can bet on your standard match winners and losers, but they can also bet on unique selections such as next kill or next objective achieved while matches are in-play," Midnite co-founder said.
"In the past, betting on esports has been carried out by unregulated operators, which meant that the unregulated market was several times bigger than the regulated market. Many operators offering esports betting would not be licensed, were not taking responsible gambling seriously or even performing age verification checks. This meant customers want to bet on esports were often placing themselves at risk. We are creating a safe and responsible environment for these fans. Customer safety is our top priority and we are taking it very seriously. We are doing everything by the book to ensure our community is safeguarded and are compliant with all the regulations in markets where we are operational," he added.
Esports Entertainment Group Appoints Damian Mathews as Chairman of Audit Committee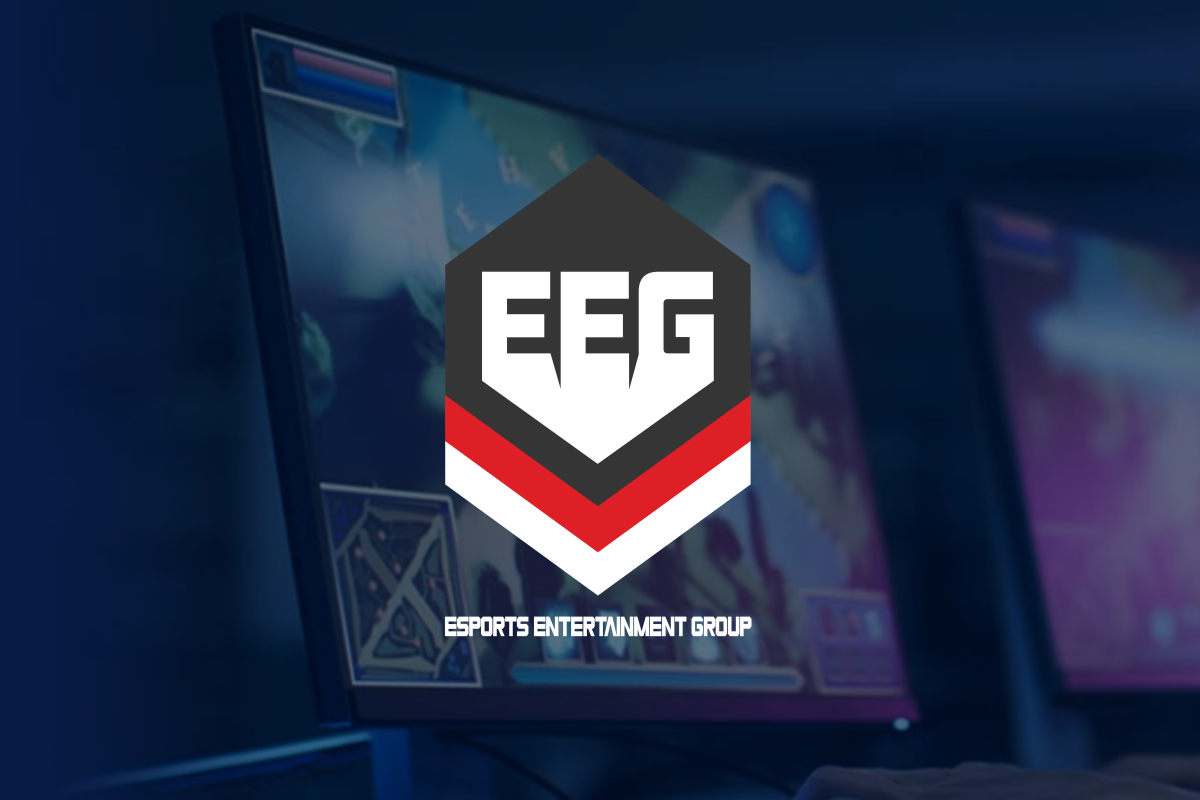 Reading Time:
< 1
minute
Esports Entertainment Group, Inc., a licensed online gambling company with a focus on esports wagering and 18+ gaming, appointed Damian Mathews, who was elected to the Company's Board of Directors on June 3, 2020, as Chairman of its Audit Committee.
Mathews, who served as Chief Financial Officer of the Qatar and Abu Dhabi Investment Company, brings more than 25 years of experience to his role at Esports Entertainment Group. Previously, Mathews was a Director at NZ Pacific Investments Ltd and held senior finance positions with Commonwealth Bank of Australia Group, ABN AMRO, Royal Bank of Scotland, and Credit Suisse First Boston. Mathews began his career at KPMG in London where he qualified as a chartered accountant after earning a Bachelor of Science in economics and politics from the University of Bristol.
"We are excited to welcome Damian to our team at this important point in Esports Entertainment's continued evolution," commented Grant Johnson, CEO of Esports Entertainment Group. "His wealth of experience in finance, garnered over the last 25 years at major financial institutions, will provide immeasurable benefit as we scale operations and grow our institutional shareholder base."
Mathews stated, "I am delighted to be joining the Board of Esports Entertainment Group at such a pivotal and exciting time in the company's development.  Following the NASDAQ listing the company is in a great position to build out and expand its platform and service offerings across international markets.  As a Board member and Chair of the Audit Committee I look forward to providing leadership, support and oversight to the talented team at Esports Entertainment Group."
6 Highest-Paying Esports Games Of 2020 So Far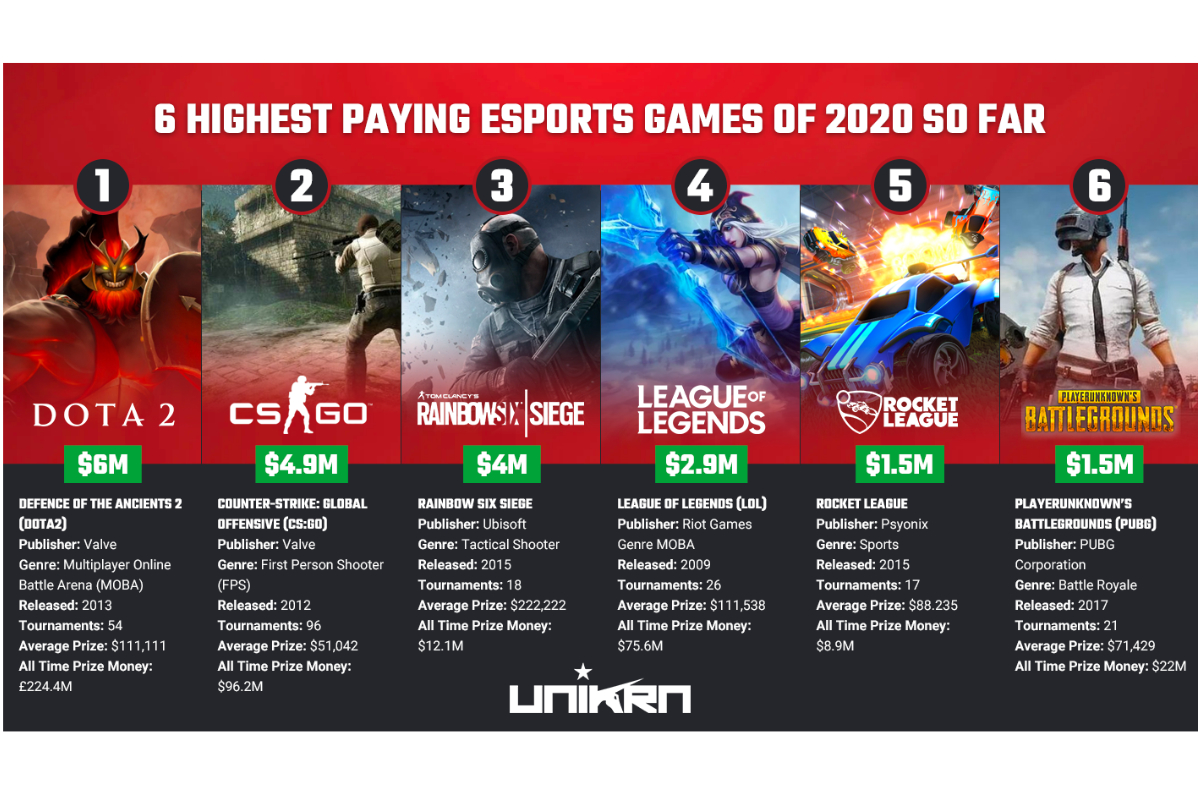 Reading Time:
3
minutes
Despite the world grinding to a halt, esports continues to thrive.
In 2019, global revenue from esports topped $1billion and with the popularity of competitive increasing, gamers and sponsors continue to see the benefits.
But, what about during a pandemic?
Though many big tournaments have been cancelled, the gaming goes on at home and viewing figures are rising each month.
New research from esports betting company Unikrn has revealed the biggest esports of 2020 so far by prize money won**.
1. DOTA 2
Prize money (2020): $6,000,000
Tournaments: 54
Average prize: $111,111
Prize money (all-time): $224,300,000
The highest-paid game in esports continues to lead the way when it comes to prize money in 2020.
Last year, the game offloaded $52million in prize money with The International 2019 contributing to $34.3million of that.
Winning team OG picked up $15.6million between their five members, each taking home more than Tiger Woods at the 2019 Masters ($2.07million)
2. CS:GO
Prize money (2020): $4,900,000
Tournaments: 96
Average prize: $51,042
Prize money (all-time): $96,200,000
The most active game in 2020, CS:GO has had tournaments going out almost every week.
Since the start of the year, the average number of Twitch viewers watching streamers and matches has almost tripled from 45,000 viewers in January to 120,000 viewers in April.
3. Rainbow Six Siege
Prize money (2020): $4,000,000
Tournaments: 18
Average prize: $222,222
Prize money (all-time): $12,100,000
This year's Six Invitational 2020 in February saw a $3million prize pot, higher than any previous year.
Despite being released in 2015, Rainbow Six Siege's popularity continues to grow.
As of this month, the game has surpassed 60 millions players worldwide.
4. League of Legends
Prize money (2020): $2,900,000
Tournaments: 26
Average prize: $111,538
Prize money (all-time): $75,600,000
The real-time strategy game developed by Riot Games is the fourth highest-paying game in history with over $75million in prize money.
The publisher announced last month that it was having to cancel this year's Mid-Season Invitational (MSI), the game's second largest international annual event.
However, fans will be excited for the start of the LPL that begins this weekend.
5. Rocket League
Prize money (2020): $1,500,000
Tournaments: 17
Average prize: $88,235
Prize money (all-time): $8,900,000
Rocket League has recently stepped into the mainstream with the BBC broadcasting the European Spring Series last month.
Previously, Season 9 of the Rocket League Championship Series (RLCS) saw almost $1million paid out across the tournament from February to April.
6. PlayerUnknown's Battlegrounds (PUBG)
Prize money (2020): $1,500,000
Tournaments: 21
Average prize: $71,429
Prize money (all-time): $22,000,000
Another esport that has had to cancel a big tournament. In PUBG's case, the PGS 2020 in Berlin was set to go ahead in April.
The creators have since committed to hosting four events around the world in 2020 as long as it adheres to government advice.
—————————————————————————————————————————————–
A spokesperson for Unikrn said: "Postponing The International 2020 was the responsible choice from Valve, and it is only making this event larger and more anticipated.
"In the first 24 hours, The International compendium earned $24,000,000 from fans supporting the event, putting it on pace to be the largest esports prize in history.
"This enthusiasm isn't unique to DOTA 2. Esports are continuing to accelerate in popularity, especially during these unprecedented times."
—————————————————————————————————————————————–
** Statistics taken from www.esportsearnings.com (does not include charitable prize money, salaries, earning reductions)
HIGHEST-PAYING ESPORTS OF 2020 (BY PRIZE MONEY)
| | | | |
| --- | --- | --- | --- |
| | 2020 prize money | No. of tournaments | Average prize money |
| Game | | | |
| DOTA2 | $6,000,000 | 54 | $111,111 |
| CS:GO | $4,900,000 | 96 | $51,042 |
| Rainbow Six: Siege | $4,000,000 | 18 | $222,222 |
| League of Legends | $2,900,000 | 26 | $111,538 |
| Rocket League | $1,500,000 | 17 | $88,235 |
| PUBG | $1,500,000 | 21 | $71,429 |
| Hearthstone | $1,200,000 | 8 | $150,000 |
| Magic The Gathering | $1,100,000 | 1 | $1,100,000 |
| Call of Duty: Modern Warfare | $1,100,000 | 19 | $57,895 |
| Arena of Valor | $827,000 | 2 | $413,500 |
HIGHEST-PAYING ESPORTS OF ALL-TIME (BY PRIZE MONEY)
| | | | | |
| --- | --- | --- | --- | --- |
| | Total Prize Money | 2020 prize money | No. of tournaments | Average prize money |
| Game | | | | |
| DOTA2 | $224,300,000 | $6,000,000 | 54 | $111,111 |
| CS:GO | $96,200,000 | $4,900,000 | 96 | $51,042 |
| Fortnite | $85,300,000 | $600,000 | 3 | $200,000 |
| League of Legends | $75,600,000 | $2,900,000 | 26 | $111,538 |
| Starcraft | $32,800,000 | $500,000 | 46 | $10,870 |
| PLAYERUNKNOWN | $22,000,000 | $1,500,000 | 21 | $71,429 |
| Overwatch | $21,700,000 | $12,000 | 2 | $6,000 |
| Hearthstone | $21,200,000 | $1,200,000 | 8 | $150,000 |
| Heroes of Storm | $18,100,000 | $4,000 | 1 | $4,000 |
| Arena of Valor | $14,600,000 | $827,000 | 2 | $413,500 |
Two more F1 drivers join the grid for penultimate Virtual Grand Prix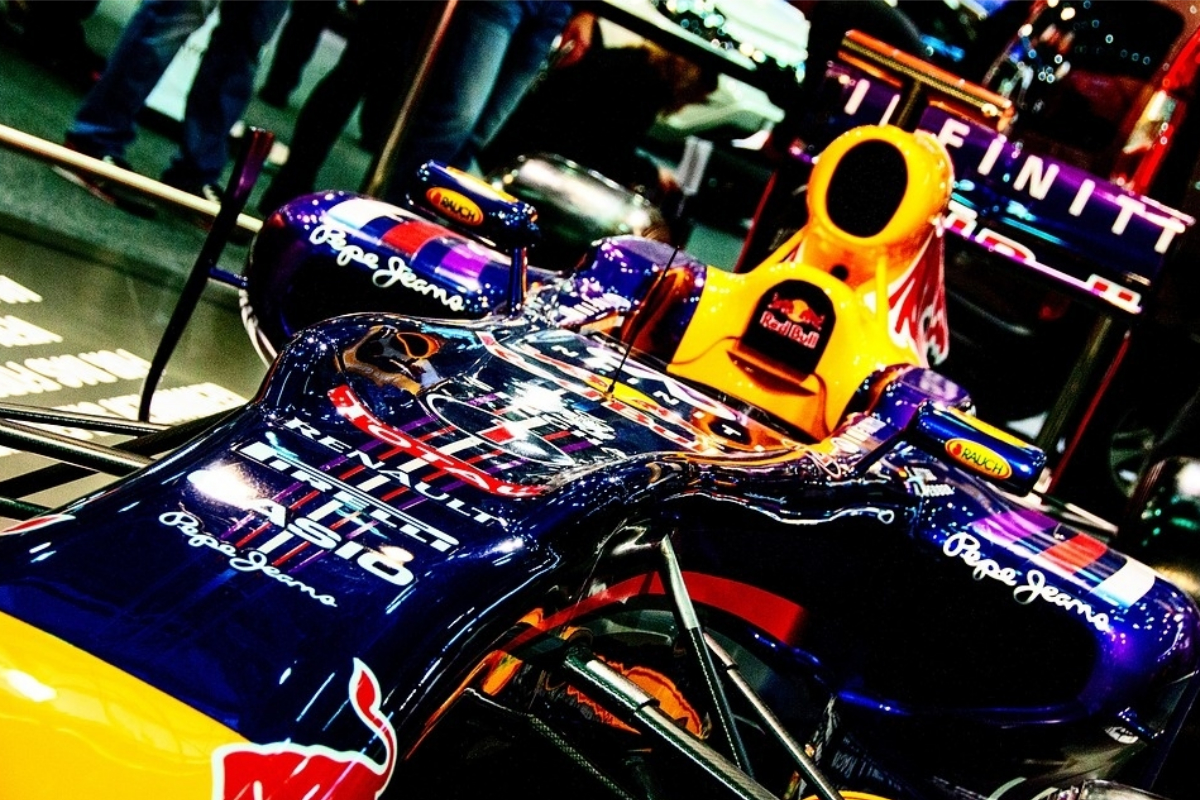 Reading Time:
3
minutes
Following this week's announcement that Formula 1 will start the 2020 season on July 3-5 in Austria, the sport's return to action will see the F1 Esports – Virtual Grand Prix series draw to a close with two final events.
This Sunday's Virtual Azerbaijan Grand Prix (7 June) will see eight current F1 drivers take to the grid, before the series finale in the Virtual Canada Grand Prix the following weekend (14 June). The Virtual Grands Prix Series has seen over 22million fans tune in so far to watch their favourite F1 drivers battle it out, alongside a host of big names from the sporting and celebrity world, in a time where actual racing was not possible.
This weekend will see Sergio Perez and Pierre Gasly make their Esports debuts in the Virtual Azerbaijan Grand Prix as they join six other F1 drivers including Williams' George Russell, who is attempting to make it a third consecutive win after his victory in Monaco. Fellow F1 drivers Alex Albon, Antonio Giovinazzi, Nicholas Latifi, Charles Leclerc and Lando Norris also return to the grid after previous Virtual Grand Prix appearances.
Manchester City defender Aymeric Laporte will be taking to the track for the first time as the Premier League winner teams up with Formula 3 driver Oscar Piastri for Renault, whilst AC Milan goalkeeper Gianluigi Donnarumma joins Pierre Gasly at AlphaTauri. Belgium goalkeeper Thibaut Courtois makes his fourth Virtual Grand Prix appearance, continuing his partnership with Antonio Giovinazzi for Alfa Romeo, with Former Dakar Rally World Champion, Matthias Walkner making his debut for Red Bull.
Sunday's race will fall on the weekend originally scheduled for the Azerbaijan Grand Prix with the participants competing on the Baku City Circuit on F1 2019, the official videogame developed by Codemasters. Drivers will join the race remotely, with a host broadcast live from the Gfinity Esports Arena from 6:00pm (BST) on Sunday 7 June.
The live broadcast, which is available on the official Formula 1 YouTube, Twitch and Facebook channels as well as Weibo and Huya channels in China, is expected to run for 1 hour 30 minutes. A qualifying period where grid positions will be determined based on the drivers' fastest lap time will be followed by a 26-lap race. The Virtual Grand Prix will also be shown live with international broadcast partners in over 100 countries including in the UK on Sky Sports, in the US on ESPN, and FOX Sports Asia.
The F1 Esports Pro Exhibition race featuring the official F1 teams' professional esports gamers will precede the Virtual Grand Prix and is set to begin at 5:00pm (BST). The broadcast will be available on the official Formula 1 YouTube, Twitch and Facebook channels as well as selected TV broadcasters and is expected to run for 1 hour. The Formula 2 Virtual Racing event, featuring F2 and F3 drivers, will also be live on the official Formula 1 YouTube and Twitch channels and TV broadcasters from 4:00pm (BST).
Julian Tan, Head of Digital Business Initiatives and Esports said:
"We are immensely proud of the Virtual Grand Prix series, which allowed us to bring Formula 1 to fans around the world, in a time when actual racing was not possible. We are very grateful to the teams and drivers that have taken part in the series to date and look forward to ending the series with a bang in the coming weeks as we all gear up to kick off the 2020 Formula 1 World Championship season in Austria. Great momentum has been gathered as part of our Virtual Grands Prix Series and we are excited to build on this momentum in our esports strategy going forward."
Full line-up:

 

Team

 

 

Driver 1

 

 

Driver 2

Alfa Romeo Racing ORLEN
Antonio Giovinazzi
Thibaut Courtois
Scuderia AlphaTauri
Pierre Gasly
Gianluigi Donnarumma
FDA Hublot Esports Team
Charles Leclerc
Enzo Fittipaldi
Haas F1 Team
Pietro Fittipaldi
Louis Deletraz
McLaren Racing
Lando Norris
Ben Daly (Tiametmarduk)
Mercedes-AMG Petronas
Esteban Gutierrez
Anthony Davidson
BWT Racing Point
Sergio Perez
Jimmy Broadbent
Red Bull Racing
Alex Albon
Matthias Walkner
Renault
Oscar Piastri
Aymeric Laporte
Williams Racing
George Russell
Nicholas Latifi